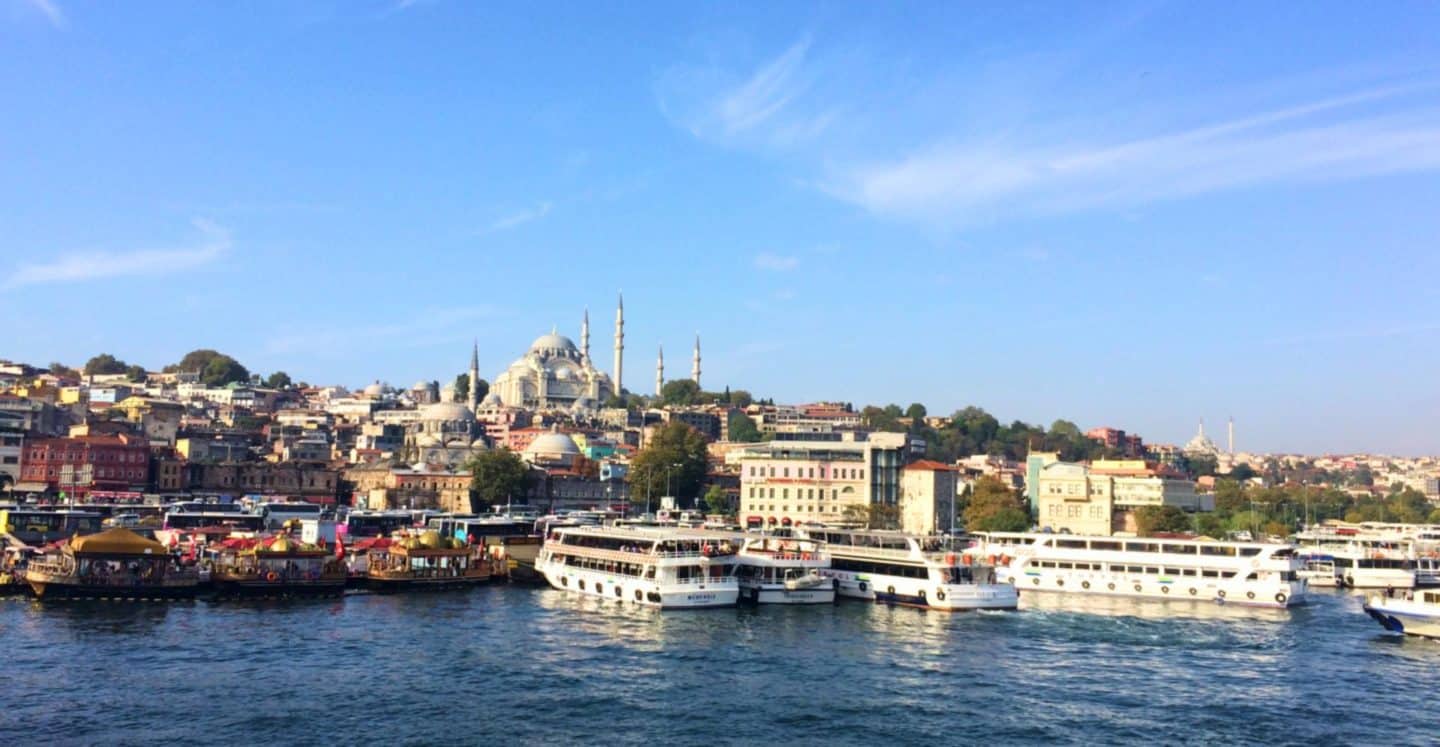 Istanbul had been on my wish list for some time so i was really looking forward to arriving and ending my 10 days in Turkey with 3 days in this city.
I had heard that it was a busy city with a rough population of 14 million (!!) and with neighbourhoods spread out on each side of the river on the European side plus further neighbourhoods on the Asian side my first challenge before even arriving was deciding where to stay. I opted for a guesthouse in Karakoy which is an area that i would recommend.. not too touristy but close enough the tourist attractions!
On my first day i headed straight for the Sultanahmet side of the city where all the tourist attractions are, i had to cross over the Galata Bridge to start with which gave me a fantastic view over the river and the mosques on the other side.
I headed for the main square which has quite a few of the attractions surrounding it. I was very lucky as it was a beautiful blue sky Autumn day, and for me coming from a British Autumn i found it fairly warm.
I started off visiting the Blue Mosque which isn't as blue inside as you may think but it was very beautiful and best of all its FREE to enter.
I then crossed the square and headed to Hagia Sophia, earlier this year i read Dan Brown's book Inferno (which i highly recommend!) and this building plays a big part in the book. As i was queuing to get in (which was actually a really small queue considering i had read that at some points during the day you can queue for ages) a tour guide started speaking to me and asked if i wanted a tour, i said no its fine and he said he could do it for 20 Lira but 10 Lira if i was poor and for free if i was really poor.. of course i claimed that i was really poor and didn't think he would then bother but he said 'ok then i'll take you in' i cautiously asked what the catch was and he explained that he does tours all over Turkey and when he's not doing them he does tours around Istanbul and especially Hagia Sophia and right then he was bored so why not offer a tour for free.. fair enough i thought although still a little cautious but at this point i had said yes and had brought my ticket so i had to go in one way or another, the ticket costs 30TL/ £6.00 and the guy did in fact give me a really good tour with lots of interesting information and facts.
At the end i did expect him to recommend a tip and if he had i would have given him one but he told me i could stay there now as long as i want and off he went.. although he did mention he would be working by the gates until 6pm if i wanted to go back and say hi.. i didn't and i got free tour so i'd say i did pretty well! And the building was really amazing and interesting!
My next stop, as with Dan Browns book (although writing this may have just given away part of the ending so sorry!) was the Basilica Cistern, which took some finding as there's only a small building on the street level where the tickets are sold and then it all goes underground! This is a huge area used to hold water for the city built in AD 532!! and from the outset it sounds quite boring but along with reading the book and the ery-ness down there it was quite an interesting place to visit and cost 20TL/£4.00 to enter.
My afternoon was spent walking around the busy streets of Istanbul a long with visiting the Grand Bazaar and Spice Market. As I'm at the start of a big trip i didn't need or want to buy anything but had i been going straight home from Istanbul this would be a very different story! Both markets are a fun place to visit though as long as you can ignore all the comments from the men that work there!
Later on i walked up to where the Galata tower is as it isn't far from where i was staying, got a falafel wrap (which i ended up eating every day while i was in Istanbul!) and called it a day.
On my second day in Istanbul i woke up to a bit of rain and grey skies so i got out my brolly and headed for Taksim Square which is the other side of the river to Sultanahmet. To get here i had to buy an 'Istanbulkart' and use the tram and then the funicular, both of which were really easy to use! I was due to get a bus to the airport from near Taksim Square when i left Istanbul so i found the stop so i knew how long i would need to give myself when i left and then i headed for Istiklal Avenue. To be honest i wasn't that impressed with Taksim Square or this road, it's the new part of the city and is full of high street chain shops and restaurants but if that's what you're looking for then i can see the appeal!
This road took me all the way back to the Galata tower where i had been the night before and down the street from here i decided to stop for a chai tea and baklava because i was in Istanbul of course!
That afternoon i headed back over the Galata bridge to the Sultanahmet area to visit the 'New Mosque' which i would say is even better than the Blue Mosque and had another walk around the streets.
On my last day in Istanbul i headed over to Kadikoy on the Asian side as this was something i had really wanted to do seen as the city is split over two Continents. I have written another post on this here and i would highly recommend adding it into your Istanbul itinerary as it really made my 3 days in Istanbul!
In the afternoon i visiting a Turkish Bath or Hammam as they are known which was ermm… lets say an experience..i left feeling incredibly clean and soft but there were some funny/ awkward moments.. look out for another post on this!
And then to end the day i caught the sunset from the Galata Bridge which was just amazing!
Overall i really liked Istanbul and i'm glad i visited, i can't say that i fell it love with it but that was probably to do with the fact that i travelled there alone, didn't experience any nightlife and of course in 3 days theres only a certain amount you can see (especially on a budget!) i would definitely go back again in the future though!
For some really detailed must see's for the city i'd recommend heading to GirlxDeparture's blog who is currently studying in Istanbul and has lots of hints and tips on the city!
Useful Information
I found Istanbul really reasonable in price! Again, as with most places you can spend as little or as much as you want but i found i could eat really cheaply – £2.00-£3.00 by getting some food at a cafe or take away place.
Istanbul is a huge city with lots of neighbourhoods as i mentioned so don't just stick to where you're staying or where the tourist sights are, take a day to explore away from this and i guarantee you'll find some awesome streets.
To get around on the public transport in Istanbul you do need an 'Istanbulkart'- like an oyster card. These can be brought from shops around the city and at most tram stops etc. The card cost me 7TL and then each bus, boat, tram ride you take costs 2-3 TL so it's really cheap to use!
I used the Havatas bus to get to and from the airport which drops you off at Taksim Square and cost 14TL/£3.00 from Sabiha Gokcen airport.. note that there are 2 airports in Istanbul!