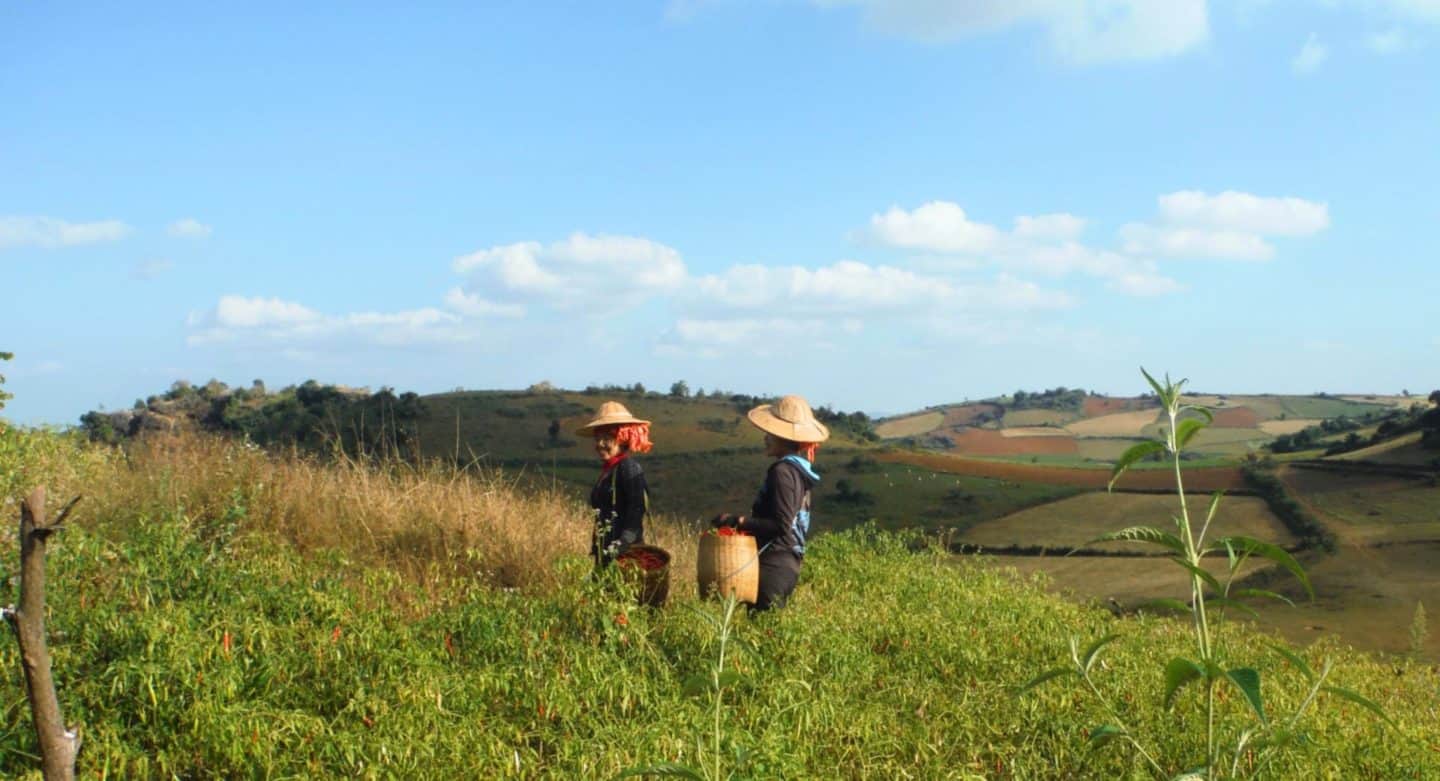 Inle Lake is a popular place in Myanmar and was always in my initial plan to visit, however it wasn't until i started doing some Myanmar travel research that i realised it was possible and popular to hike there over 3 days from a hill station town called Kalaw!
I found Drew's post from The Hungry Partier, and after sending it to my friends we knew this was something we had to do! We aren't major hikers and walkers but we do like adventure and getting off the beaten path.
After spending 2 full days in Bagan, we got picked up at 7am from our guesthouse and took the 7 hour bus to Kalaw, the bus journey really wasn't that bad and went fairly quickly with a lunch stop a long the way.
We hadn't prebooked accommodation but i had heard a girl talk about Golden Lily and on arrival a guy from there was waiting for the bus, we headed to the guesthouse with him and as usual couldn't be bothered to look anywhere else. We got a room for $14 USD between all 4 of us including breakfast, in the end the room and the guesthouse was very shabby but as we were only paying £2.30 each for a bed for the night and breakfast (which was actually pretty good!) we were happy with it.
On check in, a guy that worked at the guesthouse told us about the tour they run to Inle Lake, it sounded good especially as they informed us that they take a route that's different to the rest of the tours and the original route and that on our second night we would stay in a monastery but we wanted to do some research into other companies first so headed out into the town to have a look around before saying yes.
Kalaw itself is a very small town with just a few roads for tourists and tourists only really visit as a base to start the trek from. We had read about Uncle Sam's and had heard their tours were good but after going in for a chat and hearing how many other people they had signed up to do the tour the next day and that they went on the 'original route' we decided that going with 'Jungle Trek' who our guesthouse were working with would be the best option. We also read the reviews on TripAdvisor about Jungle Trek which were on the Golden Lily guesthouse page and they reassured us we were making the right decision.. and we definitely did!
We got up early the next morning, had breakfast, got our big backpacks all tagged and put to one side as they were taken to Inle Lake for us (thank god as there was no way i could carry my backpack with me!!) and we met Cindy a 19 year old Burmese/ Nepalese girl who was going to be our guide a long with 4 other girls who were in our group.
In total we walked 56km and it was a great experience, we kept a good pace and there weren't many points where it was too strenuous as most of the land was fairly flat.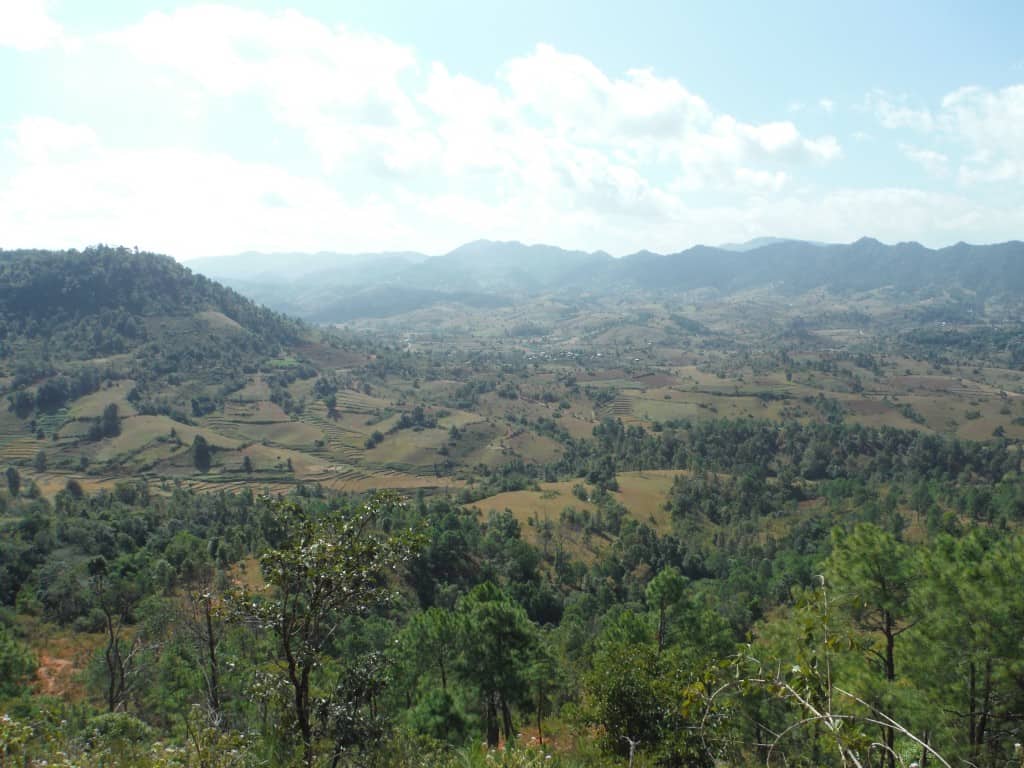 We walked through so much countryside which was constantly changing, we walked through villages where the local people were going about their day with the occasional smile and wave to us, we past school children on their way home or playing in the playground, we had water buffalo's constantly pass us with their farmers behind them, we saw chilli's growing in fields, ladies picking them and then as we went through the villages people's house's were covered with red blankets of chilli's drying out.
Jungle Trek also stuck to their word and we didn't pass any other groups or tourists! Jungle Trek took out 3 separate groups on the day we left so we crossed over at the meal and accommodation points but they planned it very well so that each group was staggered and left separately and this was a major highlight for me as i didn't want to be bumping into groups walking all the time from different companies, i wanted it to feel more natural and raw.
Cindy was a great guide too and was always stopping to tell us what we were passing, what was growing in the fields and she was generally a wealth of information despite how young she was! She was also a very positive little lady who is currently studying as well as working, she has plans to become a lawyer and she wants to be able to work and help out the poor people in her country.. such a sweetie!
For me the only slight downside of the trek was the accommodation, we knew it wasn't going to be great due to the low price we had paid for the trip (i have detailed the price at the end of the post) and really it wasn't that bad but it was very basic so be prepared if you do do this trek (which i recommend you do!).
The first night we stayed in a house in the village and on the second night we stayed in a Buddhist Monastery, there was a line of mattresses laid out on the floor in each place and the bathroom's were outside which were very smelly squat toilets. There were makeshift showers available but the temperature dropped so much in the evening and at night once the sun had gone down that we didn't fancy having a shower either night but as we were all in the same smelly position it was ok!
The food was really good! We had 3 meals a day and stops to break up the morning and afternoon in tea shops where we made the most of the chai tea and they also had a selection of snacks.
On the third day we finally reached Inle Lake, once we had had our last lunch we said goodbye to Cindy and got on a boat which took us from the South of the Lake to the North where the town is. This boat trip was an experience in itself as it took about an hour and we went through the village that sits on the water and then the lake opens up and we saw fishermen fishing and although we did go back on the lake for a day trip a few days later i felt like i saw plenty of it on this boat journey alone and it was the perfect end to the trip!
The trek was definitely a highlight of my time in Myanmar and i would 100% recommend it and especially recommend the company Jungle Trek and Cindy as a guide.
Costs
The trip cost was 39,000k which covered 3x lunches, 2x dinners and breakfasts plus 2 nights accommodation. On top of this we paid 3000k for our bags to be taken to Inle Lake and 3000k for the boat trip at the end of the trip which totals to 45,000k/ £23.30 which was an amazing price and definitely kept us on budget for the trip as there was nothing else to spend money on except for water as this wasn't provided!
There is also a $10 USD fee to enter Inle Lake which we had to pay on the last day of the trek, no matter how you arrive in Inle Lake this has to be paid. It can be paid in local currency though which is 13,000k/ £6.70.
I can see this trek and this route becoming more and more popular so make sure you do it now before it gets too busy!!
One of my favourite photos: These 2 children were so friendly waving and saying Hello to us and they had the iconic chilli's drying outside of their house.