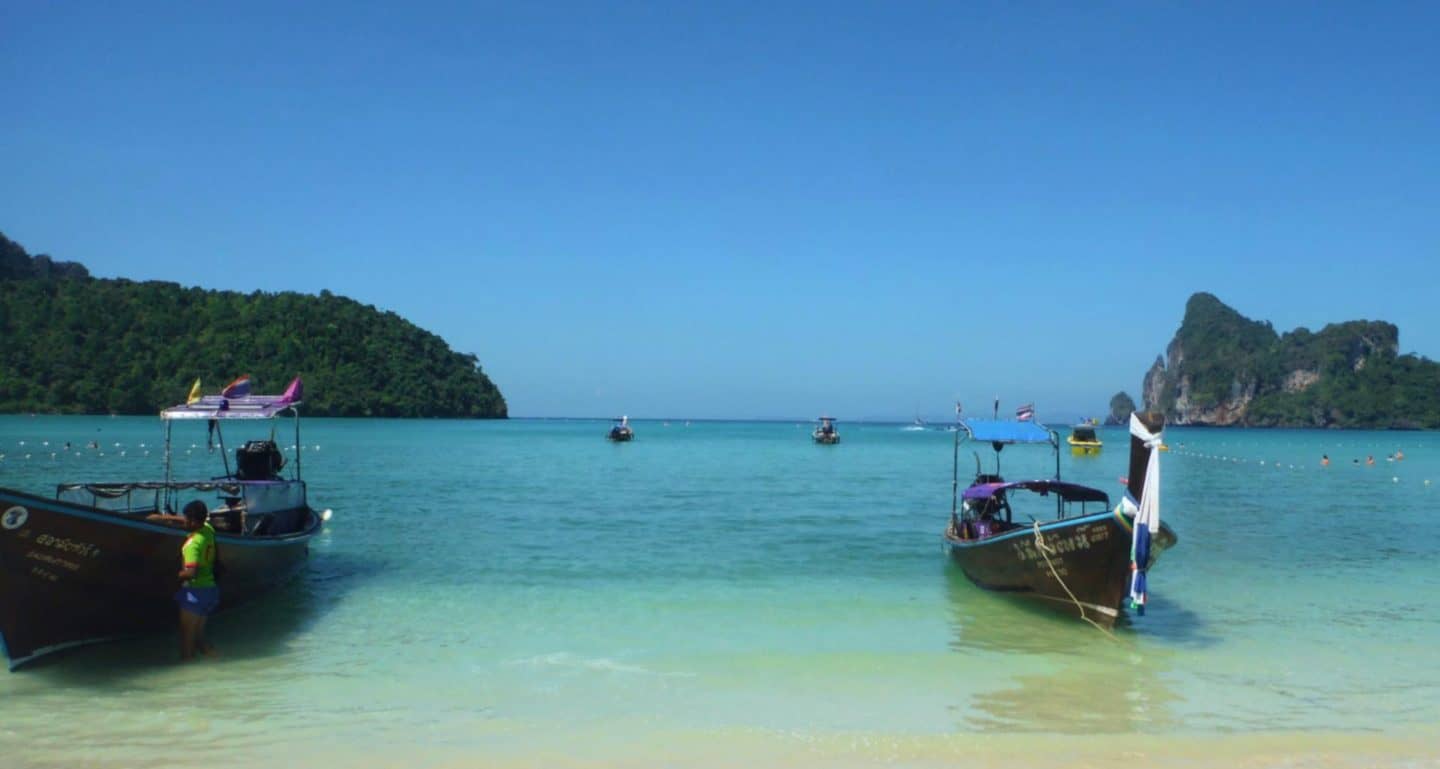 It was my friend Steph's birthday coming up and she wanted to go to the party island of Phi Phi, I'd been there twice before, once in 2011 and once in 2014 for my 24th birthday and i love the nightlife there so from Koh Lanta we took a short boat trip over!
If you look online for accommodation for Phi Phi there's not many budget options on there, they have a lot of hotels and resorts online but barely any hostels so we arrived without pre-booking accommodation.
Phi Phi is one of the smallest islands in Thailand that is visited by tourists, there are no cars or even mopeds so as soon as you get off the pier you are in the town and there's just a few streets that wind around the town and eventually all seem to link up.
As there were 3 of us and it was very hot, we left our bags with Sarah and Steph and I went on the search for accommodation. There's definitely more guesthouses than hostels although there are still dorm rooms advertised and the budget accommodation is indeed very budget and you do compromise on the quality!
We eventually found a room for the 3 of us at Baan Thai Guesthouse, the room was pretty small and the lady on reception was horrible and just shouted at everyone and had a million set of rules but the location was good and it was the best quality room we found for the lowest price- we ended up paying 1800 TB/ £35.00 per night between 3 of us which is quite a lot for Thailand but i knew Phi Phi is more expensive than the other islands and its peak season there in January.
After checking in we headed out to the main beach, it is a bit dirty, there's lot of bars behind you plus a building site and there wasn't a lot of sand to lie on but if you just look out towards the ocean then it's totally gorgeous and this is the Phi Phi i remember and fell in love with back on my first trip in 2011!
As i said, i really like the nightlife in Phi Phi, there's some bars that you can start in in the town and then you head to the beach to watch the fire throwing and finish by dancing on the beach at one of the bars.
Normally i start at the Irish bar however it was closed while i was there this year (how rude!) so we started in Stockholm bar where the buckets were cheap and the music was good! Then we headed onto the beach picking up a bucket from one of the street sellers on the way (they're always cheaper than the bars). Slinky's and Ibiza are always my first point of call and we ended up spending time at both of them and having a great night!
The following day we were rather hungover but we stumbled upon Tapear1994 Tattoo shop with some tourists in, I've always been intrigued by how the traditional bamboo tattoos are done and a girl was getting one done in the shop so we hovered for a bit to have a look.
I have a few tattoos already and I've always wanted to add a bamboo one to my collection and I'd been wanting to get one on my arm for a while, Steph had also been thinking about getting one and had something in mind.
Long story short, we chatted to the guys for a while and watched them do their thing, they were really good and how they do the bamboo tattoo is so impressive! It's basically just a few needles with ink on the end that they continually tap into you and the detail and shading they can do with it is incredible!
We headed out that night to do the same as the night before and the following day we went and got inked up! I was pretty nervous as i was scared it would hurt more than the gun machine tattoos but as soon as he started that fear went! My tattoo took about 3 hours and there were points when it was uncomfortable due to the needles on the sensitive skin on the inside of my arm but it was so much better than having a tattoo with a machine!
I've heard people worry about getting tattoos done in places like Thailand and it is true that you need to take precautions as i too have heard some horror stories but we were sensible and we made sure we watched the guys work and do a few different tattoos, we spoke to them for awhile, checked out their Facebook page which had great reviews and of course we made sure they used a transfer first so we were happy with it and the positioning! I would definitely recommend these guys if you're in Phi Phi and want a tattoo done!
Not only is it pretty cool to have a bamboo tattoo done in Thailand but it's also very cheap! Mine cost 4500 TB/ £90.00 which is a lot cheaper than what it would cost in the UK or Australia etc.
After 3 days and nights it was time to leave Phi Phi and head to Phuket for a night before catching a flight to the Philippines!
I already loved Phi Phi and although it is very busy and can be quite dirty and is definitely not in the pristine condition it used to be it's still a good island to visit and have fun on!