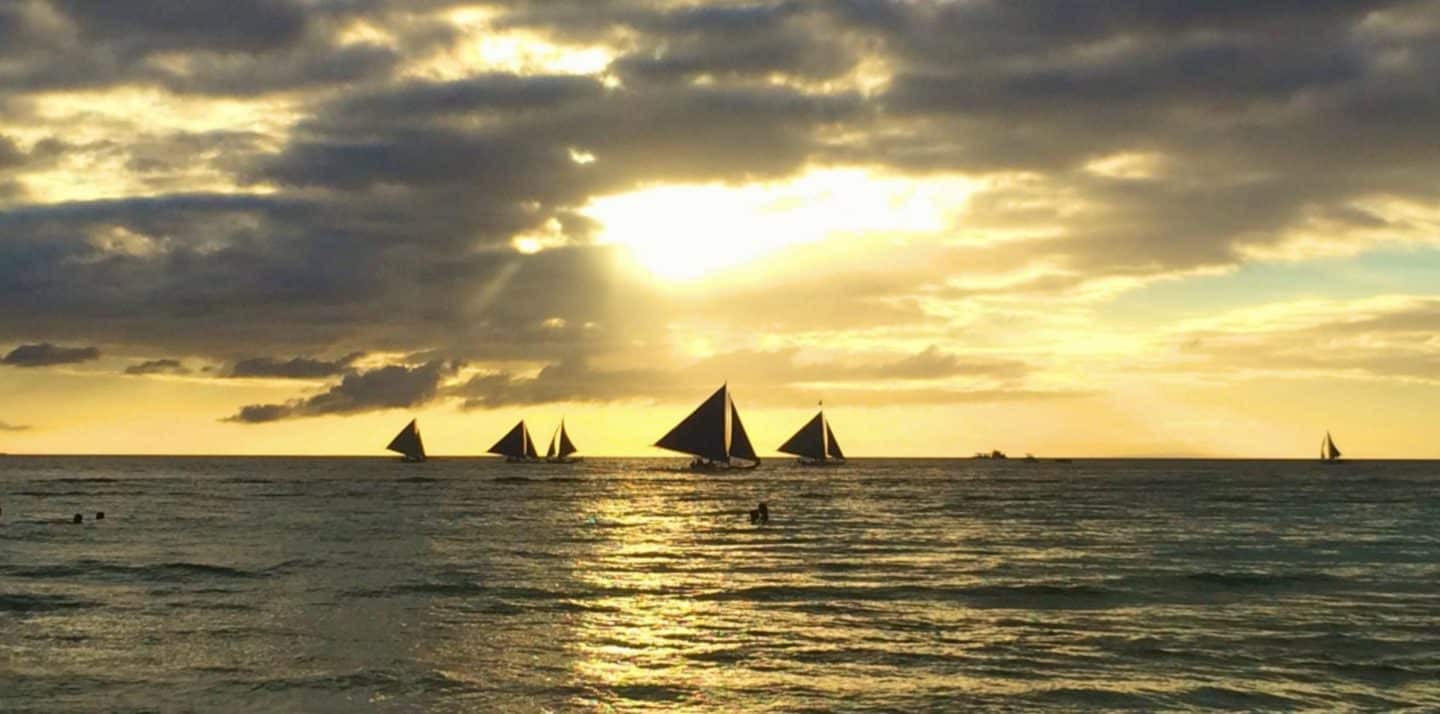 Oh Boracay.. where do i start??
Well firstly, Boracay was voted the best beach in Asia for 2013 and again in 2015, the 7th best beach in the world for 2015 and included in the top 100 best beaches in the world, and that's to just name a few of its awards so of course when planning my trip to the Philippines Boracay was a must!
The only thing is, Boracay isn't the easiest place to get to! Boracay is a tiny island and doesn't have an airport, therefore you have to fly into Caticlan airport which is on the tip of the bigger island below Boracay and then get a short transfer from the airport to the pier and then a boat to Boracay OR if you're a budget traveller like me you'll have to fly into Kalibo airport, this airport is 2 hours South of Caticlan and because of this the flights are so cheaper (Here is a post with all the details!).
Once you arrive in Boracay heading to its famous White Beach is naturally what you'll do. This beach is a 4km stretch of gorgeous white sand and is split into 3 section's station 1,2 and 3.. easy!
I stayed at Casamso hostel which i found on hostelworld.com and paid 700 peso/ £10.00 a night for for a dorm room, this hostel doesn't have its own reception or anything as it's basically part of Frendz Resort which has a bar, a really great atmosphere and its in a great location in station 2, i would 100% recommend staying at either of these hostels while you're in Boracay!
When we arrived we were greeted with cloudy skies and this continued for the next 3 days (!!) however we were still completely overwhelmed by how gorgeous the beach was even when it was cloudy.. and coming from a sun lover like myself that definitely says something about Boracay!
To be honest, i didn't have too many prior expectations and thoughts on what the island would be like, I'd seen photos of the white sandy beach and the gorgeous blue water but i wasn't sure how built up it would be. On our way to the hostel we started off by seeing a McDonald's which really surprised me, then we walked out onto the beach and saw a Starbucks, a TGI Fridays and a Subway all on the little pathway behind the palm trees that line the beach and although it surprised me initially i didn't actually mind.. i guess i knew that i wasn't going to an isolated, off the beaten track island so i wasn't too bothered to see these chains which give holiday makers some westernised 'comforts'.
In fact, i was in need of some Westernised food options as up until now i hadn't been impressed with the food in the Philippines at all, it didn't help that I'm vegetarian but generally you don't go to the Philippines for their local food unfortunately! Sarah and I ended up eating in a place called Army Navy nearly everyday, their fries and burritos were the perfect hangover cure (opps!)!!
And despite how built up the island and especially White Beach has become, it's still SO clean! I think the build up of resorts and the sudden mass tourism usually affects islands negatively in terms of how dirty it becomes but this definitely isn't the case on White Beach and is one of the reasons its won so many awards.. they also seem to recycle on this island which you barely see in South East Asia!
On the note of mass tourism, there were also a lot of people on the beach each day. It seemed that a cruise ship pulled in each day where i assume a good few hundred people came off, plus while i was there it was coming up to Chinese New Year, another reason i think it was so busy but again- i could hardly be surprised, who wouldn't want to go to Boarcay??
Our days in Boracay were filled with relaxing on the beach all day, catching the sunset at the end of the day and then heading in to get ready to go out because Boracay definitely likes to party and it definitely likes its Rum, and when Rum is nearly as cheap as water then who can resist!
We used to drink at our hostel bar- Frendz Resort first where the drinks were super cheap- 60 peso/ £0.85 for a rum and coke or beer and then head out onto the beach. The bars don't actually go onto the beach which i guess helps keep it so clean but instead we used to sit around outside the bars, meeting people and drinking rum and then have a dance at the end the night. Bars and clubs that I'd recommend are Exit, Coco Mangas, Epic and Sumerplace.
The sun finally came out on our last 2 days in Boracay and it made it even more gorgeous!! To celebrate i decided i would finally tick paddle boarding off of my bucket list, this is something i had wanted to try for ages but i never felt confident enough as i was scared people would be watching me if i fell or i didn't think the water was calm enough, but here was the perfect place to practise because there were so many people out on the sea with paddle boards that no one was actually watching you and most people seemed to be beginners so there was no competition! I really loved it and will definitely do it again!!
Overall i loved Boracay, there are lots of activities you can do- kite surfing, boat trips etc but we were happy just to relax as these were the last few days of my trip and i can confidently say that i will be heading back to Boracay in the future!
Make sure you also check out: 5 Places in the Philippines You NEED to Visit & How to Get to Them All!
**There's a video of my time in the Philippines on my YouTube page which includes clips from Boracay, check it out here!**