I admit, I have a love hate relationship with hostels. I mean, I love the social vibe of them, I love the price, I love (most of) the people I meet in them.. but I hate the lack of sleep I often get from staying in a dorm room (hello light sleeper!) and I certainly need my sleep otherwise I'm not a happy wanderer!
I've done a rough count of how many hostels (aka dorm rooms) I've stayed in since I went on my first trip to the USA in 2010 and I got to about 80!! So I feel certainly know a good hostel when I stay at one and for now while I'm on a budget when I travel, hostels usually always have to be the answer for me, therefore I've put together some points on how I've learnt to help survive Hostel Life and to make it a much more enjoyable stay that should help you out too! Here goes:
Always always always check the reviews! I use Hostelworld to search and book places to stay and i always sort the results by rating over price. I've learnt the hard way that it's worth paying just a few pounds more to stay in a nicer hostel, this means they'll be cleaner, in a good location, have comfy beds, good facilities and helpful staff (hopefully!) and the best way to find this out is by trusting what other travellers say.
Although I do agree that it's nice to stay at independent hostels, I find that chain hostels are good because you know what quality you're going to get in every one, for example I stayed at Generator Hostel in Copenhagen earlier in the year which I was really impressed with so when looking at accommodation in Venice and I saw they had one there I booked it straight away as I knew what quality I would be getting and it was indeed just as enjoyable, comfy and beautifully designed as the Copenhagen one!
Come prepared! I couldn't sleep in a hostel without an eye mask and ear plugs. People will be coming in and leaving at different times, potentially making noise, packing away their things etc and these will help you ignore the commotion and get a good nights sleep.
I always take a pair of flip flops too even if I'm going to a city and won't be wearing them out, it's so much nicer to have these when you're walking in and out of the bathroom at night or when you go for a shower (I do sometimes wear flip flops in the shower haha). Also having your own towel makes life easier as most hostels do not provide you with a towel and some then charge you for use of one, this is the same with a padlock so always bring your own!
Focus on the positives! I mentioned a few positives of hostels above like being social, the price etc but there are a few other things that make them better than hotels, for example most have kitchens to cook and store food so you don't always need to eat out, often there's free computers, there's usually always free wi-fi, helpful staff with plenty of knowledge who take the time to give you a map and guide you around the city/area rather than just pointing you in the direction of your room, discount prices at their bar and restaurant if they have one, potential free tea and coffee facilities.. just those little things that will help make the lack of sleep slightly worth it!
Be considerate! I always try to make sure my bags are packed the night before if I have to get up early and I make sure I make as least noise as possible if I get in late and people are in bed, I use my phone as a torch when its late and the light is off and I don't think it's too much to expect this from fellow roommates too however from experience I know that often not all people are like this!
I'm usually the one that goes to bed early and then gets up reasonably early as I like to see places in the morning before it gets too busy and not spend all morning in bed, so the way I see it is that if you come in at night and are not considerate and wake me up by being purposefully loud then I may just make some noise in the morning to try to disturb you.. what goes around comes around!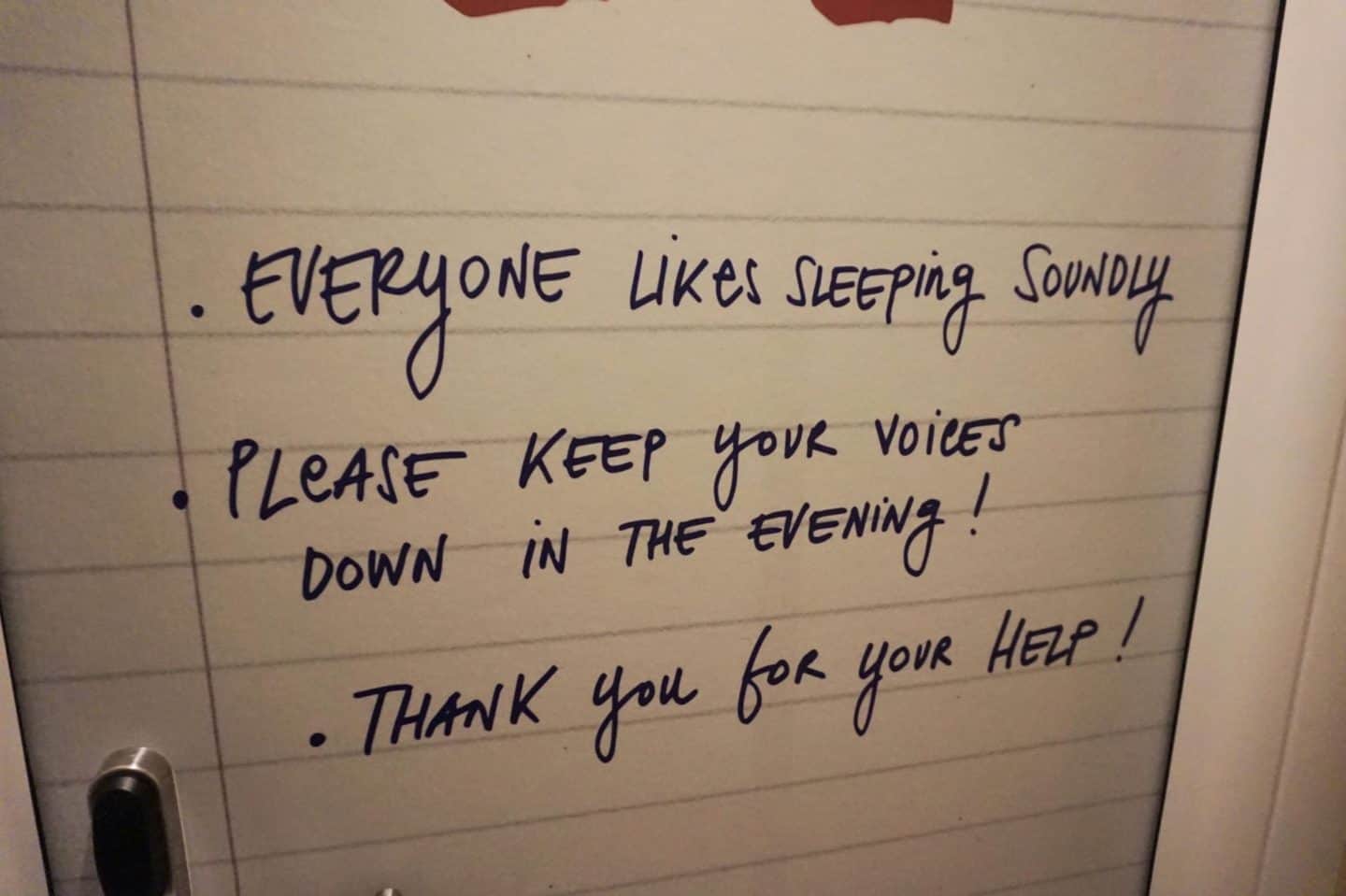 Check out the private room rate! Understandably private rooms are more expensive than a bed in a dorm room however if you are travelling with a friend or partner then have a look at the rate anyway as it may only be a little bit more than both of your dorm rates put together and you may think its worth it for a good nights sleep.
On that note I always try to stay in a female dorm rather than a mixed dorm (sometimes boys can be smelly!) and I love that Hostelworld now lets you filter hostels by room type so they're easier to find so i would suggest you look into this too if you're unsure about staying in a hostel. (If only there was a no snorer room type!)
Socialise! I've met some really good friends in hostels, infact I met my best friend in a hostel in Darwin in 2012 and now we're inseparable and both living in London and I still keep in touch with many more people who I've met, and ultimately this is what hostels are all about, making friends, socialising and having fun! Whether they end up being friends just for the day and you never see or speak to them again or they end up being life long friends!
It can be intimidating when you're on your own, you see a group of people having fun and chatting and you want to join in but feel like you can't. I would say just go for it, try to join in on the conversation they're having, ask for the wi-fi code or if they know where something is! I've had many experiences where I've seen a group of people and thought oh they must be life long friends from home as they're getting on so well and then I start speaking to them and it turns out they only met in the hostel the day before! Also, even if you see people who are travelling together, often they are looking for extra company and don't mind you enjoying in on their conversation or going out for dinner with them.
And there you go, just a few points that should help make hostel life easier because as I always say – I'd rather spend £100 on 5 nights accommodation in a hostel than 1 night in a hotel!
There's no time like the present so have a look on hostelworld.com to see what accommodation you can book for your next trip! *Note that this is an affiliate link 🙂
**Do you have anymore tips to make it easier?? What do you love and hate about hostels?**
Photos are from my stay at the lovely designed Milan Ostello Bello Hostel.