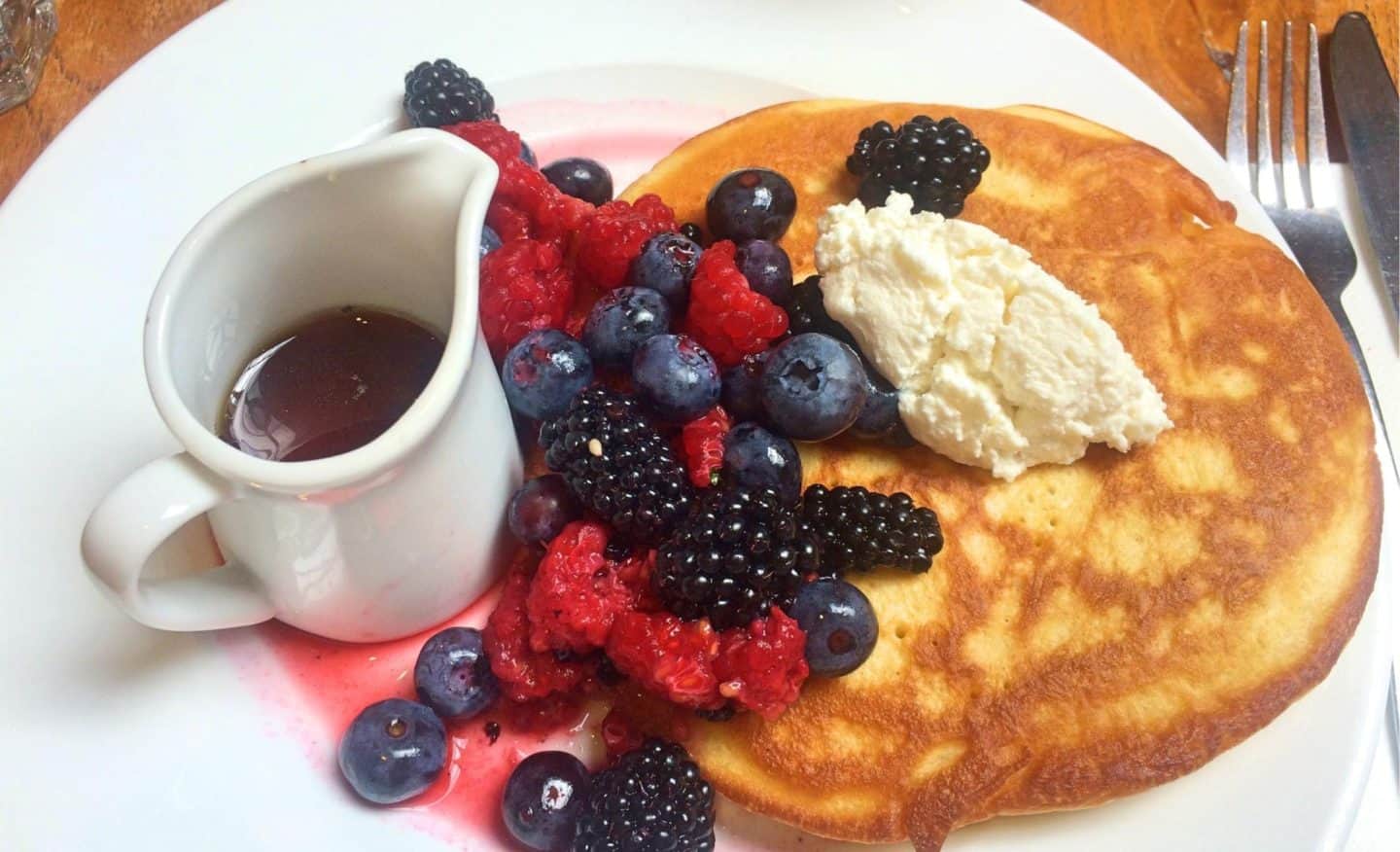 I'm not going to say that this is a list of the BEST brunches in London because quite frankly I don't have the time, nor the money, nor the calorie allowance to try ALL the brunches in London and come up with a list of the best. Instead, these are brunches that I have had recently where the food was yummy, the atmosphere was good and generally, places that I would recommend you go if you are looking to check out some cool brunch spots in London!
(I'll try to keep this list as updated as possible too!)
The Breakfast Club – All over London
The Breakfast Club has locations all over London (plus one in Brighton) so of course it's a given to head there for brunch! It's also a given that during the weekend you will have to queue (but if a brunch is worth queuing for then i'm there!). My friends and I went to the one in Hoxton/Shoreditch just off Old Street on a very wet and grey Sunday morning and ended up turning a normal Sunday brunch into a bit of a boozy brunch! I had the Huevos Al Benny and swapped the chorizo for halloumi to make it vegetarian and although it was a little cold it was really good! The atmosphere was good and pretty chilled and we ended up staying a good 3 hours or so.. the bottle of prosecco I had probably helped too!
Butter Beans Cafe – Richmond
Butter Beans Cafe is an Aussie/Kiwi run cafe just a few shops down from Richmond train station and the menu did make me feel like I had been transported back to Melbourne with corn fritters and potato rosi on the menu and of course a Vegemite option for those Aussies and Kiwi's craving a bit of home. The staff were friendly and it was a reasonable price and although I opted for a smoothie over a coffee, I have heard their flat whites are some of the best!
Greenberry Cafe – Primrose Hill
Located a long the beautiful street of Regents Park Road leading up to Primrose Hill Greenberry Cafe is the ultimate trendy and yummy brunch spot (I know this because I went two weekends running!). They have a pretty decent sized, reasonably priced menu along with a lovely decorated inside and a few outside seats.
The first time I went I had the Fluffy pancake with ricotta, mixed berries and maple syrup and the second time I had the Waffle with poached egg, avocado and switched the bacon for halloumi with a pouring of maple syrup, both were amazing and lets say that halloumi and maple syrup is my new favourite combination! You can call and book tables during the week and weekend which I would recommend as it get's very busy especially on a Sunday morning! Keep your eyes peeled too as you may spot some celebs!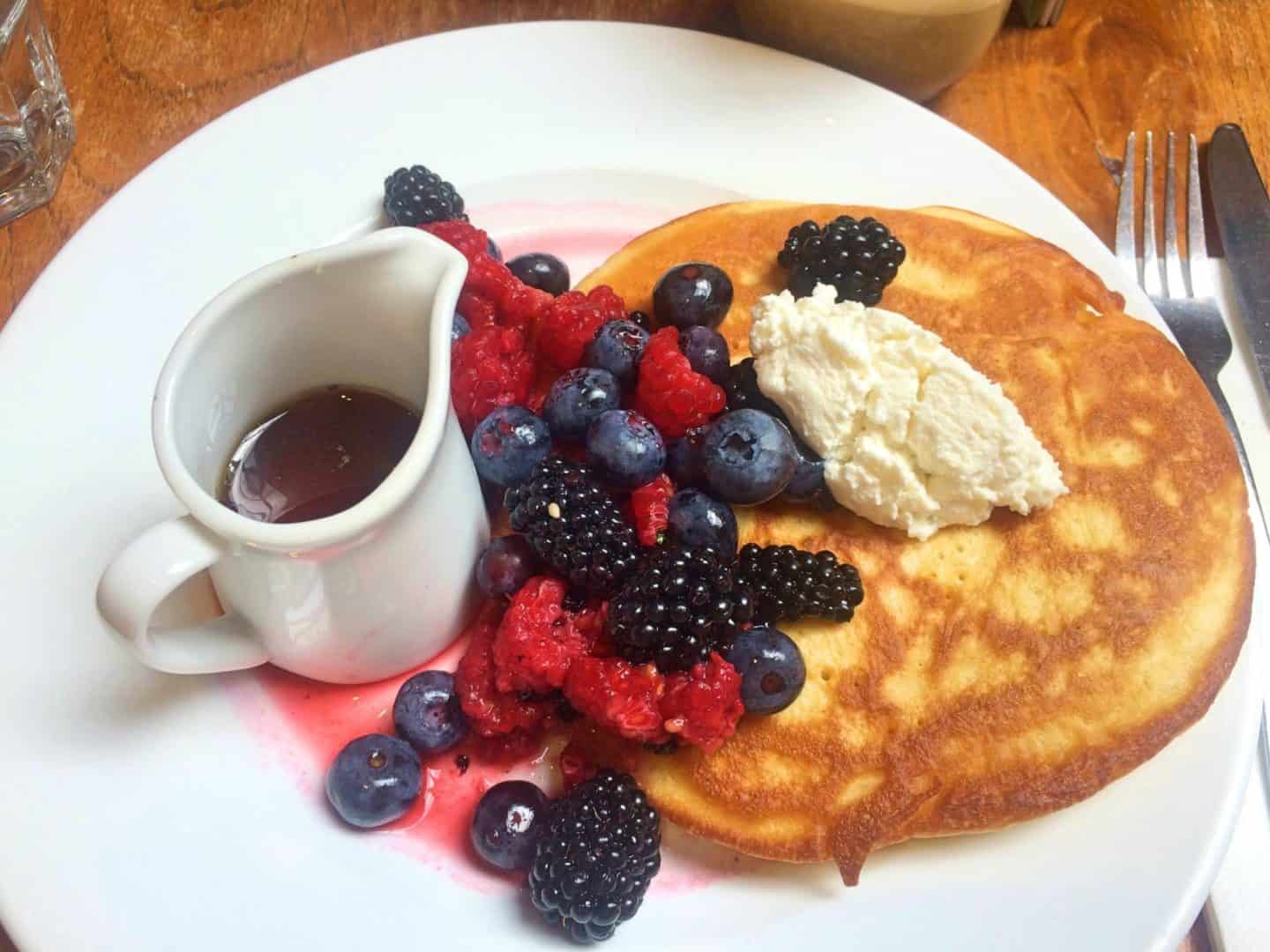 Lantana Cafe – Shoreditch, Camden & Fitzrovia
Another Aussie run cafe is Lantana with 3 locations- Shoreditch, Camden & Fitzrovia. I went to the Shoreditch branch and opted for the corn fritters without the bacon as I was advised by Runaway Kiwi that the corn fritters were incredible and I certainly wasn't disappointed! This cafe has a great vibe, perfect for a chilled brunch!
Ginger & White – Hampstead and Belsize Park
Ginger & White has 2 locations in the lovely Hampstead and Belsize Park neighbourhoods both of which could be perfectly combined with a walk around Hampstead Heath afterwards! Admittedly, so far I've only walked past the Hampstead branch which is up a very cute street and looks very welcoming! I did take my mum to the Belsize Park location though and we had a lovely brunch of pea and courgette fritters with tzatziki, halloumi and avocado!
London Grind – London Bridge
London Grind is a really cool spot and it helps that you can prebook tables online. I went for the Avocado on toast with chilli, poached eggs and feta and it was very good!  This place has a really good vibe, it's really close to London Bridge station with a view of the Shard one way and the City the other way… perfect!
They also have lots of other locations around the city like Hoxton Grind, Soho Grind, Holborn Grind, Shoreditch Grind and Covent Garden Grind which I'm keen to check out!
Granger & Co –  Kings Cross, Notting Hill & Clerkenwell
Another Aussie Brunch spot I love is Granger & Co! I've only been to the Kings Cross location which is just over the road from the station and close to the canal. There's usually a queue on weekend mornings as they do not take weekend bookings and I can also imagine there's always a queue in the Notting Hill location too considering how busy that area gets but queuing for brunch is just what we do these days in London and it's totally worth it!
The menu is pretty big however both times I've been I had the Bill's Classic of sweet corn fritters, roast tomato, spinach & halloumi (replaced from the bacon on the menu) with an extra poached egg and side of avocado and I was not disappointed! The only down side to this place I think is the price, especially once they've added the service charge on.
Hoi Polloi – Shoreditch
Located on Shoreditch High Street inside the Ace Hotel, Hoi Polloi is one very trendy brunch hang out. Their weekend brunch runs from 7:00am until 17:30pm which is pretty impressive and on Sunday they have a small orchestra starting at about 12:00 noon and if you're going on the weekend i would recommend that you book in advance.
I had the French toast with caramelised banana and honeycomb, the first half was nothing short of incredible and tasted like a dream however by the second half the sweetness was getting to me! I would recommend it but maybe go halves! The pancake stacks looked incredible too (and also very big) as did their full english breakfast. Considering the nature of the venue the prices were also very reasonable and average!
Daisy Green – Various Locations
I first saw Daisy Green on my Instagram feed where i saw people dining underneath a ceiling of pink flowers and I knew i had to go! Daisy Green have locations all over the city but I went to the one I had seen on Instagram which was Portman Village, just behind Marble Arch tube station.
Daisy Green is an Aussie run cafe (do you see the theme in this blog post that Aussie places tend to be the best brunch places??) and if you go on the weekend as I did then you'll certainly need to prebook a table. Their focus seems to be very much fresh and healthy food and they really go for it here as the food is lovely! I opted for the broccoli fritters with a poached egg, avocado and chilli pesto and it was great! They have a great selection of smoothies too and even do bottomless brunch on the weekends which would be perfect for a girly birthday party or general get together!
Andina – Shoreditch
For a slight twist on Brunch then Andina, a Peruvian style restaurant perfectly located on Shoreditch High Street is a winner. I had the corn cakes which were actually off the nut free, gluten free & vegan menu and although I was dubious at first as it was a little different to the norm I actually really enjoyed it and the corn cakes reminded me of being in South America. There's so many dishes to choose from on their menu and they suggest ordering a few between everyone so it's a winner any time of day! The coffee was also great.. of course, because its Peruivan!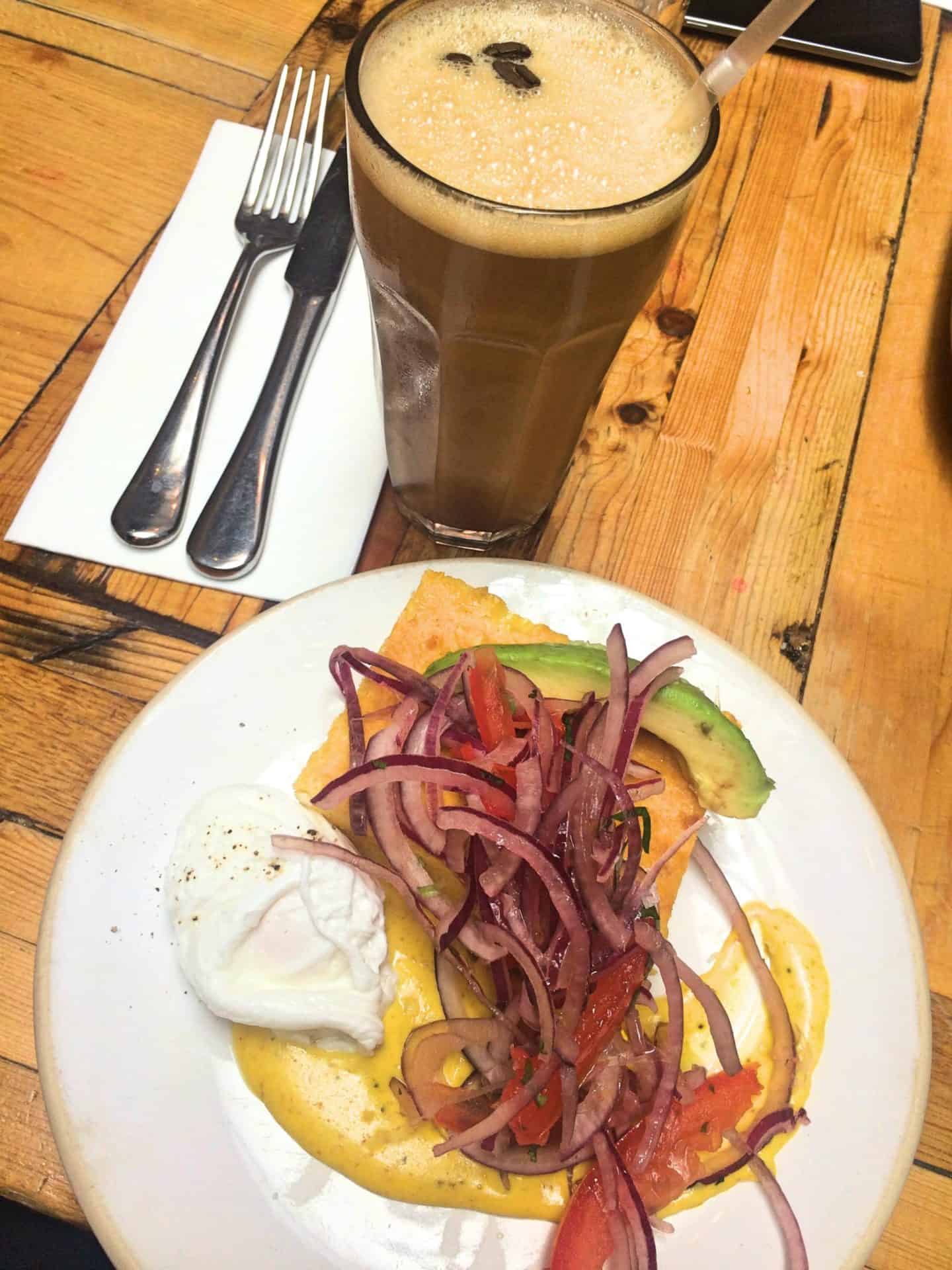 Duck and Waffle – Next to Liverpool Street Station
And finally lets finish with the best brunch you can get in London, or at least brunch with the best views in London! 40 floors up the Herons Tower at Duck and Waffle!
The lift up there is an experience in itself and you pretty much leave your stomach on the floor but the views are nothing short of incredible! I was lucky enough to be sat at a table right next to the window with a view of the Gerkin and the Tower Bridge in the distance!
This is a fairly fancy affair and there is a dress code and advance bookings are needed (a good few weeks/months in advance too), however the prices really surprised me as they were a long the same lines as any normal brunch in London, although the drinks do take the bill up!
This is definitely a must brunch in London whether it's for a special occasion or not!
**Have you been to any of these before? What do you think of them?
Let me know if you have any other brunch suggestions for me to try in London!**