Last year I discovered a bit of a brunch addiction and after brunching all summer I posted a blog post on my Top Recommended London Brunch Spots. I feel that this post is now a 2016 version of my recommendations, although all of them are still amazing (and I believe, still open) in 2017 and I would still go back to them, I felt like a newer post was needed!
So here is a second London brunch post with the spots I have hit up in 2017 including some bottomless brunch options! Winter was admittedly a bit slow on brunches for me for some reason but as soon as Spring and Summer hit I was back out brunching with my friends and on some occasions even solo. I love how Brunch is such a thing in London and there are more and more places popping up all the time! So here are my most recent Top London Brunch Recommendations!
Bar & Block – Kings Cross
Nestled to the side of Kings Cross Station, Bar & Block, a well-known Steakhouse by Day and Night launched a Bottomless Brunch Menu in the Spring. Myself and some of the other blogging girls were invited to check it out and we were certainly impressed! For just £18.00 you get unlimited Prosecco for 90 minutes when you buy a dish off of their breakfast or main menu! How good is that!
So here's what happens, when you arrive let the team know you want the bottomless option, once you're seated you'll have a Polaroid picture taken of your table which will then have your 90 minute deadline time written on the top. You'll order your dish and throughout the 90 minute period you will take the Polaroid picture to the bar to keep topping up your glass with bubbles!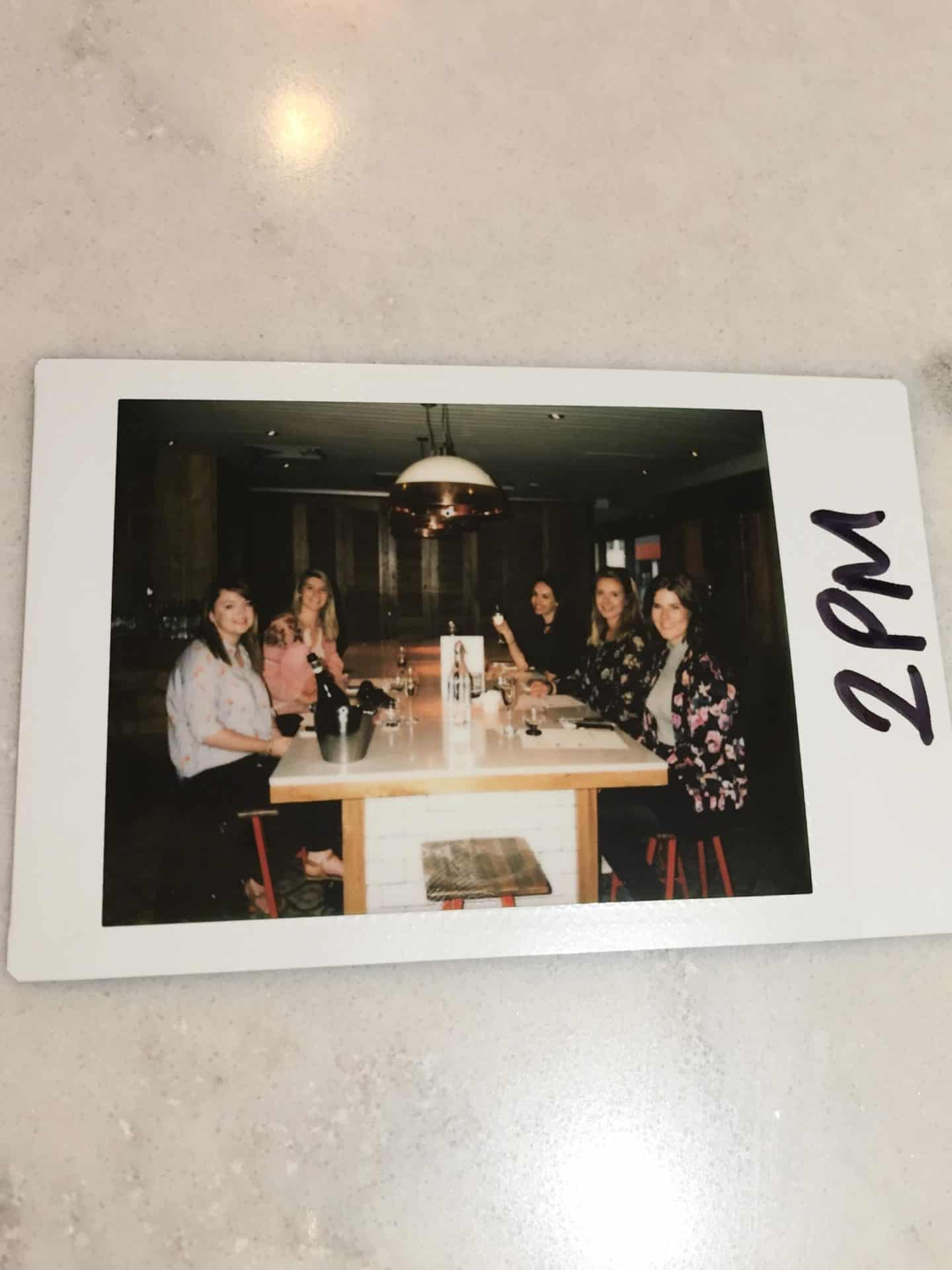 I actually love the idea of taking the picture to the bar as often in bottomless brunches if you wait for someone to come to your table to top up your drink it can take a while so at least you're in charge of how many glasses you get and the staff identify you and your time by the picture!
Your food dish can be from their breakfast or main menu so you have lots of choice! I opted for the pancakes and although they were slightly less filling than perhaps some of the other dishes they were very nice!
We were also treated to sample of their starters, mains and desserts (yes we were full by the time we left), all of which were amazing! So once you've been for brunch then you'll probably be dying to go back for dinner or lunch too!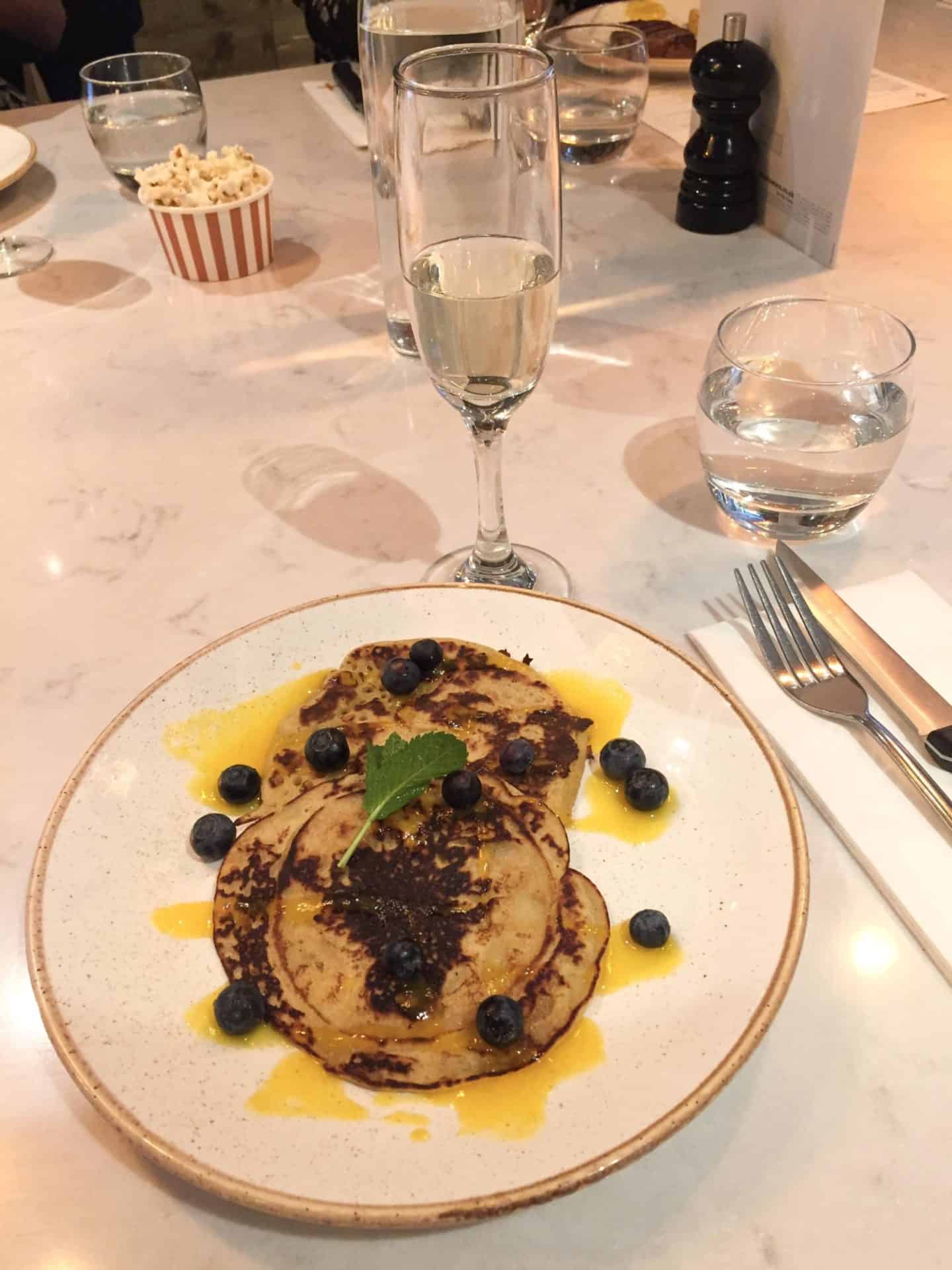 LLS Cafe – Hampstead 
You would think that the pretty London Village of Hampstead would be full of brunch spots but it's actually not and I've never found a half decent place to go.. that is however, until I walked past LLS Cafe Deli and what a treat it is! Ran by 2 French Sisters whose ethos is 'Eat No Evil', LLS cafe is a healthy focussed cafe deli. Although its only small it has a great vibe with family style tables to make the most of the space. Their menu really shows you that eating healthy, nourishing foods does not have to be boring and can indeed be very tasty! I enjoyed the Acai Bowl which was a bowl of heaven and I can't wait to go back and try the pancakes as I saw a few people eating them and they looked really good! They also do some very interesting and healthy drinks like a Choco-Matcha latte with almond milk, Spirulina latte and a Dirty Chai Latte and some amazing smoothies!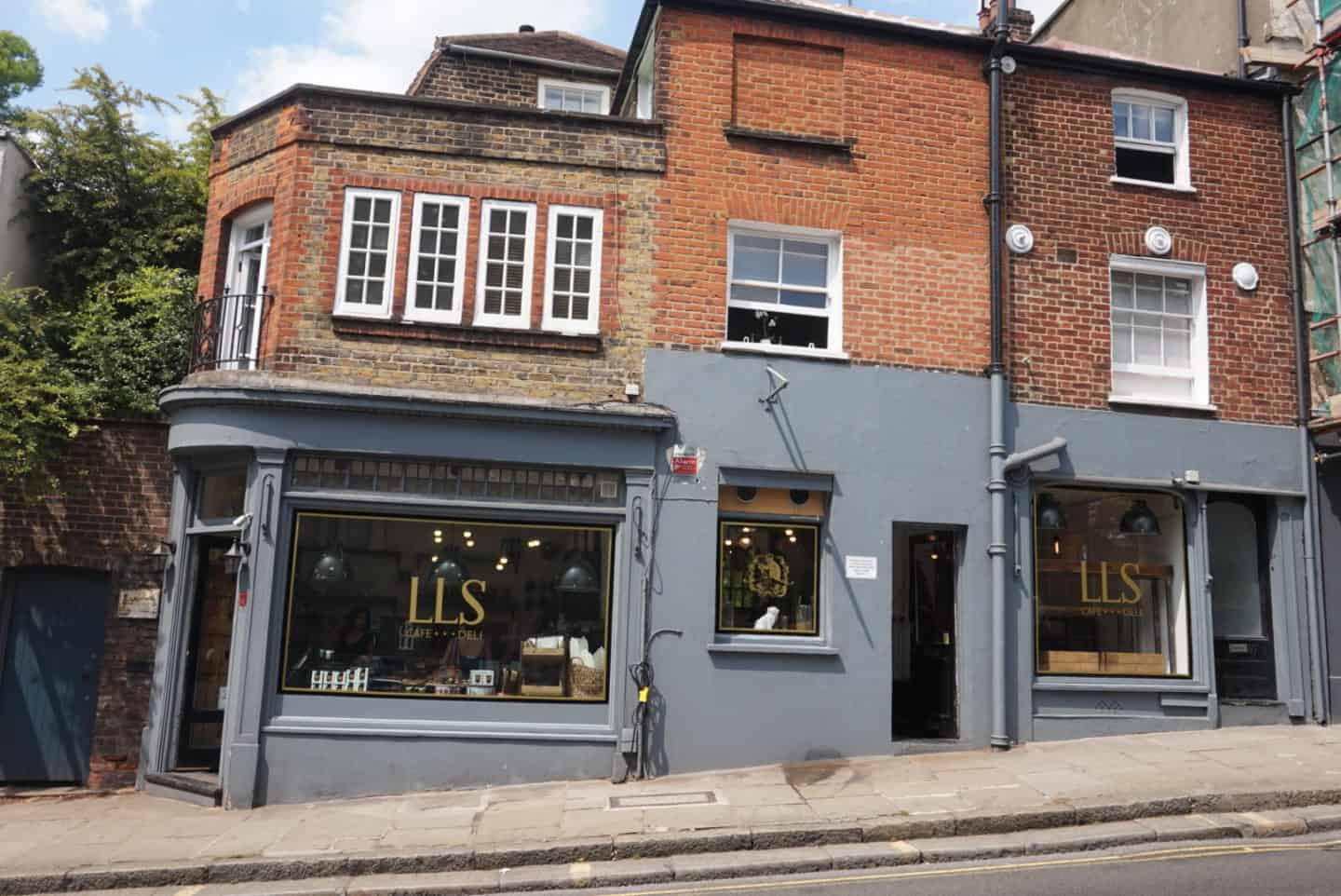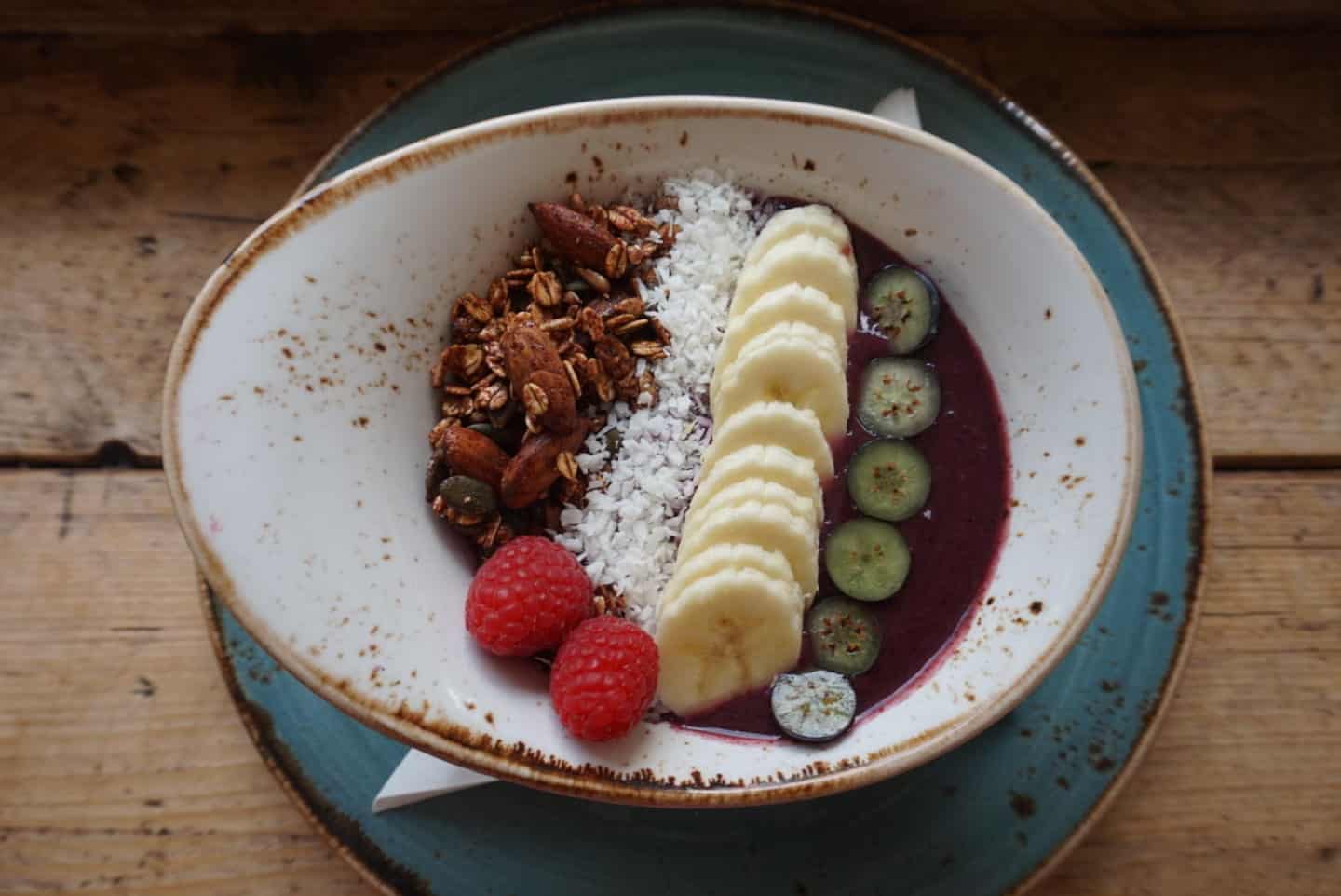 Oslo Hackney – Hackney
Pretty much attached to Hackney Central station is Oslo Hackney Restaurant and Bar. By night this bar is pumping and a popular music venue however mid-morning (baring in mind they don't open until 11:00am) it has a calm atmosphere and a Nordic inspired brunch menu complete with waffle dishes, rye bases and Norwegian Salmon! I was going to go with a savoury option but at the last-minute opted for the 'Breakfast of Champions' as pictured below and I was very happy with my decision. This place is a great way to kick off a day in East London!
Farm Girl – Notting Hill
Farm Girl had been all over my Instagram feed in the spring months including Tanya Burr's social  media as she wrote a blog post about it here so obviously I had to go too!
Notting Hill is notoriously busy on the weekend so it's very likely you will have to wait and queue for a table here, however once you're off the busy road and inside their little courtyard or in the restaurant then you could be anywhere in the city or even in the world as it's got a great atmosphere!
And this place is popular for a reason, of course they have your usual drinks, but they also have a Rose Latte, Liquid Gold Latte, Matcha Latter, even a Butterfly Latte! All of which are different colours.. hence the Instagram craze!
They also have a great menu which is not only very Instagram-able too but healthy and delicious too! There's not a greasy spoon to be seen here! I went for the Berry Pancakes which were very filling and yummy and the Matcha Latte. This place can honestly not be missed!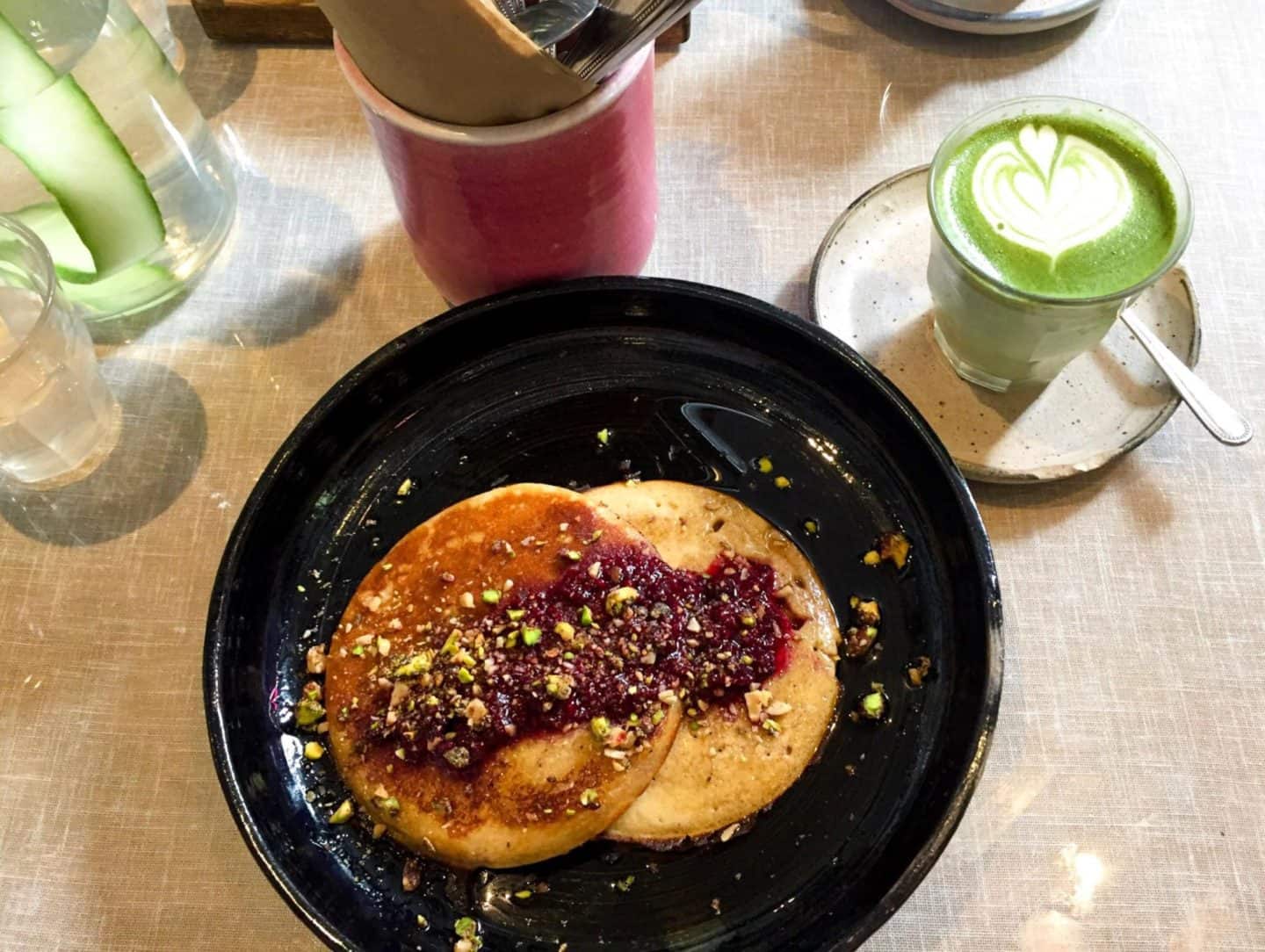 Ask for Janice – Farringdon
Quite a random name for a café and in quite a random location just down the road from Barbican & Farringdon station, Ask for Janice is a funky little cafe offering range of dishes and drinks.
I was there for the bottomless brunch with a group of about 12 of us! For £35.00 we got to choose 3 dishes from the breakfast menu, and we also got a choice of 3 drinks for the unlimited 2 hour slot! Not bad really considering we left full and pretty tipsy! The 3 drinks on offer are Bloody Mary, Bucks Fizz and Salty Dogs (gin based cocktail). I stuck to the Bucks Fizz but we were allowed to swap drinks.
Food wise I went for the Avocado on Sourdough Toast, the Steak and the Granola. Their menu does seem to change regularly and for a party our size we choose our meals in advance to make it easier. This place certainly managed to keep up with all 12 of us drinking and provide great food so I would definitely recommend it! (Bottomless Brunch is only offered on a Saturday though).
Duck and Waffle – Liverpool Street
I included Duck and Waffle in my last brunch post however I went again this year for my birthday so I had to include it again!
Duck and Waffle is by far one of London's most impressive brunch spots. At 40 floors up the Herons Tower and overlooking all of London it's great for a special occasion. The main reason I'm including it again is because last year I was a veggie when I went so I had the egg and avo, however earlier on in the year I became non-veggie and after hearing good things about the actual Duck and Waffle dish, I knew I had to try it! A duck leg with a duck egg, a waffle and maple syrup! OH MY GOD! It was so good! I would 100% recommend this dish!
My brother did go for a sweeter waffle option which looked good too! Whether you want a special occasion brunch or just a general brunch then Duck and Waffle is a great option, just be sure to book online a few months  in advance as its really popular!!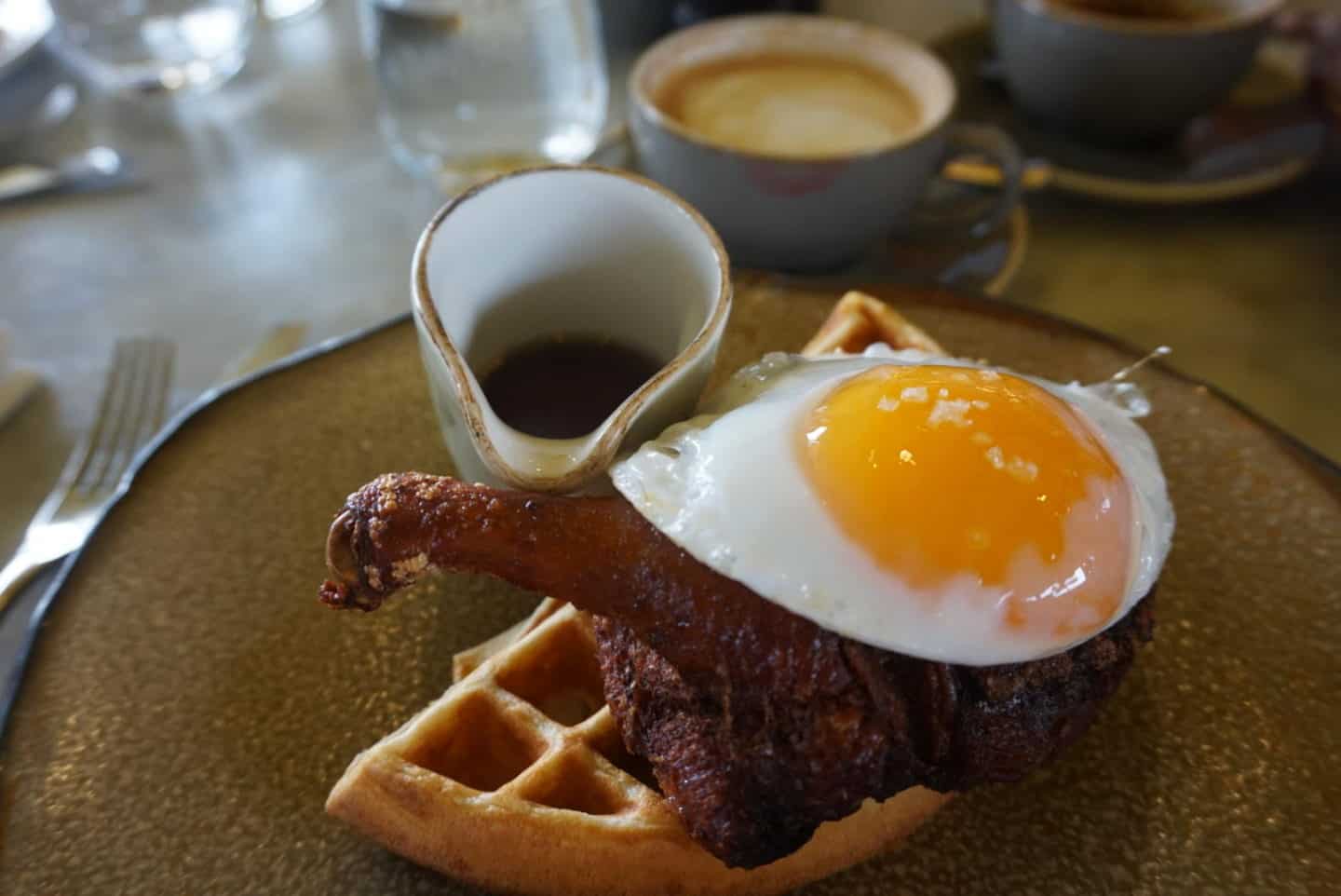 Cafe Miami – Hackney 
This is another spot that has become popular on Instagram recently. Cafe Miami is in a slightly random area on a street not too far from Hackney Central, but once you reach it you could well be stumbling upon a cafe in Miami! It's only a small place but has a bright white and pink interior with super friendly staff. It serves Milkshakes as well as Coffee and a range of breakfast options from Homemade Pop Tarts to Pancakes to Sweetcorn Fritters like I had. It's well worth going, even if it's just for the insta!
Palm Vaults – Hackney 
This is another gem in an unexpected area of Hackney. Palm Vaults has gotten so popular so quickly thanks to Social Media, however it's so cute that there's no surprise that it has! It's a plant-based cafe with a weekly changing menu. It's colourful latte's are an Instagrammers dream and it's dishes are a vegan's dream!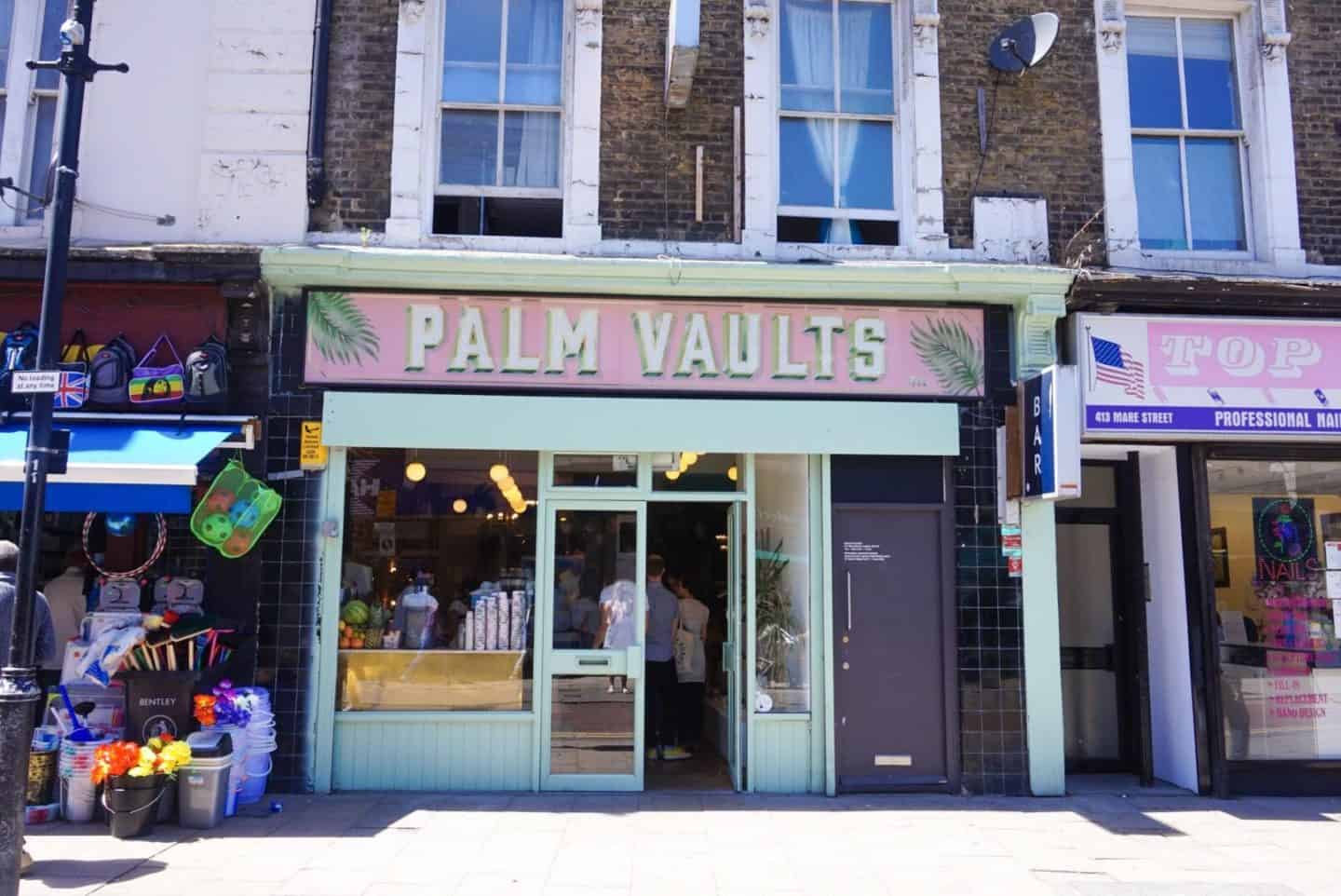 Friends of Ours – Shoreditch
I had seen Friends of Ours on Instagram a fair few times so it was high on my list to visit! It's in a slightly strange location, not too far from Old Street station but when walking up the street it's on I kept thinking, surely it's not up here? However I then started to see a whole load of people sat outside enjoying London's Summer sun and I realised I did have it right!
Friends of Ours is an Australian Style Brunch Cafe and I was glad to hear a few Aussie accents in there too. The menu did surprise me though as it was very Asian inspired and not your usual expected brunch menu.. no complaints though! I had the Courgette, Quinoa & Roasted Corn Fritters with a poached egg on the side and I really loved it.
As it's such an Instagram-able/ Aussie hangout then be prepared to potentially queue for a table on the weekend but honestly, it's worth it!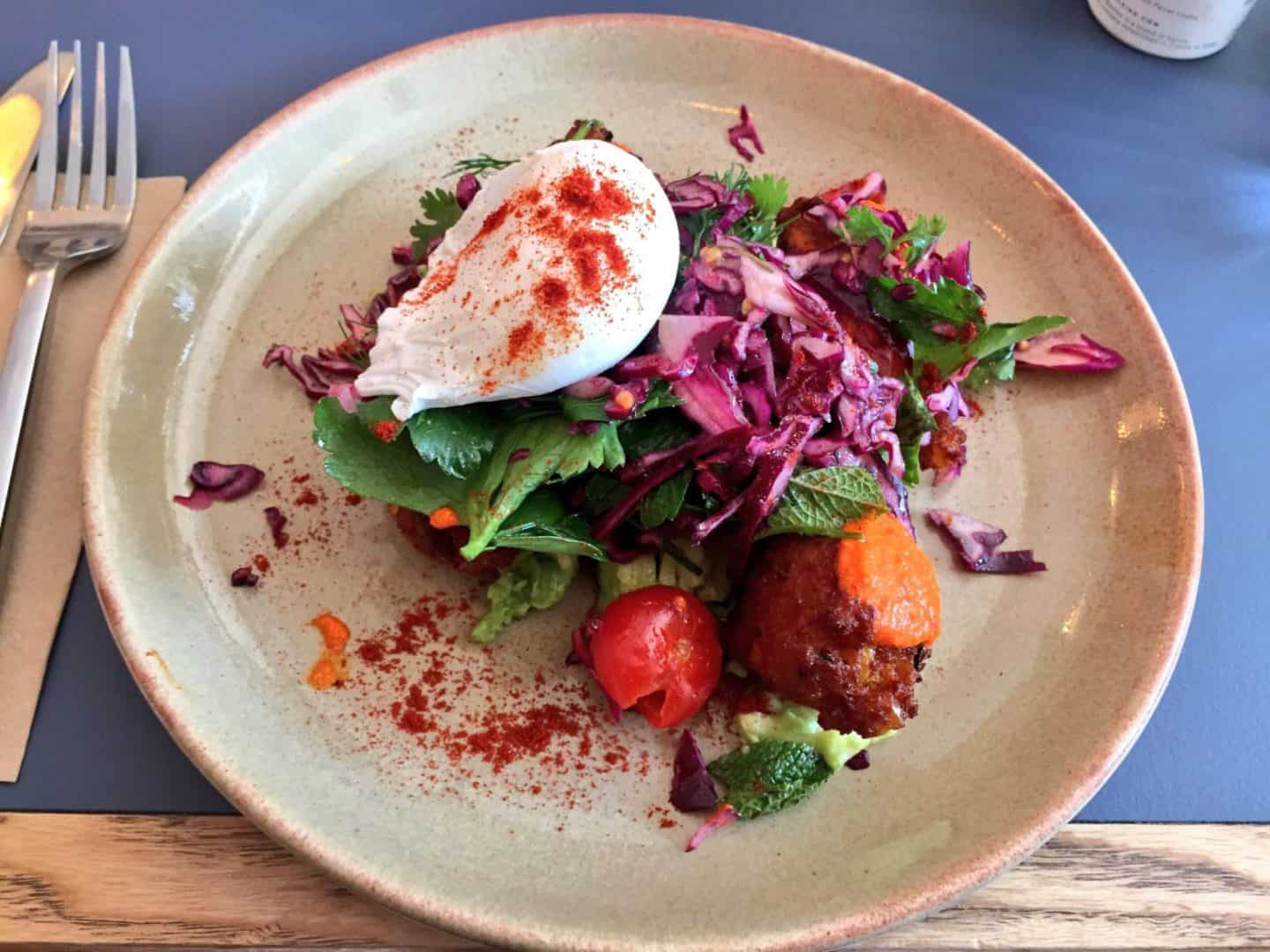 Bourne & Hollingsworth – Clerkenwell
Brunch at Bourne & Hollingsworth had been on my list for awhile as its kind-of an iconic London restaurant and has become super popular for brunch. It's pretty fancy with an amazing decor, very professional staff and a great menu. Myself, Sophie, Kara, Sam, Aftab and Liv had a great brunch here whilst discussing past and future travel plans. I had the Banana and Coconut pancakes with fruit which were so good. What I also loved were the prices, if you're not drinking then the food and coffee prices are really reasonable and the same as many other London cafes!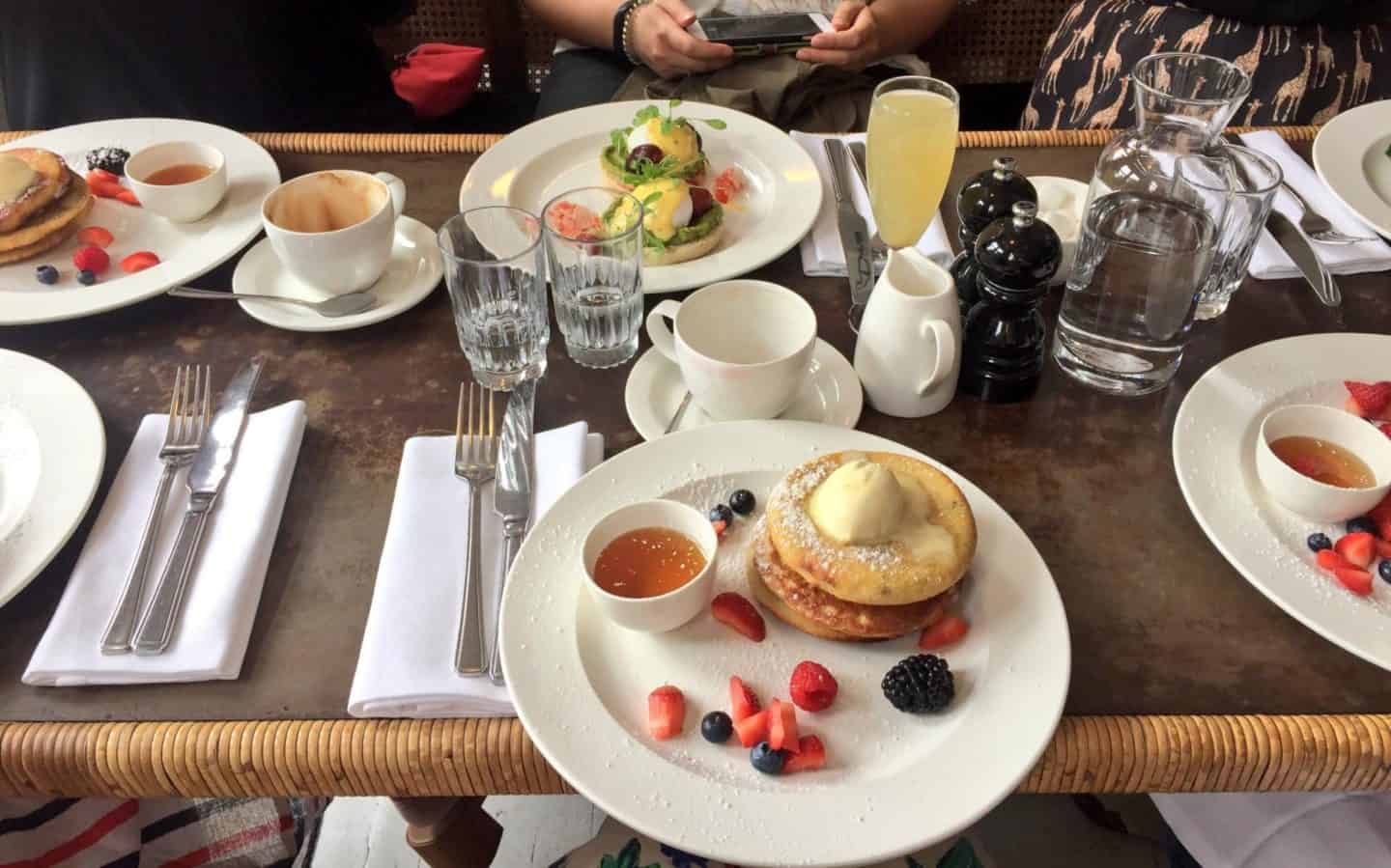 The Green Room Cafe – Stoke Newington
I visited The Green Room Cafe on my first visit to Stoke Newington. It was recommended to me by a friend and lets say, i'm keen to go back already! From the outside this cafe could easily be mistaken for a florist because, well, the front of the shop is a florist! However once you walk through the flowers you see a cafe area in the back, which then goes all the way into the back yard. I actually felt like I was away on holiday eating outside in their garden area. I had the Mushroom, Avo and Poached Egg on Sourdough toast which is dubbed the Hipster Open Sandwich on the menu (which I loved) and I was very happy with my decision. The staff here were really friendly and the prices really reasonable too!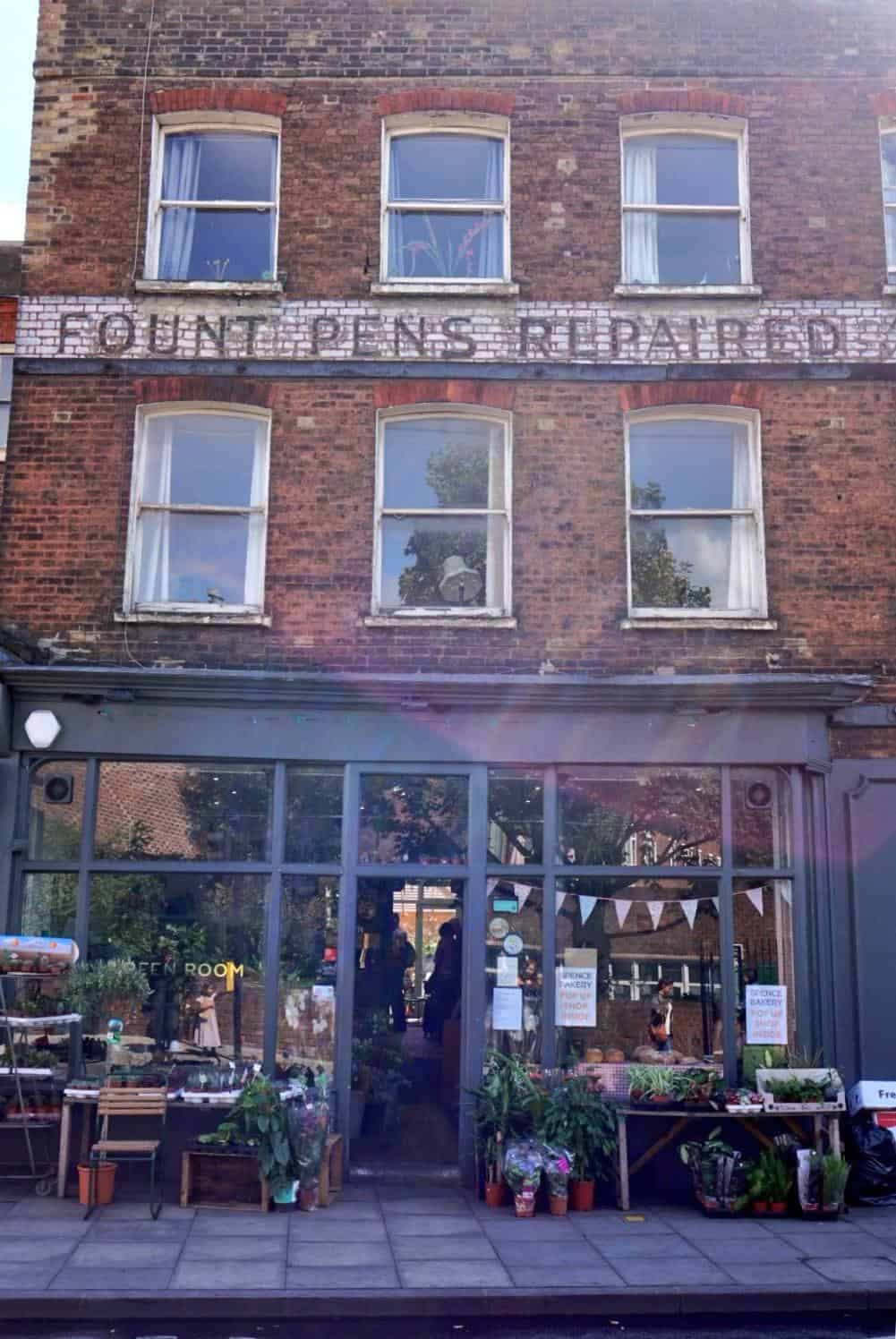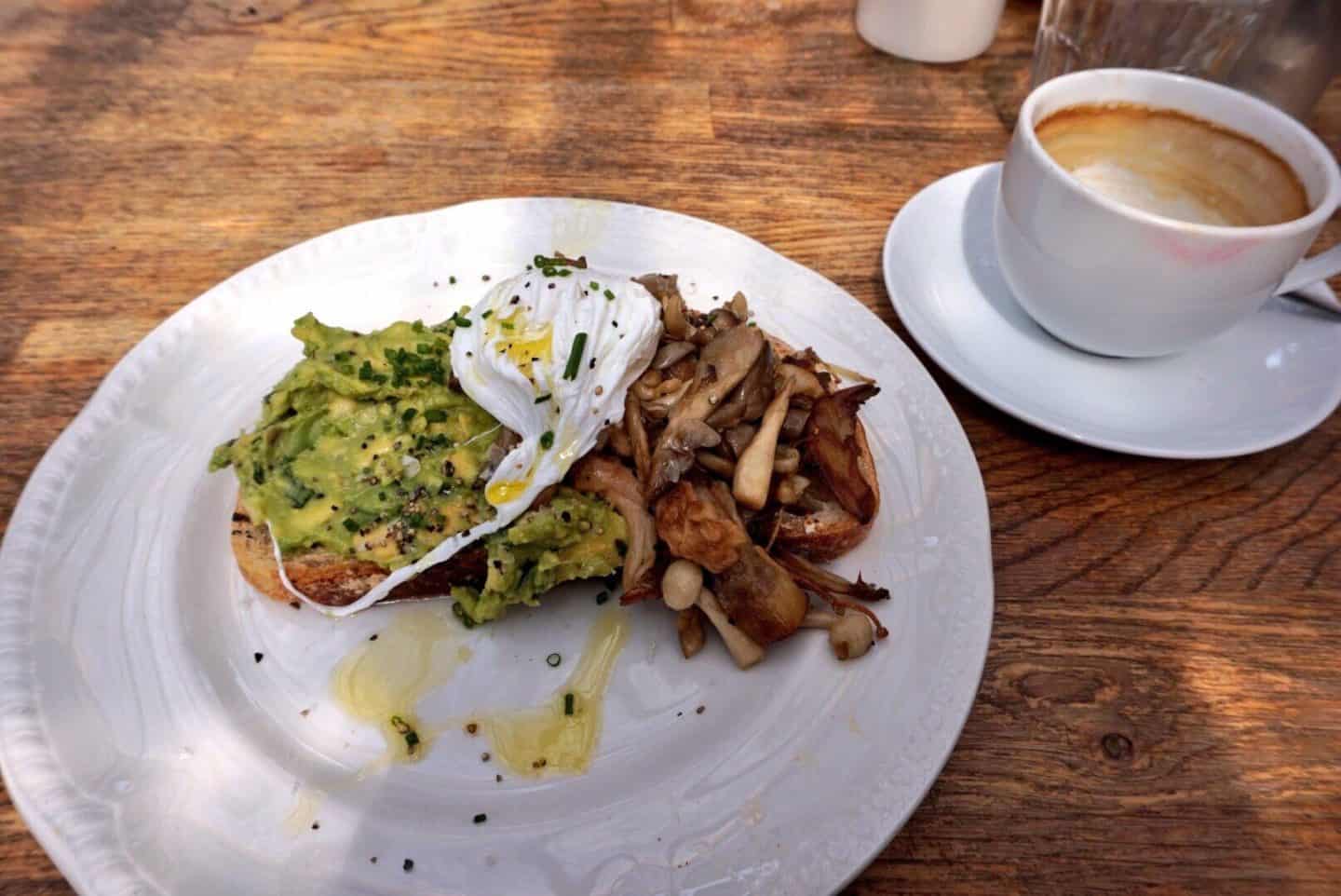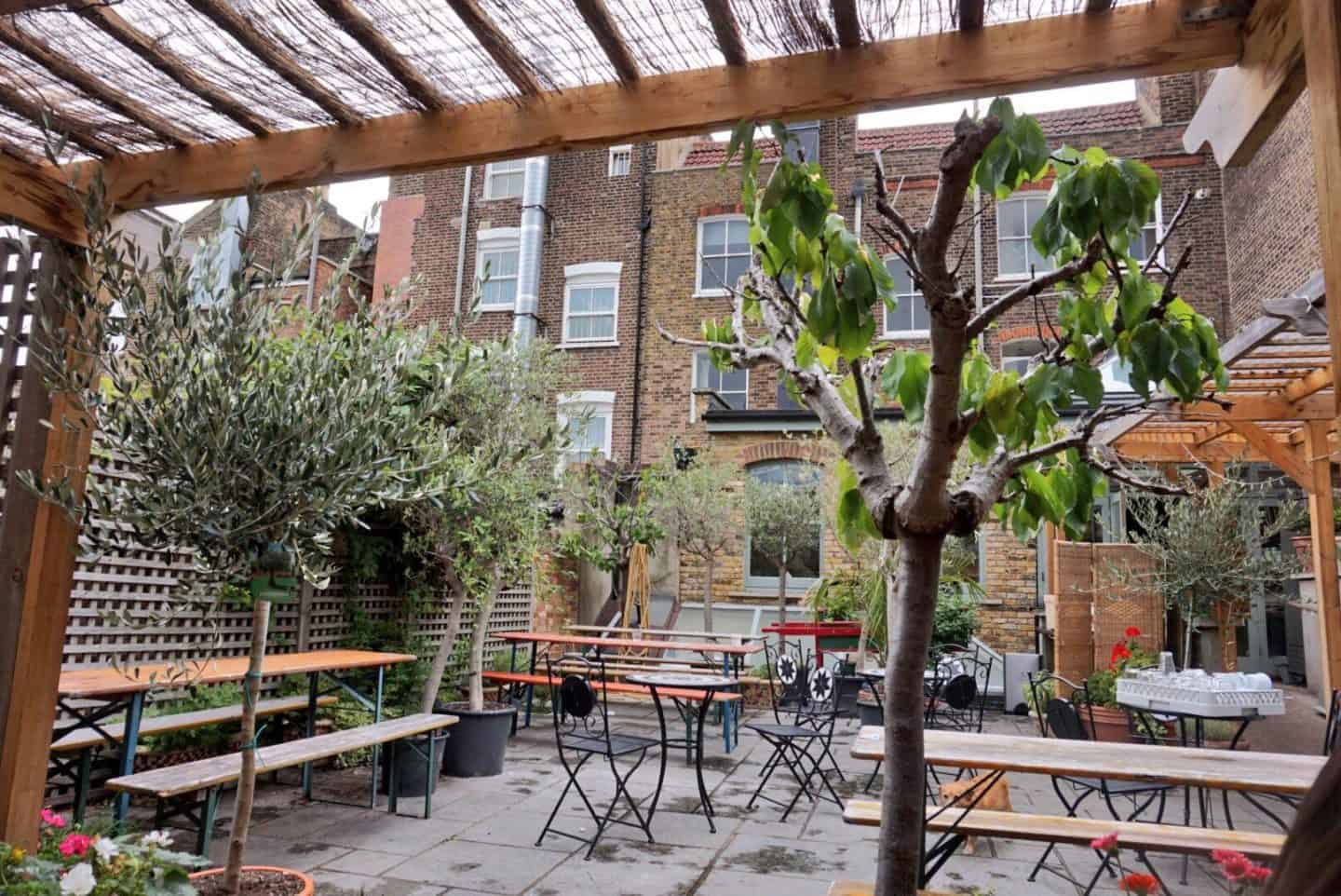 I hope this helps you pick a good Brunch place in London that you won't regret going to! See you again soon for Take 3!!
You can visit my first brunch post here!
For more of my London posts see:
A Guide to the Perfect Sunday in Shoreditch, East London
A Guide to the Perfect Day in Camden Town, London
A Guide to the Perfect Day in Hampstead, London.
How to see London in 2 Days including tourist sites & local areas!
Afternoon Tea at Sketch London
Cooking Cocktails Breaking Bad Style in London!
If you have any other brunch recommendations then please throw them my way!!
SaveSave