My only image of Ubud was from the book and film 'Eat Pray Love' with Love being the Bali section and I don't know where Liz Gilbert stayed in Ubud but i found it very different to what she described!
Firstly Ubud is actually a pretty big and fairly busy town. It does have a very peaceful and spiritual charm though and although there is a huge amount of tourists and lots of expensive resorts and restaurants I liked that there are also a lot of locals just going about their day and there's also a lot of expats living here too and I can't blame them!
I stayed at 'The happy mango tree hostel' and wasn't that impressed and had 2 really bad nights sleep so moved to a guesthouse just down the road for my last 3 nights with a Canadian girl I met in the hostel.
On my first full day me and 3 other girls I met the evening before hired a driver who took us out of the town to some 'tourist attractions' which included 2 temples, some pretty impressive rice paddies and then lunch with an amazing view looking over the volcano 'Mount Batur'. We were out with the driver for 7 hours and it only cost 550,000 rupiah.

The next day I had a walk around the town and one of my aims was to track down one of Ubuds famous healthy, organic, vegetarian and vegan cafés and I found a great one where I had a vegan chocolate, cacao and avocado smoothie! That afternoon I headed to the yoga barn with a girl I had met and had a good class there. They have classes every hour and for all different types pf yoga and have a really good reputation here.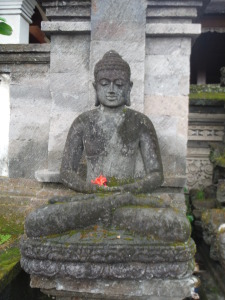 As soon as I booked my flights to Bali I knew I wanted to climb a volcano, there is a popular volcano in Lombok but it is described as very strenuous and you need 2-4 days which wasn't so appealing! A popular trip in Bali is to go up Mount Batur which I had seen while having lunch and it's a sunrise trek, so I booked it and at 2:30am i was waiting to be picked up by a mini bus and taken to the volcano with a stop at a coffee plantation for some (well needed!) sample coffee and a banana pancake (of course i am in Asia!).
I was in a group of 4 and at 4am we met our guide and started the trek in the dark. There had been a full moon 2 nights before so that gave us a lot of light and we did have some small torches. Some groups had started earlier than us so looking up at the volcano all you could see were lights from torches up the side of a very steep incline and I did start to think if this was a good idea or not but the actual walk really wasn't that bad. The last half did have a steep incline and a lot of rocks to step up but it went quickly and it was actually only 3.5km to the top but just felt more because of the climb.
The clouds started to get lighter just as we arrived to the top behind another volcano that we were facing. Because of the cloud we didn't actually see the whole sun rise but this cloud seems very common on Indonesia and instead the sky turned some amazing colours and slowly got lighter and lighter and at this point I was very glad I did the trek. When it was light we started our decent which i found harder than climbing up (mainly due to my bad knees) and then made it back to ubud at 10:00am ready for a second breakfast. Later that day I had a well needed foot massage!
The weather turned quite rainy on my last day so I just tracked down another healthy cafe and had a wander around the town.
I really enjoyed Ubud and could of spent so much longer there. You can find cheap food and accommodation but a lot of places are that bit more expensive. It would be great for a weeks yoga retreat and I totally understand why so many expats want to live there!