I was in London for the long weekend that we get at the end of August and with the sun shining and some comfy shoes on I took to London to see how many 'tourist' spots I could see. My focus was South London and a long the River Thames and I ended up seeing a lot of stuff in a really good sequence so here's what I would recommend doing for one of your days in London.
I started at London Bridge Tube Station on the Northern and Jubilee line. Once out of the station if you look up you should see the Shard somewhere in sky- this is Western Europe's tallest Buildings and London's highest viewing platform and worth a visit to see a great view of the city. Sticking to the ground though, I then headed towards the river and followed it along until I saw the perfectly iconic Tower Bridge which is worth a walk across if you don't mind the crowds.
---
If you're not in London already and need to book train tickets to London, be sure to check out The Train Line. I use them all the time to compare the best train times, journey lengths and prices!

---
After this be sure to read How to See London in 2 Days Including Tourist Sites & Local Areas!
Back on the side of the river you started on is my next recommended stop- Borough Market, this was actually a lot closer to London Bridge station than I anticipated, I started walking down Borough High Street and all of a sudden I saw it on my right hand side. This is a perfect place to grab a snack, a drink or lunch as it has loads of unique food stall's. My main reason for visiting Borough Market was to see the infamous hanging umbrella's which i found after a quick Google search to see what street they were on. The answer is- In the yard, just off Park Street.
I then headed back to the river and followed it along (heading West) where you constantly get amazing views of the buildings the other side including the Gherkin– one of London's most distinctive building.
The next stop is Shakespeare's Globe. There are signs along the river which point you in the right direction but basically you keep going straight until you see the white Tudor style building. A lot of people were queuing for an inside tour which I'm sure is worthwhile if you're interested but if not then head back to the river in front of you and onto the Millennium Bridge (however note there were public toilets inside the globe building which were free and clean.. 2 things you don't often get in the city!).
The Millennium Bridge is pretty iconic- its been in a lot of films including Harry Potter, it's completely different to any of the other bridges crossing the Thames and of course the view of St Paul's Cathedral at the end really finishes it off well. It's worth walking a long the bridge and to St Paul's as it's a really beautiful Cathedral.
After this be sure to read How to See London in 2 Days Including Tourist Sites & Local Areas!
Heading back to the side of the Thames you've been walking along so far today and you'll start seeing some museums like the Tate Modern and things start to get a bit busier. There are lots of food trucks and when i was there this very jazzy pink frozen yoghurt bus was there which was pretty cool and very yummy!
Not too long after you'll start seeing the London Eye peering out of the top of the trees. A visit on this attraction is definitely worth it (and worth the long queues i promise) but today carry on by until you start seeing the Houses of Parliament and the oh so iconic Big Ben!
Personally i really don't like the walk from the London Eye towards the next bridge as it's always really busy with people so push your way through and head up the steps onto the bridge which I'm sure has featured in a lot of films too as it has a great view of Westminster one side and the London Eye on the other.
Now depending on how good your feet are feeling you can either jump on the tube at the Westminster station taking the Jubilee Line North to Greens Park Station or you can walk but the next stop should be Buckingham Palace! Now this was actually my first time seeing Buckingham Palace, it was very busy with tourists but that's to be expected,  so take a picture outside, try to see an iconic London guard and then head off around the corner up Constitution Hill (don't worry it's actually very flat!) towards Knightsbridge!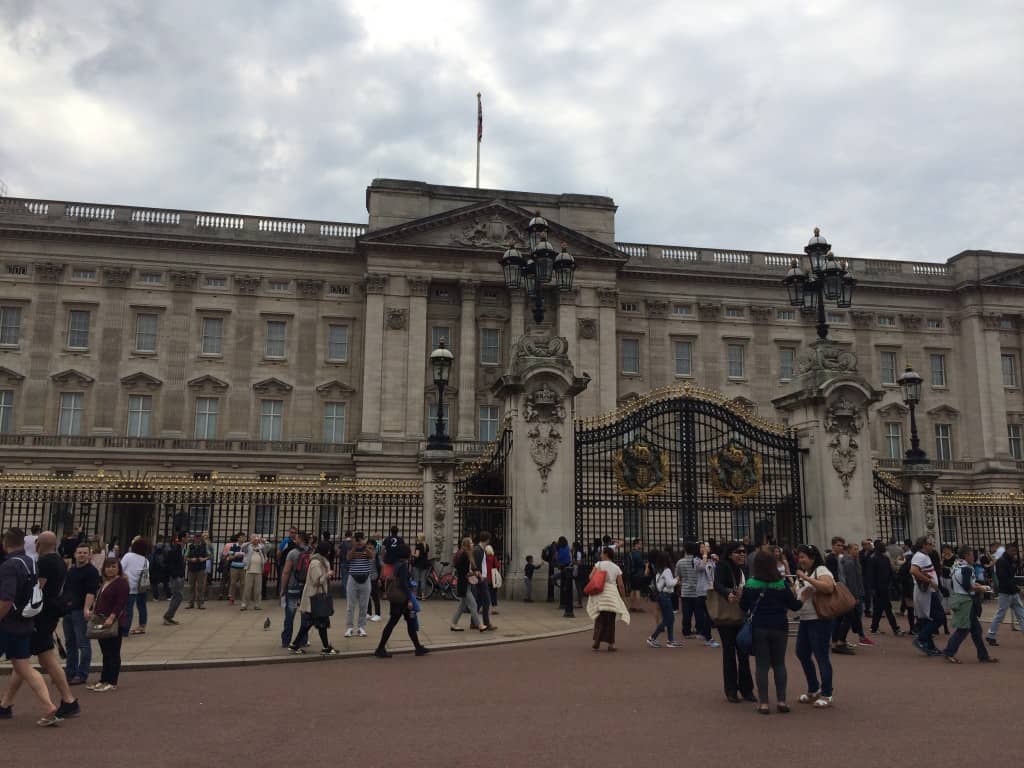 You'll know when you're in Knightsbridge because the buildings all of a sudden become very large and grand. From Constitution Hill you carry on straight over the big around about and straight down Knightsbridge Road, you'll pass Knightsbridge Tube Station and by following that road about you'll start seeing Harrods on your left.
After this be sure to read How to See London in 2 Days Including Tourist Sites & Local Areas!
Harrods is an institution in London and in England, it's a huge grand building and so much more than your usual department store. Admittedly if you're like me you wont be able to afford anything in there except maybe something from the souvenir shop but its well worth having a walk around inside and dreaming!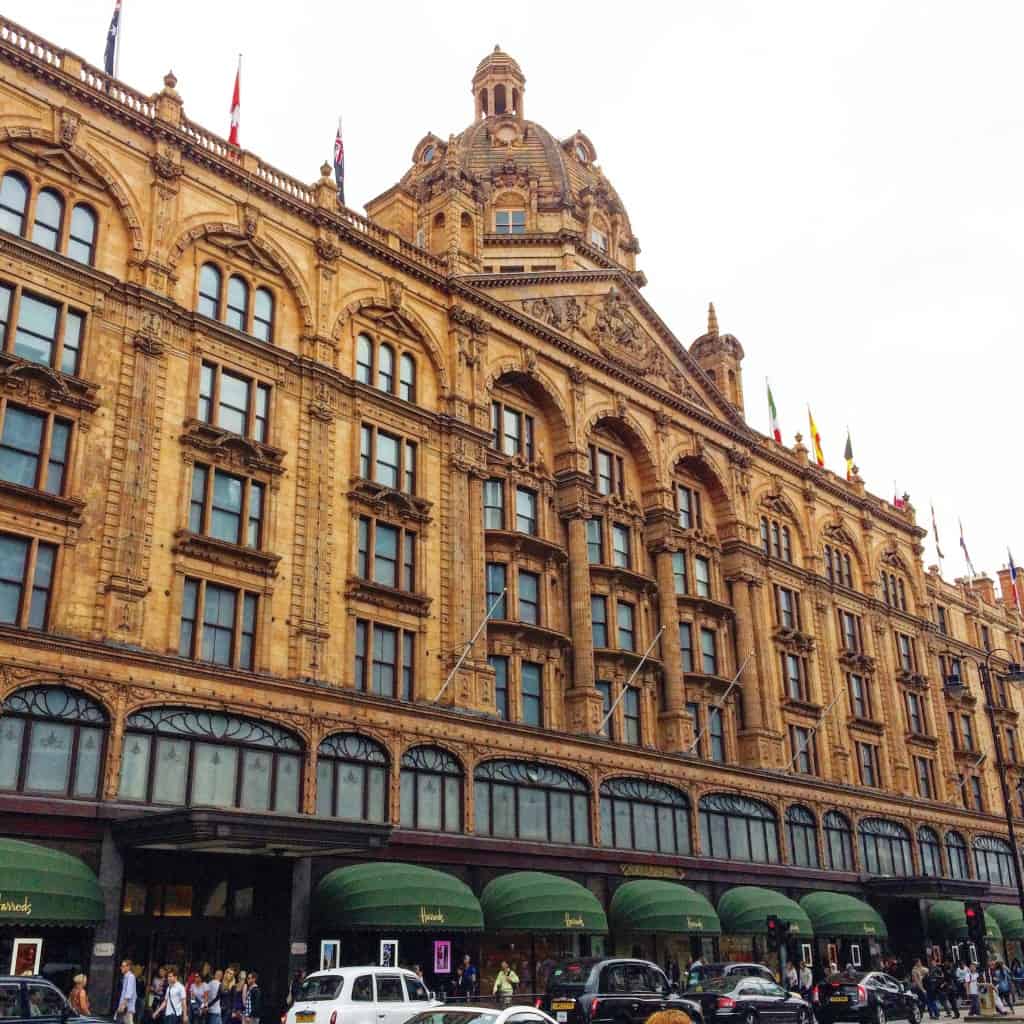 By now your feet will probably be aching, there's some seating outside of Harrods if you need a sit down but you should feel like you've seen ALOT of London and its most iconic sites!
If you can manage a bit more, then get on the tube at Knightsbridge station taking the Piccadilly Line North and in a few stops you can get off at Covent Garden, a beautiful part of London full of street acts and great shops.
A few tips:
Wear comfy shoes!
Take an umbrella.. the English weather is so unpredictable!
Have a tube map on you in case you want to jump on the tube and save your feet!
I use a map called Maps.me on my phone which can be used without internet and has all the major attractions on in case you get a little lost!
Make sure you're hungry when visiting Borough Markets!
Stop off at some point for a cup of tea.. you are in England of course!
And finally.. Enjoy!
If you found this helpful, have a look at some more of my London posts here:
My Ultimate List of Recommended London Brunch Spots!
A Walking Guide around Beautiful Hampstead, London.
A Guide to the Perfect Day in Camden Town, London
How to See London in 2 Days Including Tourist Sites & Local Areas!
Afternoon Tea at Sketch London – What is it like?
A Guide to the Perfect Day in Hampstead, London.
A Guide to the Perfect Sunday in Shoreditch, East London
5 Parks in London Perfect for a Picnic with a City View!