Overnight buses are not my favourite thing in the world, and neither is arriving into an unfamiliar town at 6:30am when it's still dark and I've only had about 4 hours sleep. HOWEVER my experience upon arriving in Goreme- a town in the middle of Turkey in the Cappadocia region is going to be an early morning arrival i won't forget.
I knew that Cappadocia was famous for its morning hot air balloon rides and that was what had attracted me to the area but i wasn't sure if the balloons flew directly over the town of Goreme or over the nearby countryside but to my delight, once i'd gotten off the bus, got my bearings and starting following my trusty app- maps.me to find my hotel i saw a couple of balloons being lit up and starting to lift off the ground.
I had already thought that on one of my mornings in Cappadocia i wanted to get up and see the balloons from the ground but while walking through the dark and sleepy town i still wasn't sure if this would be the morning.
Luckily i found my hotel really quickly, dumped my bags in reception, grabbed my phone, camera and GoPro (yes 3 camera's-it is 2015!) and headed up the hill near my hotel for a better view as the sky was starting to get light.
My second dose of luck was that i saw a couple who looked as if they were also heading up high and seemed to know where they were going so i followed them, walked up the hills as fast as i could and i got to a grassy area up on 'sunset point' and what a beautiful view it was- the balloons were taking off from the town below, soaring above us and heading into the sunrise the other side. There were a few people who had the same clever idea but thankfully it wasn't too overcrowded and didn't spoil the atmosphere.
I stayed there for about an hour, taking way too many photos until the sun had really risen and the balloons were starting to deflate.
At this point i wasn't sure if i should do the balloon ride myself, it looked so amazing from the ground i thought maybe i could get up another morning and see it again like this and save the money, however after talking to some people who had just done it and thinking that i would never be here again i decided to book the balloon ride for my last morning in Cappadocia and oh my, I'm glad i did!
I got picked up by a minibus at 5:10 and my group along with a few others got taken to a restaurant for breakfast while the drivers waited to hear where we would be taking off from (it all depends on the wind direction), before we knew it we were back in the mini bus for the short trip to our take off point and the pilot was explaining what to do when we land and how he cannot control where the balloon will go, he can only control the accent and decent (umm great?!?).
As we arrived 3 balloons were starting to be blown up and then myself along with 15 other people were climbing into the basket.. which is a lot bigger and higher than you imagine. As we took off which is a really gentle movement we started to see the sky getting light in the distance and then the sun start to rise.
---
Have you remembered to get travel insurance? I always use Alpha Insurance as they are designed to cover backpacking trips, gap years, winter sports, and offer technology cover! Get a quote from them using the banner below before you forget to get it!
---
We flew over a few of the nearby villages which are a sight in themselves as they are all built into the rocks and were still very sleepy.
There were already lots of balloons in the sky which are an incredible sight and we drifted a long and up and down as the sky got brighter and brighter.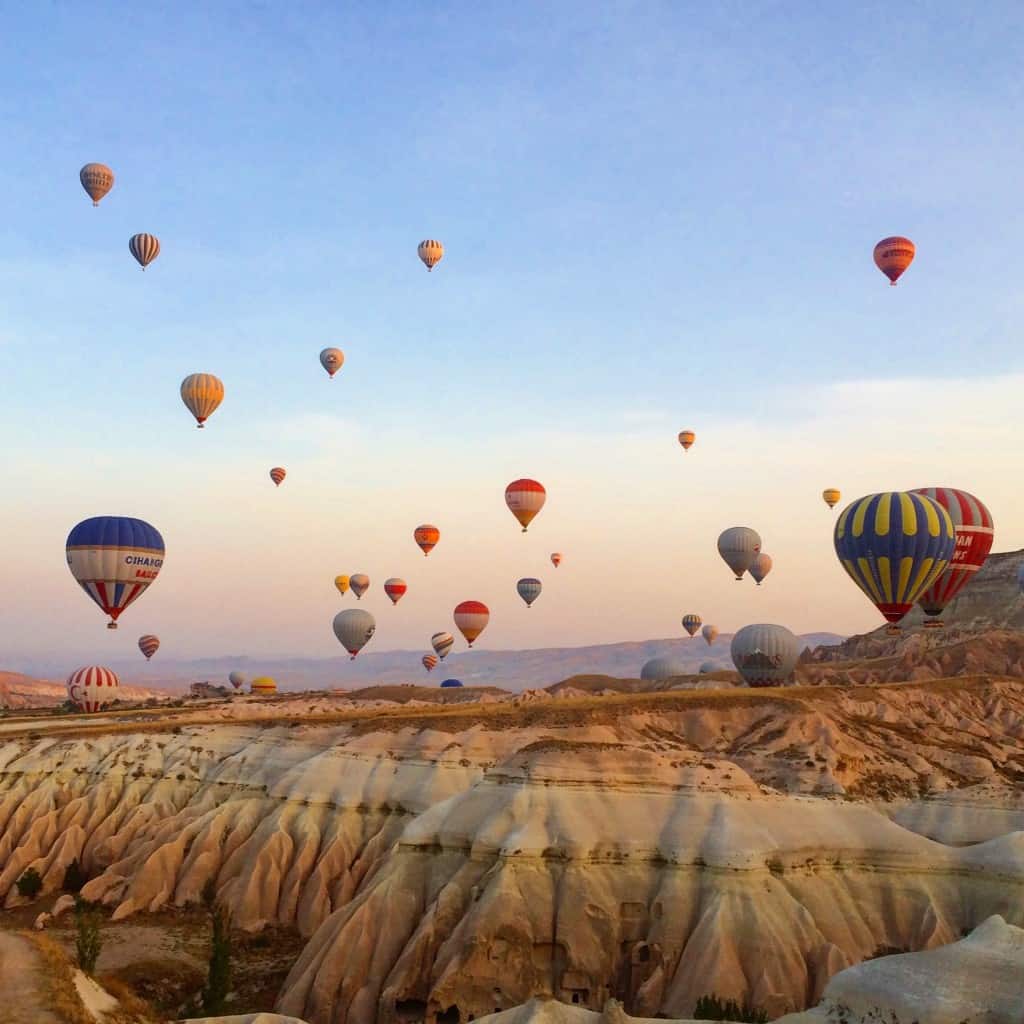 We were in the air for about an hour which i felt was enough time before the pilot started to lower us to the ground and pick a landing spot. The landing was a bit bumpy but this is a normal thing and there were lots of workers on the ground to hold us down and make sure we didn't tip over!
After climbing out of the basket we were able to enjoy the view of the remaining balloons up in the sky and have a glass of champagne which is a tradition after all balloon rides apparently.
It was an amazing experience!
I spent 2 nights in Cappadocia and loved it! The town itself along with the surrounding landscape is like nothing i've ever seen before, the houses are literally built into the rocks and the landscape is made up of fairy chimneys (yes a real thing!).
On my second day there i did the 'Green Tour' where we visited an underground city, a monastery built into the rocks, took a lovely walk along a river in a canyon and visited a panoramic view-point.
Useful Information
My balloon tour cost: £90.00/400 TL and as there are so many tour operators i imagine this is the standard rate.
The town is completely set up for tourists, there are buses running to and from all places in Turkey including Fethiye, Izmir, Antalya, Pammukkale, Ankara, Istanbul.
There is so much accommodation in Goreme, I stayed in Diamond of Cappadocia Hotel which i would highly recommend, i paid £15/67 TL for a double room per night and i booked my balloon ride and day tour with them.
I would also recommend staying in the town of Goreme if you are travelling by bus as it is easy to get to everything.
If you do the balloon ride (which of course you should!) then also get up early one morning to see the balloons from sunset point, or bare this in mind when arriving on an overnight bus as like me you might be able to catch them then!
If you do the green tour then don't bother going to the open air museum just outside of Goreme, you see a way better 'town built into the rocks' on the tour which is bigger and not as busy as the museum.
There are plenty of activities in Cappadocia to keep you busy for days so although the balloon ride is a good enough reason to come, try to plan a few days in the area.
I flew to Istanbul from Kayseri airport which is a good hour drive from Goreme and i got a shuttle bus to the airport for 25 TL/ £5.00 which was a lot cheaper than some of the shuttle companies i saw advertise online so wait until you get there to book it!
Have you been to Cappadocia or is it now on your bucketlist??
I made a video on my 10 days in Turkey which includes some Cappadocia footage, check it out here!