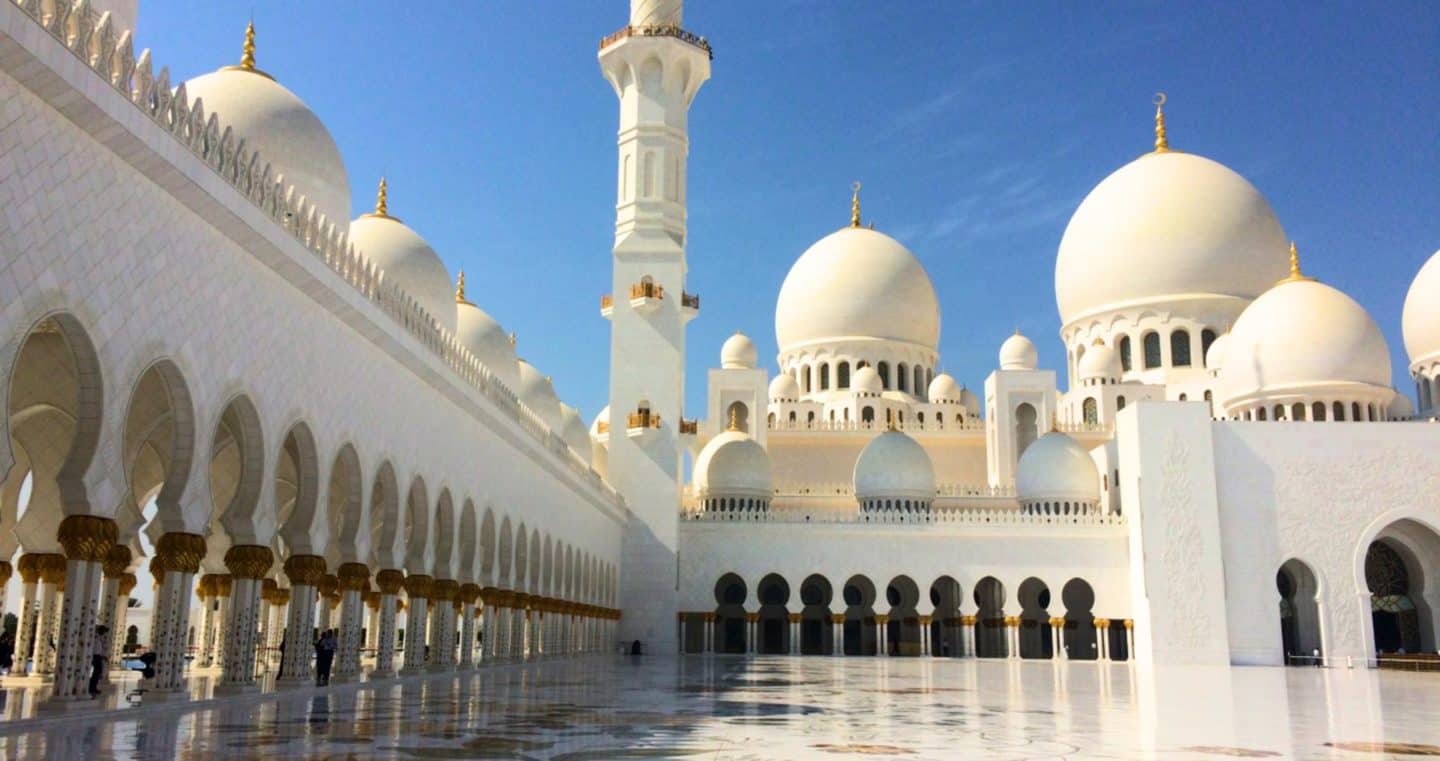 The Sheikh Zayed Mosque in Abu Dhabi also known as the Grand Mosque is quite a sight to be seen!
I first found out about it at the start of 2015 when World of Wanderlust visited, it went straight on my bucket list and once i had booked 6 days in Dubai i knew i had to go!
Abu Dhabi is actually the capital of the UAE and its 150km South of Dubai. There's a bus that runs from Dubai's downtown bus station to Abu Dhabi regularly (although i couldn't find the exact times online), takes 2 hours and costs 25 AED/ £4.50 however after realising just how big Dubai is and takes to get around and the fact that we would have needed to get a taxi from my friend's apartment to the Bus station to get the bus and then get a taxi from Abu Dhabi bus station to the Mosque totalling in a good 3+ hours each way plus 4 taxi fares we decided to just get a taxi from her's straight there.
Going via taxi did cost more at 250-275 AED/ £45-£50 each way (major cringe looking back at that price now!) but the drive only took us 90 minutes each way and we figured that seen as the mosque is free to enter and the price was split between us (plus Nikki isn't really the traveller type and happy to sit on a bus for hours just to save money like i am!) we would just do it!
The mosque run's free tours 3 times a day (except Fridays) at 10am, 11am and 5pm. We decided to get up in the morning and just get there however unfortunately we got there just after 10am just missing the tour and after walking round by ourselves for an hour we then decided the heat was too much to carry on for another hour doing the 11am tour.
Anyway back to our arrival… we spotted the Mosque from the main road and made our way up to it and it was even bigger than i imagined. We got out of the taxi and made our way up to the entrance and it was so bright with the sun shining off that it hurt our eyes!
Straight away we had our phones and camera's out as i could see the iconic gold and white detailed pillars with the water in front of them that i had seen in so many photos but first we were directed downstairs to get covered up!
I had worn a black maxi dress, took my own head scarf and something to cover my arms thinking that this would be fine but the impression i got is that they like you to wear their Abaya (full black dress) and to be fair they weren't as bad as i thought they would be, although i did feel like i was in Harry Potter in a cloak rather than covering up to go into a mosque! The Abaya had a hood which will cover your hair and top of your head but Me and Nikki decided to use our own head scarf to add some colour!
We headed back upstairs and started to walk around unable to stop taking photos. We walked through all the pillars, into the centre of the Mosque and then into the prayer room which was filled with many beautiful chandeliers and a very soft carpet and i said to Nikki how amazing it would be if you were Muslim and this just happened to be your local Mosque. Once outside we walked around again some more but by then the heat was really getting to us in all of our layers.
We were there for a good hour or so and although the actual structure is very big, there isn't a huge amount of walking to be done and soon you are back to where you started.
Overall we really enjoyed it. We did consider not going due to the time it would take to get there on the bus and the cost of the taxi but i would have been really gutted if i had been so close and not gone!
Useful Information
I had been advised that getting there for when the sun is setting is a beautiful time with the light filtering in so if you could make it there then then i would!
There's nothing else surrounding the Mosque. Initially i thought we could visit and then get a coffee somewhere before heading back to Dubai but it didn't seem possible to walk anywhere from the Mosque.
Taxi's were waiting outside and even in Dubai all the taxi drivers know where it is as it's a really popular destination so no need to worry about that.
Make sure you take sunglasses! All of the white plus the sun was pretty blinding!