As soon as i got back to the UK earlier this year i knew i wanted to fill the next few months with some little jaunts to Europe and with the Easter weekend looming i knew i had to take advantage of 4 days off work and get away.
The thing is that flights over bank holidays are always so expensive unless you book super early so flying wasn't an option, my next and only option was the bus and i was pleasantly surprised to see that Megabus went from London to Belgium so i booked a return trip for £45.00.. not too bad at all.
I left London at 9:00am on Friday and long story short i didn't get to Ghent, my first stop in Belgium until 9:00pm (!!) as the traffic to the Eurotunnel was so terrible! We missed our spot on the train and had to wait in the service station for hours until we finally got on. I was really disappointed that i missed the afternoon exploring as i was due to arrive at 3:30pm however i did get an email from Megabus whilst i was on the bus to say that my money for that journey had been refunded so that made me feel a lot better.
I had a little walk around Ghent in the evening and i fell in love straight away with the gorgeous buildings so i couldn't wait to get up in the morning to explore!
I headed out at 9:00am and was really surprised with how quiet all the streets were and i was actually getting some funny looks from the locals as if they were surprised to see me out, however the streets were even more beautiful at this time due to them being so deserted and by 10:00am or so they became a lot busier so i was pleased i got myself out of bed at a reasonable time!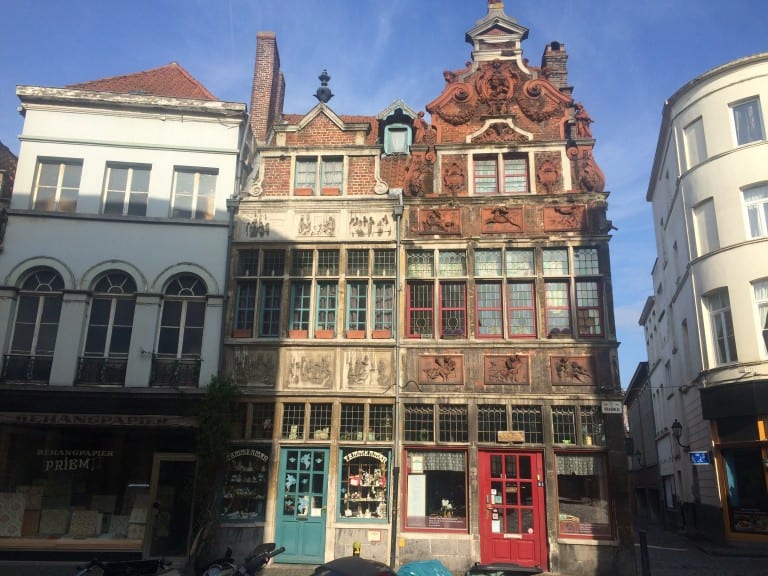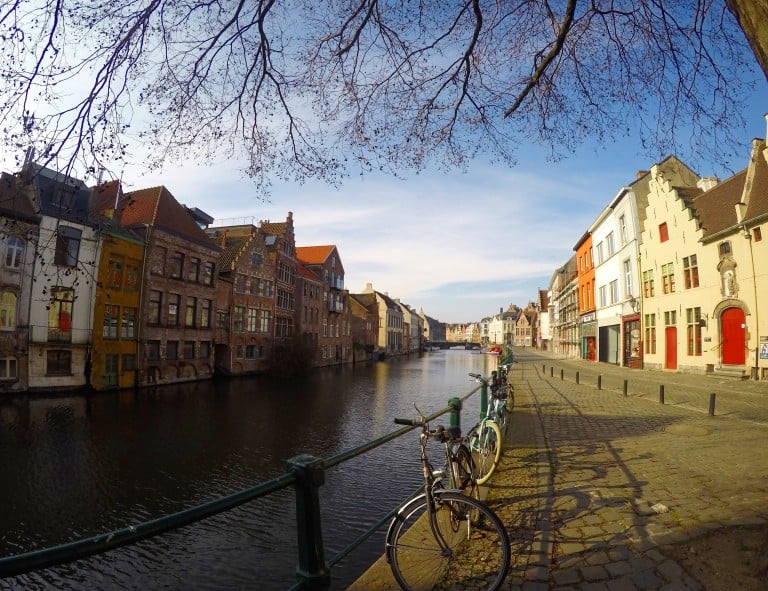 I spent a couple of hours walking a long the canal, around the churches and just heading down any street i thought i was pretty. I had been looking forward to seeing the buildings in Belgium for so long as they're so unique and Ghent didn't let me down for my first impression of Belgium.
I only had a few hours in Ghent but i really loved the feel of the city. It didn't feel that touristy to me and actually felt quite sleepy, although that may have been because it was early on Saturday morning.
My next stop was Bruges so i headed to the main train station on the tram, used the self-service ticket machine which was really easy, got a ticket to Bruges for €6.00 and jumped on the train which only took 30 minutes and gave some great views of the Countryside.
After reading this be sure to check out my post – 10 Things to do in Bruge's!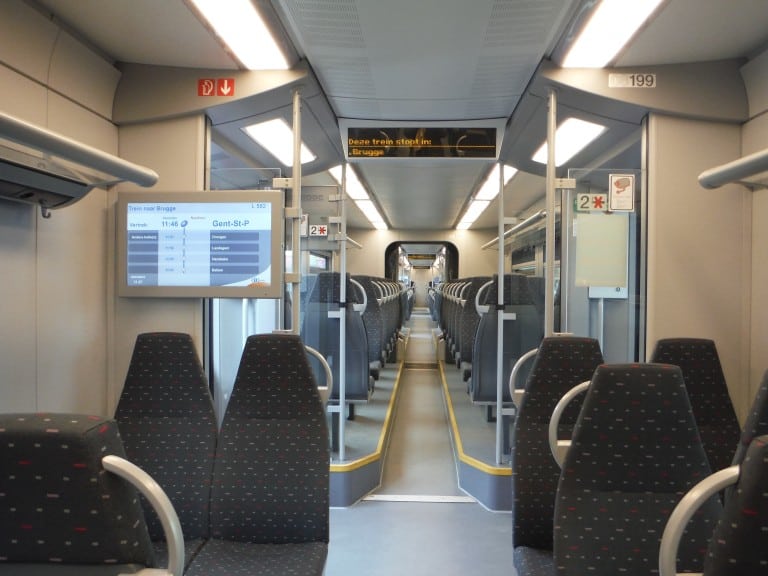 My hostel advised that i could get a bus from the train station in Bruges to the hostel but instead i decided walk and use that time to explore and it only took about 10-15 minutes to get right into the centre of Bruges.
I was completely blown away by Bruges as soon as i crossed the main road and headed into the old town, the first few streets i took were so quiet and the buildings were so beautiful. I could see a few church spires in the distance so headed towards them and this is where you hit the 'tourist centre' and straight away it had a more touristy feel than Ghent did but i really liked it and couldn't wait to drop my bag off at the hostel and see more!
In Bruges there's the main market square also known as the Grote Markt which is a pretty big size and surrounded by the Bell Tower plus many more beautiful buildings and lots of restaurants, there's also another main square type area which is where the magnificent City Hall stands. There's a canal winds through the centre offering boat rides and made me realise why Bruges is often referred to as the Venice of the North and then there are lots shops, the majority of which are Chocolate shops so where ever you go you can't away from that sweet smell of the best chocolate in the world!
I spent my afternoon wandering around this area and of course trying out the local food!
Belgium Frites were on my list to try and i saw them offered in most places, the different between Belgium fries and normal fries is that Belgium fries have been fried at least 2 or 3 times more than normal fries and of course because they are so much more unhealthily they are also so much more yummy!! Then i walked past 'The Old Chocolate House' which claimed to have the best Belgium Hot Chocolate so obviously i had to test it out and i can confirm it was the best hot chocolate I've ever had!
And then even though i wasn't hungry i had to have a waffle because well.. i was in Belgium afterall!! There are also so many waffle shops but i decided that the waffle cart by the City Hall had to be one of the best so i got a waffle topped with Nutella and sat people watching whilst eating it and getting chocolate all over my hands and face!
After reading this be sure to check out my post – 10 Things to do in Bruge's!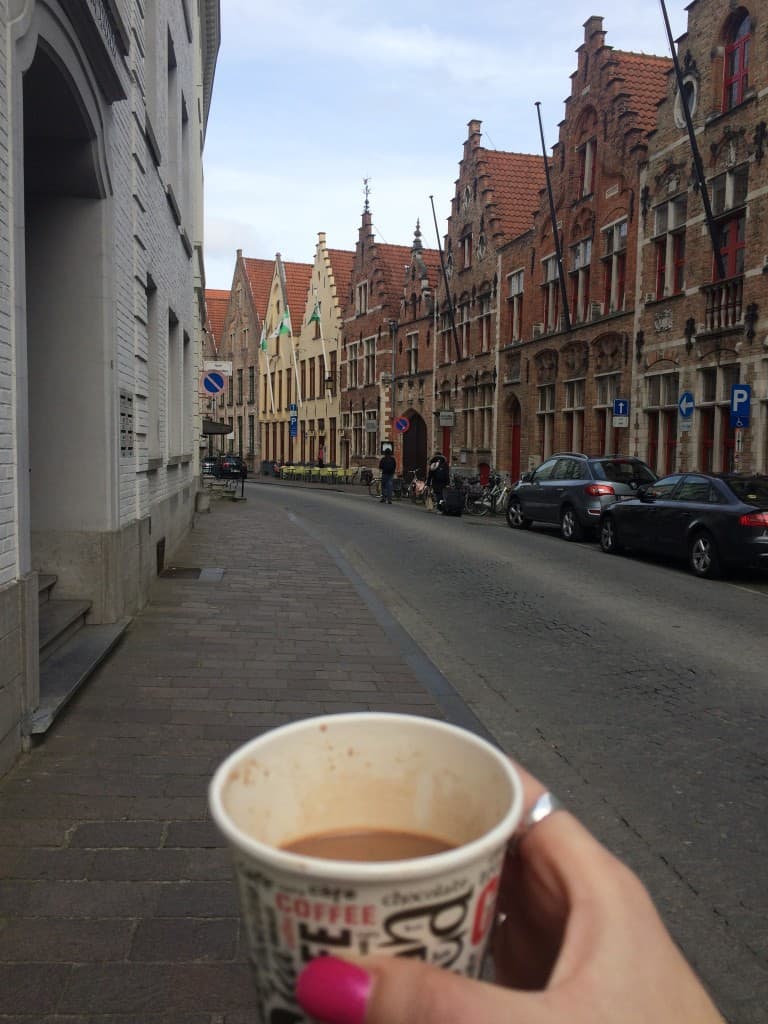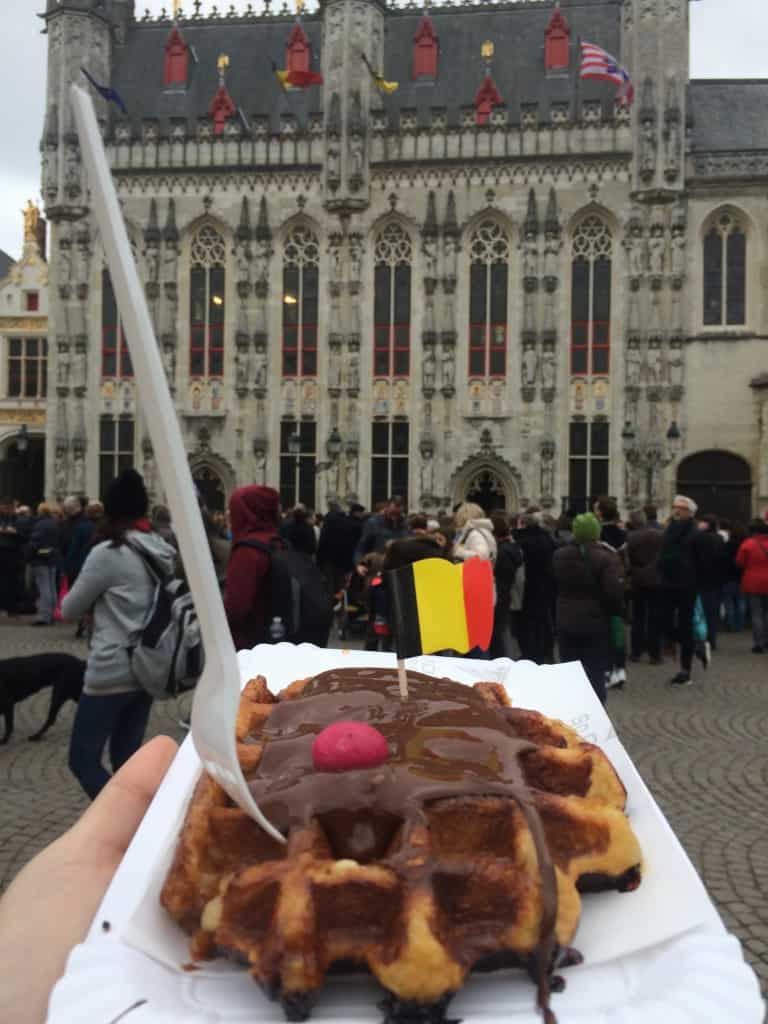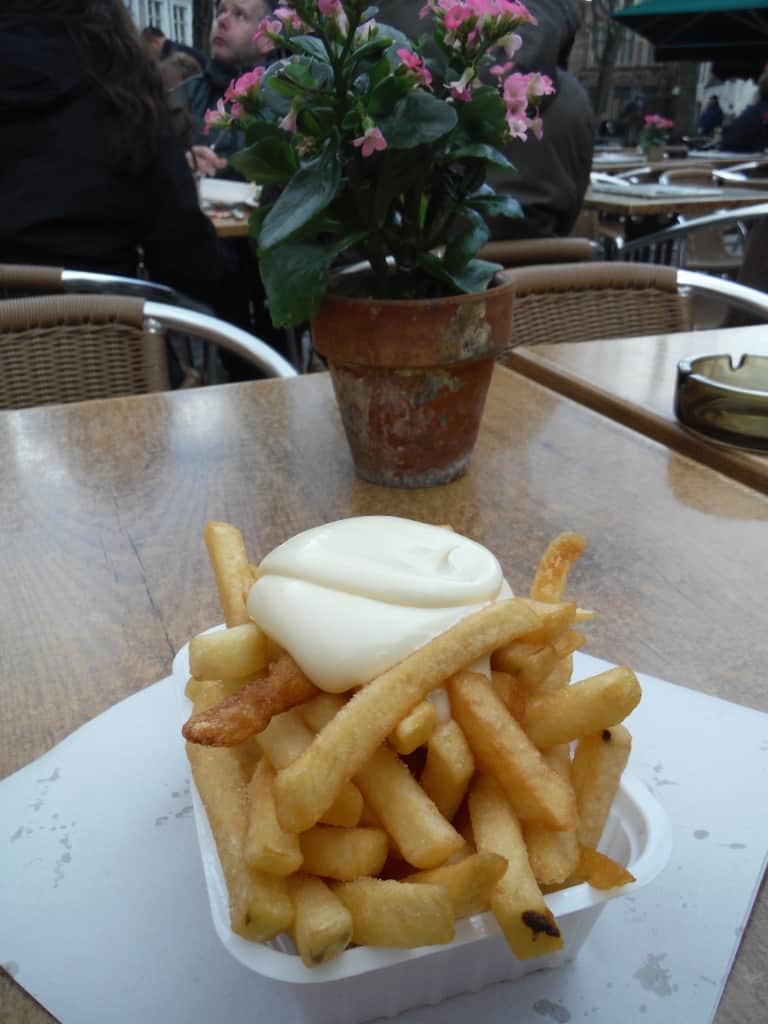 And on the topic of Chocolate, because it was Easter there were some incredible Easter themed window displays!
Between the food and the wandering i also did a boat tour for €8.00 which was a great way to see the city from another perspective and the boat driver gave us a bit of history and information on Bruges too!
Unsurprisingly it's no wonder that come the evening i was feeling very sick and probably on a sugar rush come down so i had an early night so i was fresh for Sunday because it was another busy day!
I always try to do a walking tour when i visit a new city as you get to see parts of the city you probably wouldn't have found on your own and you get a good history lesson too and this was definitely the case with the free Legends of Bruges walking tour. I met the group in the market square at 9:45am on Sunday morning for 2 hours of exploring and hearing more about this beautiful city and i would highly recommend taking this tour and then giving a tip at the end!
With time not on my side i then headed back to the train station to head to my last city- Brussels. The train took an hour and was also only €6.00 and once again it was super easy to buy the ticket, find the platform and the train was nice and comfy.
Brussels has 3 stations- Midi (South), Central and Nord (North). My bus was leaving that evening from the Nord station so i got off the train from Bruges here in the hope of storing my extra bag for the afternoon however due to the recent bombing that had happened in Brussel's i wasn't able to store my bag (a little bit annoying), luckily i didn't overpack as i suspected this might be the case and so i then headed into the centre which took about 10-15 minutes.
I wasn't too sure where to go or what to do in Brussels so i used the main square also known as the Grand Place or Grote Markt as my go-to point and to be honest i ended up spending most of my time here- 1) because it is absolutely stunning and 2) I wasn't sure what else to do in Brussels and being Easter Sunday a lot of places were closed and 3) there was free wifi!
I did also have wander to the park which is opposite the Royal Palace and from here there was a great view over Brussels and then the temptation to have another Waffle was too strong so i went back and once again people watched whilst indulging in another amazing waffle, this time with cream and chocolate sauce!
I managed to pass the next few hours by people watching, wandering and having a slow dinner. I wasn't really a fan of Brussels, maybe because i knew i had a lot of waiting about to do before my bus with no base and maybe because i really liked Bruges and i prefer smaller cities with a lot of historical character and although Brussel's does have a lot of this it's also the capital city so there's a lot of modern buildings there too as well all the shops and everything that comes with a capital city.
When booking my bus i thought that i would book the overnight bus back to save time and money travelling and it actually wasn't as bad as i expected. It didn't leave until 00:15am which was a bit annoying but i met a nice girl to talk to while i waited then i got some sleep on the bus while we were driving to Calais. We did have to get off the bus to go through immigration, get back on and then get off again and go upstairs on the ferry for nearly 2 hours but i did manage to get a bit more sleep from Dover to London and i arrived back at Victoria coach station at 8:30am on Monday morning so i still had all of Easter Monday to chill before work on Tuesday.. perfect!
I would highly recommend going to Belgium, not only is it a very tasty Country but it's so beautiful! As i mentioned, the bombings in Brussels happened just a few days before i went but it takes more than that to scare me so I'm so glad i did go!
I would recommend basing yourself in Bruges and then seeing Ghent, Brussels & Antwerp (another beautiful city in Belgium which i didn't get to see but will next time) as it was personally my favourite and from the reaction on my Instagram it was also my followers favourite city!
Be sure to check out my post – 10 Things to do in Bruge's!
For more posts on my European Adventures see: