Afternoon tea is one of those British Traditions that you link with an old style drawing room, dainty china and having to hold your pinky up, and although this is true and there are many places in the UK (and abroad) where you can find a traditional Afternoon Tea Experience there are also places that like to mix it up and this is exactly what Sketch in London have done.
Located in Soho just off of Regents Street and Oxford Street you'll walk into a building home to an array of different rooms and welcomed by staff in some very unique uniforms and straight away you'll realise this place is like no other you have been to.
After you've put your coat in the cloakroom you'll be taken to The Gallery which is the main room for afternoon tea. If like me, you're a pink lover then you'll be in absolute heaven! The Gallery is decked out with pink walls, pink velvet seating, plenty of art pieces and musicians playing live music.
Again, you'll be welcomed very formally by very professional staff who will give you a run down of how your afternoon tea experience is going to go and not only will it make you feel ever so fancy and important, it will also get you excited for the next 2 hours.
---
If you're not in London already and need to book train tickets to London, be sure to check out The Train Line. I use them all the time to compare the best train times, journey lengths and prices!

---
If you're looking for more Afternoon Tea ideas in London, check out this post: Last Minute Unique Afternoon Tea Experiences!
---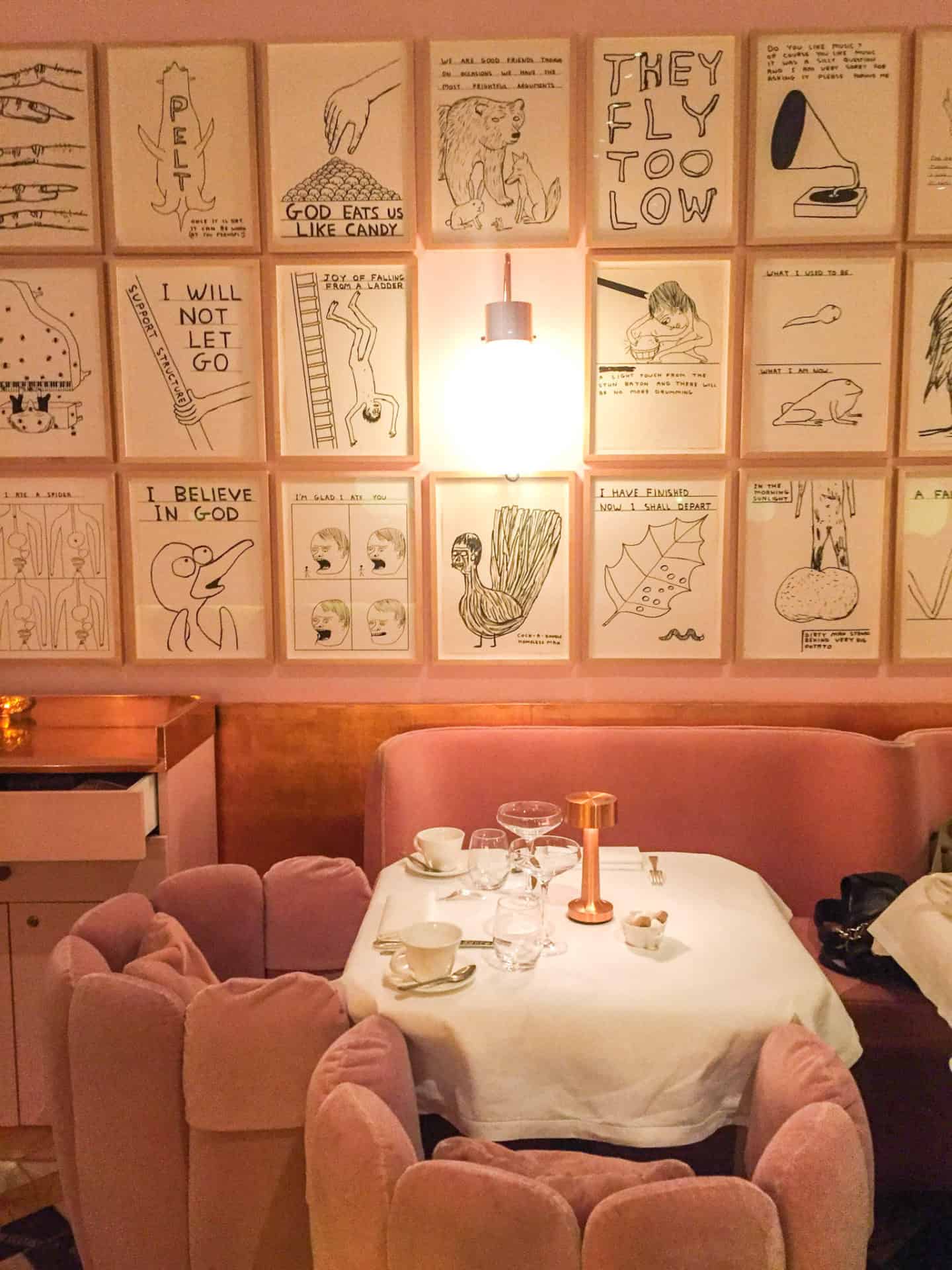 First up, of course, is tea! On the table you'll have a menu with a huge selection of tea's inside spanning from Sri Lanka to China to Morocco to Japan. To help you pick your tea the Tea Master will come round to your table with their cart (yes really!), talk you through the teas and let you smell them before making a decision. We were advised to pick 2 types, one for the savoury food to start with and one for the sweet food for afterwards. I personally went for a Chai tea to start with as I love Chai and it took me right back to the Middle East, I then opted for the Whole Rosebuds which was from Iran to go with my sweet treats.
After the tea selection is done the first course will arrive which was technically egg and soldiers but oh my, I had never had an egg cooked in this way before, it was almost like a mousse, and the 'soldier's' are cheese sticks! However, before you actually eat this course the Caviar Man (again, yes, really!) will come around dressed in a pretty amazing pink suit and give you the lowdown of what caviar is and how to eat it before putting a sample on your plate (I did decline this but one of my friends found she really liked it and the other didn't so I guess you'll have to try it to see for yourself!).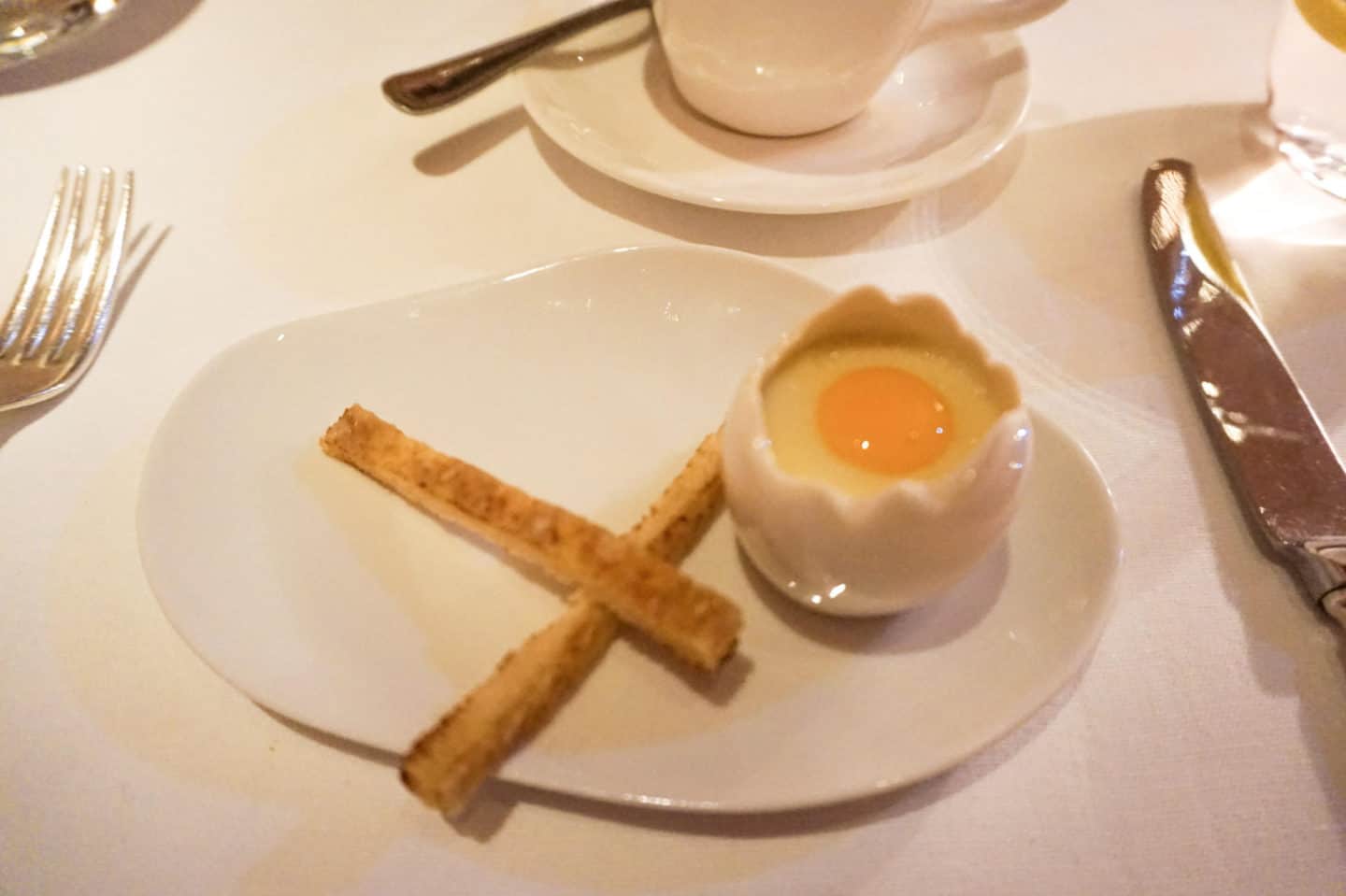 Now, this is where the fun starts, after your starter, what I think as the 'official afternoon tea course' is brought over- a tier of Sandwiches, Cakes and Desserts in an array of flavours. I'll let the pictures do the talking on this but wow were they good! I loved the egg sandwich and the pistachio profiterole. Battenberg cake was a nice addition which we enjoyed getting our Canadian friend to try for the first time!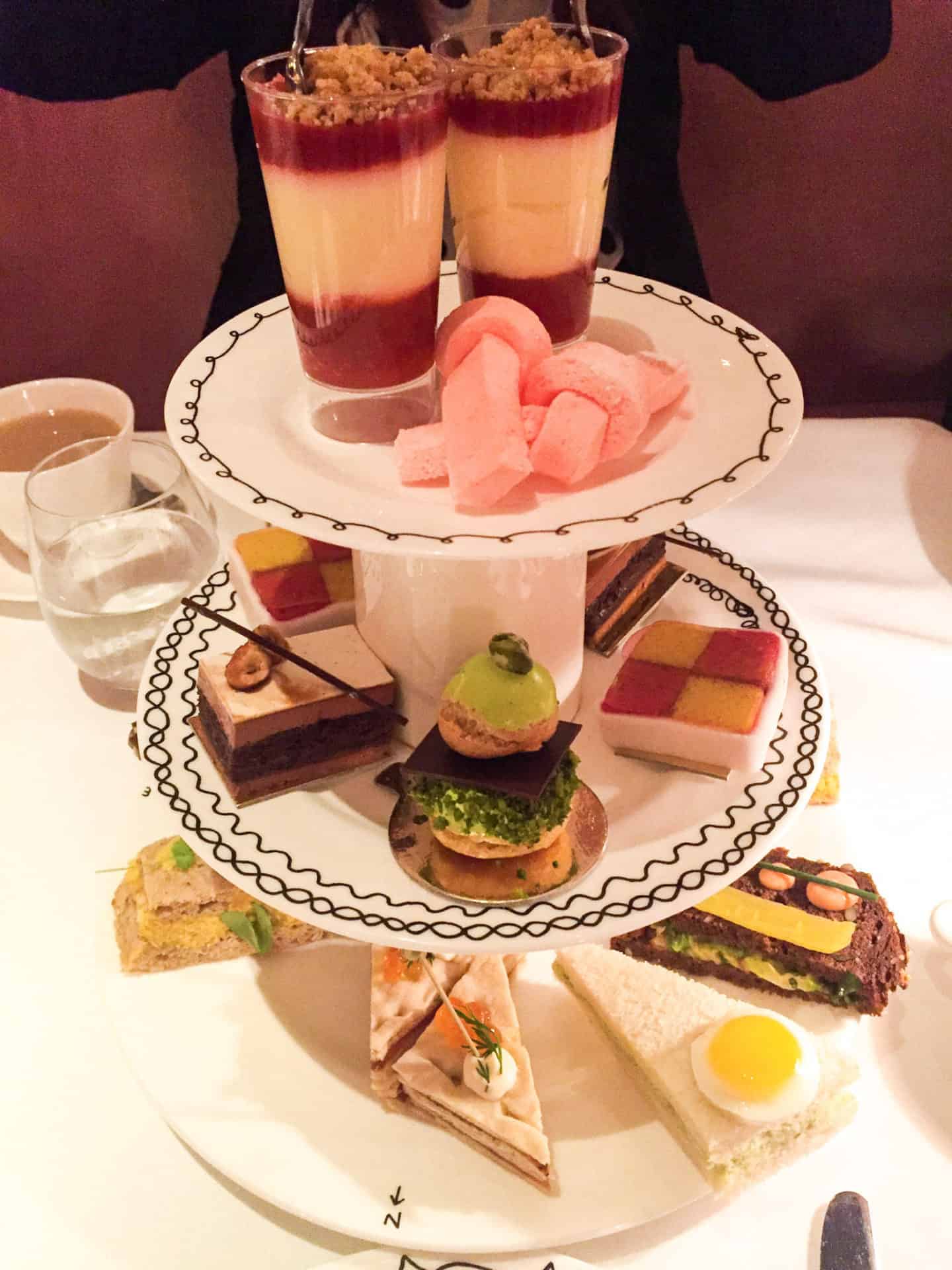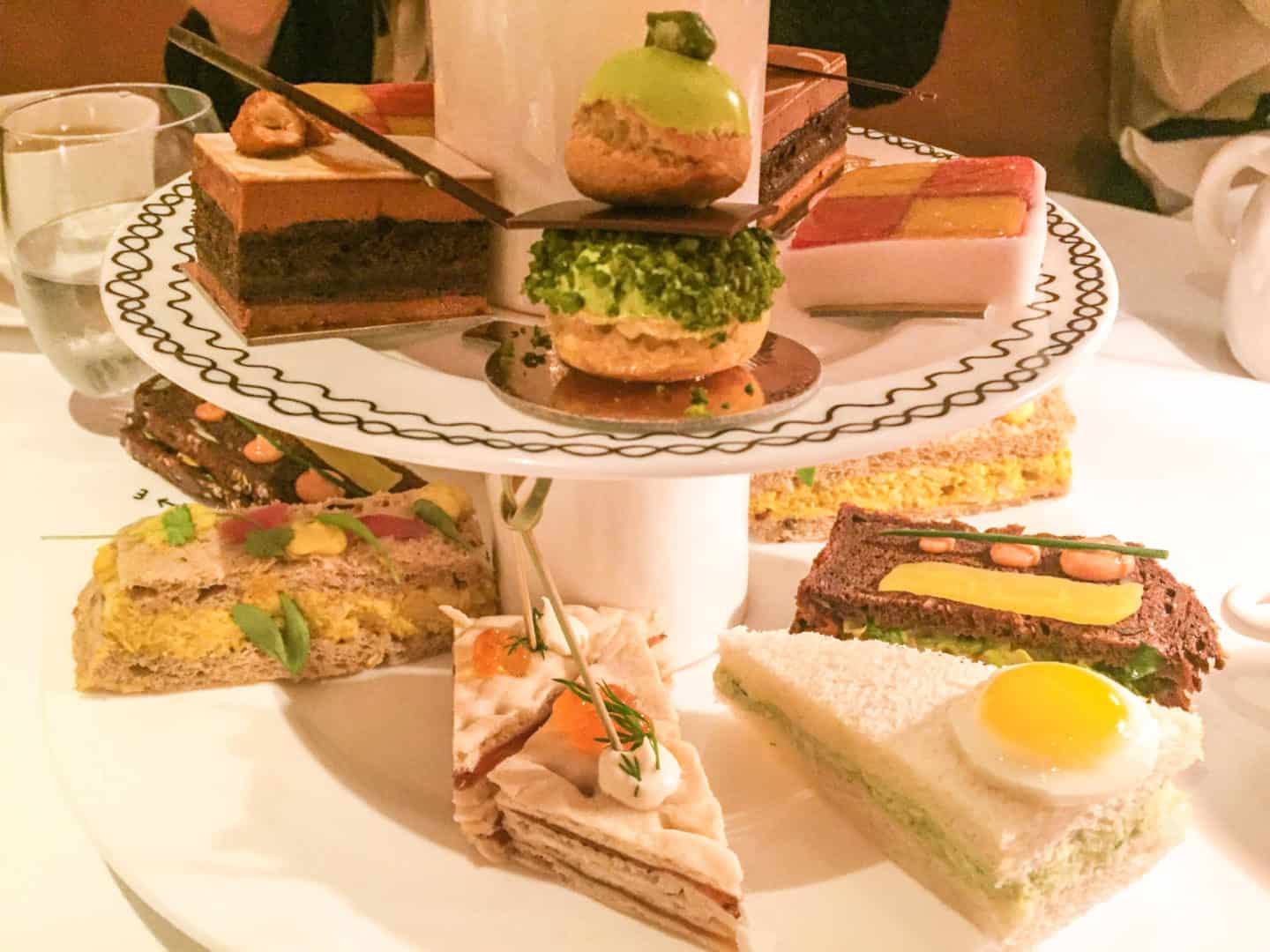 By this time you should be looking to switch tea's so the tea cart will come back round and bring clean cups out for your next round of tea.. and on the subject of cups, check out how cute the cups and china are with all these words on them!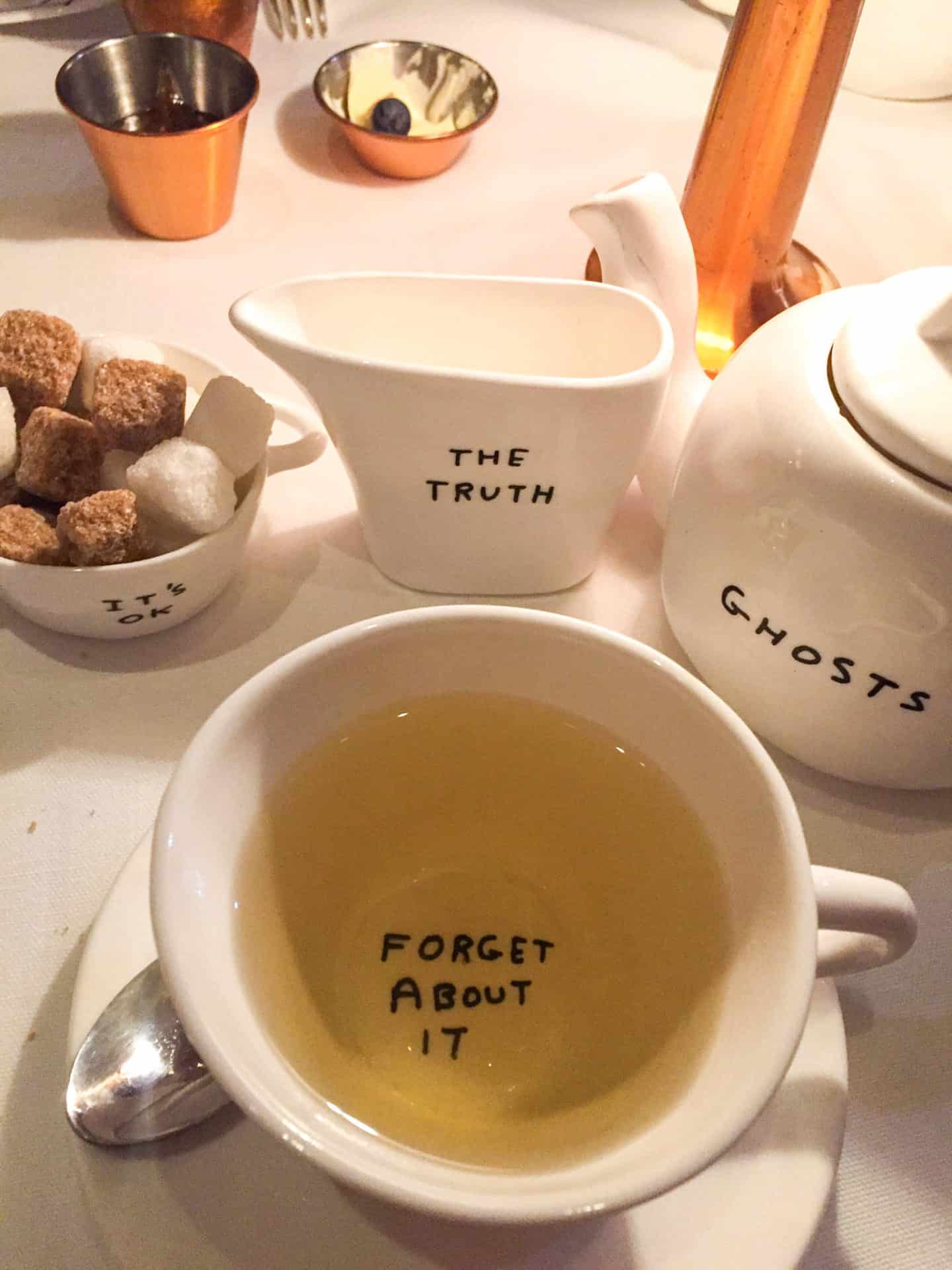 The next round is scones which is oh so British, accompanied with clotted cream and 2 types of jam and the scone was one of the best I have ever eaten!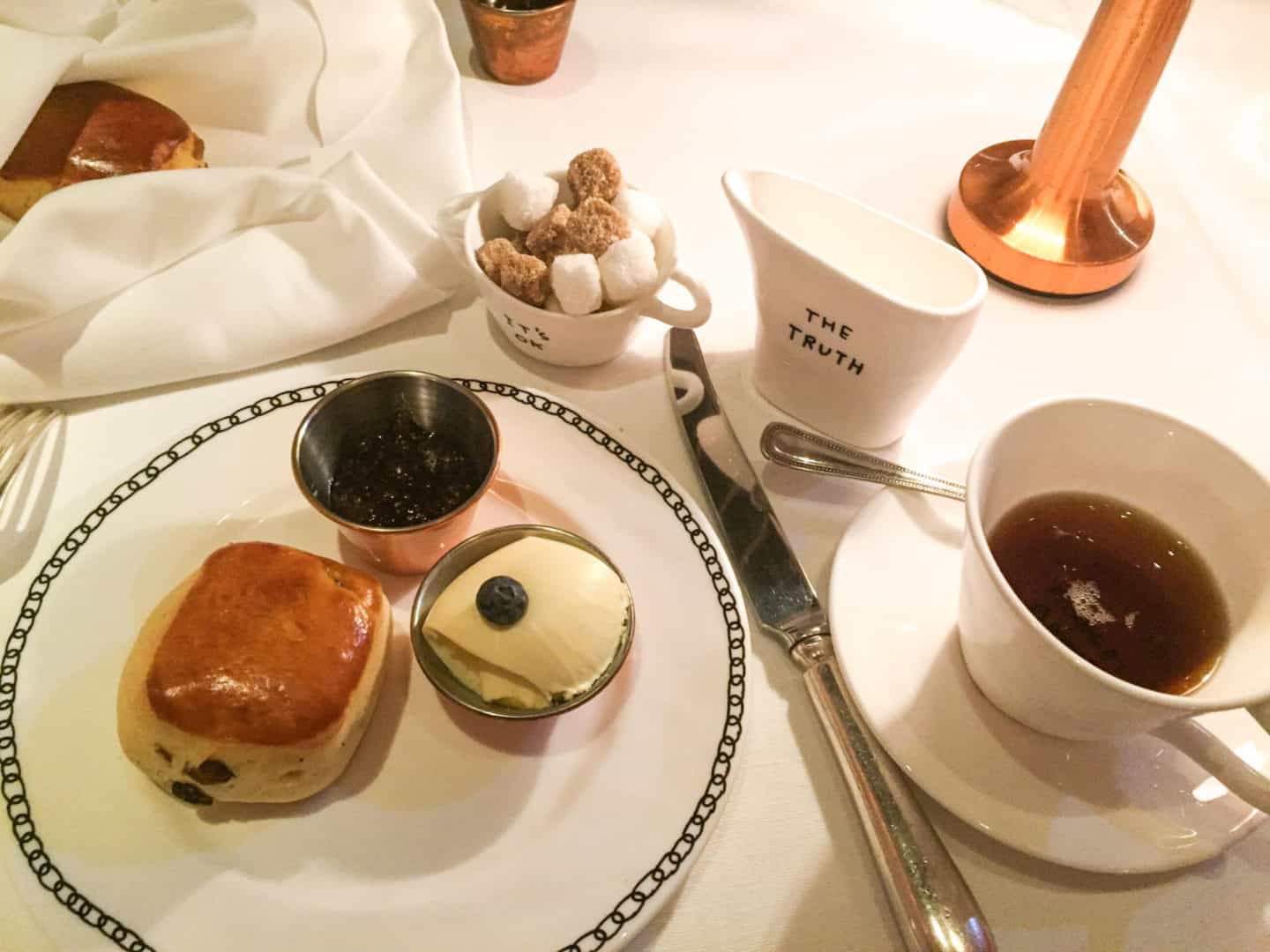 Now this is pretty much the end.. unless you don't want it to be as you can ask for another round of sandwiches, cakes, scones or even some cake off of the trolley because the price you pay is for an unlimited amount of food so why not go for seconds!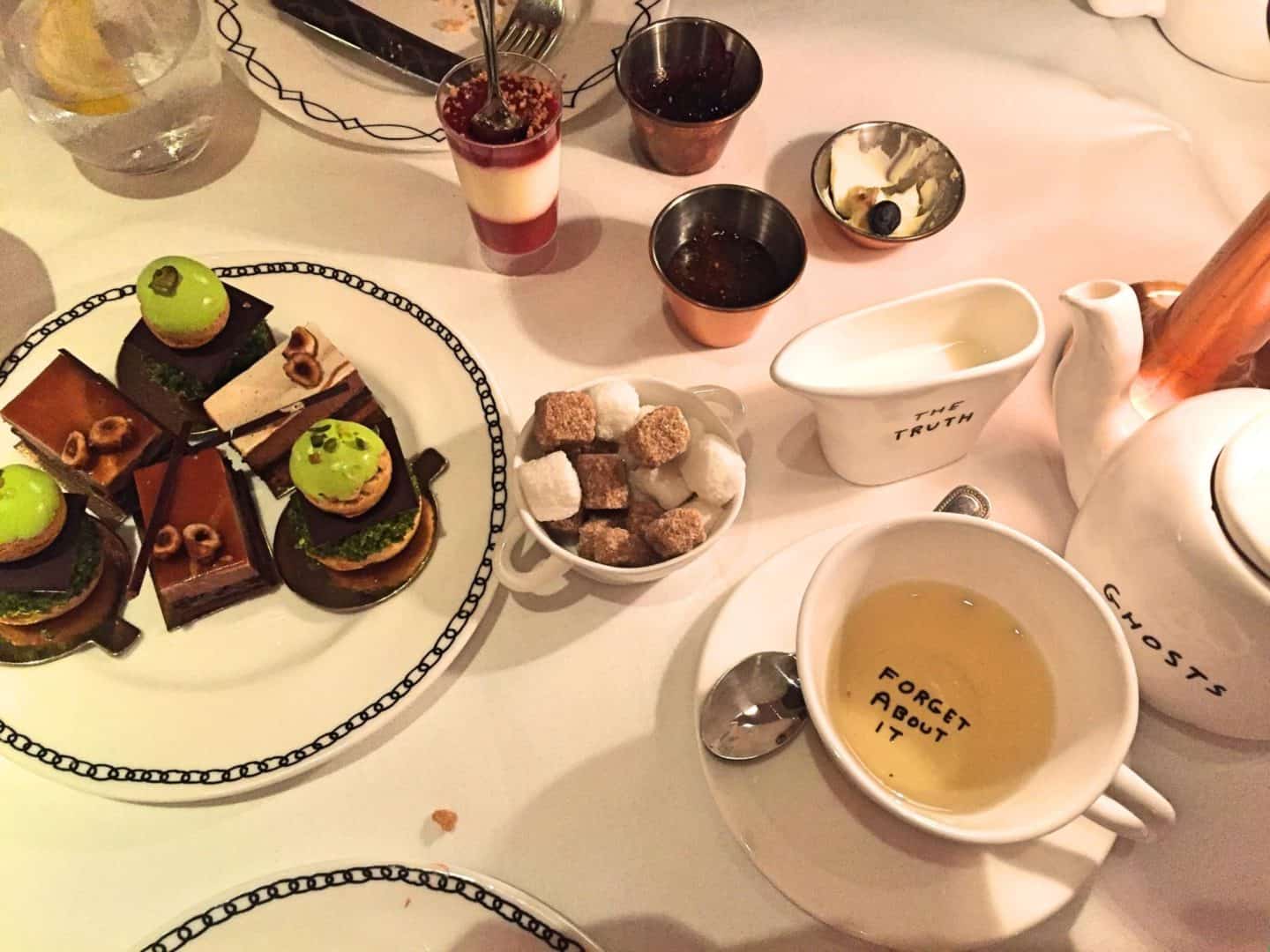 ---
If you're looking for more Afternoon Tea ideas in London, check out this post too: Last Minute Unique Afternoon Tea Experiences!
---
If this experience isn't good enough all ready then make sure you check out the toilets (which I'm sure you will with all that tea) because they are extremely unique! They are basically egg pods in a room of coloured lights and for an Instagram addict like me who had seen many photos of the toilets before it definitely meant I had a little photo shoot in there.. but I certainly wasn't the only one!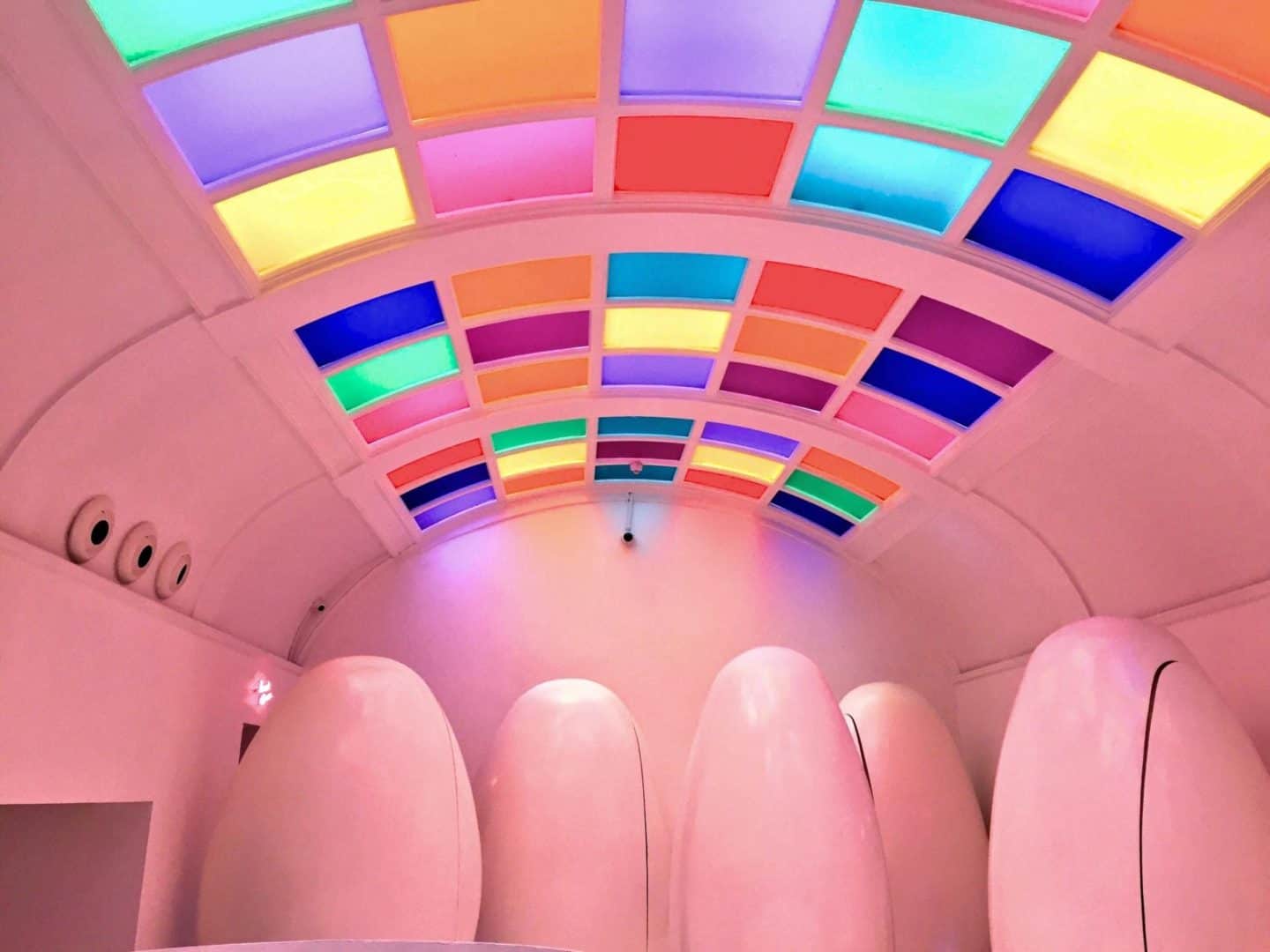 All in all Afternoon Tea at Sketch is a brilliant experience and of course a yummy one too.
My main concern was the price – the standard afternoon tea package which I had and have explained above is £58.00 per person and if you want to include Champagne then it is £72.00. There was also a 12.5% service charge added bringing the bill to £65.50 each which is pretty expensive for tea and cake. However, myself and my friends went for an occasion and we throughly enjoyed ourselves and the food so I don't have any regrets in paying the money and I would highly recommend it for celebrating an occasion or to treat yourself one afternoon!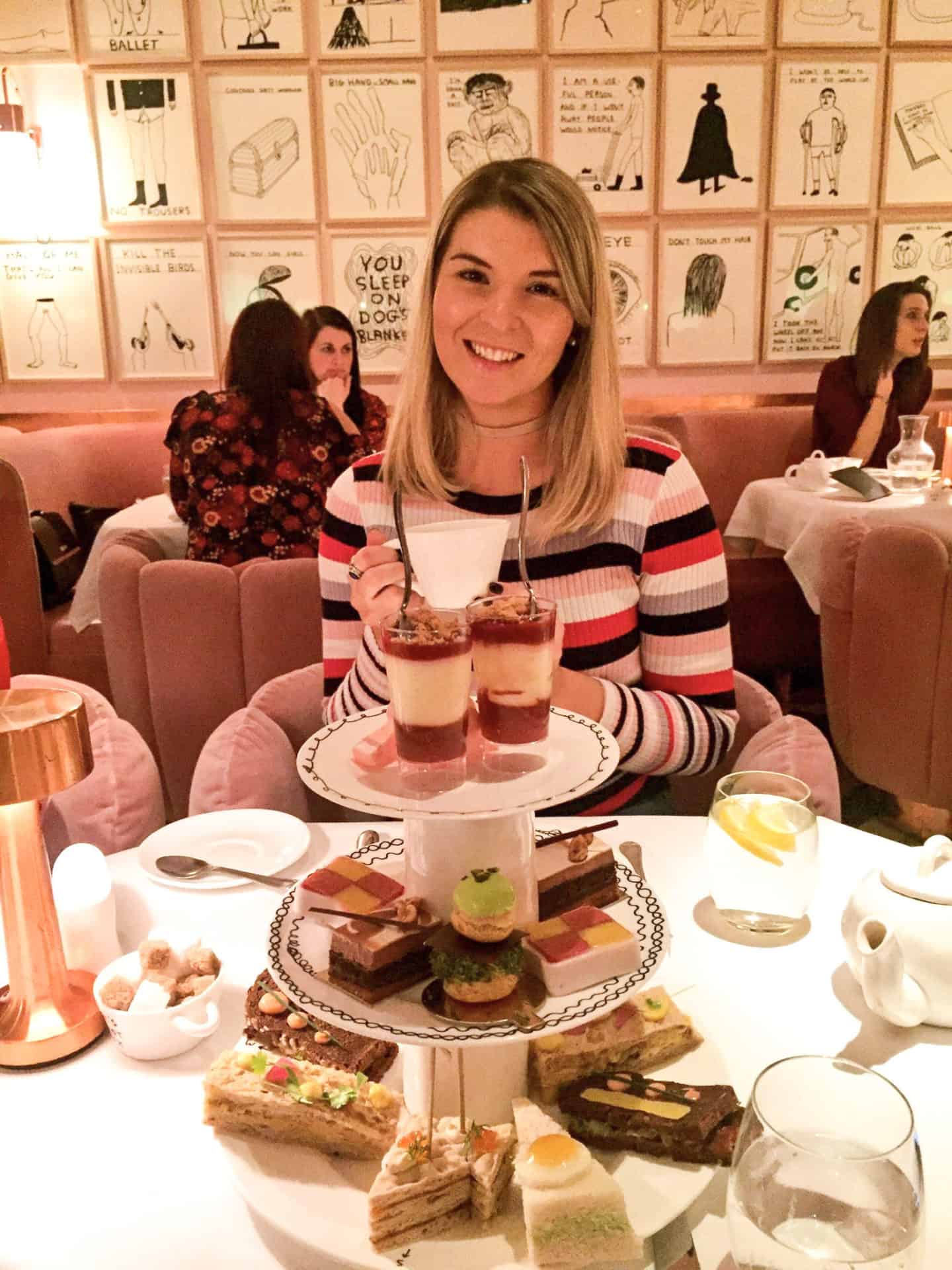 If you're looking for more Afternoon Tea ideas in London, check out this post:
Last Minute Unique Afternoon Tea Experiences
Also, if you want something to do before or after your afternoon tea, why not check out these areas of London:
How to See London in 2 Days Including Tourist Sites & Local Areas!
A Walking Guide around Beautiful Hampstead, London.
A Guide to the Perfect Sunday in Shoreditch, East London
Walking Guide To Primrose Hill, Regents Park, Regents Canal & Camden in 3-4 Hours!
A Guide to the Perfect Day in Camden Town, London
5 Parks in London Perfect for a Picnic with a City View!
Visiting the Sky Garden in London.
*Have you been to Sketch before or have you had a unique afternoon tea experience anywhere else? Let me know by commenting below or by tweeting me!*
SaveSave