Pushkar, a small town in Rajasthan is a backpackers haven I found! It's chilled (for India), it's cheap, it's spiritual, it's small, easy to get around, there are plenty of places to eat and mainly there's no need to feel like you need to tick lots of iconic things off a list during the day and night, which is what makes it so perfect in my opinion!
With that being said there are plenty of things to do in Pushkar to keep the days passing by and places to visit in Pushkar so here is what I recommend you do in Pushkar as a backpacker!
---
To SEE my time in Pushkar and why I loved it so much, have a watch of my YouTube video here:
---
Enjoy the International and Healthy Food
If you're a bit over Indian Food by the time you reach Pushkar you'll be pleased to know that there are so many cafes and restaurants all serving International and Western Food and it feels acceptable to be eating this in Pushkar.
Not only that but fresh salads and juices are abundant which is just what I was craving after only a few weeks in India!
Related Post: Be sure to check out my post on The Best Places to Eat in Pushkar!
In addition to this note that Pushkar is fully Vegetarian with no eggs, and no alcohol either so you're in for a healthy stay!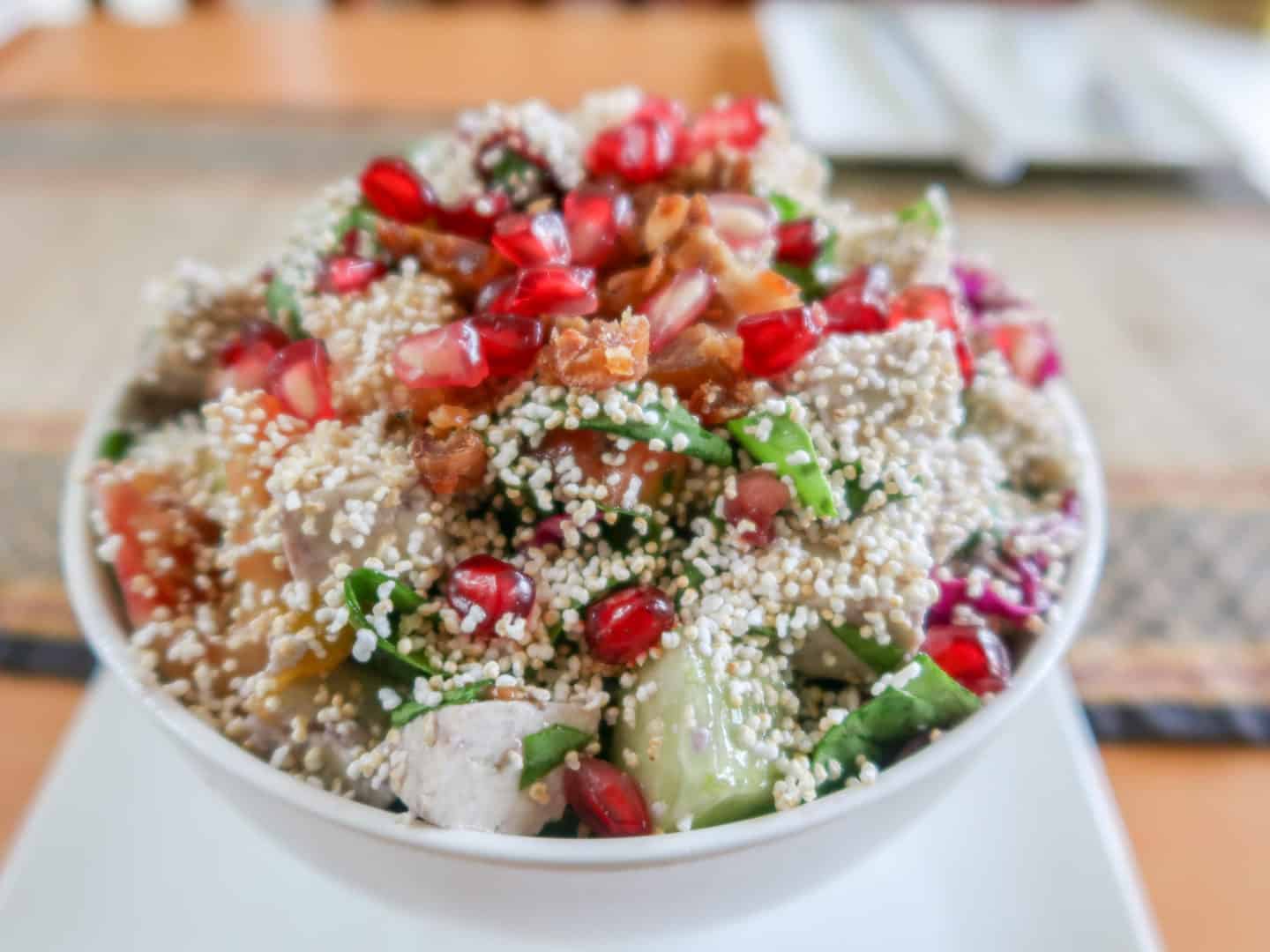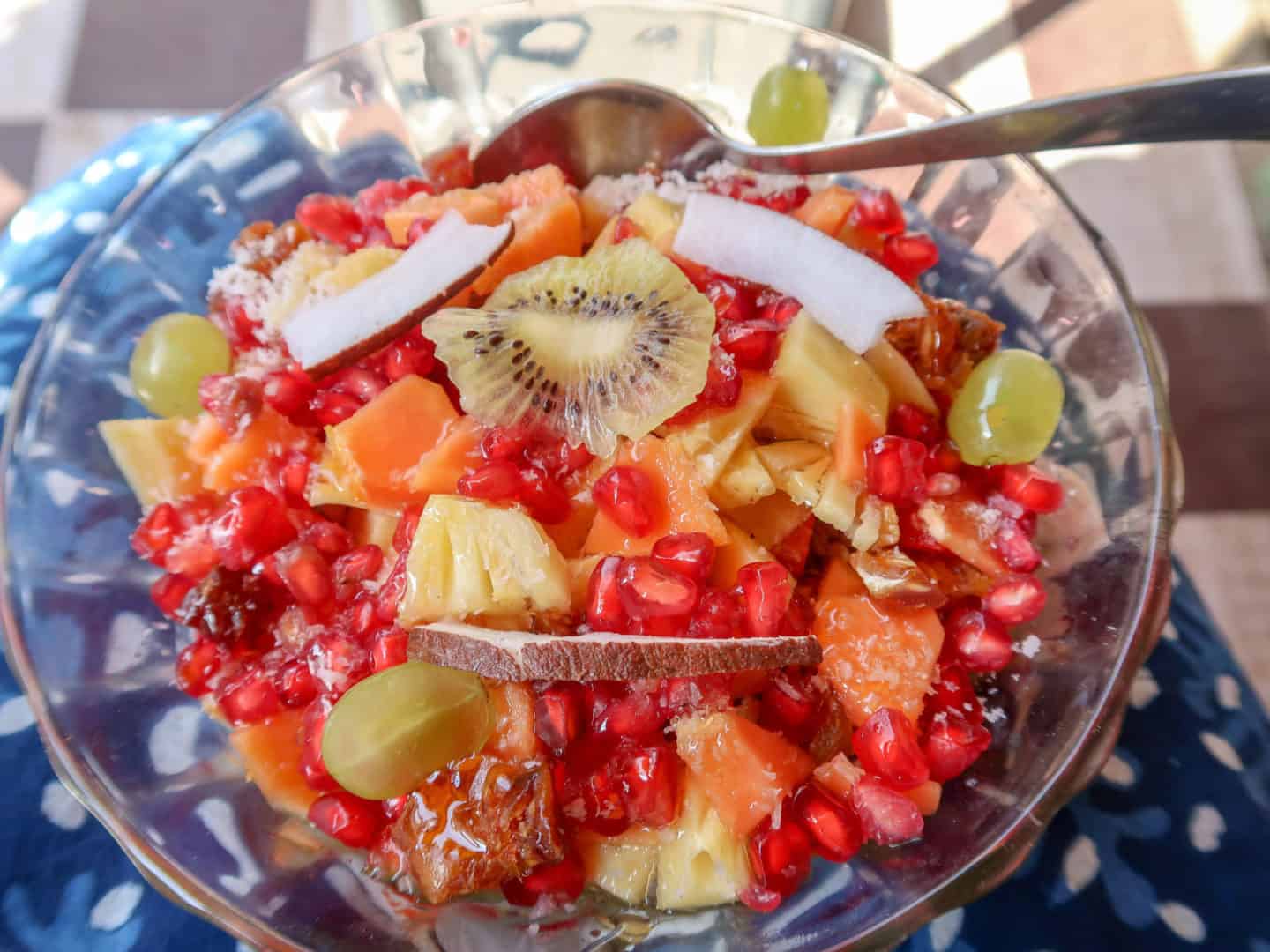 Walk around all of Pushkar Lake
Pushkar Lake sits in the middle of the Town and it's very special. It is said that Lord Brahma, the Hindu God of Creation dropped a lotus from his hand and a Lake emerged in that place, because of this Pushkar is a very important place for Hindu's and they are blessed in the Lake which is interesting to see.
It's possible to walk all the way around the Lake crossing the ghats along the way. It seems tricky sometimes to know how to pass but there will be steps somewhere close by.
It's really nice seeing the whole lake as some parts are busier than others.
Be sure to take your shoes off before you go down to the lake (if you don't you'll soon be told off by locals). I'd recommend carrying them with you so you don't have to go back to the same place you left them. Watch out for the cow food and cow dung though as cows are allowed to roam around here and get fed well!
Also go down to Pushkar Lake at night. It is very quiet and peaceful then. I found this was the best time I could really soak in the spiritual vibes of Pushkar.
Go to the Brahma Temple
Brahma is one of the most important Hindu Gods and along with the Lake the Brahma Temple is very special to Hindu's too in Pushkar. In fact it's only one of a few Brahma Temples in India and the most prominent one.
Visiting the Brahma Temple in Pushkar as a foreigner is a bit stressful I found.
Firstly note that you need to leave your shoes outside and no big bags or cameras are allowed in, they need to be put in a locker for 10Rs outside. I was given a flower outside, I reluctantly accepted as I'm always cautious that nothing is for free but I didn't get asked for any money and was told the flower is for the temple, not for me anyway.
I had a guy attach himself to me straight away in the Temple and show me round. I think he knew I was cautious and said he was a good person. To be fair without him I wouldn't have known where to go in the Temple and wouldn't have known what I was seeing.
After this he took me to the lake for a blessing.
Related Post: Around the Lake and around Brahma Temple be cautious of people scamming you. Read my post on my full experience, what to look out for and other things to be aware of when visiting Pushkar.
You definitely can visit the Brahma Temple without a guide so if you want to walk around on your own firmly decline their offer but it is only a small temple and by walking around on your own it will only take a few minutes.
If you choose to miss it, that's ok too in my opinion. It's an important temple in the Hindu religion but as a tourist it's not a particularly aesthetically pleasing temple and you will see better ones elsewhere in India.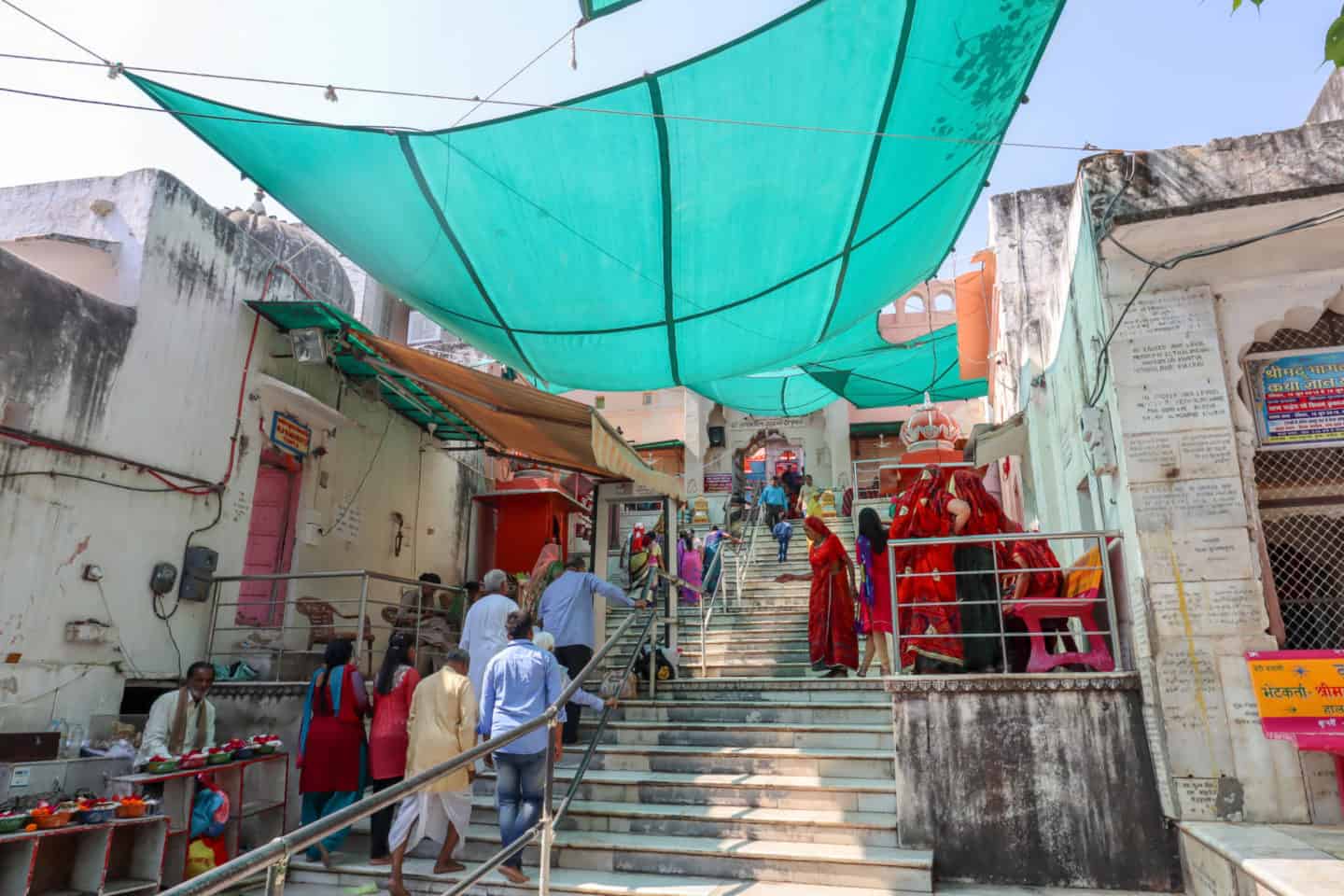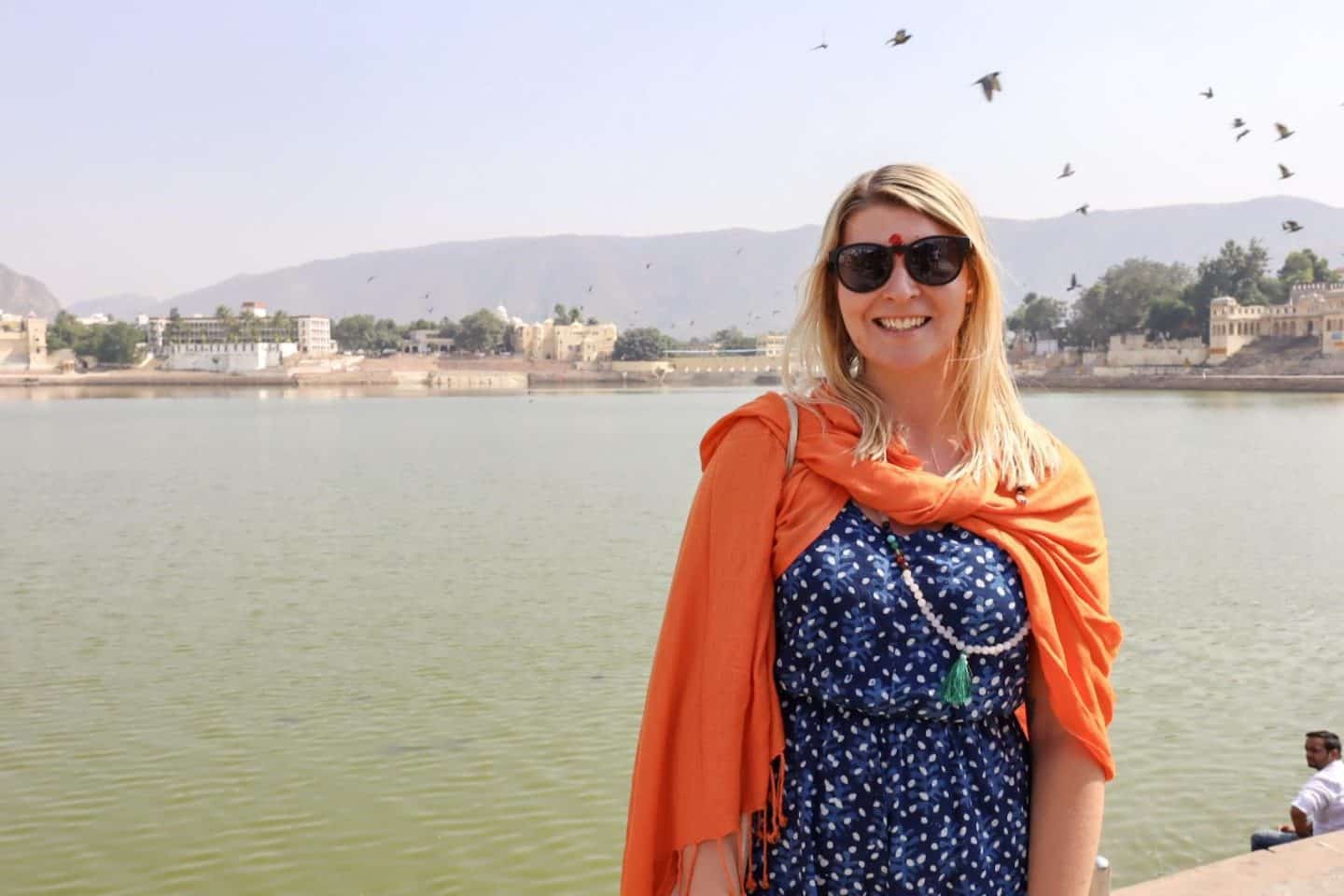 ---
By the way, I stayed at Elephant Hotel and Hostel which I really liked and would recommend!
It's right in the middle of Pushkar just 1 minute from the Lake and markets but it has a huge lawn and feels like a total oasis as soon as you walk down the path to it! The staff are great and they have dorm rooms plus really good value private rooms which is what I booked!
Have a look at rates and availability here if you still need accommodation in Pushkar!
---
Shop in the Markets
The shopping in Pushkar is good! And for so many reasons. Firstly the markets are along one main road alongside the Lake so you have to walk past them all the time when walking around Pushkar. Secondly they sell so much from clothes, books, crystals, CD's, bags, scarfs, everything you could ever want and need, plus more! The people who work in them will call you to look in but they are friendly and not overly pushy at all.
And lastly, it's really cheap! I got a pashmina for 150Rs and another more basic scarf for 70Rs and long, baggy trousers for 300Rs. These items are so much more expensive in other places of India.
Pushkar must be the cheapest place to shop in India!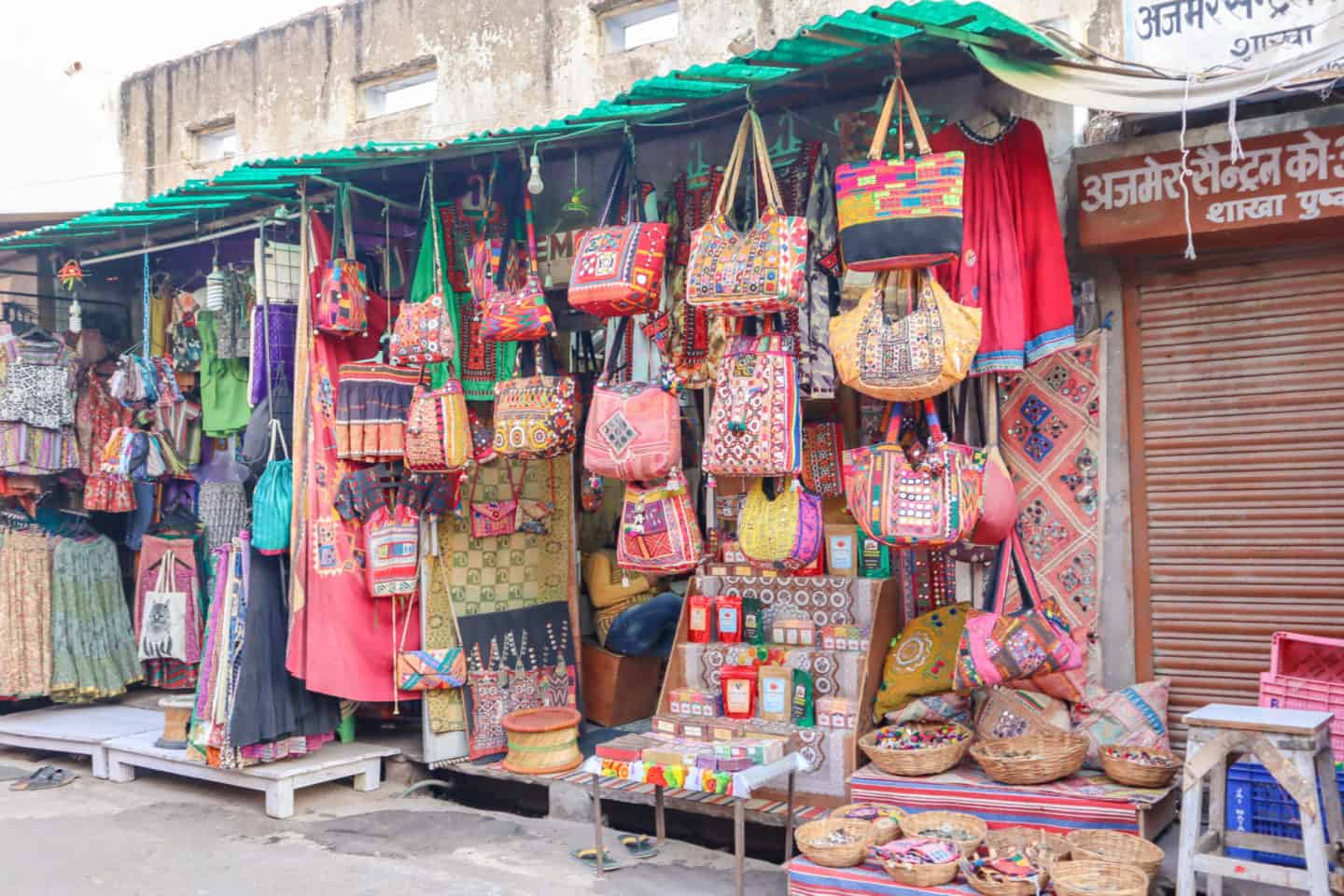 Go to a Yoga and Meditation Class
Why not get in the Spiritual vibe and go to a yoga and meditation class. I found that there are 2 main places to do yoga in Pushkar and one of these also combines a lot of meditation into the class.
Related Post: Check out this post on where to do Yoga and Meditation in Pushkar!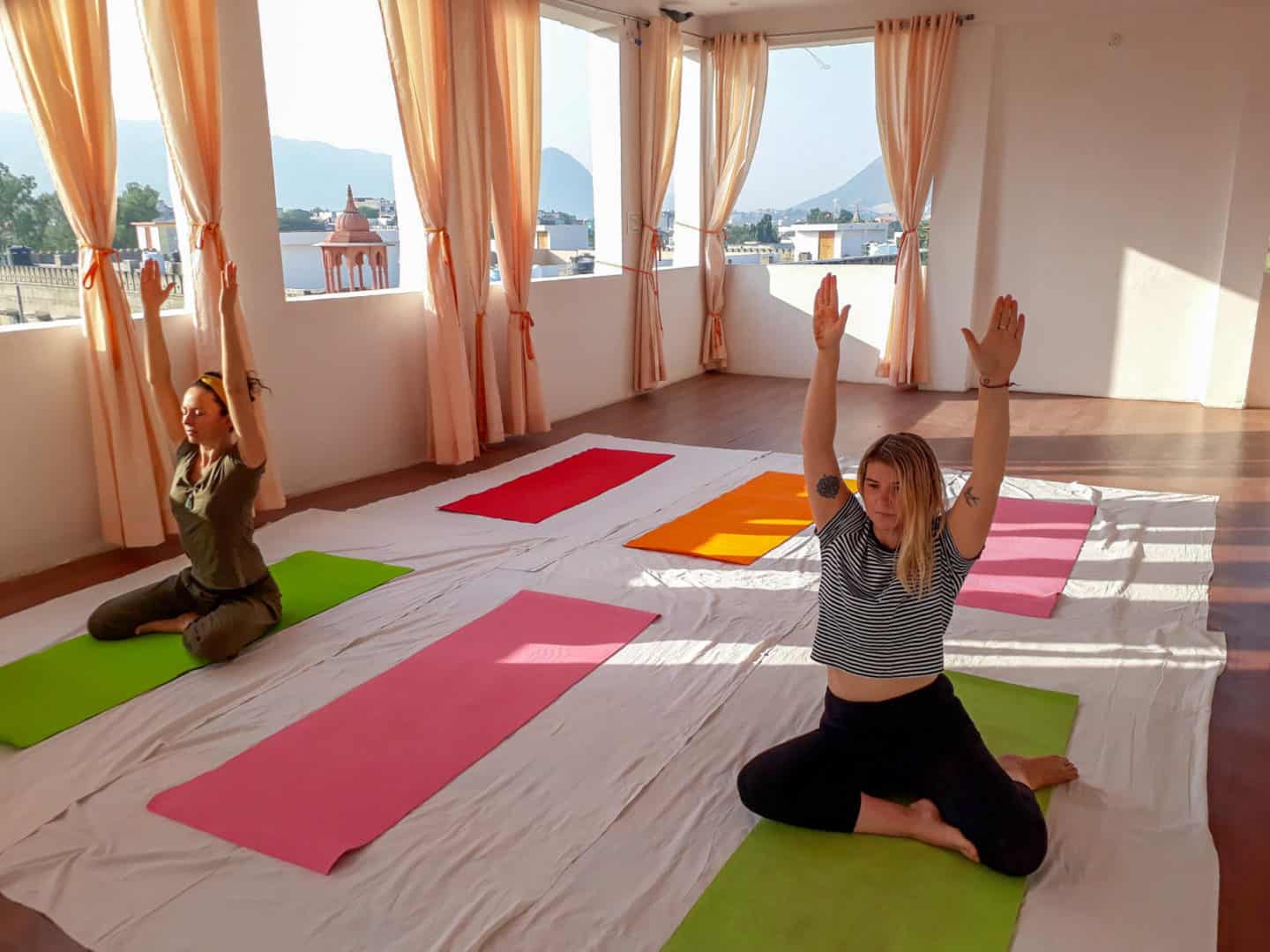 Watch the Sunset from Jaipur Ghat
There are a number of places you can watch the sunset from in Pushkar. One of those places is down by the Lake at Jaipur Ghat and the sun goes down directly in front of you into the town.
As this is a popular place to watch the sunset in Pushkar be warned that you may have locals trying to sell you things or play music by you for money, they aren't too pushy though and are generally friendly so just politely decline and they will leave you.
I'd recommend staying until once the sun goes down and it starts to get dark as there's usually music playing and people practising their fire twirling. It does attract a bit of an interesting crowd but it's good to see.
Just remember if you go close to the lake to take your shoes off!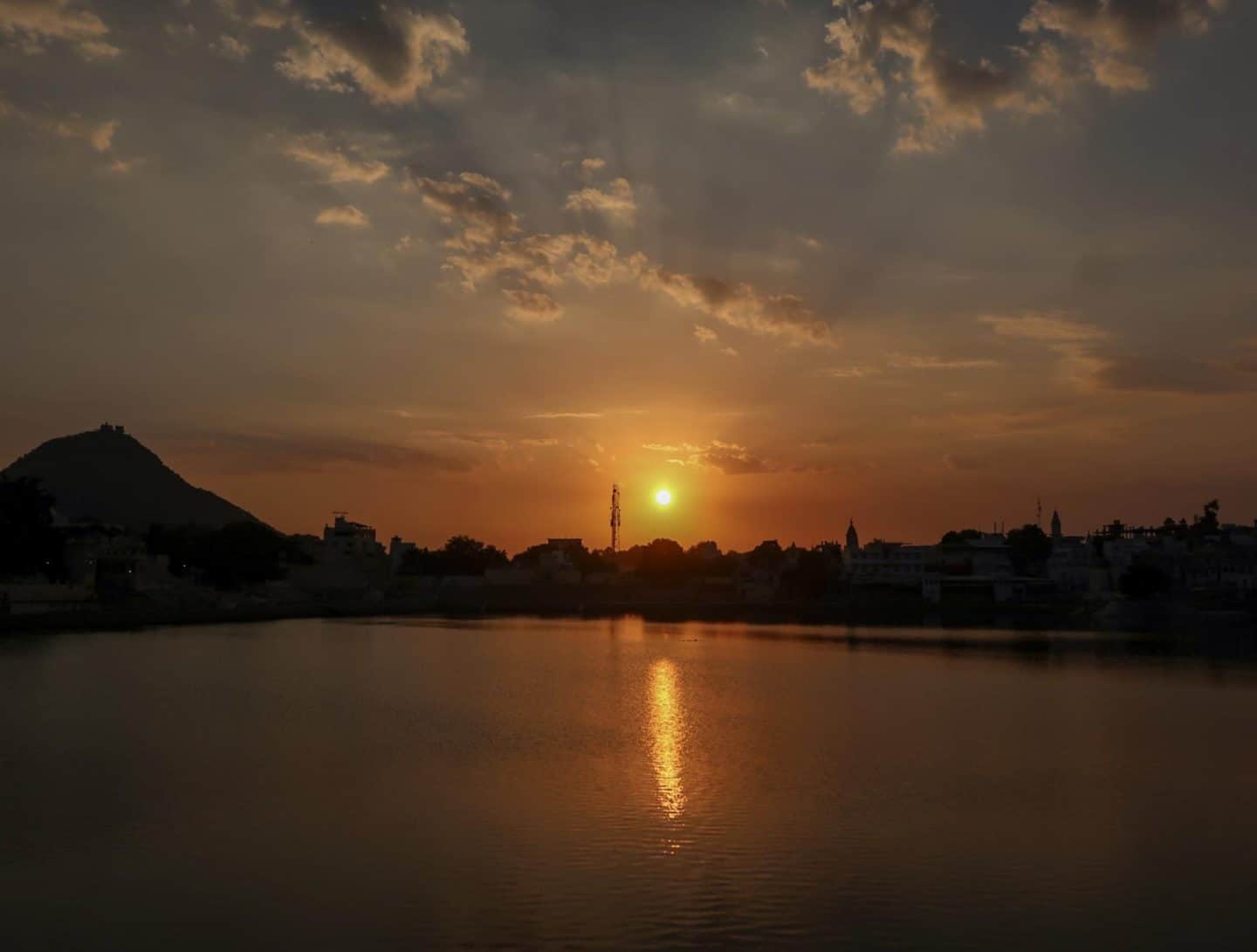 Watch the Sunset from Pap Mochani Temple
I really enjoyed seeing the sunset from up here. This temple is on top of a hill but a smaller hill to the Savitri Temple is as I explain in the next point.
The base is close to the centre and especially close to Elephant Hotel and Hostel which is where I stayed. From the base it is a 15-20 minute walk up along a path which has rock and stone steps but it's easy to navigate and not too hard.
At the top is the small temple, it's not worth going to see the temple but it is worth it for the view. If you sit by the temple or walk around it remember to take off your shoes. Alternatively just opposite the temple is wall you can sit on perfect to watch the sunset from.
I really liked sunset from up here as the views are awesome, it's not too far and it wasn't too busy. I would definitely recommend watching the sunset from Pap Mochani Temple in Pushkar.
If you can't fit in a sunset here I would recommend still walking up as the view will be good all day!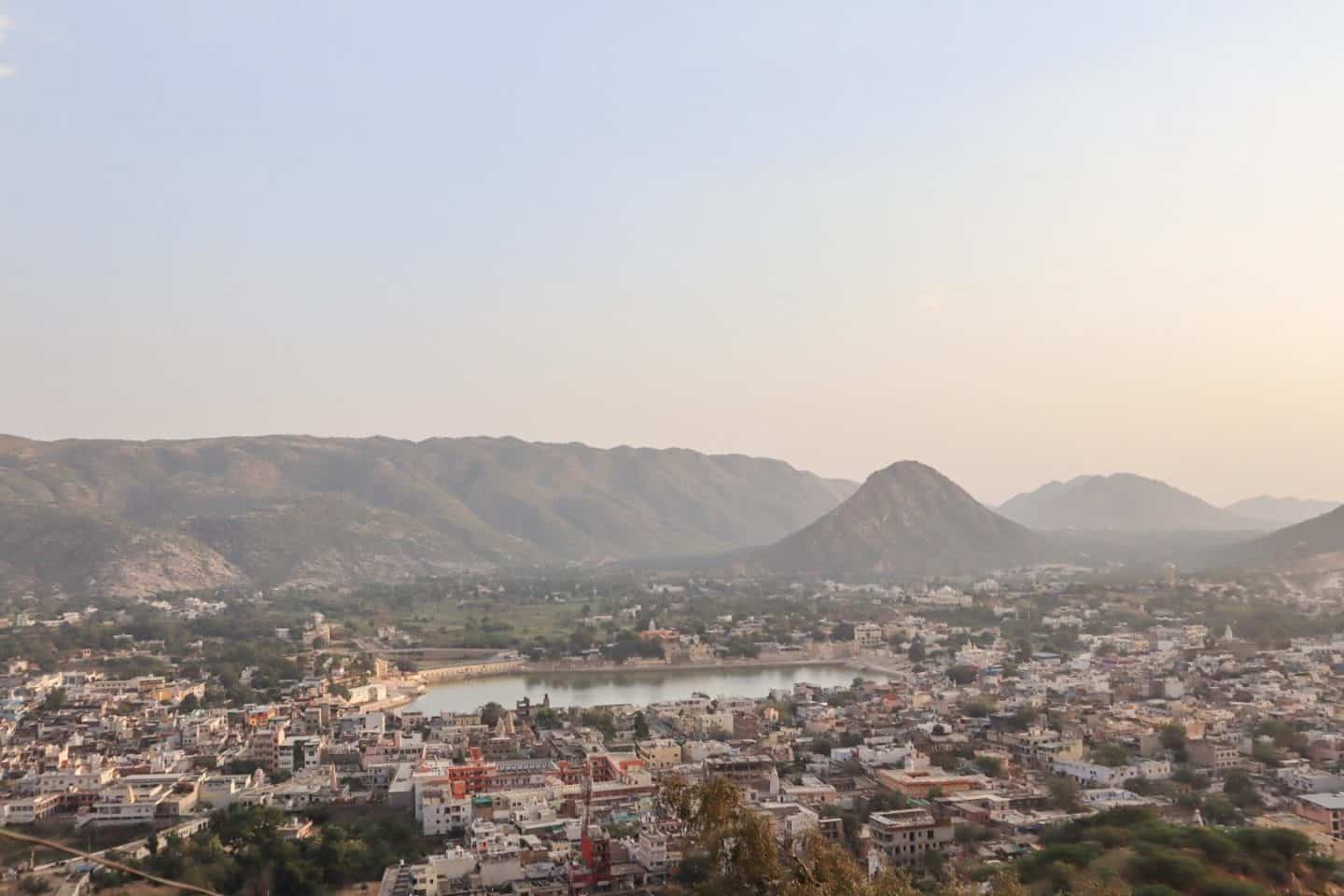 Walk up the Mountain to Savitri Temple
Savitri is another famous temple in Pushkar as it is dedicated to Lord Brahma's Wife. You'll be able to see Savitri Temple from wherever you are in Pushkar and although it looks very high, and it is, it's possible to walk all the way to the top.
I read and was told that it is a popular place for sunset and although it is, I didn't like it that much because of the monkeys!
It's a good hike in Pushkar although it is paved with steps from the very bottom (which is also where the cable car leaves from if you'd rather take that) all the way to the top and although the steps do get big with a steep incline towards the top it is pretty manageable.
I walked all the way to the top ok, saw the Savitri Temple which isn't that impressive and went round the back to see the sunset but round here were so many monkeys I did not feel comfortable staying until sunset so I walked back down!
The views from the top and during the walk up are incredible and it's so quiet when walking up so I would recommend going to Savitri Temple for sure when in Pushkar but you don't have to go for sunset, you can go whenever in the day (although the temperature is more comfortable at sunset).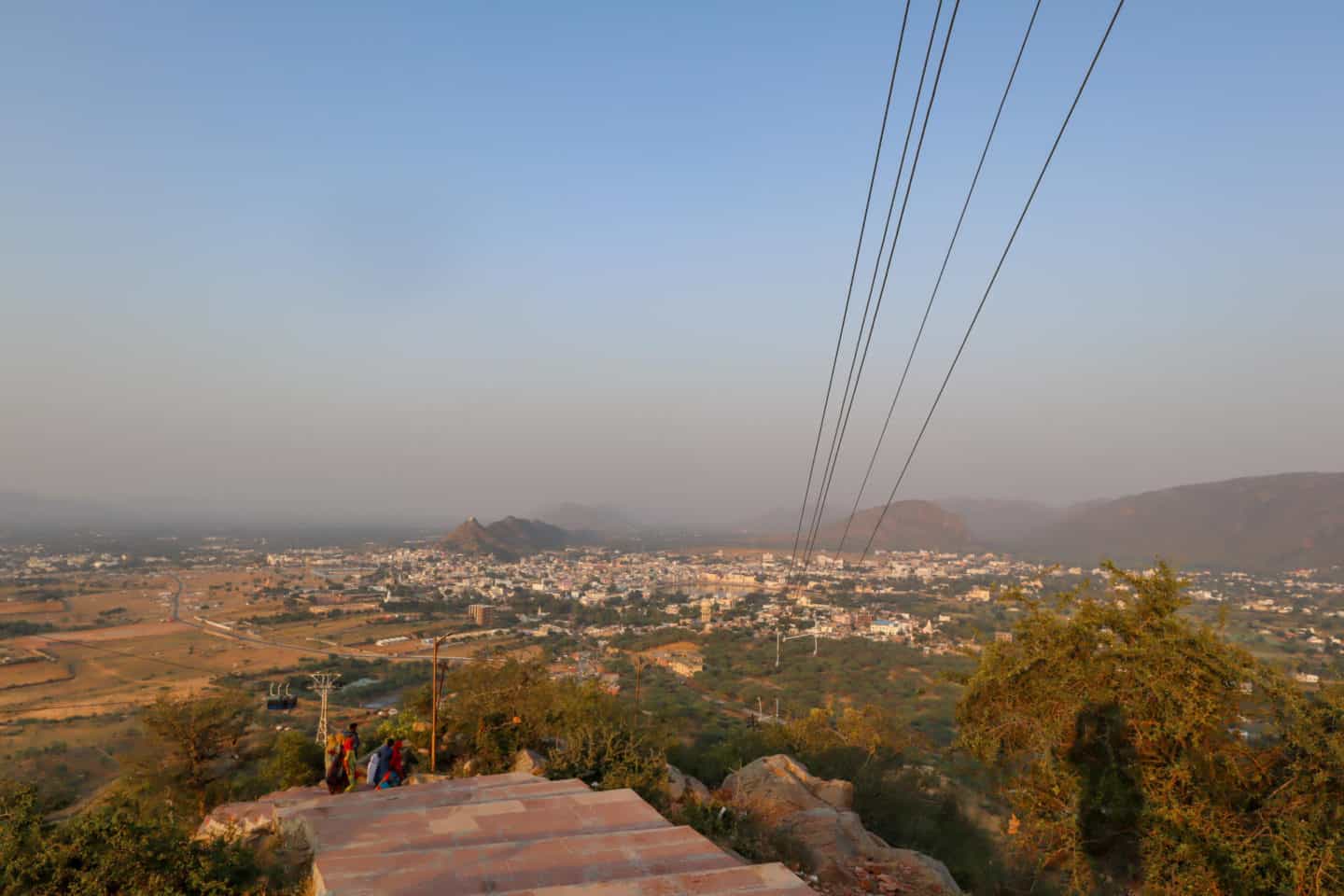 Watch the Evening Aarti at the Lake
I seemed to keep missing this but I did catch the end of the ceremony on my last night. At Varah Ghat just after sunset an evening ceremony starts. It is aimed at locals and Hindu's so you may be the only foreigner but you can sit on the top step away from it slightly and observe. It wasn't as big as I had read about online in another article but once you have seen the sunset from Jaipur Ghat it's a nice idea to walk to the opposite side of the Lake and catch this ceremony.
See the Aloo Baba
A popular place to visit near Pushkar, or more like a popular person to visit near Pushkar is Aloo Baba. He is a Baba who has only eaten potatoes for over 45 years of his life. (Aloo in Hindu means Potato)
A guy I met in my hostel hired a moped (for just 250Rs for 24hours) and drove the 11km from Pushkar to see him. He is at the Shiva Temple and he guy I met said it was signpost as he got close and he was obviously very used to visitors.
Aloo Baba was happy to speak to the visitors so it sounds worth the trip and he seems partial to a bit of Hashish!
---
Getting to and from Pushkar
Pushkar does not have a train station and Ajmer is the closest City 16km away.
I got a train from Jodhpur to Ajmer which was a really easy journey and from Ajmer I got a taxi for 400Rs to Pushkar which is what Elephant Hotel and Hostel said the price would be.
There is a public bus from Ajmer to Pushkar which is very cheap and runs regularly however from Amjer train station you'll need to get a taxi or tricycle to the bus station.
It's possible to get a bus or train from Jaipur to Pushkar or Pushkar to Jaipur. I booked a bus in Jaipur for 250Rs which stopped in Ajmer but was the same bus and took just 3 hours.
Alternatively I could have taken a public bus to Ajmer and then caught one of the regular buses to Jaipur.
Basically, it's not as easy to get to as a lot of the other popular places in India but I always say that the harder places are to get to, the better they are!
---
Recommended Accommodation in Pushkar
As mentioned I stayed at Elephant Hotel and Hostel which I really liked. Unlike a lot of the bigger hostels like Zostel Hostel, Backpacker Panda or The Madpackers Hostel, Elephant is right in the centre but it has a big lawn so once you're inside it feels like it's out of the centre. The staff are really nice there too, it has private rooms for a good price and dorm rooms, and best of all- the wifi is good!
One of the best hotels in Pushkar and where I would probably stay *when* I come back is Inn Seventh Heaven. It's right in the centre too and is named perfectly because when you walk through the gap in the big door and into the courtyard you literally feel like you have stepped into heaven! It's so peaceful and beautiful! And if you don't stay there be sure to go to their restaurant Sixth Sense so you can see the inside.
Check for the best hotels in Pushkar here on Booking.com. I use Booking.com for all of my bookings as I love the flexible cancellation options and the ease to extend bookings, just incase my plans do change!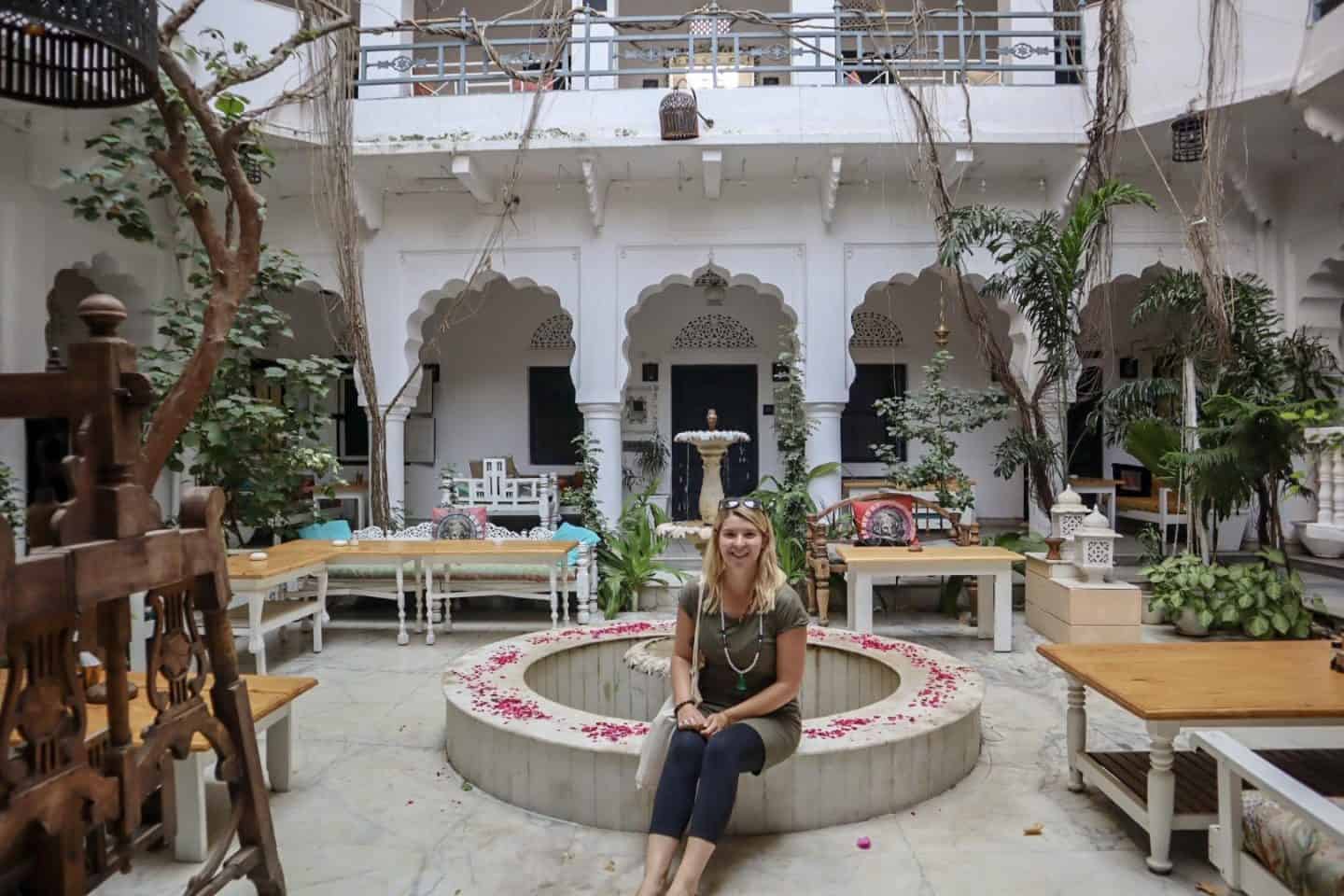 ---
I hope this helps you have the best time in Pushkar! I was very sad to leave and I know I'll be back in the future.
To me, Pushkar felt a bit like South East Asia, and South East Asia in the past before it got too busy which is another reason I think I really liked it and why it is so perfect for backpackers to relax in for a few days!
To SEE Pushkar, have a watch of my YouTube video here!
---
For more of my posts on Pushkar and India see:
The Best Places to Eat in Pushkar!
Where To Find Yoga, Meditation and Ayurveda in Pushkar.
7 Things To Be Aware Of When Visiting Pushkar!