There's no doubt about it, although Agra is a big City not only is the main attraction the Taj Mahal but most of the other attractions revolve around it too and who can blame Agra! The Taj Mahal is simply stunning! I had high expectations when visiting the Taj Mahal and even though I tried not to, it still topped all of my expectations, it's that amazing!
However going inside the Taj Mahal is not the only way to see it, you can see it and get a view of the Taj Mahal from many other places in Agra.
I wouldn't recommend going to Agra and NOT seeing the Taj Mahal but I do know people who have, some through choice, some not wanting to pay the entrance fee (currently 1100RS which really isn't that bad), and some people who turn up on Friday in Agra to realise that the Taj Mahal is closed and cannot be visited by tourists on Fridays!
The latter was nearly me, no matter how many times I read that the Taj Mahal is closed on Friday, it still got to the end of Thursday for me to realise that- ooh tomorrow is when I was going to see the Taj, and tomorrow is Friday! Uh Oh! Luckily I managed to get another train on Saturday so I went Saturday morning, but if you want an idea of things to do in Agra or different ways to see the Taj Mahal, check out these places and their prices!
Related Post: Is the Taj Mahal Worth it and My Tips for Visiting!
---
TO SEE MY 2 DAYS IN AGRA SEEING MORE OF THE CITY RATHER THAN GOING INSIDE THE TAJ MAHAL, WATCH MY YOUTUBE VIDEO:
---
Best Ways to See the Taj Mahal!
Mehtab Bagh – Entrance Fee 100Rs or Free
Located to the North of the Taj Mahal across the River is Mehtab Bagh, also known as moonlight gardens. To get a direct view of the Taj Mahal you'll need to pay 100Rs (for foreigners) to enter which gives access into the huge gardens and a really good view of the Taj Mahal in my opinion!
For a free view of the Taj Mahal, instead of paying to enter, walk down the track a bit and then you can access another garden which is still opposite the Taj Mahal but to the side.
The Mehtab Bagh is a recommended best place to watch the sunset in Agra, and although it's possible to see a side view of the Taj Mahal and the sunset, it's not that good as it's not like the sun sets behind the Taj Mahal, so sunset is a good time to go but so is any other time of day! Note that as soon as the sun sets, this park closes and you have to leave!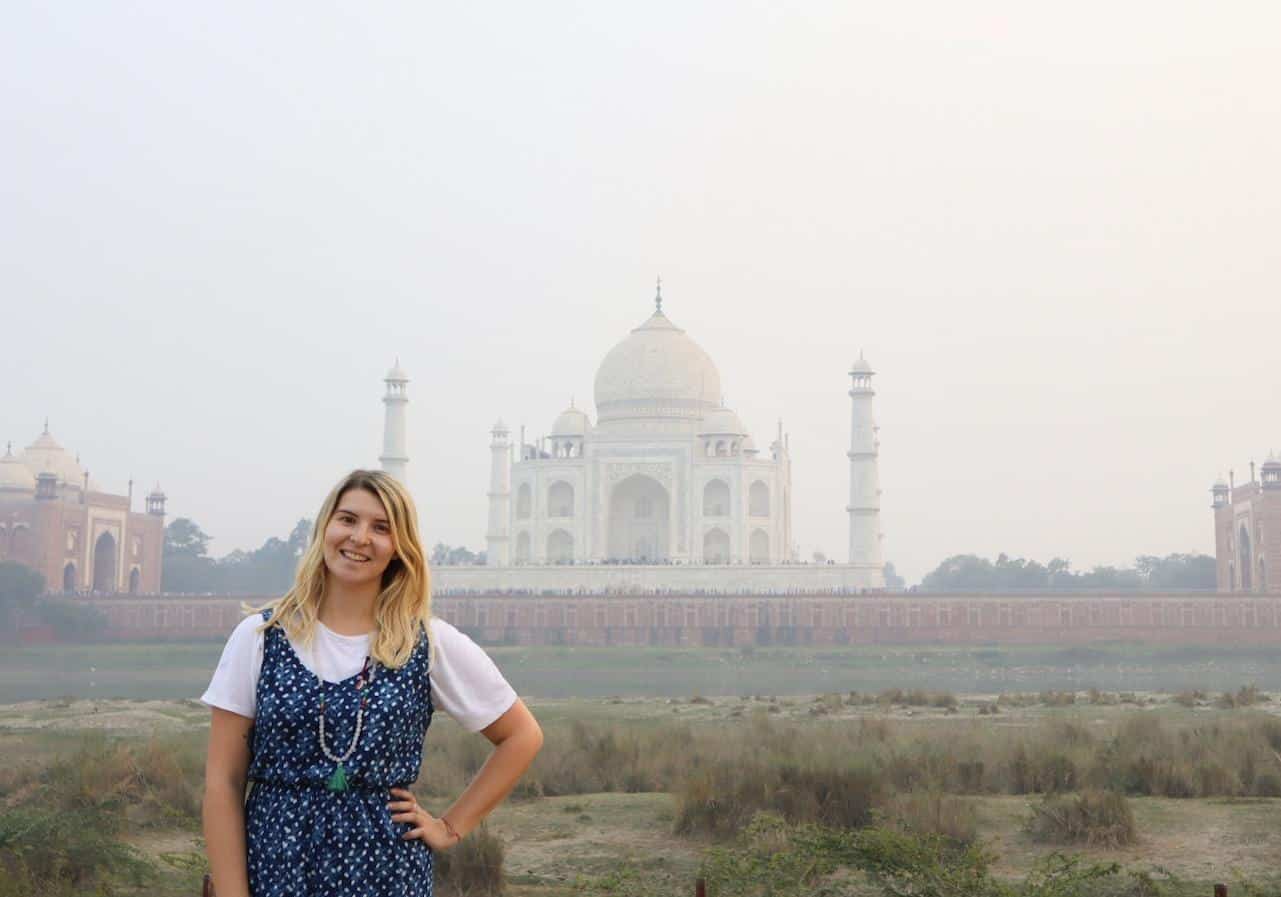 Sunrise or Sunset Boat Trip – 100-250Rs
It is possible to do a boat trip along the Yamuna River that lines of North of the Taj Mahal at Sunrise and at Sunset.
My friend Dave from Man vs Glove did it a Agra Boat Ride at Sunset, read this post for his tips! I also saw The Budgeteers do it on their YouTube channel at sunrise and both times it looked and sounded really good and it definitely offers a unique view of the Taj Mahal because only a few boat men go out, this isn't a big business or a really popular thing to do in Agra!
Firstly because I believe it may not be totally allowed (however that doesn't stop anyone in India) and perhaps secondly because of the state of the river, it is very dirty and full of trash on the banks!
The reason I didn't do it, even though it was on my list of things to do in Agra, is because when I visited Agra in November, although I had beautiful weather when I went to the Taj Mahal (thank the lord!) the days before were very hazy and the sky was full of pollution and it wouldn't have been nice at all to be on the river because the Taj was barely visible and breathing in general around the city was horrible so keep this in mind.
However if you get good weather this would be a lovely thing to do. Taj Mahal boat trips are bookable via most hostels but you can also walk up the East Side of the Taj Mahal to the River and there should be a man selling you a boat trip!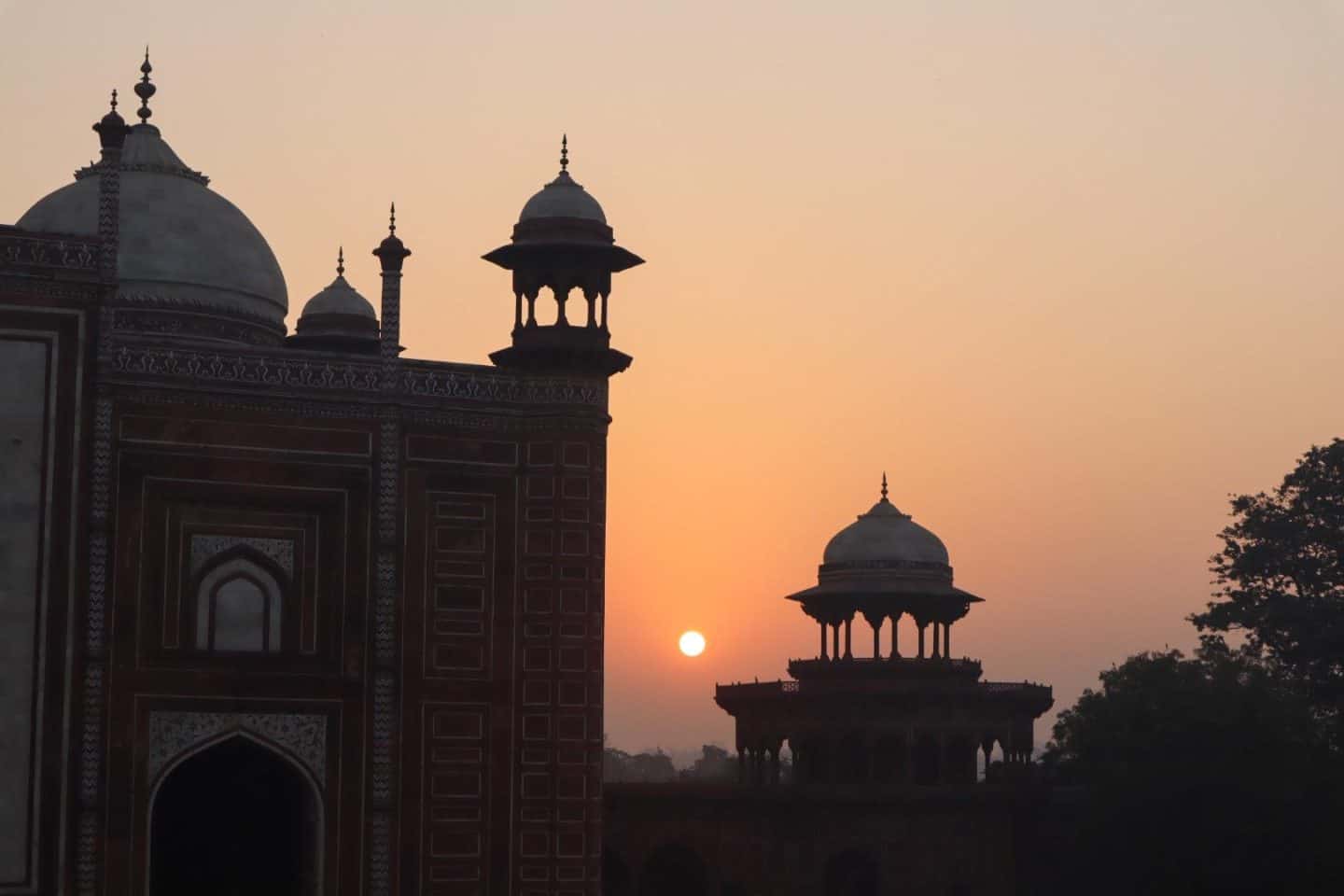 East Side of the Taj Mahal – Free / Potential Bribe
Talking of the Eastern side of the Taj Mahal and The Budgeteers, they found a really good sunset spot in one of the red buildings along the East Side by the river. I went to find it however half way along the East side the road splits in two, I stayed to the left along the Taj and once I got to the River I couldn't go any further right. This spot still gave a good view of the Taj Mahal but it wasn't what I wanted!
I later spoke to a guy and to The Budgeteers who said I should have veered right! The road is private property and you may need to bribe someone to go down, but it may be fine too. At the end by the river you'll see a red fort type building and you can sit in there watching the sunset. Unlike the Mehtab Bagh the sun actually sets right in front of you here and behind the Taj Mahal! If you can find it, I reckon this is the best place to watch the sunset in Agra!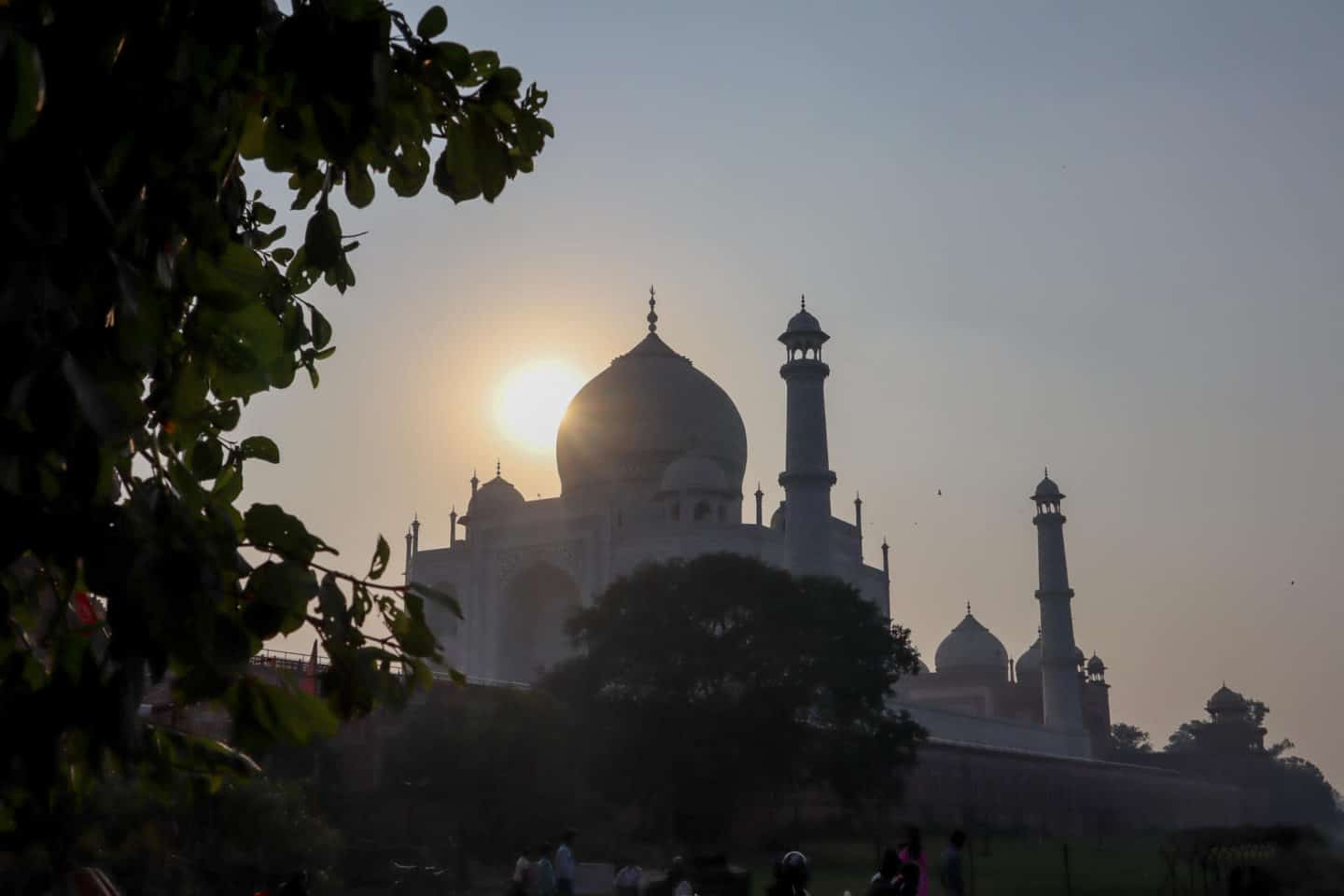 Taj Nature Walk – Entrance Fee 100Rs
The Taj Nature Walk is not only a good place to visit in Agra if you want to see a view of the Taj Mahal but also if you need some peace and quiet, and in a busy City like Agra where every millisecond someone is beeping, this is very much needed!
It costs to get in but once you're in you can walk and walk around for as long as you want. There's a few view points and if you're in a group this would be a great place to come with a picnic to chill.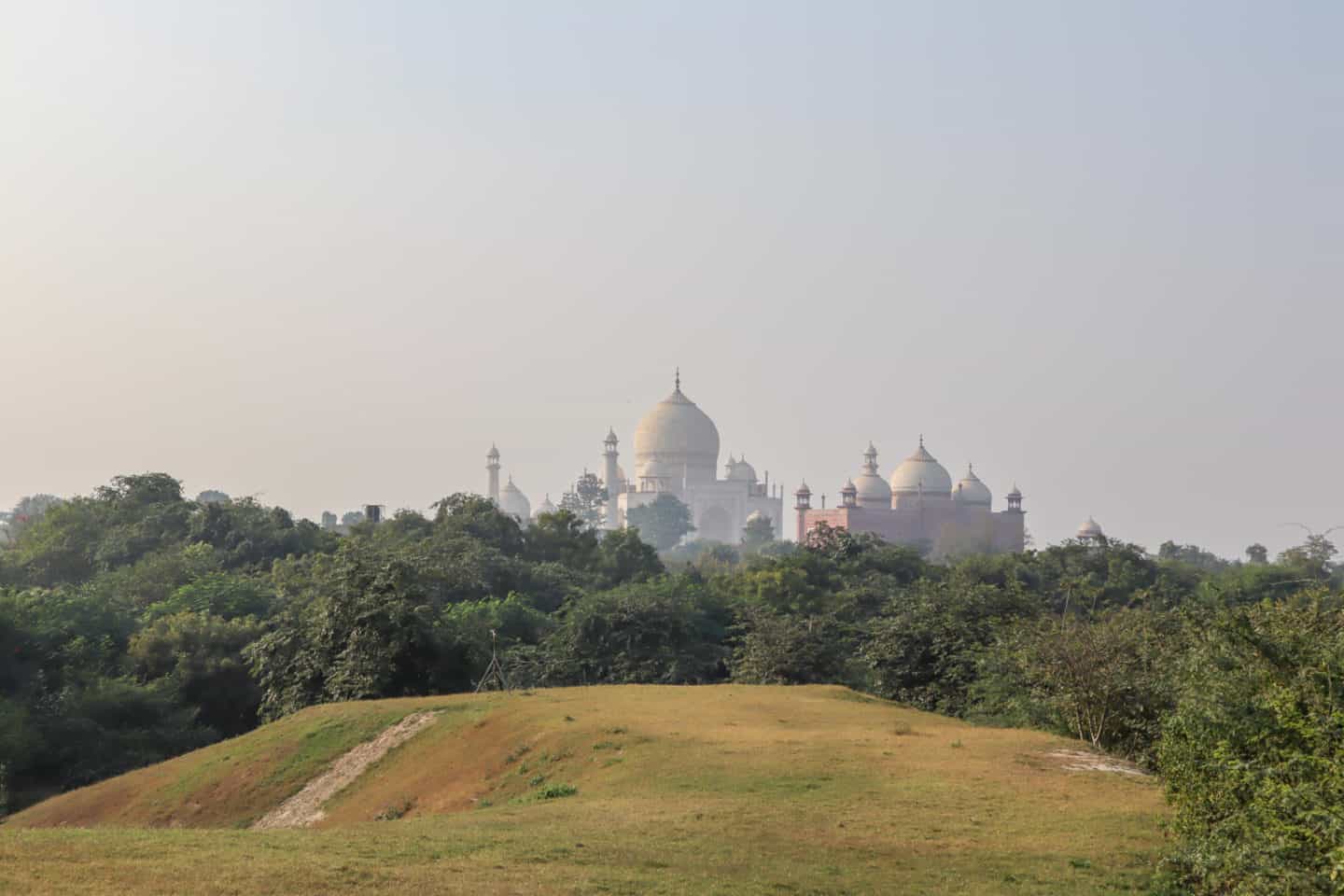 Related Post: Is the Taj Mahal Worth it and My Tips for Visiting!
Agra Fort – Entrance Fee 650Rs
There is a view of the Taj Mahal from Agra Fort although I wouldn't recommend going here just for the view as it is a bit further away and if it's hazy like it was when I went you can barely see it!
It is an added bonus though as I really enjoyed Agra Fort and was pretty impressed with it! It is quite costly so if you are on a major budget I would say you can miss it and be ok but if you have time then a must see in Agra is Agra Fort!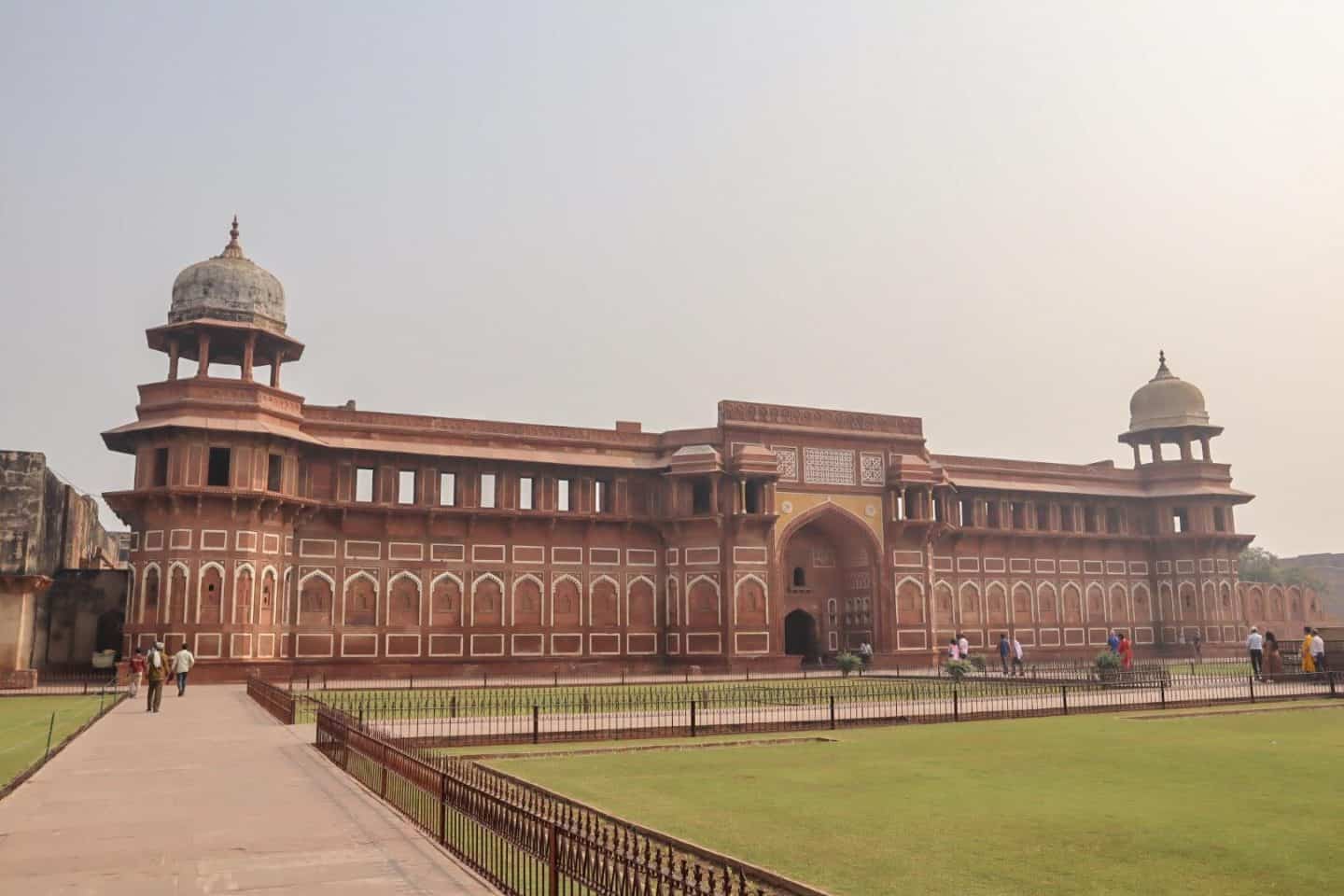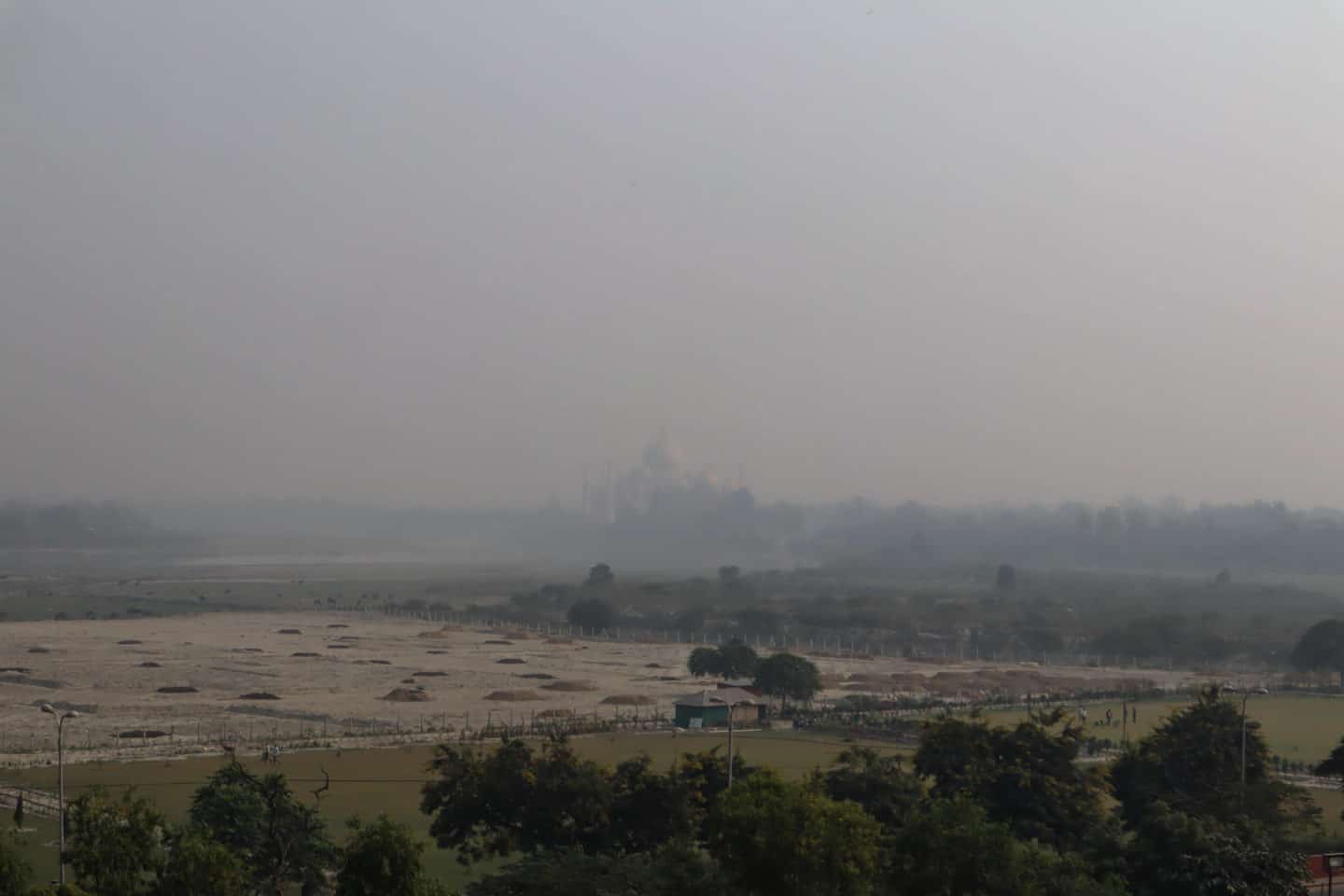 Rooftop Restaurant – Price of a Drink!
The Taj Ganj area of Agra aka Agra Town around South of the Taj Mahal is home to many many restaurants and a lot of them have a view of the Taj Mahal from their rooftops. Some are slightly hindered views and not the prettiest with many other buildings in front of them but if this is the first way you see the Taj Mahal when you arrive in Agra and you're looking for lunch or dinner, or you want to end the day here, it will be a pretty impressive view!
I don't know about you but I had always thought of being in a restaurant rooftop and seeing the Taj peaking behind the buildings.. magic!
Most of the restaurants will not sell beers on their menu but you will hear calls from the owners as you walk past telling you they do indeed serve cold beer if you want one.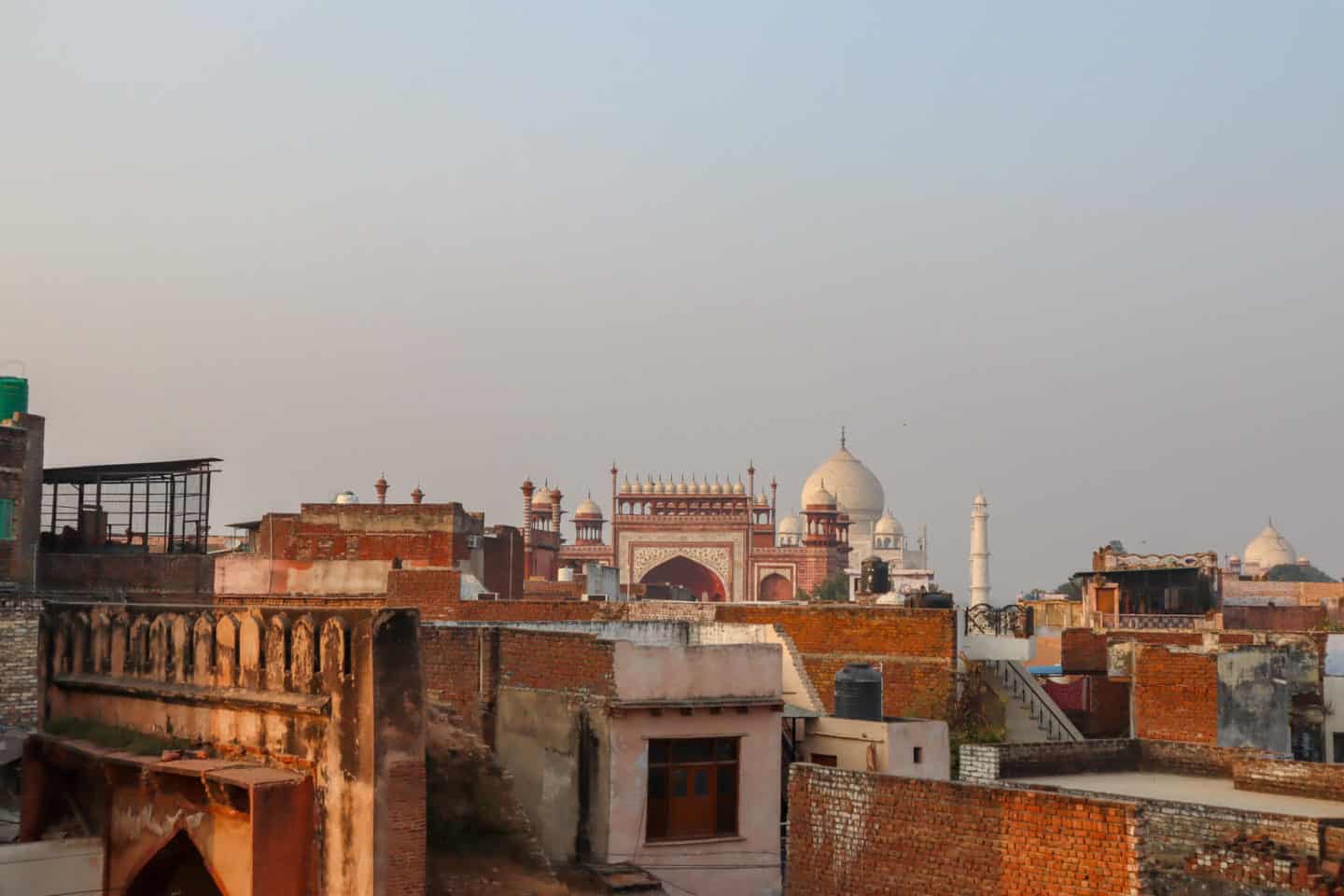 The Baby Taj – Entrance Fee 300Rs
The 'Baby Taj' aka Tomb of I'timād-ud-Daulah which is its real name does not offer a view of the Taj Mahal but it pretty much is a mini version, so if for any reason you cannot visit inside the Taj Mahal, maybe you ended up in Agra on a Friday when the Taj Mahal is closed, The Baby Taj is a good alternative to the Taj Mahal!
The Tomb of I'timād-ud-Daulah was actually built before the Taj Mahal and it's said that the Taj Mahal is based on its design which I can totally see! Although it is no way near as big, in some ways I actually preferred the outside design of The Baby Taj to the Taj Mahal so this is definitely a must see place in Agra!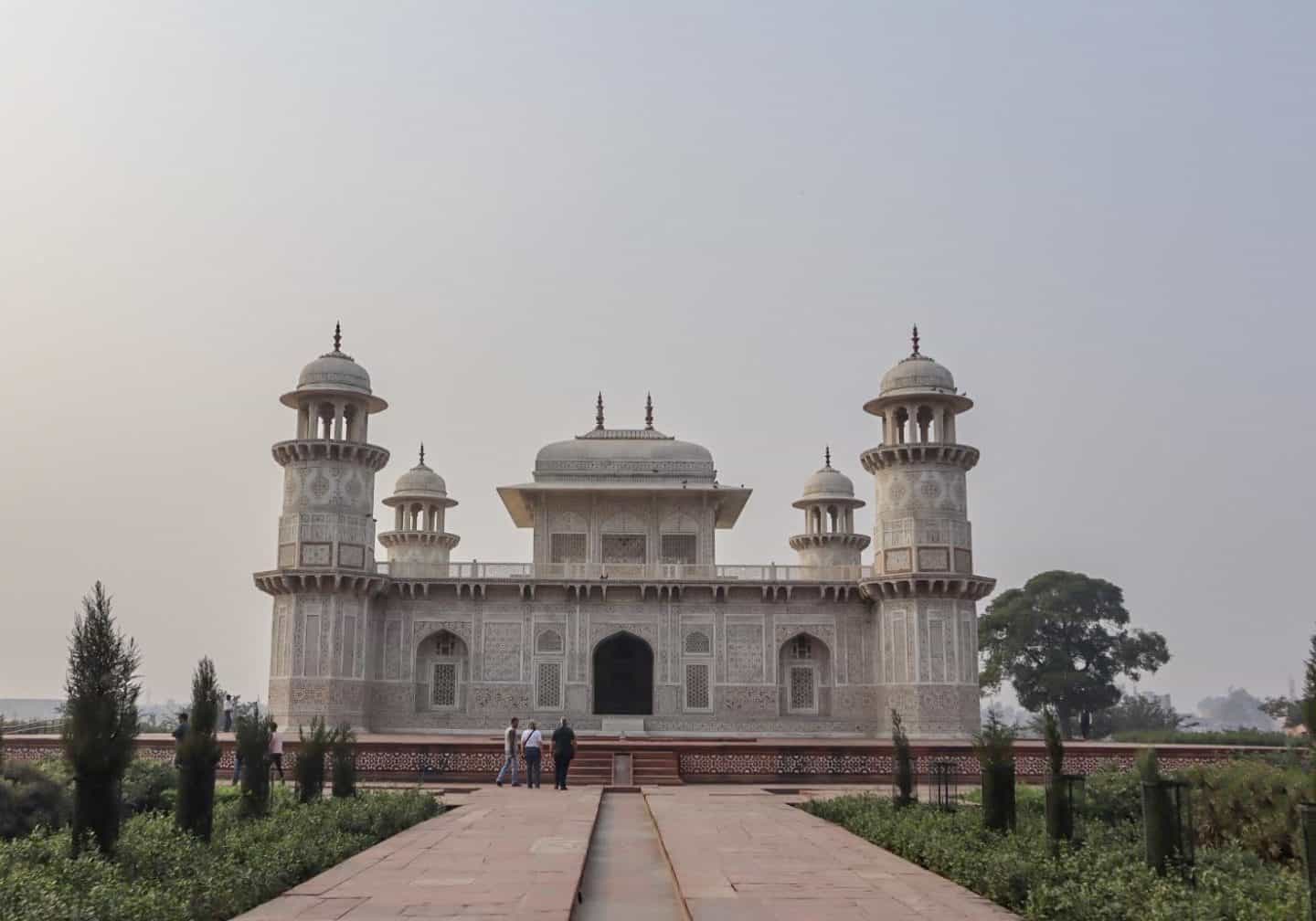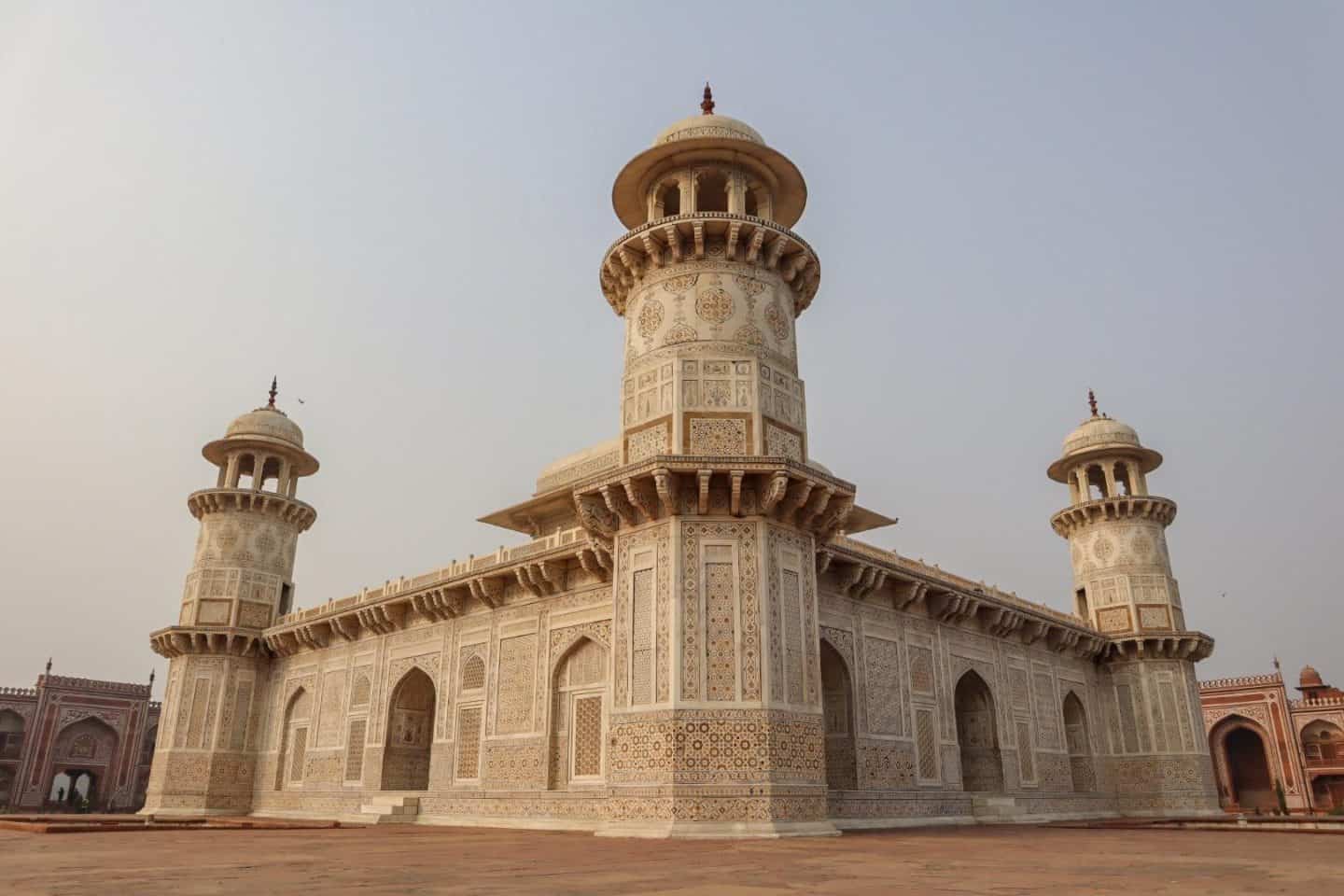 Additional point!
Your Accommodation
I was actually really surprised that even my hostel – Moustache Hostel, which I really recommend by the way, had a view of the Taj Mahal, it was only a small glimpse as it is quite far away but I can imagine that some hotels in Agra offer amazing views of the Taj Mahal.
If you fancy treating yourself with a good view to wake up to, be sure to have a look into these hotels with views of the Taj Mahal!
More of the best hotels in Agra!
I hope this not only gives you some unique ways to see the Taj Mahal but also helps you out with things to do in Agra! Before visiting Agra I had heard people say to get in and get out but I really disagree. I actually really enjoyed my 3 days in Agra.
It will also help you out on things to do in Agra on Friday if you happen to plan your trip to Agra when the Taj Mahal is closed!
If you do not have time to Stay in Agra and you are visiting the Taj Mahal on a Day Trip from Delhi, firstly know that you can still see a lot more of Agra in one day, including some of the above places, as well as the Taj Mahal. To help you get to Agra fast, have a look at these Day Trips and Transfers from Delhi to Agra:
---
India Travel Assistance
I spent 1 week in Rajasthan on an itinerary planned by India Someday who provide planning assistance for people who want to explore India independently but want a bit of extra help, a personalised service and access to extensive information and knowledge on India! India Someday will tailor make a trip to work with all budgets and all interests.
India Someday offers a 20% discount off their fees to solo travellers, and The Wandering Quinn readers get an additional 5% off. So, if you are a solo traveller you will get a 25% discount on India Someday's fees if you book your India travels with them.
To get a quote and to get an idea of what they can offer you, fill out the long questionnaire or the short one and mention WANDERINGQUINN5 when they ask how you stumbled upon them!
If you have any questions, let me know in the comments below or by tweeting me @wandering_quinn!
---
Want to SEE Agra?? Watch my Youtube video here!
---
For more of my posts on India and Travelling see:
Tips for Visiting the Taj Mahal!
 Tips for Visiting Amritsar's Golden Temple and the Wagah Border Ceremony!
The Best Way To See Jaipur aka The Pink City of India!
6 Of The Best Way's to See Jodhpur aka The Blue City of India!
12 Unique Activities, Classes and Things To Do in Udaipur, India!
This post contains affiliate links but at no extra cost to you. I get a small commission for recommending the products and services and this is what keeps this blog going and me travelling.