This post may contain affiliate links. I will receive a small commission if you use these links.
---
Reasons why I had travelled the world but not visited the famous area of the Lake District in my home country? Mainly because since I moved to London I gave up having a car and I knew that a car is needed in the Lake District but I figured that car hire in the Lake District would be expensive. I didn't think a Lake District day trip would be possible.
Plus train fares from London up North can be horribly expensive (around £100.00) and I can get a flight to Europe for much cheaper than that!
So when Rabbie's Tours, a highly rated UK tour company, got in touch with me and asked me if I wanted to do one of their trips from London I didn't even think twice after seeing that they had a 3 Day Lake District Explorer Tour from London, perfect!
I really enjoyed the trip and we saw so much of the Lake District! So here is a rundown of what we did on our 3 Day Lake District Tour from London, plus the Positives & Negatives of going on this trip with Rabbie's Tours, and information on costs!
Rabbie's Tours Lake District Review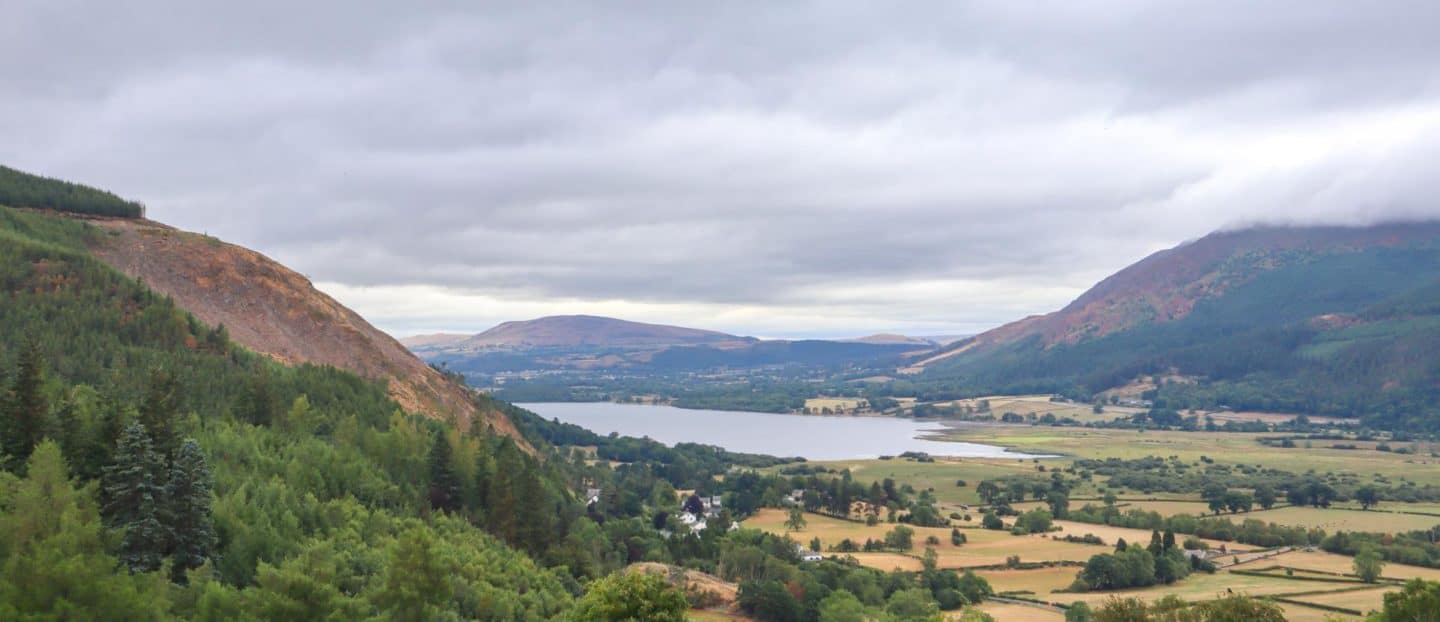 Find What You're Looking For Easily Here!
3 Day Itinerary for the Lake District
When I posted on my Social Media that I was on the way to the Lake District a lot of people asked me where in the Lake District I was going? I wasn't sure because firstly, that's the bonus of being on a tour- not having to plan it or think about the finer details, is it not? Secondly, I thought I was going to see all of it and they made me doubt whether that was possible, maybe I was only going to see a section of it?
Well, we may not have seen every inch of the Lake District as that would have taken a lot longer than 3 days but wow, did we cover some ground! I pinned everywhere we stopped and as you can see on the map below, we stopped a lot and went far and wide around the Lake District!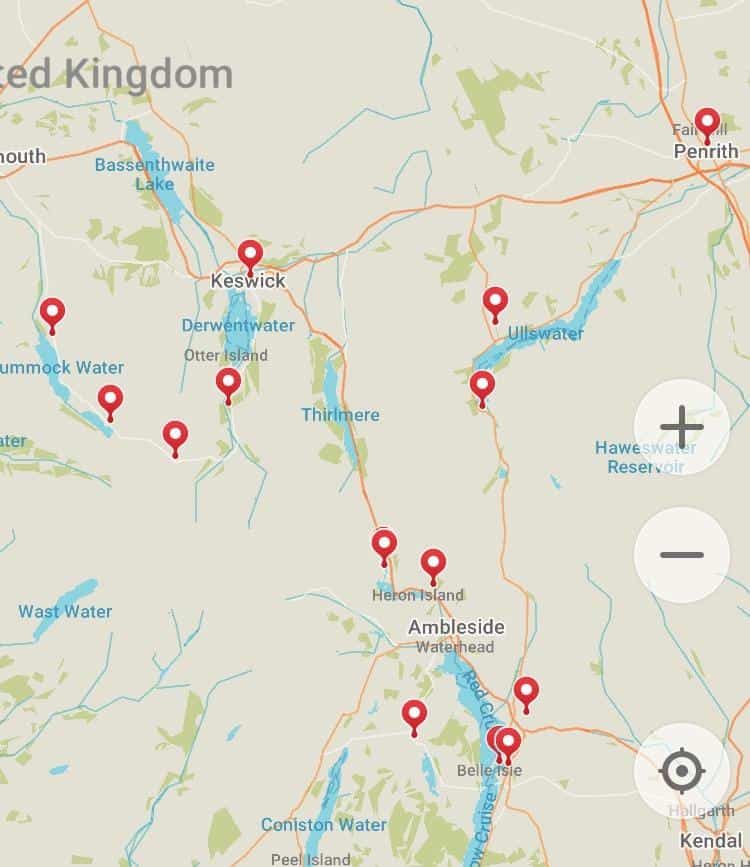 Re the Itinerary, it's important to note that every tour will be slightly different. Our itinerary got completely changed as there was an event happening in Keswick which meant we stayed in Bowness-on-Windermere instead and although we saw everywhere noted in the tour description, we did it on completely different days than detailed in the original itinerary.
Day 1
Lake Windermere
I got on a Virgin Train at London Euston at 9:30 am and by 12:30 I was getting off at Penrith station and straight onto the coach with our guide Roger and the rest of the group. We had a quick lunch stop and toilet stop in Penrith right away before heading into the Lake District National Park.
We drove straight to Lake Windermere where we spent an hour and a half exploring the lake on our own before being taken to our accommodation in Bowness-on-Windermere just a few minutes from the Lake. I was staying at Holmlea Guest House which was perfect for what I needed. (Accommodation isn't included in the tour price, more info on that below!)
We had that evening to ourselves so I decided to climb Orrest Head which was such a good decision, the view from the top was incredible! Due to the queues for the boats being so long in the afternoon I decided to do an Evening Cruise instead and that was another very good life decision as it was a beautiful, clear evening and I saw such an impressive sunset!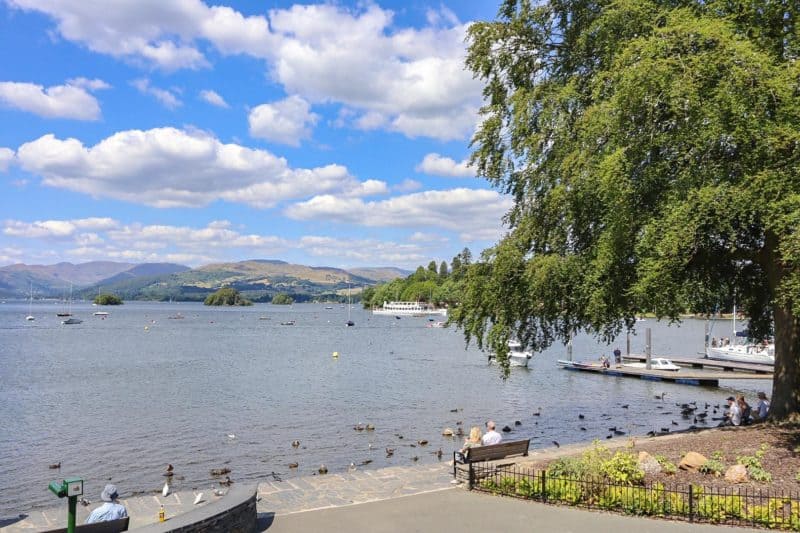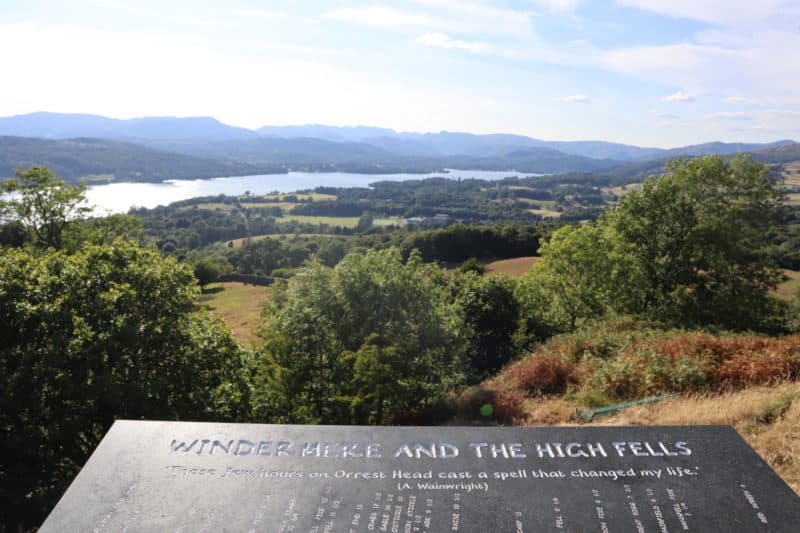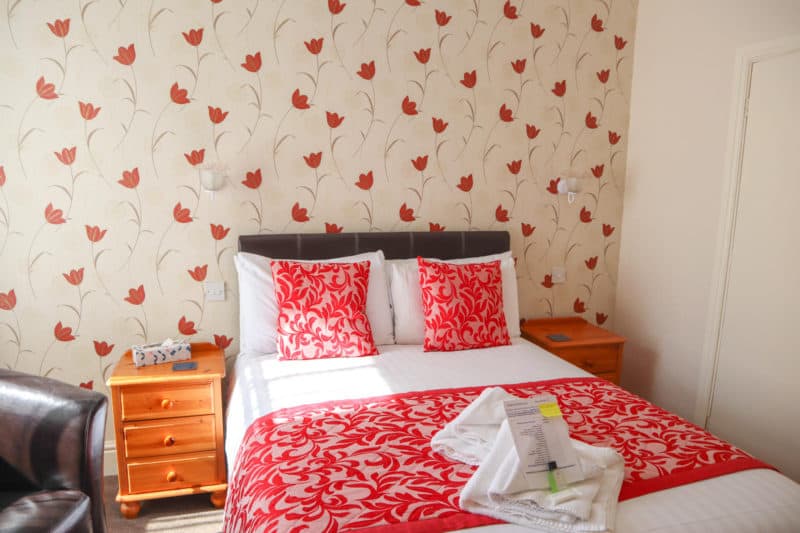 Day 2
Kirkstone Pass
We woke up to cloud and rain on Day 2 which was totally opposite to the weather on Day 1 as you can see in the photos. This just proves how temperamental the British weather can be, especially up North in the Lakes so remember to pack for all kind of weather!
We met down by the lake at a comfortable time of 9:00 am and headed straight to Kirkstone pass which gives a view of Patterdale in the distance and on route whilst driving through we passed the 3rd highest pub in the UK. Even in the rain, it was a gorgeous view!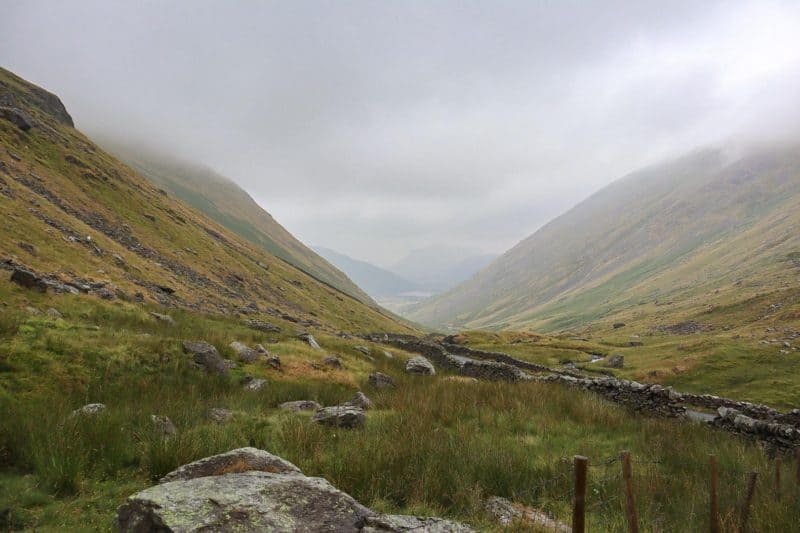 Ullswater Lake
Next up was the impressive Ullswater Lake, often described as England's most beautiful lake, but Roger reminded us that someone has said that about every lake in the Lakes!
Aira Force Waterfall
We only stopped briefly for photos but that was all that was needed before driving the very short distance to Aira Force waterfall, the largest waterfall in the Lake District. The itinerary describes this as a forest walk, and it is, but it's by no means a hike and very easy apart from the steps down to the waterfall and back up, however, you still get a beautiful view from the top so the steps are not mandatory.
I was a little disappointed by the waterfall as it isn't that big but I can imagine it winter it's a bit more impressive because despite the rain today the UK was in the middle of a heatwave!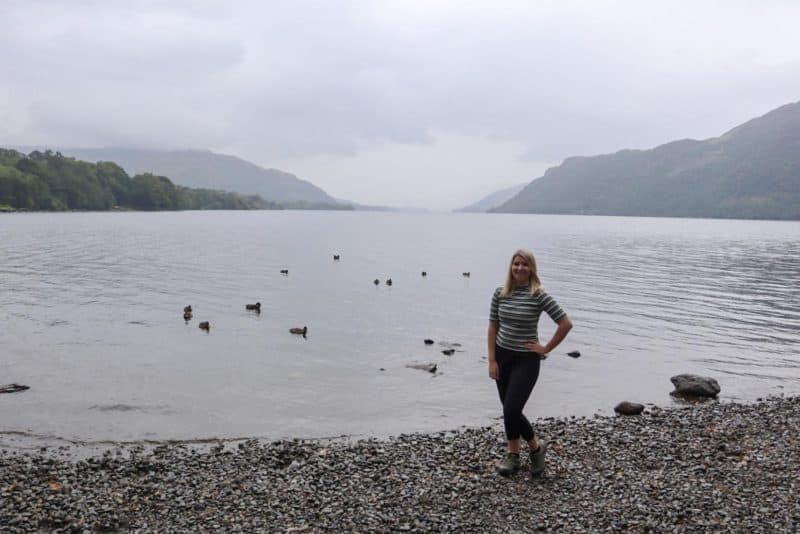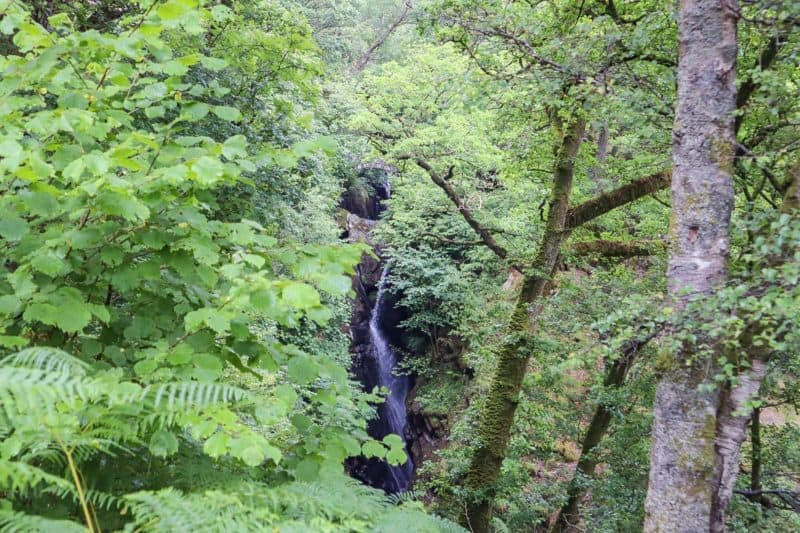 Castlerigg Stone Circle
Castlerigg Stone Circle was next, again only for a brief stop but it was really interesting to see and hear Roger talk about. It's the second most visited stone circle in the UK, aside from Stonehenge, despite there being an estimated 1300 stone circles in the country. Luckily, it wasn't as busy as Stonehenge!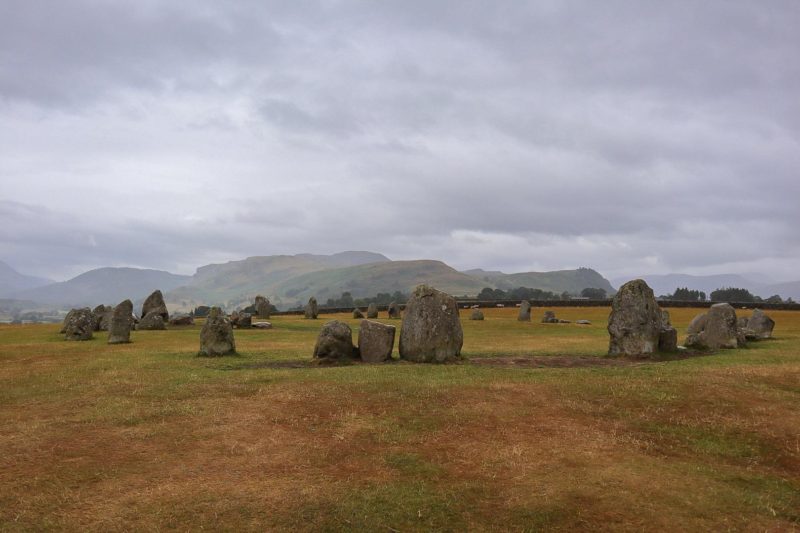 Keswick
Our lunch stop was the pretty market town of Keswick, it definitely has more going on than Bowness-on-Windermere or Windermere and I really liked that. We had nearly 2 hours here to explore on our own which was perfect, a very short walk through the town took me to Derwent Water, Keswick's Lake. I didn't get to see much of it due to the literal downpour that was happening at this time but it was still really nice and it's possible to do a boat trip on the lake and the surrounding mountains were incredible. It was also a lot less touristy than Lake Windermere, although that may have been because of the weather.
I headed back into the town and got lunch at Fellpack which I would fully recommend, it's such a nice, cosy cafe and the cafe started after a conversation and dream in a pub a few years ago so it was nice supporting an independent cafe, plus their food and coffee are great!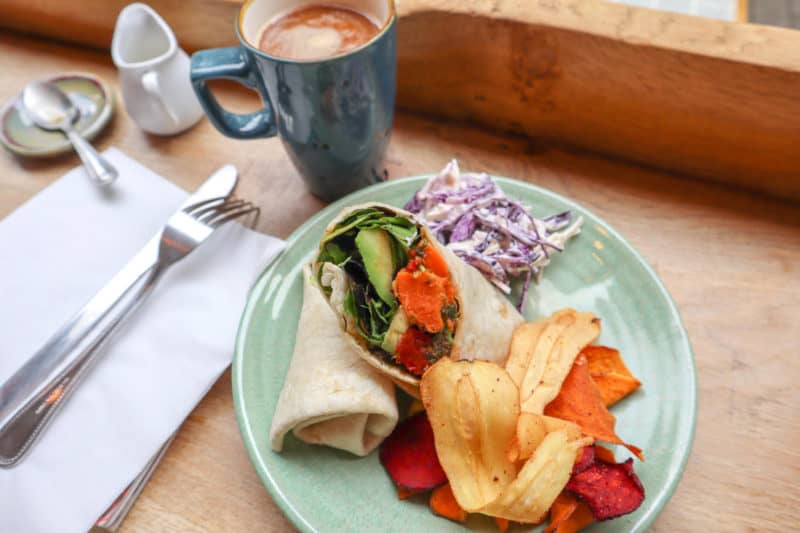 The afternoon was filled with more lakes, we stopped at a viewpoint to see the actual, only 'Lake' in the Lake District, the others are actually called 'Waters' or 'Meres' but because this does get a bit confusing we called them all Lakes and I'm sure a lot of people do too.
Crummock Water and Buttermere Lake
Then we drove to Crummock Water and a bit further down to Buttermere Lake, we had photo stops in both and Crummock was by far my favourite, it's totally gorgeous! Roger pointed out that this area of the Lake District has a totally different feel to it, people don't randomly drive this way unless they're going to somewhere in this area and I think this really showed, it felt much quieter and wild!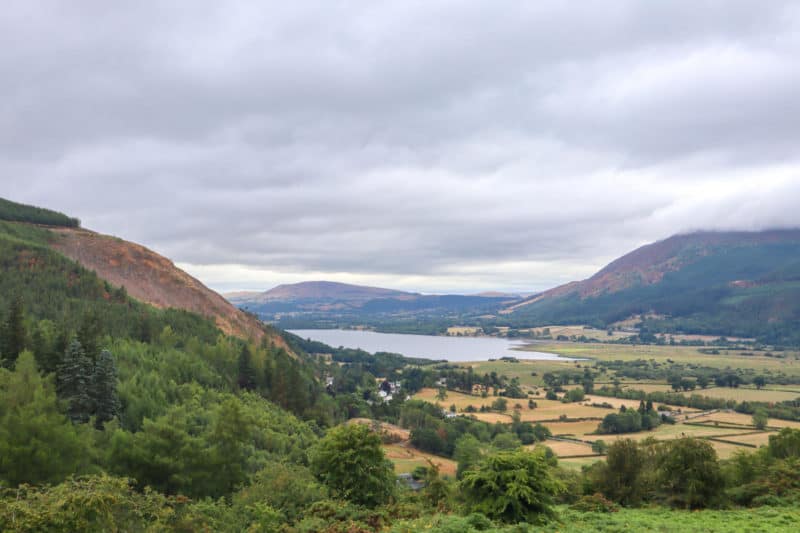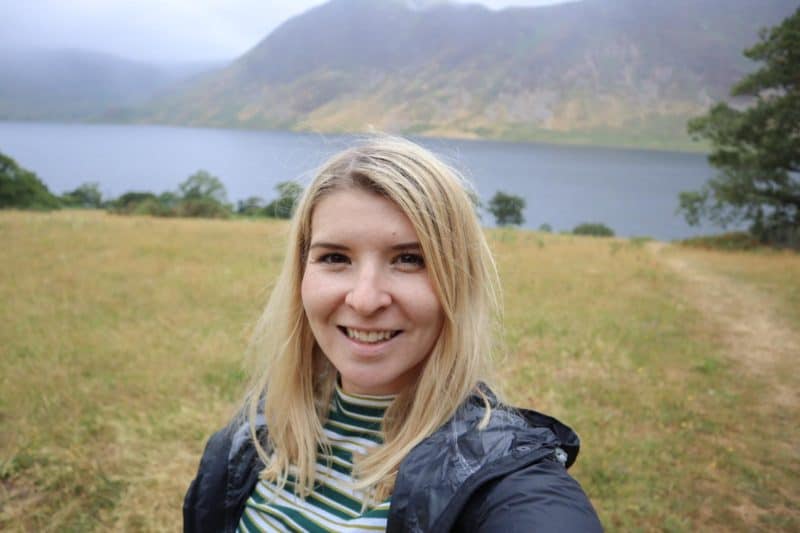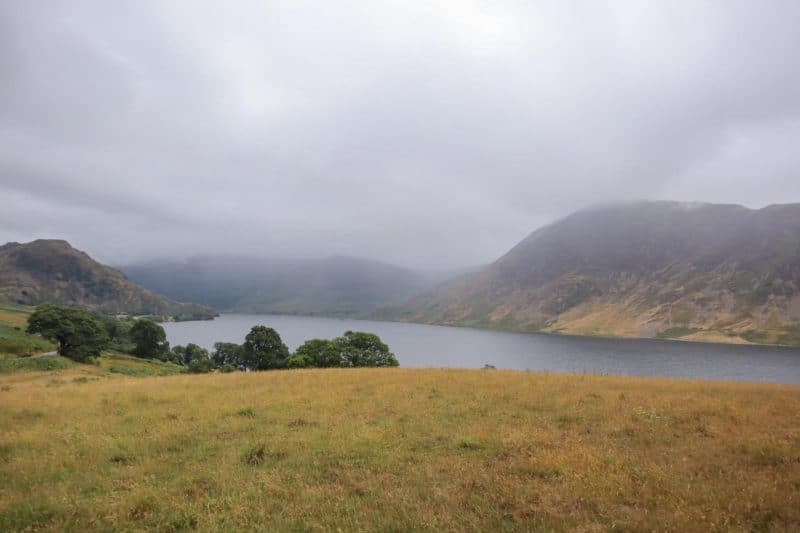 Honister Slate Mine
Honister Slate Mine was the next step and this was probably my least favourite as I found it pretty boring, although the weather and cloud didn't help as we couldn't see much of the surrounding scenery.
Following this we headed to Bowder Stone, we had to walk about 10 minutes up an easy track to reach the stone, and as Roger said, you can't miss it! It's a huge stone believed to have fallen in the ice age and now it's a bit of a tourist attraction, it was cool but a little underwhelming too.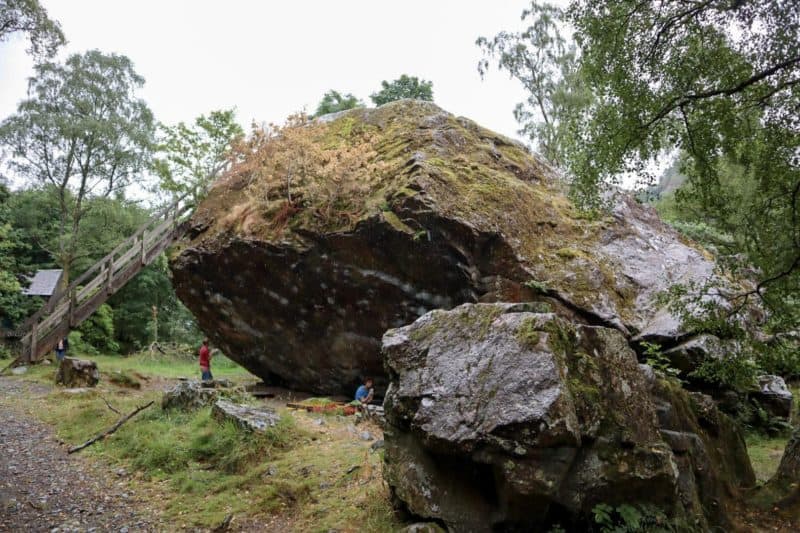 Surprise View
We ended the day on a high though as before we drove back to Bowness-on-Windermere to have the evening to ourselves and to relax, Roger took us to Surprise View, and what a surprise of a view it was! The tour's don't always come up this way because the roads are small and it gets so busy however due to the weather and time of day it was quite quiet and Rogers risk paid off, we were the only ones there!
On the way down we stopped at Ashness Bridge which is said to be the most photographed bridge in the Lake District and is therefore pretty iconic!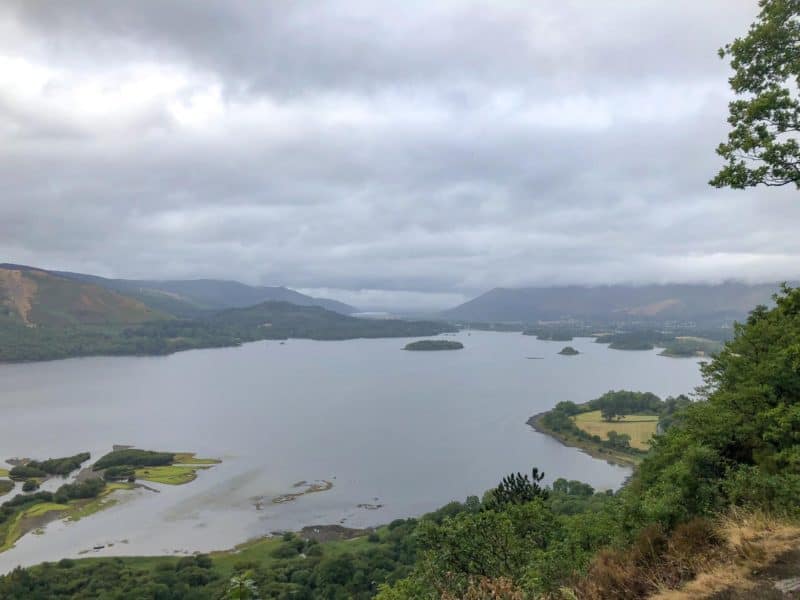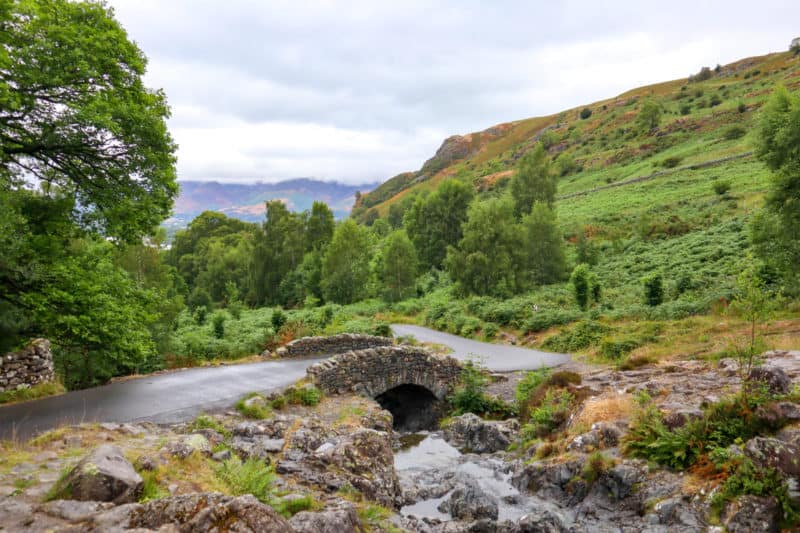 Day 3
Hawkshead Village
Day 3 was pretty chilled and a great way to end the trip. We were on the road by 9:00 am again heading to Hawkshead Village which is a beautiful, quaint and very little village. Due to how early it was the village was very quiet and a 45 minute stop was more than enough. Roger said that usually, the tours visit here on Day 2 when it's a lot more alive and busy.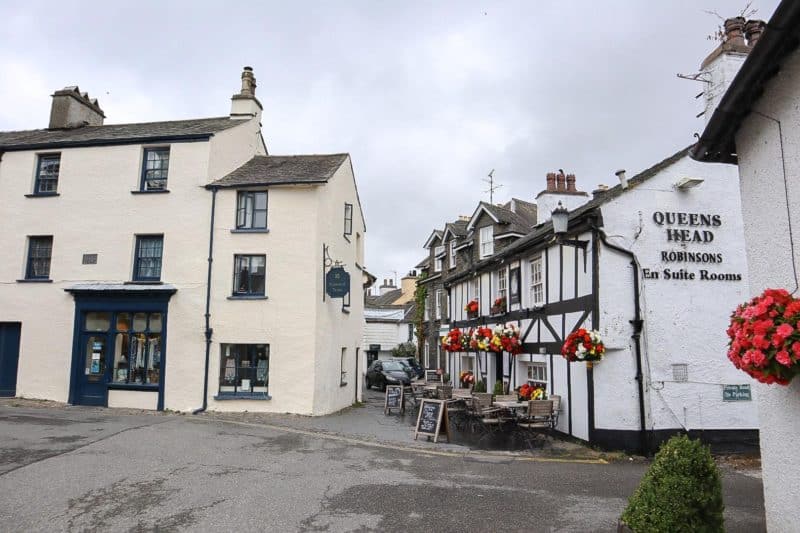 We were doing well for time and Roger had been telling us all bout Wordsworth, a famous poet from the Lake District so he very kindly did a quick 3 minute stop at the house of Wordsworth before heading into the village of Grasmere. A lot of people asked me if I was going to be going to Grasmere in the Lake District so I was glad we went and I can totally see why they suggested for me to go!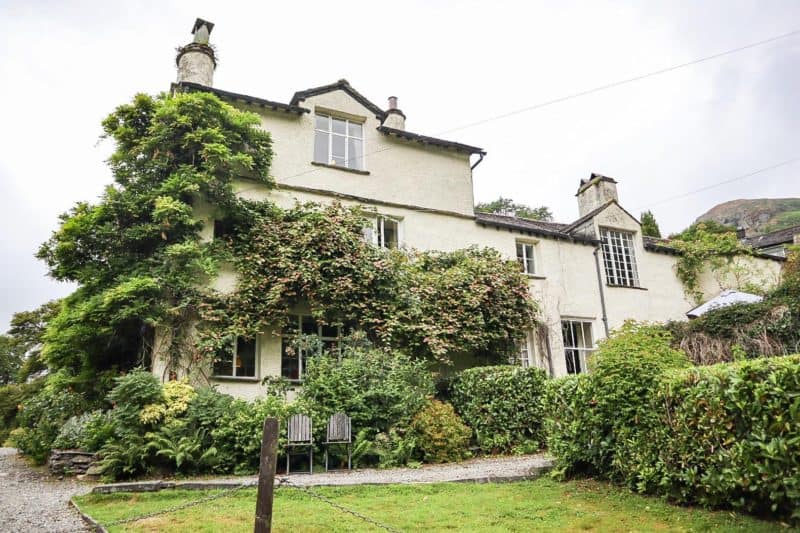 Grasmere
Grasmere is bigger than Hawkshead but not by a huge amount. It has a few shops and plenty of tea-rooms. There's a river running through it and it's surrounded by mountains, there's a daffodil Garden for Wordsworth which is nice and serene and next to it, a divine smelling Gingerbread Shop selling Grasmere Gingerbread!
This was an early lunch stop so I had some soup and picked up some food for the train back to London as I knew we wouldn't be getting back to London until 18:30.
From here we headed straight back to Penrith, we were doing well for time and there was no rush to get on the train. Luckily the Saturday afternoon train back down to London was nice and quiet and although it was an hour longer than the train on Day 1 we did get back to London bang on time!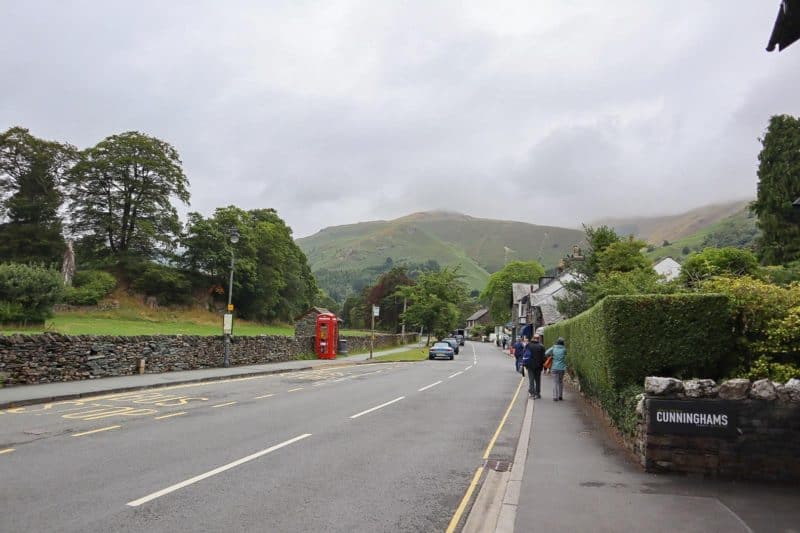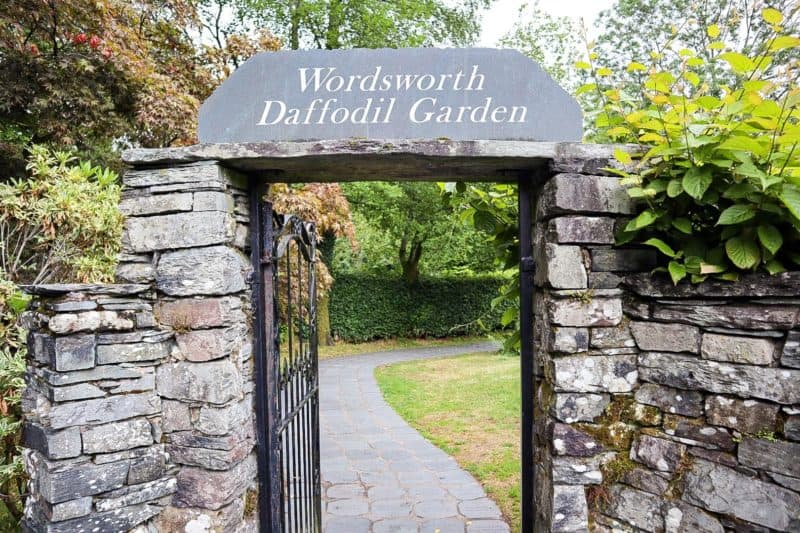 ---
Rabbie's Tour Review – Positives
Our Guide Roger was really great, he was very knowledgeable and passionate about the area, despite being from Scotland rather than local to the Lake District. He knew when to talk on the bus and gave us some really interesting information, history and stories however there were long periods where he let us listen to music and relax which is really nice as some of the group said they were on a tour with another company before this and the guide spoke the whole time which does get annoying.
As mentioned our 3 day Lake District Itinerary did get changed from the original itinerary because of an event happening in Keswick and I really liked that Rabbie's allow their tour guides to mix up the itinerary and be flexible to give us the best tour and experience.
The fact that the cost of the tour includes train travel from London is brilliant in my opinion (more details on costs below). Train travel from London up North can be disgustingly expensive unless booked at the exact right time and even more expensive when left to the last minute so it's nice knowing that this cost is locked into the tour cost.
We had a lot of freedom on this tour which I really liked, late afternoon and evening on Day 1, evening on Day 2 and all 3 lunchtimes were free for us to explore and do what we liked. As a solo traveller, I understand that some people might not like this and would prefer to stay with the group but there's always the chance to ask the rest of the group if they want to meet up or go for food together. Personally I do like travelling alone and exploring on my own so I love that I got enough solo time whilst being on a tour, it was the perfect balance of solo and group time for me.
The bus was comfy, especially as it wasn't completely full, and it had huge windows to take in all the views from!
---
Rabbie's Tour Review – Negatives
I honestly couldn't say a negative thing about the tour itself, I really enjoyed it and I was really happy.
In terms of the people who were on my tour, we had a nice group but a broad range of people from a few solo travellers to older couples and a group of friends and a family whose first language wasn't English. Everyone was nice and we all spoke but we did mostly keep ourselves to ourselves. Rabbie's attracts such a wide range of people of different ages and countries which is perfectly fine and actually really good, but if you're travelling solo and hoping to meet backpackers and travellers your age, it is a hit and miss as to who will be on the tour.
The only other thing is that the tour cost as shown on the website does not include accommodation. Usually, tours like this do include accommodation and from a first glimpse this is a little deceiving as it doesn't give you this information until later on in the details and adding on accommodation does bump the cost up. However the positive is that you can choose accommodation to suit your budget and needs (more on that below!).
---
Cost of a 3 Day Lake District Tour
The price of the Lake District Explorer Tour with Rabbie's is between £255.00-£305.00 depending on when you go. Looking at availability on their website, the average price of the tour is £295.00 in Summer / High Season and £281.00 in Autumn / Off Shoulder Season.
As mentioned, this tour includes transport to and from London which is really really good. A return train from London to Penrith is roughly £80.00-£110.00 alone so if you take that off of the tour cost above, the actual tour is pretty cheap! The rest of this tour cost goes towards transport on all 3 days over the Lake District and a very good tour guide.
Accommodation is NOT included within the tour rate above however, this gives you the opportunity to pick accommodation based on your budget and preference.
---
Accommodation Suggestions:
I stayed at Holmlea Guest House in Bowness-on-Windermere which I would recommend, you can check rates and availability here.
If you're on a budget, Oakfold House comes up as one of the cheapest in Bowness-on-Windermere, check rates and availability here.
And if you're staying in Keswick instead (Rabbie's will be able to confirm this for you when you book), then prices are even cheaper!
Denton House is in a great location and one of the cheapest places to stay when I look on booking.com, check out rates and availability here!
So is Rivendell Guest House, which also has great reviews, check rates and availability for there here!
For more options, have a look at Booking.com here, I love Booking.com as they have great cancellation options incase plans change!
---
There are no additional costs for activities unless you want to go on a Boat Tour around Lake Windermere. There are also no hidden or surprise entrance fee's or park fee's which really helps with the budget!
Meals are not included either (although breakfast will probably be included in your accommodation cost), so it's up to you where you eat lunch and dinner as there are no set restaurants which is great as again it allows you to stay in budget and eat somewhere of your preference.
I really didn't spend that much at all and had I been budgeting more I could have easily of saved money on Dinner and Lunch by getting something at a supermarket.
Here's what I spent in 3 days in the Lake District:
Day 1 Lunch – Lunch at Subway in Penrith (don't judge me, we had to get something quite quickly) – £3.00
Day 1 Snack – Ice Cream by Lake Windermere – £1.80
Day 1 Dinner – Chips by Lake Windermere – £2.50
Day 2 Lunch – Coffee & Wrap at Fellpack in Keswick – £8.50
Day 2 Dinner – Thai in Bowness-on-Windermere – £13.00
Day 3 Lunch – Soup & Take Away Cake for the Train in Grasmere – £8.50
Extra Activity – Evening Cruise on Lake Windermere – £11.50 (Day Time Cruises are £8.50)
---
I hope this helps you decide whether to go on The Lake District Explorer Tour with Rabbie's Tours. I really enjoyed it and I 100% recommend it to you.
To Book Your Tour: Click Here!
---
I was offered this trip complimentary by Rabbie's Tours however all opinions and thoughts are my own.