This post may contain affiliate links. I will receive a small commission if you use these links.
---
Basel, pronounced 'Bar-sul' is located in North West Switzerland very close to France and Germany and Basel is a great place for a city break. It has a medieval Old Town with the Rhine River running through the city and it is known as 'Switzerland's Capital of Culture'.
On my trip to Basel in December, I found the city to be extremely pretty with beautiful architecture, along with a quiet and calm vibe. Things to do in Basel include visiting its many museums, wandering its many picturesque streets and eating in its many delicious restaurants.
If the above sounds good to you and you are considering visiting Basel for 2-3 days on a Basel City Break, or you are already booked to go, here is a Basel travel guide with everything you need to know about Basel including when to go to Basel, how to get around Basel, where to stay in Basel, things to do in Basel and of course, where to eat in Basel!
Basel City Break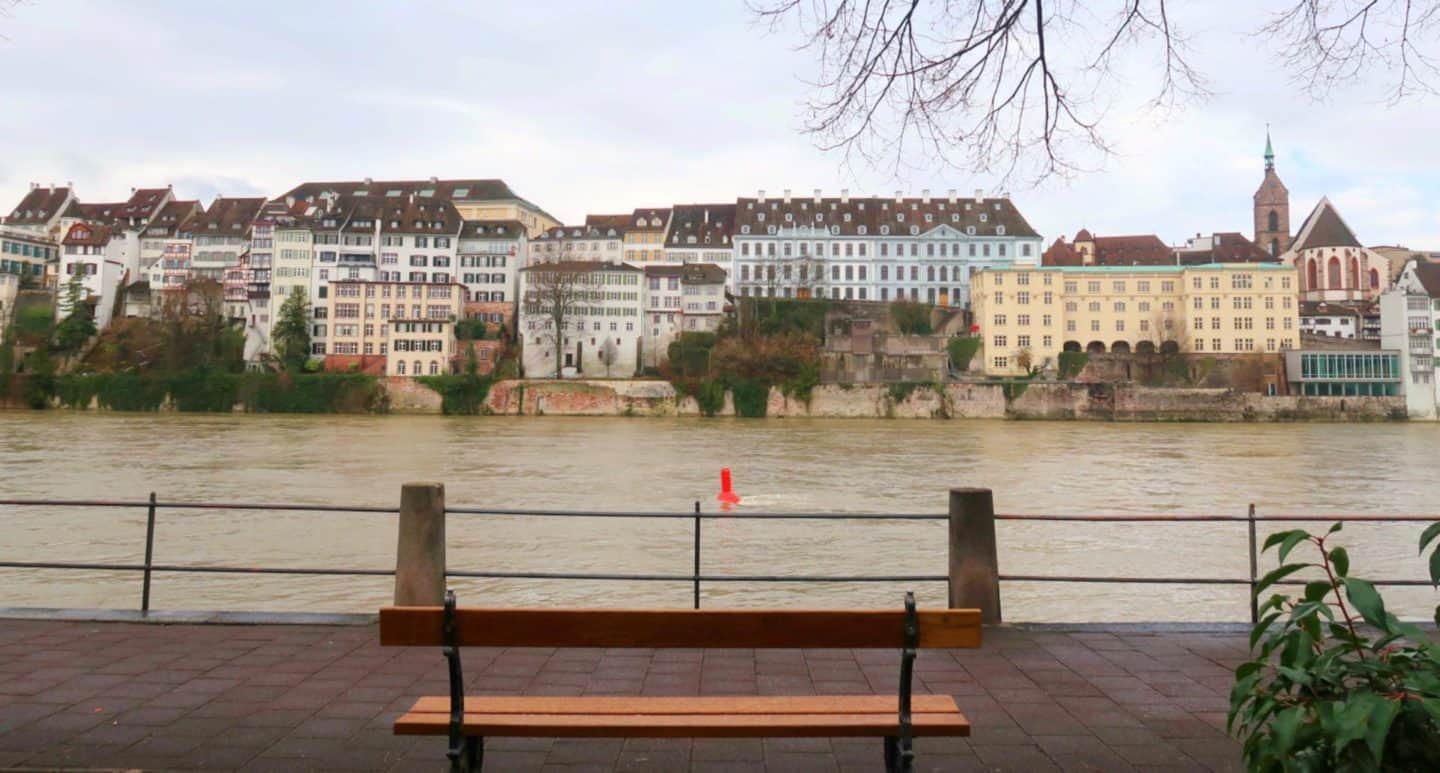 ---
Related Post: A Guide To Lake Geneva – Travelling from Montreux to Lausanne in Switzerland!
Find What You're Looking For Easily Here!
Best Time of Year to Visit Basel
I loved Basel in December because it is literally the European City of Christmas! There were Christmas markets, lights and tree are all over the city providing such a festive atmosphere and it has the best Christmas markets in Switzerland, so if you're thinking about going in the Winter I would suggest going in December.
However, I have heard that Basel in Summer is great! Basel treats it's locals and visitors well in the summer with lovely weather, plenty of places to relax in the sun and the Rhine River turns into a swimming pool so locals finish work and head for a swim before going home. This is something I would love to experience! Alternatively, I'm sure it's gorgeous in the bloom of Spring and in the golden-ness of Autumn so I recommend a Basel City Break all months of the year!
Basel also hosts an annual Carnival in February which sounds really interesting! The whole city gets involved and it sounds like nothing I have head about before. Check out this site for more details.
How to Get to Basel
I have always seen pretty cheap flights to Basel on Skyscanner! Many many times when I have entered 'London' to 'Everywhere', Basel has come up as one of the cheapest.
I'd never been tempted to go if I'm honest but after this press trip I realised what I had been missing! Basel's Airport is actually the EuroAirport which is also for Mulhouse in France and Freiburg in Germany so remember to exit into the Swiss side when you leave.
Don't let cheap flights make you think that no one else is going to Basel, grab those cheap flights to Basel and get yourself there on a Basel City Break using this Basel travel guide!
How to Get Around Basel
Ok, this is amazing. In Basel, all transport is free during your stay, and the transport in Basel is really good! When you check-in to your Hotel, Hostel or Airbnb you will be given a 'Basel Card'.
The Basel Card offers free public transport around Basel, access to free wi-fi in the city and discount to lots of attractions! (Previous to 2018 you were given a Mobility Ticket, just for transport which I have shown below. The fact that Basel has created a whole new card for 2018 to make visitor's trips even better and attractive cost-wise is great I think!)
We caught the number 50 bus right outside of the airport terminal and took it into the centre of Basel to SBB train station which is the last stop.
From here we crossed the road and took a tram a few stops to our hotel. Throughout our stay, we used the tram a lot to get to and from our hotel to the centre of the city and around the city, it was really easy to use. We didn't get our tickets checked once but we always carried the ticket with us so even if we had it would have been fine.
Where to Stay in Basel
I stayed in the Ibis Styles Basel City Hotel which was comfy, had all we needed and I, therefore, recommend it in this Basel travel guide.
Nearby is the Ibis Budget Basel City, although I didn't see inside the hotel, this would probably be a good choice if you want a cheaper option.
Talking of costs, although a central location would be nice, if you see accommodation slightly out of the centre that fits your budget better, then do go for this because as I said above, it's easy and quick to get in and out of the city on public transport and because it's free you do not need to factor this cost in like you do in other cities.
I recommend booking your hotel in Basel through Booking.com because they offer so many options and great flexible booking and paying options.
Things To Do in Basel
There are plenty of things to do in Basel and places to visit in Basel on your Basel city break, whether you're spending one day in Basel or two or three days in Basel.
Walk around the Old Town
The Old Town of Basel is extremely pretty and it's worth spending a few hours wandering around it, going up and down its hills and into the many side streets that you'll see.
To help you get your bearings I would suggest visiting the following places in the Old Town that I detail below in this Basel travel guide. I visited them in this order so the below list will flow quite well for your walk around Basel on your Basel City Break:
---
I really liked seeing Basel on a Walking Tour so I could learn about the City as I walked, if you fancy this too, check out this walking tour:
---
Barfusserplatz
This is a square which, when I visited, is where one of the Christmas Markets were. It used to be a cattle market too, but what I loved most about it is the view of the buildings built into the hill opposite.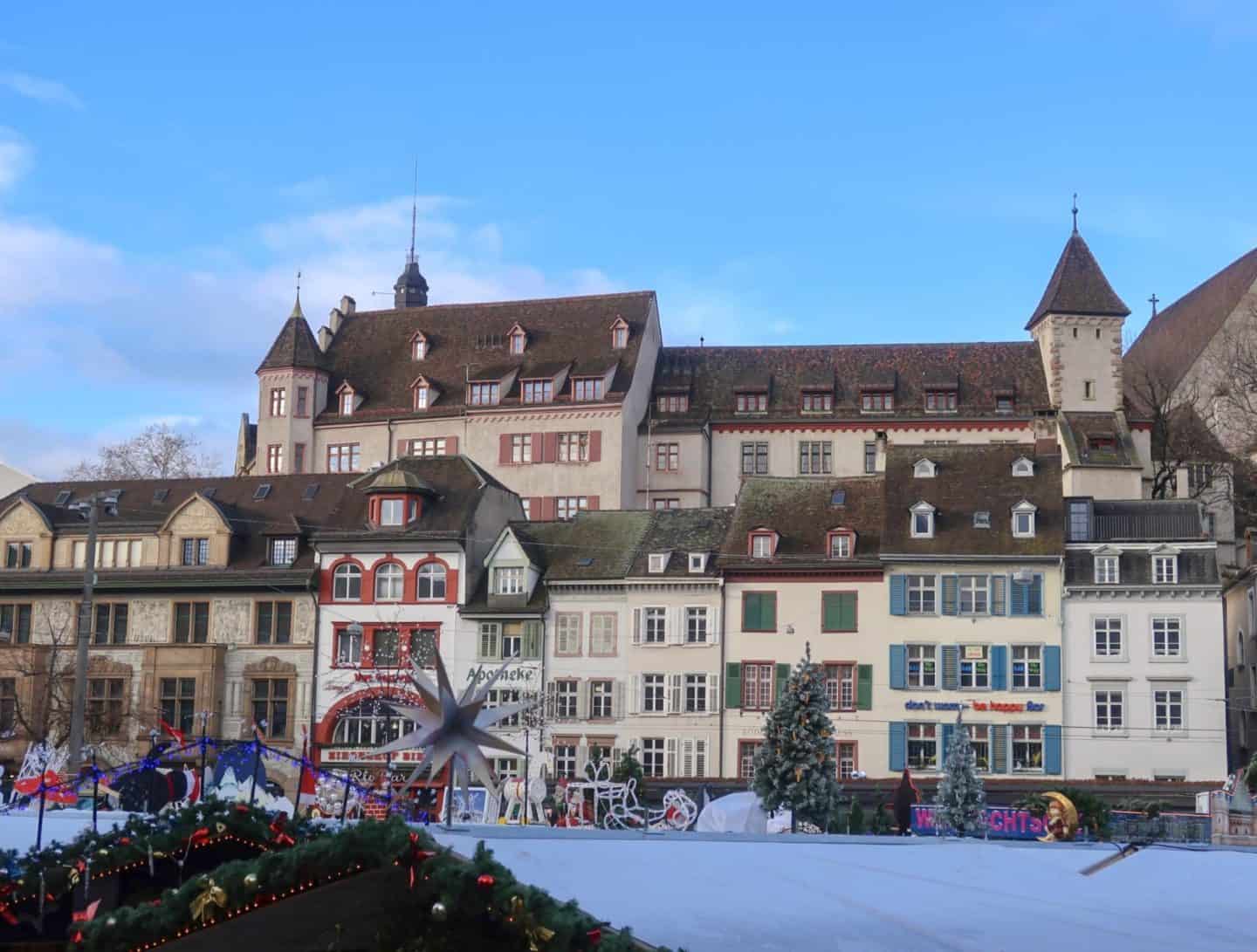 Spalenberg Street
Heading towards this street will ensure you pass lots of beautiful buildings and go up the hill a bit into what was probably my favourite area of the city. This street has a lot of nice and cool shops along it and there are lots of courtyards around here so be sure to keep an eye out for them.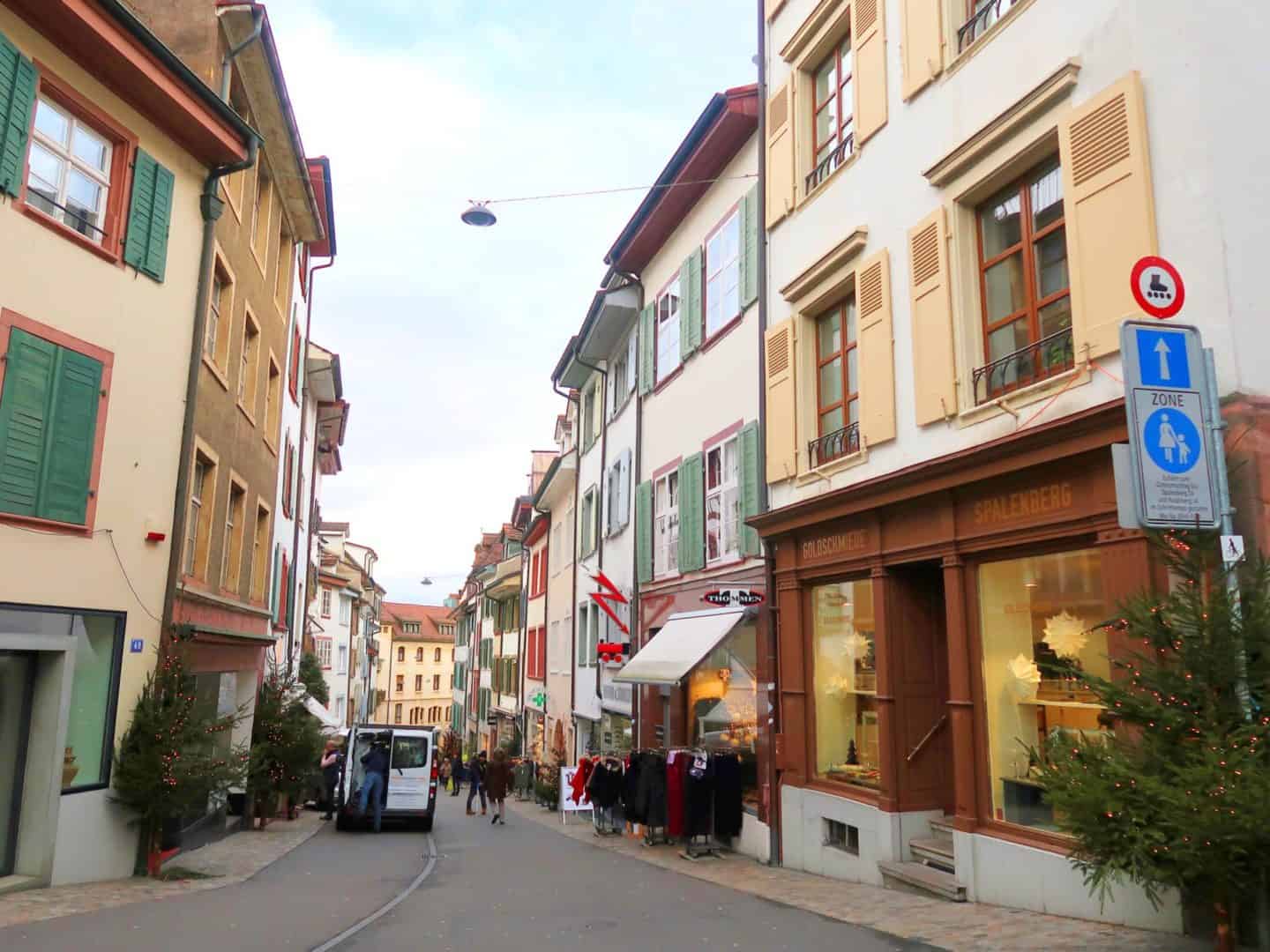 Spalentor City Gate
This is one of 3 remaining ancient city walls and I felt like it was quite an iconic Basel picture. I also loved the buildings along this street too with their colourful shutters. There are some nice shops and cafes here as well!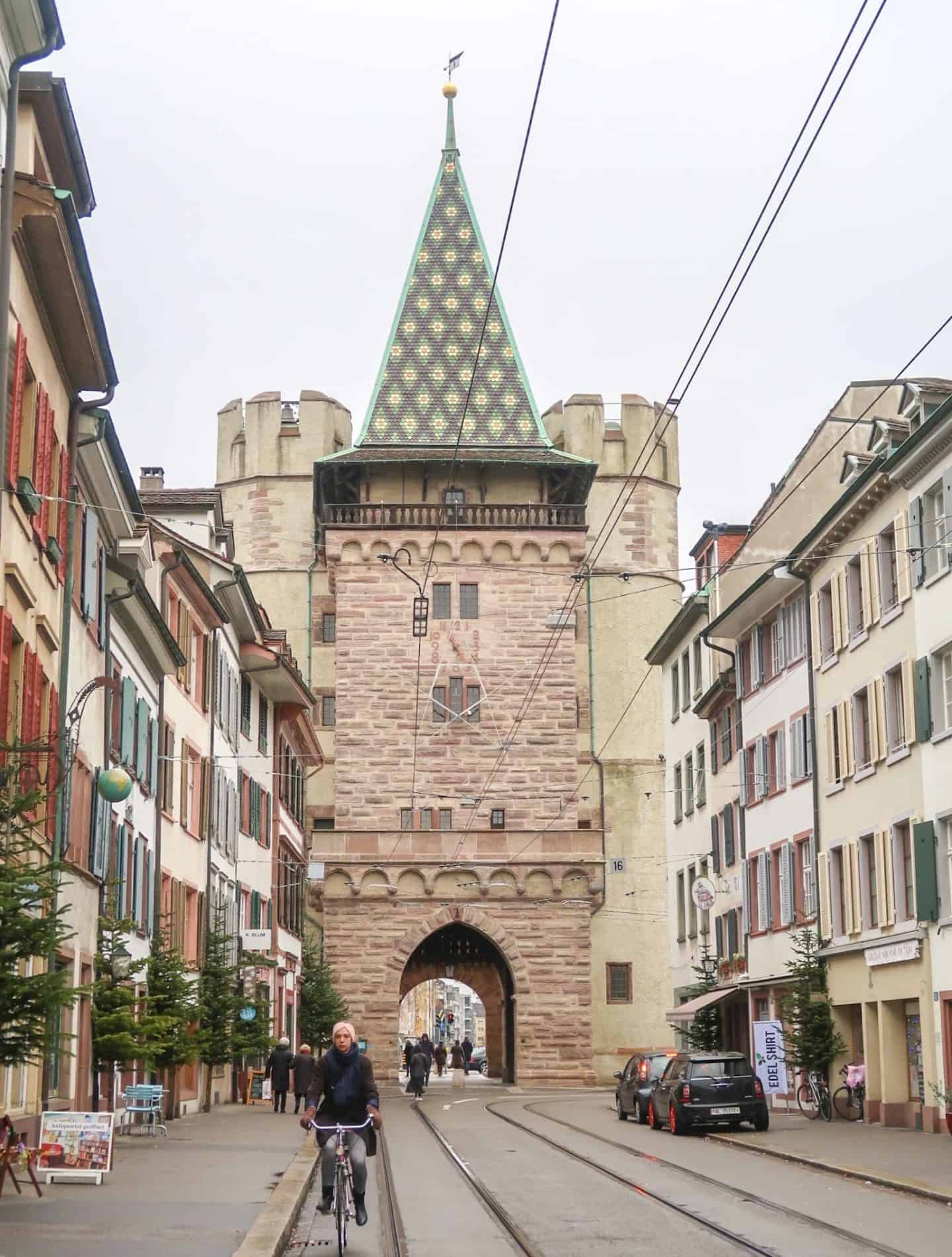 Hoosesaggmuseum
This is one of the world smallest museums as the museum is only the display in the window I believe, but it's cute and worth a visit, plus it is down a gorgeous little side street and the display often changes.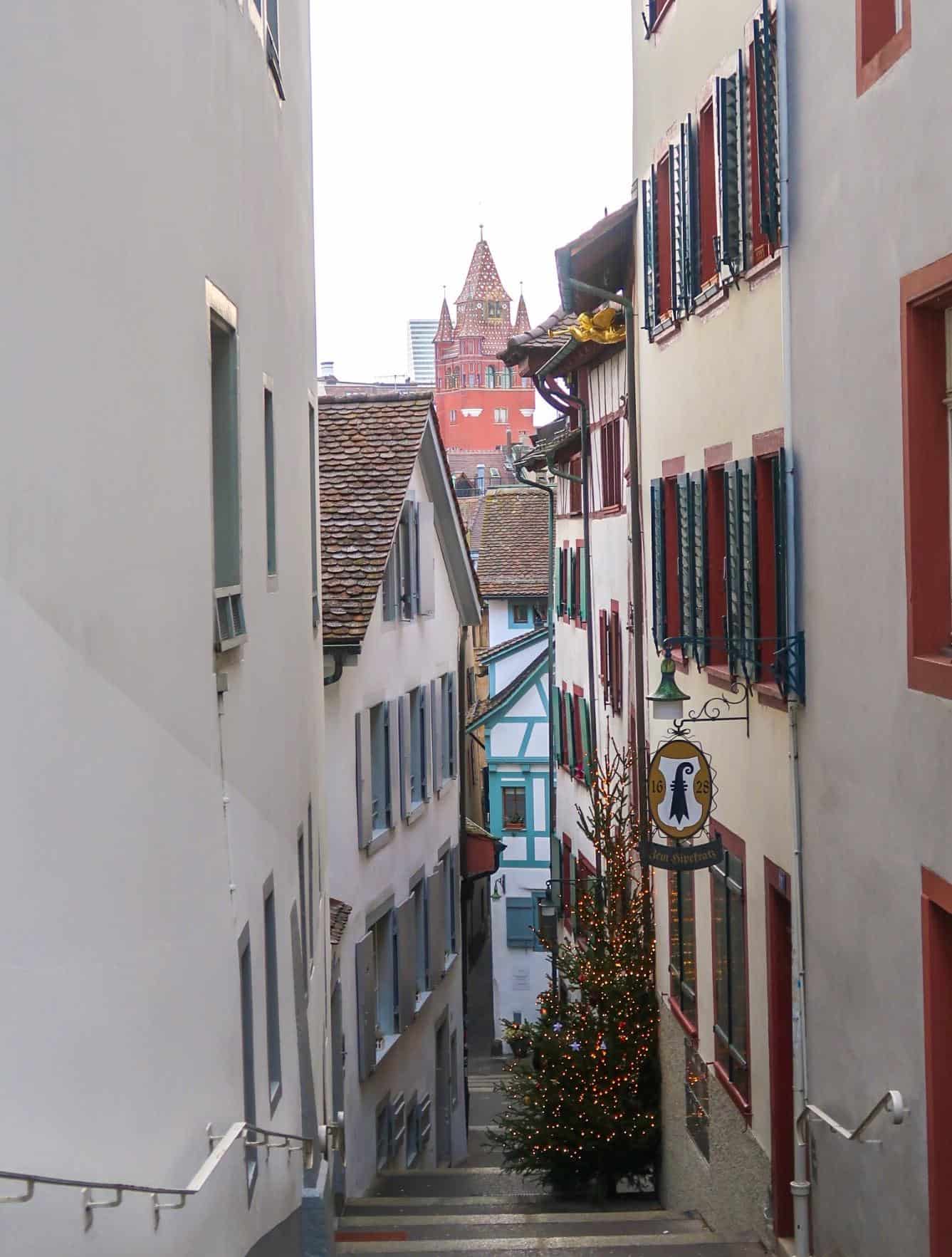 Andreasplatz
This is a lovely square with a few great cafes and restaurants in Basel surrounding it and a fountain in the middle. Look out for the red brick outline in the floor, it shows where a church used to stand. It also has some public toilets if you are in need of a bathroom break.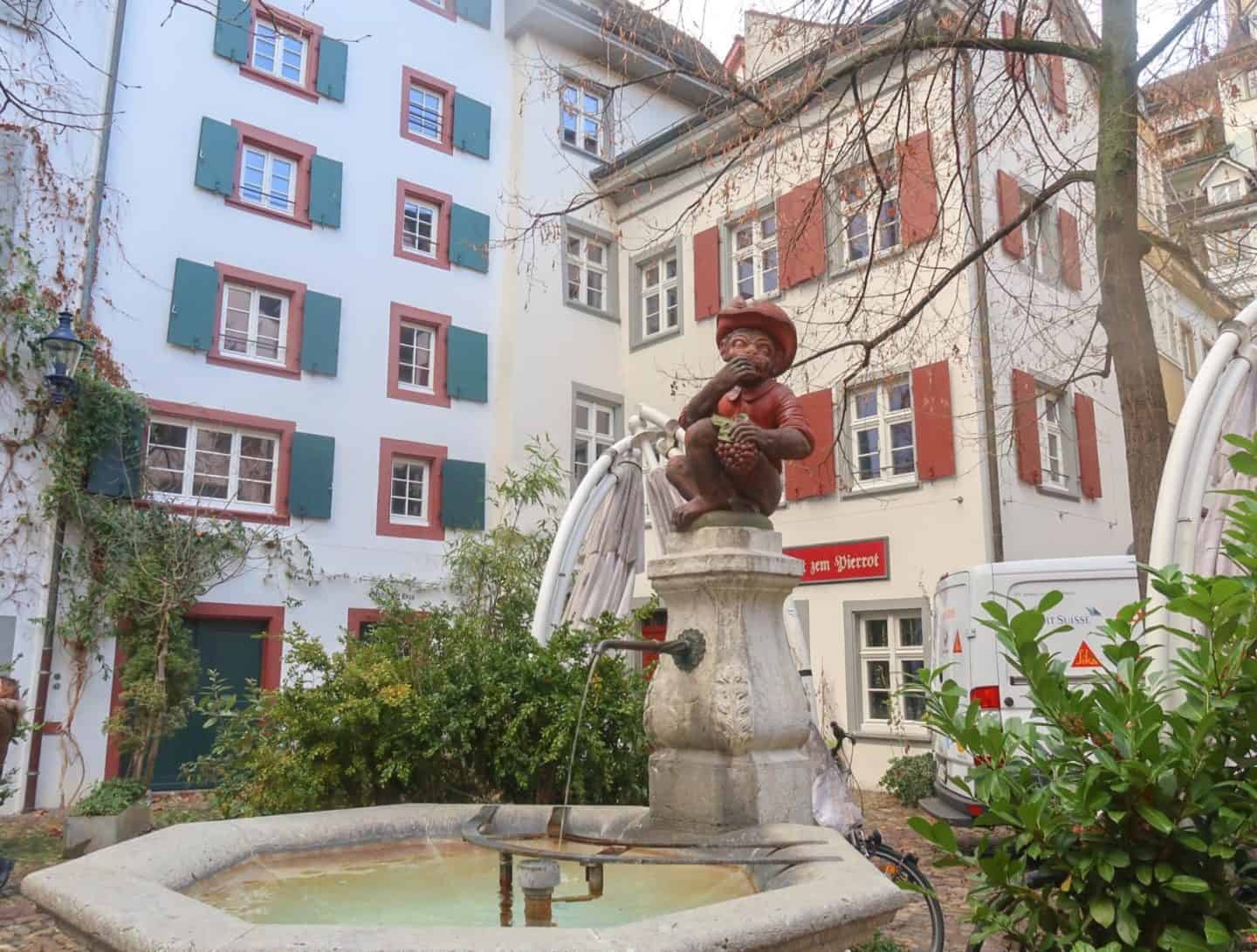 Rathaus Basel Stadt
This is the Town Hall and by far my favourite building in Basel so you have to go on your Basel city break!
It can't be missed as it's bright red. It will also more than likely have a daily market happening in the square in front. Walk into the courtyard and make sure you look up! Then head to the left and go inside, from here you can take the lift or walk up the stairs to the top. The detail whilst going up the stairs is beautiful and halfway up you'll see a statue of a boy with Basel's coat of arms on his shield!
At the top, you'll see a balcony to the side which you can walk out onto. There's no view of the city from up here but its awesome to see the beautiful and colourful tiles on top of the building. Keep following the balcony along through the building and you'll end up on a street on the back of the hill.
This bit really confused and disoriented me but basically by walking up the stairs in the building you are essentially heading up the hill of the city!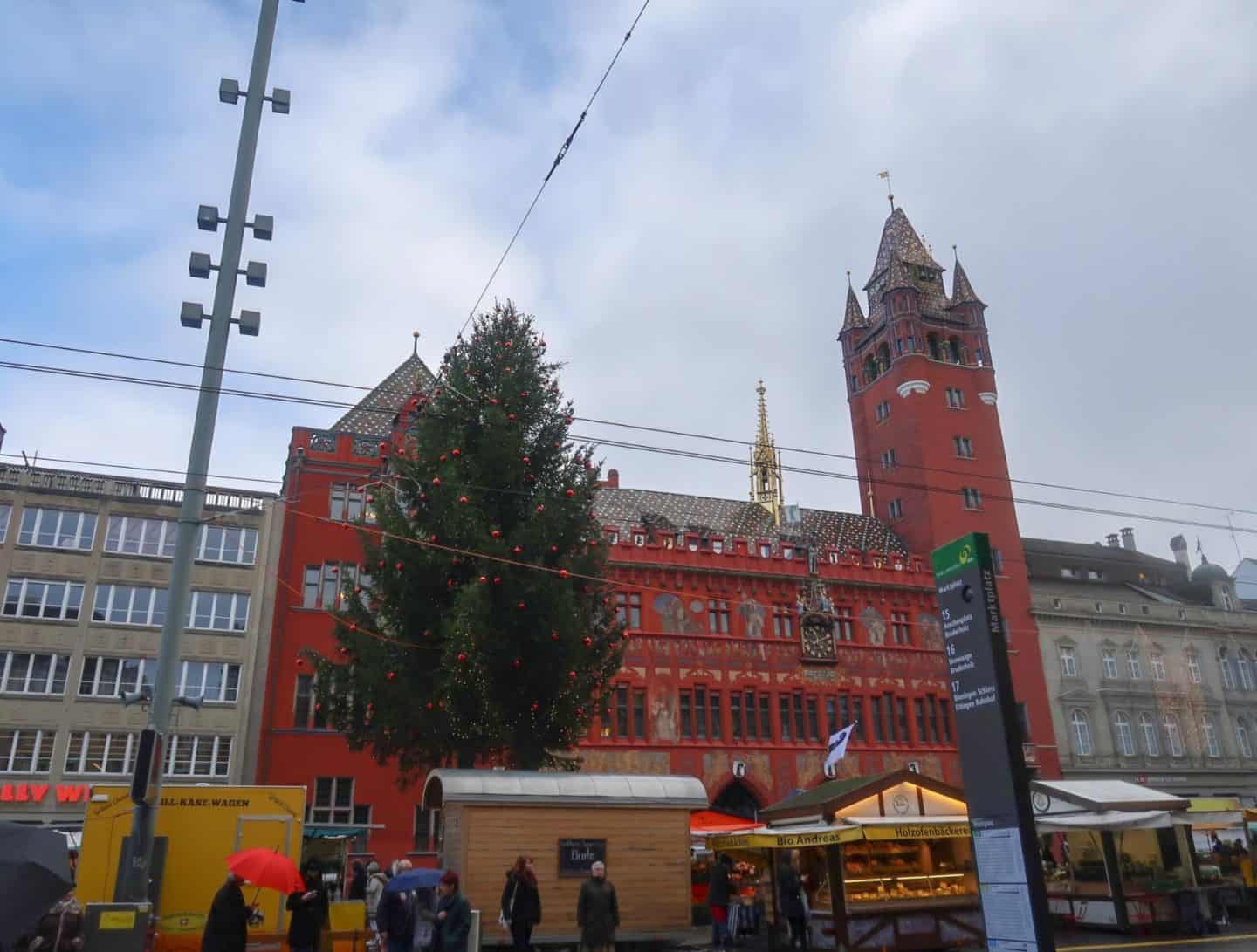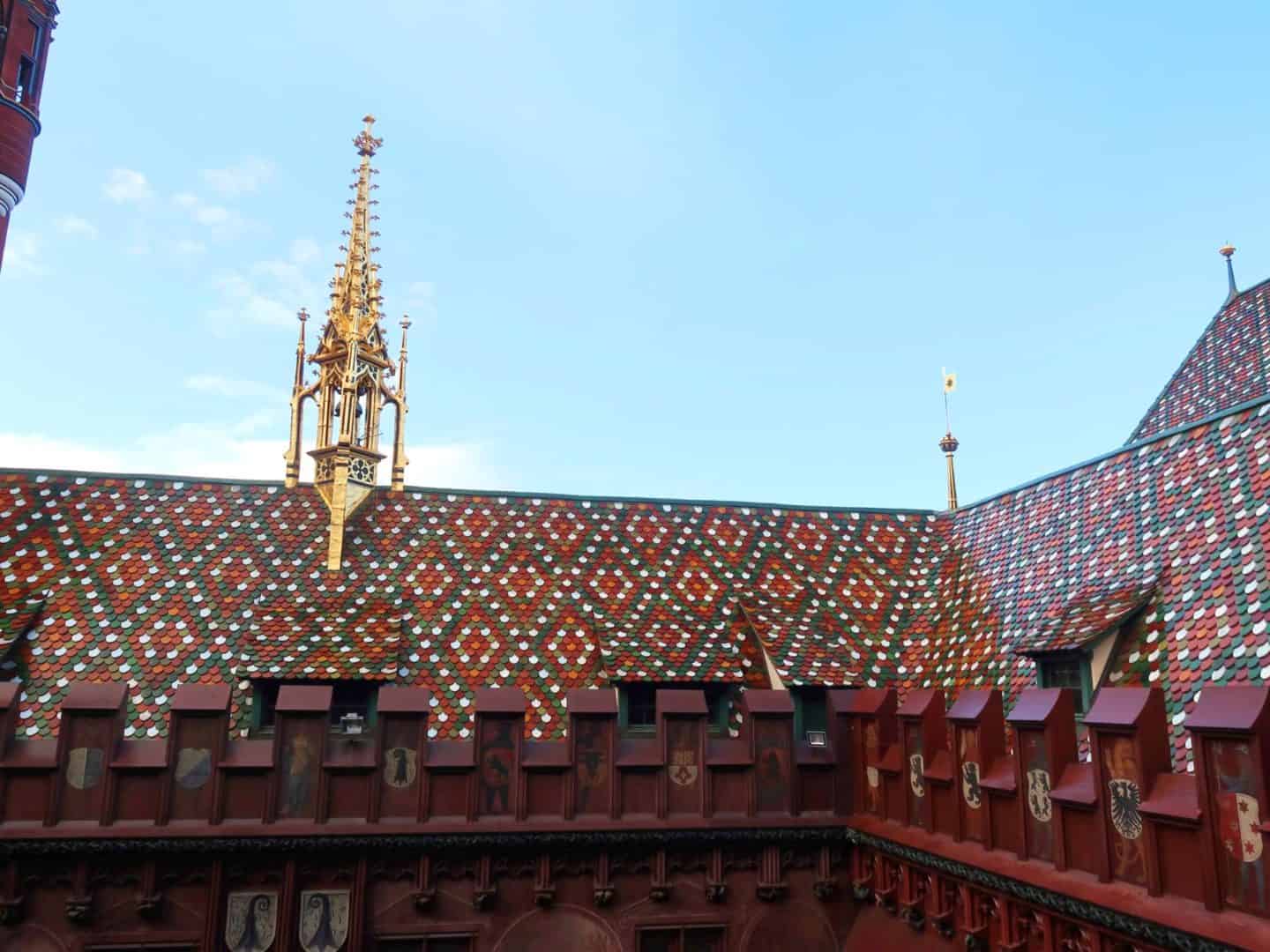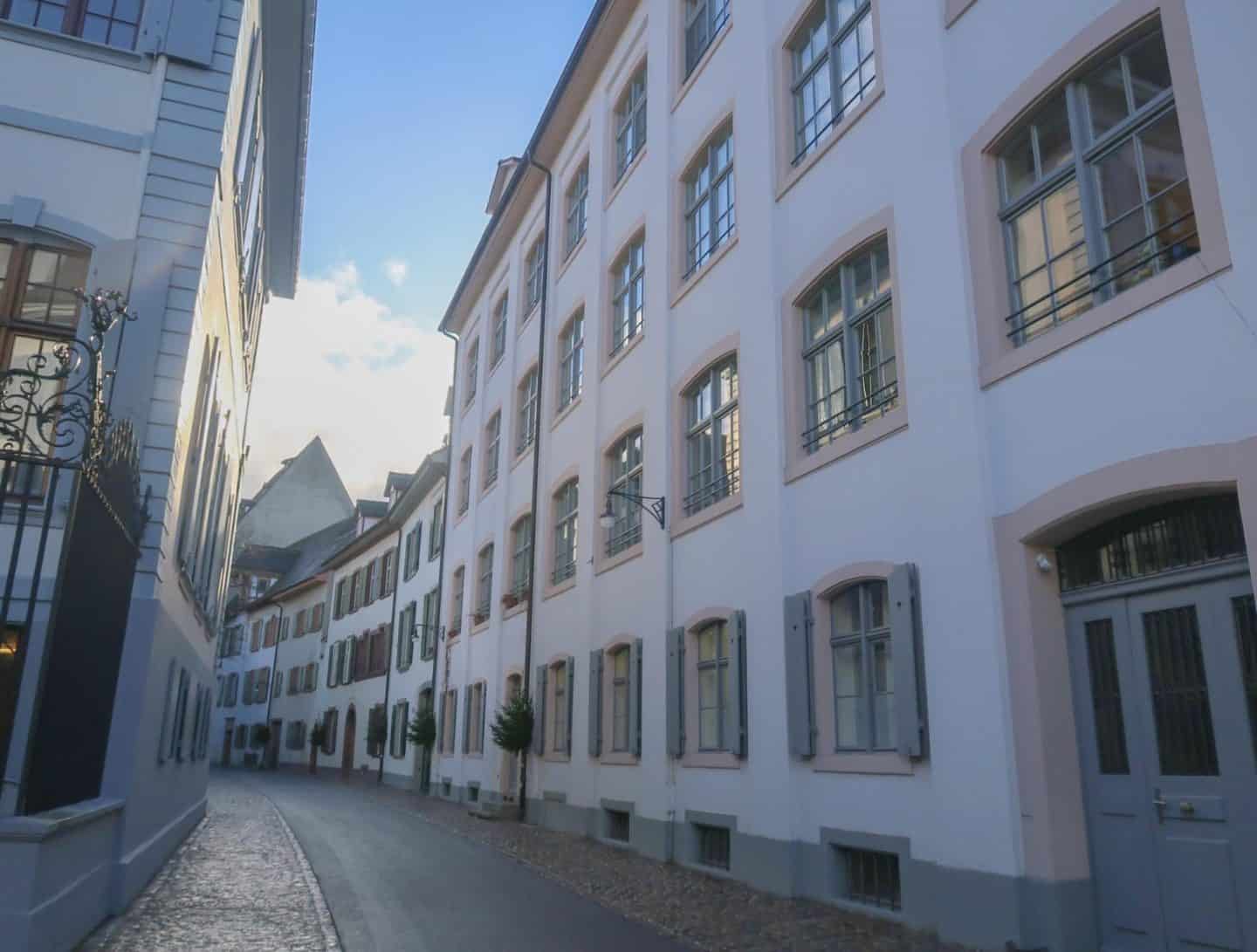 Basel Minster
This is the oldest church in Basel as it dates back to the 9th Century and it's of a gothic style. It's nice inside but it's even better around the back where you can see an amazing view all over the Rhine River.
It's also possible to go up onto a balcony area on the roof where I can imagine you can see an even better view of the river and the city!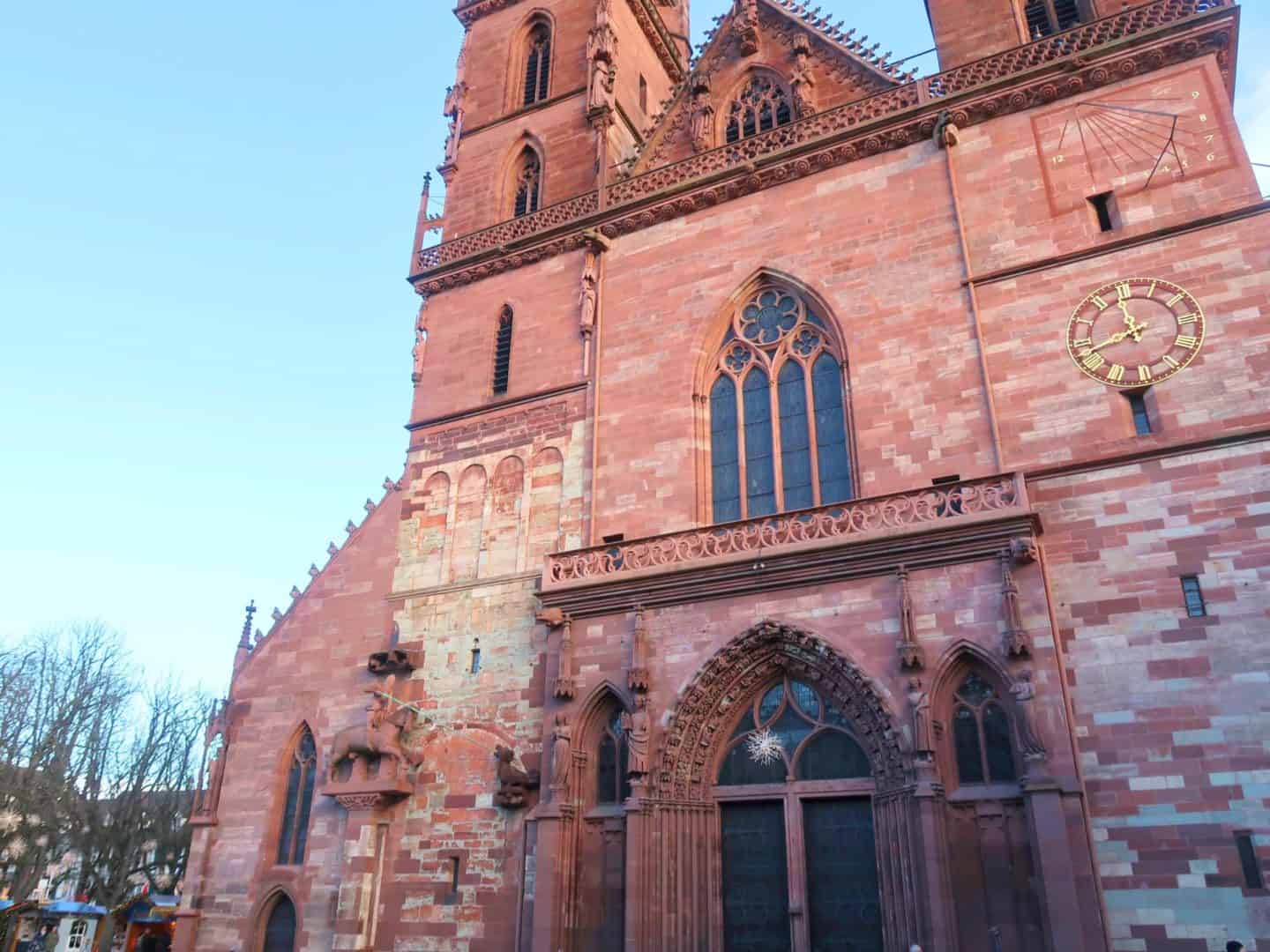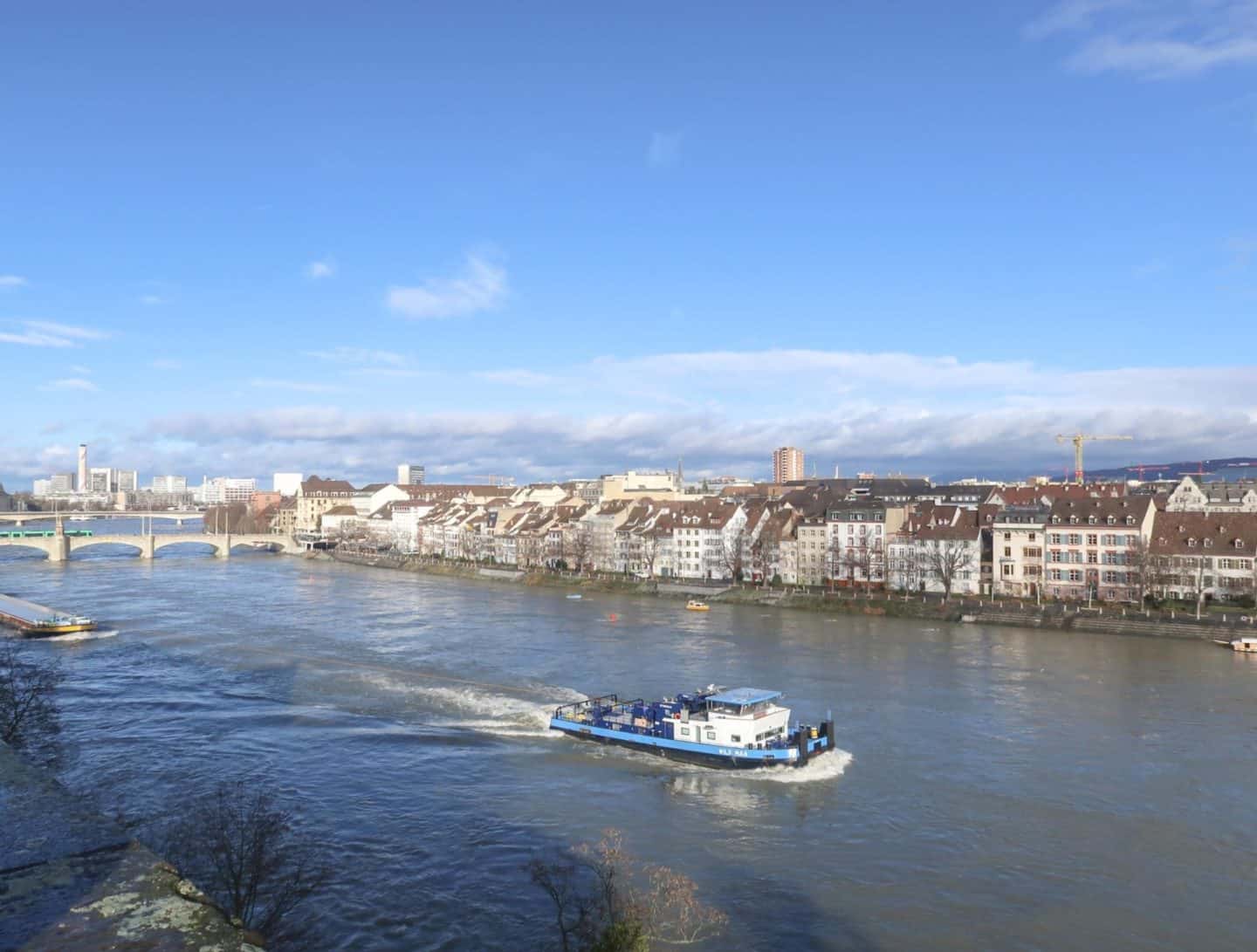 Free Walking Tour in Basel
I was lucky enough to do a walking tour around the Old Town on my first morning in Basel where we followed the above route but as with every good city, Basel offer's a free walking tour too so I would recommend checking this out on your Basel city break!
Walk along the Rhine River
On my second day in Basel, I crossed the Rhine River from the Old Town and walked along it for a while, it's really nice to be able to look over back onto the Old Town and although it was quite quiet when I was there in December, I can imagine on a Summer's day this area is buzzing with people sitting by the river, or even in the river, enjoying the nice weather!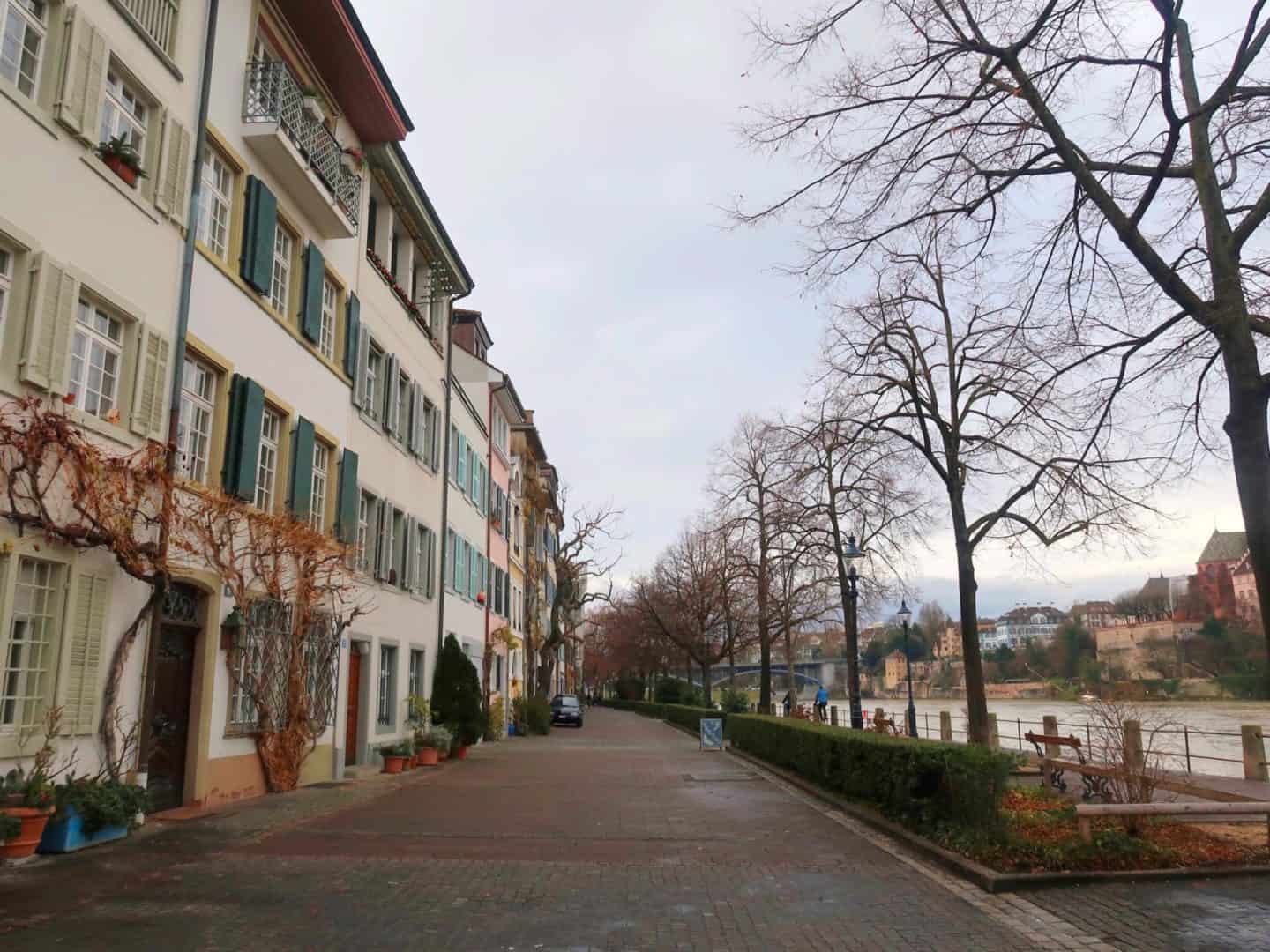 Visit Kleinbasel on the other side of the River
The old town is lovely, as is the river, but be sure to explore the area of Kleinbasel the other side too. This is known as the hipster area of the city and although it was once known as the 'lesser Basel' it is now a very popular district. There's plenty of restaurants and places to shop here too!
Museums in Basel
Basel has roughly 40 museums which is one of the reason's it is known as the Culture Capital of Switzerland. The museums are extremely diverse so make sure you check out the tourist boards website here for a full list.
I went to the Foundation Beyeler which is a 20-minute tram ride out of the city. It wasn't quite my thing as it was an art museum but if you like art, I'd definitely suggest it! It's also nice to see an area outside of the city centre as behind the museum is pure Countryside and the building is pretty impressive too!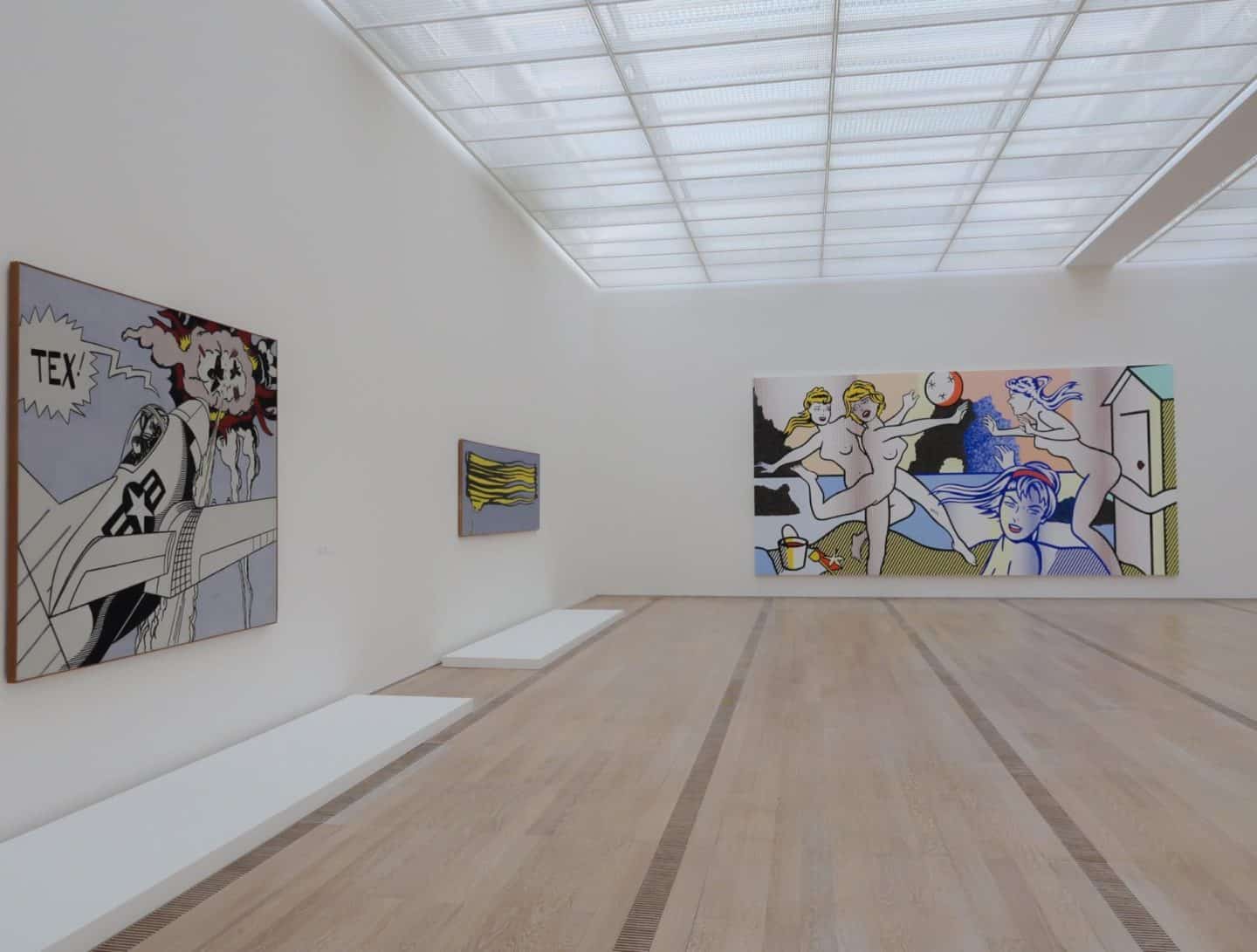 I also went to the Dollhouse Museum, also known as the Spielzeug Welten Museum which was actually pretty interesting and cool. It's in a nice yellow building with 5 floors.
You start on the top floor where the world's largest collection of antique teddy bears is held (aka over 2500 teddy bears!) and work your way down to see dollhouse, toys and all sorts of other items. Children or no children, this is a unique and worthwhile museum to visit!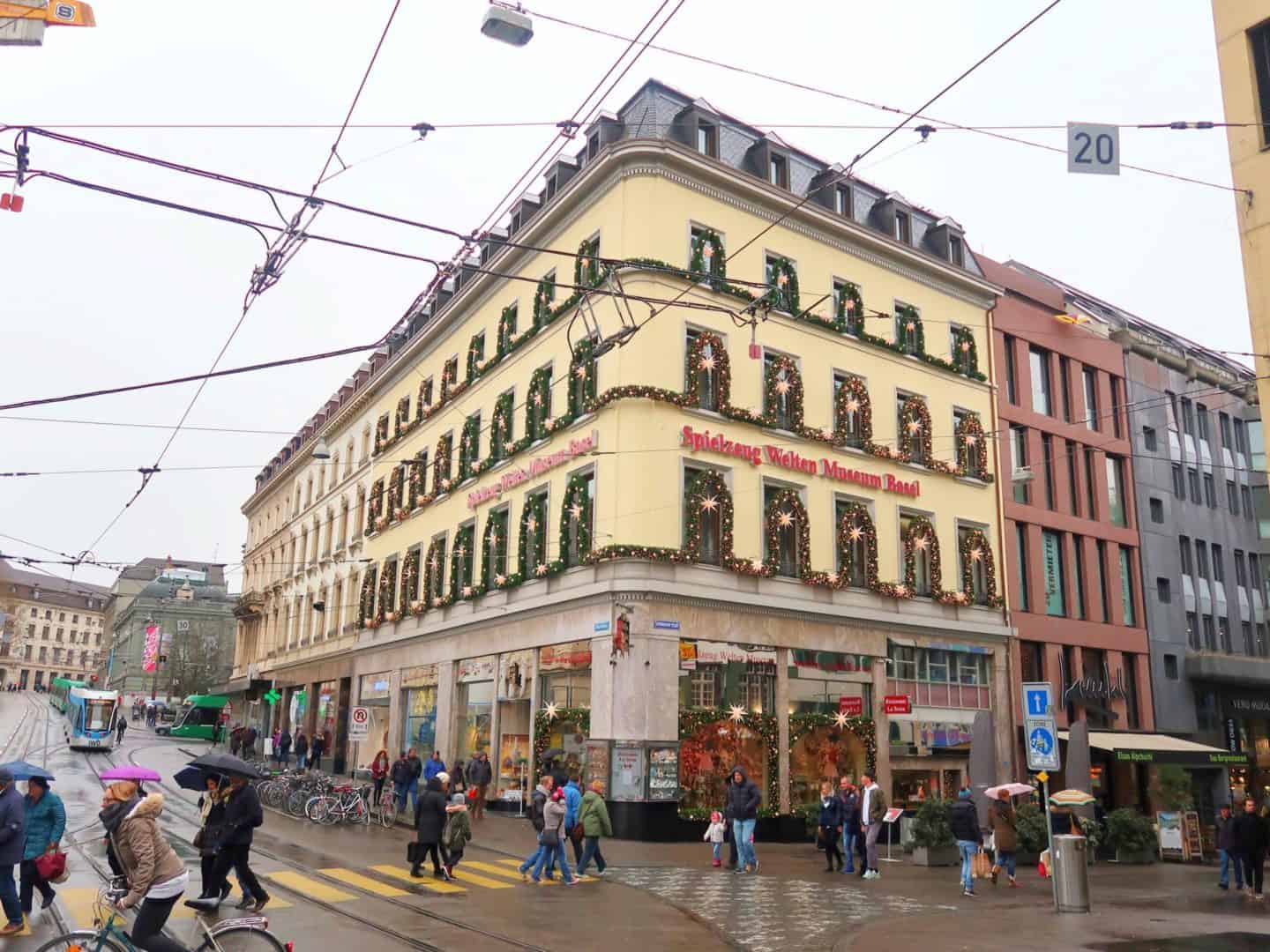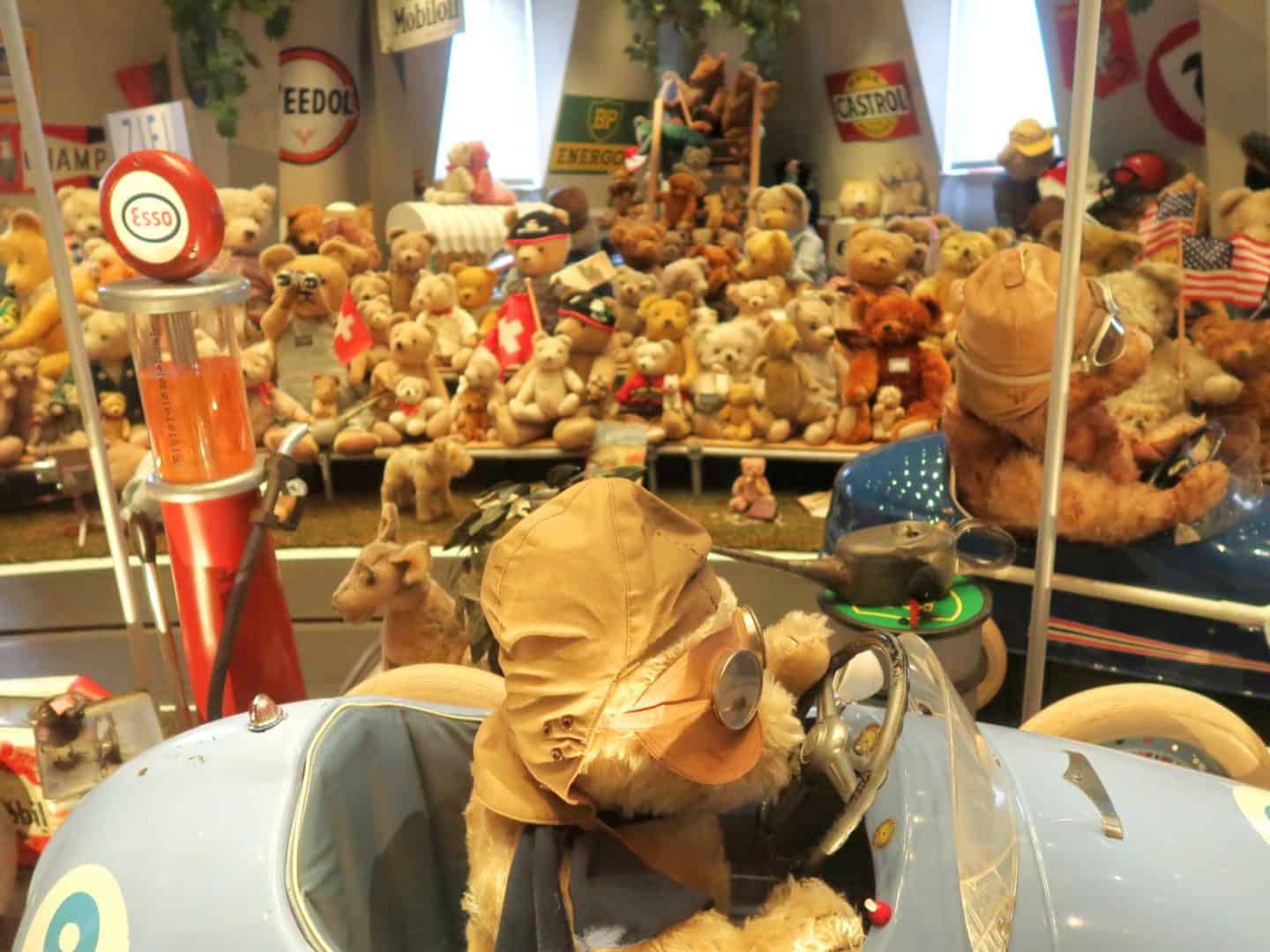 ---
Related Post: A Guide To Lake Geneva – Travelling from Montreux to Lausanne in Switzerland!
---
Places to Eat in Basel
Basel is really good for foodies so in this part of the Basel travel guide, let me tell you about the places I went on my Basel city break.
Restaurant Rubino
This restaurant was quite fancy and therefore pricey but if you're treating yourself its worth a visit. The restaurant is available for lunch and dinner. For dinner they operate on a 'surprise menu' meaning you choose the number of courses you want, we went for 4, and whether you want vegetarian, fish or meat which you can mix and match if you wish and a course comes out with the option you chose.
Their style is Mediterranean and local dishes and you can also do wine pairing ensuring your wine goes perfectly with your next dish! All of the vegetarian meals I had were amazing!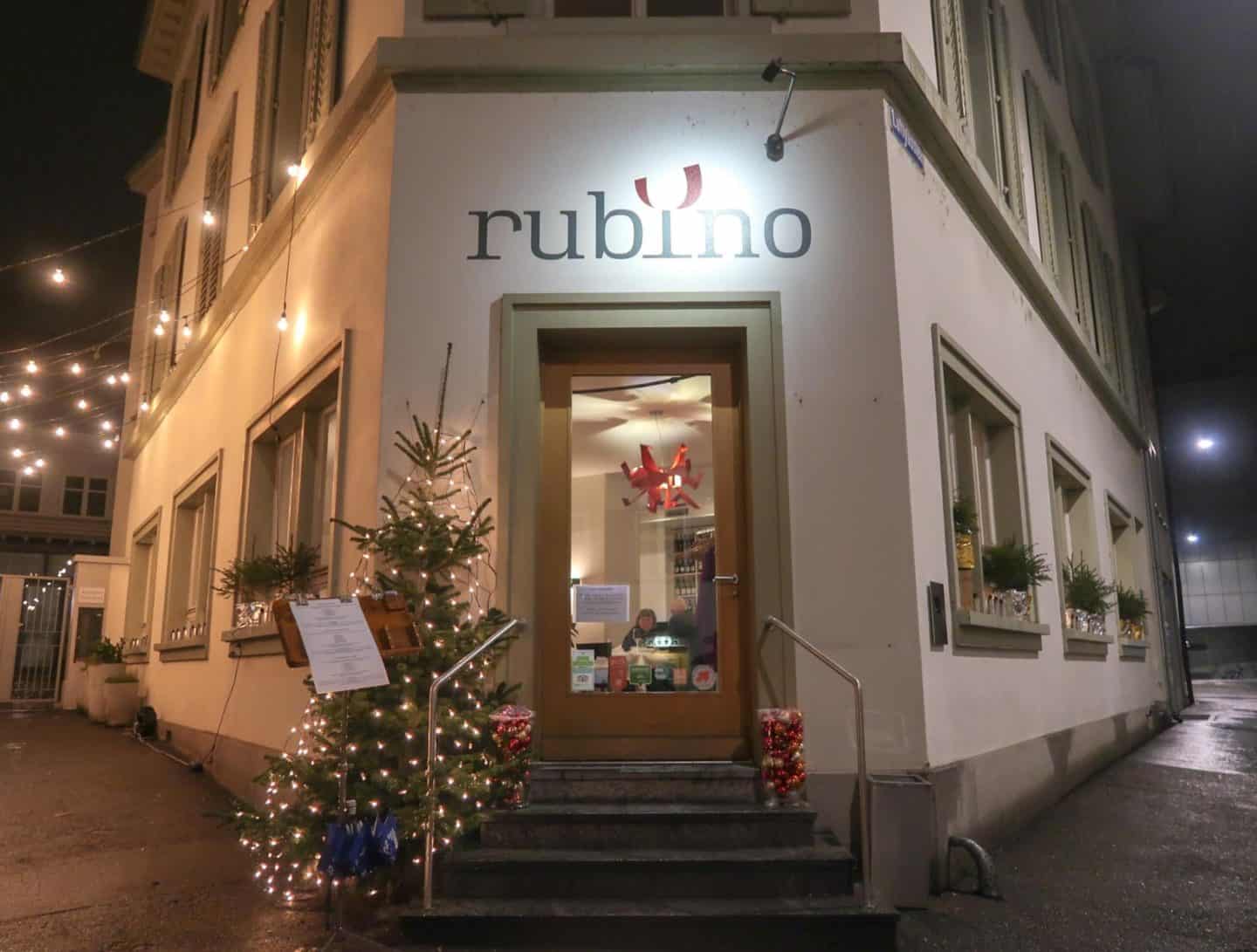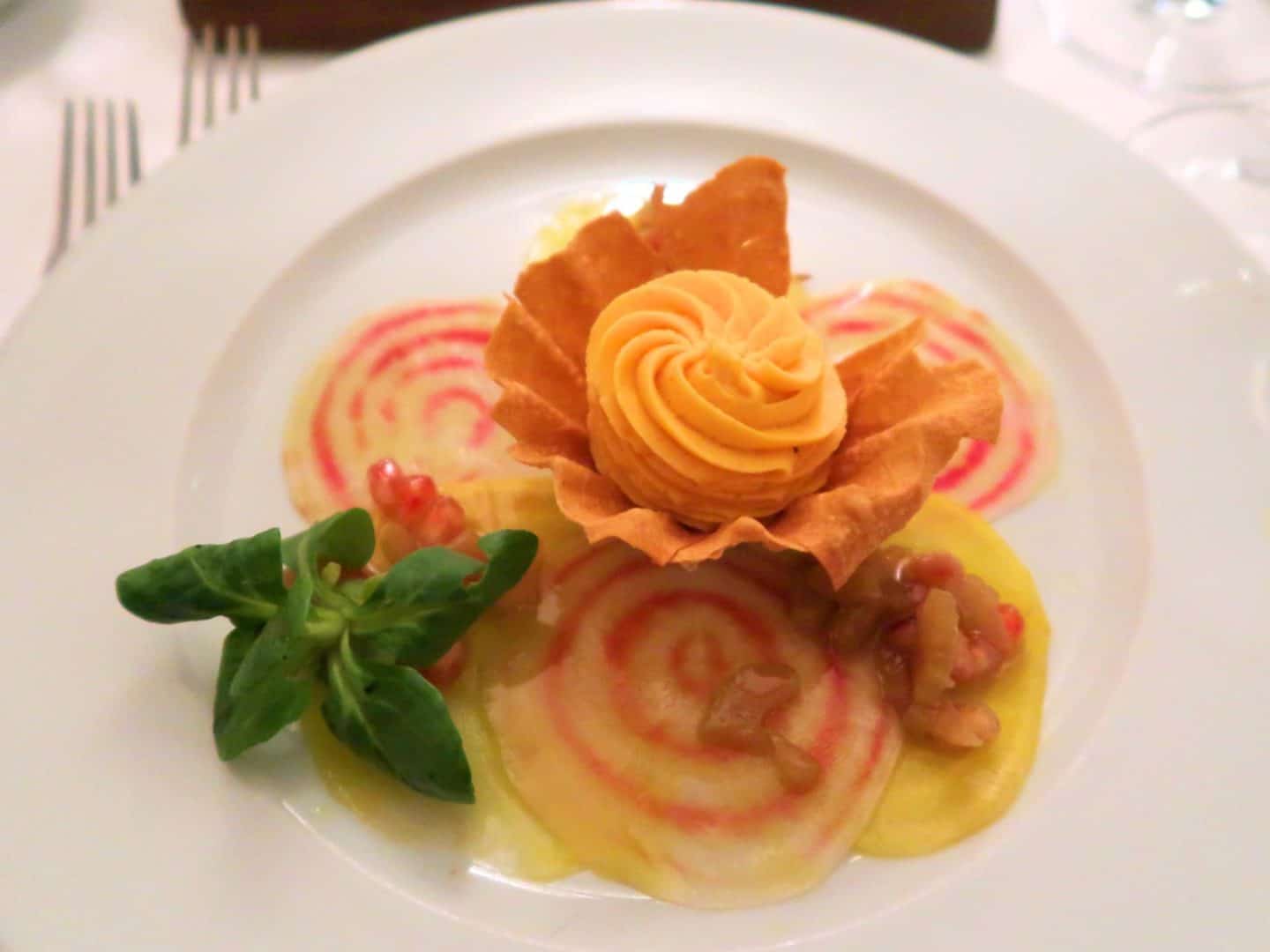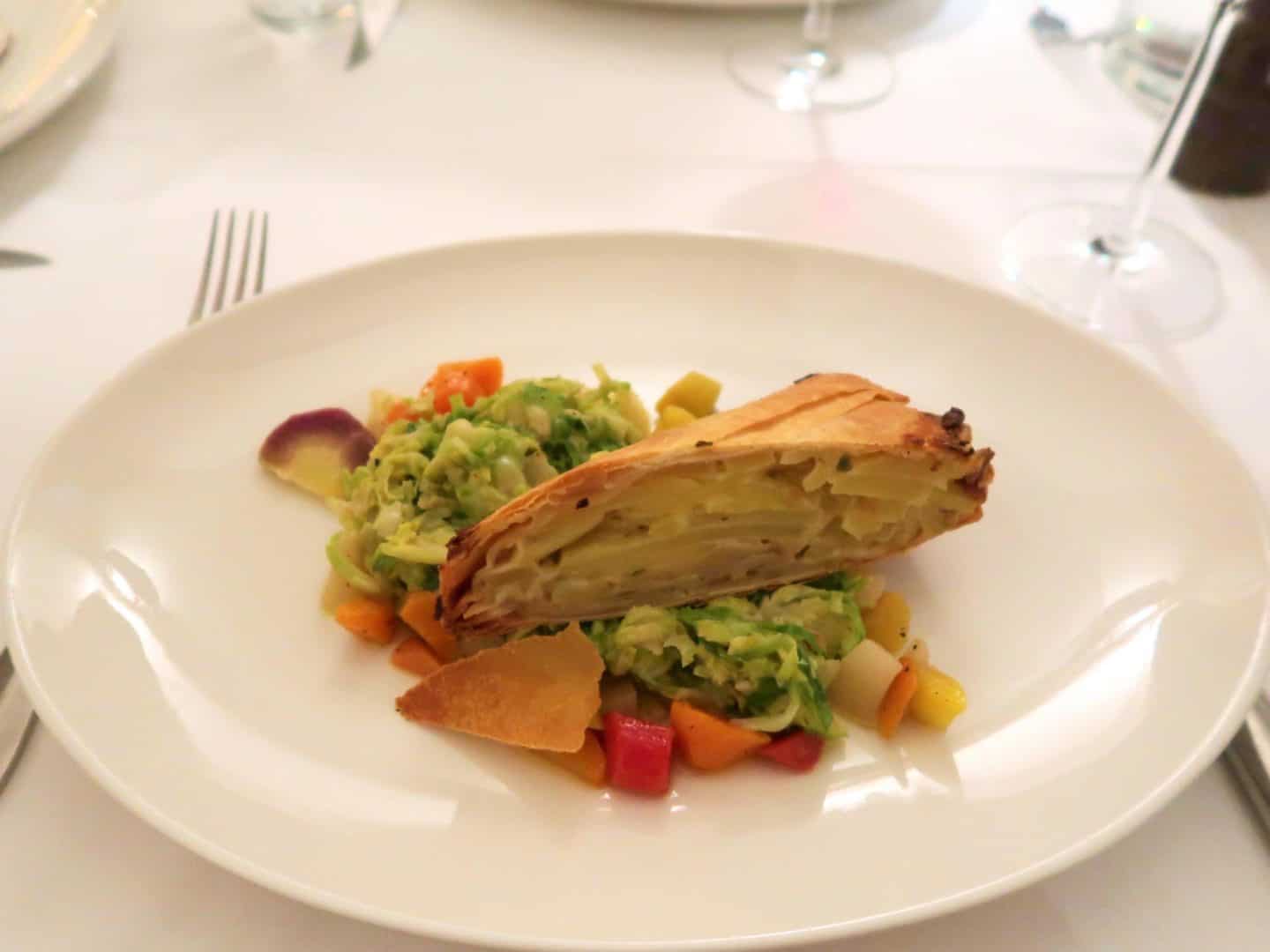 KLARA
We tried to visit here but we just ran out of time, unfortunately. I wish we had as KLARA sounds really cool, especially for dinner. It has around 9 different kitchens serving different international cuisine with a central seating area. It looks pretty informal but still perfect for dinner and I can imagine its popular with the locals meaning it would be a great local experience.
Nomad Eatery
After less than 48 hours in Switzerland eating a lot of bread and cheese I was craving something green, so I decided to head to Nomad Eatery for lunch!
Firstly its beautifully decorated, secondly it had an abundance of food options from around the world including salads, burgers, soups and plenty of vegetarian and even vegan options, and thirdly the prices were pretty reasonable. I would definitely recommend going for lunch or even dinner as they have a nice bar area and sometimes have live music.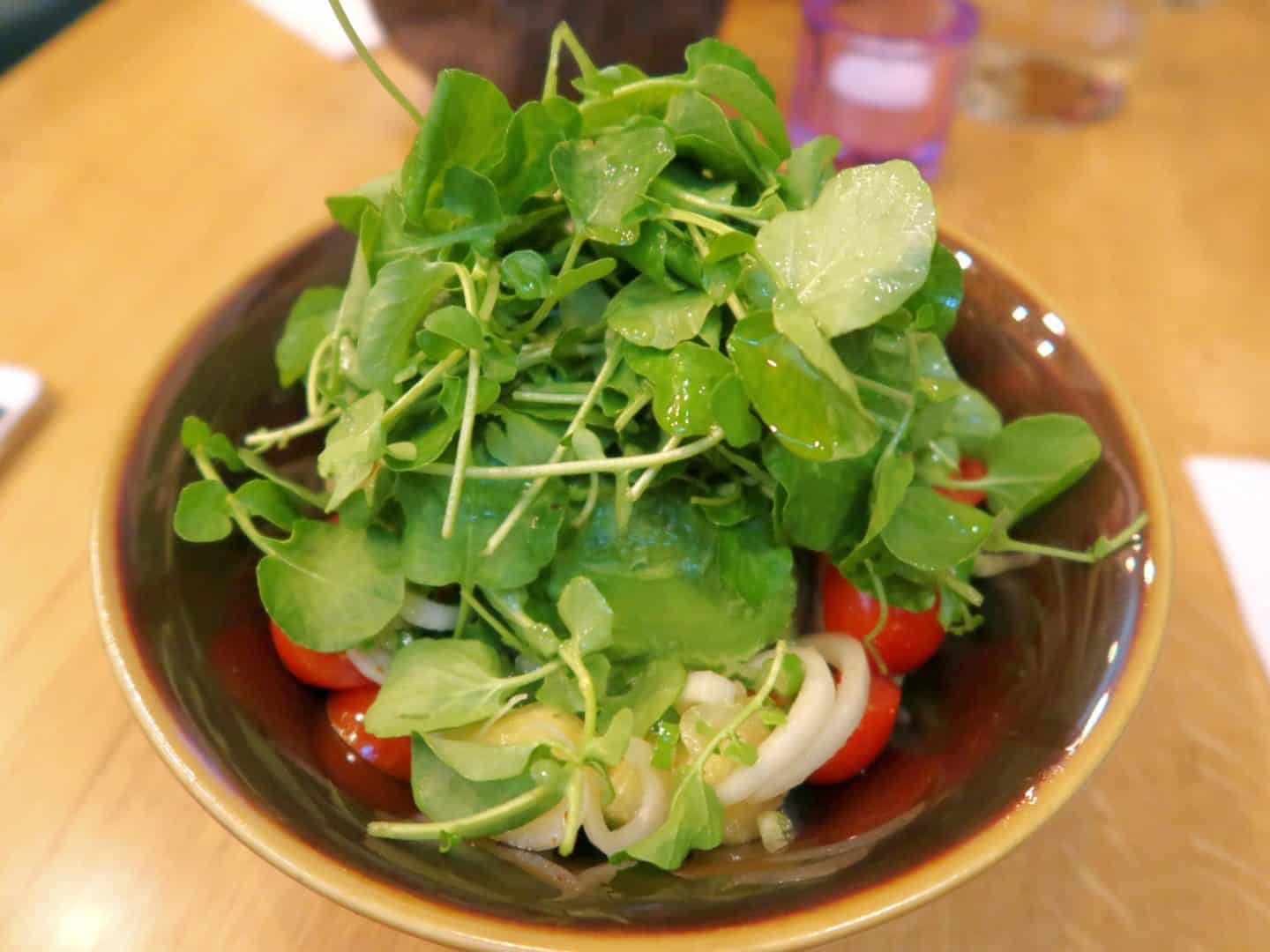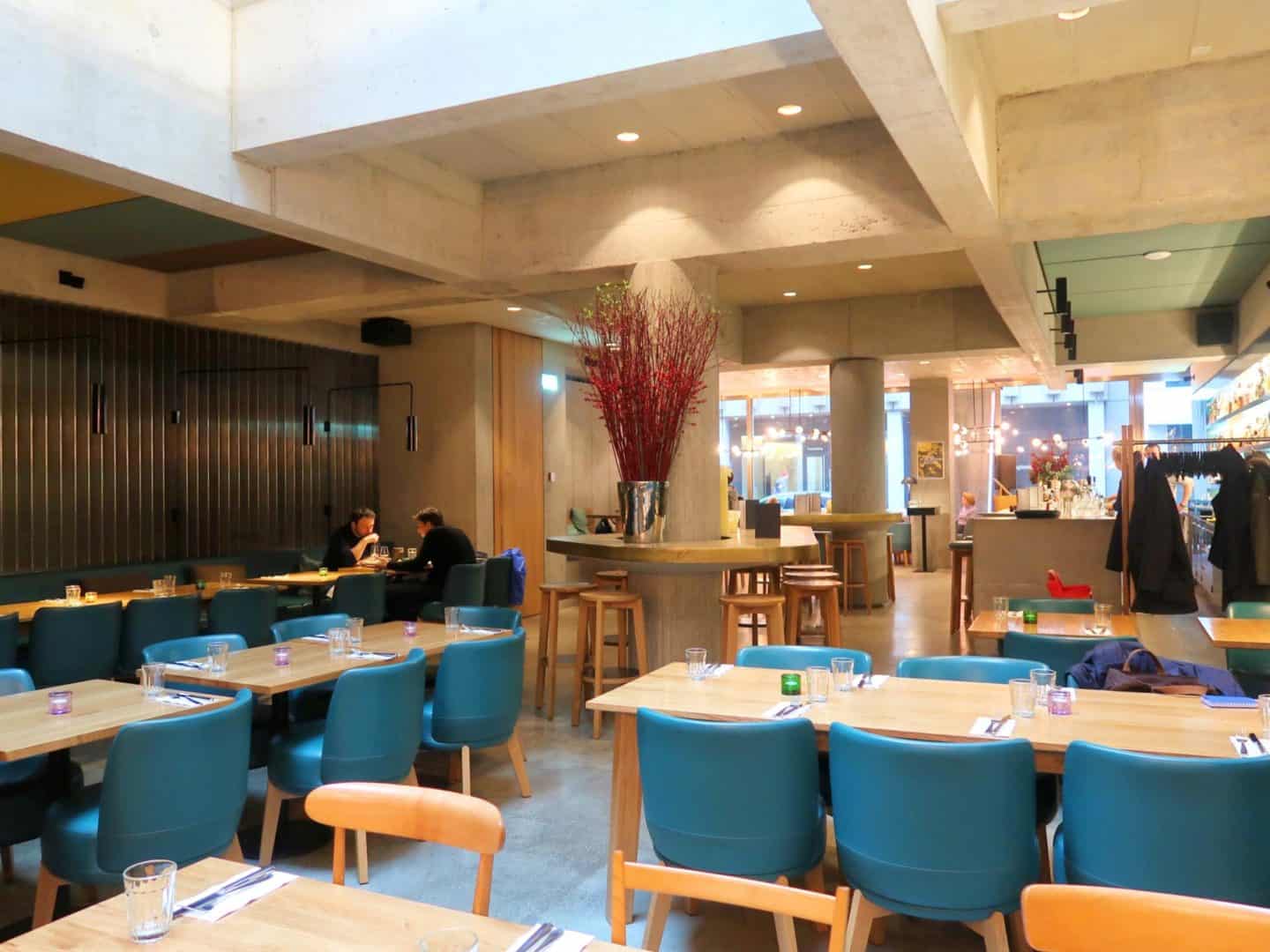 1777 Kaffee Restaurant Bar
This is another restaurant that I didn't go to but it was recommended by the tourism office and others from our group did go. It's inspired by Viennese cafe culture offering coffee's and wine, and to eat – a baguette factory, a salad factory, a cheese and ham factory, plus a choice of burgers!
From what I have read and heard it looks like a great place for lunch or dinner!
And there you have it, my travel guide to Basel, Switzerland!
I visited Basel on a press trip with Basel Tourism but all thoughts and opinions are my own!