This post may contain affiliate links. I will receive a small commission if you use these links.
---
Port Barton is the perfect place to stop on your way to or from Puerto Princesa Airport and El Nido. It's a small beachside village with dusty streets and a local, non commercialised vibe. I went a few years back but even in 2020 I have had people tell me it's still as quiet and chilled out as it was when I went.
One of the top things to do in Port Barton is to go Island Hopping in Port Barton. Personally I much preferred island hopping here to El Nido because it's a lot quieter, and a lot of people agree with me. So this is why you should do one of the port barton island hopping tours!
Island Hopping Port Barton
How To Get To Port Barton
Puerto Princesa to Port Barton
To get to Palawan, you need to fly into Puerto Princesa Airport and then drive 5 hours up north to Port Barton. When you arrive at the airport there will be plenty of minibuses and taxis available to drive you to Port Barton but if you want to save the stress you can book a transfer online to or from Puerto Princesa Airport to Port Barton here!
El Nido to Port Barton
After 3 days in El Nido, we took a minivan to Port Barton, it was another uncomfortable journey with no leg room and it took about 4 hours. It was pretty pricey considering that going back to Puerto Princesa, which is double the journey, cost less than the price of getting from El Nido to Port Barton, but it was worth it!
After a very bumpy ride for the last hour of the journey, we finally reached a little dusty town. We headed towards the beach to try to find some accommodation!
Related Post: How to Get from El Nido to Boracay and vice versa!
Where to Stay in Port Barton
I stayed at Whitehouse Guesthouse which I recommend.
For hotels that you can book online to ensure you get a room, have a look at Booking.com here, they have lots to offer!
Island Hopping Tour in Port Barton
I recommend waiting until you get to Port Barton to book one of the Port Barton Island Hopping Tours as everyone will be settling them!
If you can't stay overnight in Port Barton for some reason, it is possible to do a day tour to Port Barton from Puerto Princesa, you can book one online like this.
I do really suggest staying a few nights in Port Barton though, there are not many things to do in Port Barton but that's part of the charm. Here's what the best thing to do in Port Barton is like though, the island hopping tour:
Firstly when we met on the beach the following morning there were only 4 other people on the boat so 8 in total including the captain and his wingman, the boat a lot smaller than the one we had done an El Nido tour in a few days before and it was much nicer not having to queue up to get into the water for snorkelling.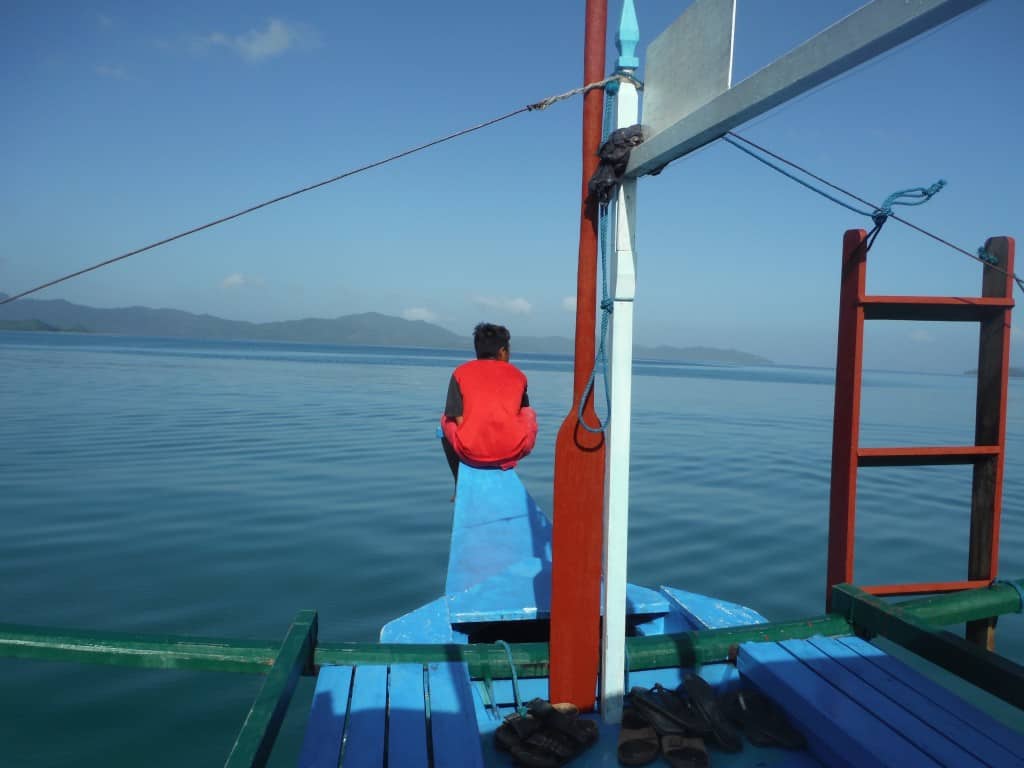 Our first stop on the Port Barton Island Hopping tour was to do some snorkelling not far from Port Barton beach, the water was so clear and calm and although we could swim over to where the coral was we could also swim around it a bit and there was no fear of being hit against it here! (Unlike El Nido!)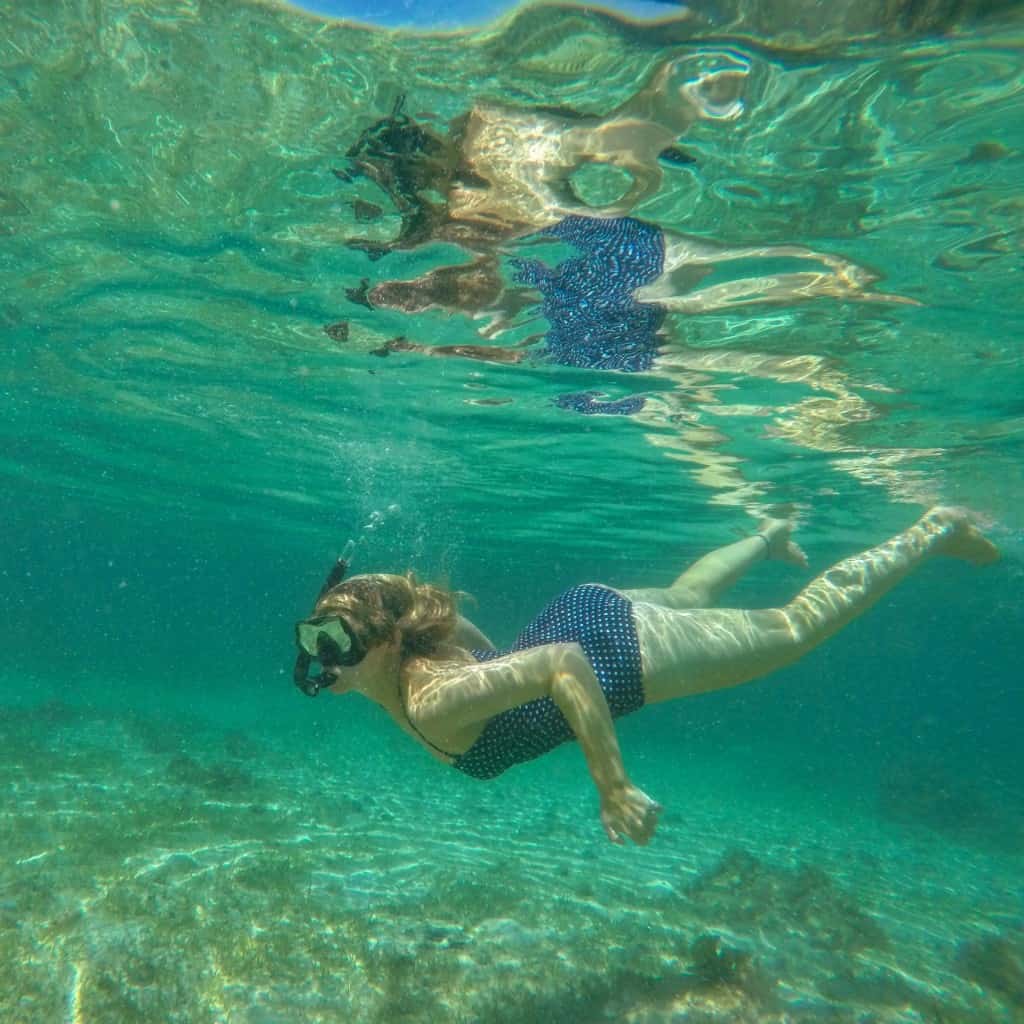 The water in El Nido was a gorgeous array of blues but here in Port Barton, it was more green! The other main difference is that unlike El Nido which is surrounded by huge limestone cliff 'islands', Port Barton has islands which are made up of forests and they are actually inhabitable, our guide grew up on one of these islands before moving to Port Barton and I think this really added to the charm.
Sorry for all of the El Nido, Port Barton comparisons but I think it is important to know the difference between the island hopping boat tours in El Nido vs Port Barton and why island hopping in Port Barton is much better!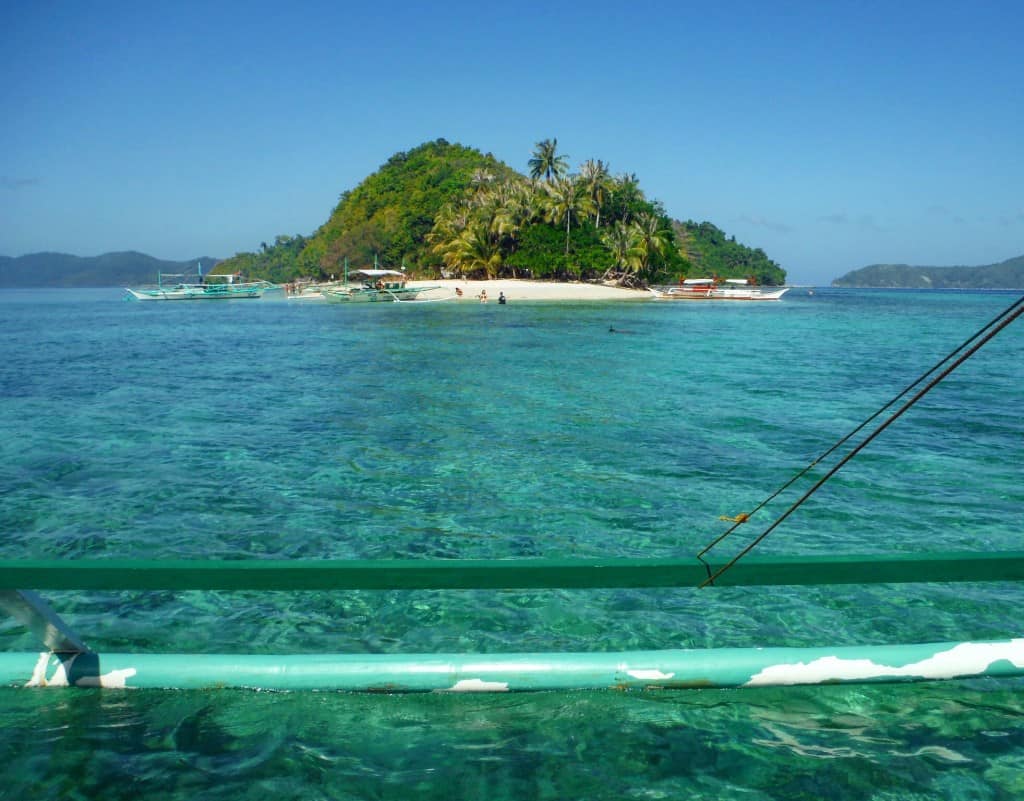 After we had done some snorkelling we headed to the lunch spot which was at a gorgeous beach. We had time to relax and sunbathe whilst lunch was being made and I just couldn't believe how gorgeous the water was! We also headed back into the water to do some snorkelling off of the white sand beach!
And the last reason I loved the island hopping tour in Port Barton was because we saw a turtle!!!
After lunch, we headed to German Island (named German because a German man has lived there for a long time..obviously!) which is one of the popular places to see turtles in Port Barton.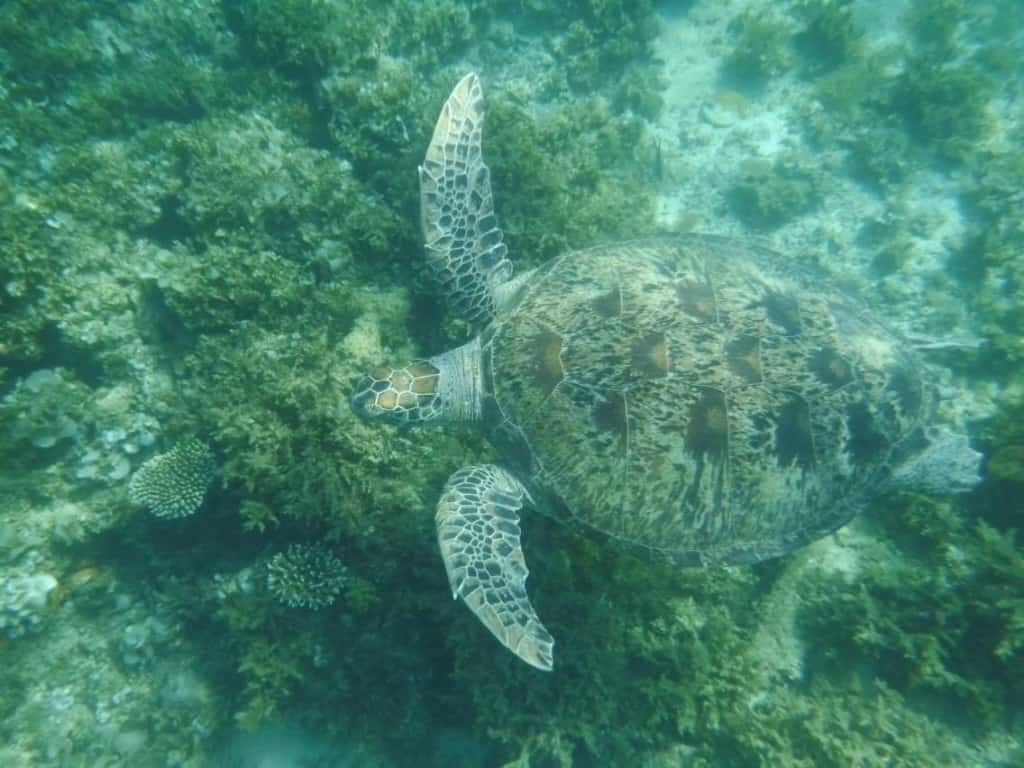 That was the end of our island hopping Port Barton tour, it was definitely a good day and I would highly recommend it to anyone heading to Palawan!
Things To Do in Port Barton
Another thing I really liked about Port Barton itself though apart from the lovely little streets and the beautiful beach was that there was a really good community feel to it.
Walking around we saw children walking to and from school and when we headed out in search of dinner on Saturday night we saw the children playing a serious basketball game with lots of people watching and there were also some stalls set up in the streets with games.
I believe that this was because it was Fiesta time that weekend and/or coming up but it was really nice to see the locals being normal and having the activities to do without tourists being involved.
I loved my time in Port Barton and totally understand why so many people rave about it. We were only able to stay for 2 nights but there were a lot of people who seemed to be staying for longer and its easily a backpacker haven in the Philippines that you could get stuck in!
---
For accommodation in Port Barton have a look on Booking.com. I use this site to book all of my hotels and I often find some great places!
---