This post may contain affiliate links. I will receive a small commission if you use these links.
---
I went to Vilnius, the capital of Lithuania, for a Christmas weekend away with my friends. I knew from my trip that Vilnius is a great place for a European Christmas City Break but when looking back I realised it's a good all year round European City Break destination too! Vilnius is cheap and a place that offered a surprisingly great range of food and drink options (which we needed regularly for us because it was soo cold!).
Visiting Vilnius was my first time visiting the Baltic's and it left me wanting to see more, so here are my reasons as to why we loved Vilnius in Lithuania and why I would recommend Vilnius at Christmas and all year round!
Reasons to Visit Vilnius!
Vilnius is cheap!
As I said, we were looking for a budget destination so I knew we'd need to head over to Eastern Europe. We flew there with Ryanair for £60.00 return which I booked a few months previous in August (yes I was organised!). To me this isn't a majorly cheap price but it's actually quite far away with a 3 hour flight time, it was peak holiday season and the prices once we were there totally made up for it.
We stayed at Jimmy Jumps House Hostel, as there were 5 of us we wanted to be able to share a room and make the most of the weekend together so we booked out a 6 bed dorm and paid €11.00 each a night which included a pancake breakfast so this was great! The beds were a bit uncomfortable but it was clean, in a good location with friendly staff and did I mention a pancake breakfast!!
The food and drinks were really great value too, for example we went for a late lunch at Vieta which is a vegan and vegetarian cafe in Vilnius. In total we had 5 huge beers, camembert to start between us all and 5 Panini's, all of which were great and it came to €45.50 between us all! I'd highly recommend this place for its food, atmosphere and prices!
As you can tell from the above, Lithuania uses Euro's which I didn't expect as usually Countries that use Euro's are more expensive but this wasn't the case here!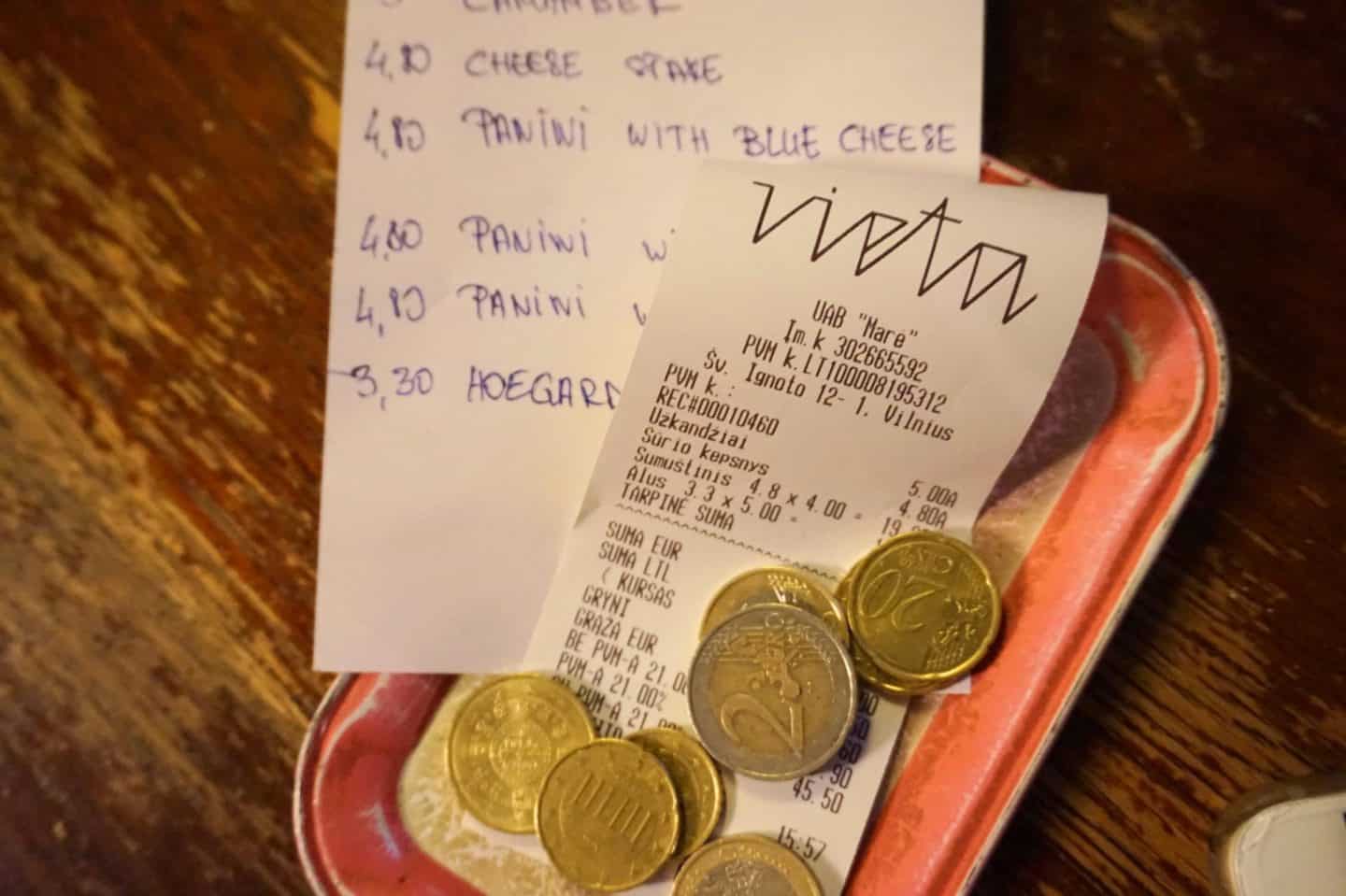 Vilnius is walkable!
I found Vilnius to be the perfect city to walk around, admire the architecture and pop in and out of shops, cafes and restaurants. There's no need for a touristy hop on, hop off bus or in fact any other tours as its fairly small and compact. It would have been interesting to do a walking tour to hear some of the history but unfortunatley we didn't have time.
Vilnius is full of different areas!
As with most Eastern European Cities there is an old town which is the centre of the tourist hub. The old town in Vilnius is full of windy streets, boutique shops with beautiful churches popping out of the top.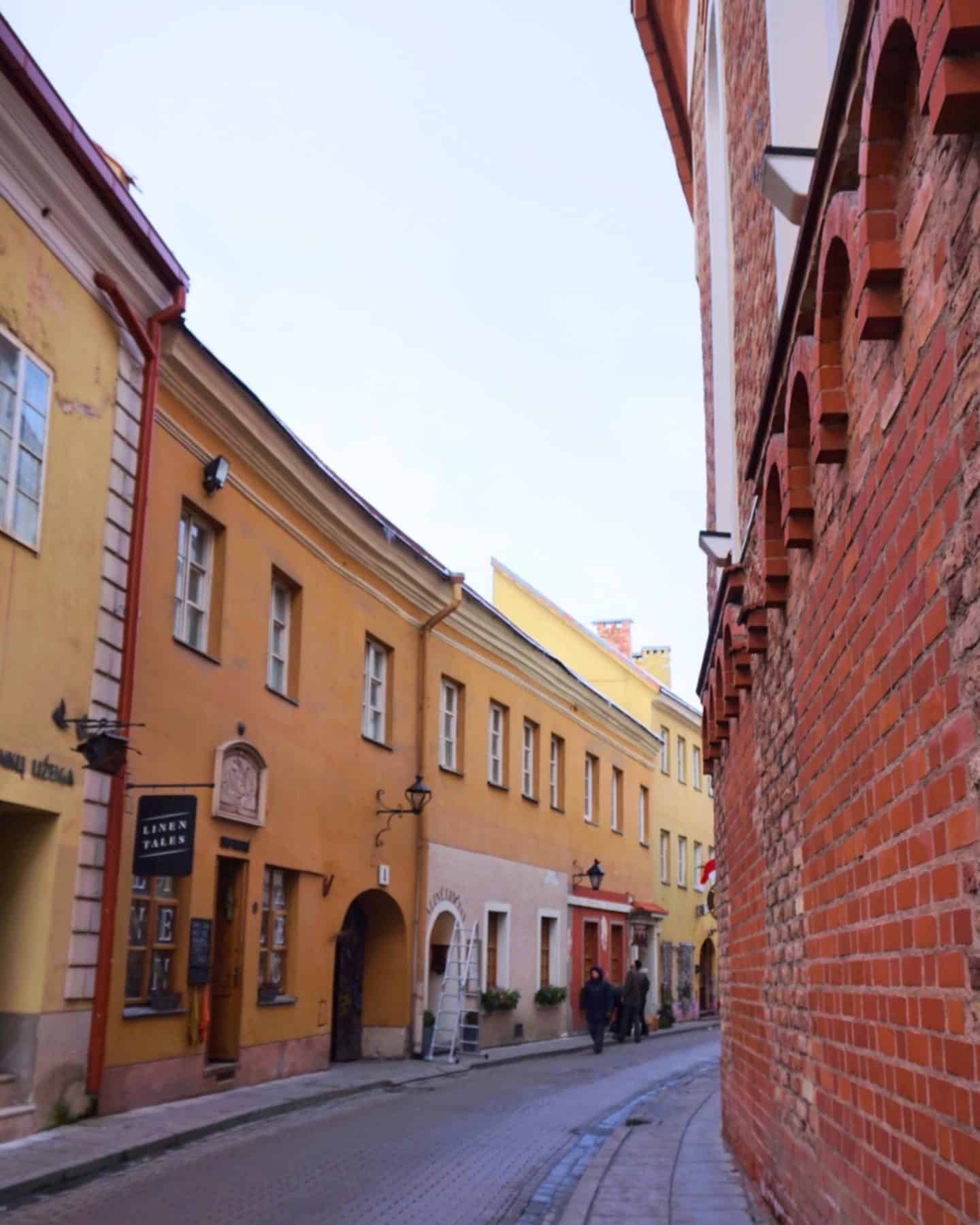 There's also a commercial area of the city. This is where you find your H&M and popular stores, it isn't as pretty as the old town but I always think its good to see a more modern area of a city too.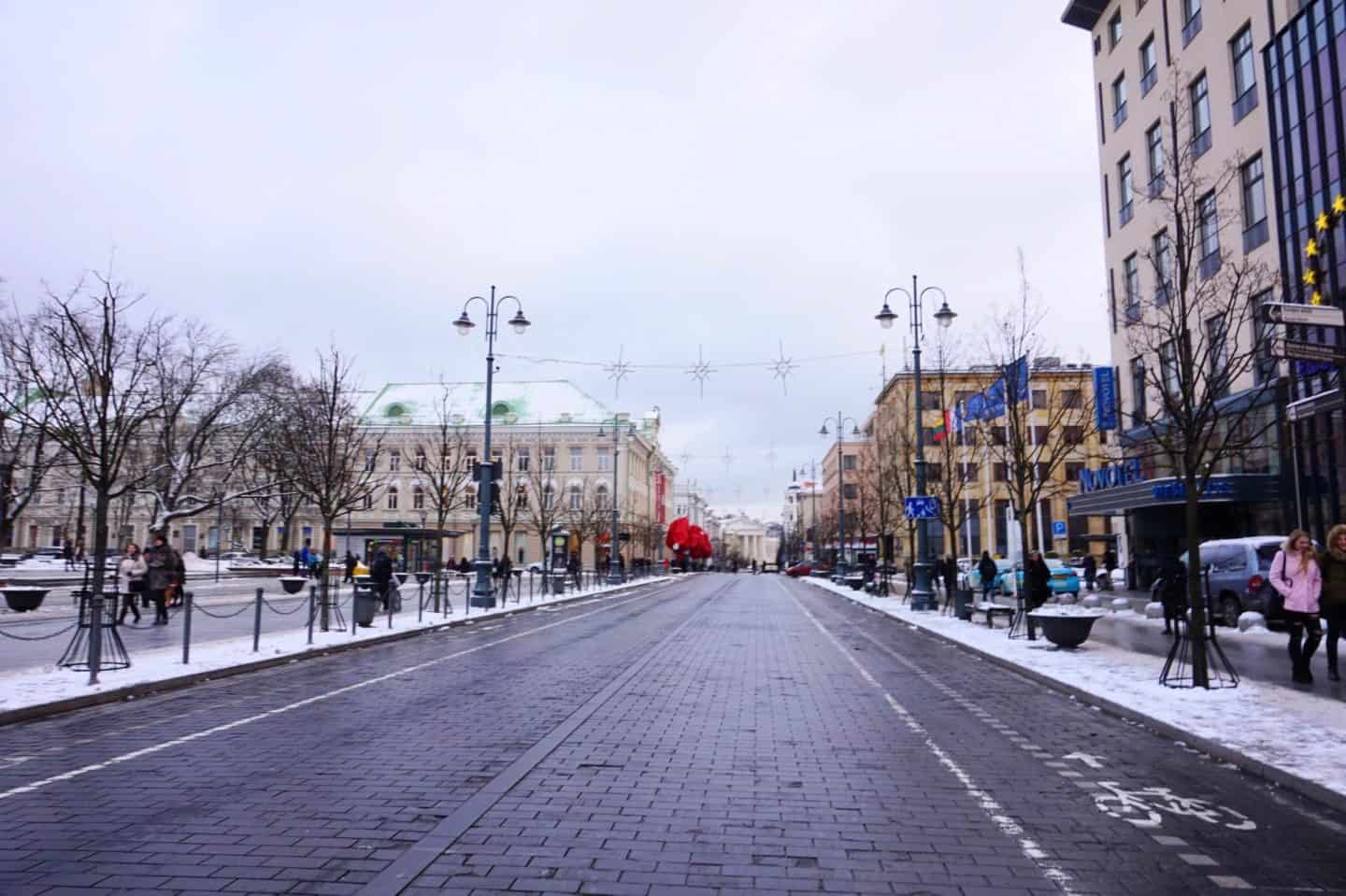 There is also a neighbourhood called Uzupis which is across the river to the old town and it's known as is a self reclaimed 'Republic' part of the city! A bit like the Freetown area of Christiania in Copenhagen, it has its own anthem, constitution, president, and a lot more. This area used to be one of the most dangerous areas in Vilnius but in the early 1990's the Bohemians and artists moved it making it a lot safer and it is now thriving as a community.
We only visited Uzupis briefly so we didn't get to experience the full extent of it but it's definitely worth visiting.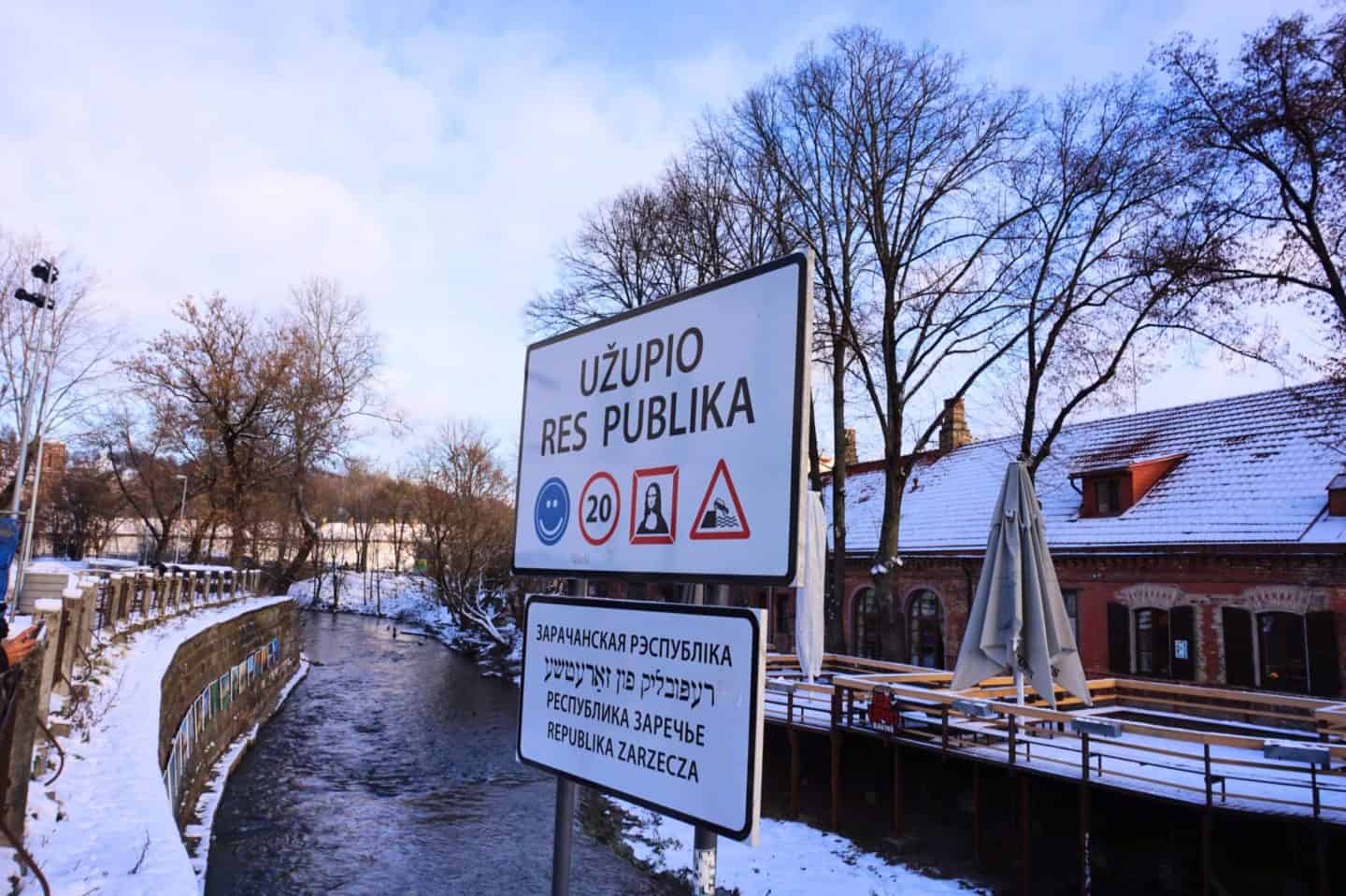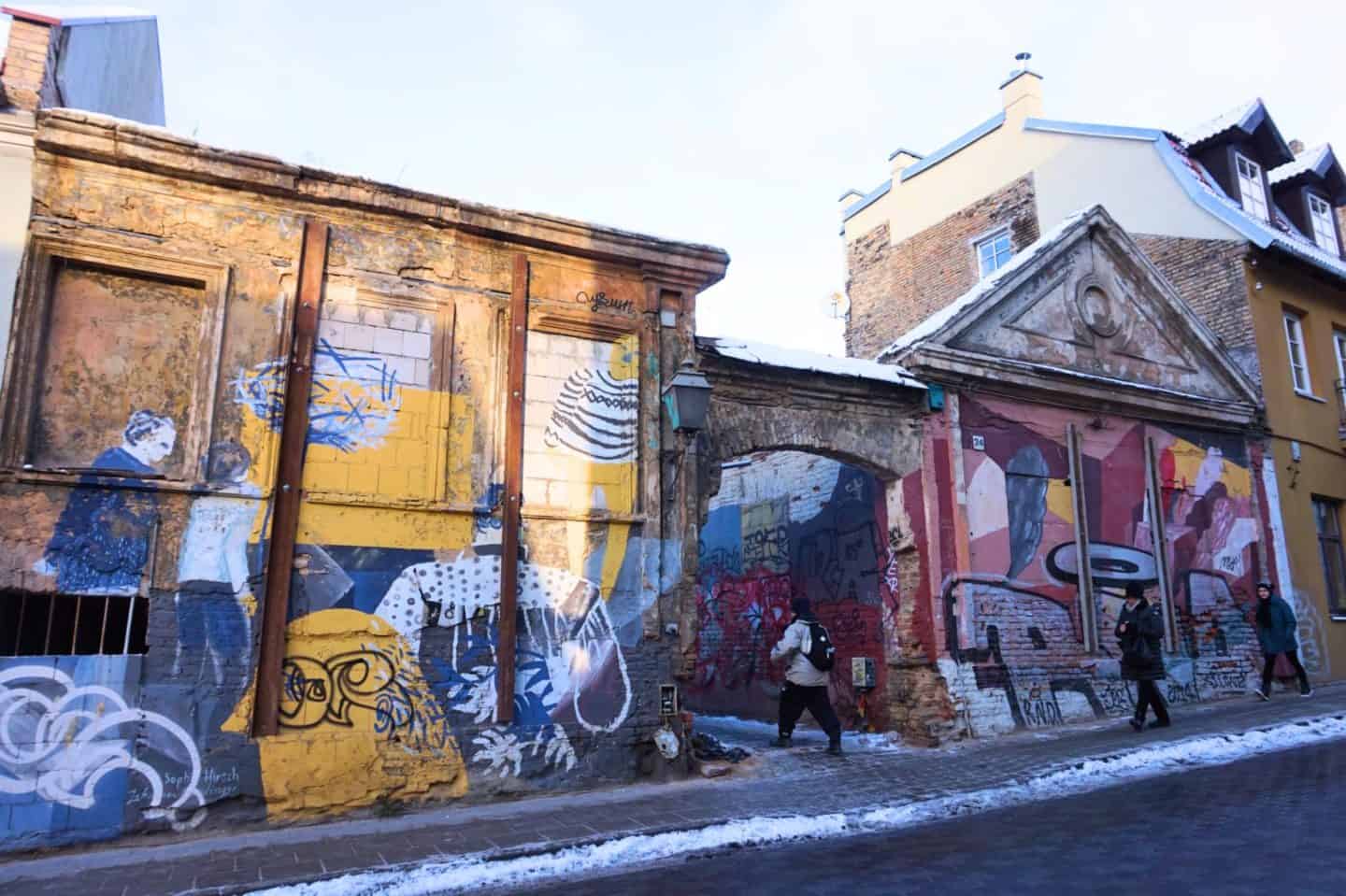 Vilnius had Beautiful Architecture!
The buildings and churches in Vilnius are what I expected from the Baltic's area and they are really beautiful and impressive. The buildings in the old town are quite medieval and really colourful which I didn't expect. The churches are really grand and similar to what you'd see in Russia but on a small scale (I think anyway as I've never been to Russia!).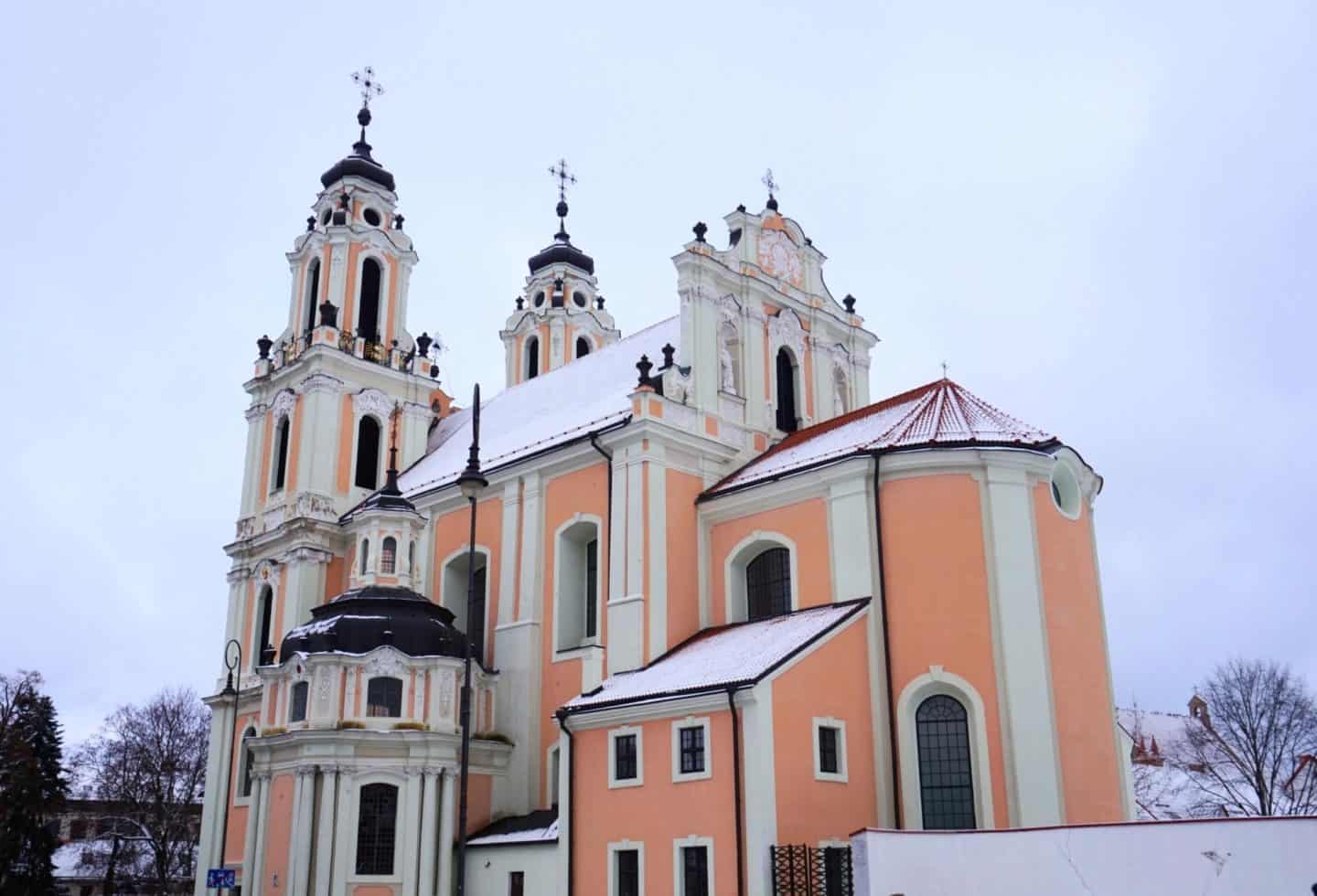 Best Places to Eat & Drink in Vilnius!
I didn't necessarily expect Vilnius to be great for food but we found some really grat authentic places.
As I said above we visited Vieta which was a great place for lunch that I'd recommend. We didn't look up any places to go online and instead simply wandered until we found somewhere to have food or a drink, whether that was a coffee, hot chocolate or beer and we stumbled upon some great places that really made our trip special and more memorable!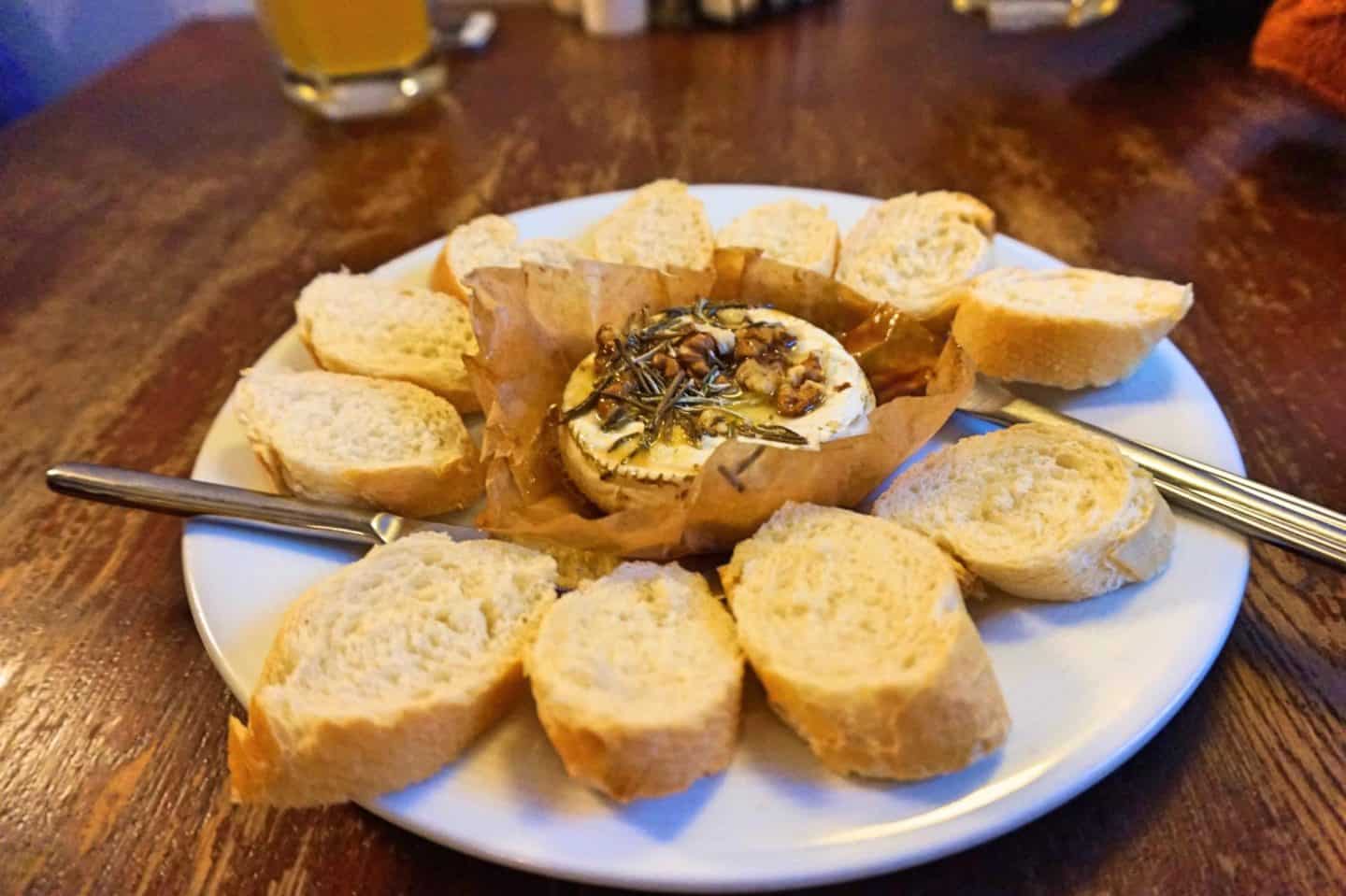 Vilnius is Different in the Different Seasons!
Lithuania seems like one of those countries that actually has seasons. When we visited in December there was a bit of snow which is exactly what we wanted and it was really cold which was what we wanted too although not so much when our feet went completely numb! I saw that it then got even snowier in January and I've seen people visit in the summer when it's been really hot!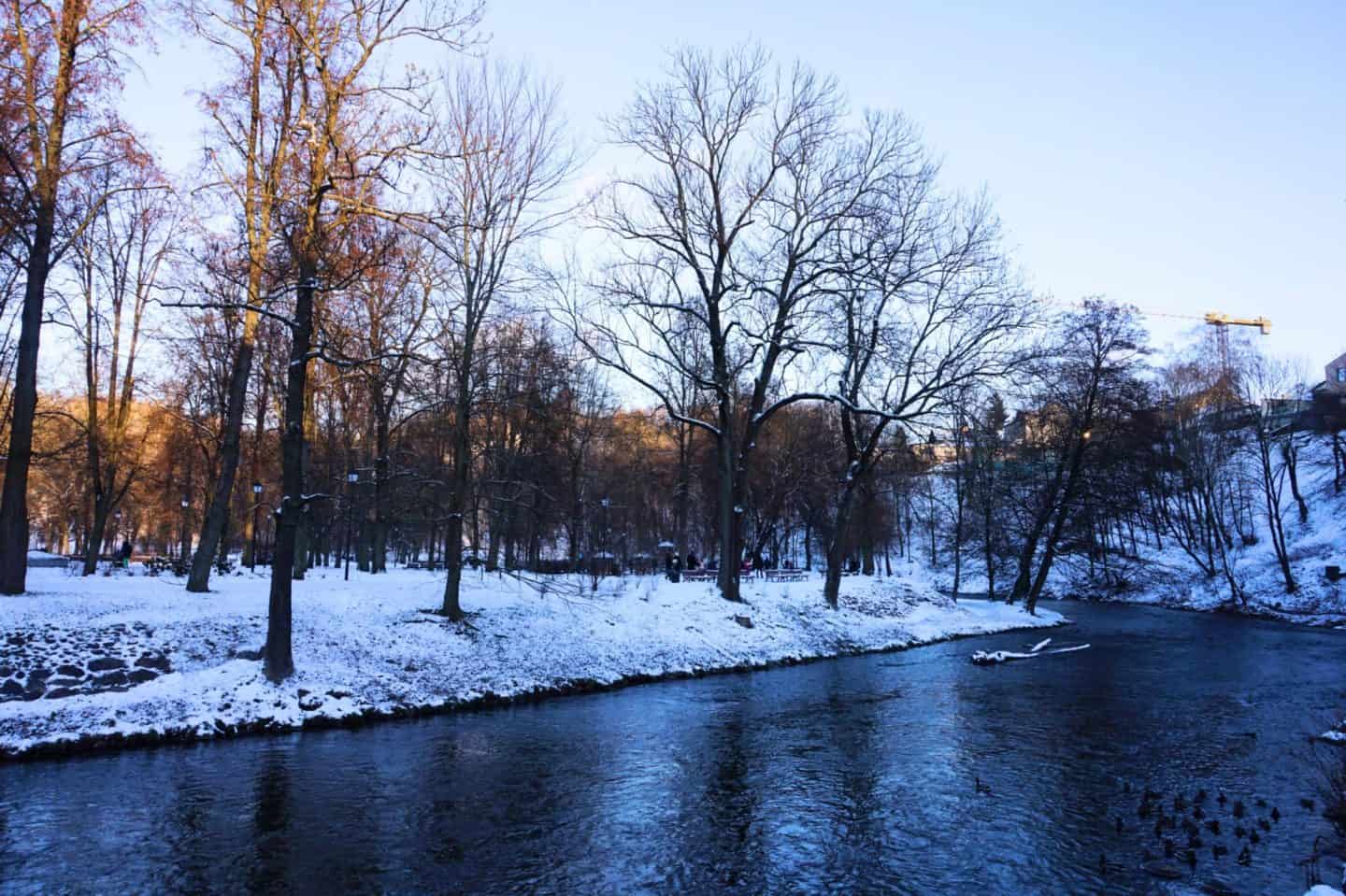 Vilnius at Christmas
Ok, so up until this point you could visit Vilnius any time of year. The food, the views, the prices and the weather can be applicable for 12 months of the year. However, like I said and as you can probably tell from the cover picture of this blog post I visited in December specifically for the Christmas Markets and they were really great! Here's why:
Vilnius Christmas Markets
They were only quite small but during the day, even on the first weekend of December they weren't hugely busy. They got busier at night but not to an insane degree.
A lot of effort had been put into them. The lights running from the Christmas Tree, which was the centre point, onto all of the stalls surrounding the tree were so pretty at night! Standing under them drinking mulled wine with friends was really special.
Not only was the rest of Vilnius cheap but the markets were super cheap too. I don't remember the exact prices but the mulled wine, hot chocolate etc etc were only a few euros! I doubt you'd get that in a Western European Christmas market.
They were really authentic. I think the size helped and the fact that there were no fair ground rides or tackiness like that!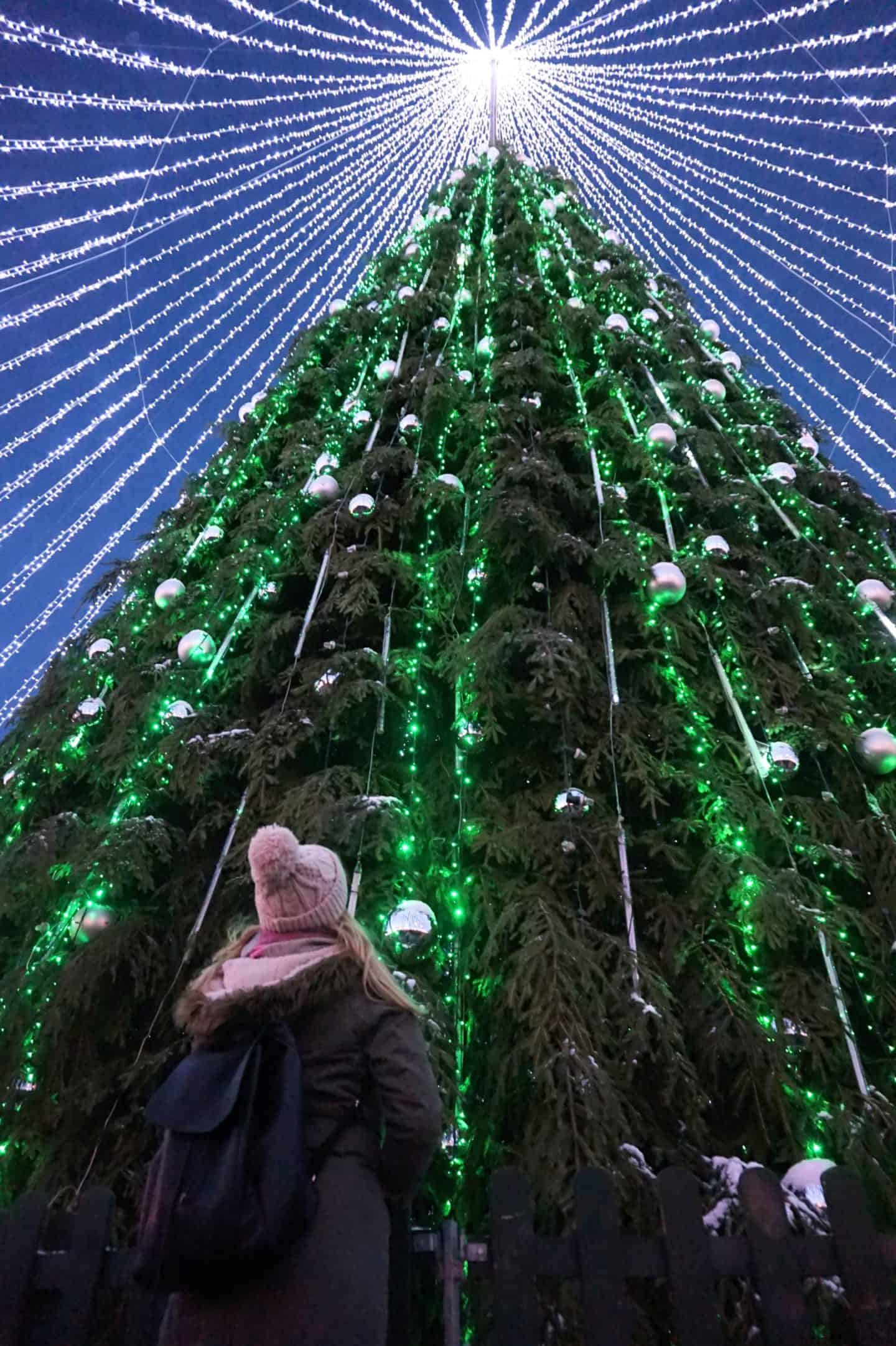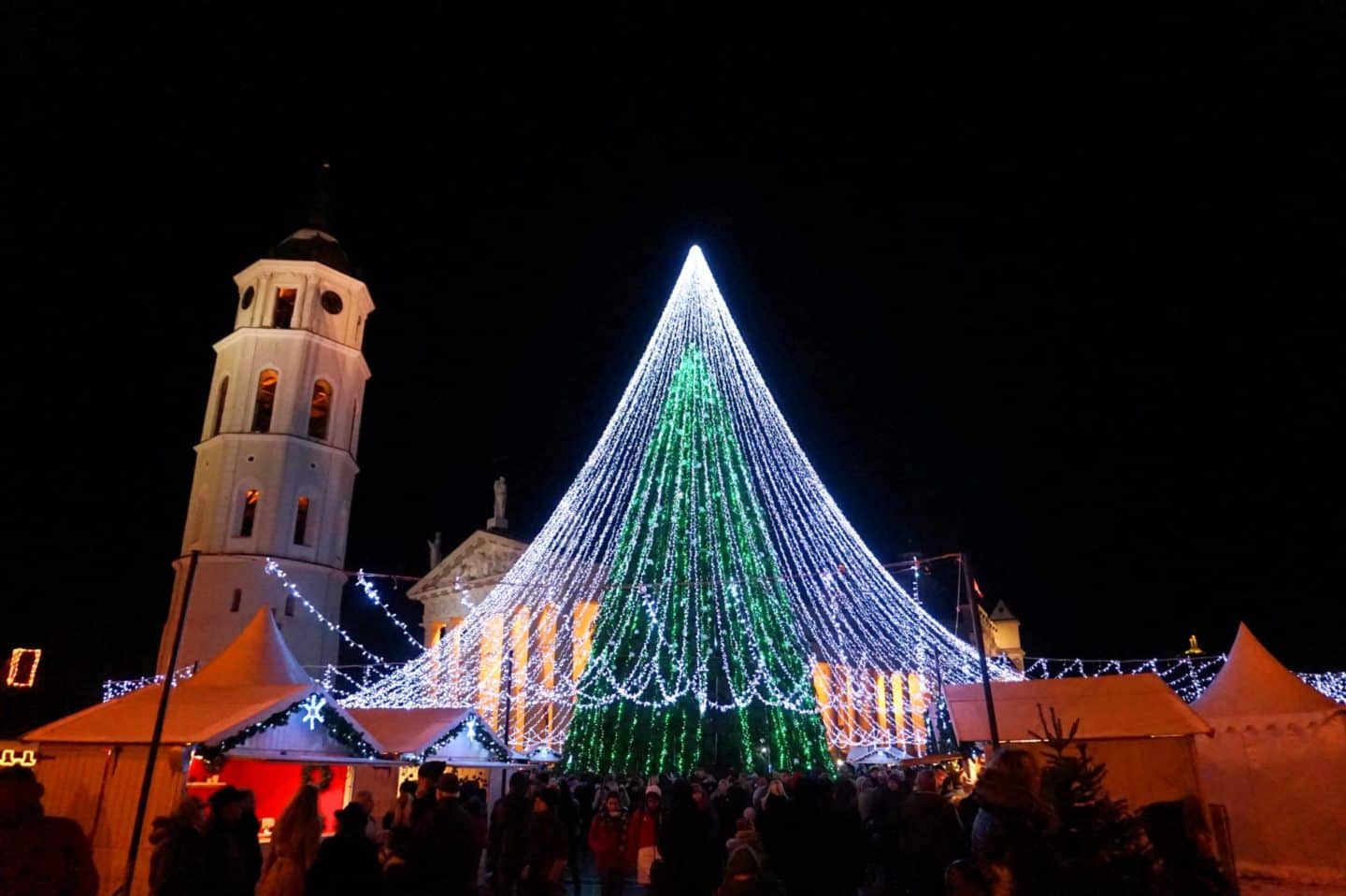 I hope this has inspired you to visit Vilnius in Lithuania at any time of year but especially in December!