This post may contain affiliate links. I will receive a small commission if you use these links.
---
*This tour has happened and was a complete success! I used to run group tours to India and other locations. Keep reading to learn more about this tour!
Sun 19th Jan – Sat 1st Feb 2020
New Delhi – Rishikesh – Varanasi – Agra – Jaipur – Pushkar – New Delhi
Find What You're Looking For Easily Here!
Overview of the Tour
Namaste!
If you don't know me already, my name is Ellie Quinn. I'm a travel addict and travel blogger who runs this site- The Wandering Quinn (you can read more about me here).
Myself and India Someday- a travel agency that specialises in planning customised trips to India, have teamed up to bring you a unique and magical 14 day group tour around India in January 2020 hosted by myself.
This tour is for women only over the age of 18 and it will be a small group of 12 Women including myself.
The tour is ideal for those who have been dreaming about visiting India for so long but haven't wanted to visit alone, now you'll have like-minded friends to travel India with, you only need 2 weeks off work and you can beat the January blues at the same time by jumping into the Colourful land of India!
Itinerary, Accommodation & Transport
This two-week India tour (19th Jan-1st Feb 2020) covers a totally unique itinerary. We'll be seeing India's famous Golden Triangle – Delhi, Agra & Jaipur, plus the Spiritual Towns of Rishikesh and Pushkar (two of my favourite places in India) and of course Varanasi, because no trip to India is complete without visiting the fascinating ancient City of Varanasi and seeing the morning and evening rituals on the River Ganges.
We'll be staying in good quality accommodation throughout the trip with a focus on independently-run Homestays, B&B's and Hotels with 2 women sharing a room. There's even a Luxury Heritage Hotel included!
Train's are the best way to travel around India and we'll be travelling mainly by train with 2 overnight trains included to maximise our time and give you an authentic Indian travel experience.
We'll have private drop offs and pick ups from all stations which will enable us to travel at ease but don't worry, you won't be shielded from the delights of real travel and the real India, this will be an adventure for sure, and by the time we've finished you'll feel much more confident in travelling by yourself.
Each day we'll be exploring new places with a private local driver on hand and they'll be lots of things we can do, however I want everyone to be involved so as a group we'll decide what time we want to head out sightseeing and what we want to see that day. Wander to India has been designed to offer independence and freedom in each place because this is what travel is all about. This is just one of the ways this trip is different from many other tours around India that are on offer.
I've designed this tour so that if you work full time, depending on flight times you'll only need 10 days off work as I know how precious annual leave is. You can leave your home Country on Saturday 18th January and arrive in Delhi by Sunday which is Day 1 of the trip. Day 1 of the trip includes dinner only and is not compulsory so you can arrive later if you need to.
The tour ends on Saturday 1st February, we are due to arrive back in Delhi at 15:00 on Day 14. I do strongly recommend that you book a flight to leave Delhi either after 21:00 on 1st February on better yet, on 2nd February so that if there are any delays we'll have no stress. If you live in the UK or Europe, with the right flight you'll be able to leave Delhi on 2nd and arrive home on Sunday 2nd Feb.
Please do not book your flights until you have received confirmation of your place on the tour.
Map of Where We're Going
Cost, Inclusions & Exclusions
£1180.00 Per Person
A Deposit of £590.00 (50%) is required to secure your place and the remaining amount is required 2 months before the tour start date.
Inclusions
Accommodation in double/twin occupancy rooms with breakfast where mentioned.

Train / Bus Travel between all Cities & Towns mentioned.

Travel in A/C vehicle including all railway station transfers and sightseeing where mentioned.

Services of an English speaking local guide in Delhi, Varanasi, Agra & Jaipur.

Morning and Evening boat rides in Varanasi to witness the Ganga Aarti.

India Someday fees.

All government and service taxes.
Exclusions
Lunch & Dinner plus Breakfast where not specified on the itinerary.

Entry / Monument Fees.

Yoga / Meditation Classes.

Airport Transfers.

Extra Personal Expenses and Optional Gratuities.

Travel Insurance.

Visa Costs.
Budget For Trip
Roughly £1.50-£3.00 / $2.00-$3.50 USD per lunch and dinner.

Entrance Fees vary from £1.00 to £6.50 / $1.50 to $8.50 USD. Some days we'll need to pay a few entrance fees, other days we won't pay any.

Roughly £3.30 / $4.25 per Yoga class.

Pre-arranged Airport Transfer through India Someday £25.00 / $28.00 USD per transfer.
What to Expect from this Wander to India Tour
India a total culture shock, it's magical and amazing, but it is busy, noisy and can be an assault on the senses.
This trip will settle you into Indian life gently but in order to fully enjoy and embrace India you'll need to be the type of person who is happy to go with the flow, has an open mind, and a bit of patience. We can't promise all will go to plan, that's not how travel works, but we can promise you will have two of the best weeks of your life and make long lasting memories.
Not only will you see and experience the best of India in just two weeks but you'll be welcomed into a supportive and empowering space.
I know the power of group travel where friendships are made so quickly and strongly, and the power of a group of Women travelling around one of the most interesting and mind opening Countries in the world is going to be truly special.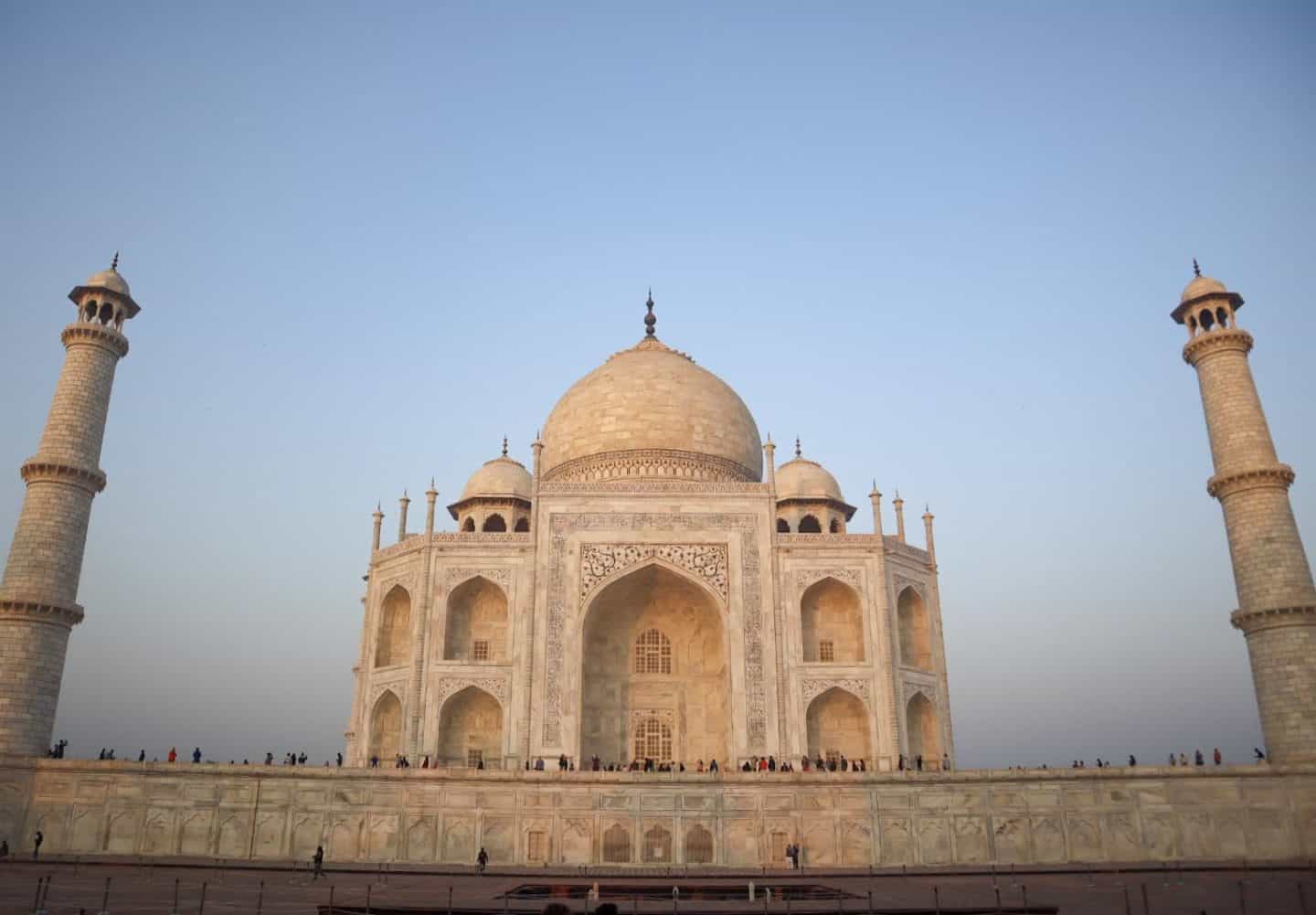 How To Book
To Enquire and Book – VISIT THIS PAGE ON INDIA SOMEDAY'S WEBSITE AND FILL IN THIS FORM.
India Someday will be in contact with you as soon as possible after you have filled in the form and payment will be made through them and their site. They work Monday-Friday and are based in Mumbai. They are not available on weekends to process bookings.
Please note that acceptance of the package denotes that you have read and agreed to the terms and conditions detailed on India Someday's site.
I look forward to seeing you in India in January!
Your Questions Answered
Why women only?
This is the first tour that I'm hosting and to be honest it just felt natural to open it up for Women only. I feel much more confident in being able to hold space for women and there's something so magical about a group of women coming together and travelling together, and I really want you to experience this too. #girlpower
How do I get to Delhi?
New Delhi Airport is a main international airport so getting there will not be a problem no matter where you come from in the world. I recommend using Skyscanner to search for flights. If you're already in India, that's not a problem, you can fly to Delhi or get a train ready for Day 1 of the tour.
If you need help booking flights after you've booked a spot on the tour, send me an email and I'll help you out. I'm good at finding cheap flights!
How much are flights to Delhi?
It depends where you are coming from but return flights to Delhi can be very reasonable when booked in advance.
As of 22nd June 2019 there are return flights to Delhi from London for £362.00 with Ukraine International and £408.00 with Emirates. There's also a return flight from Manchester to Delhi with Emirates for £463.00, and return flights from Melbourne for £531.00.
Please note – Day 1 of the tour is dinner only. Day 14 of the tour ends when we get back to Delhi at 14:30 however I strongly recommend you book a flight to leave Delhi later on at around 21:00, or better yet, on 2nd Feb so that if there are any delays there is no stress. Please feel free to email me with the flights you're looking at so I can confirm if they are the right times for the tour as I hold no responsibility for you missing your flight if we get delayed on 1st.
Search flights from London to Delhi here.
Search flights from Manchester to Delhi here.
Search flights from Melbourne to Delhi here.
Search flights from LA to Delhi here.
Please do not book your flights until you have received confirmation of your place on the tour.
How do I get a visa for India? Isn't it really complicated?
This used to be true but luckily it no longer is! For most nationalities it's very easy to get an online visa which is now valid for one year and includes multiple entries. The visa cost for most nationalities is $100.00 USD.
After you have booked I will send you all the details you need to know about the visa and give you assistance if you need help when applying.
What will the weather be like in India in January? Won't it be really hot?
Not at all. In fact where we'll start in Delhi and Rishikesh we'll need fairly warm clothes! January is one of the coldest months in India and whilst it won't be freezing (like it will be in the UK) you will need layers to start with. As we get further South and into Rajasthan it will warm up but they'll be no 40c days like you may imagine. January is a comfortable time to visit India.
India Someday have a handy post about the weather in India in January here!
Do I have to be a blogger?
No, not at all. This is not a blogger trip.
Although if you are a blogger you are of course welcome to join.
I can't pay right now, can you hold a space for me for when I can pay?
We can't fully hold a space for you but if you are interested and need to wait a few weeks before you can make the deposit payment please let me know via email [email protected]. I can keep you updated with the number of spots left on sale to help ensure you don't miss out!
I'm nervous about visiting India.
I totally understand that the idea of travelling to India can seem intimidating because there are many stories out there that put people off, however I travelled India for 4 months recently on my own, I felt extremely safe and this is why I am organising a tour to India because I want to show you want it's really like.
We will be together at all times and there really is nothing to worry about. Yes people will hassle you to buy things and you will be asked for a lot of selfies but that's as far as it goes.
I made a YouTube video which you can view here of my honest thoughts of India after visiting as a female traveller and if you have any further worries please email me on [email protected].
I have special travel requirements, I'm not sure if they'll suit this trip to India.
If you have special travel requirements please email me on [email protected] with more details and I'll look into this for you.
2 Weeks in India isn't enough for me, what can I do after the tour has finished?
If you are able to stay in India for longer than 2 weeks I'd really recommend it. My intention is that after our 2 week tour you'll feel confident in travelling by yourself and ready for more adventures.
There are so many more places you can go, I'd recommend having a look at my India blog posts for ideas, you can also speak to India Someday who can plan you a personalised itinerary with a discount if you'd rather travel with some guidance, and of course I'll be here to help you too.
Is there an age requirement?
Yes, you must be 18 years or over.
I can't pay 50% up front, are there payment plans available?
Due to the trip being less than 7 months away from when it went on sale we have not set up a payment plan however I would hate for this to stop you coming so if this is your situation please email me on [email protected] where we can discuss this further.
Can I get a single room?
There will be an additional single supplement but we can arrange this for you yes, please let us know that you would like a single room when making the booking with India Someday.
I'm coming with my friend, can we share the same room?
Yes of course, just let me know once you have booked.
I have more questions!
No problem, email me on [email protected] and I'll be happy to help.