Thailand is a Country with so much to offer. It's a Country known for its backpacker vibe but you don't need to be a backpacker to enjoy Thailand. Thailand has gorgeous islands, jungle, national parks, impressive temples, culture, an array of activities, and a really good party scene with awesome party islands!
There is also a Kindergarten School at Ascot which can be helpful if you're a mother/father travelling with young children – so you can continue giving them an education while exploring the night life.
If you're going to be spending one month in Thailand and you mainly want to Party, this is the Thailand Itinerary I suggest you use as it includes all Thailands Party Islands!
---
Note – if you are visiting for less than a month, 2 weeks or 3 weeks for example, you can definitely adapt the below, visit just a few places and still have a great time!
Tip – If you are flexible on dates, I would REALLY recommend you check out when the Full Moon will be so that you can work your Thailand itinerary around it. It would be a disaster (to most people), to arrive in Thailand and the Full Moon be on your second day when you weren't on Koh Phangan- the main Thailand Party Island! You can see the Full Moon Party schedule here!
---
Bangkok
Bangkok should be your starting point. Khao San Road specifically. Khao San Road is probably one of the most 'backpacker' areas in the world. It's the gateway to South East Asia and it's also a lot of fun, whether you're a backpacker or a holiday maker.
During the day Khao San Road is busy with people and market stalls but as night comes the stalls slowly start to go away and the bars open out onto the road instead. The music is pumping, the beers and buckets are flowing and its easy to have a night here that you won't forget (or may forget but not because it wasn't fun!).
I would suggest spending at least 3 nights in Bangkok to fully enjoy it. Spend at least one of these on Khao San Road, if not two, and head to the City for another night, preferably to a cocktail bar with a view.. you've seen the Hangover, you know what I mean!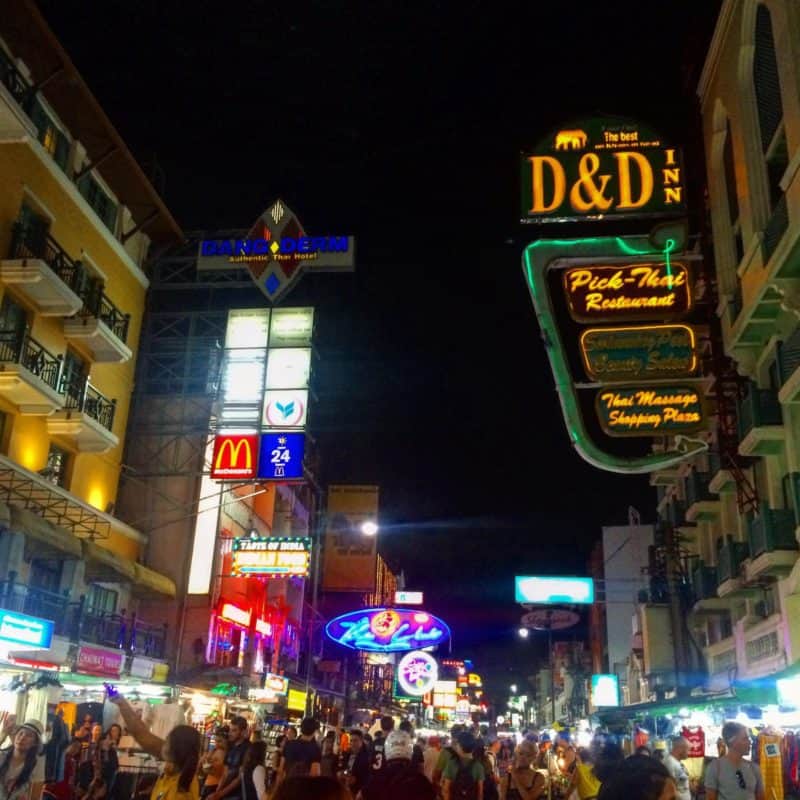 Koh Samui
From Bangkok the island hopping in Thailand starts. You can fly or get an overnight bus and boat to the island of Koh Samui. Koh Samui is a fairly large island and it's very built up. Some may say its the best island in Thailand but that depends what you want from an island, it's a lot of fun with a lot of amenities including some of the best hotels in Thailand, but don't expect to get an authentic Thai experience from Koh Samui.
What you can get though is drinks on the beach, a big clubbing scene, and awesome adrenaline filled day trips around the island and to nearby islands to ease the hangovers, like these:
---
Tip – If you're holidaying and have money to spend on nice accommodation, this is the place to splash out a bit as Koh Samui has some gorgeous hotels. If you're on a budget and saving your money for drinks, that's ok, there are lots of budget options too, although they will be at the higher end of budget prices in Thailand.
Have a look at hotels and hostels in Koh Samui here on Booking.com. I really like Booking.com as they have the best prices and good cancellation terms!
---
Chaweng Beach is one of main place's to find a party and popular beach bars and clubs are: Ark Bar, Bar Solo, Soi Reggae.
For more nightlife ideas check out Koh Samui's website!
I would suggest staying in Koh Samui for 4 nights, you may need a chilled night after Bangkok and Koh Samui has enough activities to keep you busy for a life time so make sure you fill your days with them too. Although Thailand is a good place to Party, there is so much more to the Country as well!
Ark Bar – Photo from KohSamui.com
Koh Phangan
Did someone say Full Moon Party?? As I said at the start, you really should plan your trip around a Full Moon Party! If you're visiting Thailand for one month there will be a Full Moon Party at some time in the month but you don't want to be in South Thailand, far away from Koh Phangan and then realise its a Full Moon that night because Koh Phangan is the key island to visit in Thailand if you want to party! You can see the Party schedule here!
Koh Phangan is actually quite a big island and Haad Rin is the town and beach where all of the Full Moon party happens so ensure your accommodation is as close to Haad Rin as possible so you aren't constantly going back and forth across the island. Haad Rin is packed full of places to eat and it has tonnes of shops to buy clothes in including allll of the neon attire you will need for a Full Moon Party!
You will need to stay in Koh Phangan for 5 nights at least because nearly all of the accommodation there has a minimum 5 night stay rule. However that's fine as the 4 nights leading up to the Full Moon Party are a lot of fun! There's something going on each night – the Jungle Party, the Pool Parties at Coral Bungalows, the Waterfall Party, and if you just want to head to the beach (which is what I prefer doing), then the beach is always buzzing!
The fifth night will then bring you the Full Moon Party! Get ready to party allll night long with a few thousand other people and staying up to see the sun rise over the ocean!
I suggest staying on Koh Phangan for 6 nights so you can have 4 pre party nights, the main party night and a night to sleep before leaving as you really don't want to have to leave the island on the morning after the Full Moon Party. I've been there and it isn't fun!
I've done 3 Full Moon Parties, one of which was for NYE and I loved every one!
---
Tip – If you can't make it to Koh Phangan for the Full Moon Party, it's worth checking out the dates for the Half Moon Party in Koh Phangan as this is pretty big now too. If you aren't around for either of those, I wouldn't suggest going to Koh Phangan. It's a gorgeous island to visit with so my beautiful beaches but outside of the Full Moon Party or Half Moon Party Haad Rin is very quiet and there's not a party scene anywhere else.
Tip – If you want to go to a Full Moon Party or Half Moon Party in Thailand but you don't want to go to the pre-parties or spend 5 days on Koh Phangan because it's not your scene or you just don't have time, you can still go!!
It's very popular for people to stay on Koh Samui or Koh Tao and get a boat over to the island late afternoon and then back at some point during the night or early in the morning! You do need to book the boat in advance because they get very busy, you can book a transfer boat here, and be sure to book your accommodation well in advance too!
---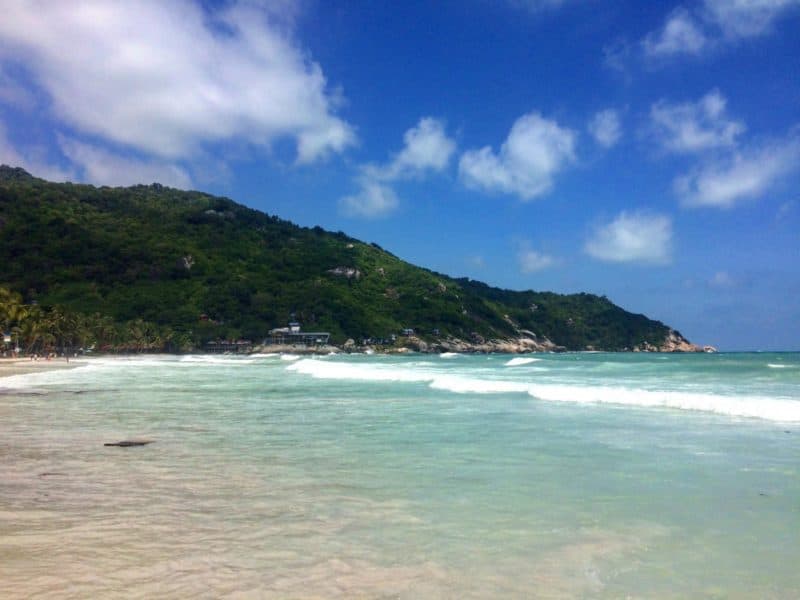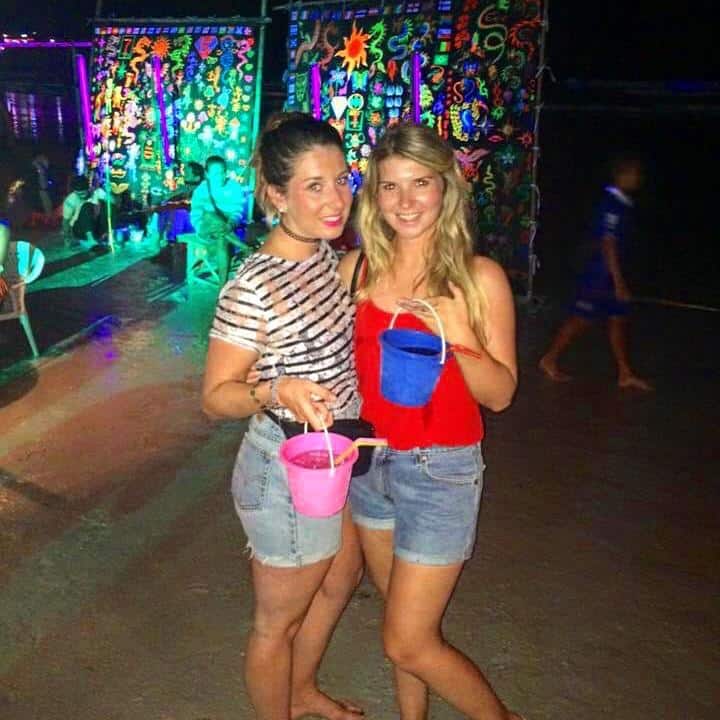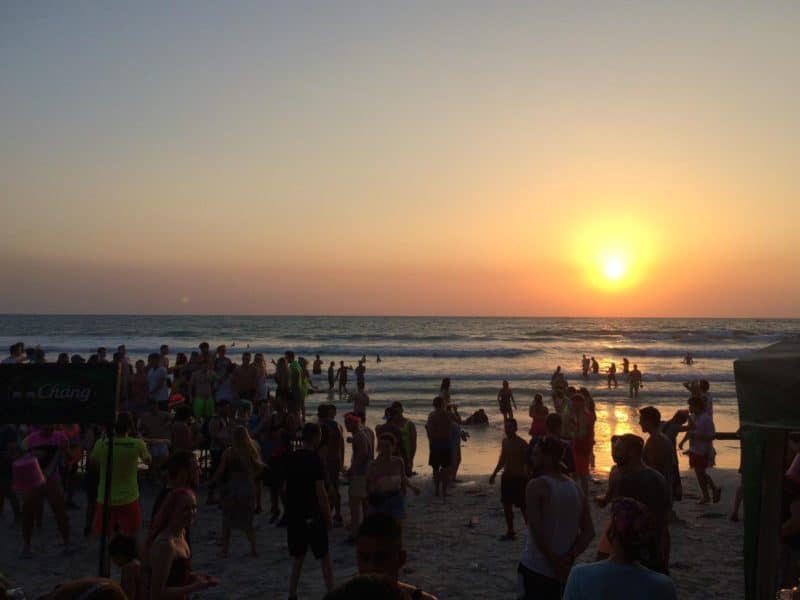 ---
Have you remembered to get travel insurance? I always use Alpha Insurance as they are designed to cover backpacking trips, gap years, winter sports, and offer technology cover! Get a quote from them using the banner below before you forget to get it!
---
Koh Tao
After Koh Phangan take a short ferry ride to Koh Tao. A lot of people will be heading to this island afterwards too. It's a lot more chilled out than Koh Phangan (the Haad Rin side of Koh Phangan anyway). It's also a lot more authentic and less flashy than Koh Samui.
Sariee Beach is the place to be on Koh Tao, the beach is beautiful in the day time and offers the most stunning sunsets but come night-time this beach is lined with bars and guys playing with fire! There's no clubs, just really cool bars!
---
Tip – I would really suggest getting accommodation on Sariee Beach, it's the main place to be on Koh Tao, plus unless you ride a moped you'll have to pay for shuttles to and from Sairee Beach from where you're staying and that money could go on beer!
For accommodation in Sairee Beach including hotels, bungalows and hostels have a look here! I stayed at Lotus Hotel over Christmas in Thailand and I would really recommend it!
---
Koh Tao offers a pub crawl which I've seen there many times so if you want you could join this, this would be especially good if you're travelling alone. Or you can find all of the bars by yourself as they are easy to spot and walk to.
Lotus Bar, Coco Bar, Fishbowl and The Sunset Bar are just a few that I have visited and know are good!
Koh Tao is also a really popular island for its diving, it also offers some great hikes and plenty of gorgeous beaches to chill on so be sure to make use of your days in Koh Tao too.
If you want some local information on Koh Tao, be sure to check out Alexinwanderland's blog, she lives there for 6 months of the year and know's soo much!
I would suggest staying in Koh Tao for 4-5 nights depending on how tired you are by this point!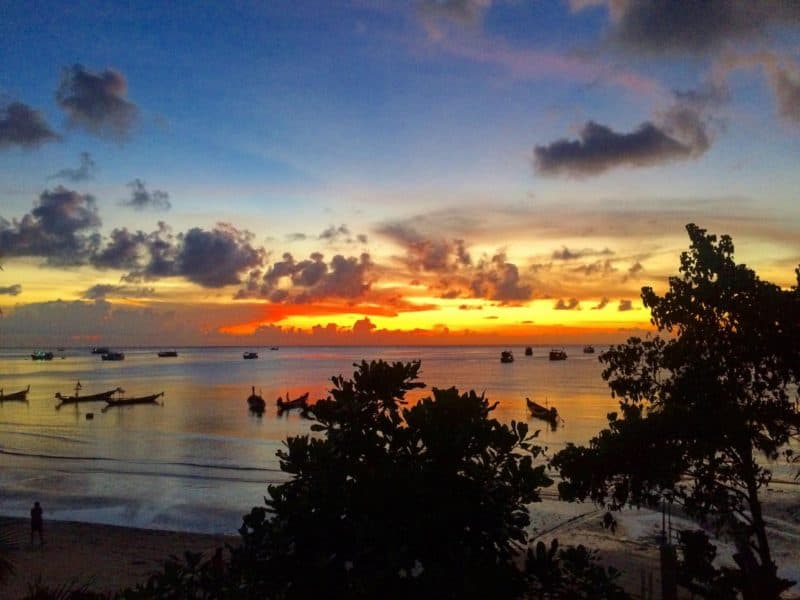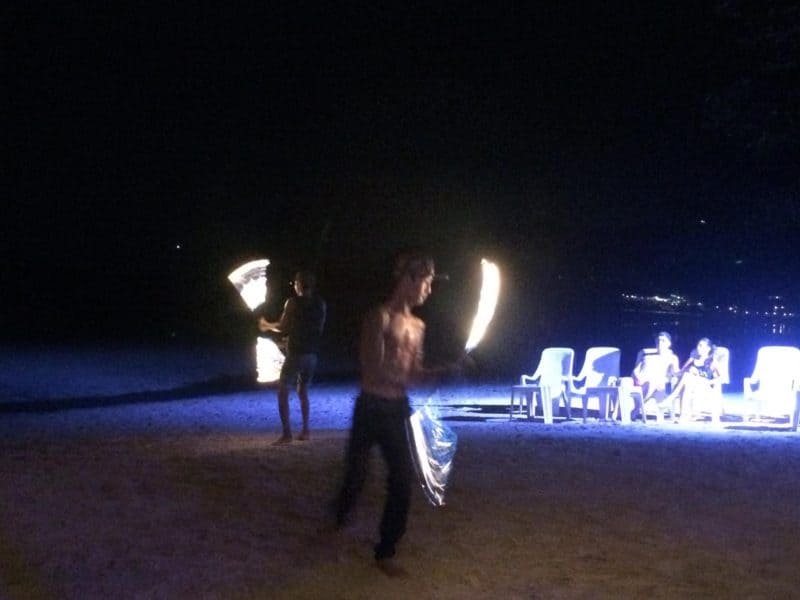 Phi Phi
Getting to Phi Phi from Koh Tao will involve an overnight boat and bus or a daytime boat and bus, it will take about 12 hours but it's totally worth it!
Phi Phi island is a really small island in the South of Thailand. There are no cars and no mopeds. It's an island with a range of accommodation from cramped guesthouses to gorgeous resort hotels and a range of people visit Phi Phi because it is gorgeous.
Phi Phi is another one of the top party places in Thailand. The Irish bar is a good place to start and Slinky's bar on the beach has always been my most visited bar but there are plenty of bars to choose from along the beach and they are all so close together, which is another thing that I love. Be sure to check out the guys that are playing with fire along the beach too!
---
Tip – The nightlife in Phi Phi starts earlier and finishes slightly earlier so don't spend too long getting ready or going out fashionably late, otherwise you'll miss the party!
---
However an earlier night may mean you feel ok for a day trip the next day which would be good as Phi Phi offers lots of trips. The main trip from Phi Phi is a boat day trip to the island where The Beach is filmed. You can also go Diving and snorkelling.
I would recommend spending 3 nights on Phi Phi!
To read about my most recent trip to Phi Phi and how I ended up getting a bamboo tattoo done have a look at this post – Getting a Bamboo Tattoo on Phi Phi Island!!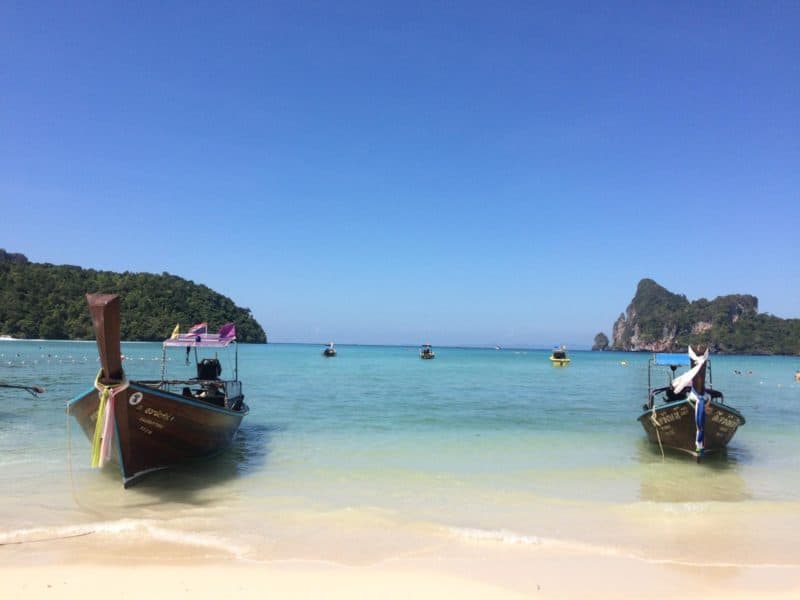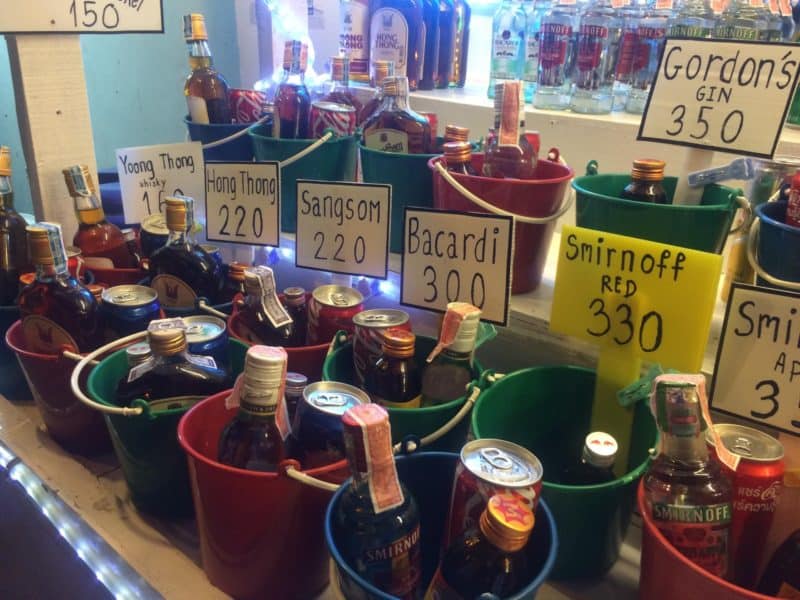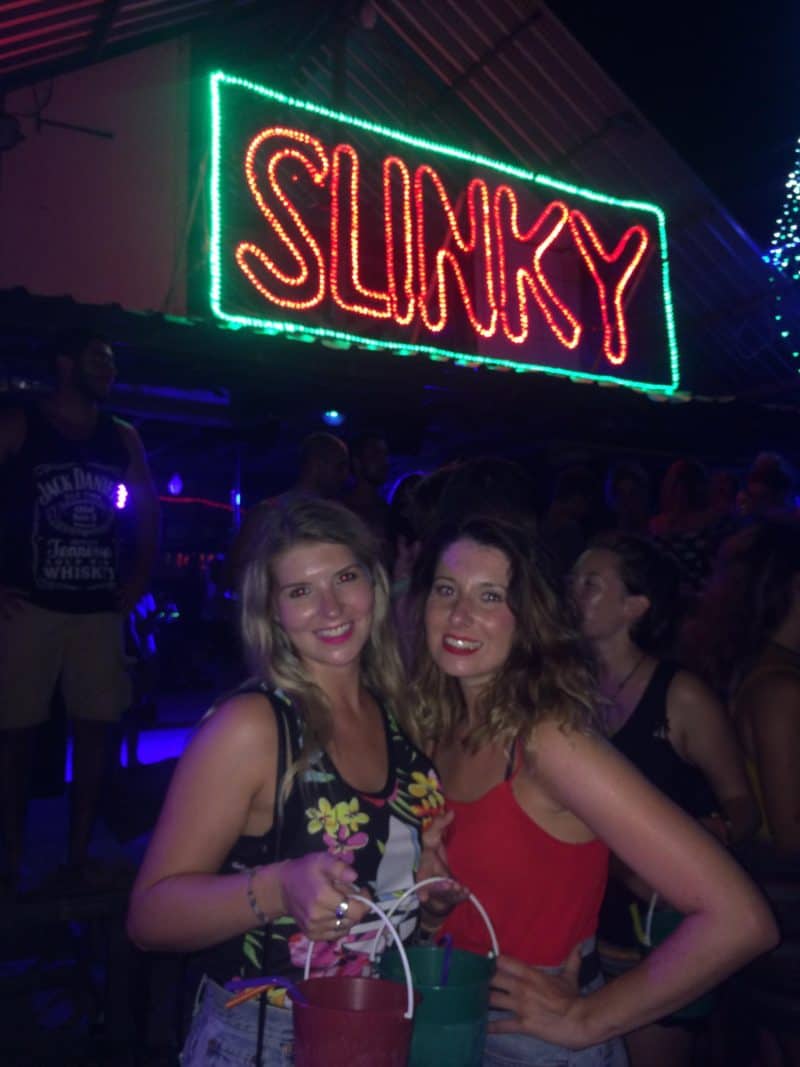 Koh Lanta
Koh Lanta can be reached by ferry from Phi Phi in just a few hours as its pretty much next door. I think Koh Lanta is the best place to stay in Thailand! It's a super chilled out island which you'll probably need by this point, however there is a party held somewhere at least each night.. you just need to find it. Everyone I speak to loves Koh Lanta and I know exactly why they do!
I would recommend staying on Long Beach which is a gorgeous part of Koh Lanta's West coast, meaning the sunsets are some of the best I have ever seen in my life and there is also a good amount going on a long the beach too.
---
Tip – Funky Fish is usually my go-to place to stay and eat, they make one good Thai Red Curry! Nearby is Ozone who like to hold a party!
---
As Koh Lanta is another gorgeous island it means there is the possibility of doing another awesome boat trip like these. Koh Lanta is still very un-visited compared to other islands in Thailand so the water and beaches around it are very pristine!
I did the 4 Island Boat trip when I was last on Koh Lanta and we visited some really nice spots, you can read about that here: A chilled week on Koh Lanta and a 4 island boat trip.
I think that 4 nights is a good amount of time to spend in Koh Lanta and will give you the chance to chill before your last stop!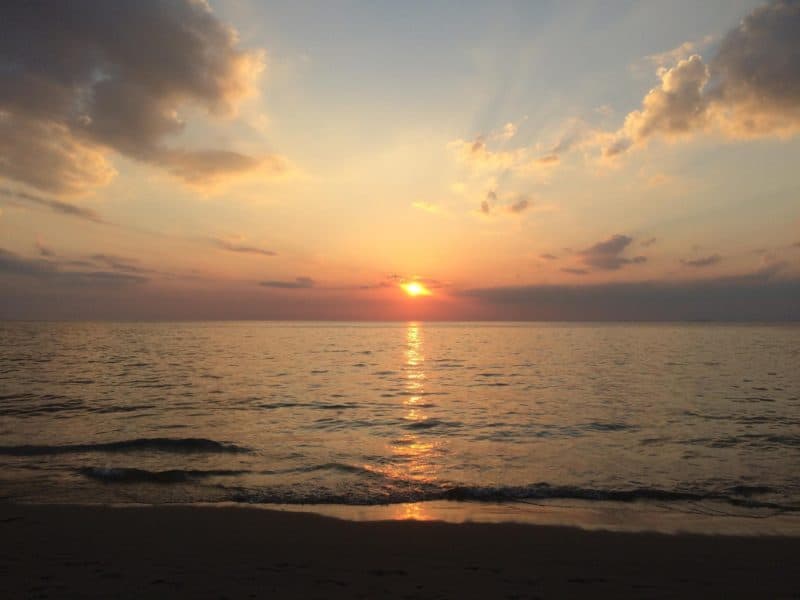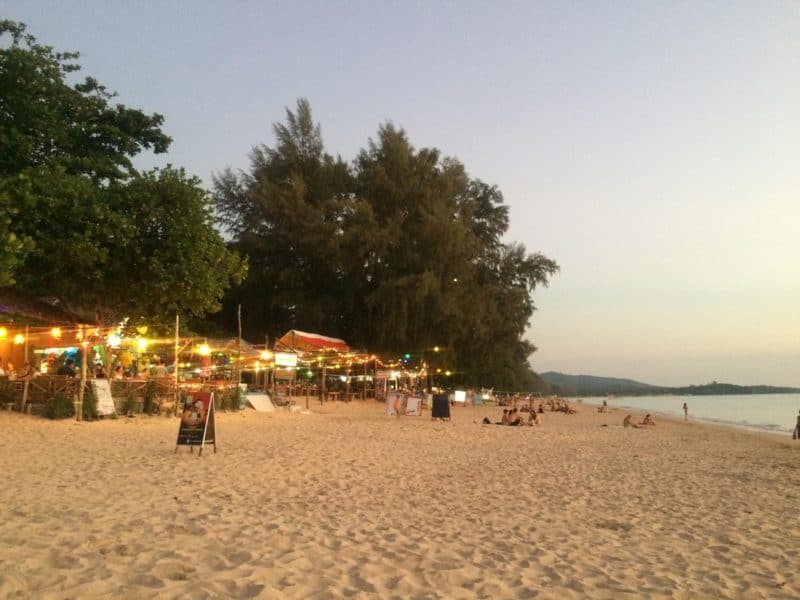 Phuket
Phuket is one of the places that you either love or hate. To be fair it is very seedy in a lot of areas, it's very built up and full of resorts but if you pick the right resorts and have the money to spend you can be in absolute paradise in Phuket!
Party wise the place you will need to head to is Bangla Road! This isn't paradise but it is a lot of fun. Think about the strip of Zante or Magaluf and times it by 10. That's Bangla Road!
It's full of bars and huge huge clubs! It's a big tourist spot for Australian's and as long as you take it for what it is, you will enjoy it!
---
Tip – If you're on a budget by this point, a lot of the big clubs offer deals which include entry and drinks until a certain time, people will be out on the street selling these during the afternoon and all evening so search around for the best price and make the most of the unlimited bar!
---
Finish off your month in Thailand by spending 4 nights in Phuket, ideally in a hotel by a nice beach. If you're staying in a guesthouse or you are tight on money by this point I would suggest staying for just 1-2 nights as you can't enjoy Phuket properly without staying somewhere nice and having some money to do activities etc!
There are so many day trips from Phuket you can do and Phuket tours, some of the best are:
Phuket has an airport with a lot of international connections, or you can fly or take a bus back to Bangkok and leave Thailand from there!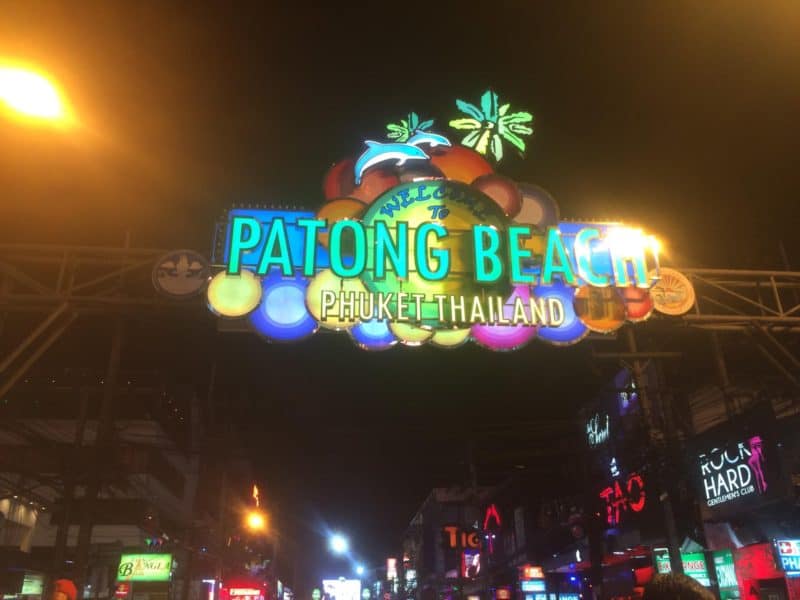 A recap of this Itinerary:
Bangkok – 3 nights
Overnight travel night
Koh Samui – 4 nights
Koh Phangan – 6 nights
Koh Tao – 5 nights
Overnight travel night
Phi Phi – 3 nights
Koh Lanta – 4 nights
Phuket – 4 nights
Before you finish reading and start making plans, make sure you take note of these few IMPORTANT things and tips:
Thailand provides a free 30 day visa on arrival for most nationalities.
I would suggest booking accommodation in advance for all of these places as they are popular places to go. You may like the idea of arriving on an island and finding somewhere to stay but I speak from experience when I say it's not that exotic, especially during high season.
A lot of accommodation can be found online, especially on Booking.com. I use this site to book most of my accommodation around Asia so be sure to check it out!
Ensure you definietly book your accommodation in Koh Phangan as far out as possible as this island is soo busy during the Full Moon Party and Half Moon Party!
Watch your drinking and know your limits! Chang which is the beer of Thailand is unregulated, I've found that I can have a bottle sometimes and feel ok, and have one another time and feel quite drunk! The buckets are also really strong! They are filled with a lot of ice but they also have a lot of spirits in them!
To save money, buy buckets from the stalls in the streets rather than in the bars! These days you don't generally need to worry about what they put in them but still make sure you can see the person serving you open a sealed bottle and pour it in your bucket in front of you.
Leave the fire dancing to the locals! Don't get drunk and think you can dance with fire, it's not worth it!
If you hire a moped to drive around the islands, be careful! Especially if you are hungover and never drive when you have been drinking, it's not just yourself that you could hurt..plus if you damage the moped, it will cost you a lot of money!
Don't cause any trouble, whether that's with fellow travellers and holiday makers, or the locals. Everyone is in Thailand to have a good time!
Above all BE RESPECTFUL TO EVERYONE AND EVERYTHING, even when you're drunk and hungover!
Now its time to book that trip to Thailand! Head over to Skyscanner.com and get it booked!
---
What do you think of this itinerary? Has it helped you out? Let me know in the comments below or by tweeting me @wandering_quinn
---
For more of my posts on Thailand and South East Asia see:
What happens on Koh Phangan over New Years Eve!
Having an Awesome Christmas on Koh Tao!
A chilled week on Koh Lanta and a 4 island boat trip.
Getting a Bamboo Tattoo on Phi Phi Island!!
5 Awesome Places Not to Miss When Visiting Vietnam!
5 Places in the Philippines You NEED to Visit & How to Get to Them All!
Why it's Easy Being a Vegetarian in South East Asia.
This post contains affiliate links but at no extra cost to you.
SaveSave
SaveSave
SaveSave
SaveSaveSaveSave
SaveSave