Ios is an island within the Cycladic Islands of Greece alongside the likes of Mykonos and Santorini. It's known for being a party island and popular with people in their 20's, especially Australians, Brits and Irish. I went to Ios as part of my Travel Talk Tour around Greece (we also visited Athens, Mykonos and Santorini) and although I hadn't even heard of Ios before going, I loved it! We stayed in a great hotel – Hermes Hotel, we chilled on the beach, we experienced the nightlife involving lots of shots and dancing, we saw the sunset from the top of the island and I felt totally chilled and like I was on holiday in Ios.
Although Ios is party island there is so much more to it and it's not an island that has been ruined by party goers either. Ios attracts internationals not just for 1 week holidays but to work there throughout the summer too and I really think this helps create the friendly, fun and laidback vibe that Ios has. The town is beautiful, the beaches and water are pristine, and the drinks are pretty cheap! What more could you want!?
If you're going to Ios soon or thinking about it, here is my guide to Ios including things to do in Ios, places to party in Ios, hotels to stay at in Ios and of course, how to get to Ios and leave (although I warn you now that you might not want to leave!)
---
Before we get into it, if you want to SEE my time in Ios, have a look at my YouTube Video:
---
How To Get To Ios
The island of Ios doesn't have an airport which is probably why it has stayed as it is and hasn't become as popular as some of the other Greek islands. I always say that if a place is hard to get to, it'll probably be worth it and extra special when you get there and that's definitely the case with Ios.
Therefore you will need to fly into Athens or Santorini. Athens will probably be cheaper, even once you add a ferry cost on but have a look at flights to compare on Skyscanner or the Skyscanner app here!
I was in Santorini before so we jumped on a boat that took about 1 hour to Ios. When I left Ios I took a boat straight to Athens which was only about 6 hours and it was a really easy and good journey.
There are lots of websites you can book boat tickets on, as I was on a tour I didn't book any of the boats myself but Go Ferry looks like a good site.
I'd recommend pre-booking a boat in high season however a number of people on our tour (that didn't have the boat included) booked a boat back to Athens the day before they left so it is possible to book a boat in the town and at the port too.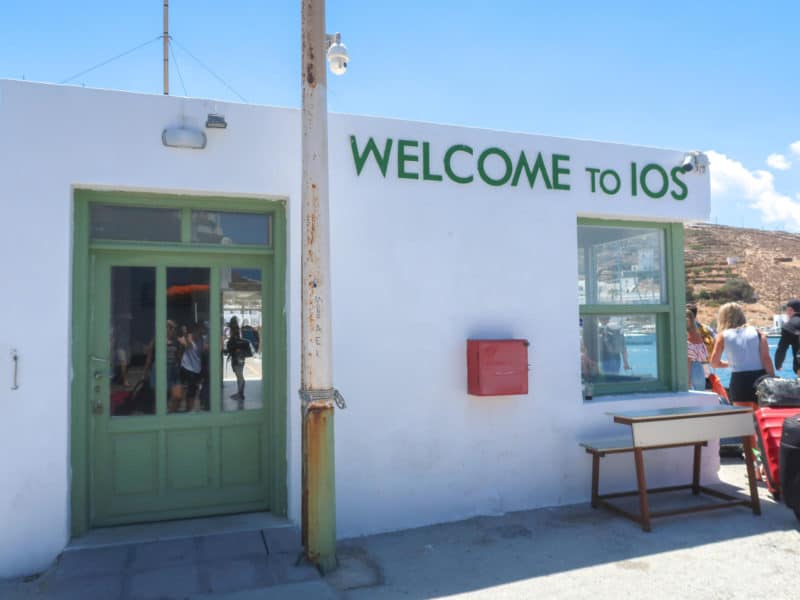 Where To Stay In Ios
There's a few popular areas to stay in Ios, you can stay in the town, along Mylopotas Beach- one of the longest stretches of sand beach in Greece, or between the town and Mylopotas Beach.
There are other area's to stay on the island but if you want to be pretty centrally located one of these three will be best.
There's a lot of accommodation on offer which you can view here on Booking.com, however 2 places I would really recommendation to stay in Ios are:
If you're on a budget, this is a great option. It's at a budget price but it's not budget at all! We stayed at Hermes whilst on our Travel Talk Tour and it was such a good spot. It's between Mylopotas beach and the town, making both really accessible by just a 10 minute walk (and a 15 minute walk on the way back from the beach as it is a steep hill!)
The view out onto the ocean from Hermes Hotel incredible! There's a swimming pool that's been decorated really well with loads of loungers and cushions, plus a pool bar selling food and the best daiquiri's in town, or so we heard. The rooms are not high-tech but they're clean and comfy and all that is needed. The staff here nice and the owner in particular is great!
Hermes Hotel does book up fast though. They told me at the start of this summer they are already quite booked up for next summer so make sure to check prices and availability for them here!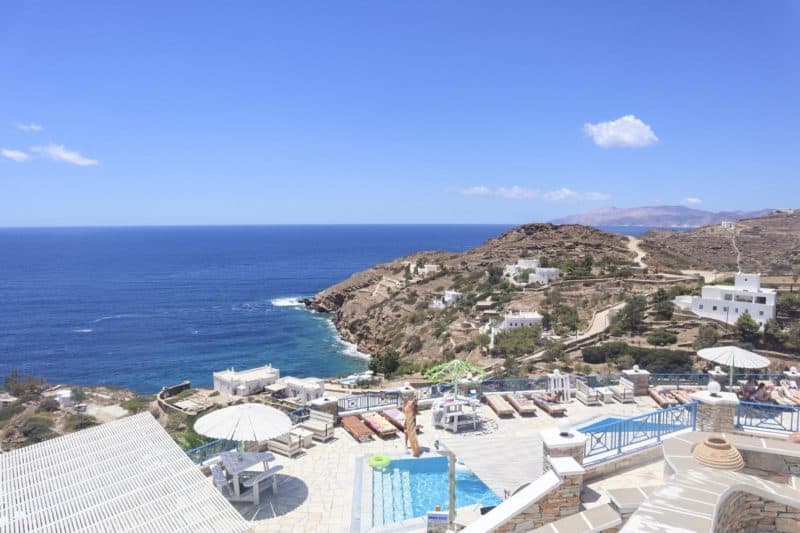 Far Out Village is a hotel resort right on Mylopotas Beach and it's really cool! It has a huge swimming pool with plenty of sunbeds, a really good restaurant which we had lunch in, its well known for its wood fire pizza's and they are really good! It has a young but not too young vibe and is a great place if you're on holiday and want to splash out a bit more on accommodation, food and drink. It's also home to Far Out Beach Club so be prepared to party if you stay there!
Although it seems quite far from the town and it is a good 20-30 minute walk there is a regular hotel bus that runs to and from the town to the beach so it isn't a problem getting there and back. After a night out you'll need to get a taxi back or walk but it's all downhill so not so much of a problem!
I can imagine that Far Out Beach Club and Village books out quickly too so check out prices and availability here!
What To Do In Ios?
Water Sports are a popular thing to do. Mylopotas Beach has a few different water sports shops on it offering everything you can imagine from boat trips, to windsurfing, to paddle boarding, to jetskis, and tubing which some people in our group did and it looked so fun! Also if book tubing with Meltemi Watersports which is located right on the beach and you stay on the tube and don't come off they will give you your money back and your photo will go on their board of fame out on the beach!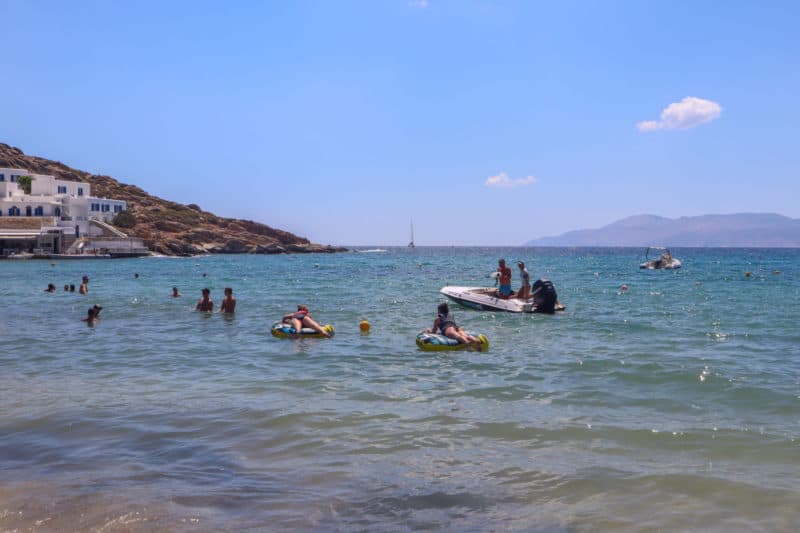 Obviously relaxing on the beach is a good one. We only visited Mylopotas Beach in Ios but as I said its one of Greece's longest sand beaches so there's plenty of space, lots of loungers available and beach space to sunbathe on if you don't want to pay for a sunbed.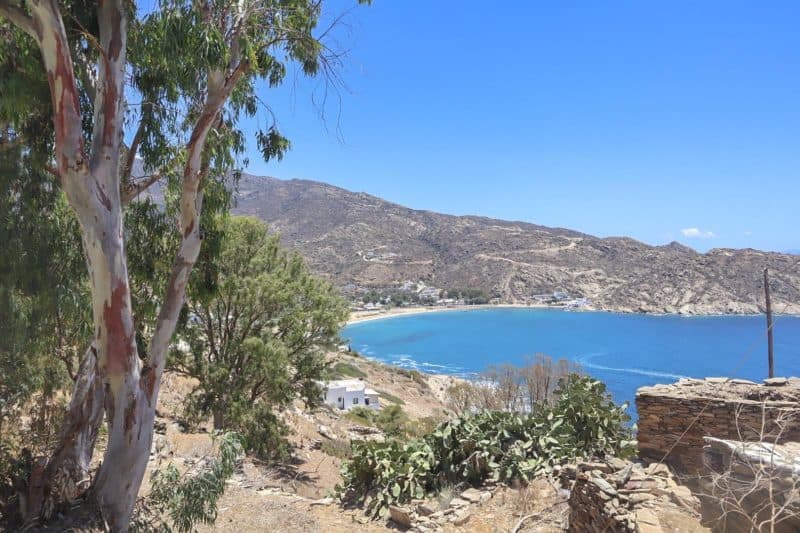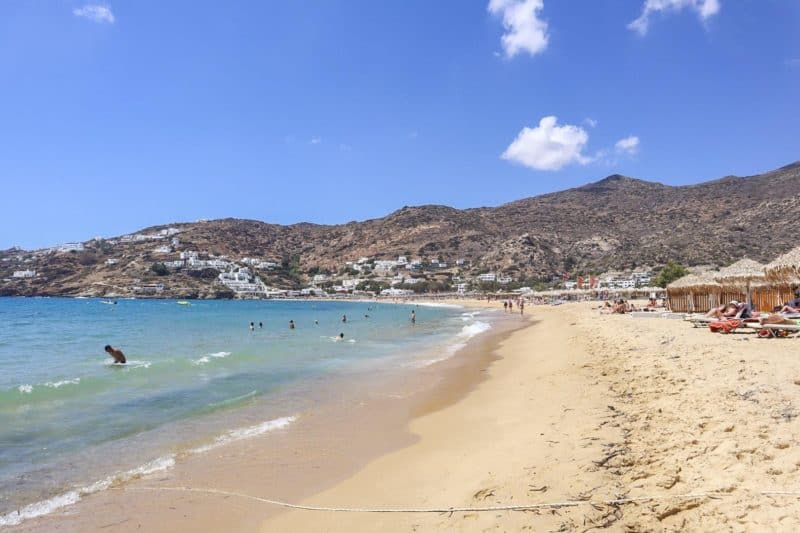 I really liked the main town of Ios so I would definitely suggest giving yourself time to explore the town during the day. It has so many little, windy streets full of restaurants, bars and shops and the streets aren't busy like they are on other islands. There's so many opportunities to walk down small and really quiet residential streets too and imagine what it would be like to live there as a local!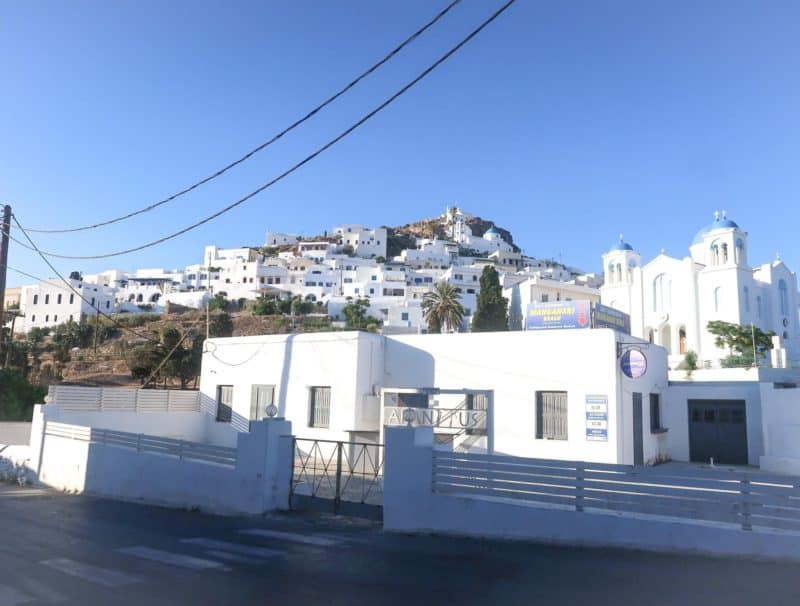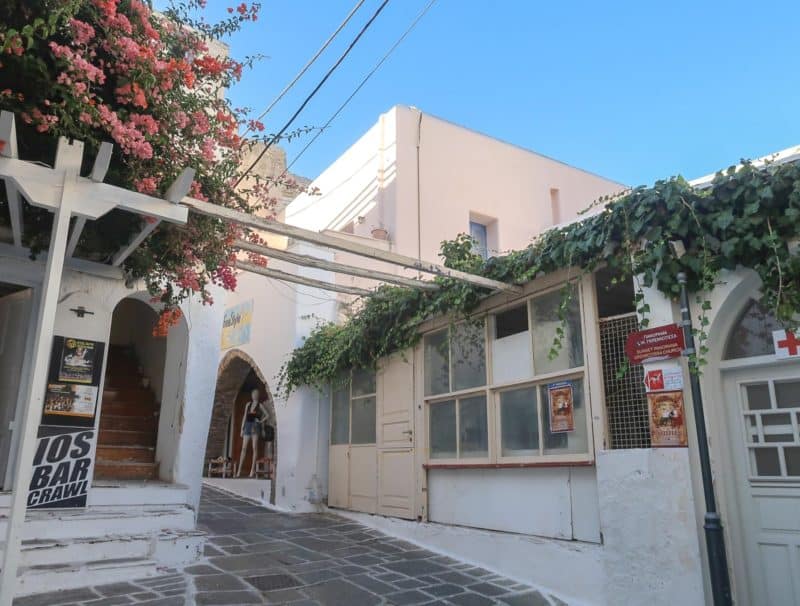 On our second evening in Ios we walked through the town and up the hill to watch the sunset and it was amazing! The sunset point and top of the hill is signposted when in the town, it's a bit steep but not too bad and the view is well worth it. We weren't the only ones up there and it is a popular thing to do in Ios now but it was by no means too busy and it wasn't like watching a packed sunset in Santorini. Just be sure to get there a bit earlier to get a good spot and take some beers.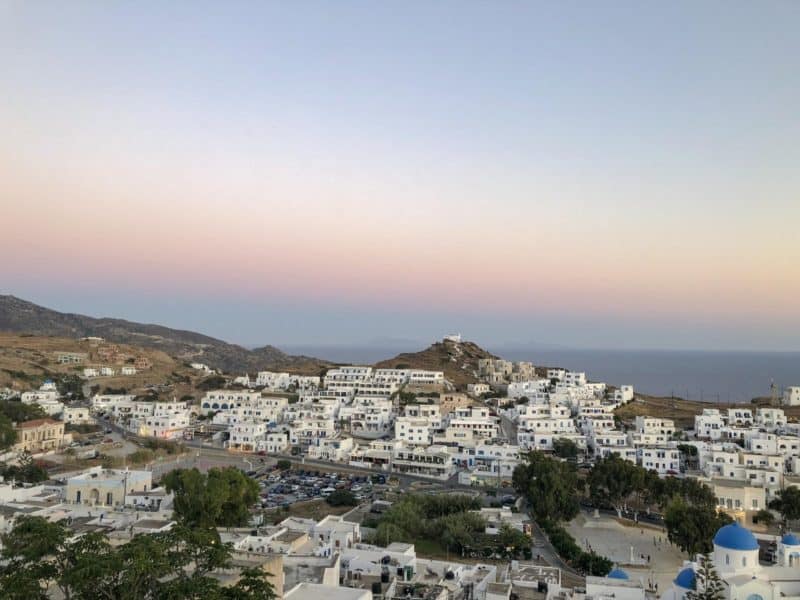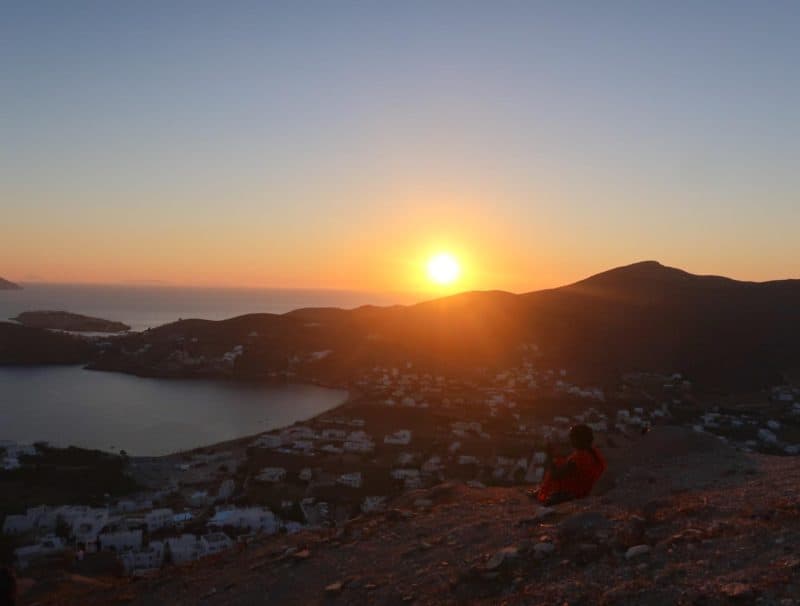 Renting a quad bike / ATV in Ios is pretty common and a good way to see the island, places like Homer's Tomb in Plakato and Agia Theodoti beach seem like good places to visit! Of course, be careful. I didn't rent a quad bike in Ios but I did in Santorini and I can imagine that my tips for hiring a quad bike in Santorini will apply in Ios so you can read that post here.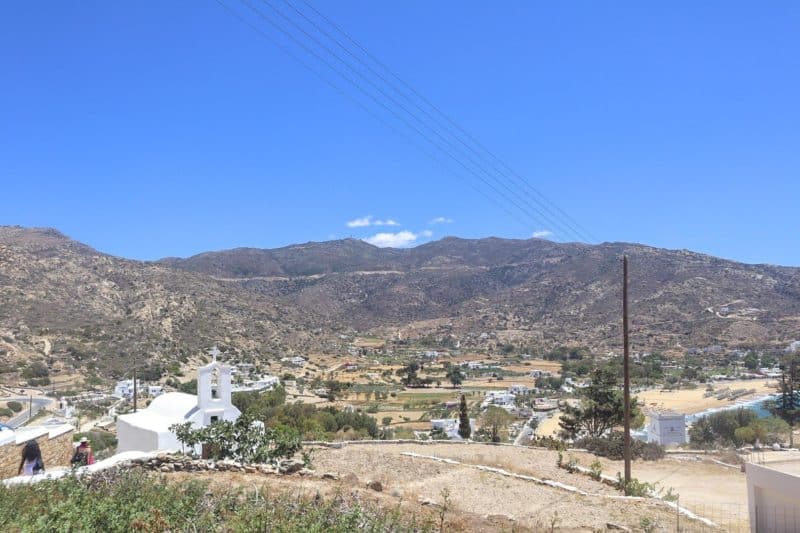 Finally, one of the best things to do in Ios, Greece is to party! I was kind of expecting a strip of bars and clubs like the popular party island of Zante but Ios is totally different from Zante (thankfully as I didn't want to relive my holiday at 19 years old there!). All of its bars and clubs are within the town and within all of it's small windy streets which actually enables you to see a good amount of the town on a night out!
Where To Party In Ios?
There are so many bars and clubs in Ios and they're all really easy to spot and visit but here are the ones that we went to, I enjoyed (from what I can remember) and I would recommend:
Fun Pub – start here and be ready to play beer pong!
Soho – go here early on for really cheap drinks and shots!
Flames – get your face painted with UV paint here!
Coo Bar – get up on the ledge and dance here!
Slammer – order a shot here, put a helmet on and get hit over the head with a board or hammer before you can drink it (no really, check out my YouTube video!)
Bank – enjoy some 80's music here!
Lost Boys –  do the singlet challenge here- buy 7 shots, get 1 singlet for free??
Far Out Beach Club – head here for a beach party!

How To Get Around Ios?
Hiring a quad bike, ATV, moped or buggy is possible, however for day-to-day getting around, Ios has a really good bus system linking Mylopotas Beach to Ios Town and other areas of the island, it runs until pretty late at night and a ticket is only €1.80 no matter how far you travel!
---
I hope this post helps you plan your trip to Ios, Greece! I'd love to know when you're going because I would go back in a heartbeat! 
Let me know in the comments below or by tweeting me @wandering_quinn!
---
If you like the look of doing a tour around Greece which includes Ios and pre-made friends to party with, I 100% recommend the Athens + 3 Island Explorer tour with Travel Talk Tours! I absolutely loved it! Have a look at Travel Talk Tours Website here to check rates and availability and other tours that they offer!
---
To SEE my time in Ios, have a look at my YouTube Video:
---
I saved all of my Instagram Stories from when I was in Ios in my Greece highlights on my Instagram Profile. If you want to SEE my trip quickly, have a look at my Instagram – @thewanderingquinn!
---
More of my Greece posts:
8 Things You Should Know About Athens To Make You Want To Visit & Help Plan Your Trip!
Visiting Paradise Beach in Mykonos For a Beach Party!
Quad Biking Around Santorini – 6 Places to Visit, Tips & A Map!
How To Visit Santorini On A Budget, Because It Can Be Done!
The Best Way To See Greece – Travel Talk Tours Athens + 3 Island Tour!
I went to Greece on a press trip with Travel Talk Tours but all opinions and thoughts are my own. This posts also contains affiliate links but at no extra cost to you, I just get a small commission for recommending them to you if you book.