This post may contain affiliate links. I will receive a small commission if you use these links.
---
Paris is one of the most visited and romanticised cities in the world, surely it must cost a lot to visit Paris? Well, I'm here to tell you that it doesn't have to cost a lot to visit Paris and Paris can be visited on a budget, I've done it twice!
Of course, you can easily spend a lot of money in Paris too, but if you're happy to eat cheap meals, use the metro and walk to get about, and not enter as many attractions, you can visit Paris on a budget and spend 3 days in Paris on a budget like I did!
Here is an outline of what I did on my first trip to Paris, whilst spending 3 days in Paris and what I spent.
Paris on a Budget
---
I spent 4 nights and 3 days in Paris and spent just less than £200.
---
Cost of Accommodation in Paris
Without a doubt, the main chunk of that was what I spent on accommodation. I stayed at St Christopher's Canal Hostel. I paid €153/ £110 for 4 nights in a 6-bed dorm room which was a good price compared to some other hostels I had seen online and I would highly recommend the hostel after staying there. It had a large bar area downstairs which good priced food and drink and upstairs it was more like a budget hotel with long corridors and lots of rooms with plenty of space and cool cabin type beds.
---
---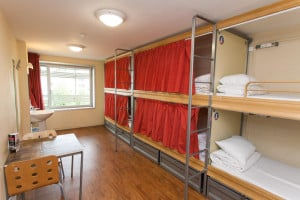 Book St Christopher's Inn Canal Hostel Here!
Cost of Transport in Paris
Another main cost was transport from Beauvais Airport where Ryan Air flies into, into to the city cost €17/£12 one way. To get to Charles de Gaulle airport where I flew from, from the city cost €10/ £7 on the metro. For transport around the city, I brought a 3-day metro travel card for €25/ £18.
This was my first tourist mistake; firstly I then used the ticket late in the evening to get me to the hostel station which meant 1 of 3 days of the ticket was no gone! (I should have just brought a one-way ticket for this and then started it the following morning) and secondly, although I had to use the metro at least twice a day to get to and from my hostel into the city I didn't use it much between this as I preferred walking and a one-way ticket is €1.70/ £1.20 so for the 11-12 times I used the metro it would have come to less than the 3-day pass… anyway lesson learnt!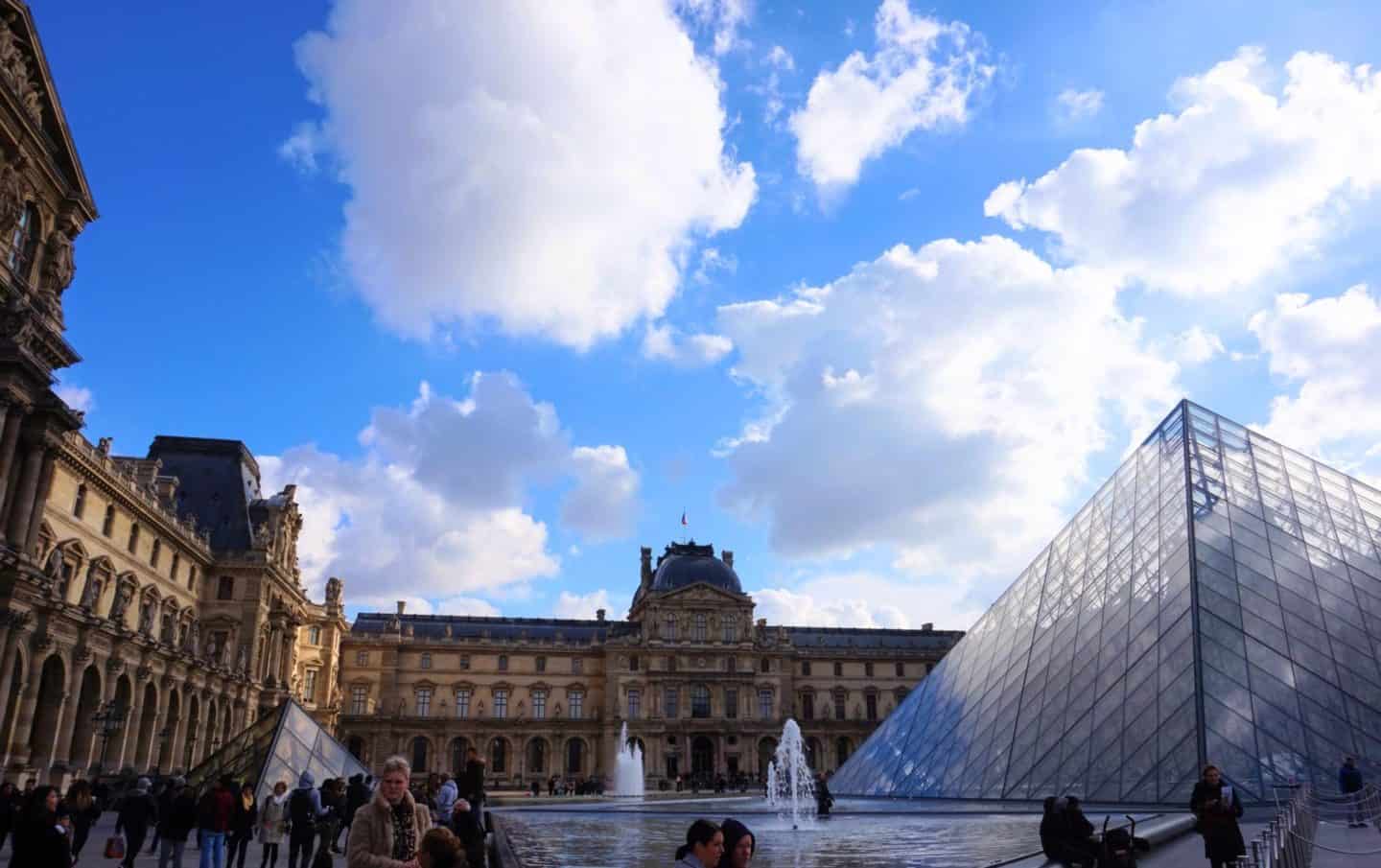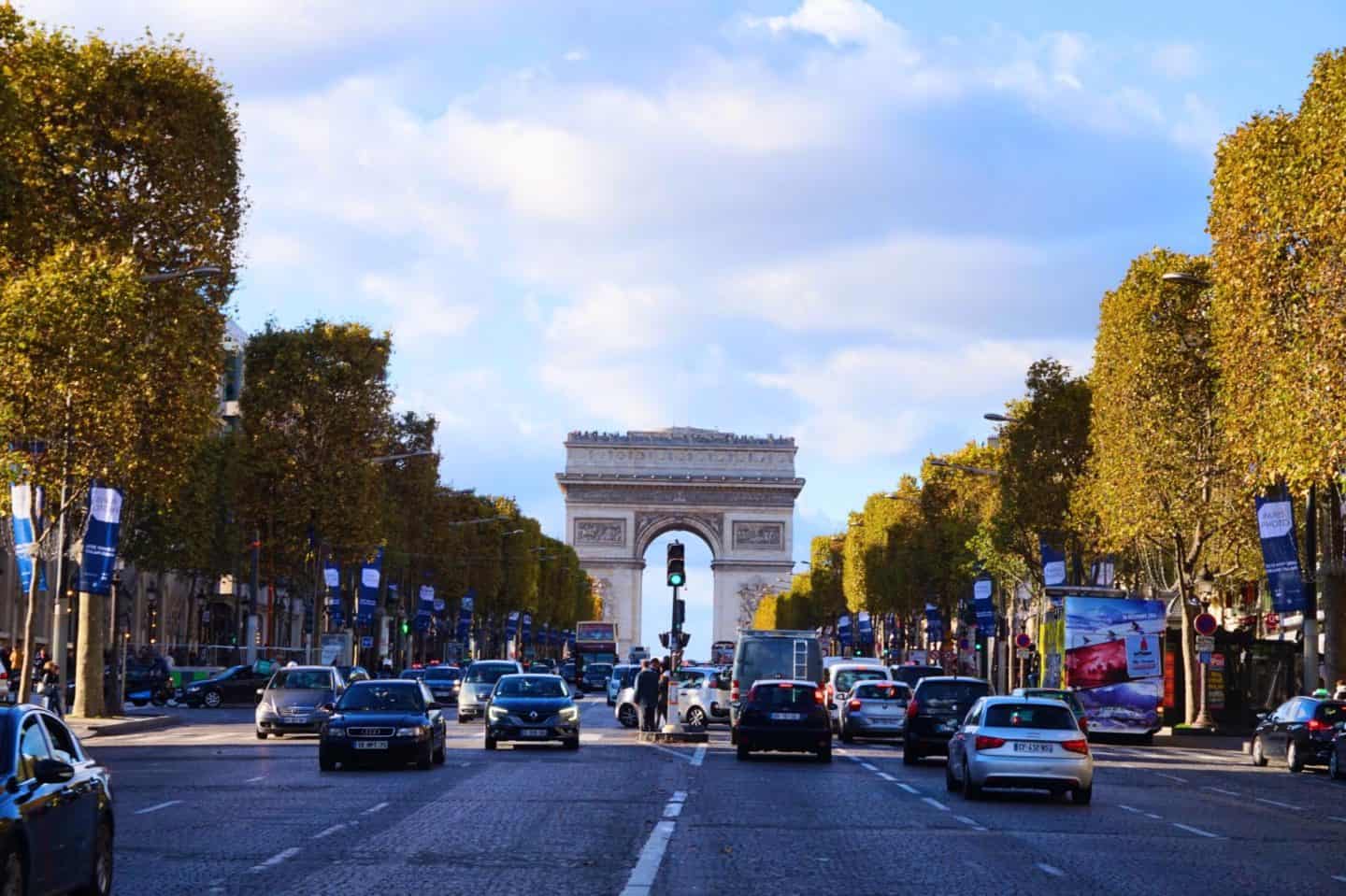 Cost of Attractions in Paris on a Budget
I started my first day at the Louvre and because I got there at about 9 am it was still quite quiet. Even though it would have been good to go in I didn't want to pay (and queue) to do so so some money was saved here.
I then walked through the Louvre gardens, along Champs Elysees where I got some lunch from Marks and Spencer's (cheap but good food) and to see Arc De Triomphe, because I wanted to make use of my metro pass I took the metro straight to the Eiffel Tower and what a sight it is!
As much as it would have been good to go up the Eiffel Tower I figured because I was on my own I wouldn't have anyone to take a decent photo of me up there anyway and the queue was SO huge every time I went that I didn't want to stand in there alone when I could be seeing the city so I opted to leave it.. money saved!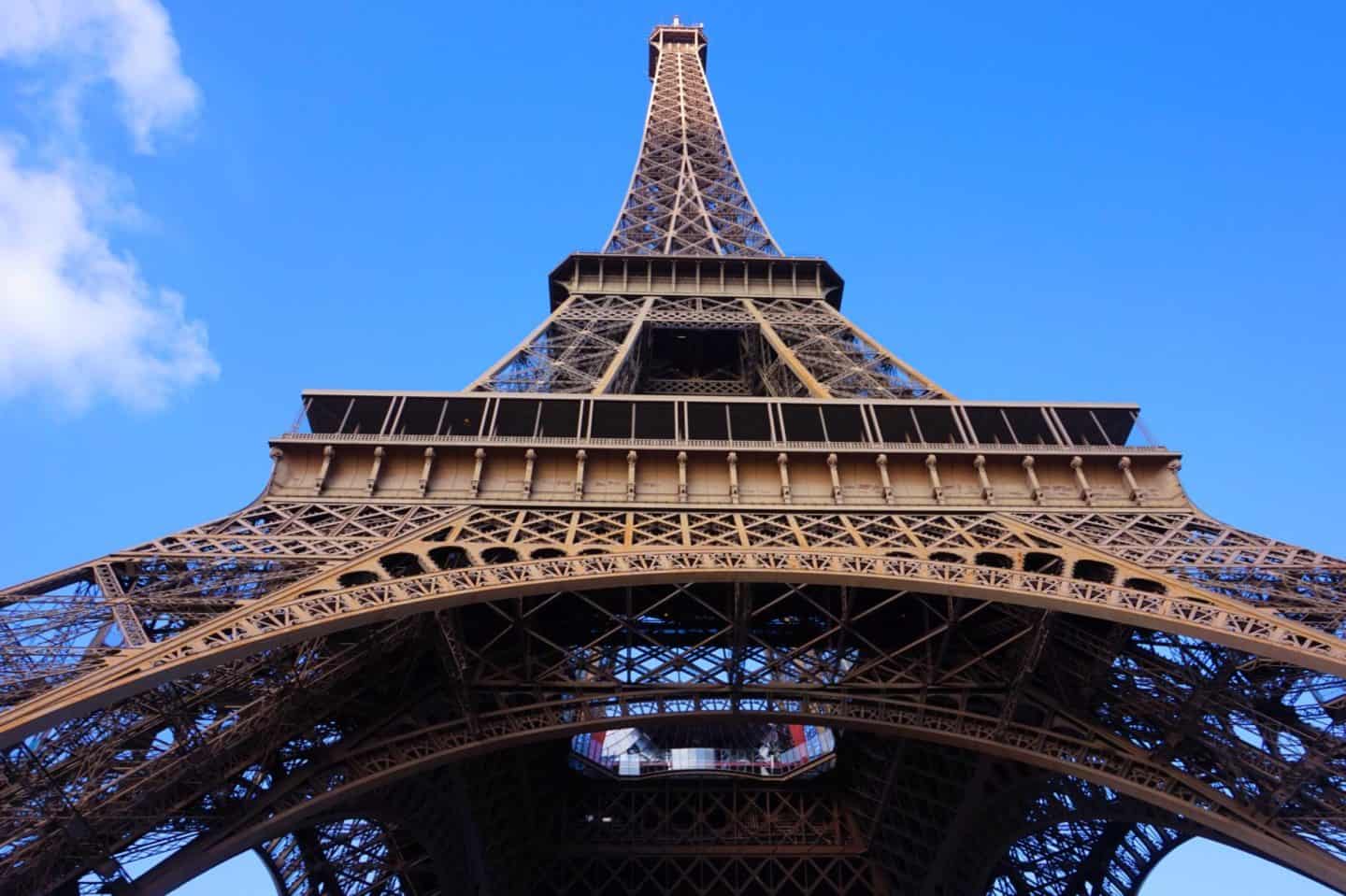 Cost of Food in Paris on a Budget
I left the Eiffel Tower and decided to walk aimlessly to see more of the city and figured if I got lost I could always jump on the metro which is really easy to navigate. I ended up back by the River and in the Latin Quarter, it was very touristy here with lots of restaurants but here I grabbed a pastry for €1.20/80p which was a great cheap, local snack!
After more walking around I headed back to the hostel where I got cheap budget dinner and rested my feet before going back into the city to see the Eiffel Tower at night. I visited in June and although the light nights are great it meant I literally ended up waiting until about 10:00 pm for it to get dark but when it did it was so amazing to see the Eiffel Tower lit up and it did its light show.
My second day in Paris was HOT- it got up to 32° !! So I started the day in Luxembourg Gardens which were so pretty, people were just sat out in the sun reading a book and relaxing so this is what I did for a good hour or so too after walking through the Gardens and a free activity.
Afterwards, I went to the Montmartre District which is north of the river and quite far from many of the other attractions. I started at Sacre Coeur Basilica where I had lunch that I'd got from a shop and then walked to the top which had a good (and free) view of Paris, unfortunately, the Eiffel Tower isn't in the view but that was fine.
I then walked through the neighbourhood marvelling at all the lovely buildings until I got to the Moulin Rouge. Once i was there I remembered hearing that it wasn't in a great area, the street leading to it is just full of clubs and sex shops. The Moulin Rouge definitely didn't look that great in the day time and I'm sure looks better and more iconic at night but because it wasn't getting dark until so late I don't think I would have liked being there at 10:30 at night on my own anyway.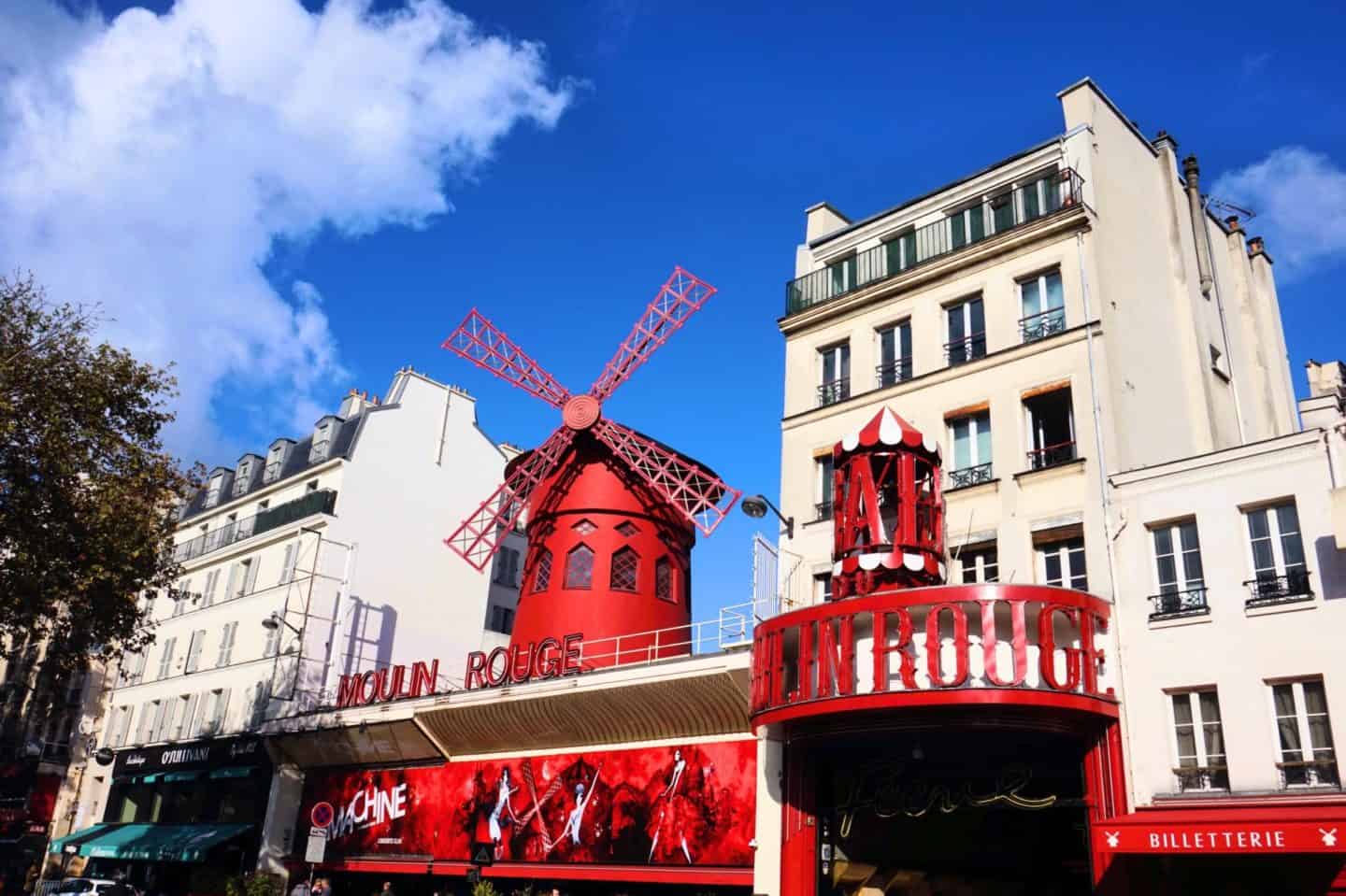 Later in the day it started raining so I went back to the hostel and stayed in during the evening. This was a great day for spending because one again I just spent money on food!
On my last day, I wanted to go back to the places I'd loved seeing on the first two days. I headed straight to the Eiffel Tower but first I had a walk along some of the streets around it to get some lunch and I brought a baguette and macaroons from a bakery for only €8.00/£5.50 which was a cheap, local and delicious lunch. Because it was a lovely sunny day again I once again sat and had lunch in front of the Eiffel Tower and enjoyed the views and sun.
After lunch I walked right along the river to the Notre Dame, stopping along the way to appreciate the river and weather just like the locals were doing on a sunny Saturday afternoon and I ended up at the Notre Dame Cathedral. Originally I had wanted to go to the top as i knew it had a great view and wasn't that expensive at €8.50/ £6 but once again the queue was soo long and right in the sunshine and to add to this once you've paid you to need to climb the 300 odd steps to the top so i left it which was a shame but again money saved! Later on, I headed back to the Louvre to enjoy it as the sun was going down and i noticed it was a lot busier than when I had been there the other morning.
I felt 3 days was enough to see Paris and get a good feel for the city. As you can see I saved a lot of money by not paying for the usual tourist attractions and viewpoints.
Yes, it would have been good to go up the Eiffel Tower, See the Eiffel Tower from another viewpoint and go on a boat cruise but I really didn't feel that I missed out.
If I was to go again with someone for a long weekend trip then I would probably do these things but because I was on my own and this was part of a long trip I didn't feel the need to be one of those tourists spending hours in a queue and paying money just to get a photo that I can see online!
In regards to food, again because I had been travelling Europe for 4 weeks I didn't feel the need to eat in nice restaurants and instead opted for takeout food from cafes and shops which was cheap and filling.. Plus it's a good excuse to eat lots of pastries because they were so cheap!
And Paris just left me thinking.. when can I go back??
---
Did you know that Paris does offer budget-friendly tours and tickets to attractions?? Check out the below options which are not too expensive but would really enhance your trip to Paris!
If you're arriving or leaving Paris by train, be sure to book tickets in advance on
The Train Line
for the best prices!
---
It turns out I went back a few years later and I published these 3 walking guides!
And this post: