This post may contain affiliate links. I will receive a small commission if you use these links.
---
As a tourist to London or even as a local Londoner like myself, walking along the River Thames from Tower Bridge to Knightsbridge is a great London Walk which takes you past many iconic London Sights and London Attractions and should be on your London itinerary!
So this is how I recommend you walk from London Bridge to Knightsbridge, Tower Hill to Knightsbridge and how you work out how to get to Knightsbridge whilst see a lot of London on the way!
London Bridge to Knightsbridge
---
If you're not in London already and need to book train tickets to London, be sure to check out The Train Line. I use them all the time to compare the best train times, journey lengths and prices!
---
Is London Bridge Tower Bridge??
Firstly, I bet you want to do this walk so you can see the big famous Bridge in London right?? A lot of people think this is called London Bridge, but actually it's Tower Bridge!
London Bridge is the next Bridge along the River Thames but it is extremely boring in comparison so on this London Bridge to Knightsbridge walk, remember that you actually want to head to Tower Bridge!
Related Post: If you're reading this but it seems like it might rain when you're in London, have a look at my post on Things To Do in London When it Rains.
Start: London Bridge Tube Station or Tower Hill Tube Station
But saying that, to do this London Bridge to Knightsbridge walk, you will need to start at London Bridge Tube Station or Tower Hill Tube Station and walk to Tower Bridge from either one of these!
It's a good idea to walk over Tower Bridge as the view from the middle over the River Thames is amazing.
You'll be able to spot The Shard in sky, this is Western Europe's tallest Buildings and London's highest viewing platform and worth a visit to see a great view of the city. Get tickets to The Shard viewing platform here!
If you like history, be sure to head into the Tower of London whilst you are so close by! Get skip the queue tickets to the Tower of London here!
---
Talking of London Attractions, now is a great time to tell you about the London Pass!
The London Pass offers access into 80+ of the top London attractions. If you plan on going on the London Eye, taking Boat Trips, going into Tower Bridge and St Pauls Cathedral and even plan on going outside of London to Windsor Castle or Hampton Court Palace, it would be cheaper to buy the London Pass so you save money on entrance fee's and get fast track entry, perfect for if you only have a few days in London!
The London Pass is valid for 2 years once purchased and you can buy a 1, 2, 3, 6 or 10 day pass so you can visit so many of London's best attractions in the cheapest possible way!
Click here to look into the options and to buy your pass now while you're thinking about it!

---
Borough Market
Go to the side of the River Thames where The Shard is and head to Borough Market.
This is one of the top and most famous street food markets in London and is a perfect place to grab a snack, a drink or lunch as it has loads of unique food stall's and is probably on your London bucketlist to see anyway!
Shakespeare's Globe
Head back to the river and the next stop on this London Bridge to Knightsbridge walk is Shakespears Globe!
There are signs along the river which point you in the right direction but basically you keep going straight until you see the white Tudor style building.
You can take a guided tour of Shakespeare's Globe which I'm sure is worthwhile if you're interested but if not it's still good to see from the outside as you walk past on this River Thames walk.
Millennium Bridge
The Millennium Bridge is pretty iconic, its been in a lot of films including Harry Potter, it's completely different to any of the other bridges crossing the Thames and the view of St Pauls Cathedral at the end really finishes it off well.
It's worth walking along the bridge and to St Paul's as it's a really beautiful Cathedral.
If you are a Harry Potter fan there are lots of Harry Potter Tours you can do in London
London Eye
After a bit more walking along the River Thames you'll start to see the London Eye peering out of the top of the trees.
There's usually a lot of things happening around the London Eye like food truck stalls, games, performers and singers! This is your walk from Tower Bridge to the London Eye completed, but to see more of London and get from London Bridge to Knightsbridge, you have a bit further to go!
Going on the London Eye is an amazing experience to get the best view of London and the River Thames. Get fast track tickets to the London Eye here!
Big Ben and Houses of Parliament
You'll also be able to see the famous building of the Houses and Parliament and Big Ben from the London Eye so continue walking to those!
Buckingham Palace
Now, depending on how good your feet are feeling you can either jump on the tube at the Westminster station taking the Jubilee Line North to Green Park Station or you can walk to the next stop of Buckingham Palace on this London Bridge to Knightsbridge journey!
Buckingham Palace gets very busy with tourists around it but that's to be expected, so take a picture outside, try to see an iconic London guard and then head off around the corner up Constitution Hill (don't worry it's actually very flat!) towards Knightsbridge!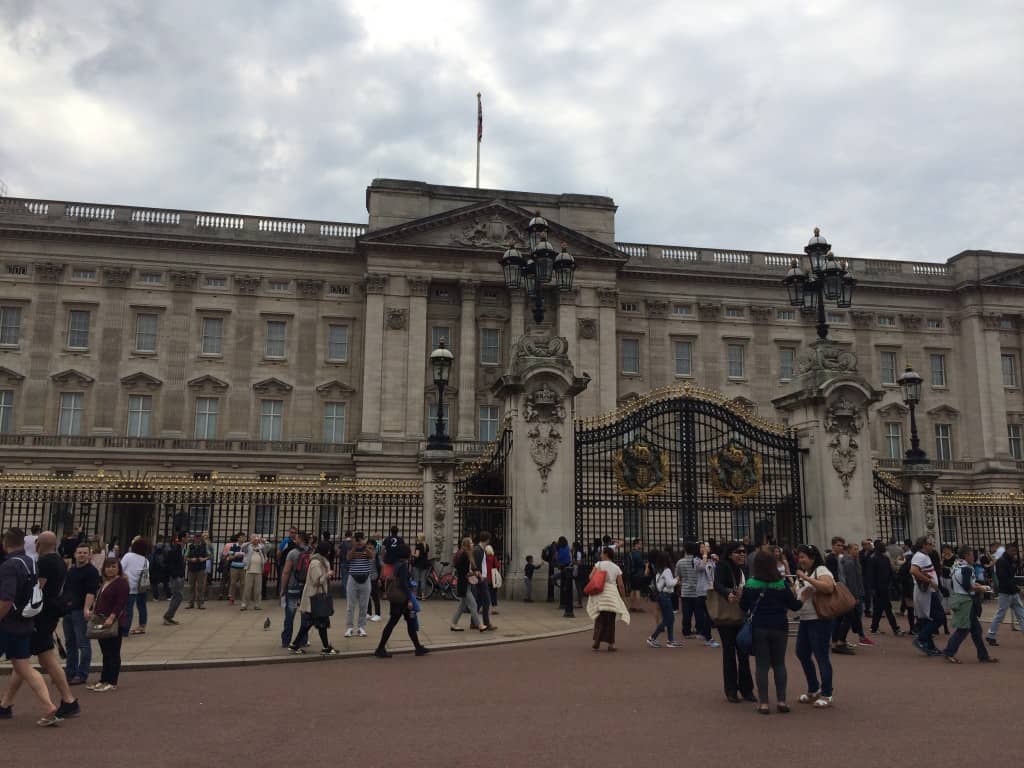 Knightsbridge
You'll know when you're in Knightsbridge because the buildings all of a sudden become very large and grand.
How to get to Knightsbridge?
From Constitution Hill you carry on straight over the big roundabout and straight down Knightsbridge Road, you'll pass Knightsbridge Tube Station and by following that road about you'll start seeing Harrods on your left.
Harrods
Harrods is an institution in London and in England, it's a huge grand building and so much more than your usual department store. This is a great end to this London Bridge to Knightsbridge walk!
Admittedly if you're like me you won't be able to afford anything in there except maybe something from the souvenir shop but its well worth having a walk around inside and dreaming!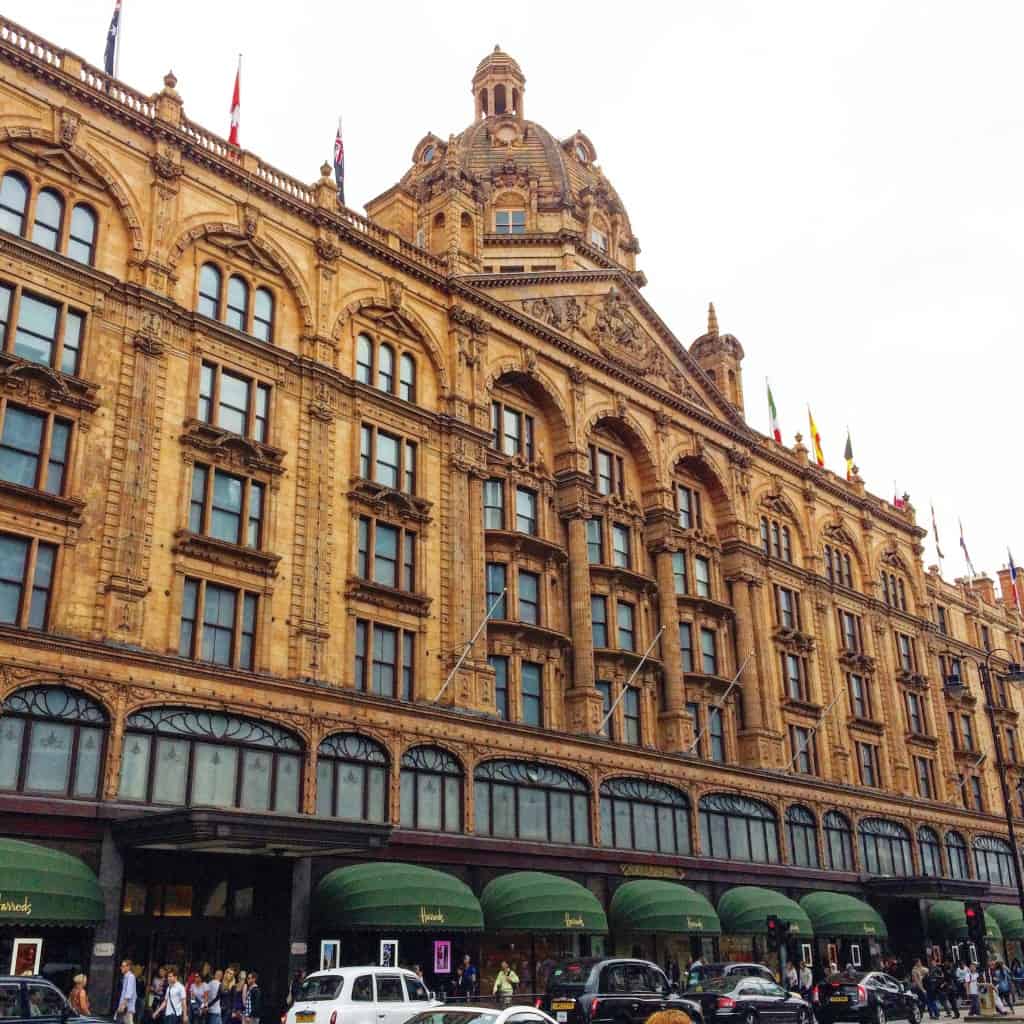 By now your feet will probably be aching from going from London Bridge to Knightsbridge! There is some seating outside of Harrods and also plenty of cafes near Harrods, although expect some of them to be on the more pricey side! But you will deserve it!