This post may contain affiliate links. I will receive a small commission if you use these links.
---
I love Amsterdam and I love visiting Amsterdam solo because it's such a safe city and there are so many things to do in Amsterdam! But, there is an area in Amsterdam that makes me a little wary because of a lot of the things Amsterdam is associated with, and also overwhelmed because it's so busy! That area is Central Amsterdam or Amsterdam-Centrum as it's known to the Dutch, specifically around by Centraal Station, the Dam, and De Wallen aka the Red Light District.
Centraal Station and the Dam are very busy with tourists and very commercialised, the Red Light District is well, the Red Light District, and although I know it's perfectly safe, the groups of stag do's, hen do's and generally the 'boy's trip' groups do make me feel a bit uneasy.
Luckily the guide I had taken with me to Amsterdam has a guided walk in it which takes you from Amsterdam Central Station to Rijksmuseum in the museum district and provides a pleasant way to walk between the 2 important city buildings, taking in historic and scenic spots along the way.
So here is an Amsterdam walking guide and self-guided Amsterdam walk I recommend you do too so you can see the best part of what to some people, is the not so nice part of the city going from Amsterdam Central to Rijksmuseum!
Amsterdam Central to Rijksmuseum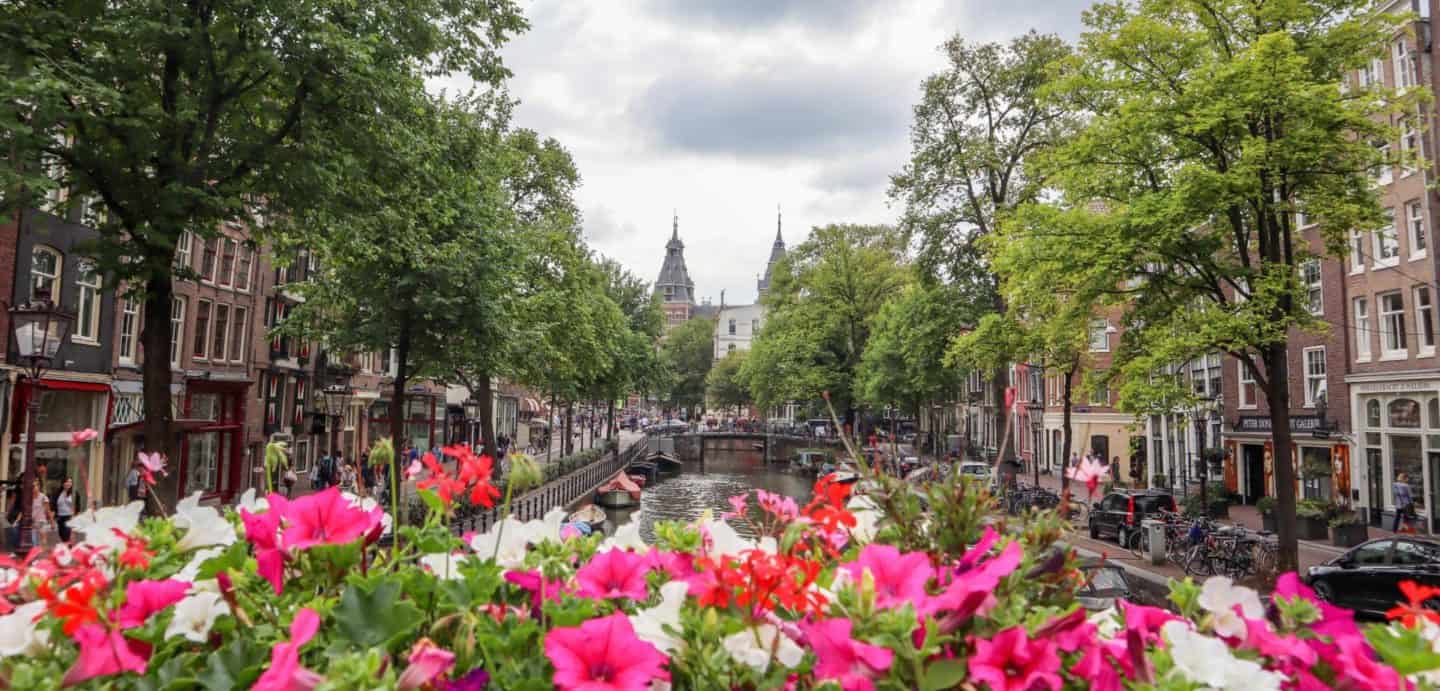 Amsterdam Central Station
To start off this Amsterdam Central to Rijksmuseum walk, get yourself to Centraal Station, there are plenty of trains and trams that stop at the station.
Zeedijk
Looking away from the station and into the city, cross the bridge over the canal and veer left slightly to where Zeedijk Street starts. This street is very much a representation of what Amsterdam Centrum and the 'tourist' area is like, the street is pretty narrow with lots of restaurants, pubs, kebab shops and some coffee shops lining it.
The guide informed me that Zeedijk once had a very seedy and dangerous reputation due to its Eastern boundary of the Red Light District but these days although it's not the prettiest part of the city, it is highly monitored by surveillance so it is very safe.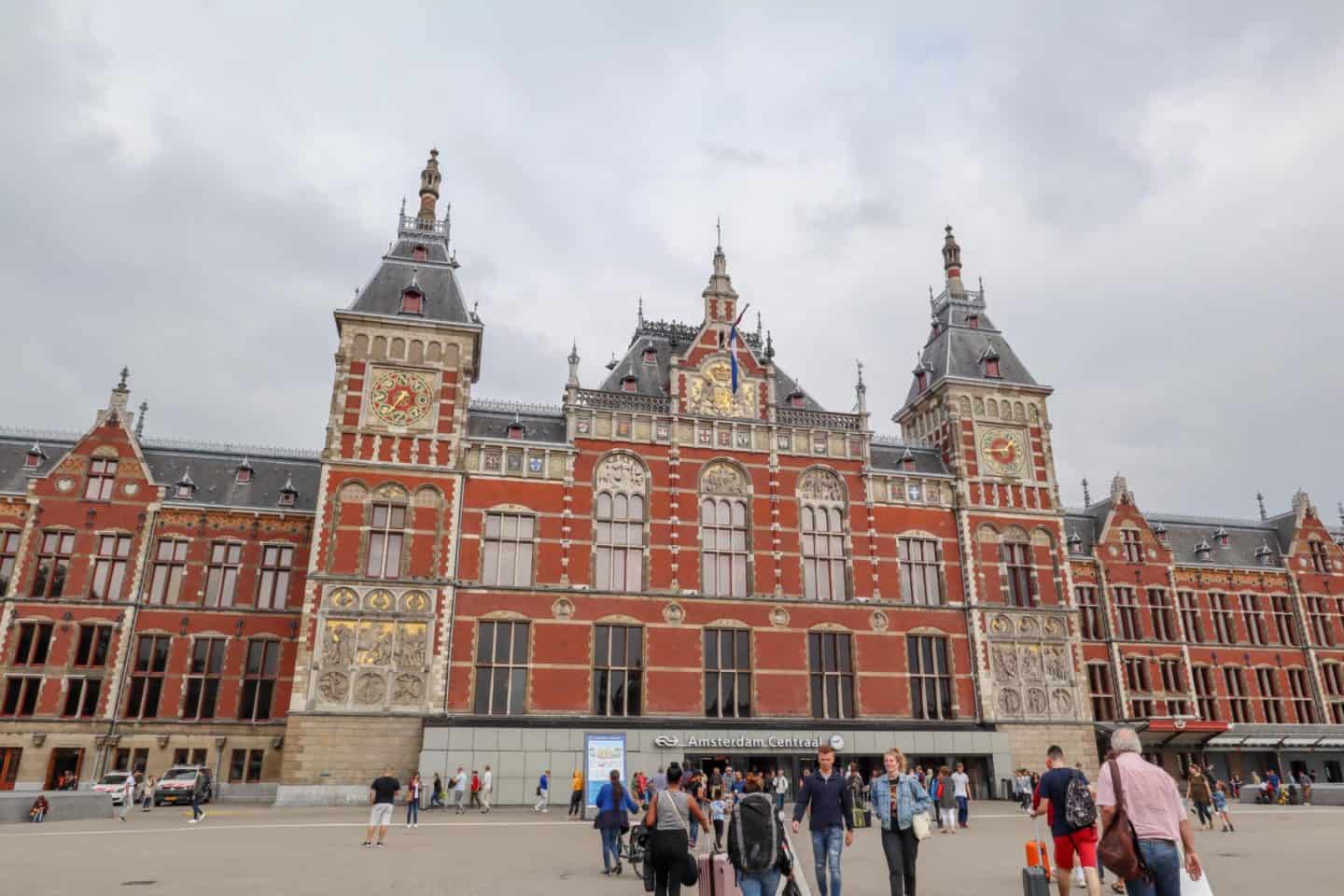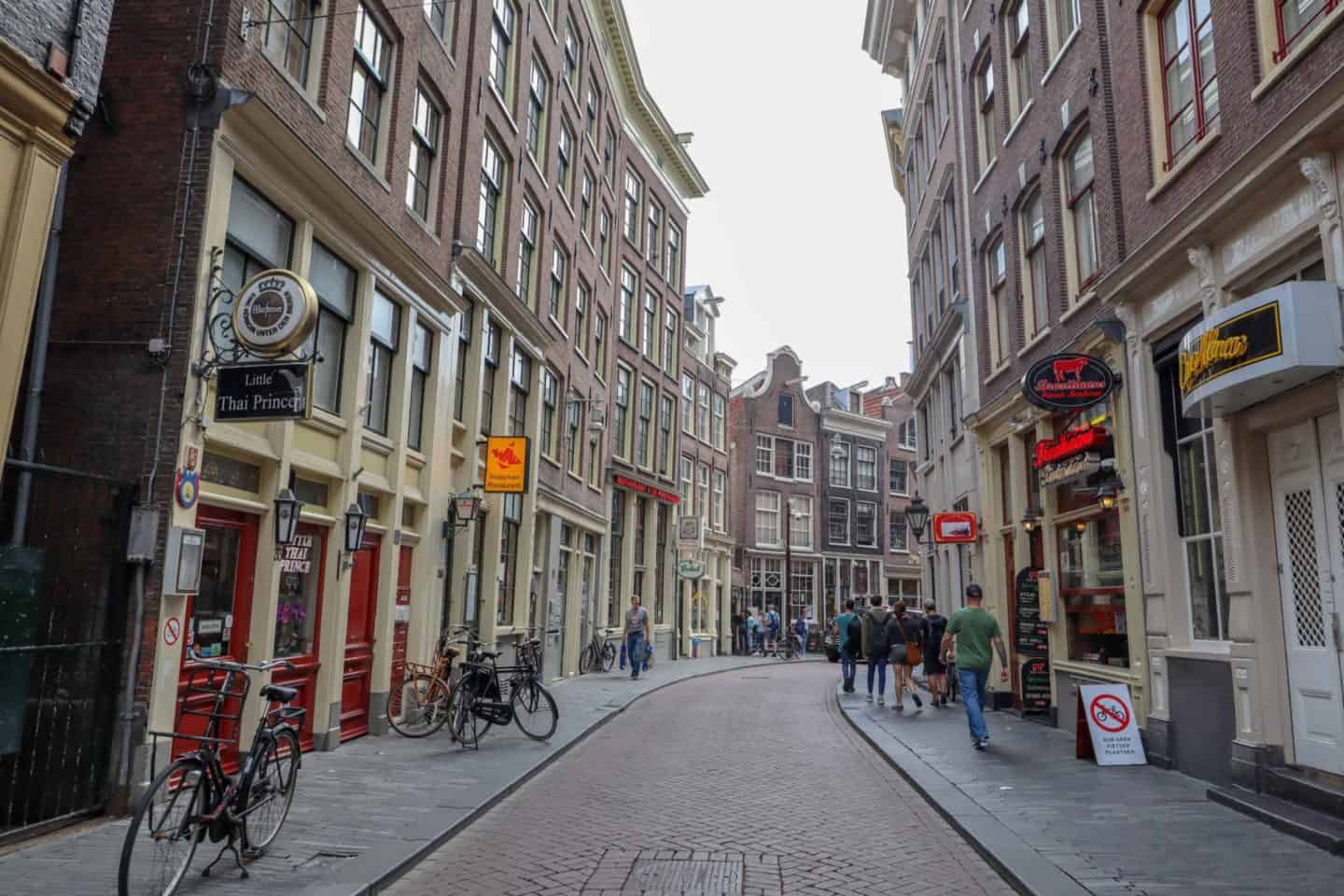 In a few meters, Zeedijk Street crosses a small section of water which gives a nice view onto Oudezijds Kolk and Oudezijds Voorburgwal, if this is your first real canal sighting in Amsterdam, it's a good way to start as it gives you a nice sneak peek and will get you excited to see more because this is just the start!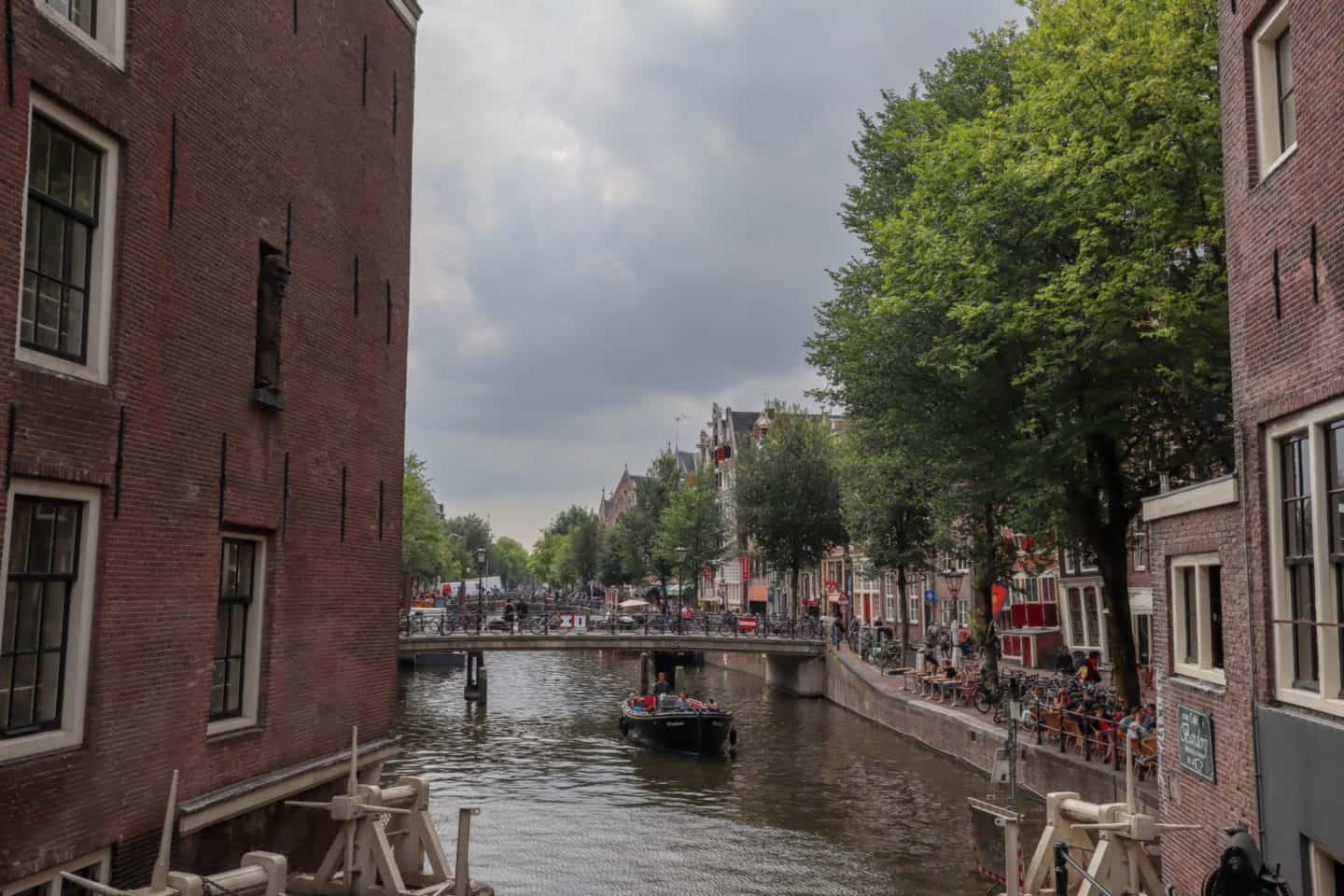 Amsterdam Chinatown
You'll soon start seeing a few Chinese signs, and lots of Chinese and Asian restaurants which indicate that you are now on the border of Amsterdam's Chinatown. You'll walk past Fo Guang Shan Holland Tempel, a bright orange and red Buddhist Temple which looks extremely out of place in the city.
The inside is only small but the smell of the incense took me straight back to being in South East Asia, and it's a nice respite to the busy outside streets.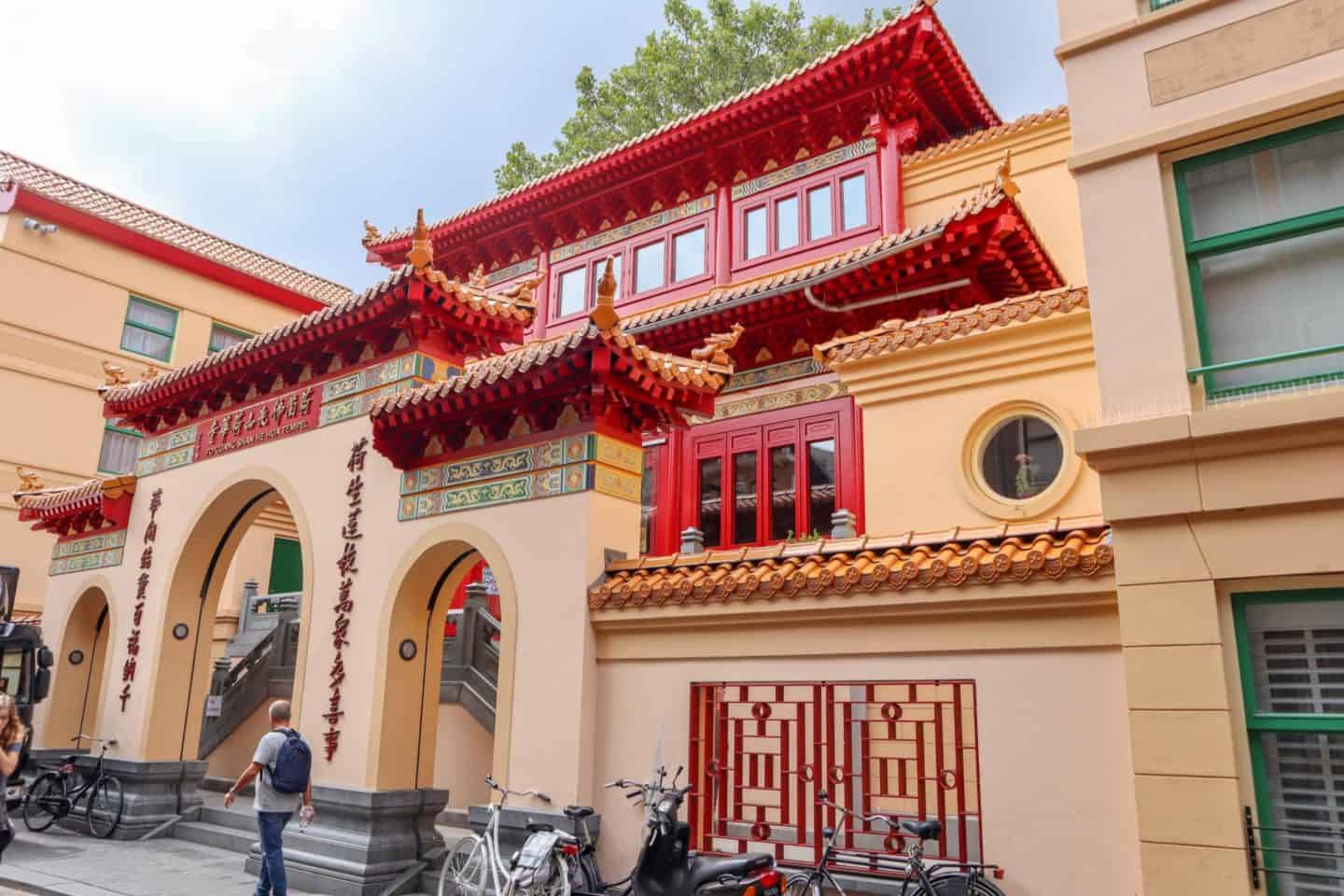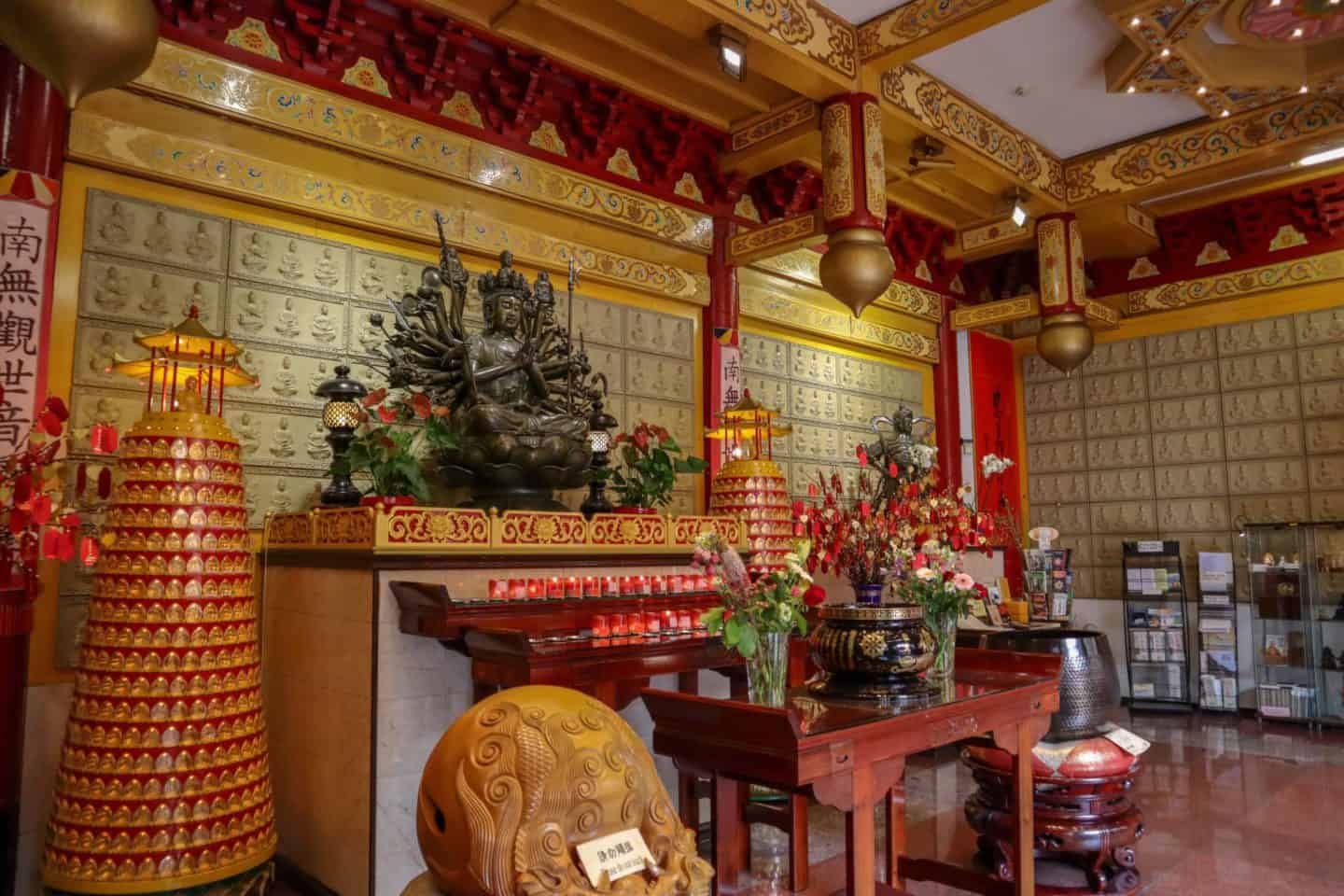 Nieumarkt
A little further up on this Amsterdam Central to Rijksmuseum walk is Waag which can't be missed, the Marco Polo Guide describes it as a Disneyesque medieval gatehouse which is now a cafe and restaurant. Behind the building in the market square or Nieumarkt, will be a few stalls selling souvenirs, hippy-like clothing and fresh fruit and veg.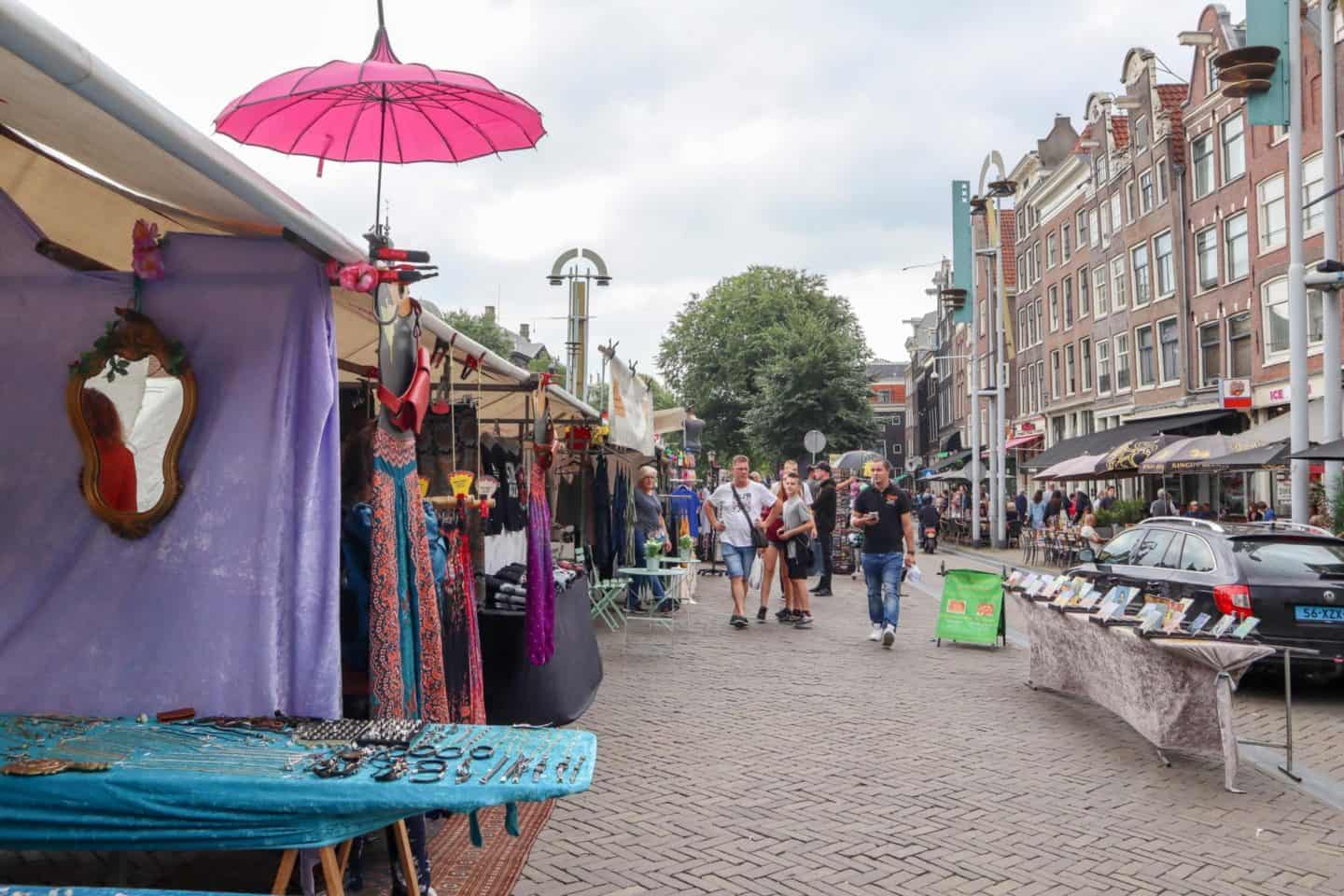 Kloveniersburgwal Canal
Walk along the right side of Waag and the right side of the Kloveniersburgwal canal which despite the traffic does feel less busy than the area you would have just walked through. A few streets up and around the corner is the East India House.
I did a free walking tour the day before in Amsterdam and we stopped outside to learn about the role it played in the past in the Dutch Golden Age which was really interesting to hear, now it is home to the University of Amsterdam so make sure you pass it on this Amsterdam Central to Rijksmuseum walk!
On your left will be a lifting bridge crossing the canal, the first lifting bridge to be built in the city my guide informed me, and behind it is the impressive Doelen Hotel.
Cross the bridge, but not before you take a few photos as looking directly down the canal gives you the great symmetrical canal view, and then make an immediate turn right continuing along the Kloveniersburgwal canal for a few metres before crossing the wider canal in front of you.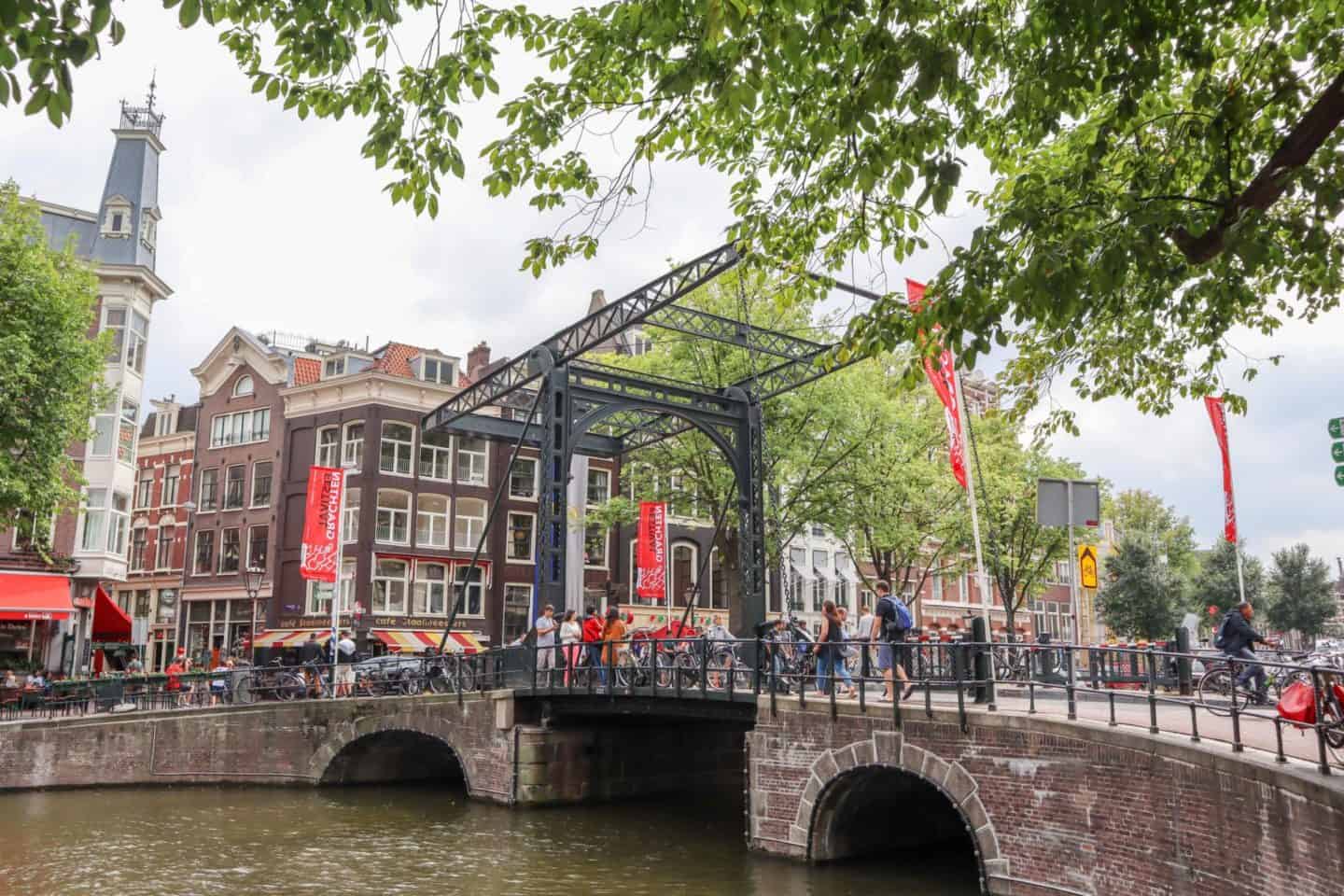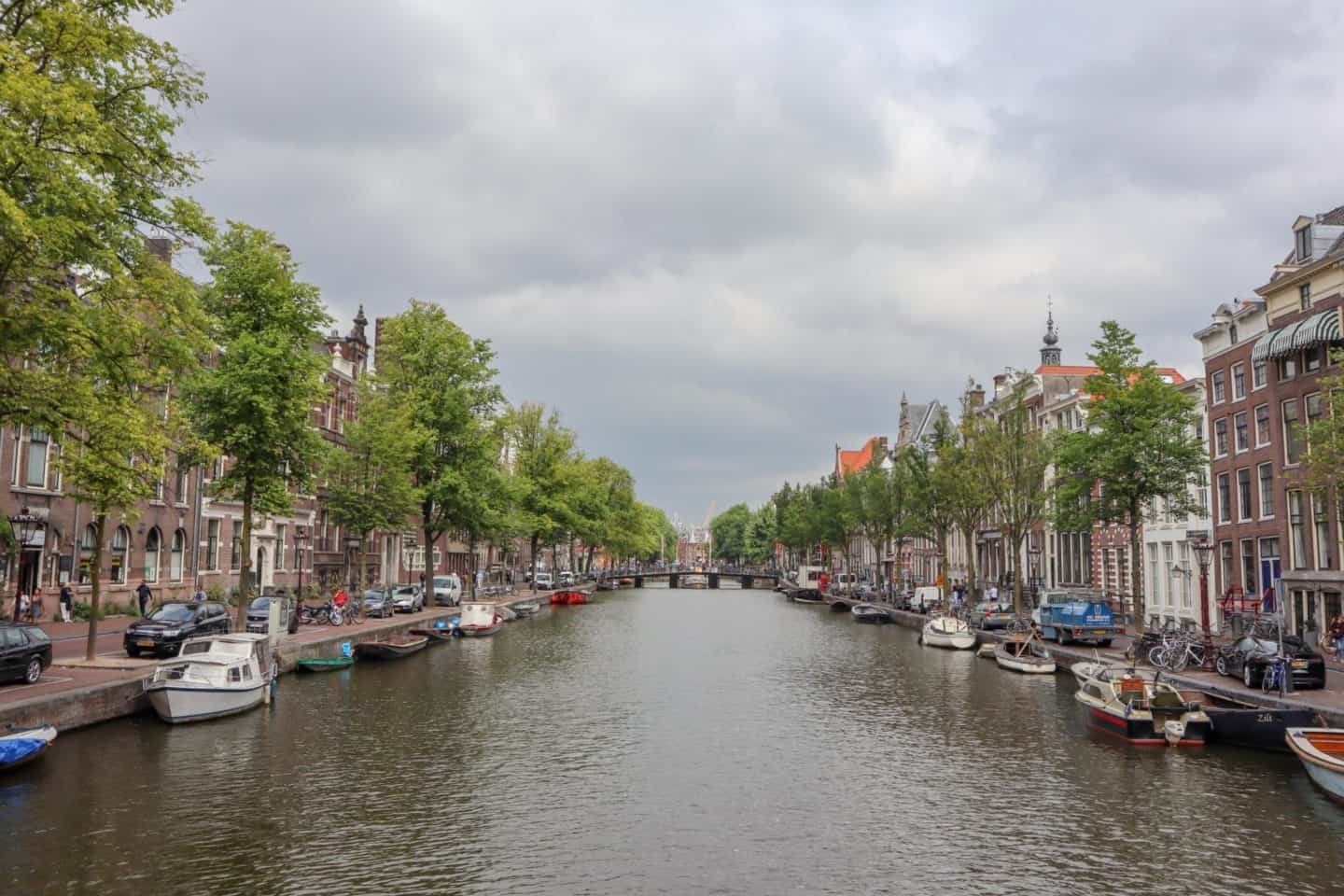 All of a sudden, you will be taken back to the busy city life and the tourist hoards but only for a short while, I promise.
Rembrandtplein
Head up Halvemaansteeg, a pedestrian street, onto Rembrandtplein, it's a very touristic part of the city and explained well in the Marco Polo Guide by saying it's a square now largely devoted to serving tourists food and beer.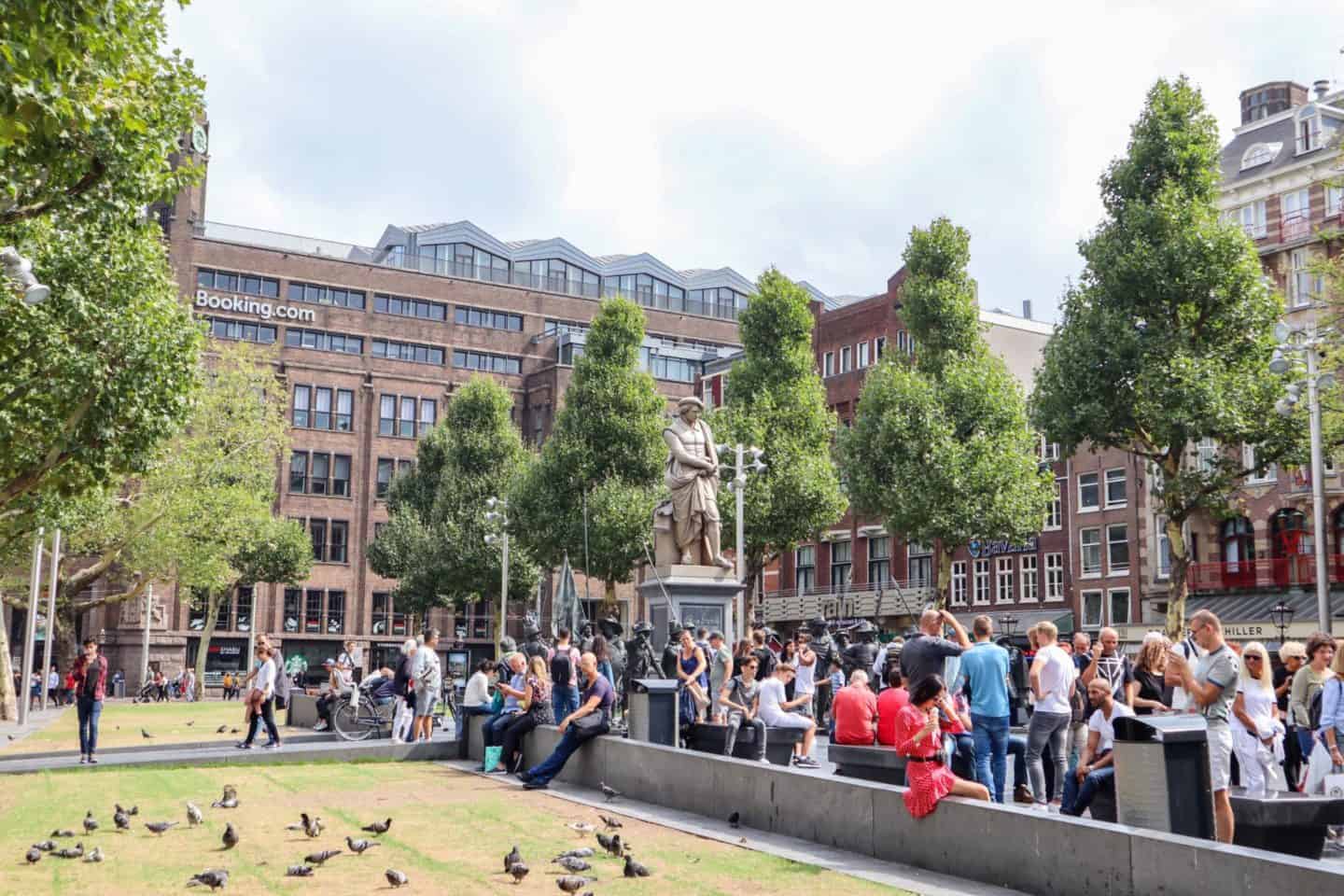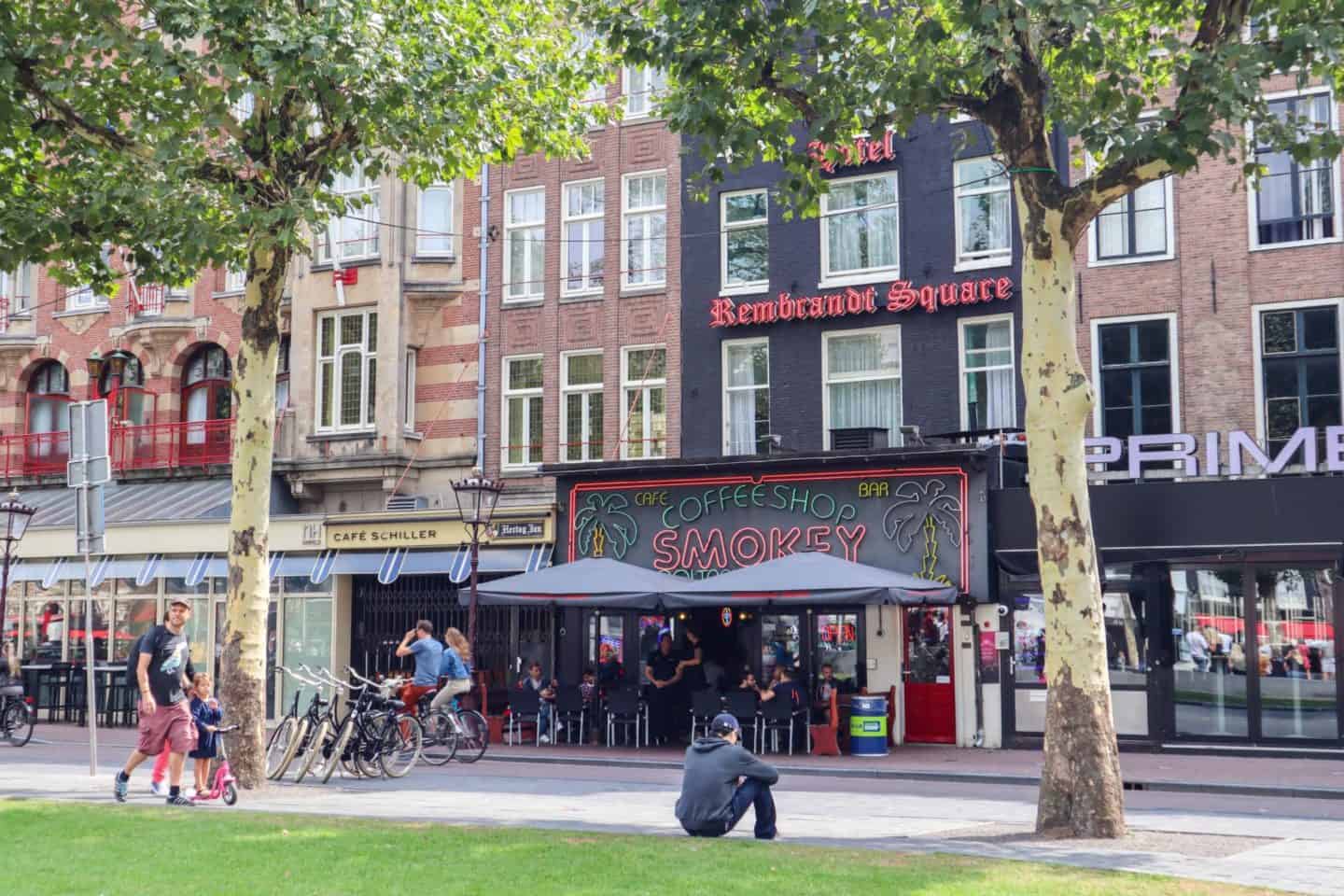 Reguliersgracht
Keep heading straight out of the square, cross the canal in front of you and then stay left along the Reguliersgracht which has just formed.
This part of the walk is really nice and similar to a lot of other sections of canal found elsewhere in Amsterdam and a bit further out from Amsterdam-Centrum, it's a lot quieter with beautiful residential houses and lots of houses that lean I noticed, so keep a lookout for these!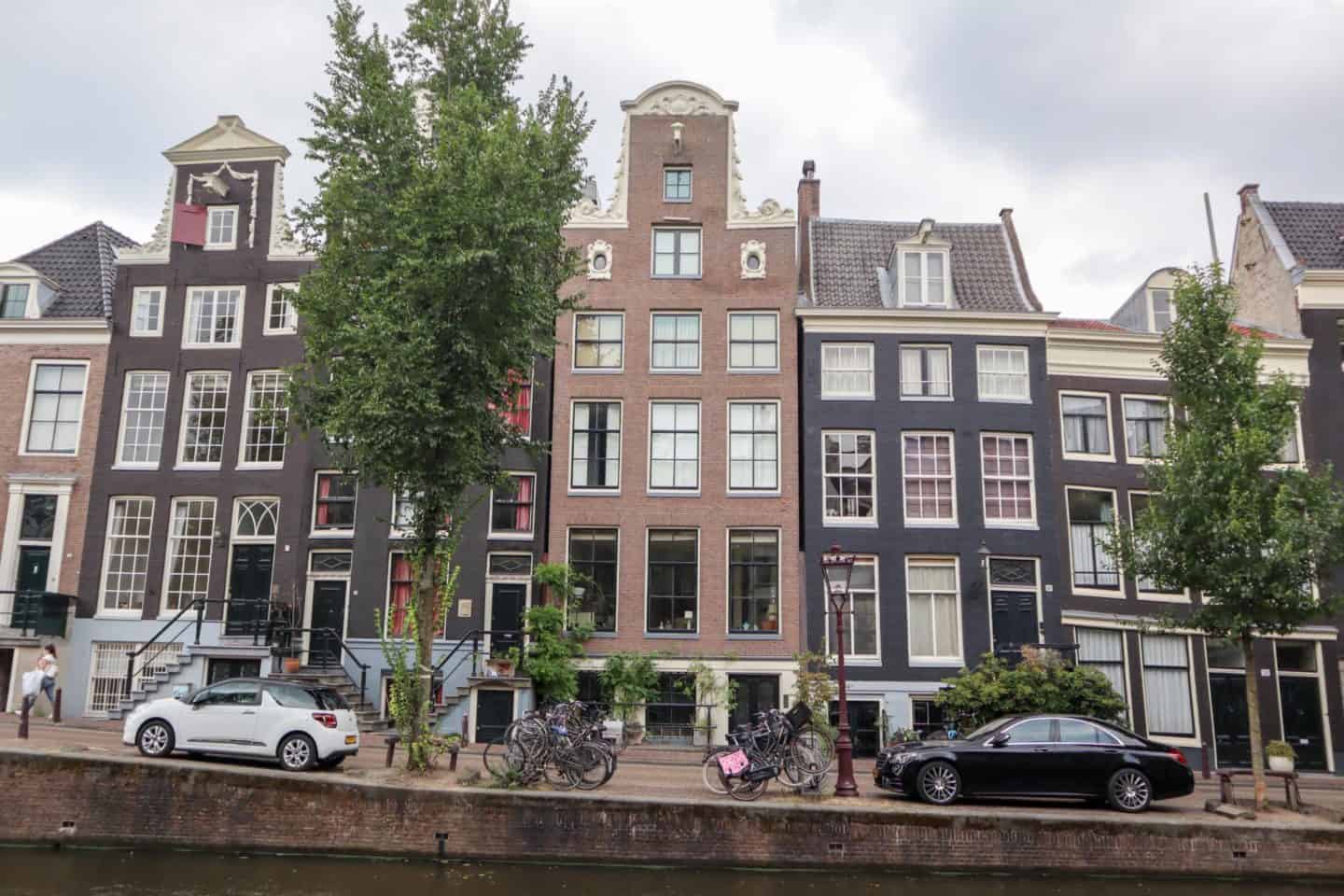 Prinsengracht Canal
Walk straight over another bridge and before you reach the third canal in this section, turn right along Prinsengracht canal. Prinsengracht is one of the 3 main canals that circle the Centre of Amsterdam and provide an outlay of the city, a project which started in 1612 and took 50 years to complete!
Really take in the quietness of Prinsengracht, it feels a long way away from the busy area of Centraal Station but it really isn't. Also, be sure to get lots of photos of the iconic Amsterdam houses from the other side of the canal on this Amsterdam Central to Rijksmuseum walk!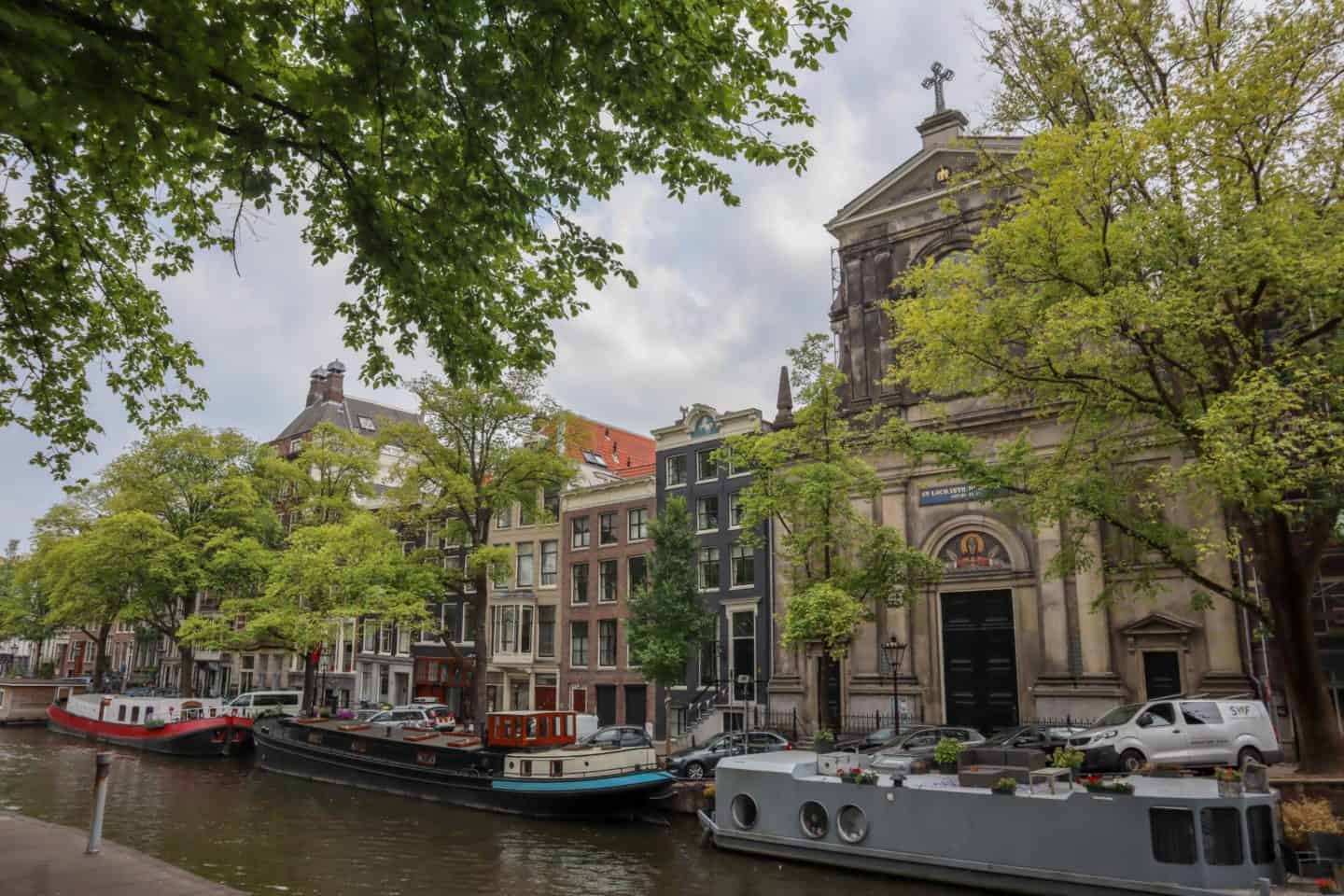 Rijksmuseum
When you reach Spiegelgracht turn left for the last section of the walk to the Rijksmuseum and the Museum District. This area is a lot busier and I find that a lot of tourists use this street to bike up and down so be careful and look out for them.
Before you reach the main road taking you over to the Rijksmuseum, stop on the bridge over the Lijnbaansgracht canal for a great shot of the Museum ahead with its twin towers, and if you're in Amsterdam when it's in bloom like I was, you should get a nice view with some flowers in it too.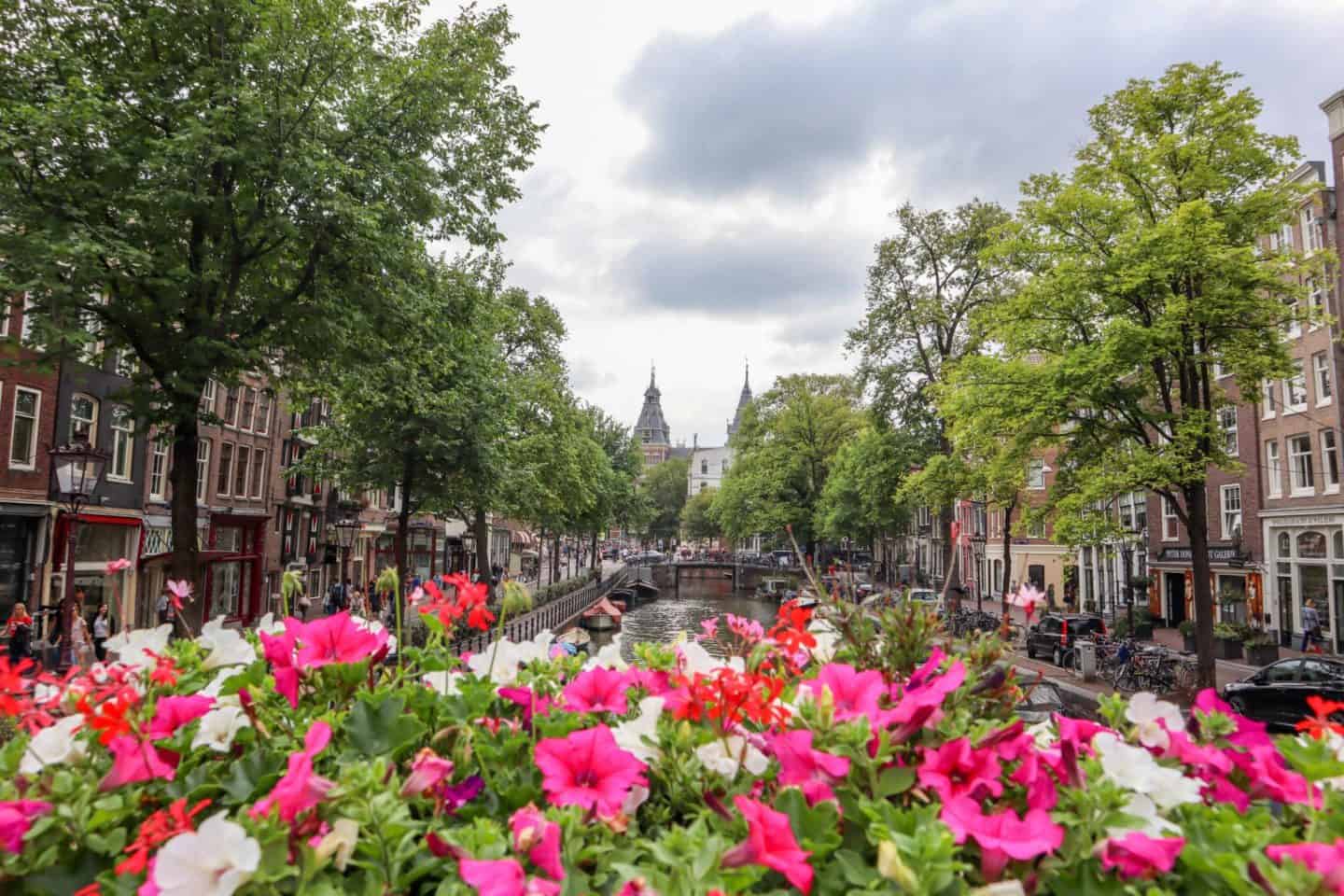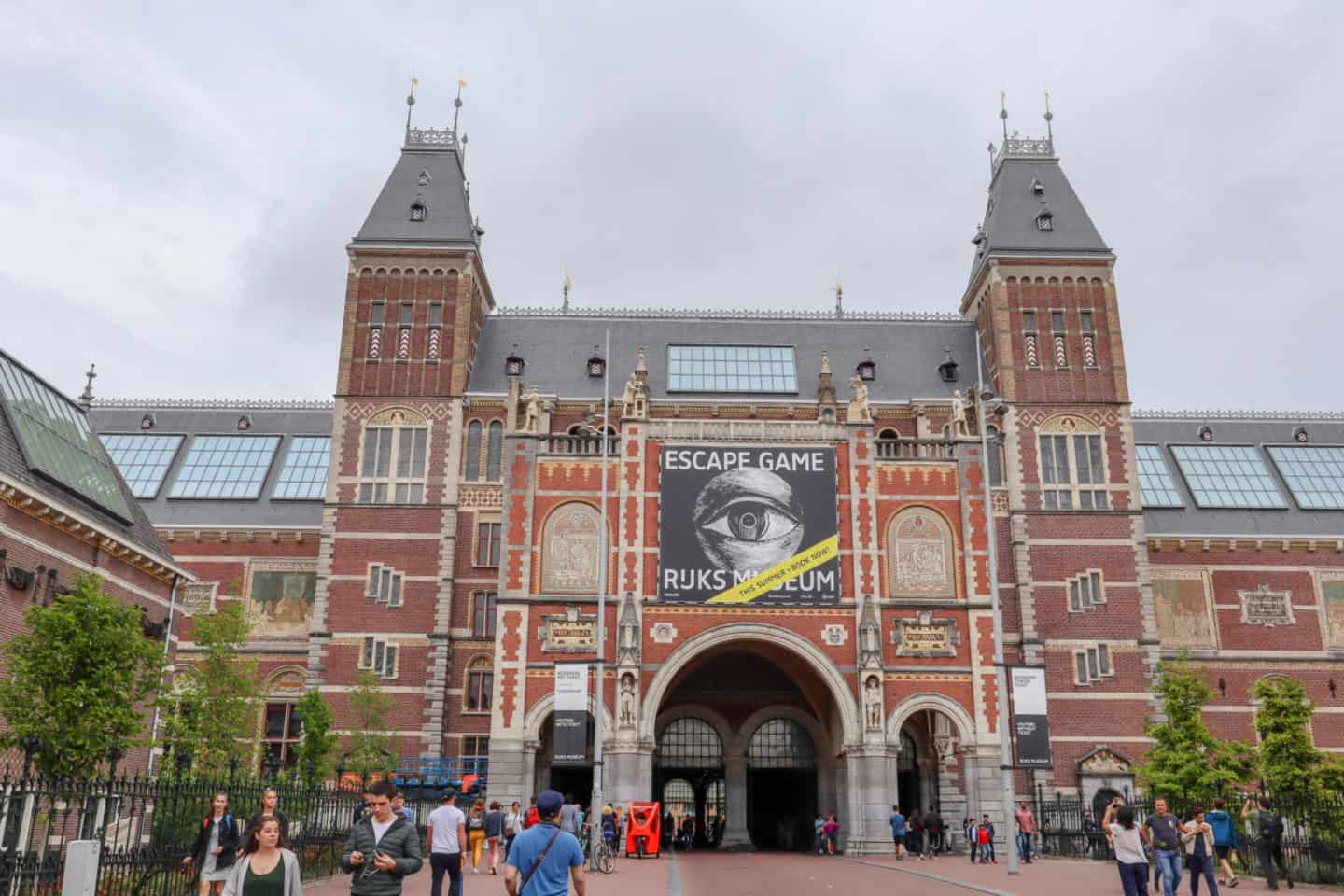 Amsterdam Museum District
Carry on straight, across the main road to the Rijksmuseum. The Rijksmuseum is not the only museum in the area, very close by is the Van Gogh Museum, Stedelijk Museum and the Moco Museum. I visited the Moco Museum on my first day in Amsterdam to see the Banksy Exhibition which I really enjoyed and would recommend.
Vondelpark
If you want to continue seeing a pretty part of Amsterdam, find Vondelpark which is just behind the Museum District, I stayed at Stayokay Vondelpark Hostel and found it to be a lovely area of the city. You can read here my suggestions of things to do in and around Vondelpark.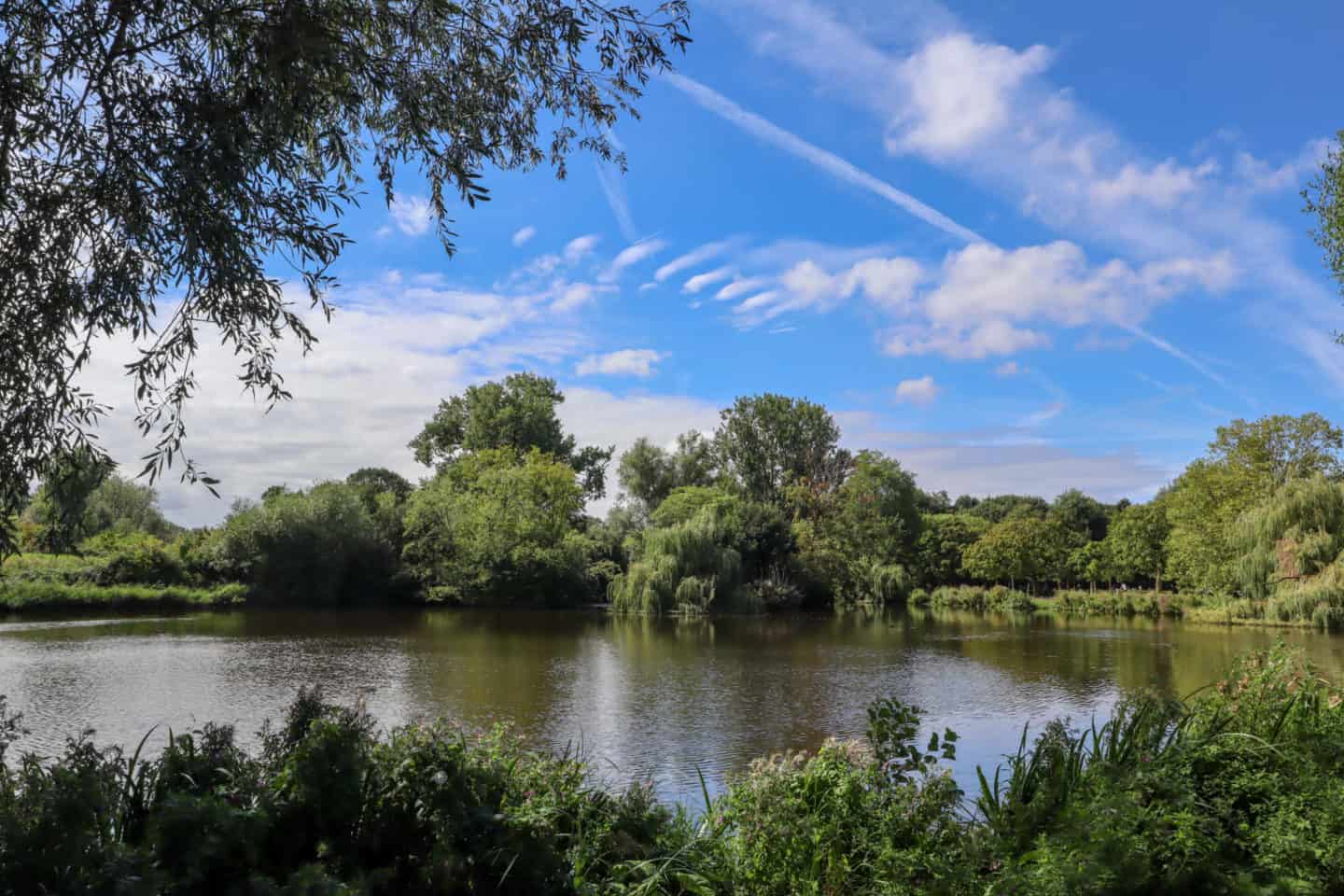 I hope you found this walk from Amsterdam Central to Rijksmuseum useful!
---
As I said, I used my Marco Polo Amsterdam Guide to help me get around Amsterdam and learn lots about the city. There is now a brand new guide out with lots of up to date information and new walks, you can purchase it here for a great price on Amazon.
---
This post is sponsored by Marco Polo Guides but all thoughts and opinions are my own.