This post may contain affiliate links. I will receive a small commission if you use these links.
---
Berlin had been high on my bucket list for ages. It's one of those popular Western European Cities that you feel you have to visit, isn't it? Anyway, my luck came when I was invited to attend Lollapalooza Festival in Berlin and between attending the festival I got to spend 3 days in Berlin trying to see as many of the best places to visit in Berlin as possible, along with trying to eat in Berlin's best restaurants!
Here's a lowdown on what I got up to Berlin and what I'd recommend you do in Berlin if it's your first time visiting Berlin!
First Time in Berlin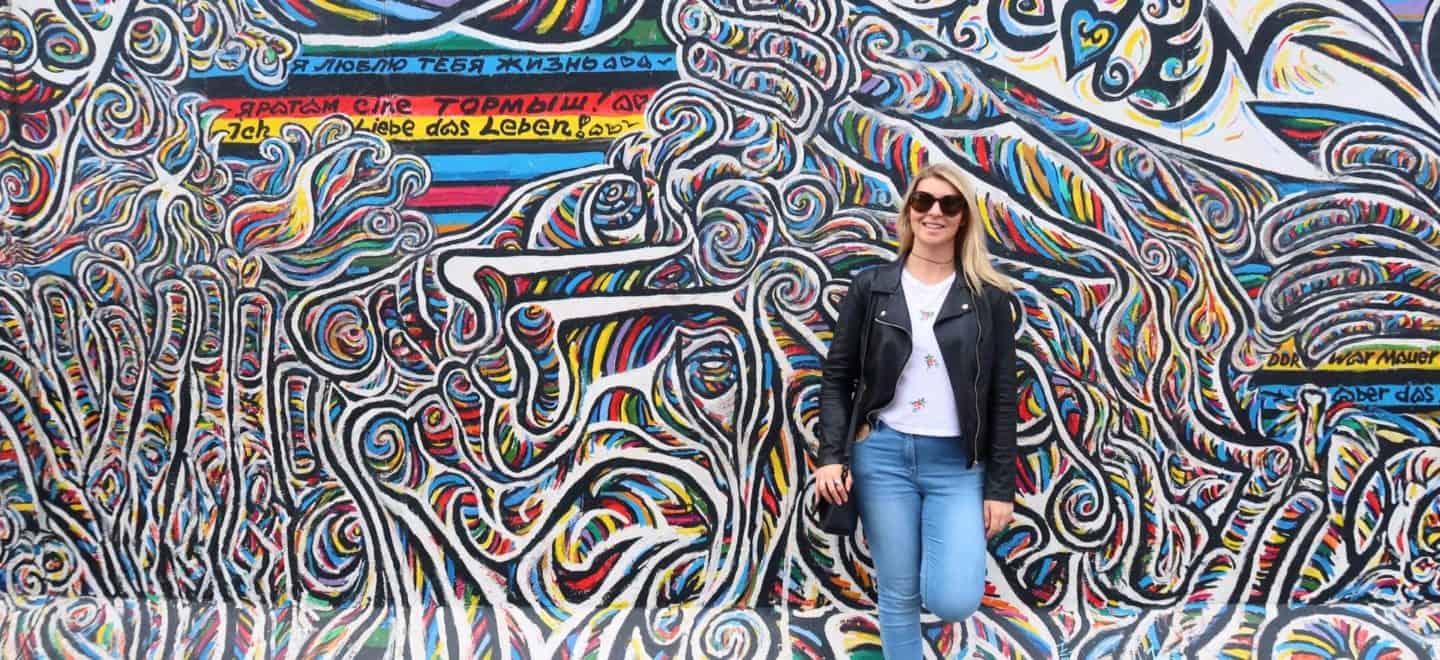 How to get to Berlin City from the Airport.
I flew into Berlin Schönefeld Airport from Gatwick, London with EasyJet on my first time in Berlin. Let's say that this will not be your greatest experience in Berlin that's for sure. A new airport is in construction next to the old one however its completion keeps getting pushed farther and farther into the future.
The old airport is left over from the communist era which is why there are a lot of corridors and big rooms. You'll know what I mean when you see it.
Schönefeld Airport is connected to the City Centre of Berlin by an Express Airport Train between 5:00-23:00 so its super quick and easy to get into the city. Simply follow the signs for the train station out of the airport. Buy a ticket from the machine – the airport is in zone C and the centre of Berlin is zone A so you'll have to purchase an A-C zone ticket for a few euros. Once you get into the underground passage the platform for the express train into the city is right at the end on your right and it has signs in English to say its the platform for the city. Make sure you validate your ticket by finding the little ticket machine on the platform. Simply put the ticket inside until the machine clicks.
Double-check the train before you get on. Not all trains from these 2 platforms go into the city but if it states it's going to Berlin Alexanderplatz then you'll be on the right train into the city!
Tip: on your way home, get to the airport as late as possible as this isn't an airport you want to be waiting around in!
Be sure to read about buying a sim card at Berlin Airport so you can get the right sim card when you land!
Where to Stay in Berlin.
I stayed in the Radisson Park Inn Hotel in Alexanderplatz which is a really nice hotel and the best central area of Berlin to stay in. Alexanderplatz is one of the main train stations so it was easy to get to and from the Airport from here, and to and from the festival, as well as being walking distance to everywhere I visited in Berlin. I recommend this location during your first time in Berlin!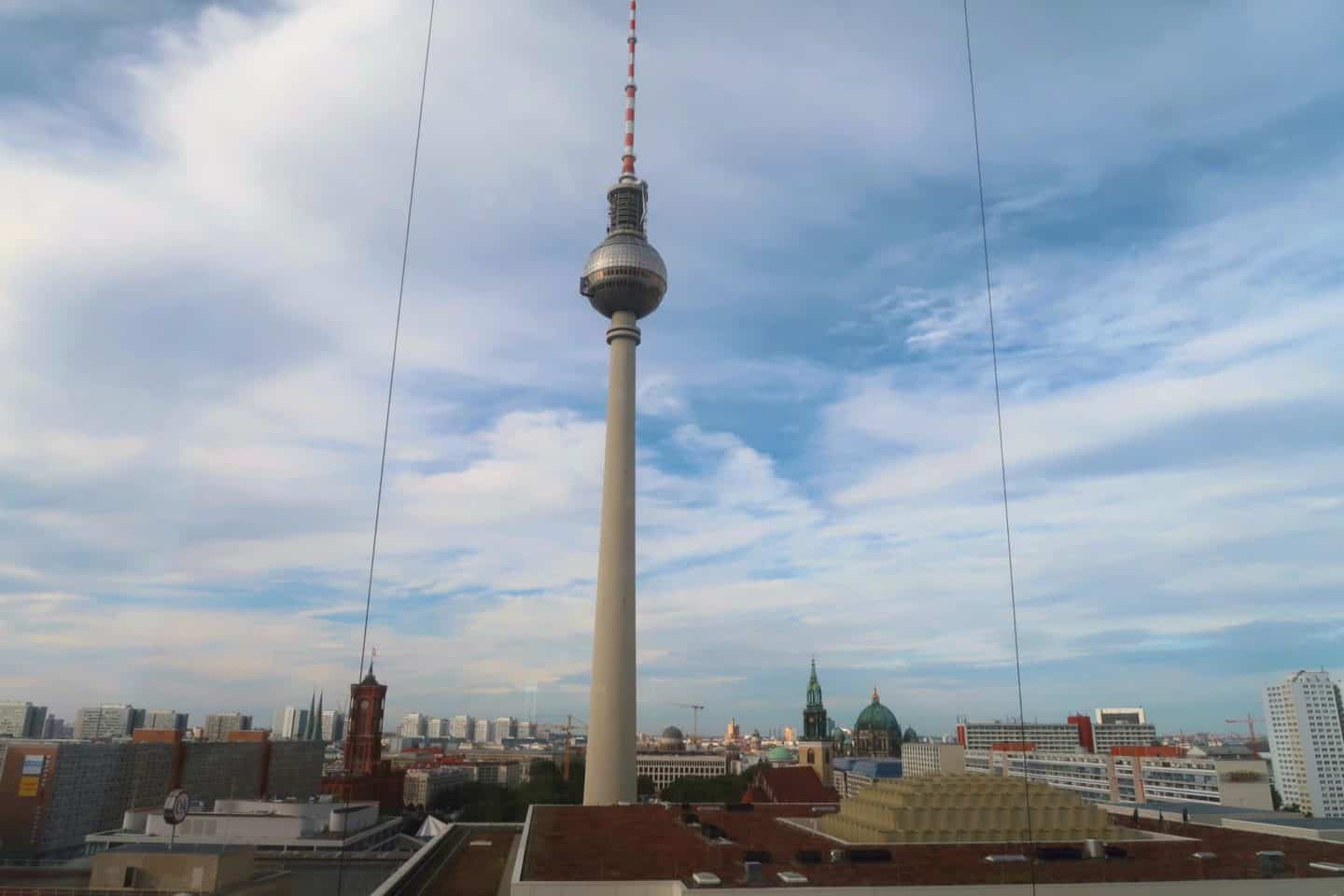 An alternative area to stay in Berlin when looking into where to stay in Berlin is the neighbourhood of Kreuzberg as this is a really cool area with lots of places to eat and drink (more on that below) so if that's your priority then it'll mean less travelling between meals and nights out! I feel like I'd stay here when I visit Berlin again so you should stay here on your first time in Berlin!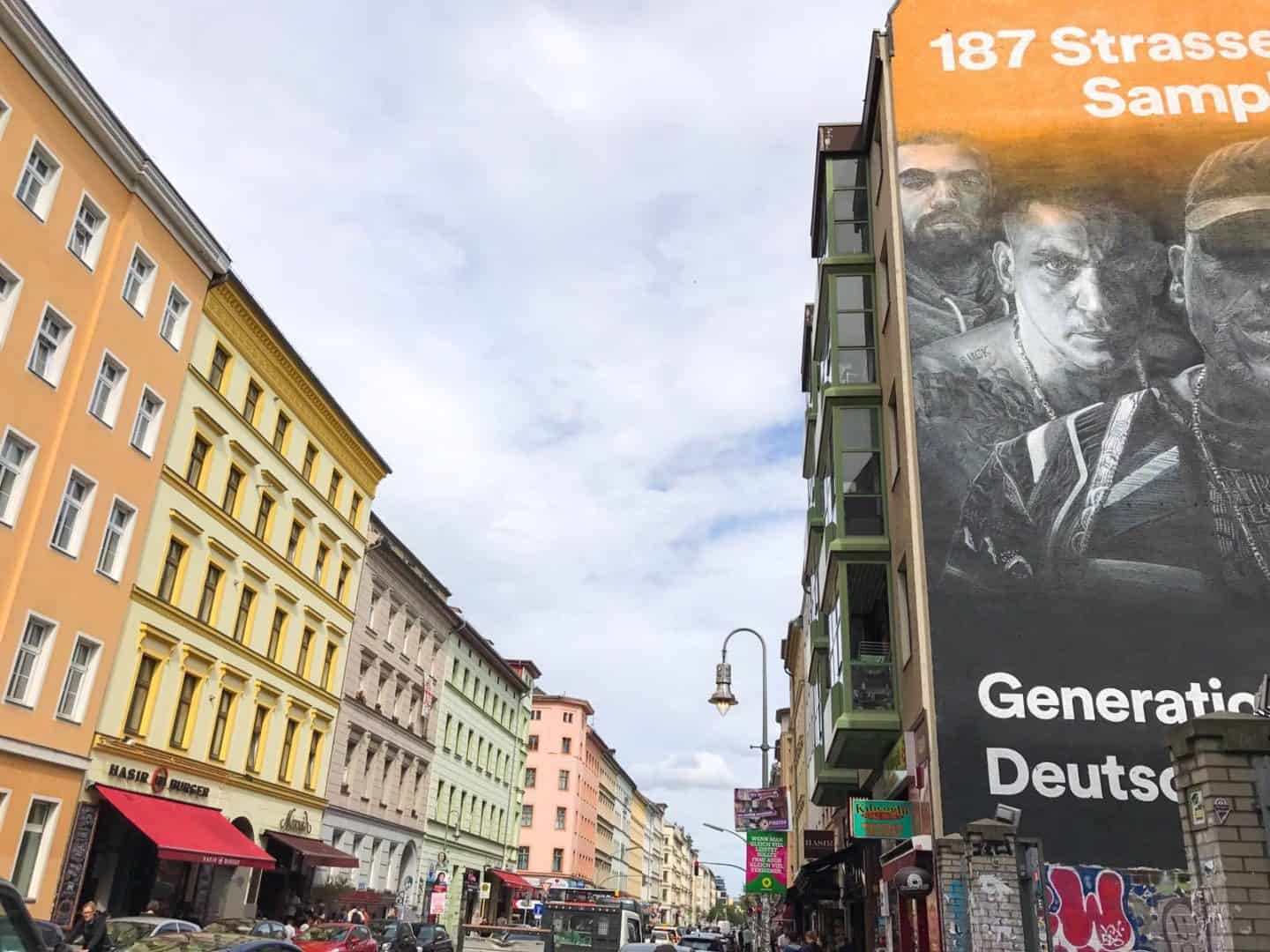 Best Things To Do in Berlin
A lot of Berlin's iconic attractions centre around the war, and rightly so. This city went through a lot and when visiting Berlin it's only right to see them and remember the past. There are a number of things that don't relate to the war though so there's a good balance, here goes, things to do in Berlin on your first time in Berlin!
Museum Island
Museum Island is a UNESCO site in the middle of the River and is home to.. you guessed it, Berlin's best museums! I didn't visit any of the museums and the area was very much under construction when I visited but it was nice to walk through the island and see the impressive architecture. The Cathedral was one thing I really wanted to see in Berlin and it certainly didn't disappoint as it's a stunning building!
Tip: If it's raining and you think visiting a museum is a good way to get out of the rain, expect that everyone else has thought of this too! I talk from experience!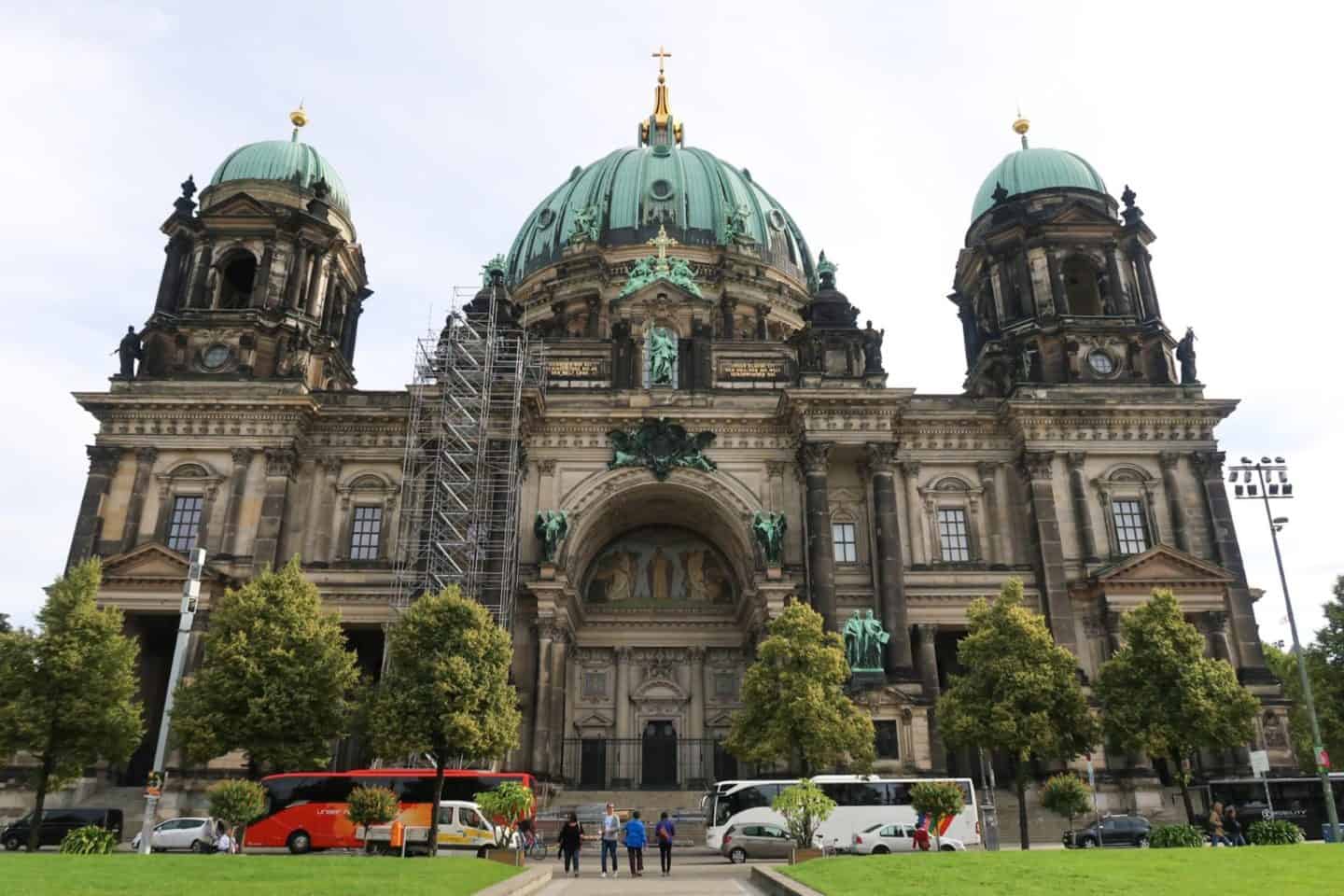 Brandenburg Tor
From Museum Island I walked down to Brandenburg Gate. This gate is iconic because it used to symbolise the gateway divide of East and West Germany. These days its full of people taking selfies, myself included, but it's quite an impressive structure too so it can't be missed!
Tip: If you want to get a photo or see Brandenburg Tor gate without any other people round then you need to get there first thing! My friend recently took a photo there at 5:45am and there was still someone else in the photo!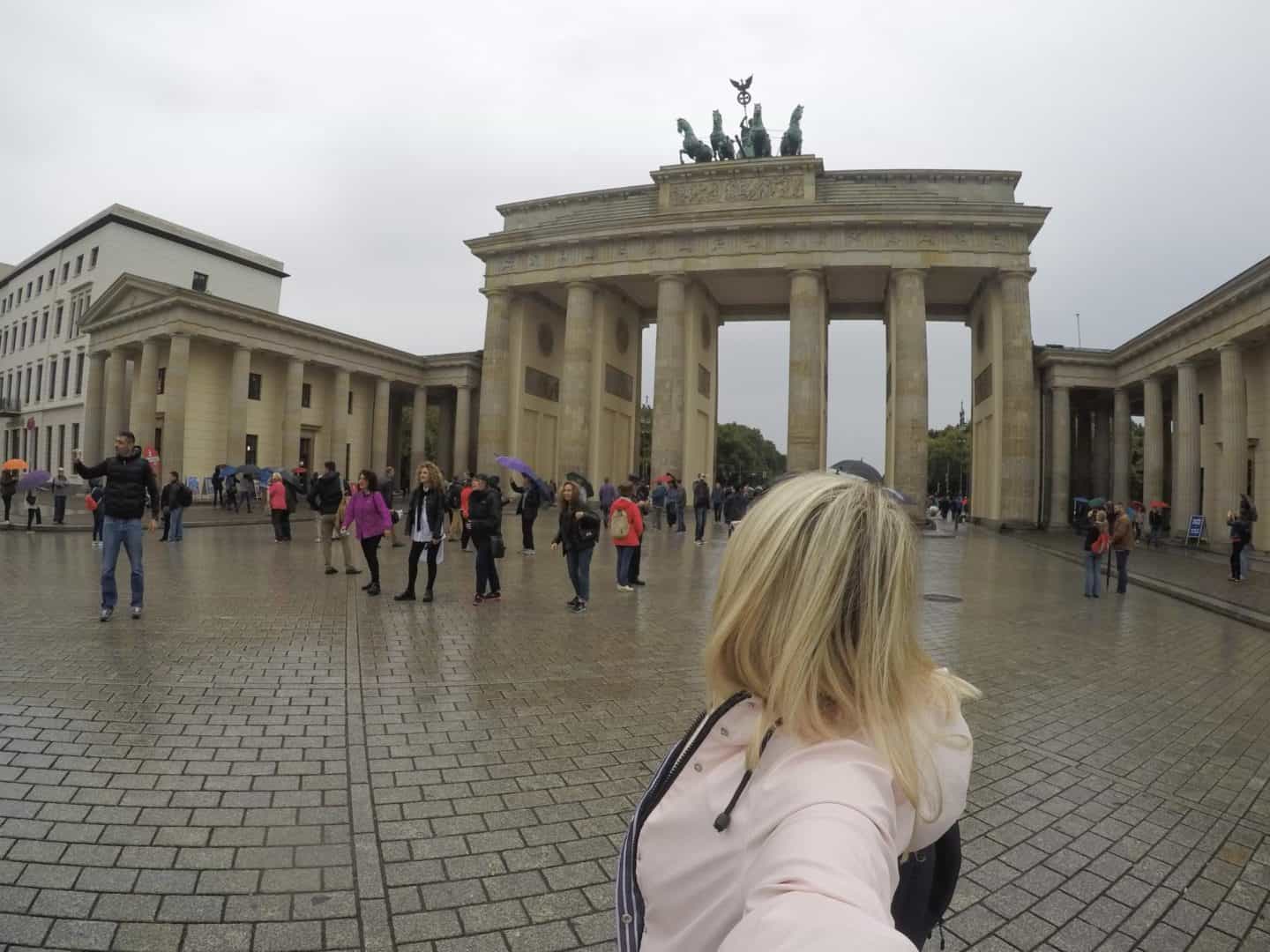 Memorial to the Murdered Jews of Europe
The Memorial to the Murdered Jews is a very big tourist attraction in Berlin and you need to visit on your first trip to Berlin. I have seen so many photos of this memorial but I was not prepared for what it actually looks like and how I actually felt. Firstly the 2711 columns are all different sizes and the ground is not flat, its waves up and down which I didn't expect.
It has been designed like this to give visitors a feeling of uncertainty and I certainly felt this. When surrounded by the big columns I got a real sense of claustrophobia and a feeling that I was all of a sudden very tiny.
Walking through here and taking time to stop and think about the past isn't nice but its a must.
Tip: Don't be a disrespectful idiot and use the columns as a photoshoot location!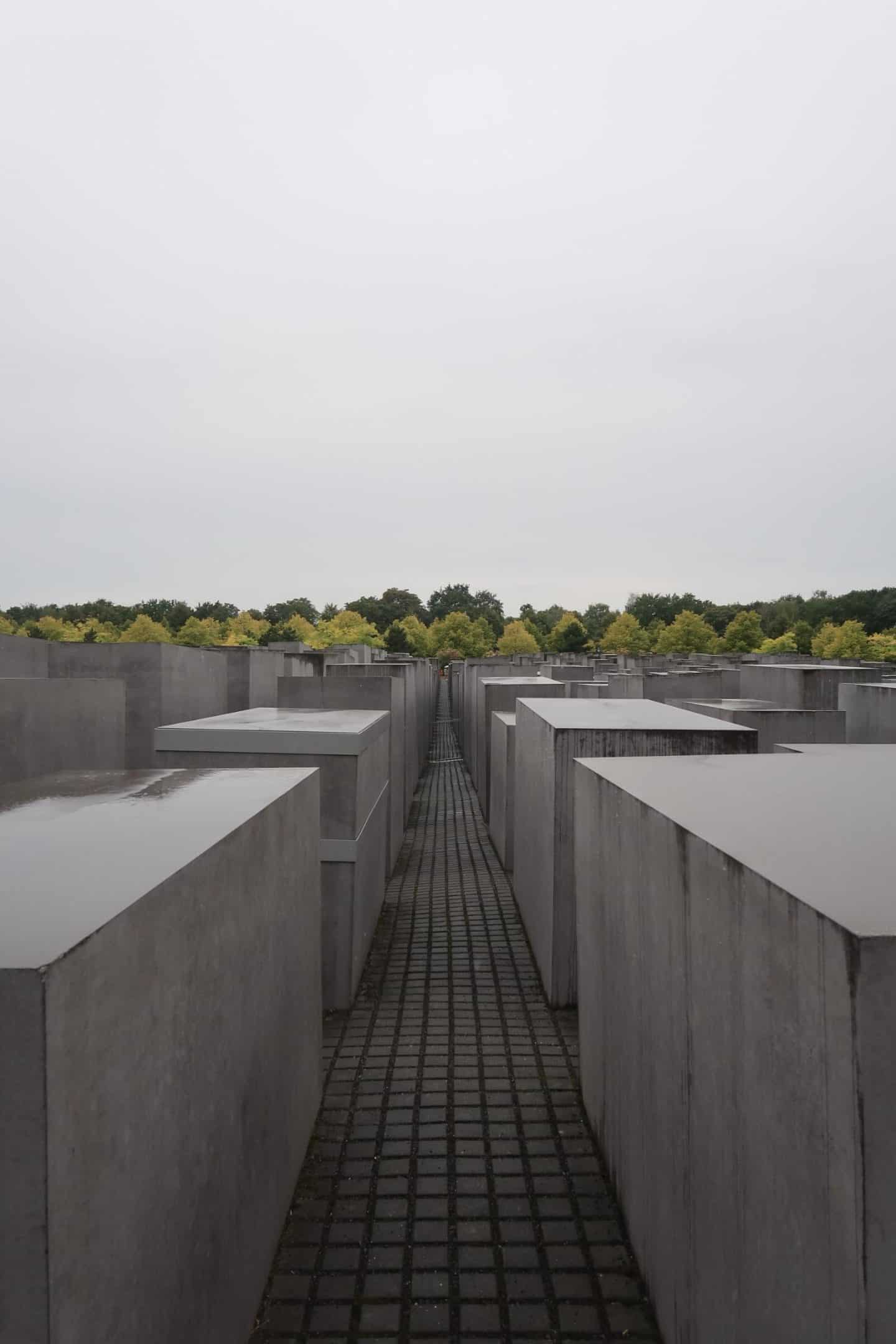 Checkpoint Charlie
I wasn't too bothered about seeing this, even on my first visit to Berlin but we stumbled upon it whilst on the way to West Berlin Cafe (more on that later). It's very touristy, you can take photos with the guards if you so wish but a long with a lot of Berlin's iconic points it does have an important history as it became the most famous crossing point between East and West Germany.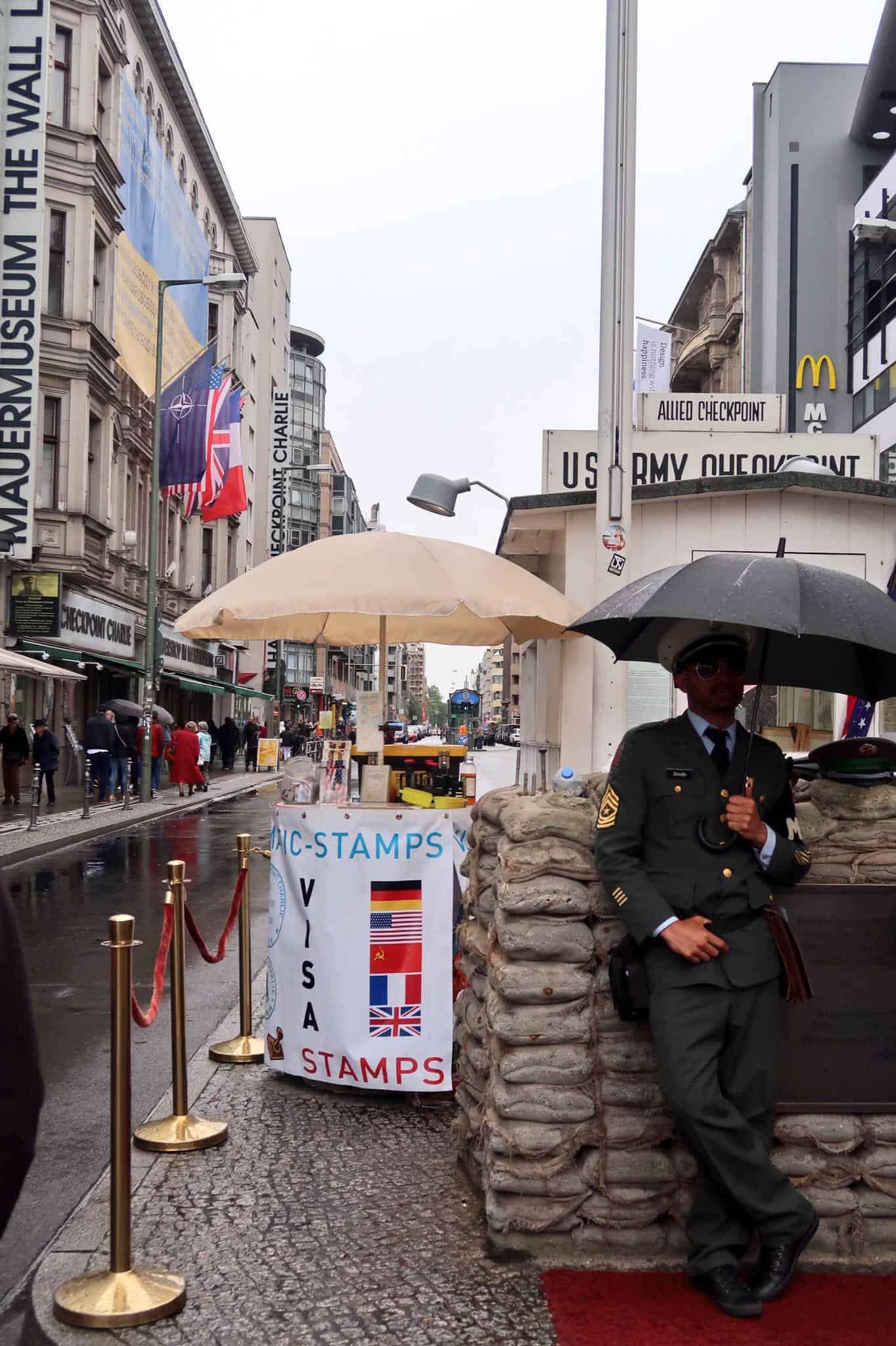 Remains of the Berlin Wall in Potsdamer Platz
Near Potsdamer Station are the remains of the Berlin Wall. This area is far away from the East Side Gallery which is now very popular with its street art so its interesting to see just a few parts of the wall in the middle of a very built up and modern area. Potsdamer isn't far from Checkpoint Charlie and is close to the Berlin Mall.
Tip: If you need a toilet break then head to the Berlin Mall just up the road!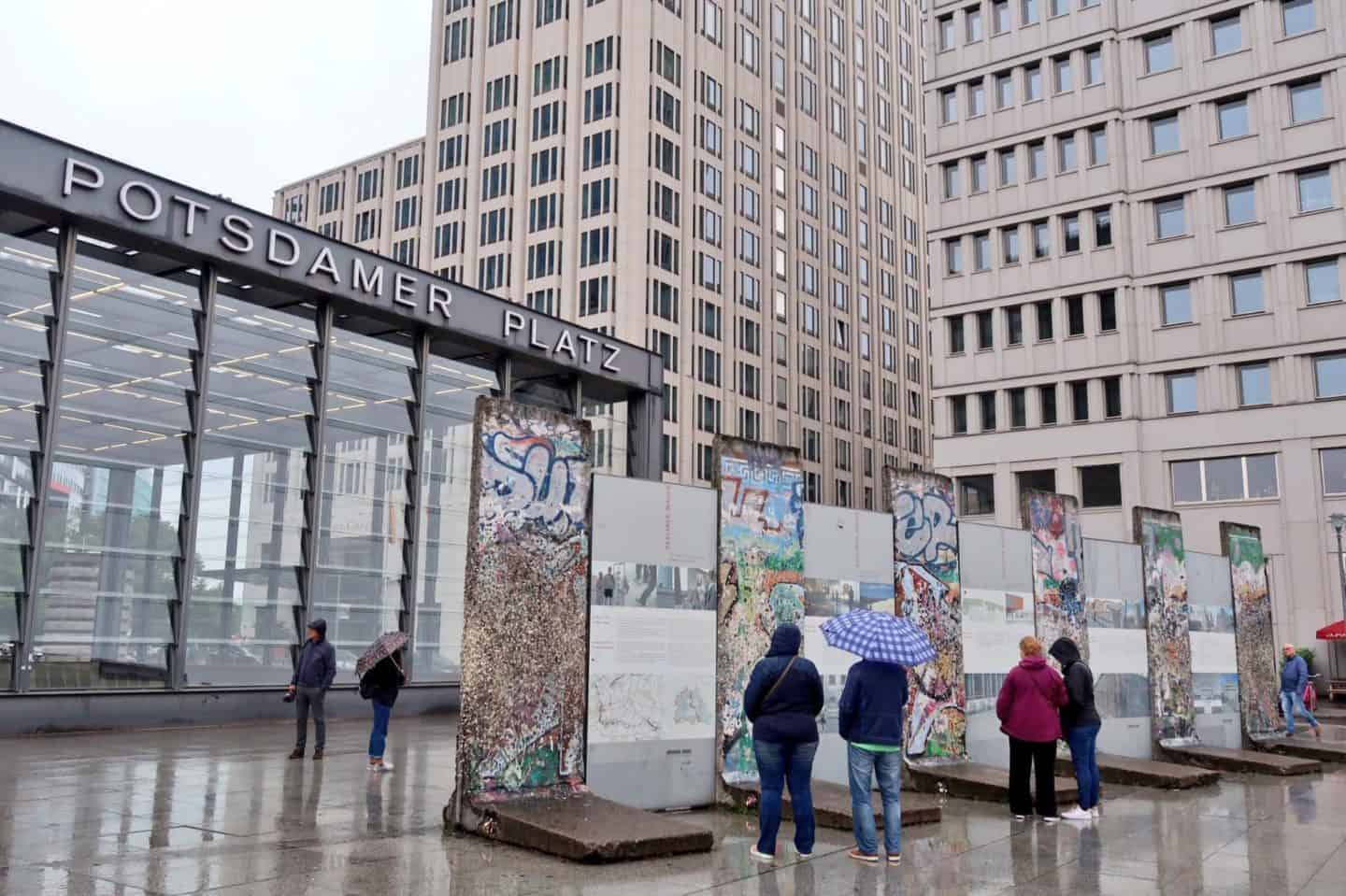 The East Side Gallery
This perhaps is what Berlin is most famous for and Berlin's biggest tourist attraction. I didn't expect the East Side Gallery to be next to a main road but it is. What I did expect though was a lot of incredible street art pieces and that's exactly what it is!
Again this wall is hugely important in terms of remembering the past and the divide of East and West Berlin but it's also a memorial for freedom and the future. It's possibly the largest and longest-lasting open air gallery in the world and I hope it stays like that.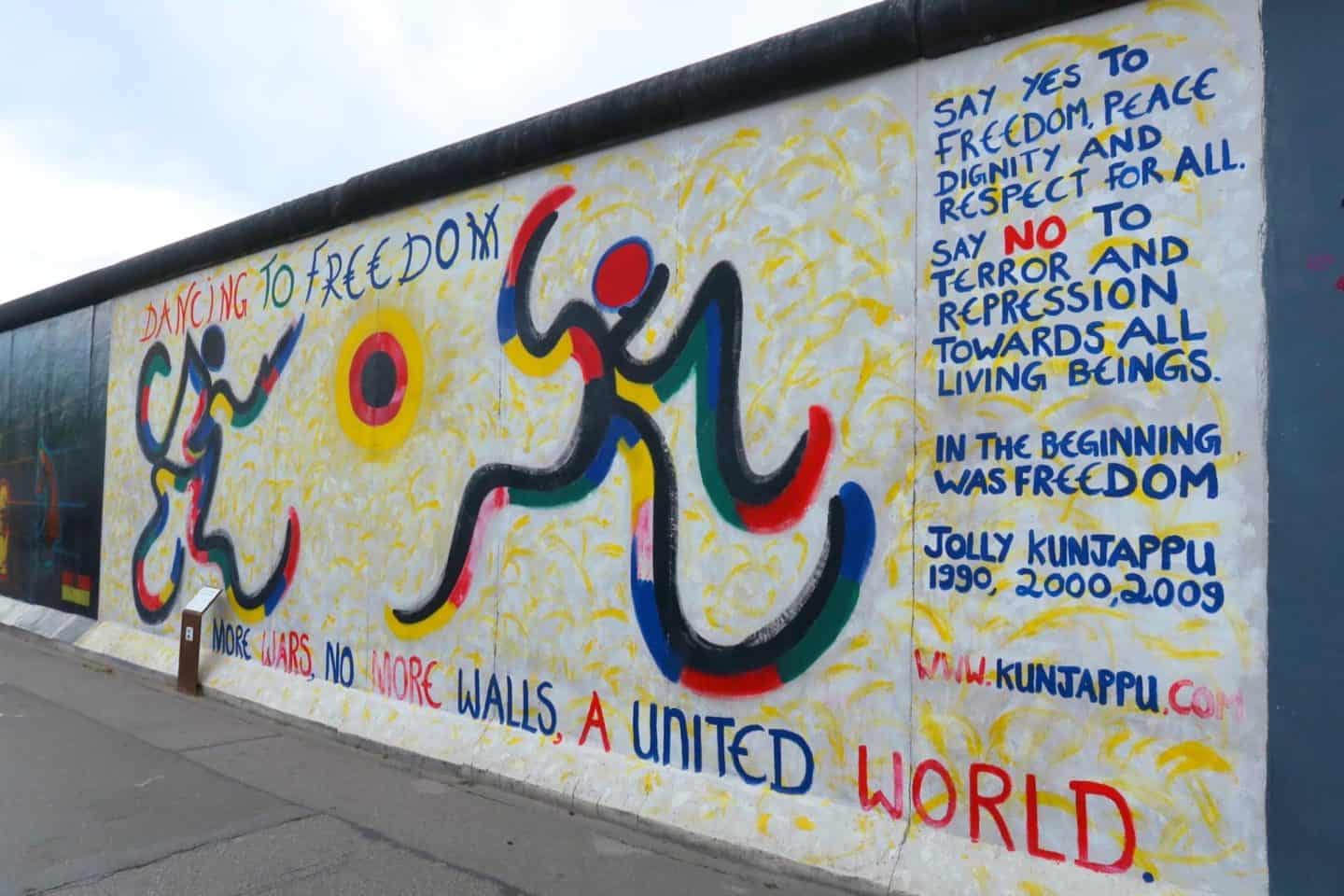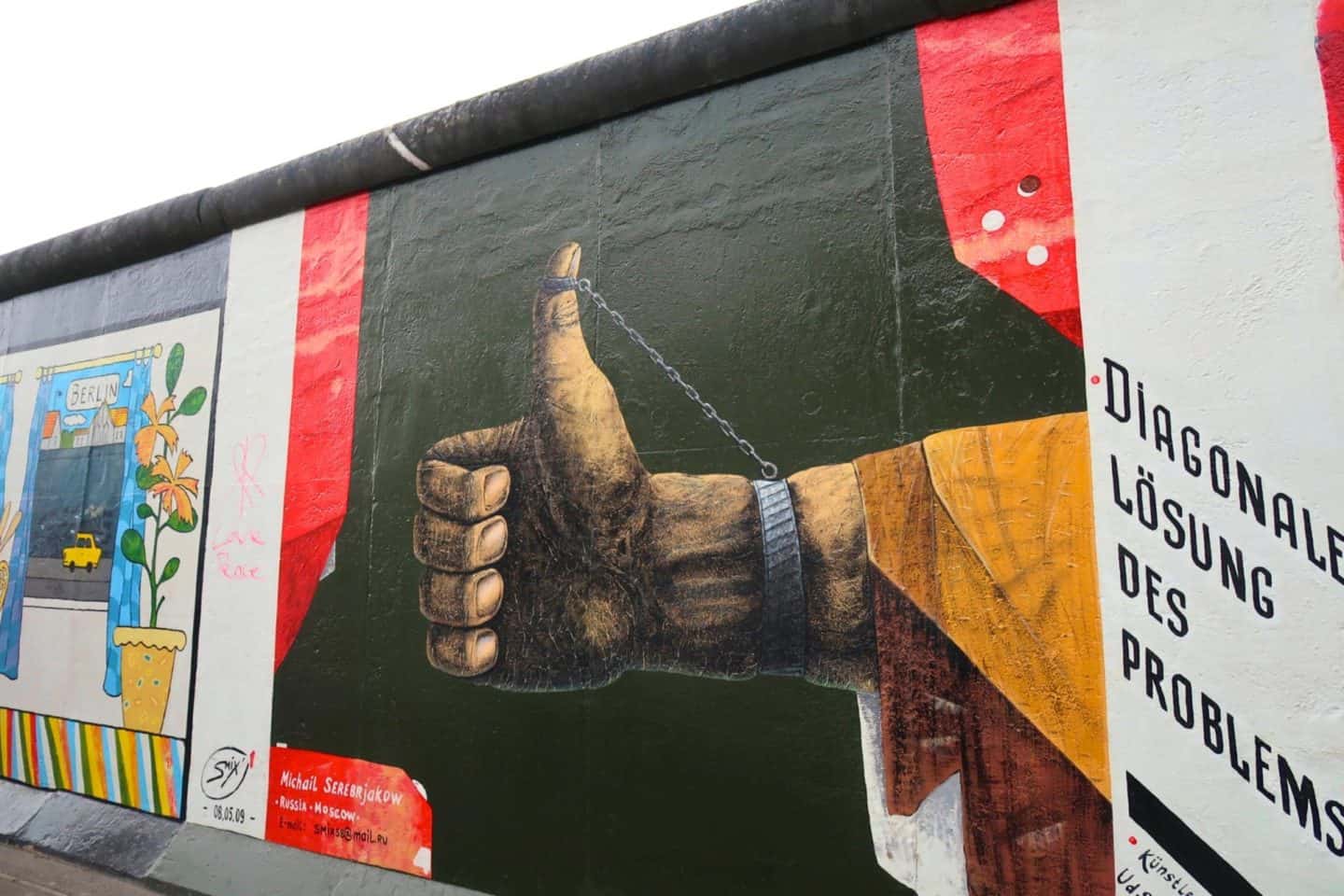 TV Tower
I could see the TV Tower from my hotel bedroom window and I didn't go up the tower to the viewing platform as I had a pretty good view from my hotel room too but if you don't have this luxury then a trip to the top of the TV Tower would be worth it to see Berlin beneath you! You can also grab a drink or have a meal up there if you book ahead!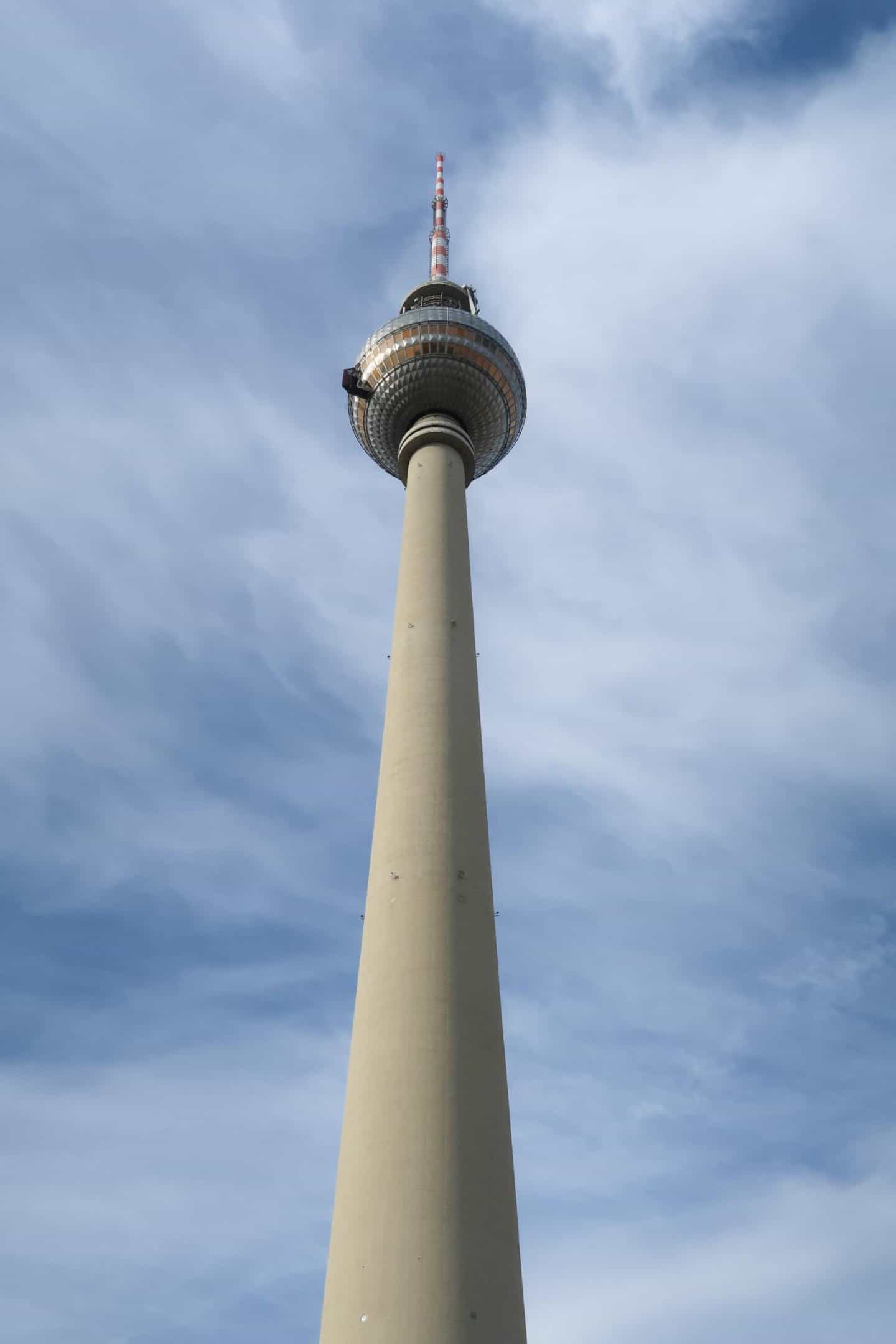 Less Popular Places in Berlin to Visit.
I didn't get to visit as many local areas of Berlin as I wanted to in my 3 days in Berlin and on my first time in Berlin but I did visit a few gems that I didn't associate with 'Iconic, touristy Berlin' so here they are:
Mauerpark Fleamarket
If you're in Berlin on a Sunday you have to take a walk up to Mauerpark. Open pretty much all day this flea market is home to many many stalls selling a range of things as well as many food stalls. It's popular with locals as well as tourists giving it a great vibe.
Kara and I had a wander around the stalls, grabbed a coffee and then sat in the park. It was a great way to start the day and what I loved is that we walked through some really residential areas to get to Mauerpark meaning I got to imagine where I could possible live if I do/had moved to Berlin!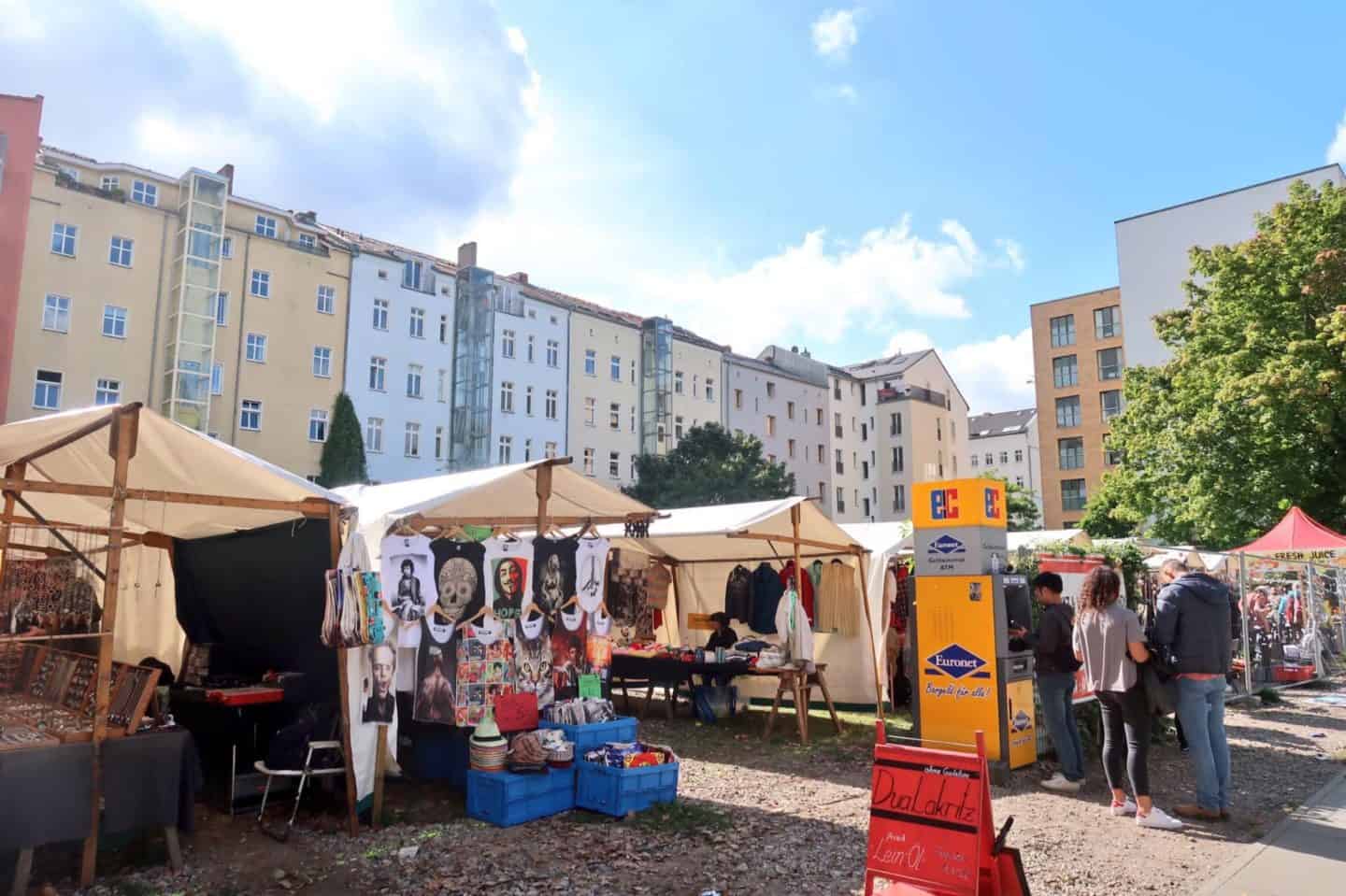 Landwehr Canal
To find Zola (where I had the most amazing pizza, more on that below!) Kara and I took a walk a long Landwehr Canal or Landwehrkanal as its called in German. We started at Ratiborstraße/Paul-Lincke-Ufer at the very Eastern end of Kreuzberg and walked a long it for a few hundred meters.
Walking a long it we felt completely removed from city life. It was like we were in a whole different place and I realised that we had stumbled upon a hidden gem in Berlin that you don't see from getting on a tourist bus but you do get from simple wandering around Berlin.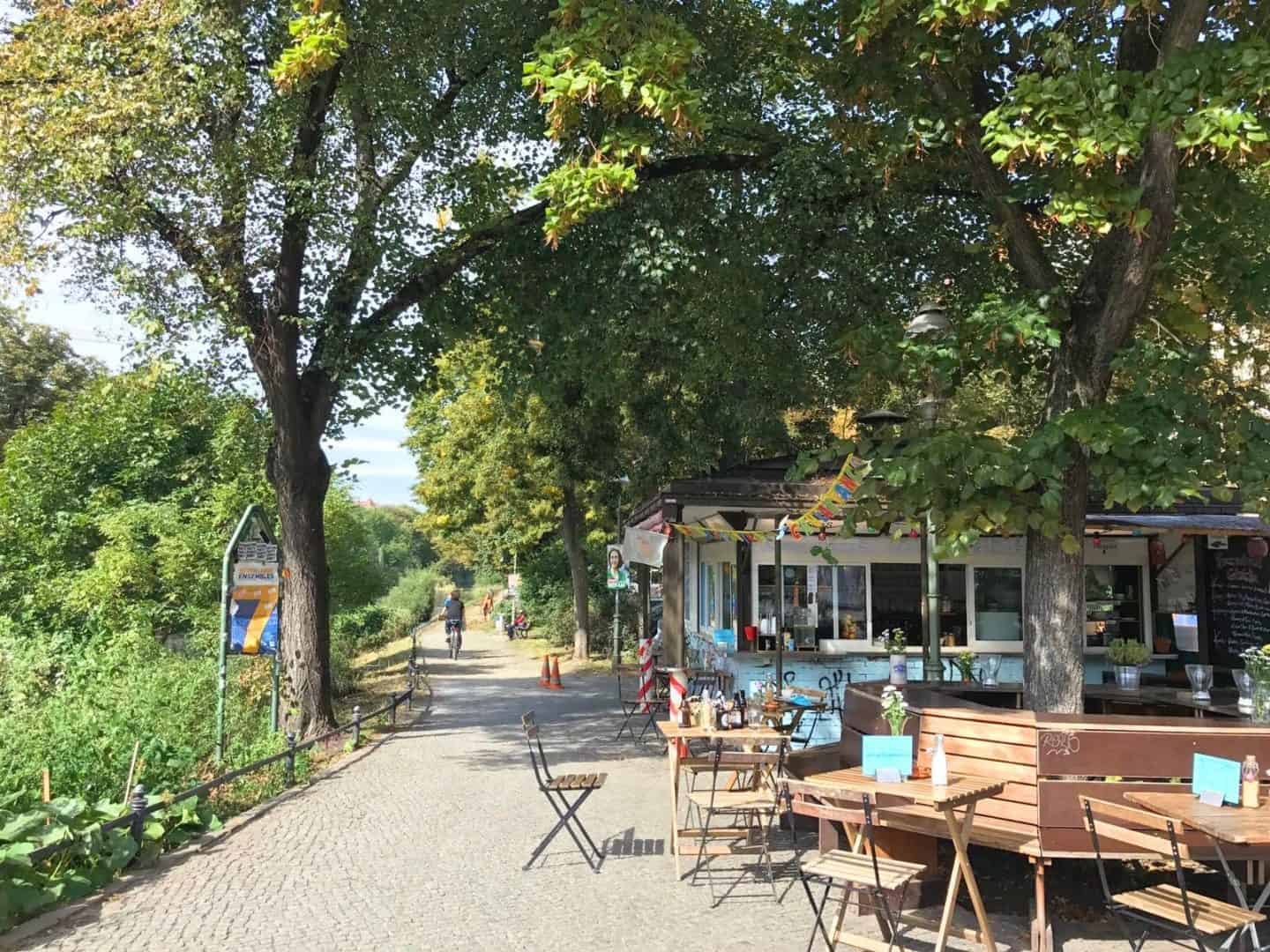 Best Activities to do on your first time in Berlin.
Free Walking Tour
I didn't get to do a walking tour on this trip but I usually love walking tours.. especially free ones! It would have been really interesting to learn more about Berlin on a walking tour from a local due to it's incredible history and size!
Alternative Walking Tour
My friend did an alternative walking tour in Berlin which she highly recommended. These tours take you beyond the tourist destinations underground and to see some street art and graffiti that you would not see visiting on your own!
Bike Tour
Berlin is a city that's set up for bikes with lots of bike lanes so bike tours are popular too. My friend also did a bike riding tour with Fat Tire Tours which she said was an awesome way to get a lot of the big touristy things done!
Hire a Trabant
Whilst walking around Berlin we saw a few very old-looking, small cars being driven around the City by what looked like tourists. Further research has informed me that you can hire these old Trabi car's which were built in East Germany between 1957 and 1990 and see the cities sites in them! If there's a group of you visiting Berlin this could be a fun way to see the city!
Where to Drink in Berlin.
Berlin is a city that is known for its nightlife! However when in big cities like Berlin it can often be hard to find out where to go. Those cool, trendy and local bar's aren't easy to find!
That's why I love the interactive map that lastminute.com have created for Berlin and many other cities called #MusicMakesYouTravel, because, well, it does!
Berlin has been split into 4 sections on the map, if you click on a section it will show you bars and iconic music spots in that area and gives you a short intro about them.
For example, earlier in the post I said that Kreuzberg is good for food and drink. Kreuzberg is an area on the map and when you click on it one of the recommendations is a bar called Madame Claude- 'this interesting and unusual venue is an upside down bar located in a former brothel', this bar sounds like an interesting place to start your night in Berlin!
There's also a list of music genres which you can pick from and then bar's and parts of the city that are relevant to this style of music will appear. For example if you're into Jazz then the map recommends Van Gagh Piano and Cocktail Bar and Quasimodo, perfect!
Due to being at Lollapalooza festival for both evenings I was in Berlin I couldn't visit any of the suggested bars however The Berlin Wall is a spot you visit during the day and also a spot on the map. It says that Bloc Party and David Bowie are 2 of the many artists who have been inspired by Berlin and declared their love for the city by writing songs about it… you learn something new everyday hey!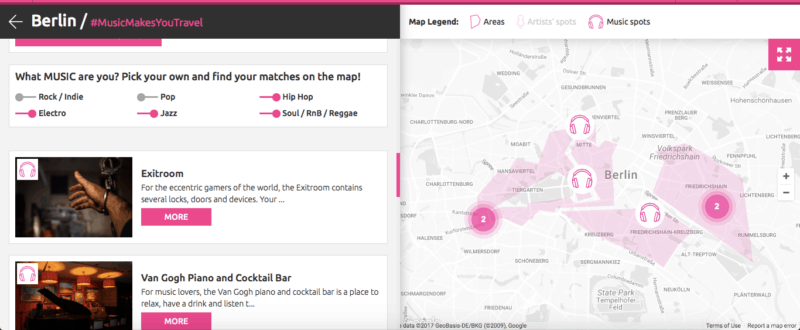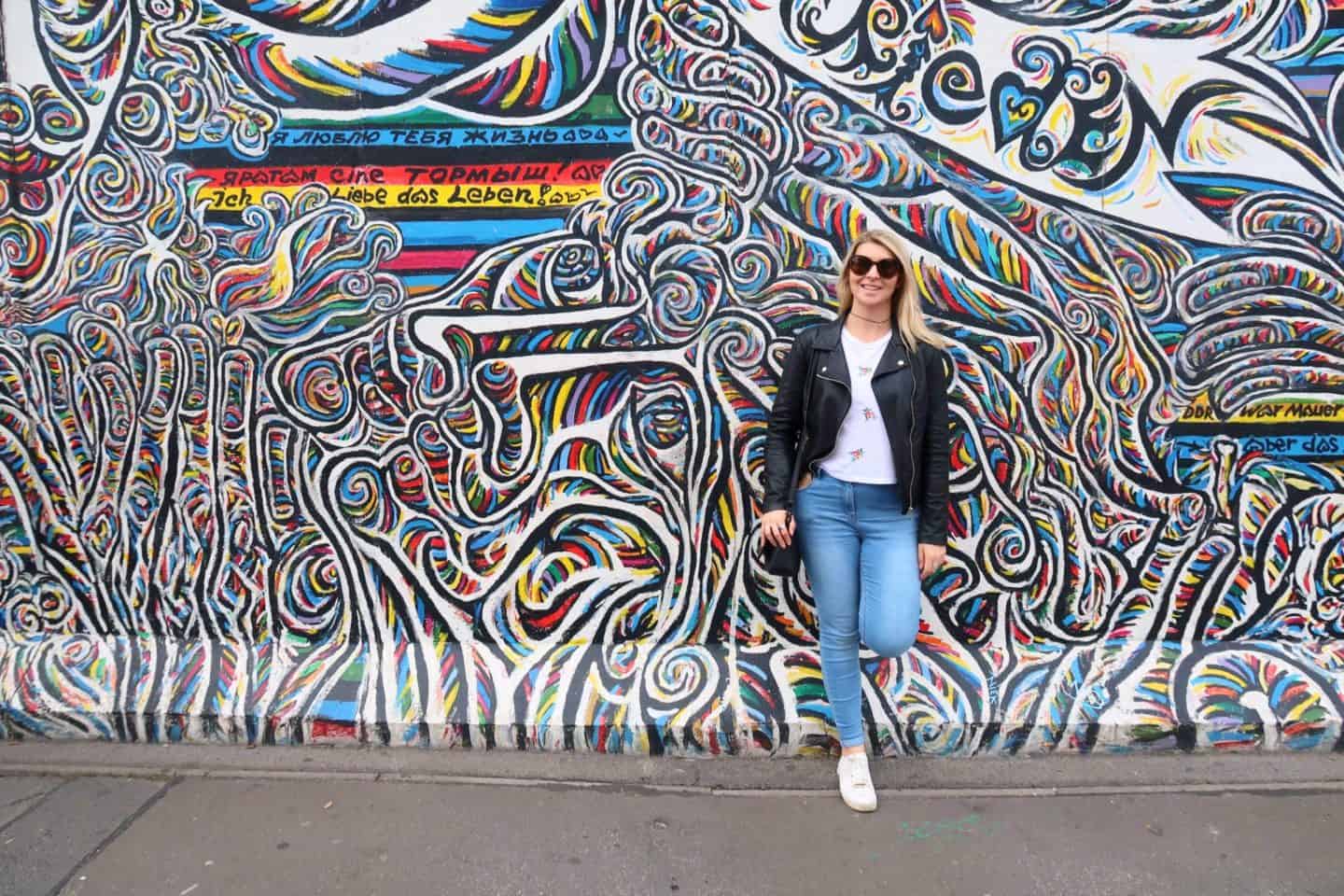 Hofbräu Berlin
Hofbräu Berlin is an extremely touristy Bavarian style beer hall but it's fun and worth visiting! I would however, recommend it for the beer over the food!
Berghain
If you want a big night out in Berlin, and I mean big! Berghain is the place to go! It's one of the best techno clubs in the world and it's in the middle of Berlin!
It sits on the border of Kreuzberg and it's notorious for being hard to get into as I've heard the bouncer just decides who goes in and who doesn't but if techno's your thing then can you go to Berlin and not visit? I don't think so!
Where to Eat in Berlin.
Burgermeister
If you don't visit Burgermeister when you're in Berlin did you even go to Berlin??? The answer's no.. just FYI! So you have to go on your first time in Berlin!
Burgermeister is now in 2 locations and serves the best burgers in Berlin. I visited the one in Kreuzberg (see I told you you have to stay in this area if you like food) and it didn't disappoint. I went for the plain fries which were a bit plain so I would recommend getting the cheese fries or chilli fries as Kara did as they looked seriously good. I went for the Cheeseburger too which was incredible!!
It's a really chilled setup, you order at the bar and get given a ticket with your number on, hope to god there's a table you can sit at, wait for your ticket number to be called in German or appear on the screen if you don't know any German, pick it up from the bar, get your sauces from the side counter and you're ready to eat!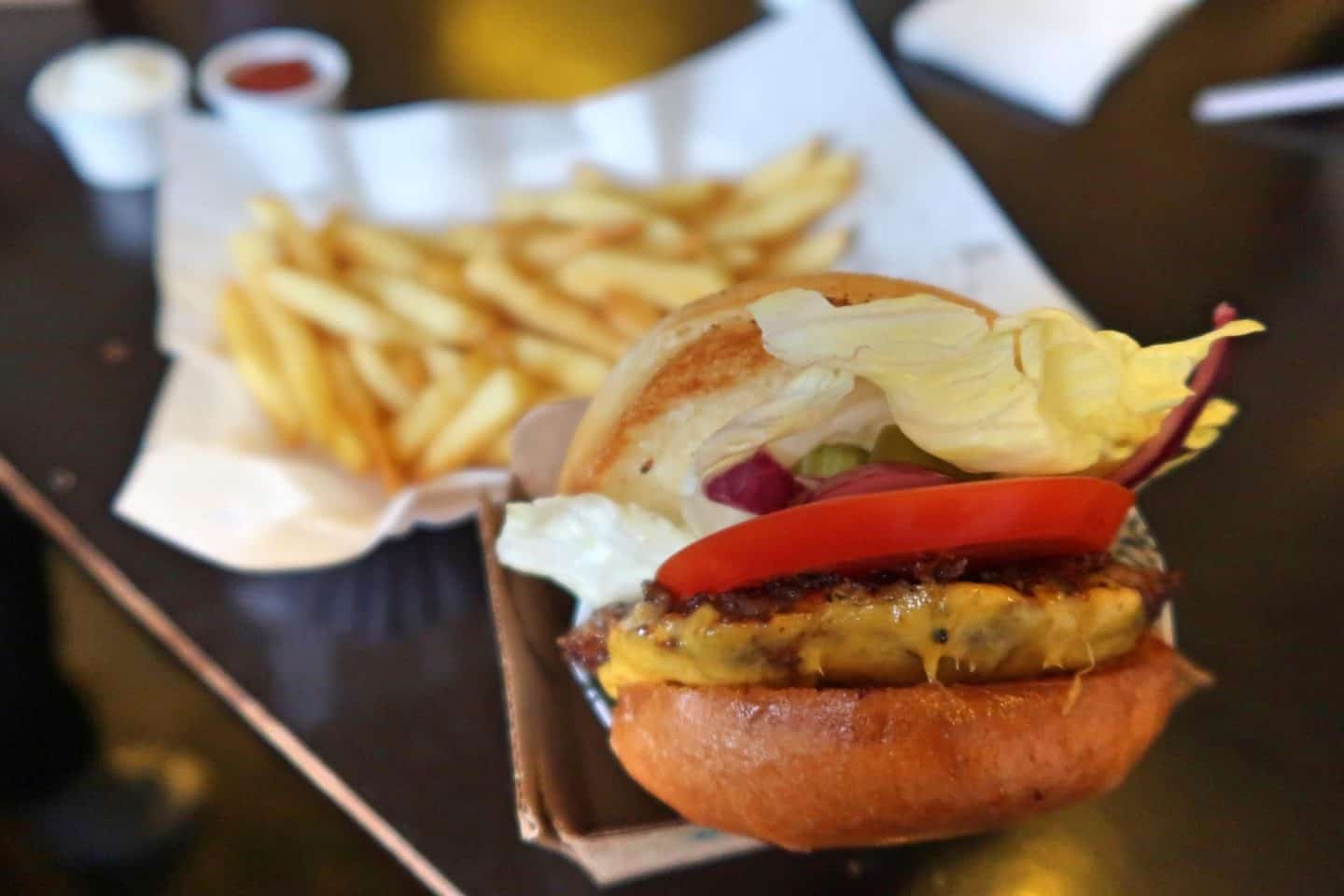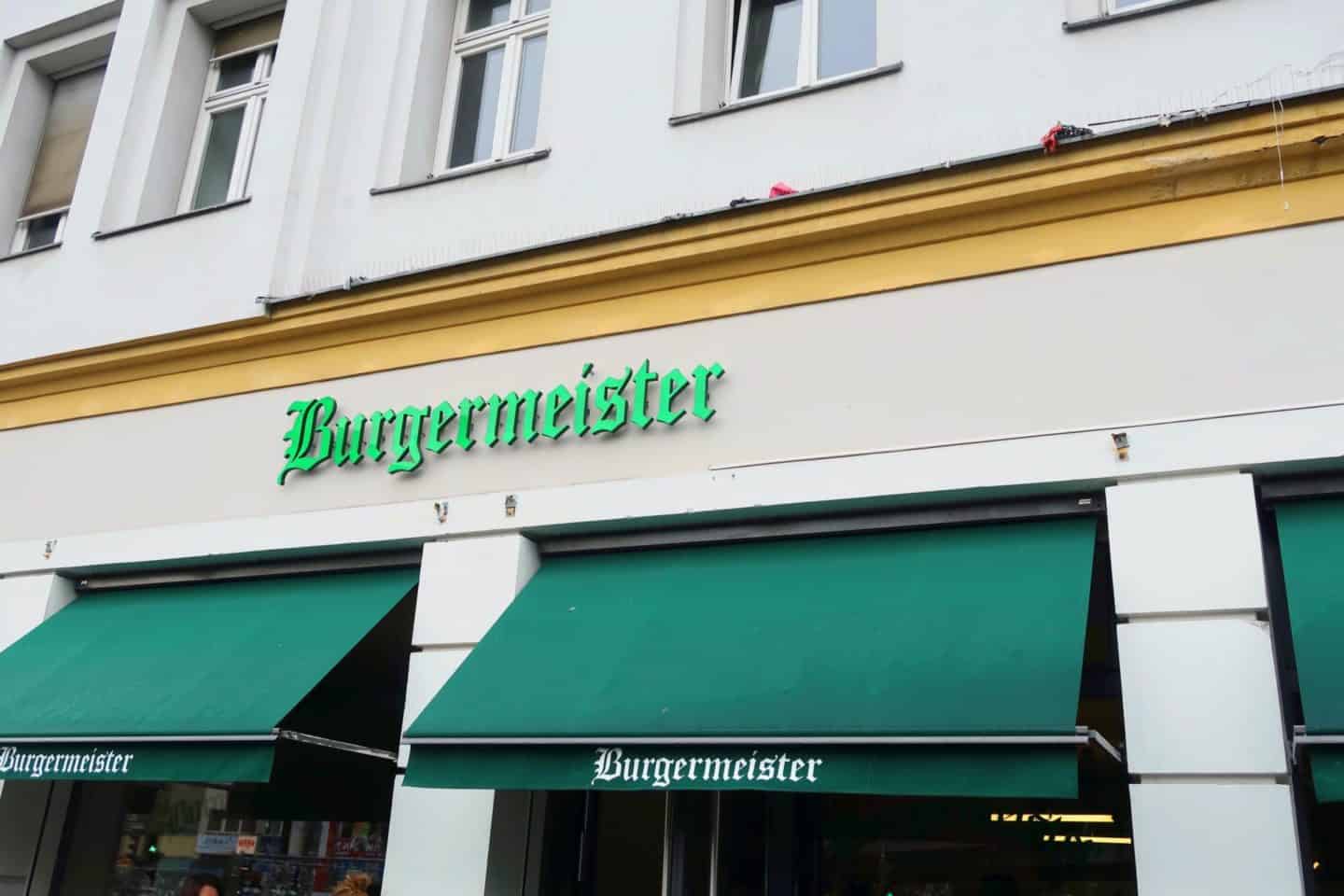 Zola
Zola is a pizza restaurant also in Kreuzberg, it sells Neapolitan Pizza and let's say we felt like we could have been in Italy, this must be the best Pizza in Berlin! The pizza was incredible and Zola is located right by the canal so it's in a lovely area. We visited on a Monday lunch time when it was fairly quiet but I can imagine come evening this place gets busy!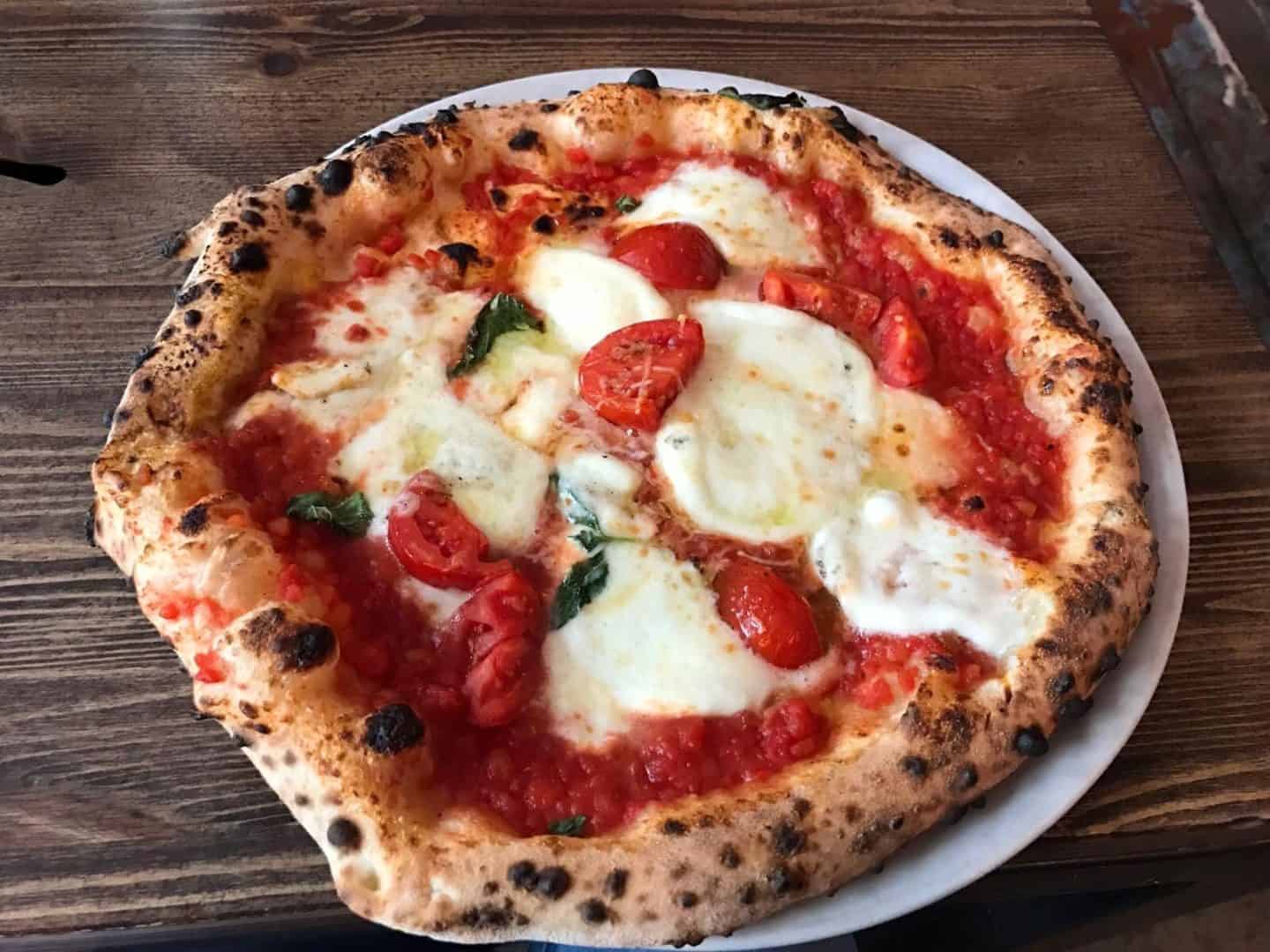 District Mot
A place I did have on my list but we didn't have time for is District Mot. Berlin has a big Vietnamese population and I heard that this is one of the best places to visit!
Currywurst
Ok so Currywurst is a German dish rather than a restaurant but you can get it all over Berlin and I would recommend not leaving before you have tried it!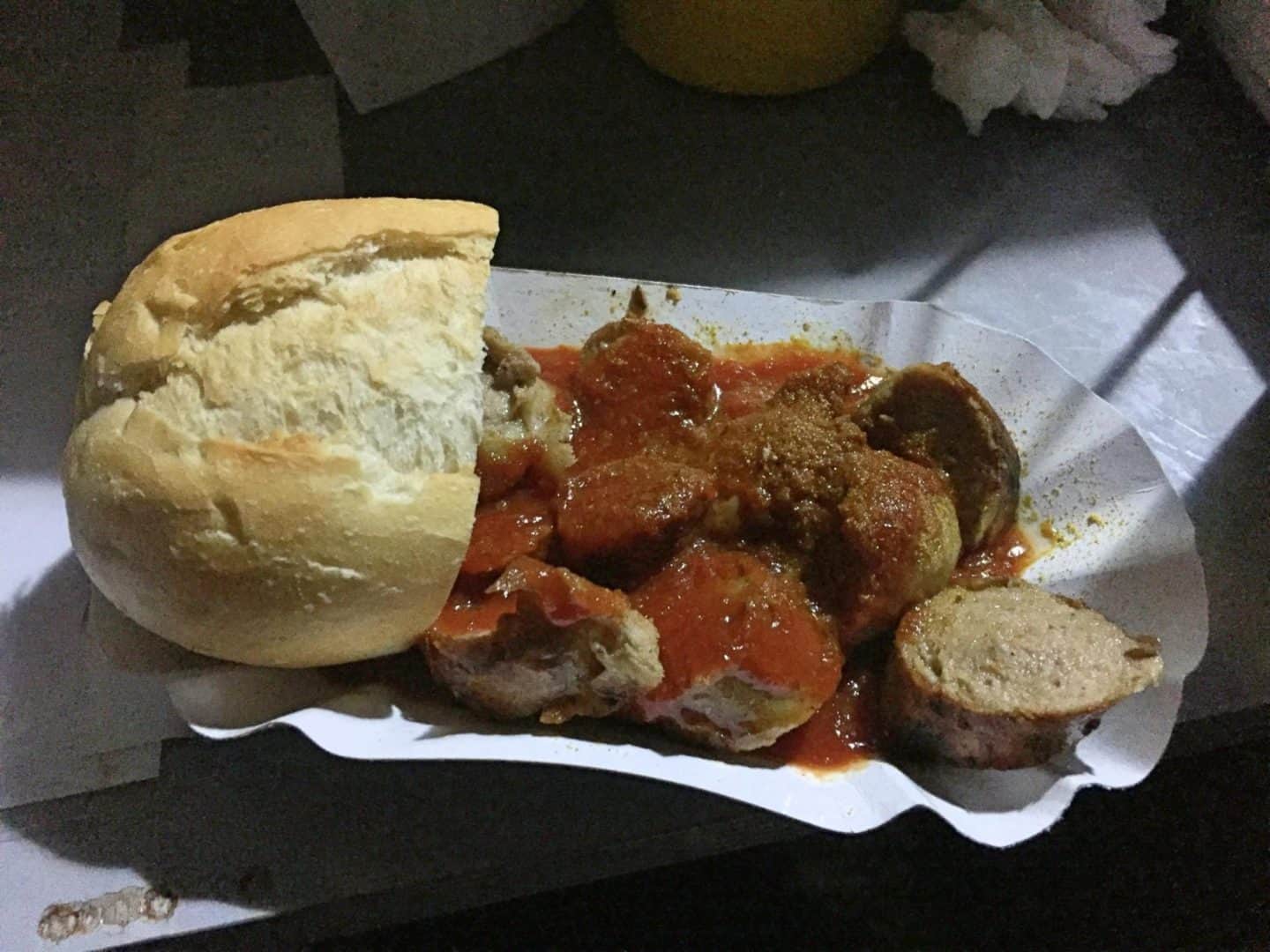 Due to attending the festival I didn't get to visit any other spots in Berlin so if you want more ideas on the best places to eat and drink in Berlin on your first trip to Berlin check out my friend Sophie's blog post- The Ultimate Food and Drink Guide to Berlin and thank you to her for suggesting to go to Zola!
Berlin is also a Vegan's Dream and there are so many Vegan Restaurants and Cafes in Berlin!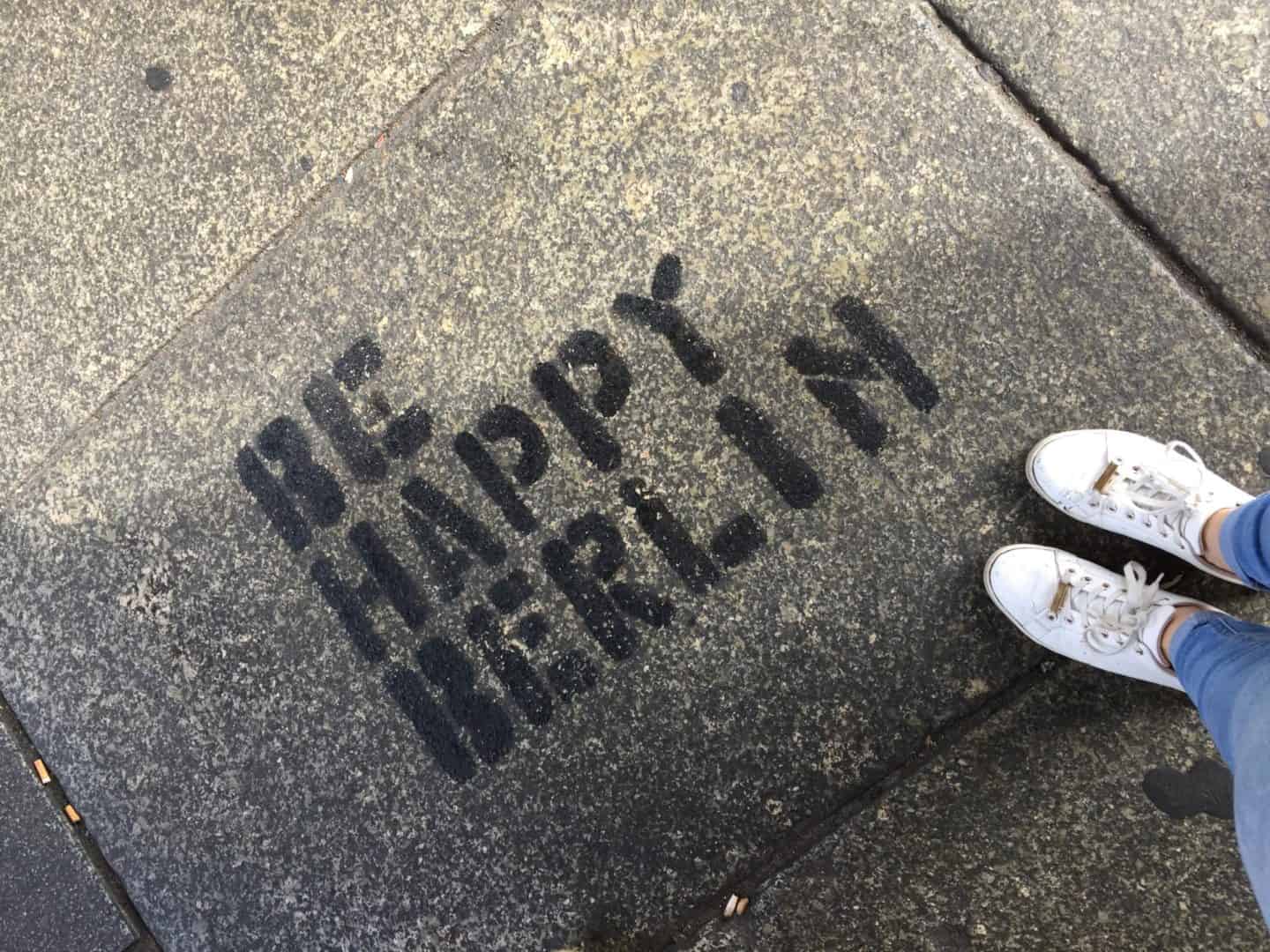 And that should pretty much cover you for your first time in Berlin!
More of my Germany Posts:
I visited Berlin with lastminute.com but all opinions and thoughts are my own!