This post may contain affiliate links. I will receive a small commission if you use these links.
---
My best friend moved to Dubai to work for Emirates Airline so I decided to visit her and spend 1 week in Dubai. It was hard fitting all of the Dubai attractions and all of the things to do in Dubai into 1 week but we managed most of it.
I had a great time in Dubai and although Dubai is popular for families and honeymooners, a girls trip to Dubai is also a great idea! This is what we got up to in 1 week in Dubai and places I'd recommend you visit too!
Things To Do On A Girls Trip To Dubai!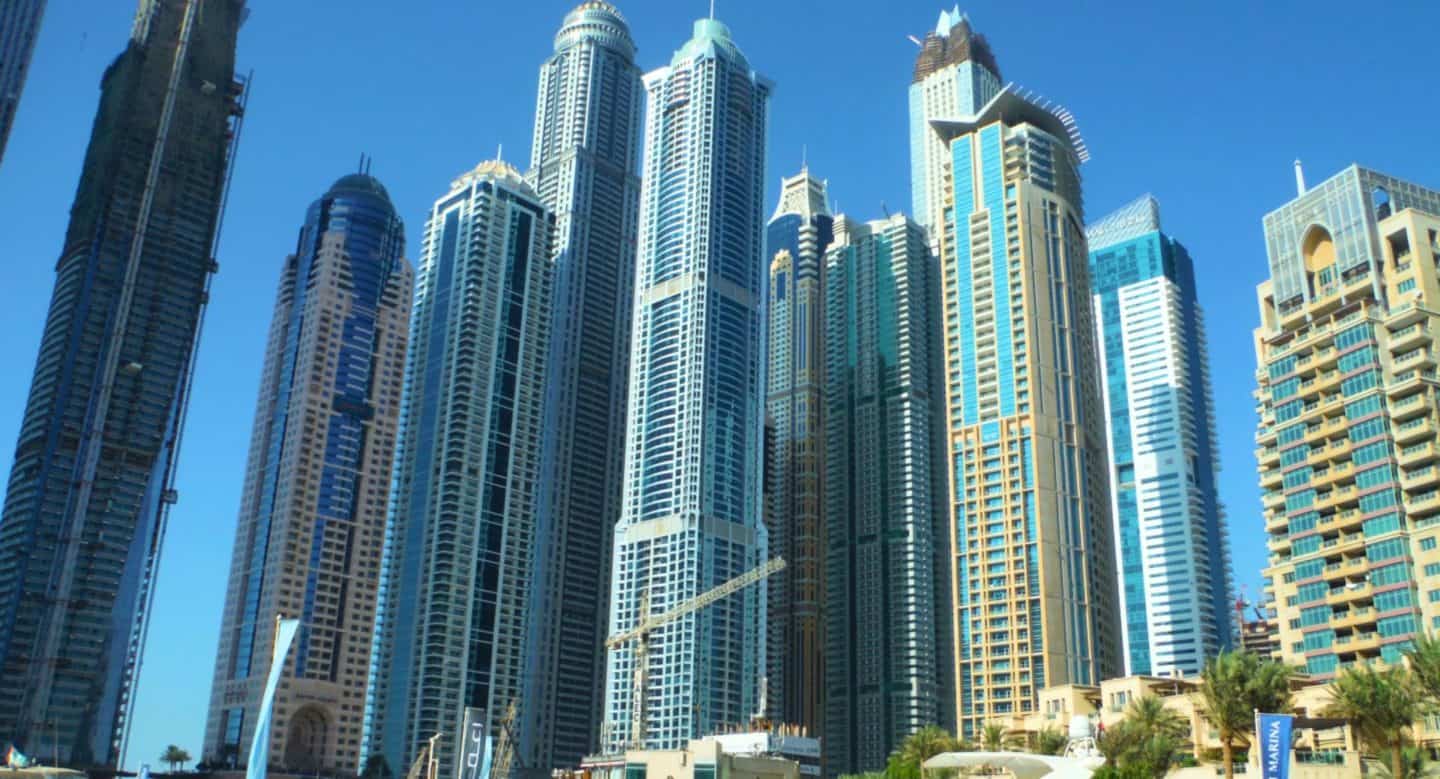 Related Post: 40 things to do in Abu Dhabi
1. Burj Khalifa
The Burj Khalifa is by far Dubai's most iconic building, it took 5 years to build and opened in just 2010 and with it being the world's largest building and visible from most places in the city I can see why.
We didn't go to the top, my friend had been there up there a few times already and I wanted to save some money as I was travelling Dubai on a budget, but I loved seeing it from ground level.
Every night from 6:00 pm at 30minute intervals there is a fountain show outside which can be accessed via the Dubai Mall and is indeed the largest musical fountain show so don't miss out on seeing this either as it was pretty impressive!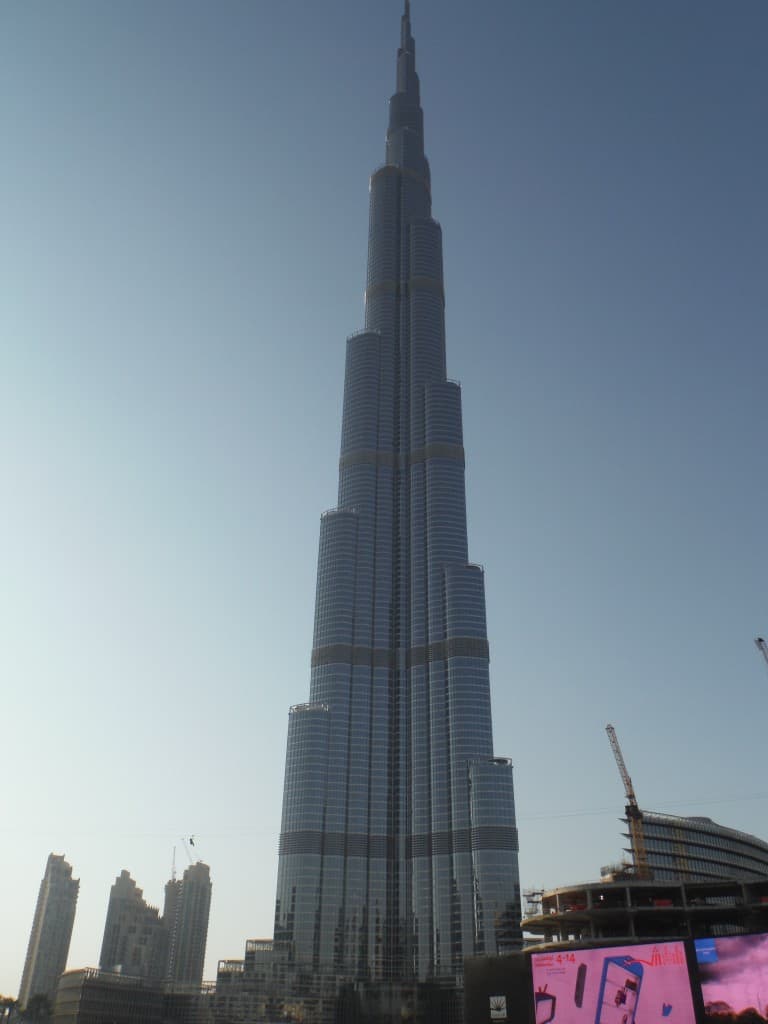 2. Dubai Mall
Right next to the Burj Khalifa is Dubai Mall and this being Dubai means it's no ordinary mall.. oh no, this Mall has a waterfall in it, high street shops, high-end designer shops and so many food outlets. There's even an Angelina cafe with outside seating so you can eat your macaroons and pretend you're in Paris while in the Dubai Mall!
The Dubai Mall is just an example of how crazy Dubai is. In fact, Dubai is so crazy and well known that a lot of people question which Country is Dubai in?
3. Dubai Marina
The Marina is where you'll get the iconic skyscraper shot from. This is truly an area that you just want to move to and live in! In fact, a few years later my friend did move near here! The huge buildings gleam in the sun, there's crazy huge yachts and some very fancy restaurants.
The Marina was lovely to see during the day and a few days later we went for dinner at Asia Asia before going out for ladies night in Dubai and it was even better sitting 6 floors up and seeing it in the dark when we were all dressed up!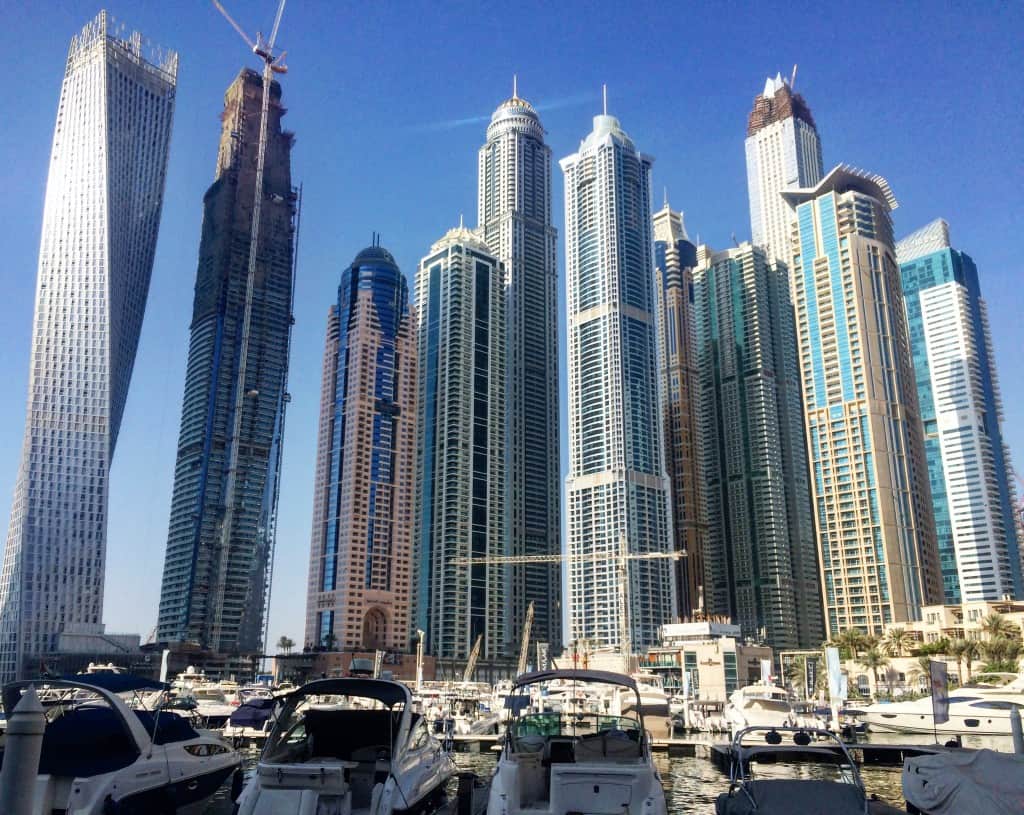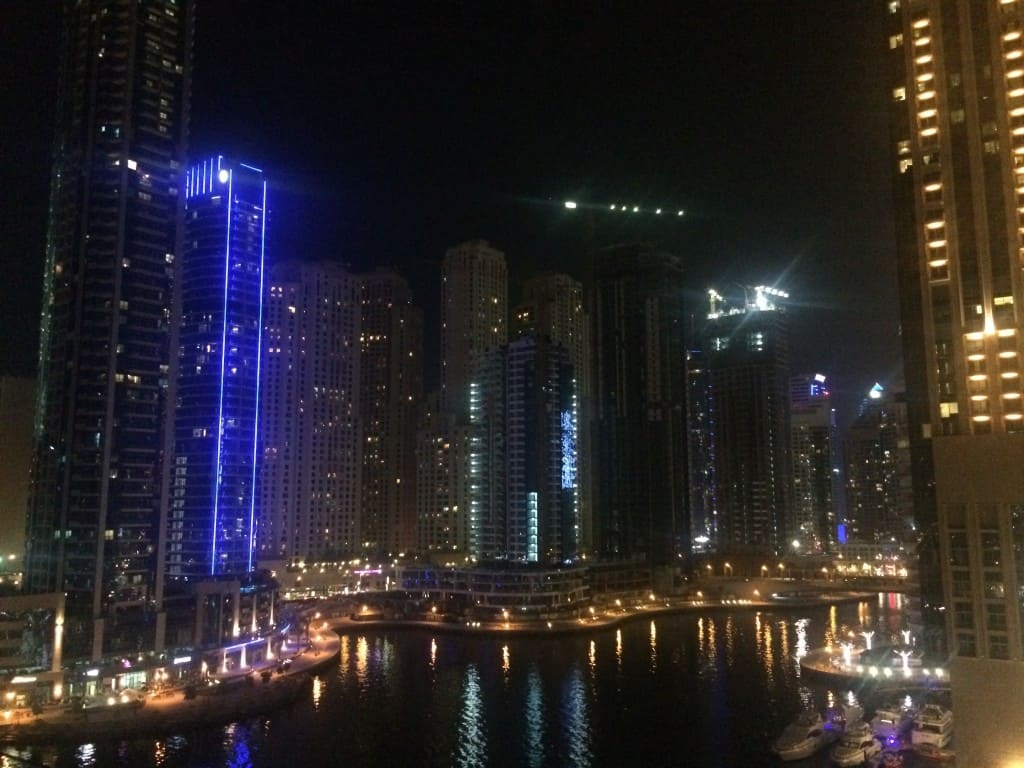 4. Barasti Beach Bar
Dubai's coastline holds many beaches but some are private beaches for the hotel behind them and others although free to the public are part of a bar of some sorts.
My friend took me to Barasti Beach Bar which is a really awesome place. During the day there's huge beds and sun loungers you can lie on (but get there early to ensure you get one!), there's a bar, they serve great food and there's music pumping and this carries on into the night.
Some people were dressed pretty casual like they were going to the beach and other's like they were on a night out but either way it's a good place (and a free place) to go, the water was bath temperature and a lovely colour and while the heat defeated us within an hour or so I was glad I got to see a beach and have a very yummy Halloumi salad there.
5. Brunch in Dubai
When my friend moved to Dubai she kept talking about going to 'Brunch' and I couldn't work out what this was! For most of us, it's a mid-morning meal yet she was always dressed up and drinking in her photos.
After further questioning, I found out what it was and booked my flight around being in Dubai for 'Brunch' because it's a big deal and one of the best things to do on a girls trip!
Basically every Friday many of the hotels in Dubai offer 'Brunch', it tends to start around noon, you pay an entrance fee which will depend upon where you are and then you get unlimited drinks and indeed get a buffet of food. In the UAE the weekend's are Friday & Saturday so it's basically a good excuse to have a day drinking session.
We went to Double Decker's Brunch as it's one of the cheapest and full of British ex-pats (with the buffet being a Sunday Roast!) but definitely check out what's on offer near you, I heard the one in the Atlantis is pretty awesome!
6. Atlantis Hotel & the Palm
While on the topic of the Atlantis hotel, this was another building I really wanted to see as I would say for me its the second most iconic building in Dubai and I also wanted to go onto one of the man-made Palms (although once on there it doesn't feel much different!).
It's take's awhile to get to especially via Public transport as we had to get the Metro to the Marina, swap onto the Tram for a few stops and then take the Monorail through the Palm (note that you can't get on this with your normal metro ticket, it costs an extra 25 AED/ £4.50 for a return trip), where you get a great view of the hotel just before you reach the hotel's station.
The Atlantis hotel is right at the top of the Palm and was only opened in 2008. We had a little walk around the hotel but the main reason for us visiting was so we could be big kids and go to the Waterpark- Aquaventure.
We did consider not going as it's pretty pricey at 315 AED/ £57.00 (although if you prebook online you can get it cheaper- which I just found out now researching the price!!), but we did get it a bit cheaper because of my friends UAE resident card and I'm so glad we went! We got a double tube and were on the rides for a good 3-4 hours, there are lots of slides which mainly you have to be in a tube for and then there's a lazy river which connects some of the rides and has rapids and we were just like kids screaming and rushing from one ride to another and it was so much fun being there with a friend!
If you are in Dubai with Kid's, this is a great thing to do!
7. Ladies Night in Dubai
If you're looking for the best night out in Dubai on a girls trip then definitely plan to be in Dubai on a Tuesday night for Ladies Night! We got all dressed up and went to a restaurant- Asia Asia in the Marina where we were automatically given 3 tokens for 3 free drinks there (we did have some dinner too but I think we still would have got them even if we didn't eat), and then we got a taxi to a bar called '360' in Dubai which sits just across from the Burj Al Arab, the third iconic building I wanted to see!
360 was a brilliant bar, it's all outdoors, has some awesome music and we got tokens for 4 free drinks on arrival!
So basically on Ladies night you just have to pay for taxi's and that's it.. perfect! And perfect for a girls trip to Dubai!
8. Desert Safari
A popular trip to get away from the city is to do an evening Desert Safari. We booked the trip online and paid 185 AED/ £33.00 which I thought was really reasonable.
We got picked up at our accommodation at 3:00 pm, the drive there was a good hour or so and then we were in for some stomach-dropping, dune bashing (make sure you don't eat before leaving!). There were lots of screams but I felt totally safe and it lasted just long enough and we then got out for a photo opportunity.
The itinerary say's that you'll be able to watch the sunset but unfortunately, it set while we were driving to our next spot however on arrival the sky was a lovely colour. Here and included in the package were camels to ride (although you only get about 5 minutes on them walking in a circle with them having to sit up and down so it's not very nice for them or you), henna which you could have painted on your hand or foot, shisha to smoke and even the opportunity to try on traditional Burqa.
Following this is a 2 course dinner which was surprisingly suitable for vegetarians and a pretty impressive dance to watch between both courses. After the belly dancing, we were back in the jeeps and were home by 9:00-9:30 pm.
This is something I would highly recommend doing when in Dubai with friends. Of course, it's not particularly traditional and has been changed to meet Western standards but it was a great evening out.
9 Visit Dubai Old Town
Dubai isn't all huge, fancy skyscrapers, located in the North in Bur Dubai and Deira separated by the creek is Old Dubai.
We only spent a hour or so here but it was all we needed to get a feel for the area. There are lots of souks including a Spice Souk and a Gold Souk. You do get hassled quite a bit but if you want to do some cheap market shopping this is the place!
There's also the Dubai Museum which we didn't go in but sounds quite interesting
We took a boat from one side to the other which was a good way to see the creek and get a feel of what it used to be like.. plus it cost 1 AED/ 0.18p so we couldn't go wrong!
10. Sheikh Zayed Mosque
Lastly and although not technically in Dubai but in the neighbour city of Abu Dhabi is the Sheikh Zayed Mosque, which is well worth the journey to visit. It's safe to say its the Grandest Grand Mosque I have ever seen, its free to get in with a free tour and you will leave feeling amazed at the beauty of it!
It's a great place to get amazing photos of you and your girls!
Read my full post here on how to visit Sheikh Zayed Mosque from Dubai.
As you can imagine my 1 week in Dubai with my best friend were very full and busy but I wouldn't have it any other way and we had a great girls trip to Dubai!
---