This post may contain affiliate links. I will receive a small commission if you use these links.
---
Hampstead Heath Swimming Ponds are an institution in the village of Hampstead and it feels like it's all about wild outdoor swimming at the moment, so there is no better place to visit for wild swimming in London than the Hampstead ponds!
Open all year round you'll only spot a few brave and dedicated swimmers in the winter months but come spring & summer in London the Hampstead Heath Bathing Ponds are filled with people wanting to go swimming at Hampstead Heath, and who can blame them!
The ponds are the best place to go swimming in London and certainly one of the most unique things to do in London!
Here are a few tips and pieces of information on how to visit the Hampstead Heath Ponds including costs, opening times and whether you need tickets because during the last 2 years tickets have been needed, then they haven't, then they have again! Yes, it's been confusing!
Hampstead Heath Swimming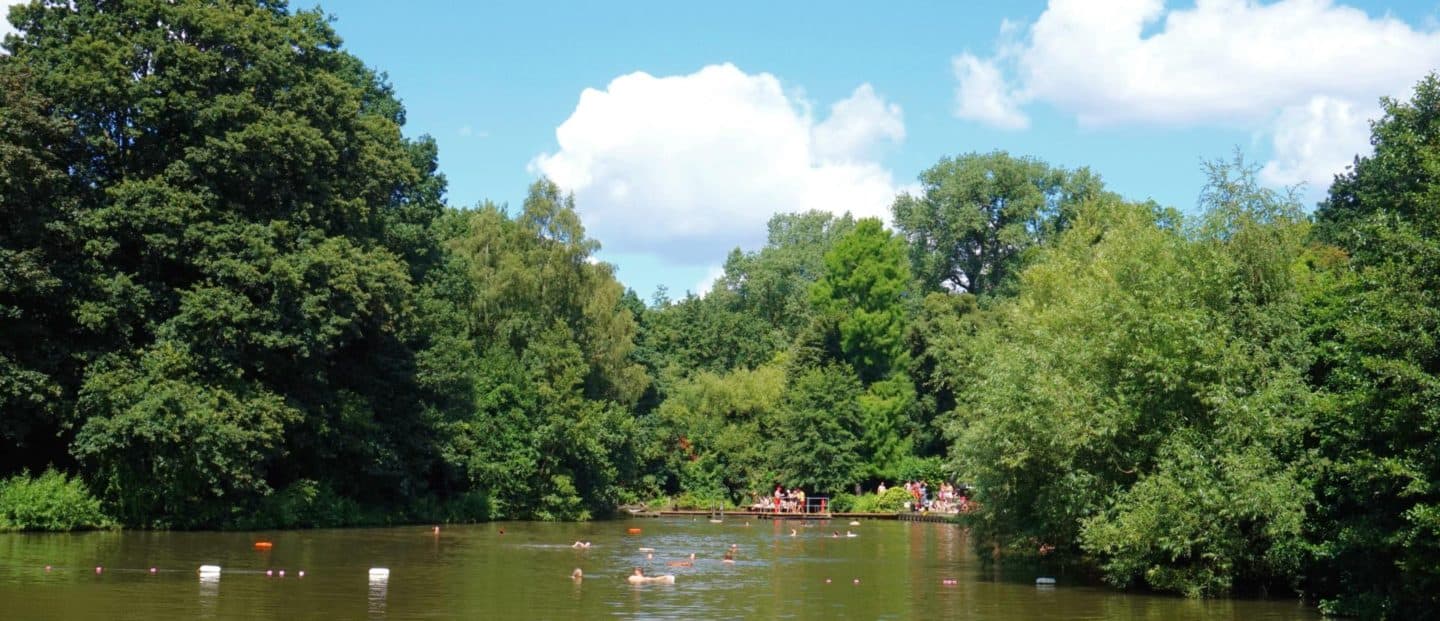 To make the most of your day in Hampstead, check out my other Hampstead blog posts:
1. Hampstead Heath Ponds Tickets!
Over the last 2 years, due to the pandemic, tickets to enter Hampstead Heath Bathing ponds were introduced.
Their ticket system changed quite a lot during this time with tickets needed in summer at all times, then, tickets only needed in summer in the busy periods.
The best way to get the most up-to-date information is to check the City of London page and the Hampstead Ponds Eventbrite for the most accurate update on whether tickets are needed right now.
Below are the current ticket prices for the Hampstead Heath Swimming Ponds from the City of London if you go free flow or pay online on Eventbrite.
2. Go to the Right Pond.
There are 3 different swimming ponds on Hampstead Heath:
Hampstead Heath Mixed Pond which is closest to Hampstead Heath Overground Station,
Hampstead Heath Ladies Pond, also known as Kenwood Ladies Bathing Pond and Hampstead Heath Men's Pond, also known as Highgate Men's Bathing Pond on Google, both of which are closer to the Highgate and Kenwood end of Hampstead Heath.
See the map below to see where each of the ponds are for Hampstead Ladies Pond, Hampstead Men's Pond and Hampstead Mixed Pond:
If you're not in London already and need to book train tickets to London, be sure to check out The Train Line. I use them all the time to compare the best train times, journey lengths and prices!

3. Go on a Weekday or Early Morning if possible during Summer!
All of the Hampstead Heath Swimming Ponds get very busy during the Summer and any sunny hot day that we have in London so keep this in mind when you're thinking about when to visit Hampstead Heath Bathing Ponds, when is best to go swimming in Hampstead Heath and when you are trying to buy tickets for the ponds if they seem sold out.
If you can, I recommend going on a weekday over going on a weekend, and going earlier in the morning, especially if you can only go on the weekend.
4. Sunbathe outside the Ponds!
Although there is plenty of space in the ponds to swim even when it's busy, the grassy sunbathing areas close to the ponds are only small and do get very busy when the sun comes out.
So to save the pressure of finding a spot in the bathing area, I'd recommend going into the Hampstead Swimming ponds and then choosing an area of grass outside in the park to sunbathe and relax on before going back in to swim when you get hot again. Of course, just be careful of your belongings!
I'd especially recommend this if you are meeting a group of friends to go swimming in Hampstead Heath when it's a hot summer's day, as it's unlikely you'll all get a good spot to sit in in the Hampstead Bathing Ponds area.
To make the most of your day in Hampstead, check out my other Hampstead blog posts:
5. Note the Hampstead Heath Ponds Opening Times!
Although the Hampstead Heath swimming ponds are open all year round they do open and close at different times throughout the year.
For more information on the opening times of the Hampstead Heath Swimming Ponds have a look here!
6. Keep an Open Mind!
I found that a lot of ladies sunbathe topless in the grassy area of the ladies bathing ponds on Hampstead Heath as it's completely covered by trees during the summer.
And I have noticed that the male ponds on Hampstead Heath are frequented by men in very small swimming shorts.
Both are totally fine and that's the reason they are split which I love, but just keep this in mind in case you feel it would make you or people you go with uncomfortable, and remember that here's always the mixed ponds on Hampstead Heath.
Saying that, if you want to avoid children and families, the split-gender ponds are better to visit!
7. Don't forget about the Hampstead Heath Lido!
Hampstead Heath also has a lido which is a swimming pool outside, it's located at the Parliament Hill section of Hampstead Heath closer to Gospel Oak.
The Hampstead Heath Swimming Pool is a lot better if you have children and want to take them for a swim outside in Hampstead!
For more information on Hampstead Heath Lido, have a look here!
If Hampstead seems too far for you, here's a post on the best lidos in London!
FAQ about Hampstead Heath Swimming:
Do you have to pay to swim in Hampstead Ponds?
Yes, you will need to pay for entry as you enter the ponds to swim.
Can you Swim in the Hampstead Ponds?
Yes, there are 3 designated ponds for swimming in Hampstead Heath which are guarded by lifeguards and have all the facilities for swimming.
Are there Showers at Hampstead Ponds?
Yes, there are cold showers at the ponds. These are not showers like you find in leisure centres though and are very basic outdoor ones.
Are there Changing Facilities at Hampstead Ponds?
Yes, there are small changing rooms but do not expect leisure centre quality.
Is it safe to swim in Hampstead Ponds?
Yes, despite the mud and cold water, it is safe to swim in Hampstead Ponds. All 3 swimming ponds have lifeguards and people have been swimming in them since at least the 1970's. Recent work has been done on the ponds to ensure their safety. Of course, when the water is cold you have to take cold water swimming precautions to ensure your own safety from cold water swimming.
Although Hampstead Heath is a good place to start, there is much more to Hampstead than just the Heath.