This post may contain affiliate links. I will receive a small commission if you use these links.
---
The Channel Island of Jersey is not a totally budget destination, that's for sure. However it's not an expensive destination either, I know that may seem hard to believe initially as one of the things Jersey is known for is its tax haven status but you can certainly visit Jersey on a budget and cheaply if you try!
I have been to Jersey twice now. Both times I worked with Visit Jersey to show that Jersey is the perfect Island break and show what it has to offer, because Jersey does have so much to offer!
From it's 30 beaches, ocean activities, land activities, walks, restaurants and chilled out, relaxed vibe it's the perfect place to escape to for a weekend or even a week away.
Both times I visited Jersey I was really surprised about how accessible Jersey is to everyone, and that it isn't an off-limit destination if you are travelling on a budget any more than City, Island and Coastal destinations in the UK and Western Europe are.
I absolutely love Jersey and I really want you to experience the beauty of this island too.
Therefore I have put this post together to show you that it really doesn't cost that much money to visit Jersey, and Jersey can be visited on a budget!
Jersey on a Budget
---
I wanted to use real, live costs in this post, so the costs I have provided are based on visiting Jersey for a weekend in September and I have researched them in June, as like with any destination, it's always best to book a few months out so no matter when you are reading this post, keep this in mind. If you want to visit Jersey on a budget I would recommend booking flights, car hire and accommodation in advance.
---
How to Get to Jersey Channel Island On a Budget!
Flying To Jersey Channel Island
EasyJet, British Airways and Flybe all fly from the UK to Jersey. Like with any destination the prices do vary and to get a cheap flight to Jersey Channel Island you should book in advance. I would say a few months in advance is best.
If you're flying from London you can fly from Luton, Gatwick and London City Airport to Jersey in just 40-50 minutes.
Jersey Channel Island can also be reached from Birmingham, Manchester, Leeds, Newcastle, Doncaster, Southampton and Liverpool Airports.
The first time I went to Jersey was in September 2017 which was a great time to visit as Autumn was in the air but there was still a hint of Summer.
I am writing this post in June and if I look at the same weekend I went but for September flights are only £49.00 with Easyjet flying from London on Friday to Sunday!
That's SO good and just shows that Jersey can be visited on a budget as it costs more to get a train to Manchester from London!
Boat to Jersey Island from England
Alternatively, if you are close to the South Coast of England you can get a ferry from Poole and Portsmouth with Condor Ferries.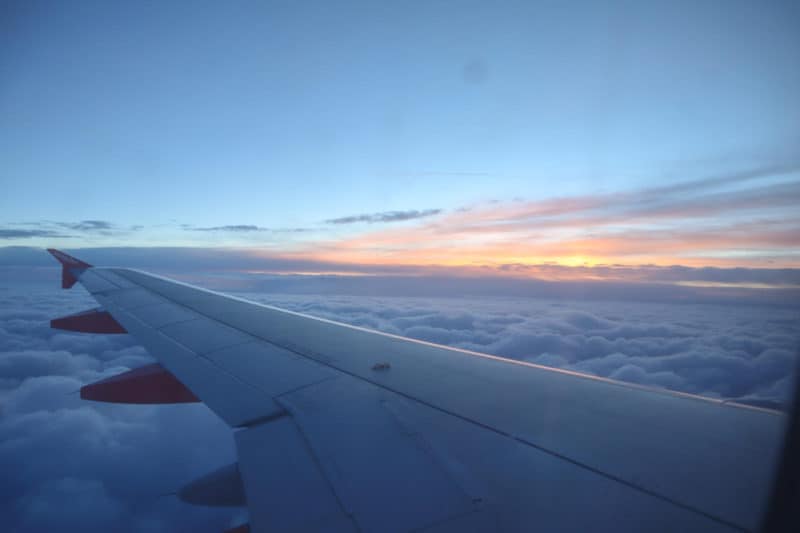 Getting Around Jersey on a Budget
Car Hire in Jersey
My suggestion would be to hire a car in Jersey because like anywhere, it makes life that bit easier and gives you more freedom to explore the island.
I used a hire car from Hertz both times but I would recommend checking out Rentalcars for prices as they will compare Hertz & Europa for you so you get the very best price.
The cost of hiring a really surprised me as it's not that expensive and I thought it would be more. Car Hire for that same weekend in September is £65.00 for 2 days on Rentalcars!
What makes hiring a car in Jersey even more budget friendly is that unlike most places, in Jersey you do not need to worry about petrol costs because the island is so small that you'll use a very small amount of petrol.
I used about a quarter of a tank in 2 days and with Hertz there was no need to re-fill the tank so essentially there is just the car hire cost and no petrol cost which is very budget-friendly.
Public Bus in Jersey
If you don't drive or you want to visit and see Jersey more cheaply, you'll be glad to hear that Jersey has a really great bus system!
There is a bus stop at the airport and so much of the island is connected via bus routes with Liberty Bus.
I imagined that it would just be the main town of St Helier that was connected well by bus but that's definitely not true.
In fact, the island is so well connected that Visit Jersey provide bus numbers on all of their self walking guides online which shows just how well you can see the island using public transport.
The bus costs just £2.00 for a one way journey! To find out more information and check out the routes and timetable have a look at the Liberty Bus website.
That leads me nicely onto walking. Although you don't want to be walking everywhere on the island, walking is of course free and the island has plenty of walking routes but I'll get onto this more later in the post.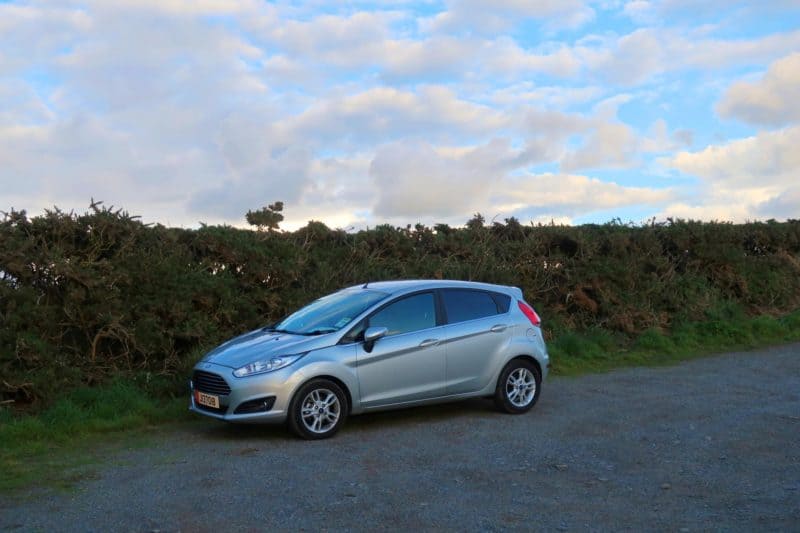 Budget Accommodation in Jersey
Accommodation in Jersey has a very old-holiday feel to it and is very reminiscent of the time when UK beach holidays were the 'in thing' before low-cost package deals abroad were available and I although this means the interior of some of their hotels may not be the 'Instagram style' we look for these days, they are still nice and it's nice to remember and get a feel of what holidaying in the UK used to be like.
In all honestly I think accommodation is the most costly element of a trip to Jersey (but isn't that the case everywhere?) however that doesn't mean it has to be really expensive and it can still be budget friendly.
Hostels in Jersey
Jersey does actually have a hostel, even though Hostelworld tells you it doesn't.
Jersey Accommodation and Activity Centre offers dorm rooms and camping which will really help keep costs down. Plus, Jersey has an array of Hotels, B&Bs, Guesthouses and Airbnbs.
Hotels in Jersey
Booking.com offer some good low-cost accommodation options. Looking in September places like Mountview Hotel Express which has a budget double room offer accommodation for £55.00 a night and Marina Metro Hotel for £80.00 per night.
Airbnb in Jersey
Airbnb looks like it is the winner for low-cost accommodation in Jersey. It's definitely possible to get accommodation for around £50.00 per night in various places around the island. Airbnb is a particularly good option if you are travelling solo too as you can opt for a room rental to keep costs even lower.
Initially I thought that without hiring a car in Jersey, accommodation options would be limited to the city of St Helier due to needing to rely on the bus, however I looked on quite a few profiles on Airbnb all over the island and they all state that they are close to a bus stop. I guess the owners know that in order to offer their accommodation online they need to be close to a bus stop incase the person staying does not hire a car.
If you are happy to pay a bit more for accommodation, I stayed at Beausite Hotel close to Gorey Bay which is a good mid-range hotel for £115 a night in the September I am basing these costs on. The hotel has a very old-holiday feel to it but I liked it, its comfy and had all we needed, plus it's in a great location and it has a bus stop across the road so it may seem in accessible without a car but it's really not!
Hotels like Apollo Hotel, The Revere Hotel and Beachcombers Hotel are all a bit more fancier at around £150.00 a night, they all look gorgeous and well worth the splurge if you have the budget!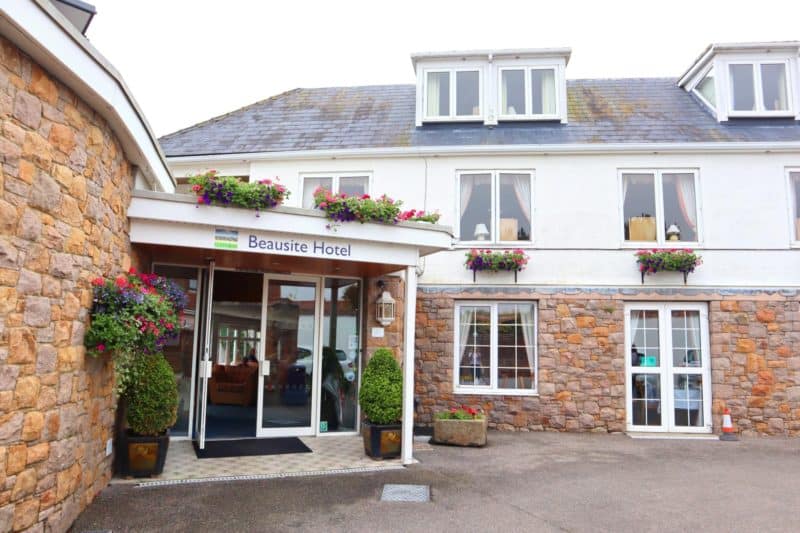 Things To Do in Jersey on a Budget!
Jersey is only small but it's full of activities and there are so many things to do in the Channel island of Jersey!
From museums to surfing to walking to boat rides there is enough to keep you very busy and part of coming to Jersey, I think, is being able to do so much in a small amount of time.
Walking in Jersey
If you are visiting Jersey on a tight budget consider free activities such as walking and enjoying Jersey's gorgeous beaches.
Jersey is great for walkers and there are so many walking routes, I found Visit Jersey's Self Guided Walks page really helpful for understanding which walks are available, the start and finish spots, the distance and whether it's a hard or moderate walk.
As I said they also detail which bus you need to get to the start and end point.
I did the circular walk from Bouley Bay on the North Coast, part of the Sorel Point to Devils Hole walk, also on the North Coast, and part of Greve de Lecq to Plemont on the West Coast and I would recommend them all.
Particularly Plemont Bay as the beach there is gorgeous too!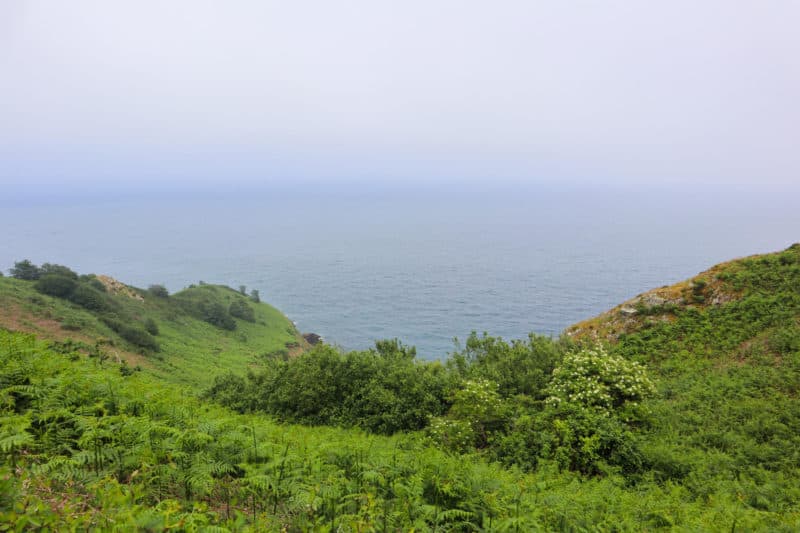 Day Tours of Jersey Channel Island
If you are travelling to Jersey solo and without a car, I personally would take a day tour around the island. I spotted The Authentic Island Day Tour with Waverley Coaches for just £20.00 pp.
This would be a great way to see the island and £20.00 for a full day tour from 10:00-17:00 with 11 stops is really good value for money I think and a stress-free way to see the island!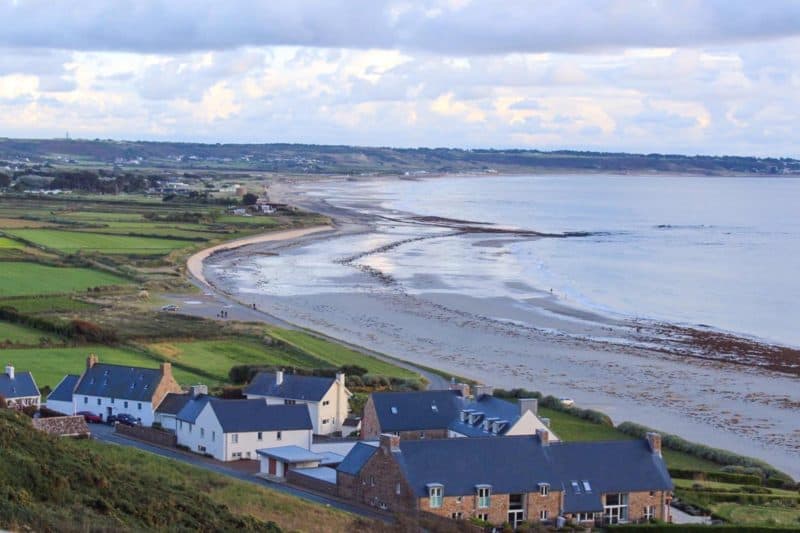 Water Activities in Jersey
Aside from walking and exploring the island I think you must do an adrenaline activity in or on the water, and one main activity per day is more than enough.
I would really recommend spending one day in Jersey in the water surfing, paddle boarding or coasteering and one day on the water kayaking or on a boat trip.
Surf lessons start from £20.00 for a group session and private lessons are £40.00 with Laneez Surf Centre. I was due to go surfing with them but unfortunately the weather cancelled it!
Boat trips start from £30.00 which I know may seem a bit expensive for 2 hours but they are so worth it! On my first visit to Jersey I went out with Island RIB Voyages, we explored Les Ecrehous which was such a memorable few hours and completely made me fall in love with Jersey.
On my second visit I went out with Jersey Seafaris on the North Shore trip which was also really good, we saw caves, learnt a bit about the island and saw dolphins!
I would recommend both of these trips and both of these companies. Other tours that look amazing are Les Minquiers, and Sark and Herm which are actually part of Guernsey but as they are so close its a shame not to see them!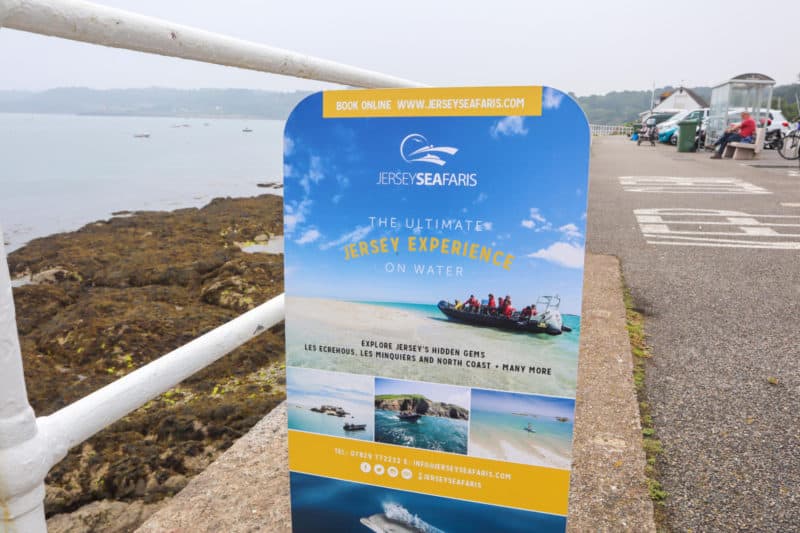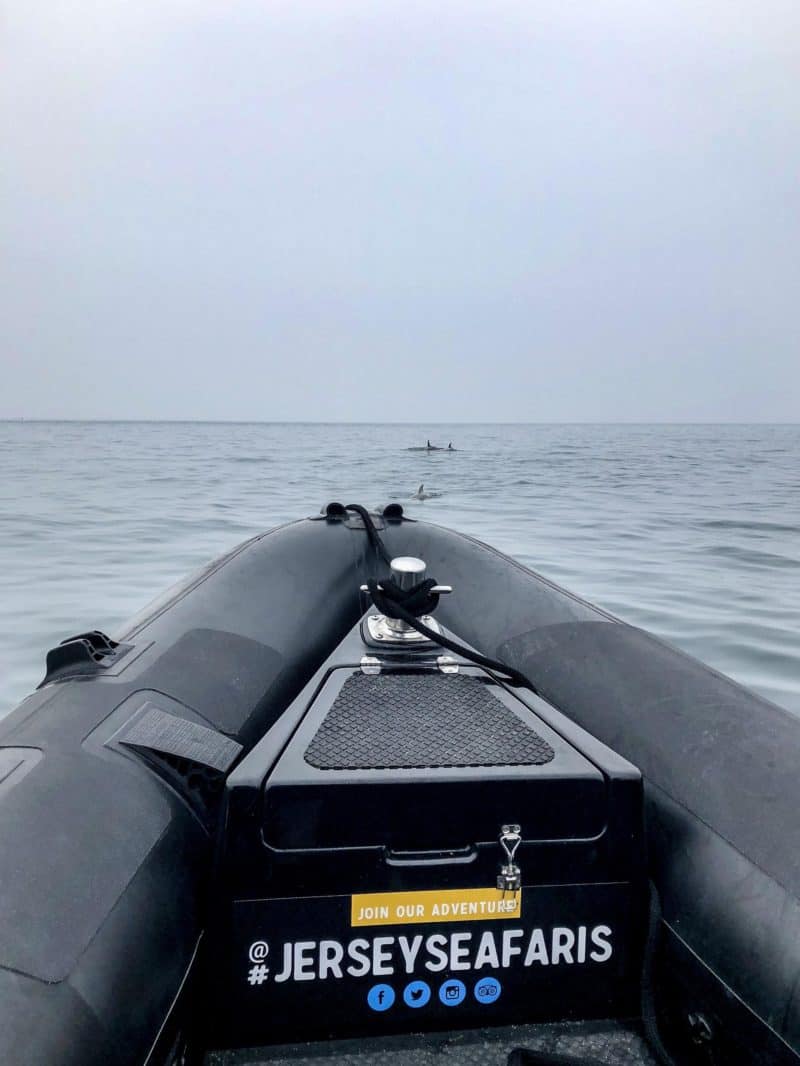 Museums in Jersey
If adventure activities are not your thing and you're more interested in exploring Jersey's many castles, historic houses and museums, Jersey offers a Heritage Pass for £32.45 which lets you experience 4 places for the price of 3 so this will help keep costs down and push you to see that bit more in Jersey.
I visited the Jersey Museum in St Helier as a wet weather option and I'm really glad the weather convinced me to visit as it was so interesting learning about the history of Jersey- all 250,000 years of it, and gave me a better understanding and more appreciation for the island I was about to spend the weekend in.
The best part about the museum I thought was the 15 minute video on the 'Story of Jersey' and this is actually free for everyone, you do not need to pay admission to see it so I would really recommend going to the museum to see it, even if you don't want to pay for a ticket to see the rest of the museum.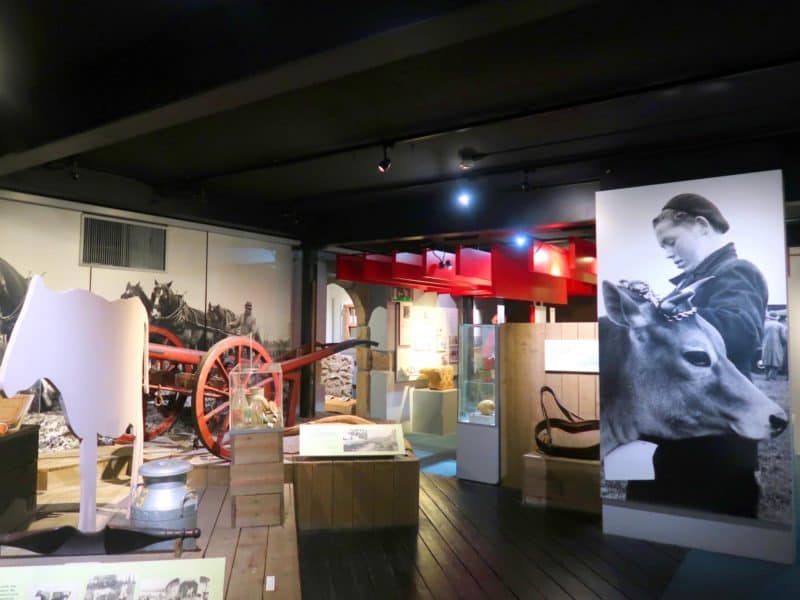 I think it's safe to say that activity wise, if you budget £20-£40.00 per day in Jersey, this will enable you to do 2-4 activities over a weekend which is more than enough, especially if you are there for just 2 days!
---
If it's raining during your weekend in Jersey or you're worried about the weather, don't be! Have a look at these 10 things to do in Jersey!
10 Things to do in Jersey Channel Island on a Rainy Day.
---
Food & Drink Costs in Jersey
The final spend to take into account is food and drink. The food in Jersey is really really good and perfect for real foodies. If you're the type of traveller that doesn't mind splashing out on food then Jersey is for you, think seafood, truffle everything and locally produced food.
However if like me, you enjoy food but aren't going to break your budget by eating then not to worry. The big thing to remember about Jersey is that although it is a gorgeous, very small island and can seem like quite an elite place to be, people do actually live here and places like St Helier are like any other town with a range of options. Fine dining is possible but there are chain restaurants too.
In terms of prices, eating out in Jersey is no more expensive than London and other Western European Cities, as I said at the start, Jersey is not a budget destination but it's not overly expensive either.
For example, I had dinner at Portelet Bay Cafe on Saturday night, they make amazing wood fire pizzas from £10.00-15.00 each, not only that but the Cafe is right on the beach so it's a really special and unique location.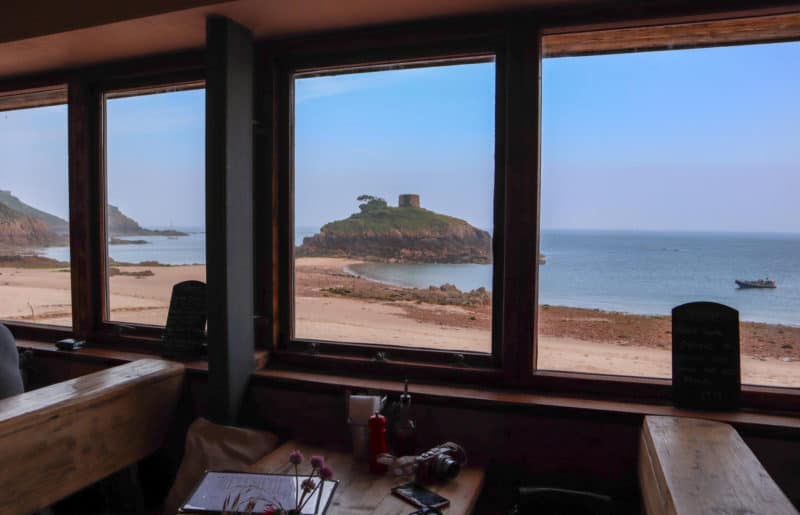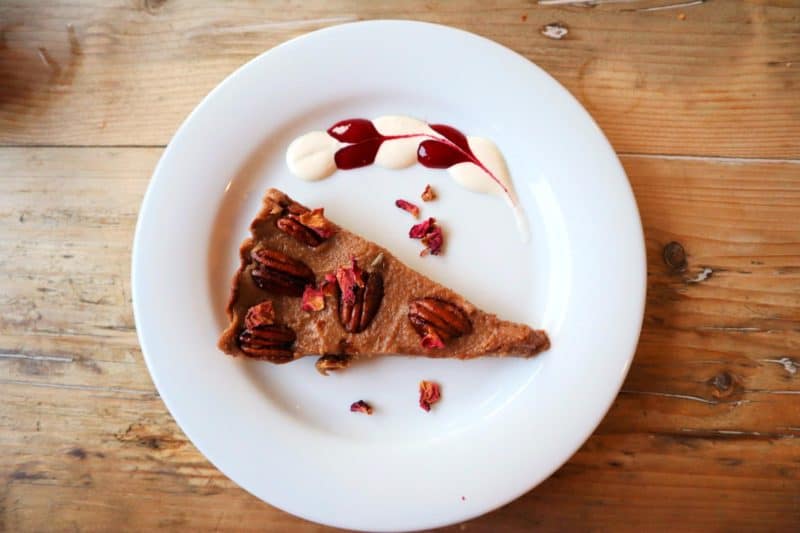 Feast is a gorgeous restaurant right in the heart of Gorey Pier by the Habour and underneath Mont Orgueil Castle, their main dishes are £12.00-£17.00 which is really reasonable for the quality of food they produce.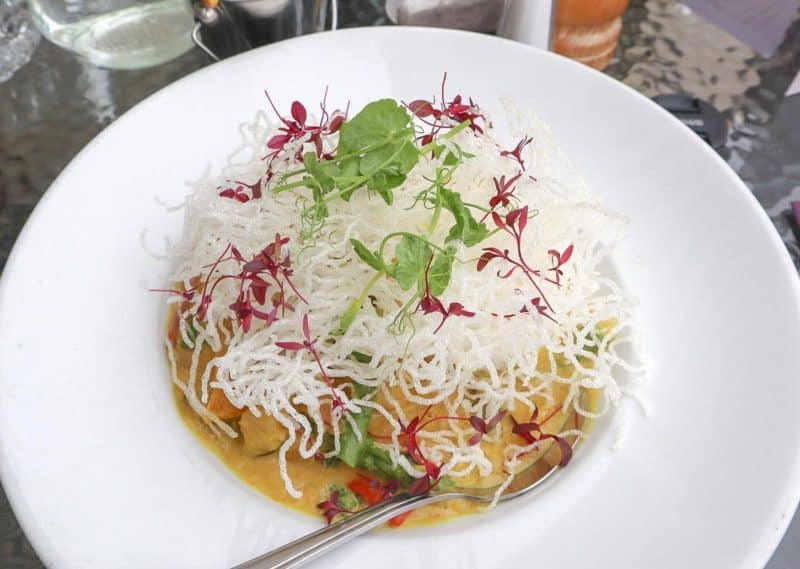 I also love that Jersey has so many beach side cafes, The Lookout Beach Cafe offers brunch and lunch from £8.00 and again, its in a beautiful location, the lunch I had there was great and the prices are less than London prices!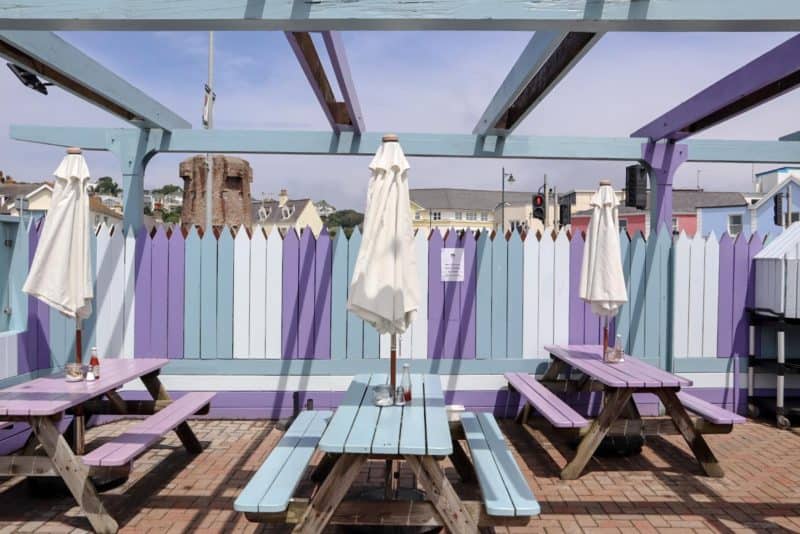 Do not let the cost of food and eating out in Jersey put you off visiting because it's not expensive and can be done on a budget, plus its very very yummy!
In regards to money, Jersey uses pounds. They do accept GBP but you may be given Jersey Pounds in return. The exchange rate is the same but you'll have trouble spending them back in the UK. I paid by card for everything and had no problem so I would recommend using card as much as possible.
---
Have a look at my YouTube Video here to SEE Jersey!
---
Thank you to Visit Jersey for hosting me on my trips to Jersey, however please be assured that all opinions and thoughts are my own.