This post may contain affiliate links. I will receive a small commission if you use these links.
---
Kensington is a fascinating and beautiful area of London. The buildings are grand and historic, the streets are wide and leafy, and the hustle and bustle of London can often seem far away but there are still plenty of things to do in Kensington and things to do in South Kensington nearby.
If you want to visit Kensington but you're not sure what to do in West London or where to start, let me give you a Kensington Walking Guide on how to spend one day in Kensington to ensure you see some of the best museums, streets, parks and houses that London has to offer.
Things To Do in Kensington
Start your day in South Kensington. South Kensington tube station is on the Piccadilly line as well as the Circle and District line so it's pretty easy to get to in order to do all of these things to do in South Kensington!
---
If you're not in London already and need to book train tickets to London, be sure to check out The Train Line. I use them all the time to compare the best train times, journey lengths and prices! Kensington also has some of the best hotels in London.
---
Museums in South Kensington
South Kensington is home to 3 world-famous museums, the Natural History Museum, the Science Museum and the V&A all sit within a few meters of each other and are as iconic and interesting from the outside as they are from inside. The museums are all free to enter which make them great options for free things to do in London with a baby and open at 10:00 am.
There is often a queue during the day, especially for the Natural History Museum, so if you want to go inside I would suggest being at the gates for 10:00 am to miss the crowds!
Talking of crowds, the museums are busier on the weekend but weekdays bring in lots of school groups so either way expect to be around lots of people, but the earlier you get there the better, I know, I used to work in the Science Museum!
The Museums are great to visit for ideas of things to do when it rains in London!
Hyde Park
After you've finished at the museums walk North up Exhibition Road in the direction of Hyde Park, this street is a good example of the wide streets of Kensington with even bigger houses lining them. Just before you get to Hyde Park be sure to take the last street on the left – Prince Consort Road as this will take you to the front of the famous Royal Albert Hall where many big events take place.
Then head into Hyde Park, a place that has to be on your list of things to do in Kensington!
Hyde Park and Kensington Gardens together create one of the largest and most famous parks in London and on a map of London you really can't miss it due to its rectangular shape right in the middle of the city. It's home to gardens, memorials, cycling tracks, ponds and a Palace which are all really good places to visit in Kensington!
Kensington Palace
Take a slow walk Hyde Park and the Kensington Gardens end but be sure to end at Kensington Palace which has been a palace since 1689!
You can pay to go inside for more things to do in Kensington or you can admire the palace and its gardens from the outside.
The Palace has become even more popular in the last 20 years as Princess Diana who died in 1997 lived here for a while. Personally I really love walking around the Round Pond that is in front of the Palace and it's usually filled with ducks.
Notting Hill
From here, head North West out of Hyde Park towards Notting Hill Gate Underground Station.
You may not expect Notting Hill to be on this list of things to do in Kensington but Notting Hill is part of the Kensington Borough!
Head to Portobello Road which on a Saturday hosts the famous Portobello Road Market.
On Sunday-Friday although the market isn't on Portobello Road is still worth the visit, and the plus side is that the streets aren't as busy, as it does get very very busy on Saturdays. Here you can discover the colourful houses of Notting Hill and wander around the many independent shops.
If you visit Notting Hill on a Saturday when its busy, be aware of pick pocketers!
Notting Hill is a great place to get some lunch as there are so many cafes and restaurants. Farm Girl is a popular 'Instagrammers' place, Granger & Co is very good for brunch in London and lunch too.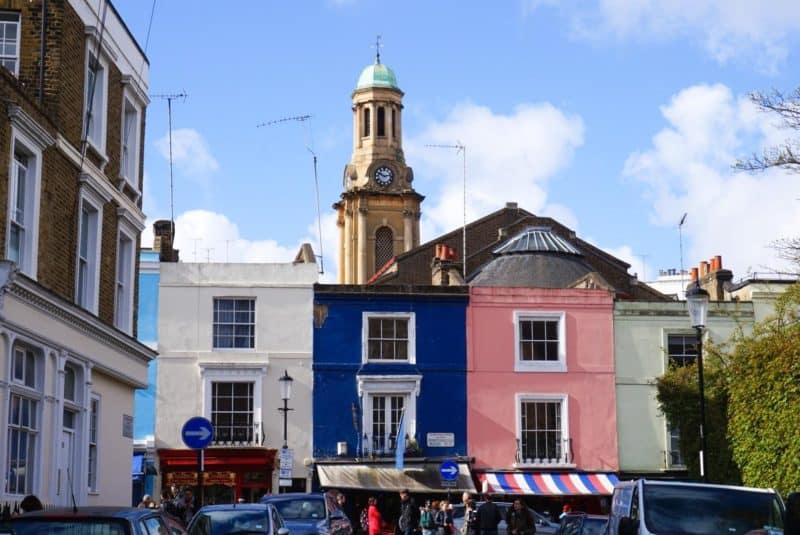 Holland Park
Next head to Holland Park walking down Ladbroke Grove, cross the main road and head up Holland Park road until you see an entry point into Holland Park.
On route be sure to look out for the grand and affluent Victorian townhouses that make West London so fancy and also have a peak down Holland Park Mews before you enter Holland Park.
Kyoto Gardens
Holland Park is another beautiful area of green in London home to woodland, play areas, the ruins of Holland House which was badly damaged during World War II and a very unique garden – Kyoto Gardens which is a Japanese garden donated to the park in 1991, this is a local idea on things to do in Kensington!
The garden can get quite busy but it still feels very serene. There's a waterfall going into a pond, steps crossing the bottom of the waterfall and the pond is full of huge fish. Although not very Japanese there are also a number of peacocks that call this area home too which are fun to see. Holland Park also has a cafe and free bathroom facilities if needed.
Kensington High Street
Walk to the Southern Part of Holland Park and then head East along Kensington High Street.
If shopping is on list of things to do in Kensington, you'll be pleased to know that there are plenty of high street stores along here as well as a few fancier stores and lots of places to eat. Again, it is filled with huge Victorian Buildings and it does feel very grand and posh!
If you are in need of a coffee or wine or beer you'll be able to find a typical London pub along Kensington High Street.
The Churchill Arms Pub
And if you are happy to double back on yourself a bit and if you like taking photos then you should, you can visit The Churchill Arms along Kensington Church Street, close to Notting Hill Gate Station. This pub is really famous due to its very green and floral exterior and always on the list of things to see in Kensington!
Walk past Kensington High Street Tube Station and continue straight until you see the corner of Hyde Park. On your right you'll see Palace Gate road, take this street which then turns into Gloucester Road.
London Mews in Kensington
London is known for its Mews houses and there's is nowhere better to explore the mews than off of Gloucester Road!
Mews used to be rows of stables when horse and carriages were used in London and the living quarters were on top. The roads are only small and tend to be just off of the main road.
It's quite funny because back in those days I'm sure no one wanted to live in them but fast forward to the present day and the Mews of London sell for a huge amount of money, and they are very popular and pretty. In fact, it's not uncommon for celebrities to live in a Mews property so visiting them is one of the top things to do in Kensington!
Kynance Mews will be on your left a few streets down. These Mews are the most instagrammable places in London, particularly during Autumn due to the low hanging red Vines and popular in Spring due to the purple Wisteria so take a walk along this street and then come back on yourself back to Gloucester Road.
When you get to the crossroads of Gloucester Road and Cromwell Road turn left. The museums where you started the day are just ahead but first, take the first left into Atherstone Mews and follow it around until the end.
Turn left up Queens Gate Gardens road and then right along Queens Gate place and on your right, you'll see Queens Gate Places Mews. Walk all the way down this street full of colourful mews buildings and then you'll be back at Cromwell Road, back at the museums and back at South Kensington.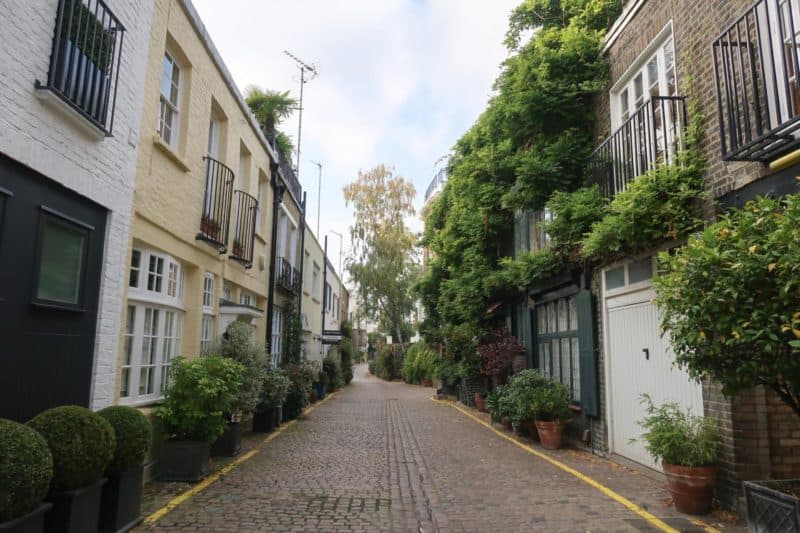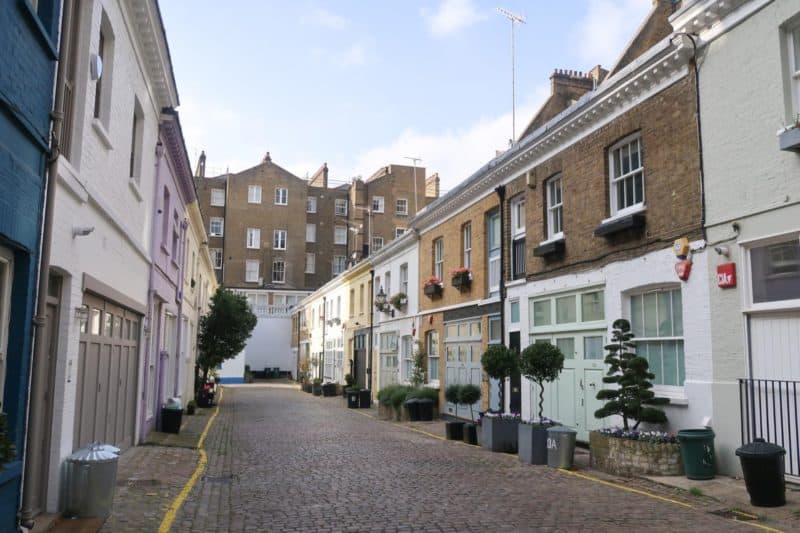 Knightsbridge
From the museums in South Kensington, if you are still happy to walk and see one more place, you can keep going straight, past the V&A into Knightsbridge where the famous shopping store Harrods is!
Knightsbridge is very fancy and there are many cafes in the area if you need to sit down before carrying on with the rest of your day in London!
---
If you're looking for hotels in Kensington, I would recommend checking Booking.com for hotel options.
---