This post may contain affiliate links. I will receive a small commission if you use these links.
---
A Road Trip around Ireland is a bucket list item for sure! It's not called the Emerald Isle for anything and thanks to its small size it's so easy to see a lot of the Country in a small amount of time.
There are a few things that you need to be aware of when driving around Ireland though, especially if you're not used to driving in the UK/Ireland and along small Country Roads.
I did a 3 Day Ireland Road Trip along the West Coast, starting in Shannon, going up to the famous Cliffs of Moher, Galway, The Connemara National Park and Westport.
This is a very typical and popular route for an Ireland Road Trip and it gave me a good insight into the (small but impactful) challenges of road tripping around Ireland so I wanted to share my knowledge to help you prepare for your Road Trip around Ireland with these Irish Road Trip Tips!
Ireland Road Trip Tips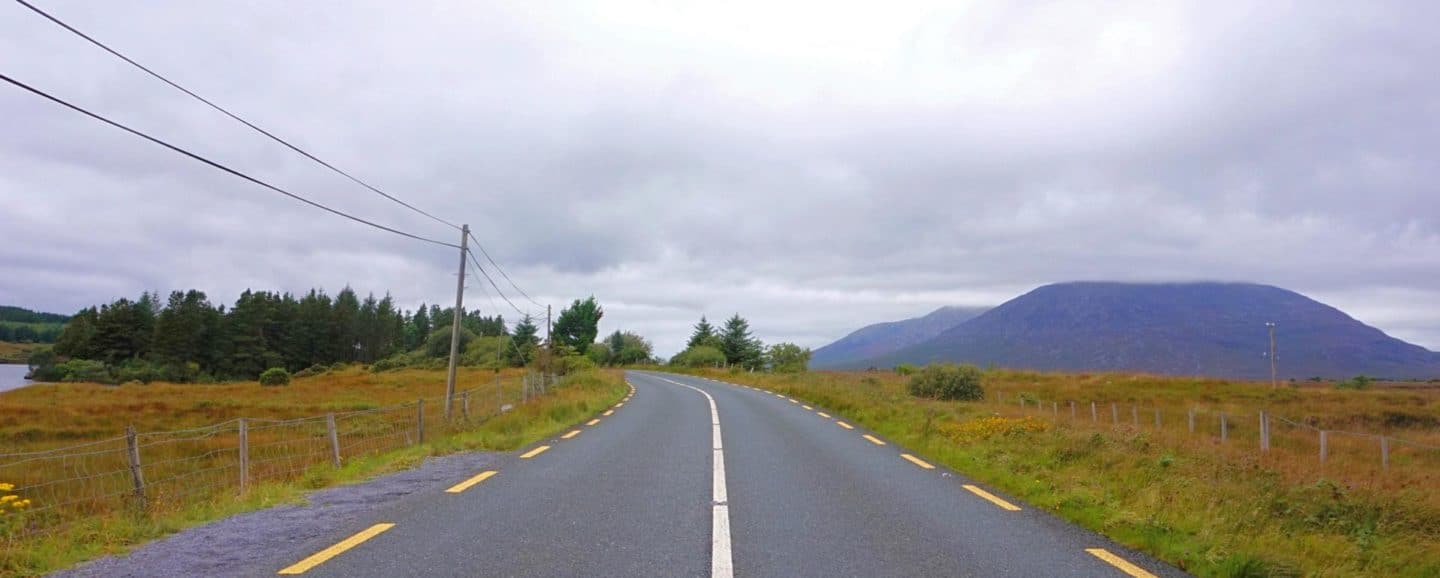 These are posts from the road trip around Ireland I did:
1 – Be Prepared for Small Country Roads
Ireland is a small Country and so are lots of its roads. I'm sure this can be very worrying and intimidating for those who have never experienced narrow country roads before, especially if you are driving on the other side of the road to what you're used to too. (North American's I'm thinking of you!)
My main tips for dealing with small country lanes would be to not overtake, be patient, drive slowly and take the corners even slower so if someone is coming the other way you can stop quickly.
If you are on an extremely small road that seems more like a one-way road but is in fact a two-way road, again drive super slow when you see someone coming your way and look out for indents in the road where you can pull in whilst they pass.
These roads are even harder in wet weather and if it's foggy which is why I'd also recommend looking into the best time to visit Ireland.
Not all of Ireland is like this and there are plenty of really good and big roads but in reality, these small roads are where you're going to find the gems of Ireland so don't be scared about them, just be careful!
2 – Avoid the Coaches
Being on a narrow country road as I have described above, with a coach coming at you in the opposite direction taking up over half the road is not fun, let me tell you!
Firstly, take the steps above to ensure you're safe i.e slow right down, try to pull in and stop whilst the coach drives past and remember that the coach drivers drive these roads every day and you do not!
Secondly, the best tip I have to deal with avoiding the coaches in Ireland is to be clever about when you visit the tourist attractions.
I didn't see one single coach on a narrow road in Ireland in 3 days (however I know it's not a fun experience from past experience) and I think I managed to avoid them because the main tourist attractions I visited – the Cliffs of Moher, Kylemore Abbey and The Connemara National Park, I visited later in the day when the vast majority of the coaches had gone.
No matter where you are in Ireland most coaches are taking people around on a day trip starting early in the morning. By visiting the Cliffs of Moher at 6:00pm like I did you miss the majority of these tour groups which is not only better for driving but also your experience there, you can read more about my trip in this post.
Remember that during the Summer in Ireland it doesn't get dark until a lot later, about 9:00-10:00pm so it is possible to visit some places (check opening times too!) later on in the day. It doesn't have to be the morning, which is when the coaches tend to go!
3 – Use a Good Car Hire Company & Insure Fully!
When I did my 3 Day Road Trip around Ireland it was my first time hiring a car myself and it's safe to say I was pretty nervous!
I paid out for everything I could just in case and it gave me such peace of mind whilst I was on the trip, especially whilst driving down the small country roads!
Make sure you look for a hire car in Ireland with full insurance options and get it from a reputable company.
4 – Don't Rely on Having Internet all the Time
Even with a Sat Nav I fell into the trap of reaching my set destination with the plan to research my next destination whilst in that destination as I didn't want to plan too much. I had a problem though when I got to somewhere with very little or no internet access and had to guess where to go next until I had internet available to check where would be best to visit next.
For your Ireland Road Trip I would suggest having a good idea of where you want to go that day planned out and make sure that you don't have to rely on internet access. Have the towns or postcodes noted down so you can put them into your sat nav as you go throughout the day. Or take a paper map of course!
5 – Make Use of Ireland's Many Airports
Ireland has quite a few airports considering its small size. Unless your road trip is starting or ending in Dublin, don't book a flight into or from Dublin. I flew into Shannon on the West Coast for my West Coast of Ireland Road Trip but because it was cheaper to fly out of Dublin back to London, that's where I booked my flight from.
This meant I spent most of my last day in Ireland driving to Dublin on the East Coast which wasn't an interesting drive and cost me extra money in petrol anyway. In hindsight I should have flown out of Ireland's West Airport – Knock.
Cork, Shannon, Kerry and Knock are great airports to use when starting and ending your road trip in Ireland as they are in amazing locations close to so much beauty and the 'true Ireland'.
The same applies for Northern Ireland Road Trips, try flying into Belfast and out of Derry to save yourself spending time and money going back to Belfast.
I use Skyscanner to book all my flights and I did get a really good deal flying from London to Ireland!
6 – Have Change for Car Parks
Some car parks are free in Ireland but most you will have to pay for, whether that's a car park in a city or town or a car park within an attraction like the Cliffs of Moher so make sure you have euro's on hand with you all the time.
7 – Use Your Car as a Wardrobe
A little bit of a different tip for you but something that I'd suggest as the weather in Ireland is constantly changing so make sure you have a variety of shoes, jackets, an umbrella etc on hand in the back of your car at all times. Check out this packing list for Ireland to help.
I took walking boots with me to Ireland which were perfect as I was constantly jumping out the car to go on walks and it was wet in some places so my feet stayed dry. I wore the Merrell Siren Sport Q2 shoes which I really recommend!
8 – Be Prepared to Stop ALOT!
Ireland is so so gorgeous! At one point along my trip I was stopping every 15 minutes to look at the view and take photos. Luckily are there lots of places along the side of the roads to pull into to take photos, or go for a little walk from.
Although Ireland is small and you may think you can get from A to B in 4 hours because that's what google maps says, make sure you add 'stopping time' into your plan as whats the point in a road trip unless you stop!
I hope these tips help you prepare for your Ireland Road Trip! It's such a beautiful Country and I promise that you will not regret visiting Ireland!
---
Tips for Car Hire on your Ireland Road Trip
---
These are pots from the road trip around Ireland I did: