Oxford is a great city to spend the day in and due to the short journey time it's very possible to do a day trip to Oxford from London getting there by Bus or by Train.
There is so much to see and do in Oxford but instead of giving you a boring list of universities and historical buildings that you must see. Instead I want to give you a list of 10 different, cool and unique things to do on a day trip to Oxford that you can't miss!
I know that visiting and doing these things are a great way to spend a day in Oxford because I recently when on a day trip to Oxford from London myself. I went with Marco Polo Guides as they have launched their Oxford Guide. I love their guide books and have used them around London, Rome, Amsterdam and Ireland. We visited some great spots from the guide and did one of the discovery walks, which took us to many of the must see high-lights of Oxford plus these cool points below!
I took the train to Oxford which leaves London Paddington Station, it takes 1 hour and costs about £13.00 return when booking off-peak times. I always use The Train Line to book tickets and I like to book slightly in advance so the prices don't suddenly go up closer to the date!
It's possible to get a bus from London to Oxford too. It takes slightly longer at about 2 hours but it will more often than not be cheaper than the train with prices starting from £5.00 each way through National Express. I would definitely check both train and bus options though as the bus may actually be more expensive if you are looking to go within the next few days!
With that being said, here are 10 things I recommend you see and do when visiting Oxford on a Day Trip from London.
1 – Brunch at The Handle Bar Cafe & Kitchen
Priorities right!? After getting to Oxford by bus or train if you're like me you'll be very hungry, it will be the perfect time for brunch and The Handle Bar Cafe is a great place to head to.
Oxford train station is right in the centre of the city (another reason why it's easy to visit on a day trip), and The Handle Bar Cafe is a 10 minute walk into the centre. It's very deceiving as the downstairs entry is a bike shop, however upstairs is a beautifully decorated, light, quaint but modern cafe with a bike theme.
Their menu is amazing for brunch and lunch options. I had the Vegan Avocado on Toast (because I'm such a millennial!) but I did get food envy over the pancakes.
This is a great way to start your day and get planning your route.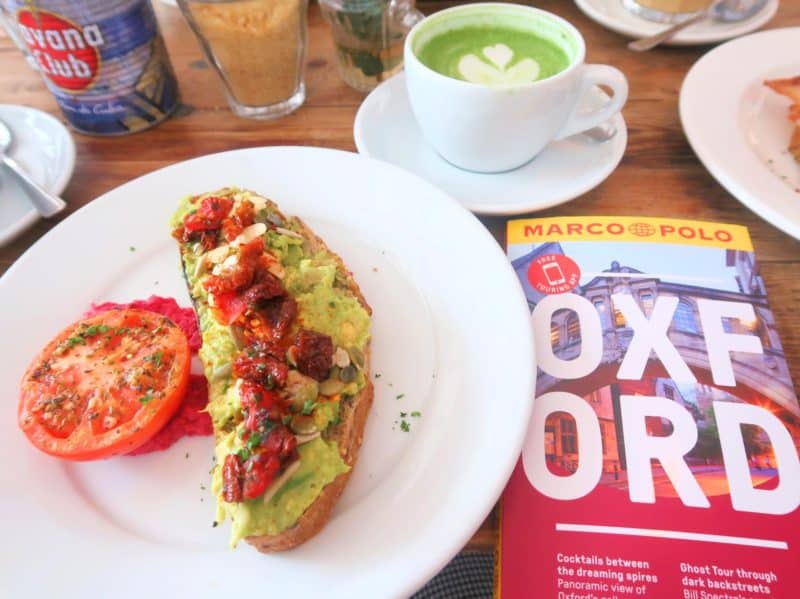 2 – Snap the Colourful Houses on Holywell Street
I didn't expect to see colourful houses in Oxford but Holywell Street has a beautiful row of pastel coloured terrace buildings. It's also home to many more beautiful houses and what I loved perhaps more, is that this street was so quiet compared to the busy main streets on a Saturday afternoon.
Definitely visit Holywell Street if you need some colour and calm!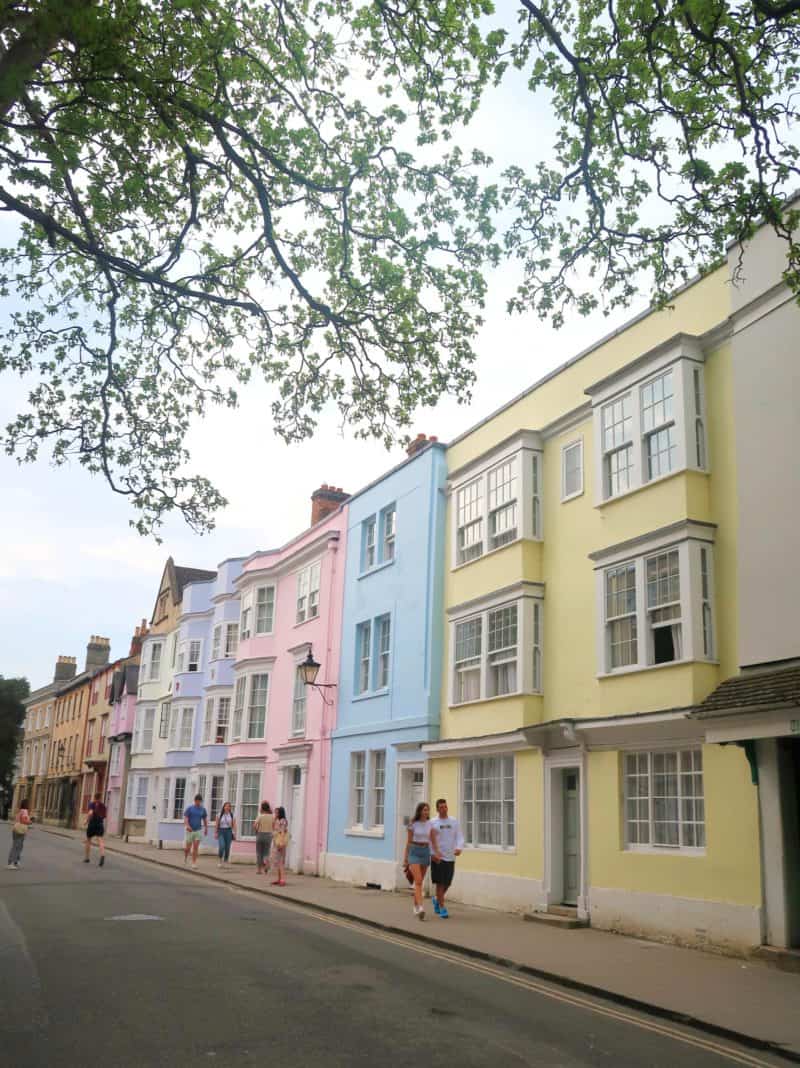 3 – Check out a view of Oxford from the University Church of St Mary's
I love visiting a viewpoint in a new city and going up the spire of the University Church of St Mary's seems like the best way to see Oxford. It's right in the centre, opposite the very iconic and beautiful Radcliffe Camera (my next point) and best of all its pretty inexpensive at £4.00, which is great considering Oxford is a popular city for tourists!
4 – Marvel at the Radcliffe Camera
Ok, this is an historic building but it has to be on my list! I think the Radcliffe Camera is the most iconic building in Oxford and it's not hard to see why as it's really beautiful! It's part of the University and was built in 1737–49 to house the Radcliffe Science Library. It's not possible to go inside but the outside makes up for it I think!
---
Marco Polo's Oxford Guide can be purchased here on Amazon for just £5.55!
---
5 – Explore the Historic Covered Markets
Oxford is all about the big beautiful buildings so I was surprised to come across the historic covered market full of indie shops and small alleys. It's another nice break from the busy main streets and tourist attractions of Oxford.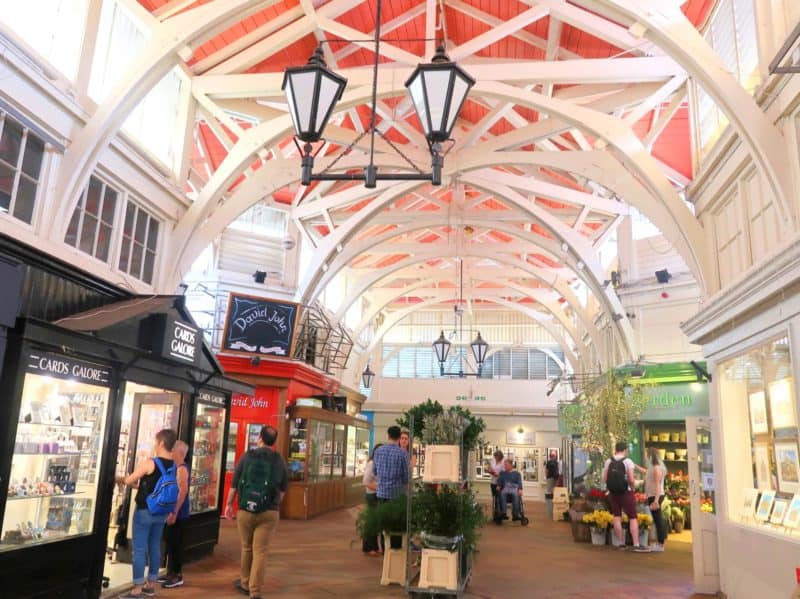 6 – Drink on the Rooftop of The Varsity Club
The Varsity Club is right next to the covered market so if you go to one, you should go to both. It's a buzzing bar and beautifully decorated but it's real selling point, in my opinion, is the rooftop! Whether you're in need of an alcoholic drink or not I would try to get up there for some kind of drink.
I went on a Saturday in Spring and the streets were busy however we got a table on the rooftop within 10 minutes at lunchtime and I would say it's because The Varsity Club is more popular with locals rather than tourists!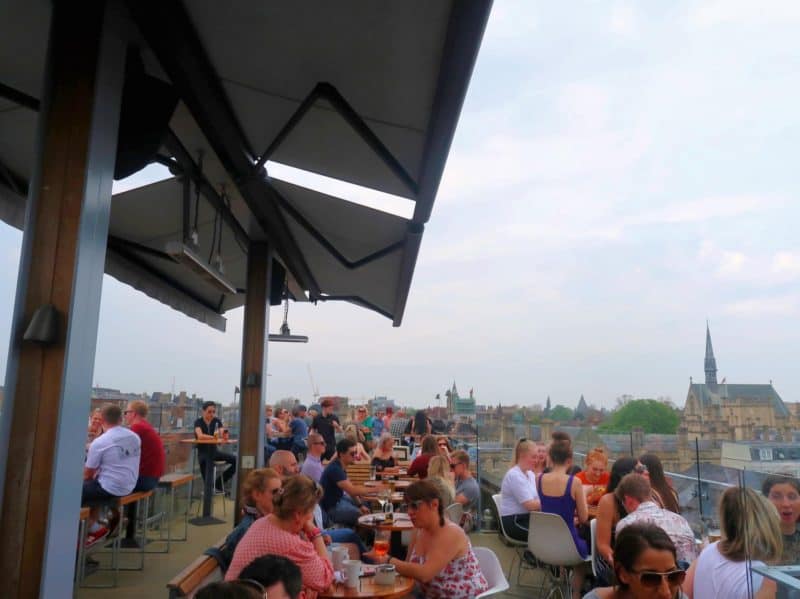 ---
If you'd rather explore Oxford on a tour and hear a guide talking about the city, these would be really great tours to go on!
---
7 – Afternoon Tea at Vaults and Garden Cafe
This is Oxford's most unusual Cafe as its based in the University's Old Congregation House from 1320 amongst grave stones, and right opposite the Radcliffe Camera! Vaults and Garden Cafe offer's breakfast, lunch and afternoon tea using local and fresh products.
We had the afternoon tea which was really yummy and they were able to accommodate me with vegan alternatives. You do have to pre-book the afternoon tea but you can just turn up for breakfast or lunch. If the sun is shining try to sit outside too!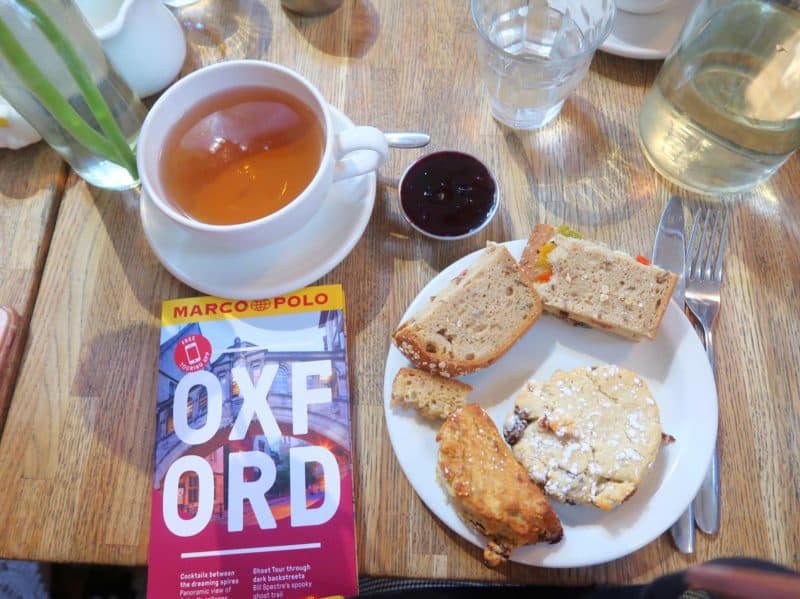 8 – See an Alternative side of Oxford on Cowley Road
Cowley Road is a mile long street which runs South-East from Oxford's Magdalene Bridge. It's gone from being a very poor area of the city to a very bohemian area of Oxford thanks to its young, international influence, and many international bars and restaurants.
I didn't get to visit when I was there but I would try to if I was you as it sounds very interesting and it's home to a lot of history, but in different ways than the rest of the city. It seems like the perfect place for dinner before heading back home and to London.
9  – Get Green in the Botanical Gardens
The University of Oxford Botanical Gardens is the oldest Botanical Garden in the England and it's located right in the city centre so if you're over the architecture and need some greenery then head here. It costs £4.50 to enter and there are free tours available too. All of the plants are named so you know what you're looking at. I didn't go but after reading this post on the gardens I wish I had!
10 – Punting, because you're in Oxford!
I couldn't leave punting off of the list could I! We didn't go punting and I wouldn't think it's much fun if you're on your own but if you're in a group and it's not too much of a wait for the boats (we saw some big queues) then its worth going as it is very English and very Oxford!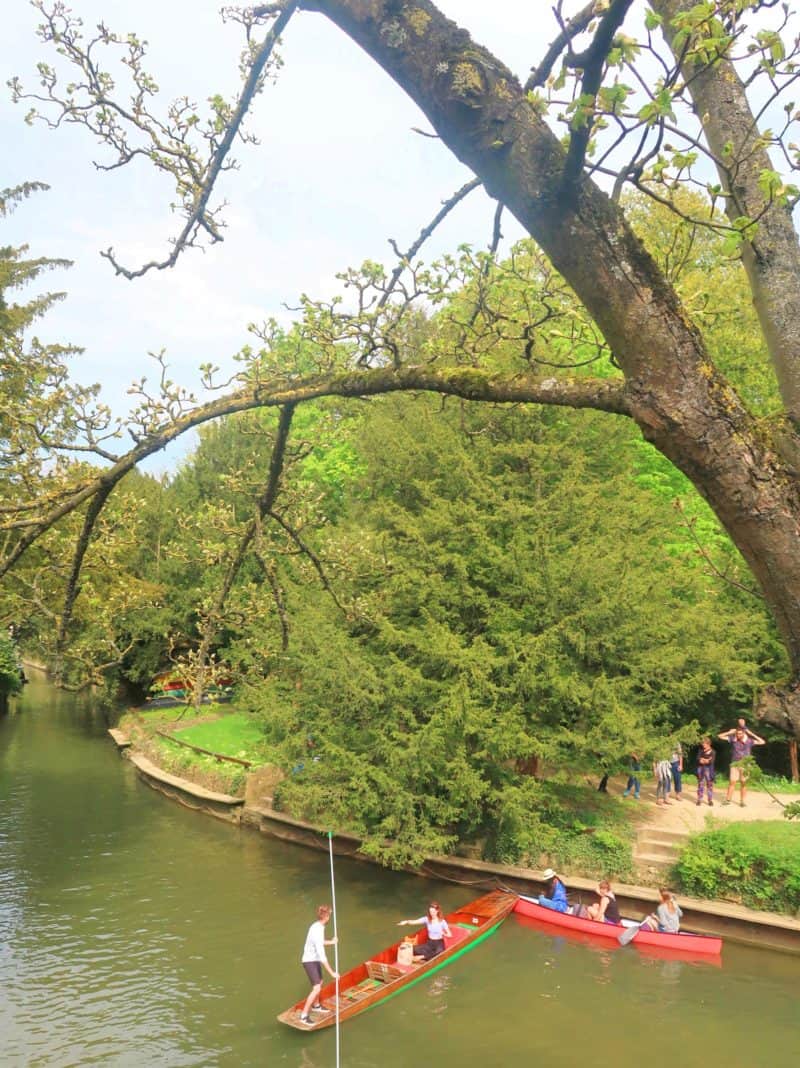 I hope you've found this list useful and it gives you some ideas on what to do in Oxford, England!
If you want to know more information about Oxford including lots of walks and even more things to do then I would really recommend the Marco Polo Oxford Guide which can be purchased on Amazon for just £5.55 right now.
---
Oxford is a great place to visit on a Day Trip from London but it's also a great place to stay and explore for a few days too. If you're looking for accommodation in Oxford from what I have read and heard these places would be great:
Budget – YHA Hostel Oxford – It's really central and YHA have a great reputation!
Mid-Range – Museum Oxford Hotel – Central and Modern in a very historic building!
Splurge – Malmaison Oxford – Extremely central and very cool as it used to be a prison!
---
To book your train ticket to Oxford check out The Train Line here

---
I saved all of my Instagram Stories from when I visited Oxford in my highlights on my Instagram Profile. If you want to see my trip quickly, have a look at my Instagram – @thewanderingquinn!
---
For more Day trip from London ideas have a look at these posts:
10 Things To Do in Brighton on a Day Trip from London in Rain & Shine!
Visiting the Seven Sisters Cliffs on a Day Trip from London!
Spending the Day in Margate on a Day Trip From London. My True Thoughts!
Visiting the White Cliffs of Dover on a Day Trip from London!
A Day Trip to Stonehenge & Bath from London!
This post is in collaboration with Marco Polo Guides but all opinions are always my own. Some of the links in this post contain affiliate links but at no extra cost to you, I want you to keep your money for travelling!
SaveSave
SaveSave