Brighton is such a cool place to visit and thanks to its location and good train links (when they're running on time)  Brighton is a great place to visit on a day trip from London by train, and Brighton is a good weekend break destination too.
I recently took the train to Brighton for the day, I took the Thameslink as it was closer to me, it goes through St Pancras, Farringdon, Blackfriars and London Bridge. Alternatively you can take a Southern Railway Train from London Victoria. I always use The Train Line to compare times and prices so I'd suggest having a look on there to book your ticket.


The best thing about visiting Brighton on a day trip from London is that it's not that big and it's easy to see a lot of it in just one day, perfect if you're visiting London for just a few days or you live in London and only have the weekends free to explore!
The problem of course with day trips in the UK is the weather. There are plenty of things to do in Brighton and I have noted in my opinion, the top things to do in Brighton below.
However I have also noted the things that will be good to do on a rainy day in Brighton as well as a summer's day in Brighton.
If this is your second or third visit to Brighton, you'll also find some slightly unique things to do in Brighton and unique ways to see Brighton that you may have not done first time round.
So let's go!
Brighton Pier
You can't visit Brighton and not walk along the pier. The Pier is a pretty typical British Seaside pier, it's full of stalls selling ice creams, donuts and candy floss. It has rides at the end for the brave people amongst us, it has deck chairs on it to enjoy the views from, and on that point, it does have awesome views of the beach, the i360, and even some white coastal cliffs (more on those later). Brighton Pier even has some arcade games inside the Palace of Fun, even more perfect if you happen to be in Brighton on a rainy day as you could easily pass an hour playing old-school seaside arcade games!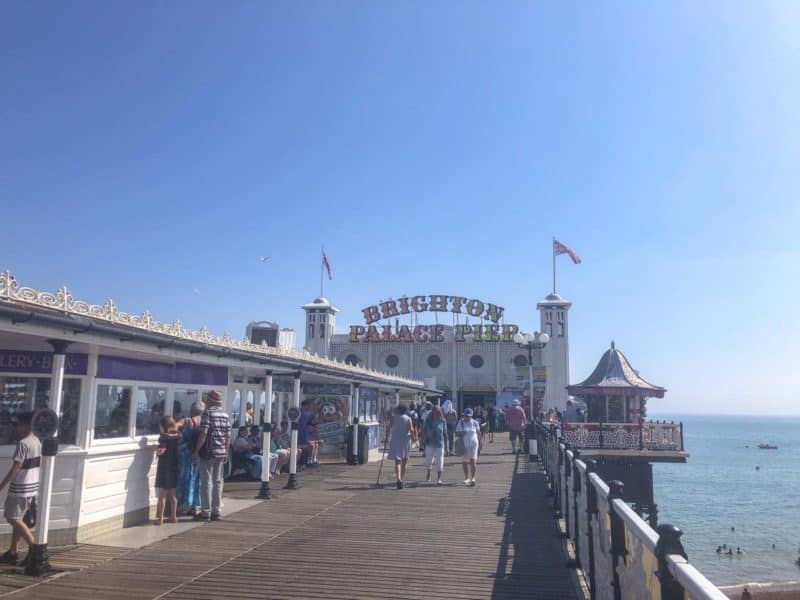 Brighton Beach
Brighton Beach isn't the best beach in the UK and a lot of non-British people don't like it because it's not sand, whereas us Brits are used to non-sand beaches. However it is a huge beach and the best thing about it, in my opinion is that it has a huge promenade that goes all the way to the nearby town of Hove.
It also has a promenade walkway right on the beach and if you get on it by the pier it takes you past so many bars, pubs, shops, restaurants and cafes that are all based underneath the main, top promenade. On a nice day this area is full with people sitting outside enjoying their food and drink in the sunshine.
If the weathers nice you can sunbathe and get in the ocean, if the weathers isn't good you can walk along side the beach and take in the views.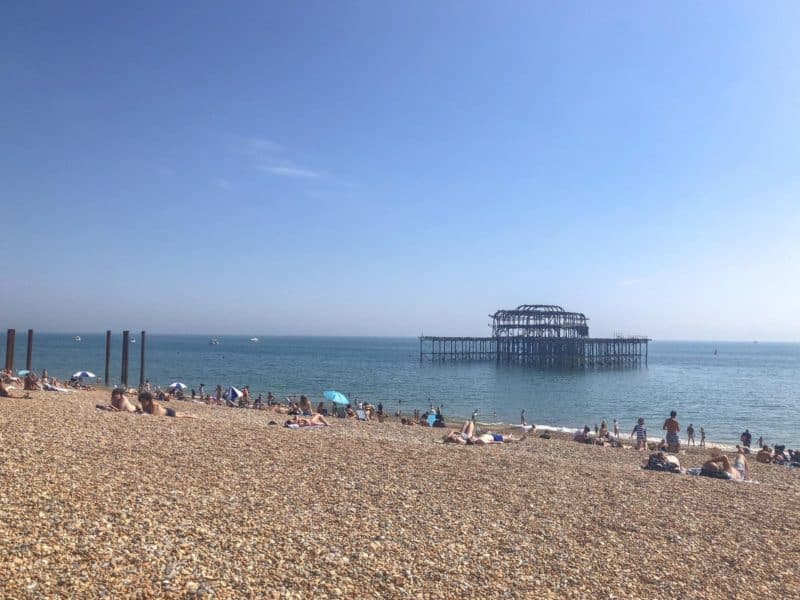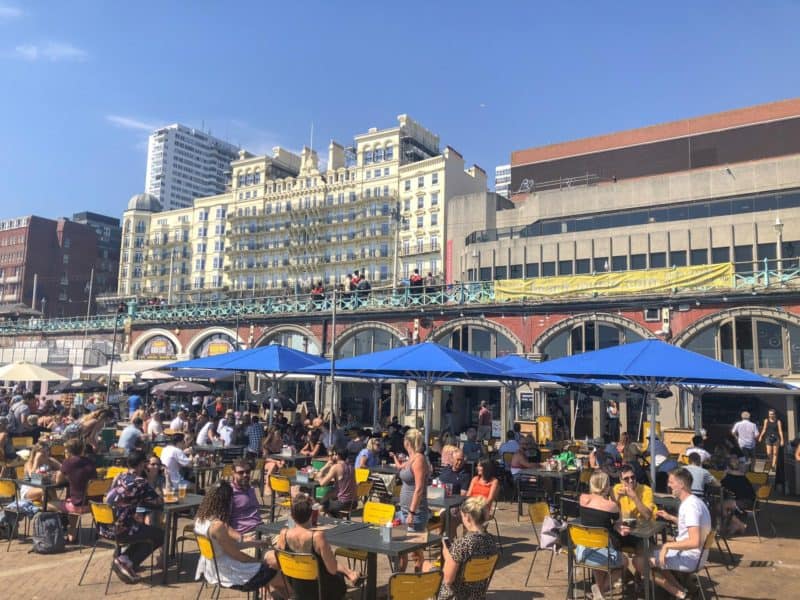 Hove Beach Huts
You've probably seen photos of colourful beach huts in Brighton, these are well worth a visit especially if you've never seen any before or you just want a nice photo. The colourful beach huts are in fact in Hove and not Brighton though. Hove is just a 20-30 minute, 2km walk down the promenade from the centre of Brighton. When you get to them, you'll know! They can't be missed.
Another advantage of walking down to Hove is that the beach is a lot less busy there so if you did want to lie on the beach for a while and feel like it's too busy by the pier then head towards Hove!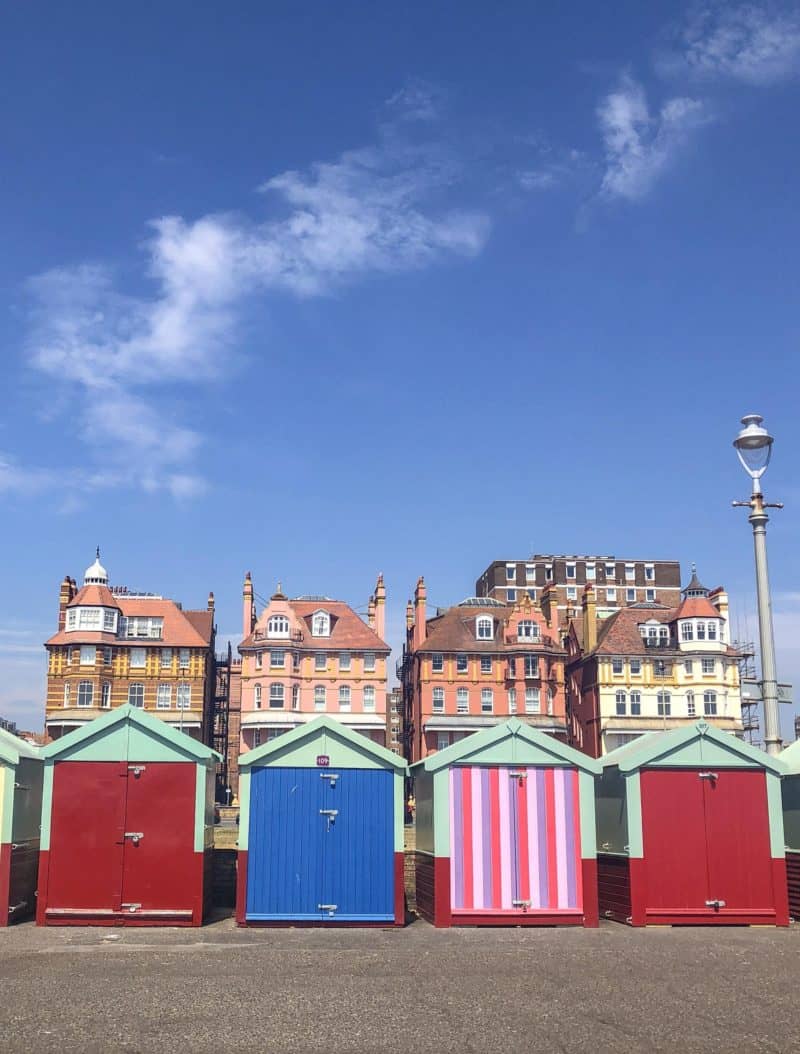 Bike Tour
For something a bit different and for a unique way to see Brighton you can take a Bike Tour! These tours take you to all the popular places- North Laines, the Royal Pavilion, the Beachfront and the pier, but depending on the tour they also take you to some unique places in Brighton like the Fishing Quarter, Brunswick Square and Preston Manor.
Not only is a bike tour a quick and easy way to see the city, especially if its cold and you don't fancy walking, but having a tour guide will give you a much better understanding of the City, its history, its architecture and some interesting facts!
I'd recommend booking a tour in advance and I recommend checking out the tours that Get Your Guide offer as they offer a really high quality of service, the tours they offer are:
i360
The i360 is quite a new addition to Brighton's skyline. It opened in the Summer of 2016 and has been a pretty big hit. It gives incredible views over the ocean, the coastline, the countryside and of course, Brighton and Hove.
This is a really good thing to do in Brighton on a rainy day so if you've booked a train ticket to Brighton and now it looks like it might rain, definitely book a ticket for the i360! I would recommend booking a ticket in advance for £16.50 pp which you can purchase on the icon below: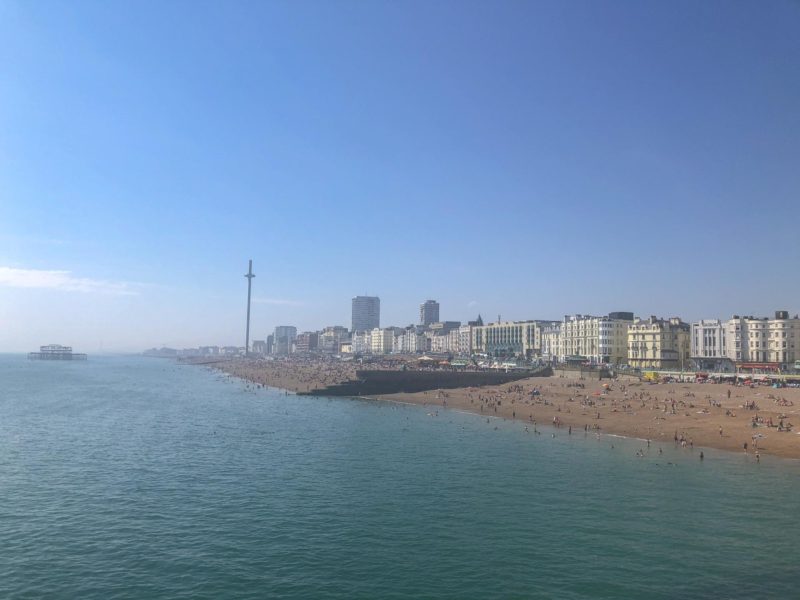 Brighton Pavilion
The Royal Pavilion, also known as Brighton Pavilion is a must see too because it's totally unique and not what you expect to see in Brighton.
The building is incredibly beautiful, it was first built in 1787 but it was built in three stages as a seaside retreat for George, Prince of Wales. It's really nice to see it from the outside and if it's nice weather there's lots of greenery around it and people are always lying on the grass as it's a nice relaxing part of Brighton.
It does have a museum though and you can also go into the Pavilion, to find out more about visiting the inside have a look here.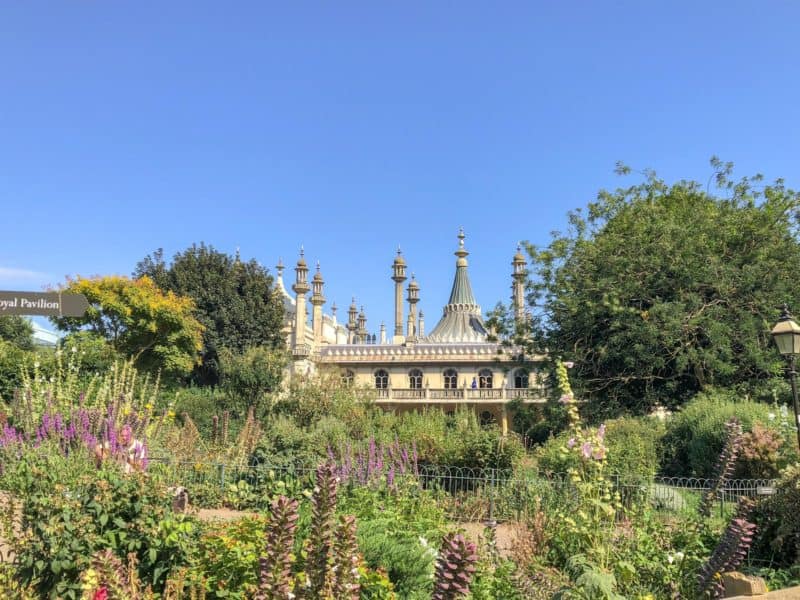 Hop-on Hop-off bus
If the weather is terrible on your trip to Brighton, you don't fancy walking or you're on tight timeframe, Brighton does have a sightseeing hop-on, hop-off bus and it actually visit's so many places that you probably wouldn't walk to meaning you'll get to see a lot of Brighton on it. The other benefit is of course having a commentary whilst travelling around to get a better understanding of Brighton and the local area.
For example one of the routes stops at: Palace Pier, British Airways i360, Grand Avenue, Sussex County Cricket, Hove, Palmeira Square, St Anns Well Gardens, Brighton Station, Imperial Arcade, Brighton Pavilion/Old Steine, Royal Crecent/Bedford Street, Brighton Marina/Seattle Hotel and Maderia Terrace.
To check our routes and to book a ticket, use the below link:
See Brighton's White Cliffs
England's Southern coast line is popular for its White Cliffs and like me, you may have heard of the White Cliffs of Dover or the Seven Sisters Cliffs (BTW if you want to visit these at some point, check out my post on how to visit the White Cliffs of Dover from London! & how to visit the Seven Sister Cliffs from London) but did you know that Brighton has White Cliffs too?
To be honest I didn't until I saw them at a distance whilst standing on Brighton pier, I later saw that you can visit them on a bike tour from Brighton which I think sounds really cool!
You start off in Brighton with a guide who gives you some information on the city, then you head towards Brighton's best kept secret- the Undercliff Path which is the highlight of the tour, however you get there via the Volks Railway- the oldest electric railway in the world, Brighton Pier and Brighton Marina, Rottingdean Village- the former home of Jungle Book author Rudyard Kipling and Rottingdean.
This sounds like such a good thing to do in Brighton all year round and it's definitely on my list for the future! If you want to check out and book the tour, you can do so here:
Boho Gelato
No trip to the seaside is complete without ice cream right?? Boho Gelato has been in Brighton for a few years now, it has 2 stores and it's popular due to its many unique flavours! Think Jam Donut, Cheesecake, Gin and Tonic, Lager and Lime etc. Their flavours change on a daily basis and I was pleased to see when I visited Brighton recently that they had some Vegan Sobert options! Rain or Shine, get your ice cream fix from Boho Gelato in Brighton!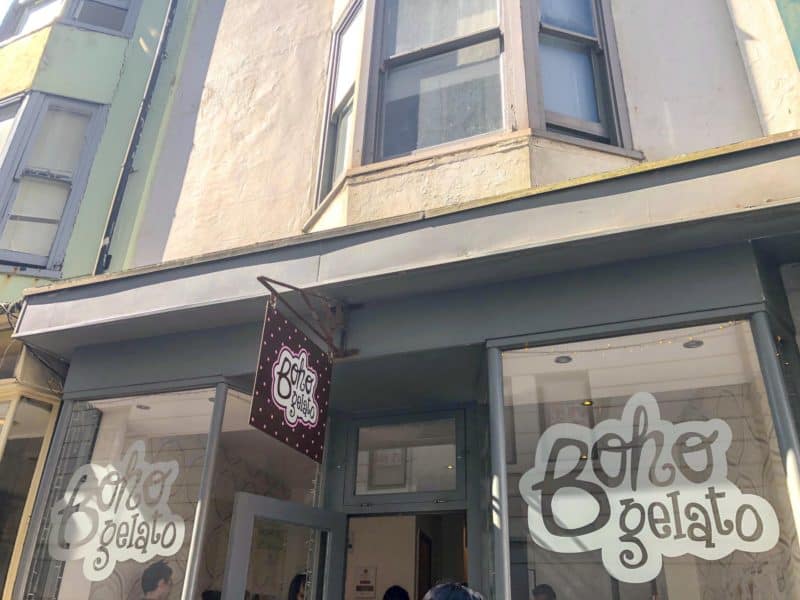 Explore Brighton Lanes & Brighton North Laine
Another thing Brighton is famous for is its Laneways and they are a must visit on a trip to Brighton. Brighton is home to 'The Lanes' and 'North Laine' which are in fact different things although they are quite close together.
The Lanes are a collection of narrow laneways located in the Historic Quarter of Brighton. The Brighton Lanes are full of independent shops like antiques and jewellery shops alongside designer boutique fashion shops. There are also plenty of cafes, pubs and restaurants in this small area of the city.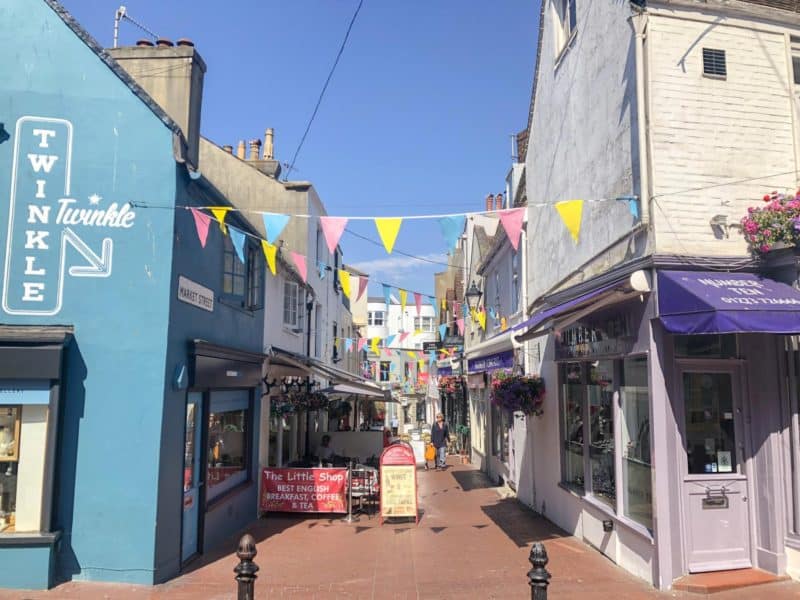 Brighton North Laine however has a slightly different feel to it. It's located in the Cultural Quarter and the streets are wider. It's home to independent shops as well but shops that are more exotic and funky. Think vintage fashion, vegetarian friendly shoes, locally made jewellery!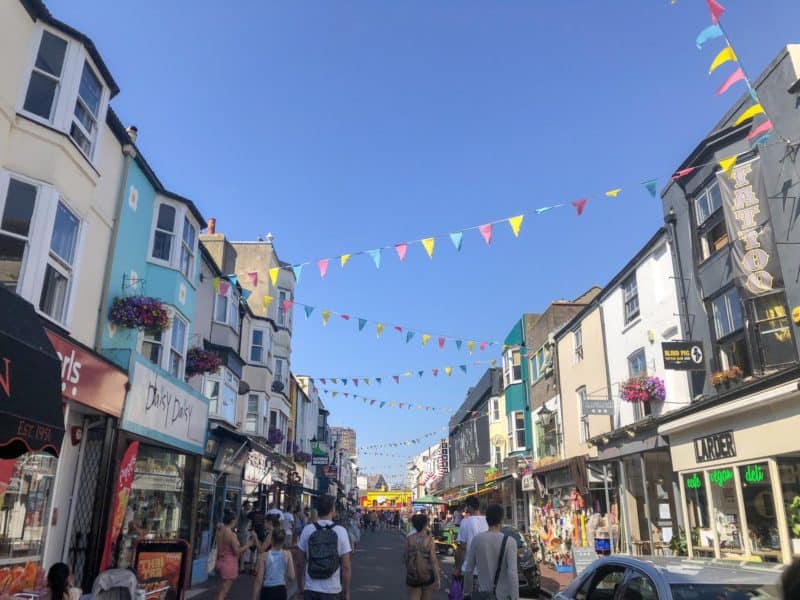 I hope this post helps plan your day trip to Brighton from London and gives you idea's of things to do!
Let me know in the comments below or by tweeting me @wandering_quinn!
---
If you want to stay the night, here are some accommodation options:
Budget – YHA Brighton Hostel
Mid Range – Ibis Brighton City Centre
Splurge – Artist Residence Brighton
---
Remember to check out train times and prices on the The Train Line so you can get the best price. Try to avoid peak time as a lot of people commute in and out of Brighton so it makes train tickets more expensive.

---
If you need any other London Day Trip idea's check out these posts:
Visiting the Seven Sisters Cliffs on a Day Trip from London!
Spending the Day in Margate on a Day Trip From London. My True Thoughts!
Visiting the White Cliffs of Dover on a Day Trip from London!
10 Things Not To Miss When Visiting Oxford on a Day Trip From London!
A Day Trip to Stonehenge & Bath from London!
This posts contains affiliate links but at no extra cost to you, I just get a small commission for recommending products, tours, and websites to you that I love if you book or purchase them.