This post may contain affiliate links. I will receive a small commission if you use these links.
---
Updated 2023!. 'I feel like I'm in another country!'. These were my words on my Instagram Stories after arriving in the town of McLeod Ganj in Dharamshala, up in the state of Himachal Pradesh with a big Tibetan Influence.
It's good to know now that a lot of travellers travel to Dharamshala and get stuck, often staying much longer than planned, this is what happened to me, I ended up here for 10 days and then I returned the following year as soon as I could!
So here is my travel guide to Dharamshala for travellers and backpackers including things to do, where to stay, places to eat and things to note about Dharamshala, McLeod Ganj, Dharamkot and Bhagsu.
Dharamshala Travel Guide
To SEE Dharamshala, have a watch of my Youtube Video here:
SIM CARD FOR INDIA
I really recommend having a sim card in India as it makes travel in India so much easier! You may have heard that it's hard to get a sim card in India but you can get a sim card in Delhi Airport, read this post to see how to buy a sim card in Delhi Airport or if you fly in elsewhere 3 ways to buy a sim card in India and you'll be connected in just a few hours!
WHAT TO WEAR IN INDIA
If you are a woman, here's what I recommend you pack and wear in India. Technically you can wear what you like in India in most places but to get fewer stares and feel more comfortable, read my post!
DON'T GET SCAMMED IN DELHI
Most people arrive for the first time into Delhi and get scammed within a few hours! Read my Delhi Travel Tips to help you enjoy Delhi, and the best places to stay in Delhi which is so important!
Find What You're Looking For Easily Here!
Where is Dharamshala?
Dharamshala or Dharamsala (it's the same place, slightly different spelling) is in the North-Western state of Himachal Pradesh in Kangra, India. It's one of the hill stations in Himachal Pradesh.
Dharamshala is an area and it's also its own town, and within the area of Dharamshala is also McLeod Ganj, Dharamkot and Bhagsu. So when people say they are visiting Dharamshala, like I am saying, I mean the area it's in with its other towns and villages. This confused me when researching where to stay in Dharamshala so I wanted to clear this up for you.
How to Get To and From Dharamshala?
Getting to Dharamshala By Train
Dharamshala does not have a train station, the nearest station is Pathankot which is 85km to the East of Dharamshala and a then a 2.5hour drive up very windy roads, so getting to Dharamshala by train is not the best option although here is information on how to get from Pathankot to Mcleod Ganj by bus if you wish to do this journey.
Getting to Dharamshala By Air
Kangra Airport (also known as Dharamshala Airport when you type it in on Skyscanner) is the closest airport and only a 30-minute drive from Dharamshala. Internal flights in India can be pretty cheap so you can fly to Dharamshala from Delhi or elsewhere in India if you wish. Check out flights on Skyscanner here and look at transfers from Kangra Airport to Dharamshala here!
Getting to Dharamshala By Bus
Travelling to and from Dharamshala by bus is the easiest and cheapest option, even if it's not the nicest due to the bumpy and windy roads that surround this area.
I took an 11 hour bus from Delhi to Dharamshala with Bedi Travels which I booked using RedBus for 800Rs and it really wasn't too bad. Search for buses from Delhi to Dharamshala here.
Other popular places to visit before or after Dharamshala are Amritsar, Rishikesh and Manali.
There's a day time bus from Amritsar to Dharamshala which is what I took to get there, it was a minibus with Laxmi Travels, took 5 hours and cost me 1000Rs and it wasn't too bad at all. There's also a public bus which will be cheaper but takes a bit longer and isn't as comfortable.
I went to Rishikesh afterwards and took an overnight bus from Dharamshala to Rishikesh, this was one hell of a journey as the roads are very windy and bumpy all the way! I didn't enjoy it I'll admit, but it was the only option. It takes 11 hours and cost 1000Rs.
Manali is another place in Himachal Pradesh and a good place to go to before or after, on my second trip I took a bus from Dharamshala to Manali overnight, it's a fairly short overnight journey at 7 hours and leaving at 23:00 for 800Rs but at least it doesn't waste a day of travelling.
RedBus is a good platform to pre-book buses on, or you can book them with agents in the towns.
Most buses will drop you off and pick you up in Dharamshala by the cinema and petrol station however the odd bus goes to Mcleod Ganj which is best as it's that bit closer to where you'll want to be. A taxi from Dharamshala to Dharamkot cost me 400Rs.
Getting to Dharamshala By Car
Getting a private car in India is a popular thing to do, it's not as cheap as public transport of course but for tourists with more money to spend or for people on a tight timeframe a private car is often the preferred option.
Taxies are readily available, a lady in my hotel was taking a day taxi from Dharamshala to Rishikesh which cost 10,000Rs. If you are visiting from Amritsar and want a private car, have a look at this good option on Viator!
Where to Stay in Dharamshala?
As mentioned, Dharamshala is the area as well as its own town. I DO NOT recommend staying in Dharamshala as this is a busy, local town.
The best places to stay are Mcleod Ganj, Dharamkot or Bhagsu and it really depends what kind of vibe you want from your stay as to which area you stay in.
Mcleod Ganj Accommodation
I stayed in the town of McLeod Ganj on my first visit in November and I really liked it. It has plenty of cafes, shops and accommodation. It is only a small town but during high season it can get very busy with a lot of traffic and a lot of beeping.
It has a big Tibetan feel to it as this is where the Dalai Lama resides. It's also where the Dalai Lama Temple and the Tibet Museum are, which are some of the main things to do in Dharamshala. McLeod Ganj is a great central base and a short walk from Dharamkot and Bhagsu.
I've stayed at Ram Yoga House twice which I loved and I think is the best hotel in Mcleod Ganj! It only has 10 rooms, all with balconies and mountain views. It books up fast and I was lucky to get the last room on Booking.com!
I had the budget room and it was 'budget' as the balcony view had a building in front, but I still had a good view to the side, especially of the sunrise and at roughly 1100RS / £11.00 per night it is great value for a double room with private bathroom!
Ram Yoga House also has a cafe on site which makes it really convenient to get breakfast or dinner if you don't want to go back into the town. The staff are really lovely including Ram who owns the place. And perhaps best of all is the Yoga Studio on the rooftop with an incredible view over the valley.
Daily lessons are offered in high season but whether lessons are on or not, you can use the studio on your own for free which is so great if you want to practise yoga in Dharamshala! As you can tell, I did love it and you can check availability and rates for Ram Yoga House on Booking.com!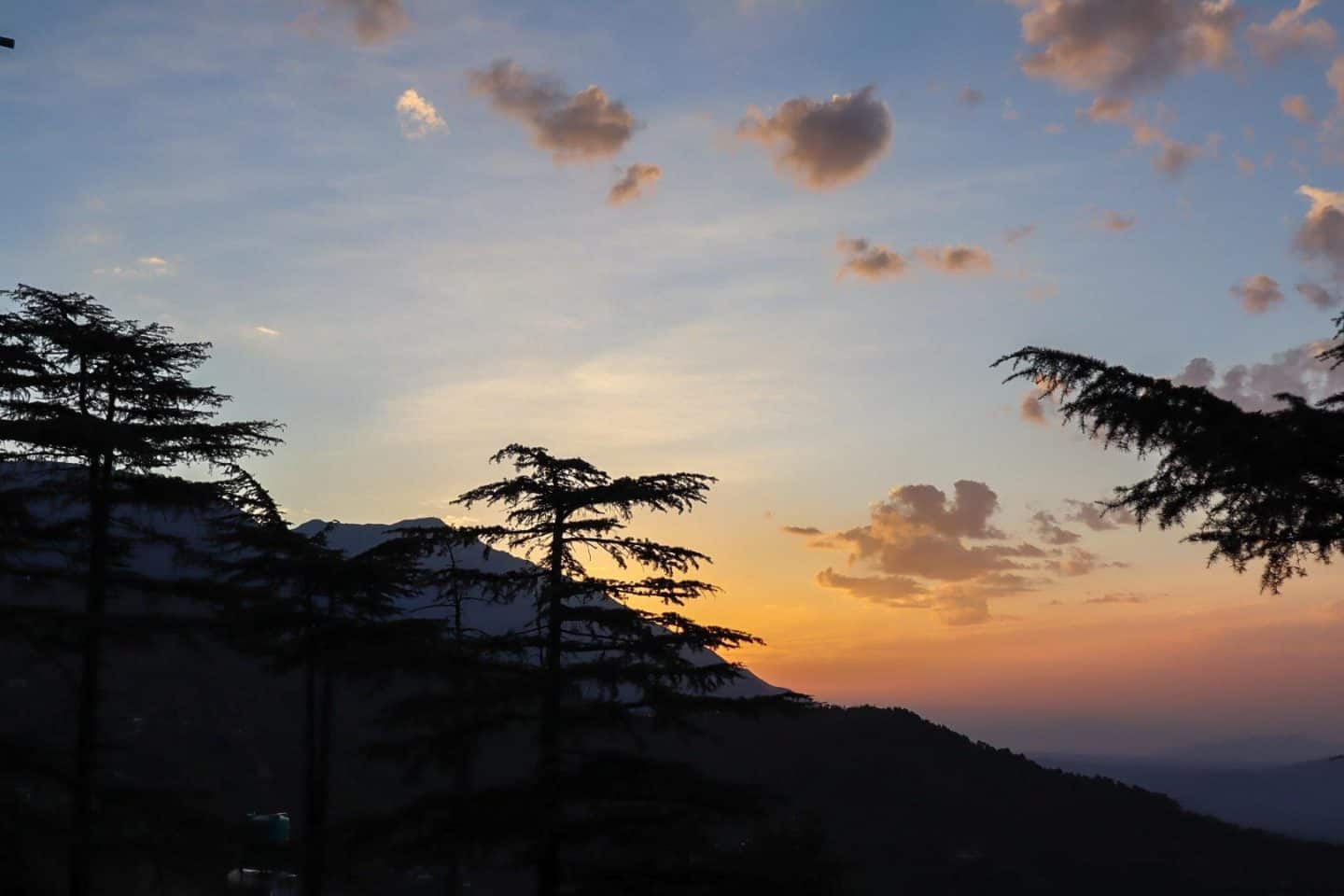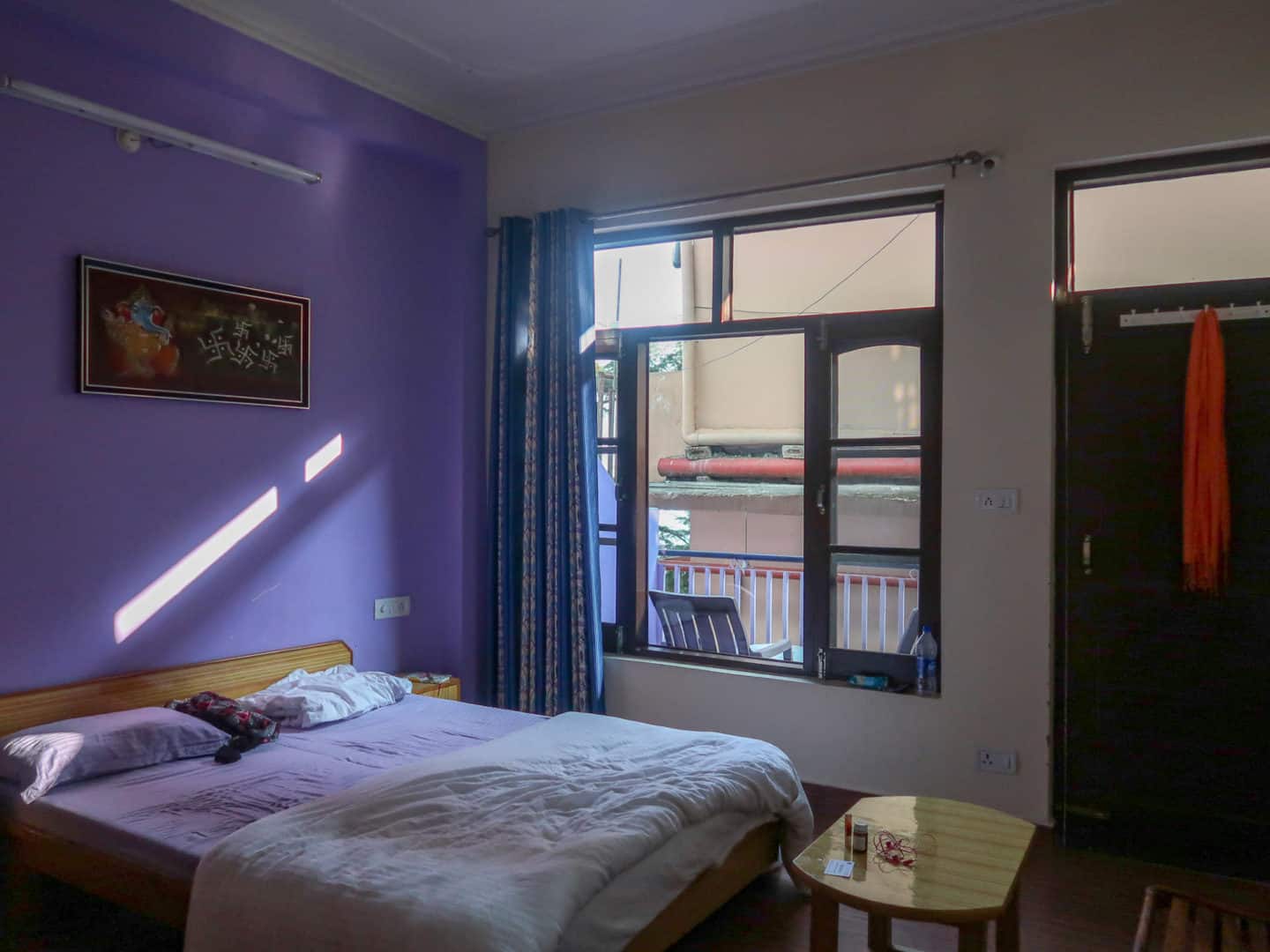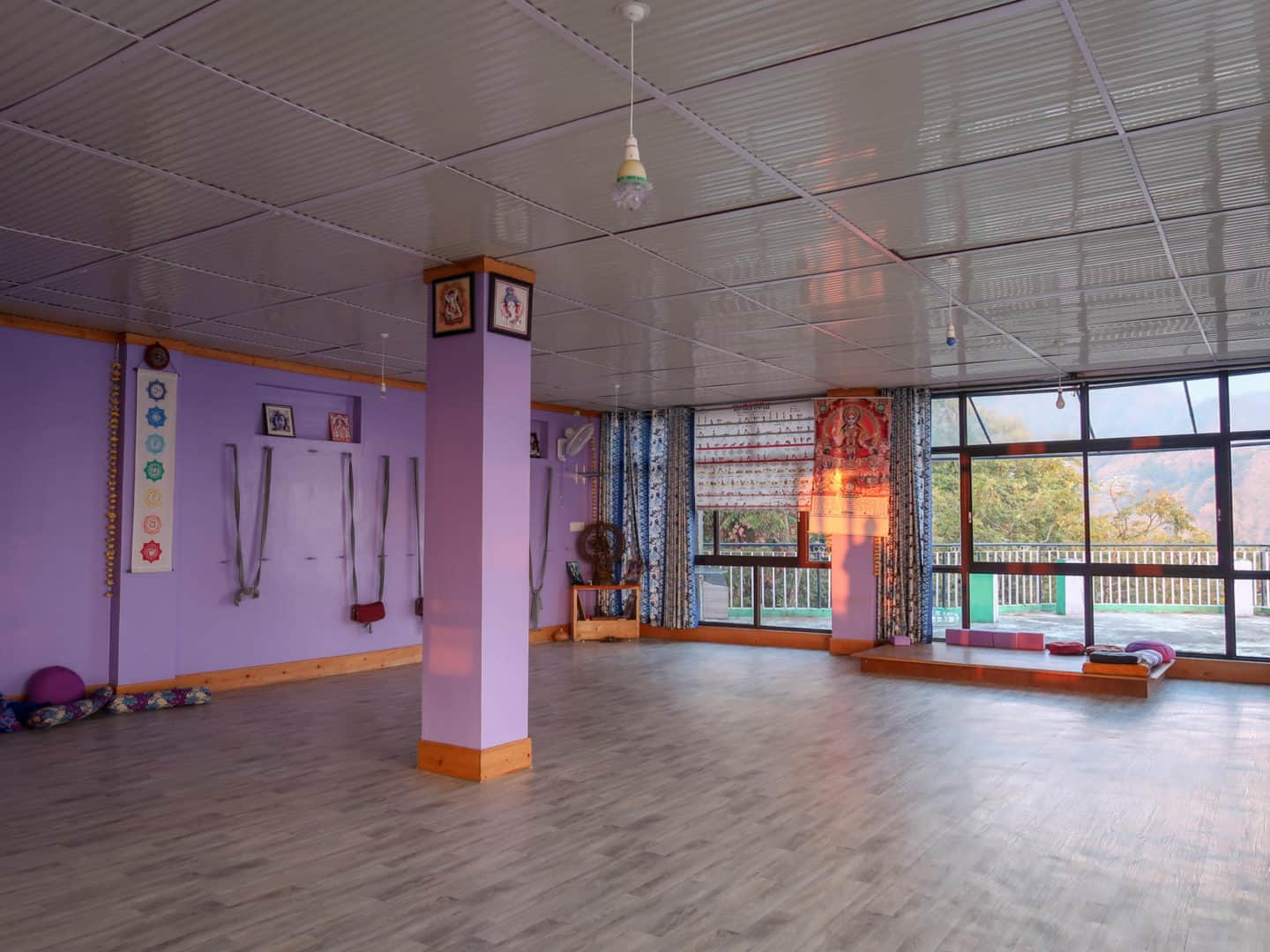 Dharamkot Accommodation
Dharamkot village is split into Upper Dharamkot and Dharamkot. I stayed for a few nights at Alt Life Hostel in Upper Dharamkot. It has amazing mountain views right outside, good dorm rooms and a nice cafe. The only thing about it is that you need to walk to and from everything, although it's just 15 minutes from Dharamkot 'village' which is consists of a few streets nestled in the mountains.
Flugler Hostel is another popular hostel in Dharamkot.
The vibe of Dharamkot is more hippie and alternative. There are vegan restaurants and shops selling cool jewellery. It has a very chilled out vibe too and because it's literally located in the mountainside with a footpath there's not the noise of any cars.
If this sounds right for you, search for hotels, hostels and guesthouses in Dharamkot here on Booking.com.
BOOKING TRAINS IN INDIA
India is best travelled by train because its the quickest, cheapest and best way of getting to know the country. For an EASY option of booking trains in India use 12GO to search and book trains really easily. If you'll be in India for awhile, you can use the local booking system, it's a bit tricker but possible, here's my post on how to book trains in India as a tourist.
BEST ACCOMMODATION IN INDIA
I always use Booking.com to book my hotels in India and Hostelworld to book my hostels. India has a great range of accommodation with brilliant hostel chains like Moustache, Zostel and Backpacker Panda as well as homestays to luxury hotels.
GUIDED TOURS IN INDIA
Many cities in India are best seen with a guide, even if it's just a half day tour on your first day. Cities in India are chaotic and complex and what better way to taste the food and get to know the city than with a local. I recommend Get Your Guide & Viator for the best tours in India!
Bhagsu Accommodation
Bhagsu is also split into two – Upper Bhagsu and Lower Bhagsu although both are very close together. Upper Bhagsu is located closest to Dharamkot (at the bottom of a hill) and still has that alternative, chilled out, hippie vibe with cool cafes and lots of yoga, meditation, ecstatic dance and reiki workshops. Most of these sessions on offer are all in Upper Bhagsu.
Lower Bhagsu is much more touristy and I'd say more popular with Indian tourists, it's where you'll get asked if you want a taxi constantly and it's closer to Bhagsu Waterfalls which brings a lot of day tourists to the area.
Upper Bhagsu has quite a few hostels and popular hostels in Bhagsu are Hostel LaVie, Hostel Triangle Folks and Worlds Hostel.
Things to do in Dharamshala
Based on the 3 main areas of Dharamshala – Mcleod Ganj, Dharamkot and Bhagsu, here are the main things to do and with a bit of walking involved you can do all of these things from any base.
The Dalai Lama Temple
This is a must-visit in McLeod Ganj because Dharamshala is now the home of the Dalai Lama so you have to visit his temple. Although he travels a lot, it's also worth checking to see if he's around when you're there! You can view the Dalai Lama's schedule here! I went to one of his morning ceremonies and it was amazing to see him in real life.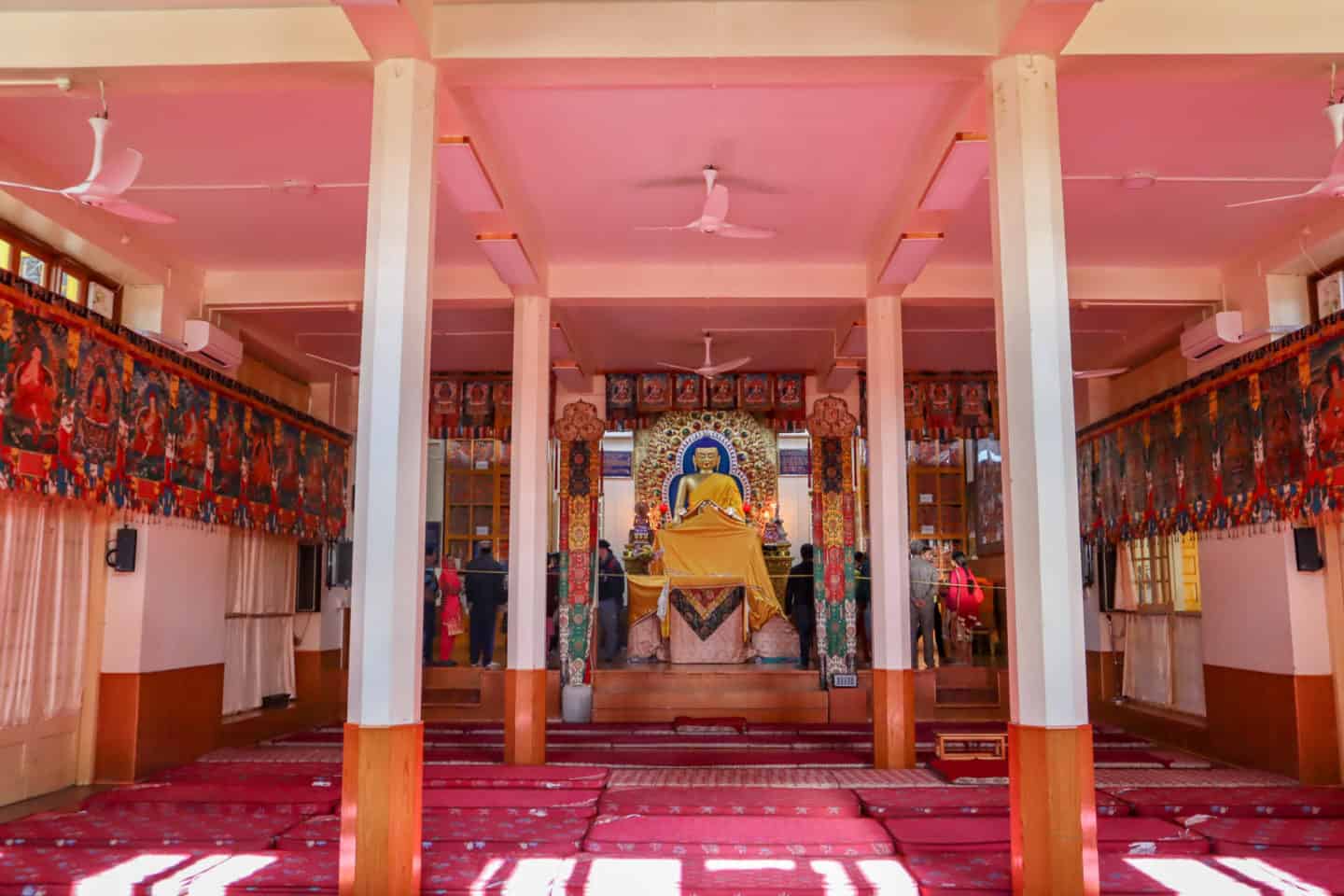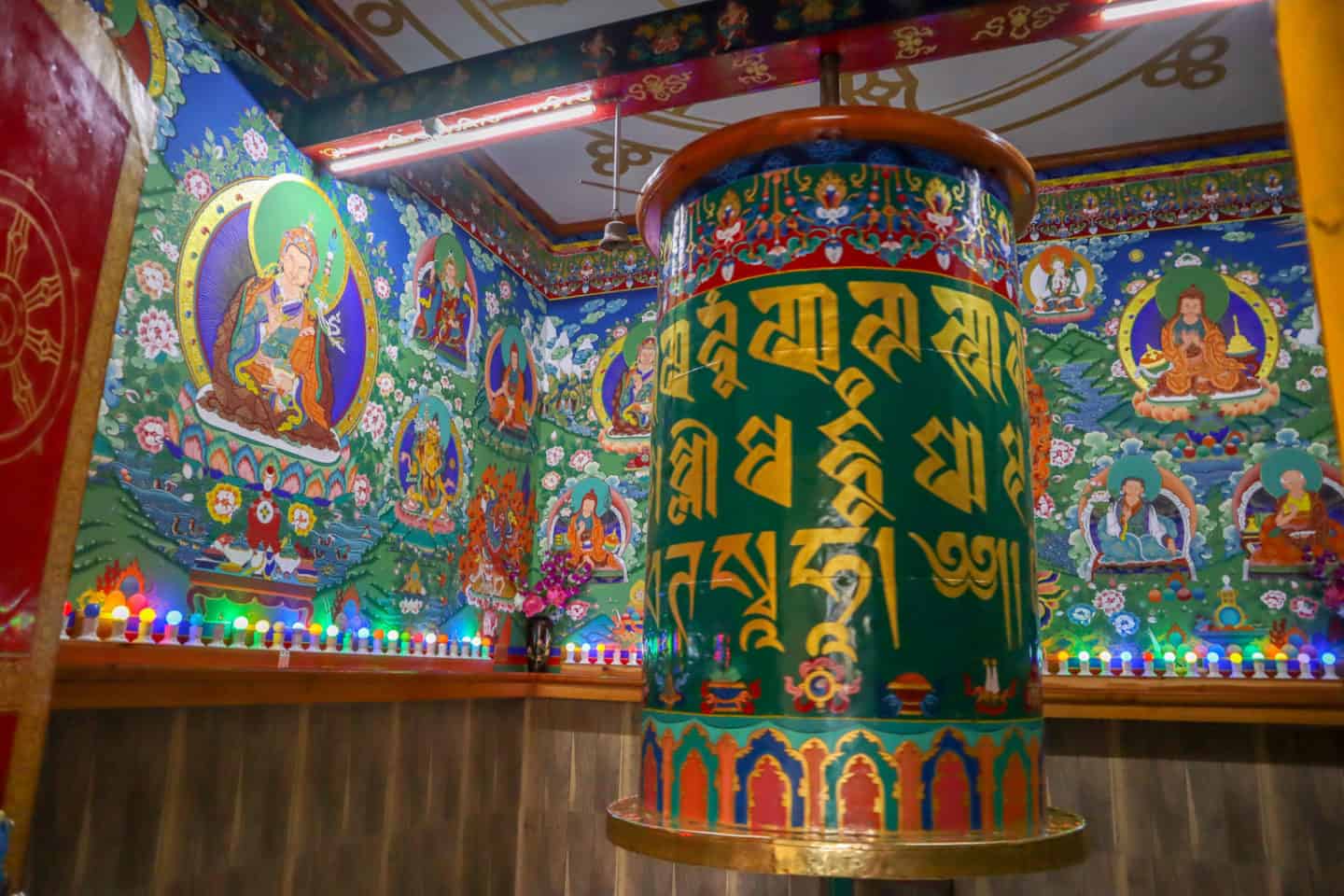 The Tibet Museum
This is a must must visit in McLeod Ganj too. It's right next to the Dalai Lama temple and it explains the history of Tibet and why it is in the situation it is in today. To be honest, I didn't know much about the history and it kind of surprised me how many Tibetans I saw in McLeod Ganj when I arrived but it all made sense after visiting.

The history (and the current day situation) is really shocking so you really should visit and I recommend visiting on your first day as it will help you understand the area and people better. If you want to start reading up now, look into the history of Tibet from 1950-Present here!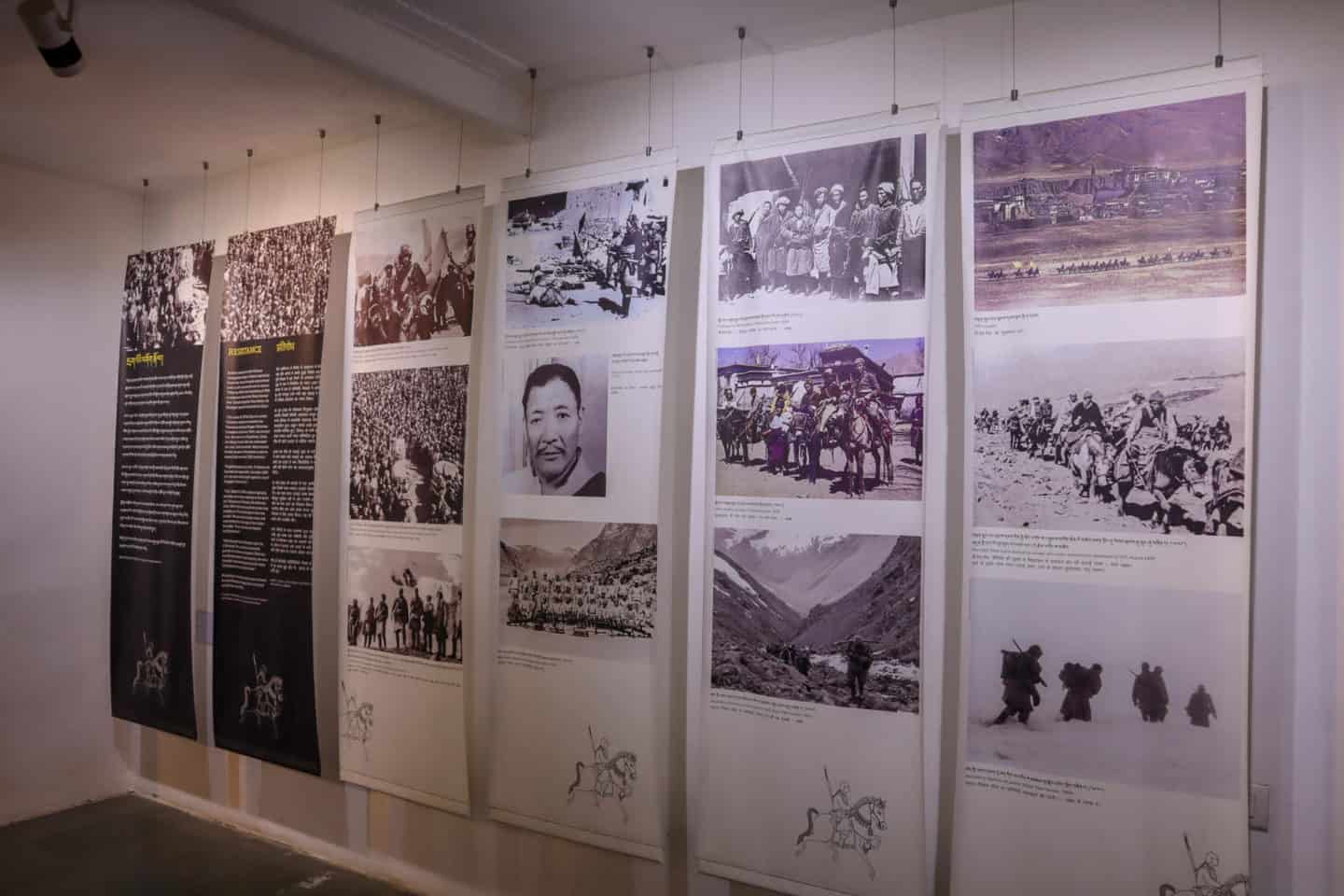 Bhagsu Falls
This is another popular thing to do in Dharamshala and Bhagsu. It's possible to walk from McLeod Ganj to Bhagsu and then up to Bhagsu falls. It isn't the most impressive falls and it's very easy to get to via a path which means it's very touristy and heavily visited by Indians (who will probably want a selfie – see how to deal with selfies in India in my video here!) but it's worth going and if you're not staying in Bhagsu it's a reason to visit the village.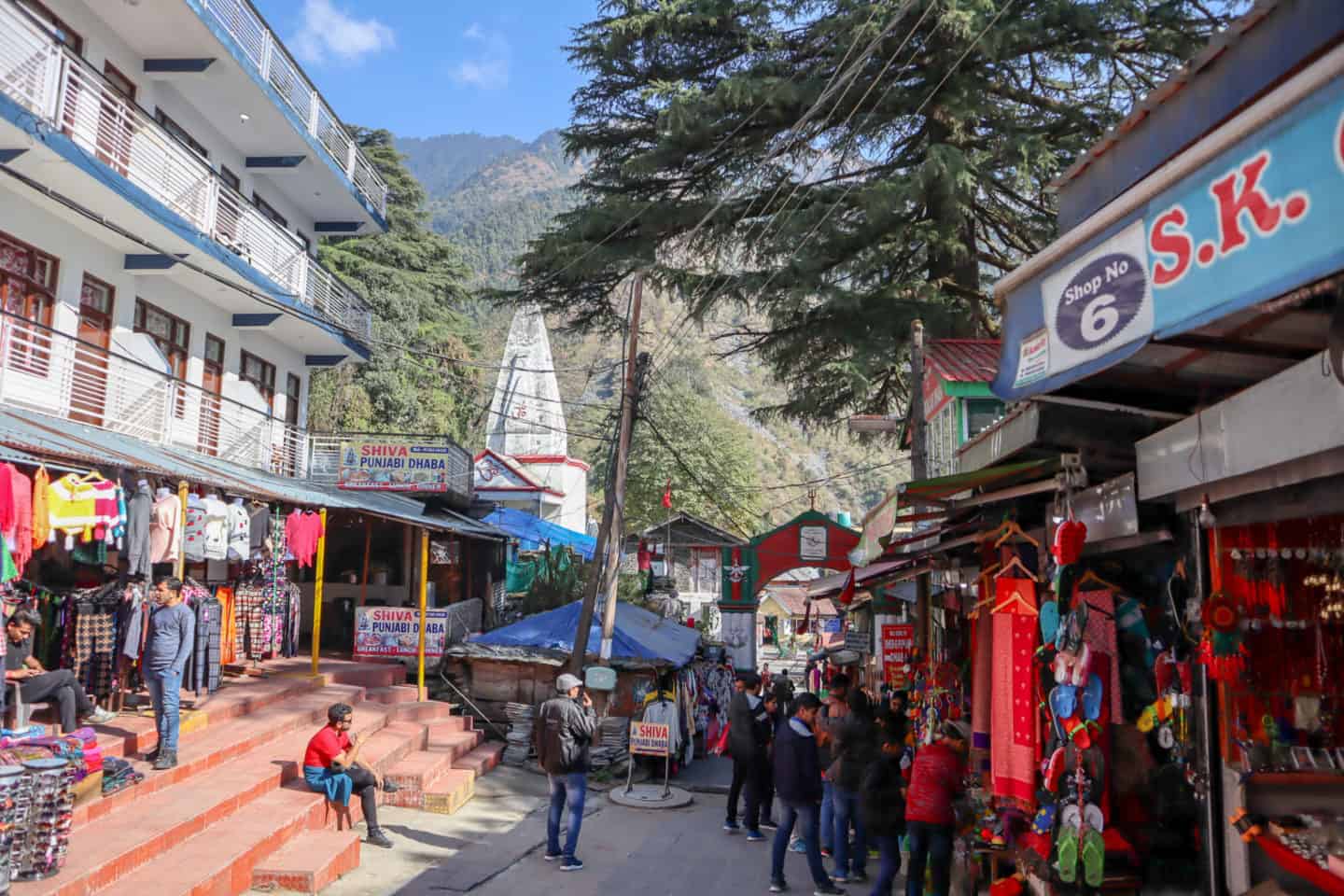 Tushita Meditation Centre
Up in Dharamkot is Tushita Meditation Centre, a Buddhist Centre which offers Buddhism Courses from 2 to 10 days most of the year, but also a daily meditation class from 9:30 everyday except Sunday. I only went once (actually I went twice but the first time it was cancelled due to there being another course on, so call them in advance to check it will be on!), and I really enjoyed it.
We did 2 simple meditations which lasted about 10-15 minutes each and it is on a donation basis. The centre is very quiet and relaxed and visiting made me really want to go back and do a course! I walked from McLeod Ganj to Dharamkot one day, it was ok but very steep! The second time I took a taxi which was 150Rs! Check out the location and courses here!
Do Yoga
There's lots of yoga in Dharamshala on offer, especially in the high summer season. The best places for yoga in Dharamshala are in Dharamkot and Upper Bhagsu. The best thing to do is to join the Dharamkot and Bhagsu Community Facebook Group to see what is on and look out for the flyers around the towns.
Classes & Training
It's not just yoga on offer here, you can go to Ecstatic Dance Classes, Breathwork Sessions, Tibet Sound Bowl Healing. You can go to all of these as a participant or you can do classes like Reiki Training. Again the Facebook group is a good way to see what's on and look out for the flyers about.
Cafe Hop!
There are few cool cafes and restaurants around so it's easy to pass a morning or afternoon in these, see more on those below!
Cricket Ground
Not something I was interested in but located in Dharamshala town is Himachal Cricket Ground which is the highest Cricket Ground in the world at 1457 metres, it's said to be one of India's best cricket grounds too so if you like cricket, try and see it! Check out the schedule of games here.
Hiking
There are plenty of walks you can do around the area. If you want to go hiking with a local guide, have a look into this hiking day tour. Truind is one of the most popular hikes in Dharamshala which leaves from Bhagsu.
Adventure Activities in Dharamshala
Whilst nearby Manali is better for adventure activities if you are not going that way you can still book day tours and go Paragliding from Dharamshala as well as Rock Climbing and Camping in Dharamshala.
In general, this area is a good place to visit to chill out a bit, take in the fresh mountain air, explore and connect back to Nature. However if you want to see a lot Dharamshala in one day or with a guide so you can understand the area more, there are lots of day tours of Dharamshala on Viator which range in price, so I would recommend checking out these Dharamshala Tours!
The Best Cafes & Restaurants in Dharamshala
There are plenty of places to eat in all areas, here are my favourites:
Tibet Kitchen (Mcleod Ganj) – For some real Tibetan Food with friendly staff head here.
Jimmy's Italian Kitchen (Mcleod Ganj) – If you want good Pizza, head here.
Illiterati Cafe (Mcleod Ganj) – It's a bit of a walk downhill from McLeod Ganj to Illiterati Cafe but it's well worth it! It's like no other cafe in the area and feel's like you could be in Europe! It is filled with books, it's really cosy and has balcony views of the mountains. I wasn't a fan of the food as it's mainly international but they do nice drinks and good cake! They also have good wifi.
Moonpeak Espresso (Mcleod Ganj) – If you need good wifi this is another good place to go in Mcleod Ganj. It's only small with a range of sandwiches and Indian food but I found it a good place to work from.
Bodhi Greens Vegan Cafe (Dharamkot) – Dharamkot has quite a few vegan restaurants and this is a really good one with lots of healthy options and a nice vibe.
Cool Talk Cafe (Dharamkot) – Located at the top of Dharamkot town this place always looked busy when I went past.
Himalayan Tea Shop (Dharamkot) – Get a tea before or after meditation at Tushita Meditation Centre here and it's a great place to meet other travellers doing the same.
Nature Twins Cafe (Upper Bhagsu) – I love the chill floor seating upstairs here and they sell a huge range of foods.
Rakus Place (Upper Bhagsu) – I had a good Avo on Toast here and it was super busy for breakfast in the morning.
Shiva Cafe (Top of Bhagsu Waterfall) – To get a sweat on and have a tea at the top, walk to Bhagsu Falls and keeping walking all the way to the very top until you get to Shiva Cafe which has good music, cool seating and good views.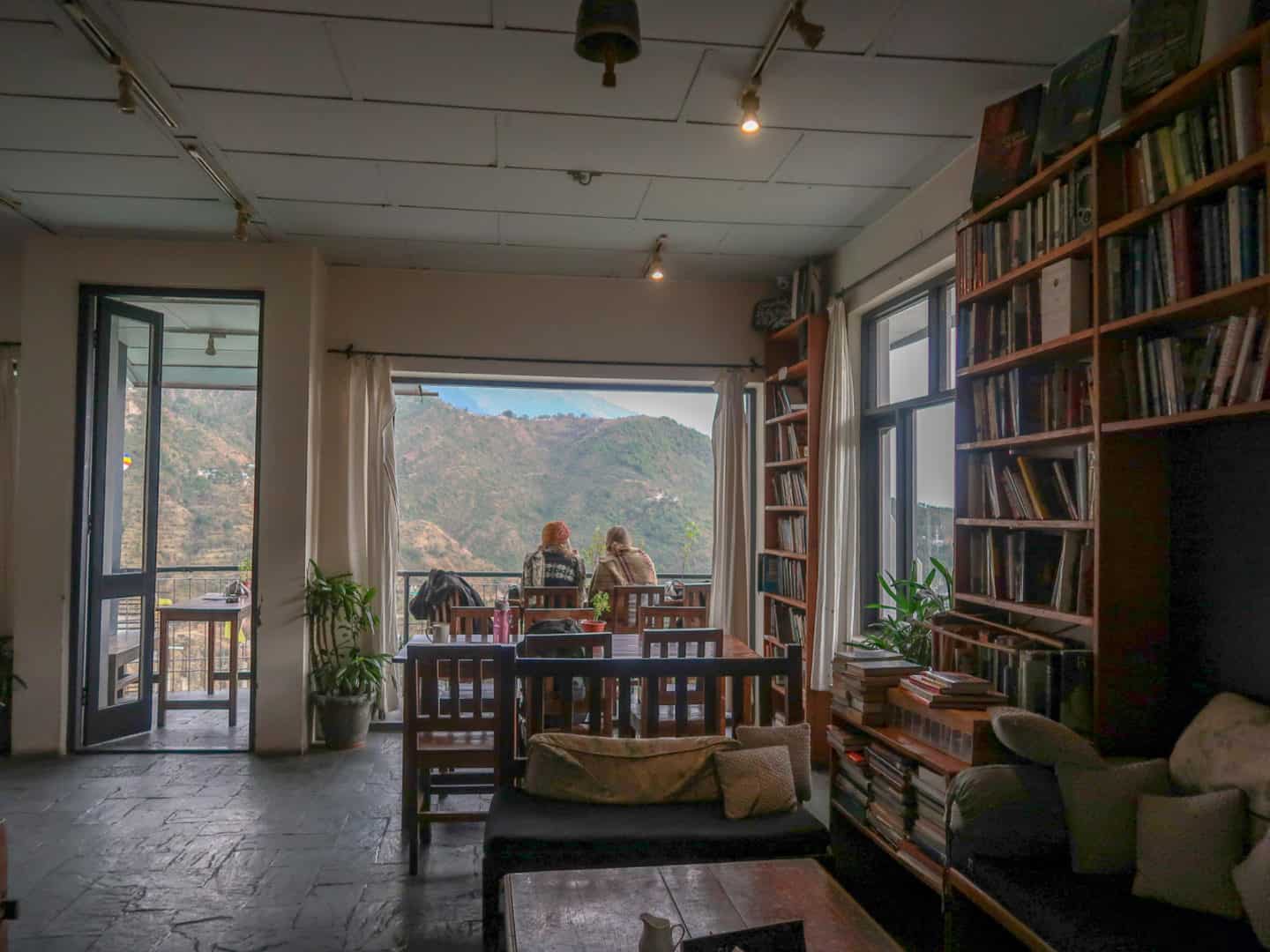 Dharamshala Travel Tips
Firstly I would say to note the time of year you want to visit. I feel like there is no best time of year to visit Dharamshala as it depends on what you want weather wise and what clothes you have. I visited in Mid November and it was chilly at night but when the sun was out during the day it was quite warm, although I was still well covered up.
As a backpacker, I had to wear quite a few layers as I didn't have any majorly warm clothes. From Dec-Feb it gets a lot colder and may even snow. Spring time is nice- especially April and May when it gets warmer but it also gets a bit busier in this time, especially with Indian travellers. Summer in Dharamshala is warm but they do get a monsoon season so keep this in mind.
With that said, there are plenty of market stalls and shops in McLeod Ganj especially selling Hiking Wear and clothes for all seasons so you can go shopping in Dharamshala for warm clothes.
The Altitude is another thing to note, it's quite high up here and if you get out of breath quite quickly this will be why.
There are quite a few people begging, older Tibetans and poorer women and children.
The area is not totally pretty, I mean the mountains are, they are spectacular but the towns are quite tired, old and a bit dirty, this is part of the charm (except the dirt and trash part) but I just want to warn you now so you know what to expect!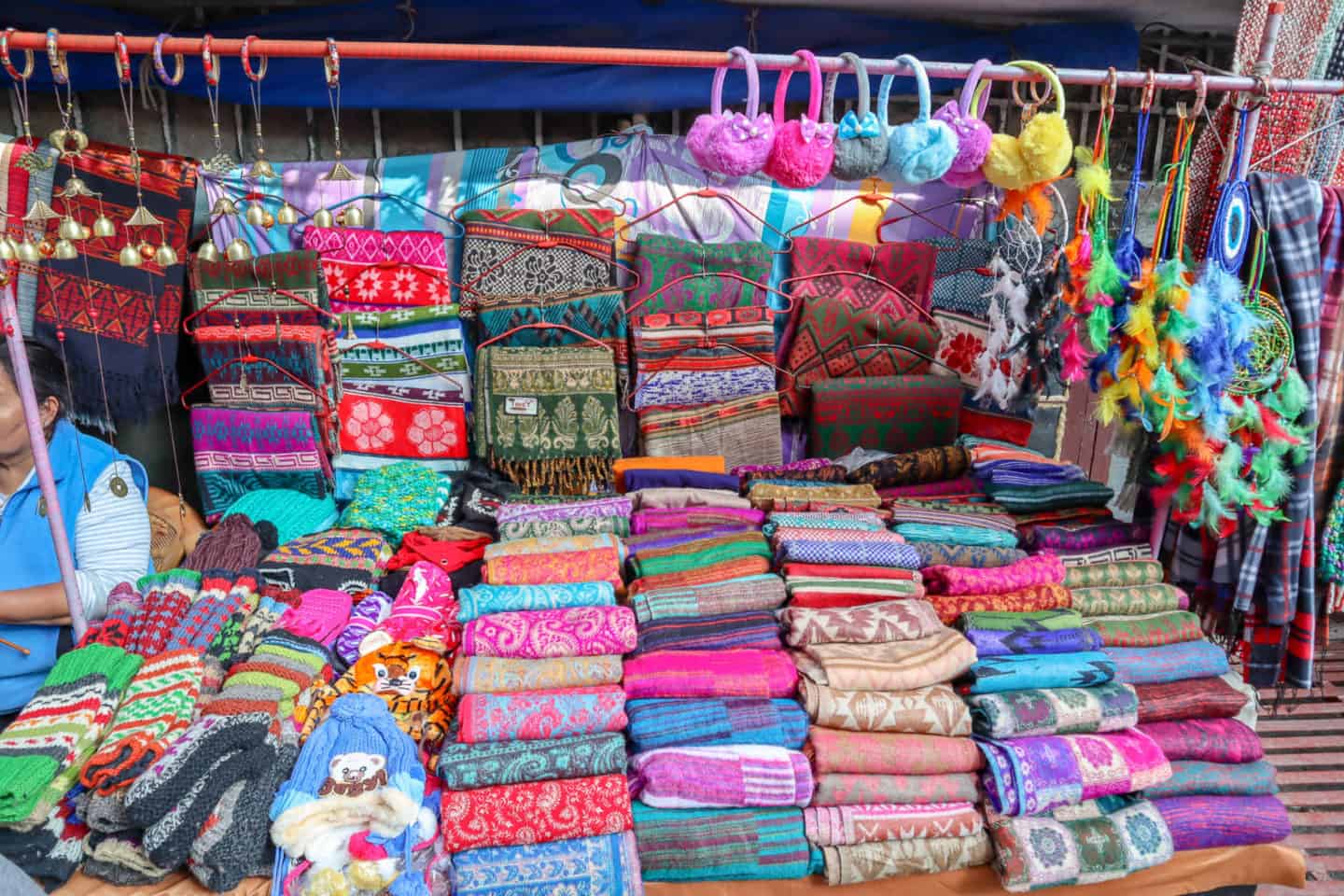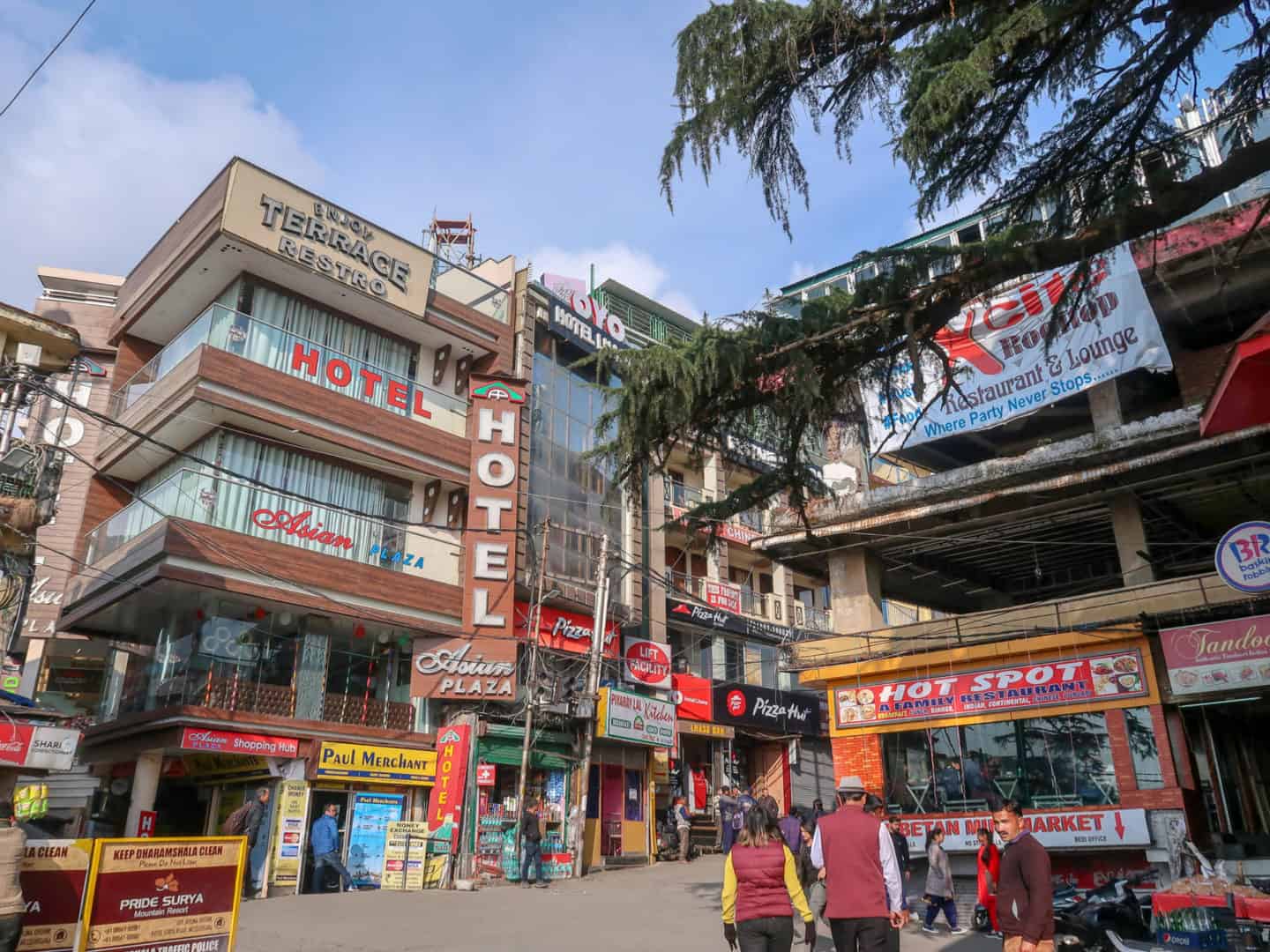 For more of my posts on India see: