This post may contain affiliate links. I will receive a small commission if you use these links.
---
Based on my many Pegasus Airlines flights, this is my Pegasus Airlines review along with details on Pegasus Airlines rating and information you need to know about flying with Pegasus Airlines.
I have flown with Pegasus Airlines from London to Tbilisi, Georgia with a layover in Istanbul Sabiha Gokcen Airport and back totaling 4 flights and all 4 flights went really well.
From these flights, my Pegasus Airlines review was already positive and I knew I would fly with them again.
A few years later, I had a London to Turkey to Lebanon trip planned and Pegasus Airlines was able to fly me from London Stansted to Cappadocia via Istanbul, Cappadocia to Istanbul and Istanbul to Beirut!
So that was it, I was booked onto 4 Pegasus Airline flights within the space of 1 week.
Pegasus Airlines Review!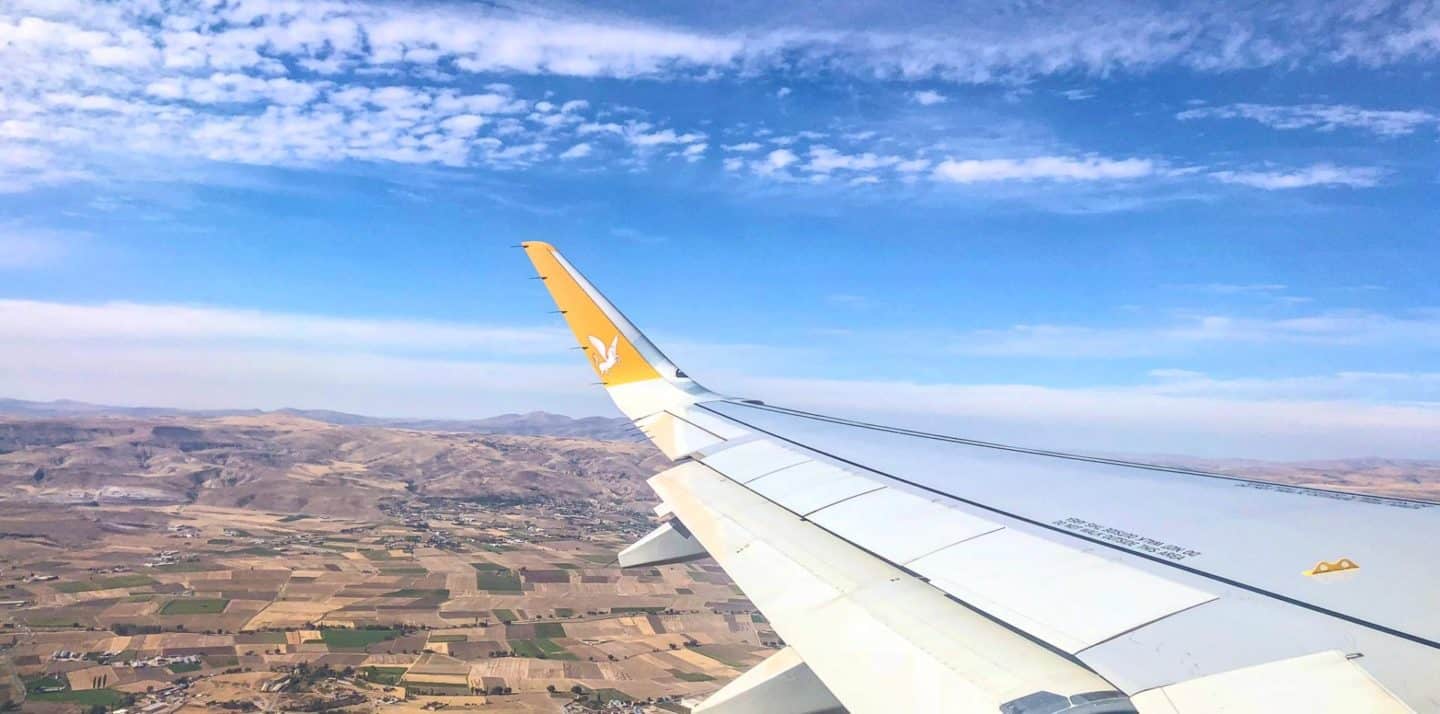 What Do Pegasus Airlines Offer?
Pegasus Airlines offer flights to a range of destinations in Europe, Russia, the Caucasus, the Middle East, North Africa and Asia for really competitive prices.
Pegasus offers 4 smart flight packages to choose from: Basic, Essentials, Advantage, and Flex so passengers pay for whichever services they need depending on whether they want and need checked-in luggage, meals and seat selection in advance.
Meals can be pre-booked online up to 24 hours prior to departure with low prices from just £6 including salad, breakfast and sushi, as well as special meals for Kosher, Gluten/Lactose-free, Vegetarian.
Where Do Pegasus Airlines Fly To From London?
Pegasus Airlines fly all year round from London Stansted with daily scheduled flights to Istanbul and a network of 108 destinations, including 38 in Turkey and 70 other international destinations (via Istanbul Sabiha Gokcen Airport) in 41 countries across Europe, Russia, the Caucasus, the Middle East, North Africa and Asia!
Prices start from just £44.99 one way (taxes incl.).
Pegasus connects London Stansted airport to Istanbul 5 times a day with connecting flights to 39 destinations in Turkey including the popular destinations of Dalaman, Bodrum, Izmir, Ankara, Antalya and Kayseri.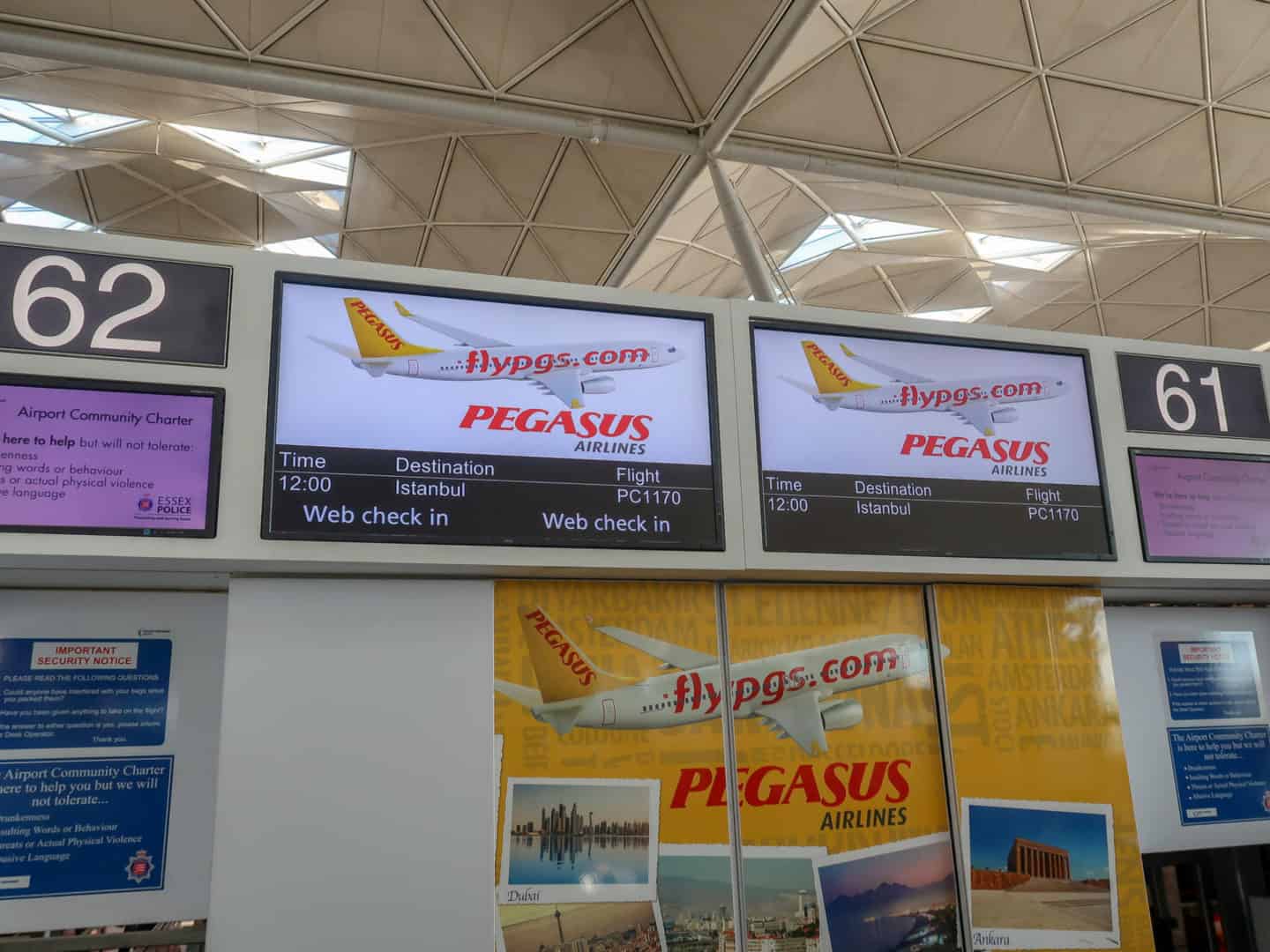 Look for the best flights here!
I use Skyscanner to book all of my flights! I'm a huge fan of Skyscanner because I love how easy it is to compare different dates and routes to help me find the best flight at the best price!
Open Skyscanner by clicking here and search for the best flights as you read this post.
Pegasus Airlines Stopover in Istanbul Sabiha Gokcen Airport
If you have a long layover or even just a 2-hour wait in the airport at Istanbul Sabiha Gokcen I would recommend paying to use the ISG Lounge.
There is one in the Domestic Terminal and the International Terminal. They are exactly the same except the Domestic Lounge is a bit smaller.
There is no free WiFi in Sabiha Gokcen Airport so if you want WiFi you have to purchase some food and in most cases to the value of £4.40 or more to get a pin code.
Whereas you can go into the Lounge which has a really relaxed atmosphere, offers unlimited WiFi codes, unlimited drinks and food for just £7.60, Bargain!
Related Post: Sabiha Airport to Taksim! 3 Ways To Do The Journey Easily!
Pegasus Airlines Check-In Process
Out of my 3 flight routes for some reason I could only check-in online for one of them, the rest I had to go to the counter for, this was fine for me as I had luggage that needed checking in any way so it didn't take any extra time out of my day.
To my delight, my check-in process in London Stansted was so quick as there were only a few people in the line and plenty of staff on the desks.
When I did check-in online it was easy to navigate and the barcode got sent to me via text and email.
Friendliness of Staff
On all 4 of my flights, I found the staff to be really friendly to me and to the other passengers.
My last flight from Istanbul to Beirut turned into a bit of a comedy show at the end as passengers were standing up and getting their bags out before we had even stopped, we had literally just landed!
The staff were polite but firm in asking them to sit down and afterwards they still maintained their friendly approach to the rest of us as we left the flight which I had a lot of respect for.
Pegasus Airline Plane Quality
All 4 planes I boarded were clean and in good condition.
None of them were brand new planes but when I posted on my Facebook that I had flown to Istanbul with Pegasus Airlines, my friends over at The Common Wanderer said they flew from Bologna to Istanbul and then on to Dalaman and not only were they really happy with the service, they had a brand new plane!
Reliability of Pegasus Airlines
Unfortunately, all 4 of my flights were slightly delayed.
None of the flights were delayed too much and I felt that the flight time on my tickets were always longer than what the captain told us it would be when we were about to take off so we still got in on time or just after that time even though we were delayed.
I would just keep this in mind if you plan a pick up from the airport.
How to get the best flights??
I use Skyscanner to book all of my flights! I'm a huge fan of Skyscanner because I love how easy it is to compare different destinations and different dates for the best price and route!
For example, I type in 'everywhere' in the destination if I have fixed dates and want to find the best flights on those dates on Skyscanner.
And if I have a set destination I'll look at the 'month view' to check the cheapest days to fly in that month!
I hope my Pegasus Airlines Review helps you make a decision as to whether to fly with Pegasus Airlines. I am personally really happy that I flew with them and I will be flying with Pegasus Airlines again in the future!
I was a guest of Pegasus Airlines but all thoughts and opinions are my own and I wouldn't recommend a service to you that I did not truly love and enjoy myself.