This post may contain affiliate links. I will receive a small commission if you use these links.
---
Cappadocia is on everyone's bucket list and I think it should be! It's magical, impressive and otherworldly. I've been to Cappadocia twice! Turkey is known as being quite a cheap and budget-friendly country, one of the many reason's to visit Turkey.
But now Cappadocia is one of the most famous places on the Internet (or so it seems), How much does a Cappadocia trip cost? Can you visit Cappadocia on a budget? Is Cappadocia expensive? I bet these are all questions you have if you want to visit Cappadocia right??
In this Cappadocia travel blog, I'm going to give what I found to be the average Cappadocia prices so you can budget and plan your trip to this magical place!
Cappadocia Prices
Find What You're Looking For Easily Here!
My Costs for 2 Days in Cappadocia
Let's start with my Cappadocia trip costs. I spent 3 nights and 2 days in Cappadocia on my recent trip. I did visit Cappadocia on a budget but it wasn't super tight and overall I didn't find Cappadocia to be expensive because there are lots of free things to do in Cappadocia!
Cost of Accommodation at Cappadocia View Hotel for 3 nights – 825TL / €117.00
2x Cost of Mini Bus to and from Kayseri Airport to Goreme – 35TL / €5.00 each way
1x Lunch Cost at Restaurant in Goreme – Falafel Wrap & Vine Leaves – 15TL / €2.10 each
2x Dinner Cost at Restaurant in Goreme – Pottery Kebab – 30TL / €4.25
Red Day Tour Around Cappadocia – 205TL / €29.00
Total: 1190 TL / €168.00
This is all I spent!
My Hot Air Balloon Ride was cancelled so that was actually a huge saving for me.
My lunch was included in the Red Tour on the second day.
Breakfast was included in my room rate and it was a filling breakfast.
I spent one of my days going on a walk from Goreme which was free with no entrance fees and no need to pay for public transport.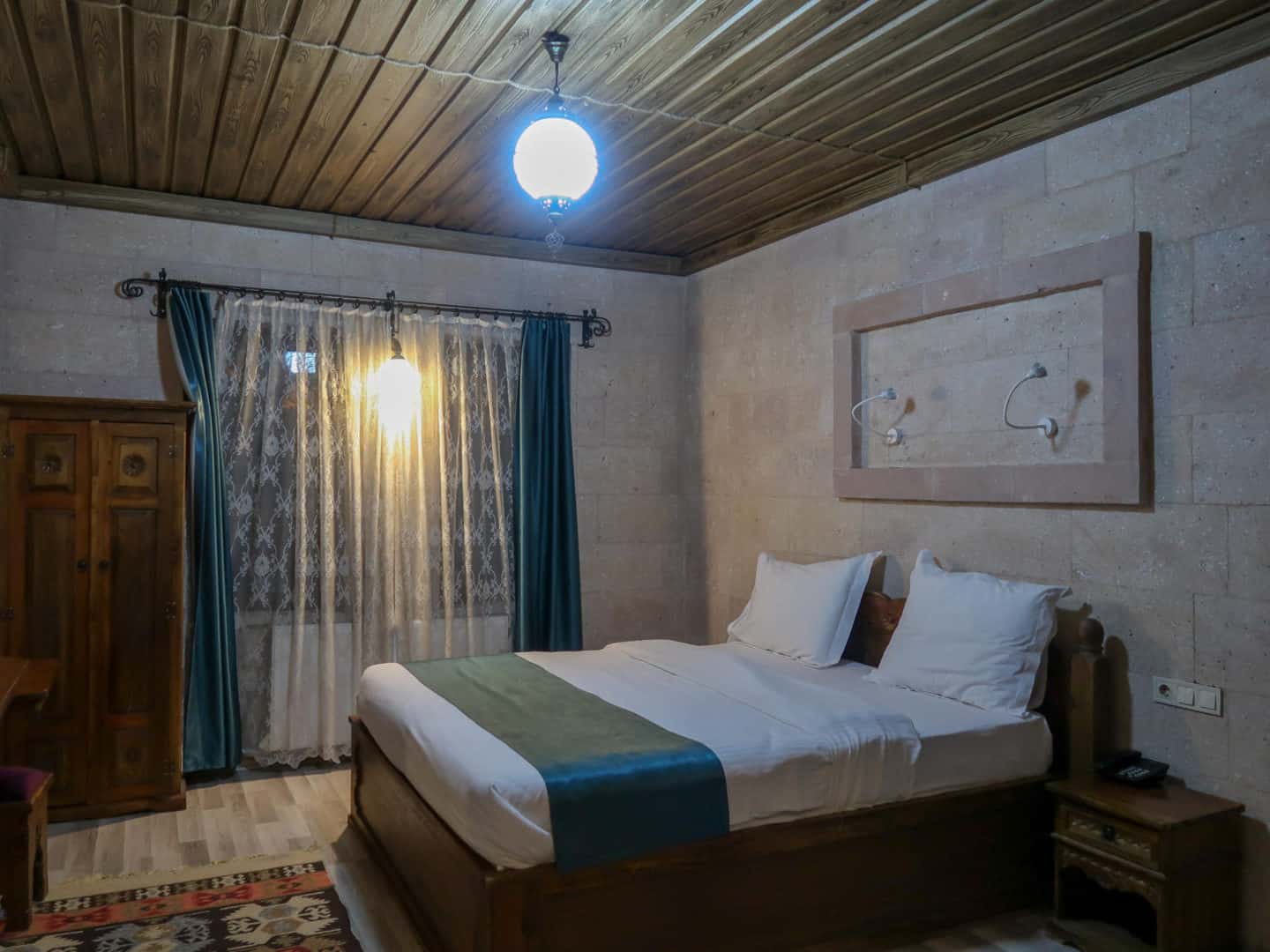 Cappadocia Trip Costs
Here are more in-depth Cappadocia prices and Cappadocia trip costs to help you plan your trip to Cappadocia!
Cost of Hot Air Balloon Ride in Cappadocia – 1185TL / €140.00
Book a Hot Air Balloon Ride for a great price online here!
Cost of Seeing Hot Air Balloons from the Ground – Free
Cost of a Hammam – 176TL / €25.00
Book a Hammam in Cappadocia online here!
Cost of Green Tour – 310TL / €44.00
Book the Green Tour online here!
Red Day Tour Around Cappadocia – 205TL / €29.00
Book the Red Tour online here!
Cost of Accommodation in a Hostel in Cappadocia – Around 99TL / €14.00 a night
Search for Hostels in Cappadocia and their prices here!
Cost of Accommodation in a Luxury Hotel in Cappadocia – Around 1058TL / €150.00
Search for Hotels in Cappadocia and their prices here!
Cost of a Bottle of Water – 1TL / €0.14
Cost of Entrance to Open Air Museum – 30TL / €4.25
Cost of Watching the Sunset – Free
Cost to Hike around the Valleys – Free
Cost of Meat Pottery Kebab – 40TL / €5.66
These costs are worked out based on a rate of 1TL to €0.14.
Check out these really good value tours in Cappadocia:
As you can see, it really does not cost that much to visit Cappadocia and you can visit Cappadocia on a budget!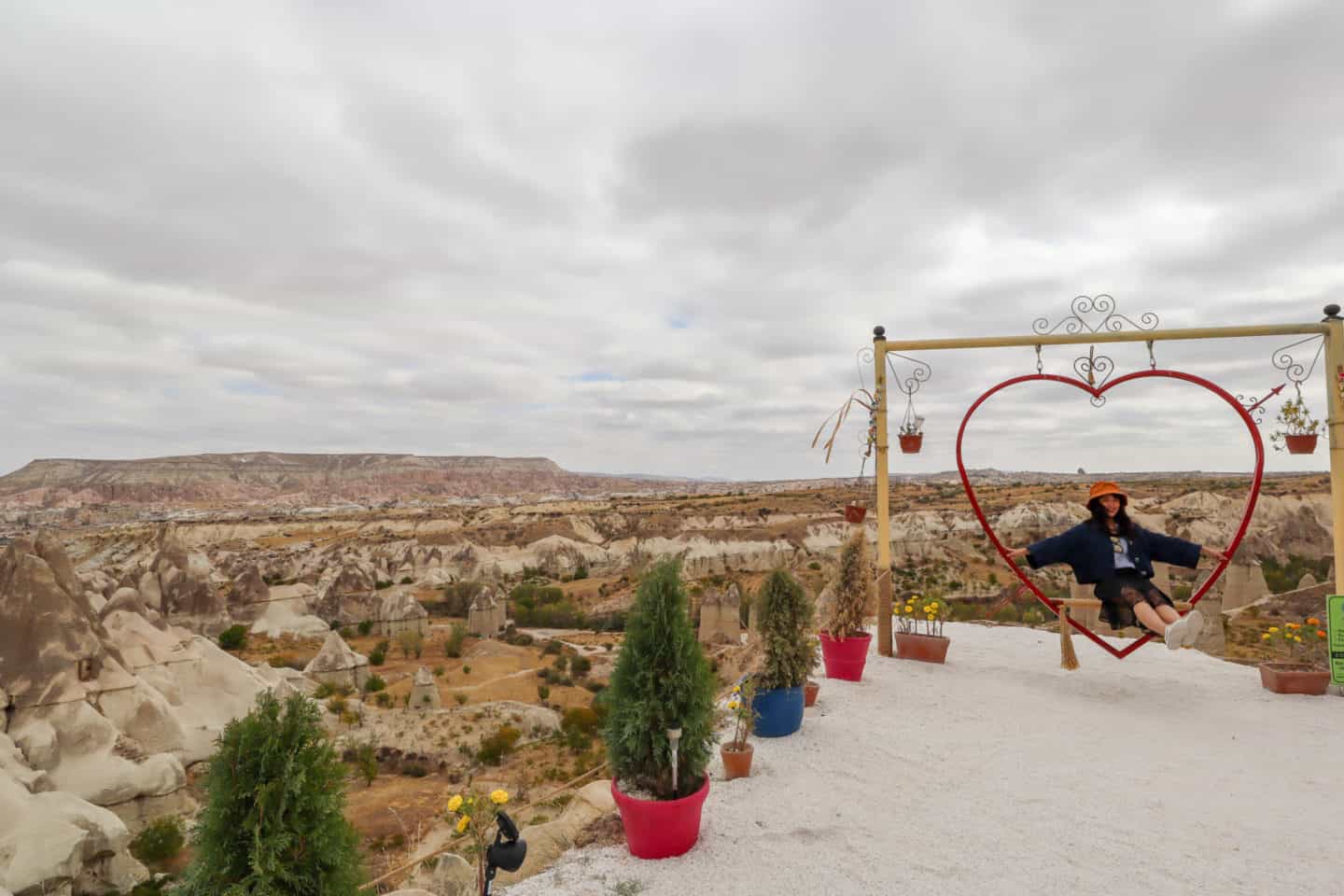 Cappadocia on a Budget Tips
Of course, the prices in restaurants differ, you can get a cheap lunch and dinner from a takeaway Kebab shop or eat in a slightly higher-end restaurant but there's a huge amount of mid-range places with amazing food.
This goes for accommodation too. Cappadocia has several hostels making it good to visit on a budget, but it also has fancy suites as well as mid-range options.
You can get a private guide and driver to take you around or you can join a day tour as I did. If you're really on a budget in Cappadocia you can walk around the Valleys near Goreme yourself which is free to do and still a lot of fun!
A Hot Air Balloon Ride is the most popular thing to do in Cappadocia but if you really do not have the budget to do it, in all honesty, it's ok to go to Cappadocia and not do a hot air balloon ride!
I'm glad I did one the first time I visited but on my second trip mine was cancelled due to the weather and I didn't have enough time to reschedule it.
Luckily I saw them from the ground on my first morning otherwise I would have been quite gutted but not doing one didn't ruin my trip to Cappadocia. Seeing the hot air balloons from the ground is just as amazing if you don't believe me, have a look at the start and end of my YouTube video here!