This post may contain affiliate links. I will receive a small commission if you use these links.
---
Cappadocia is of the biggest must-visit destinations in the world! But, Cappadocia is right in the middle of Turkey and Turkey is a big country. So, how do you get to Cappadocia and how do you get from Istanbul to Cappadocia??
In this Istanbul and Cappadocia travel blog, I'm going to tell you how to get from Istanbul to Cappadocia, how to get from Cappadocia to Istanbul, things to do in Cappadocia and things to do in Istanbul so you can plan the perfect trip to Istanbul and Cappadocia.
Why do I suggest visiting both Cappadocia and Istanbul?? I'll get into it more below but basically, you have to pass through Istanbul to get to Cappadocia, so why not see this incredible city and see 2 of the most beautiful places in Turkey on the same trip??
Istanbul to Cappadocia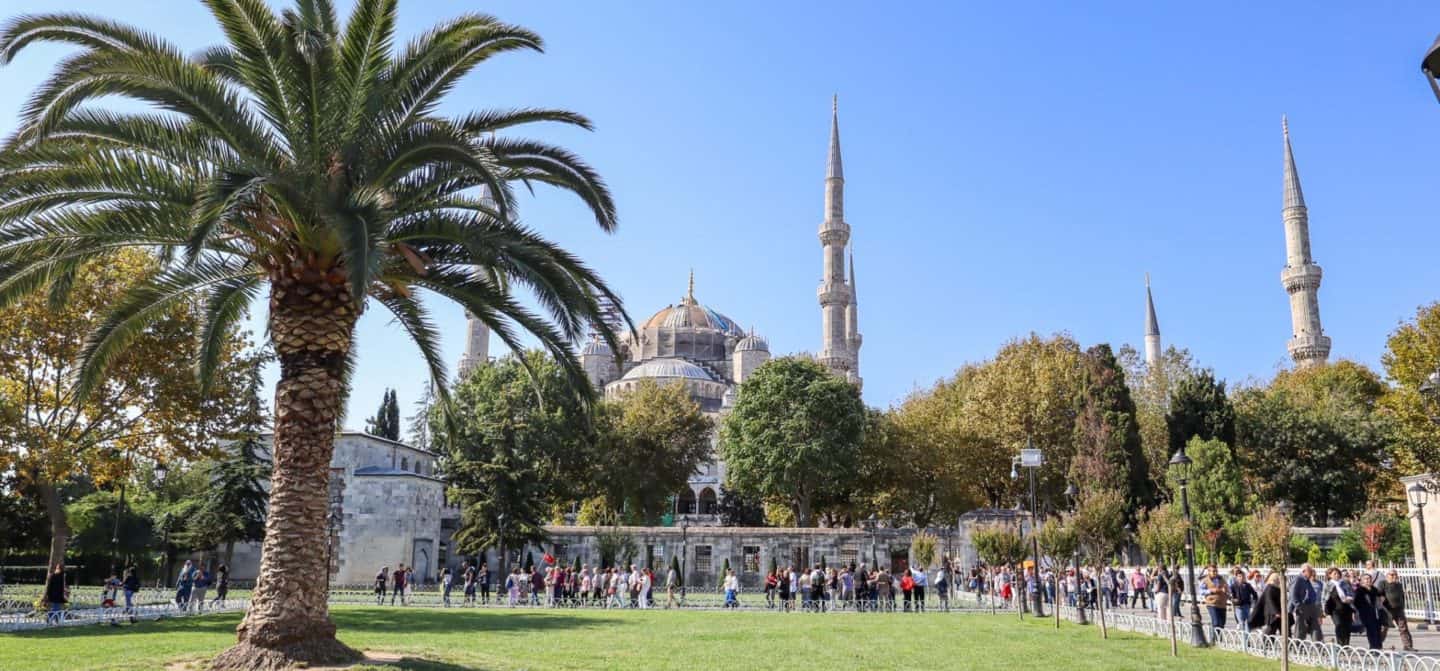 How to Get From Istanbul to Cappadocia
Find What You're Looking For Easily Here!
Flights from Istanbul to Cappadocia
Flying is the quickest and best way to travel from Istanbul to Cappadocia and if you want to visit Istanbul and Cappadocia in one trip, I recommend going to Cappadocia first on your Turkey itinerary because it is the star of the trip!
When planning your trip to Cappadocia, the first thing to note is that Cappadocia is a region in Turkey, not a specific place. Goreme is the main tourist town but Goreme doesn't have an airport and there is no airport called 'Cappadocia'!
Cappadocia Airports
The two airports that serve Cappadocia are Kayseri Airport and Nevsehir Airport.
You will most likely need to stop in one of Istanbul's Airports before catching an internal flight to Cappadocia from Istanbul.
Istanbul Airports
Note that Istanbul has 2 major airports, Istanbul Airport and Sabiha Gokcen / SAW Airport and they aren't that close together, therefore, I wouldn't recommend flying into one and out of the other unless you give yourself a day in between.
I flew from London Stansted to Istanbul SAW and then to Kayseri Airport with Pegasus Airlines who I recommend flying with.
I also recommend picking up a sim card for Turkey when you land in either of the airports. Here is help for buying a sim card at Istanbul Airport and buying a sim card at Istanbul SAW Airport and then you'll have data for the rest of your trip!
Bus from Istanbul to Cappadocia
If you're travelling Turkey on a budget you can look into the Istanbul to Cappadocia bus (although flights can be very cheap, I paid £10.00 once for my flight from Cappadocia to Istanbul!).
An Istanbul to Cappadocia overnight bus is the best idea to save you time. Overnight buses in Turkey are pretty decent and they are a popular way for locals and travellers to travel around Turkey. It takes 10-12 hours to get from Istanbul to Cappadocia by bus.
Tip: If you do this option, be sure to try and see the sunrise and the balloons when you arrive in Cappadocia in the morning, this is what I did and it was the best welcome to Cappadocia!
Istanbul to Cappadocia Day Trip
A lot of people wonder and search to see whether it is possible to visit Cappadocia on a day trip from Istanbul! There are many day trips from Istanbul on offer which take you to other areas and cities in Turkey but I would say that Cappadocia is NOT one of them.
The flight time might seem short but once you have added the time to get to and from the airport either side, both times, it not a good day trip option!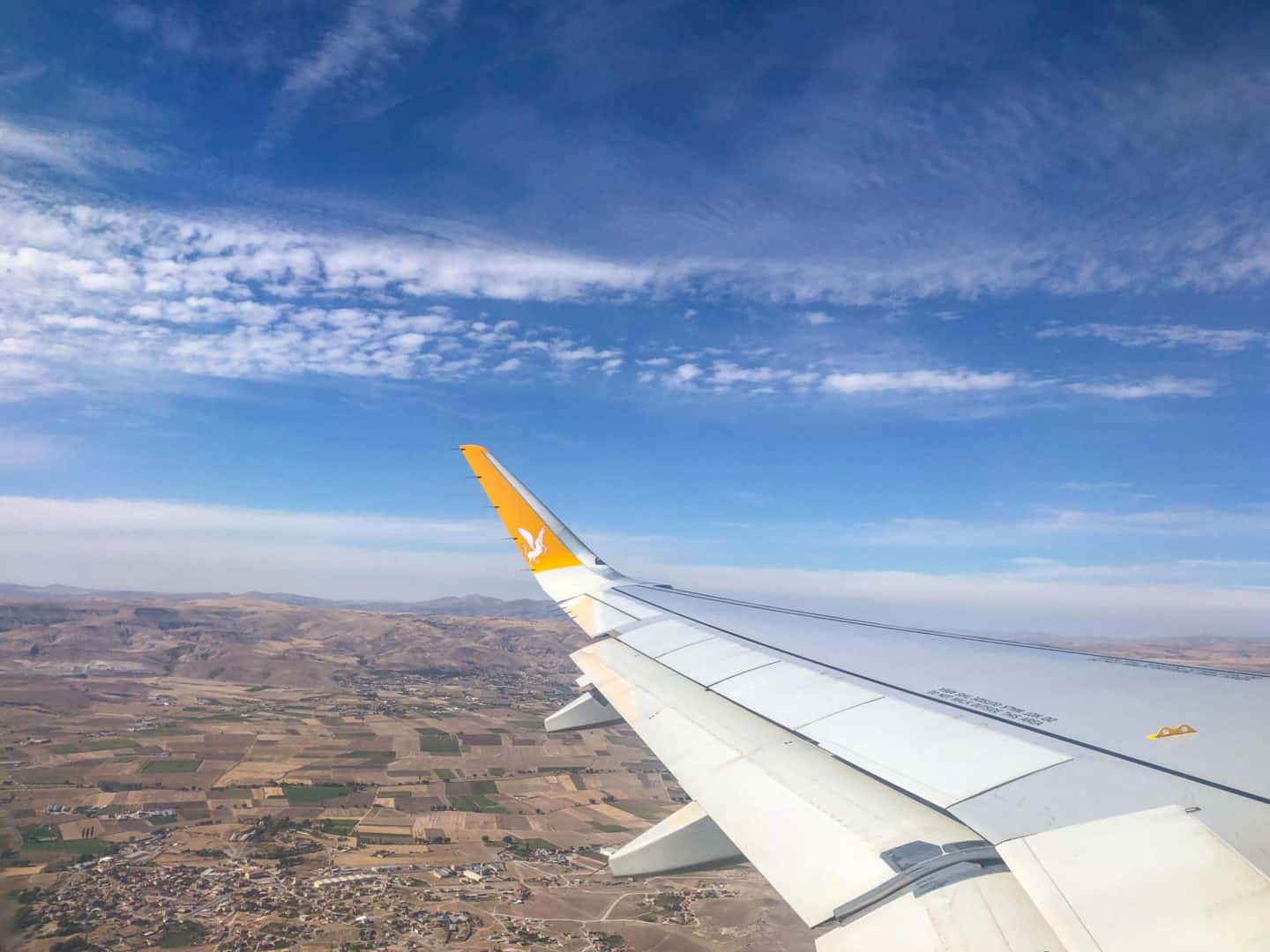 How to Get from Kayseri Airport to Goreme
Kayseri Airport is the most popular Cappadocia Airport and a minibus is the best and cheapest way to get from Kayseri Airport to Goreme. The drive from Kayseri Airport to Goreme is about 1 hour.
I would recommend booking a shared minibus or private transfer in advance so you know that someone will be waiting for you, you can book this online here:
You may be realising now that although a day trip to Cappadocia from Istanbul may seem like it's possible to start with, I don't think it is thanks to how long all of the sections of transport take.
How to Get from Nevsehir Airport to Goreme
To get from Nevsehir Airport to Goreme I would also recommend a minibus or private transfer which you book in advance. The journey time from Nevsehir to Goreme is less at just 40 minutes.
Where to Stay in Cappadocia
Goreme is the main tourist town in Cappadocia so unless you are hiring a car, you should stay in Goreme otherwise you will struggle to get around.
There are so many Hotels in Goreme from fancy Cave Hotels and even Cave Hostels! Here's a list of the best hotels in Cappadocia!
I stayed at Cappadocia View Hotel which I would recommend as a budget-friendly hotel in Cappadocia, especially for its terrace to see the balloons from in the morning!
On my first visit, I stayed at the Diamond of Cappadocia Hotel which is right in the centre of Goreme. I also enjoyed my stay there.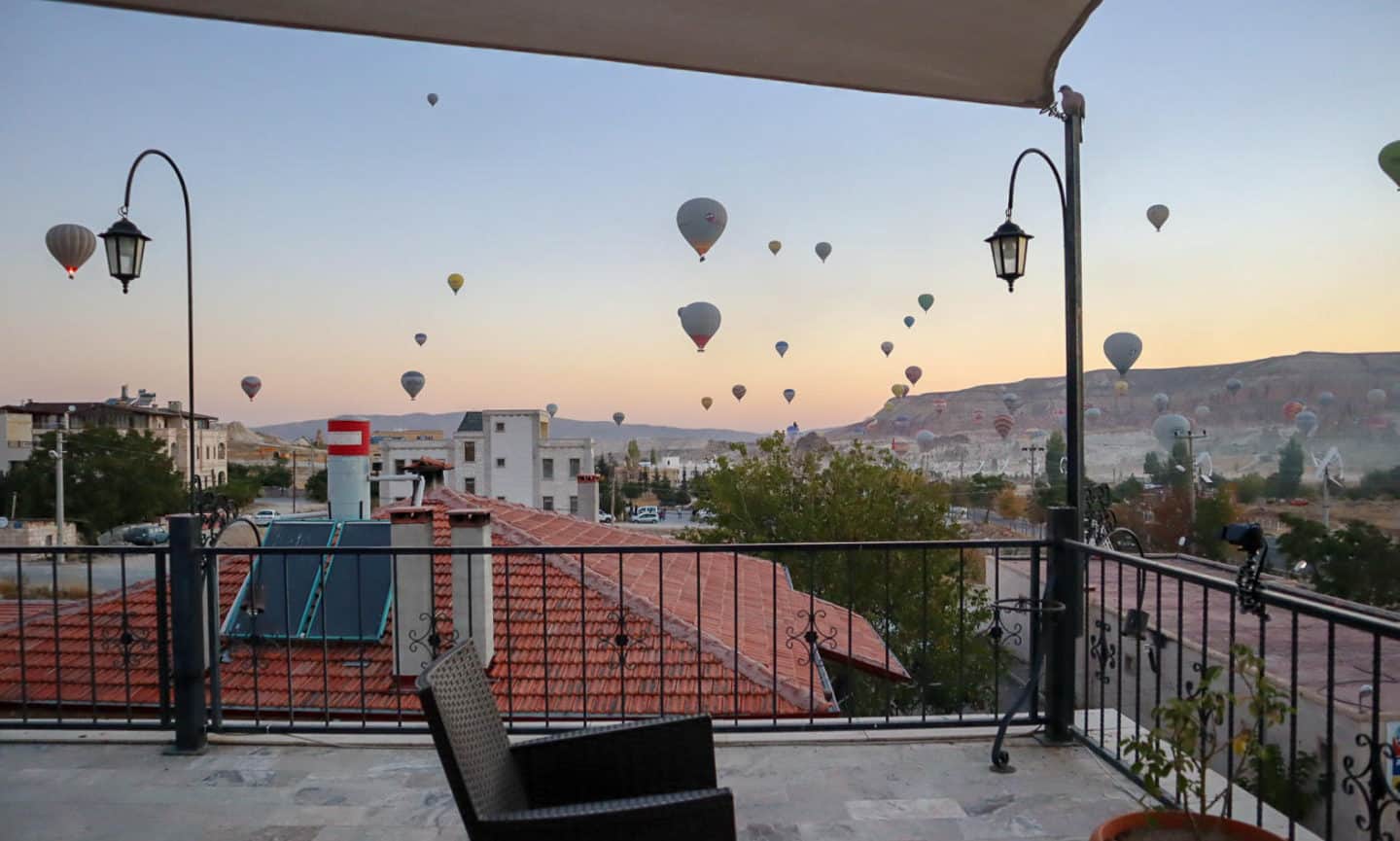 Things To Do In Cappadocia
Cappadocia is not all about the hot air balloons! From Quad Biking, Hiking in the Valleys, Day Trips, Horse Riding and eating delicious Turkish Food there are many things to do in Cappadocia!
To see most of Cappadocia in just a few days, check out these Cappadocia tours by Onenationtravel. You can start them in Istanbul or once you're in Cappadocia!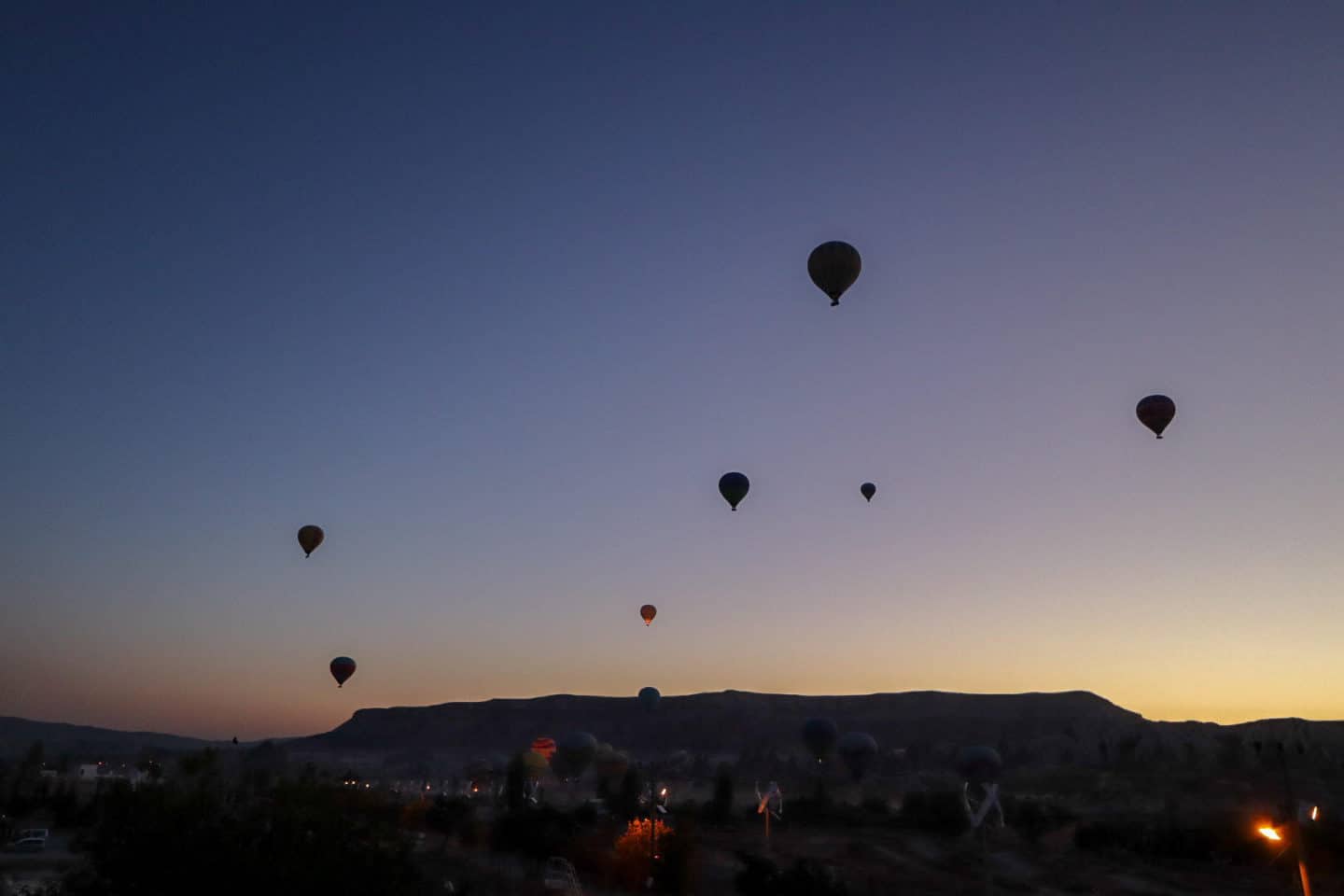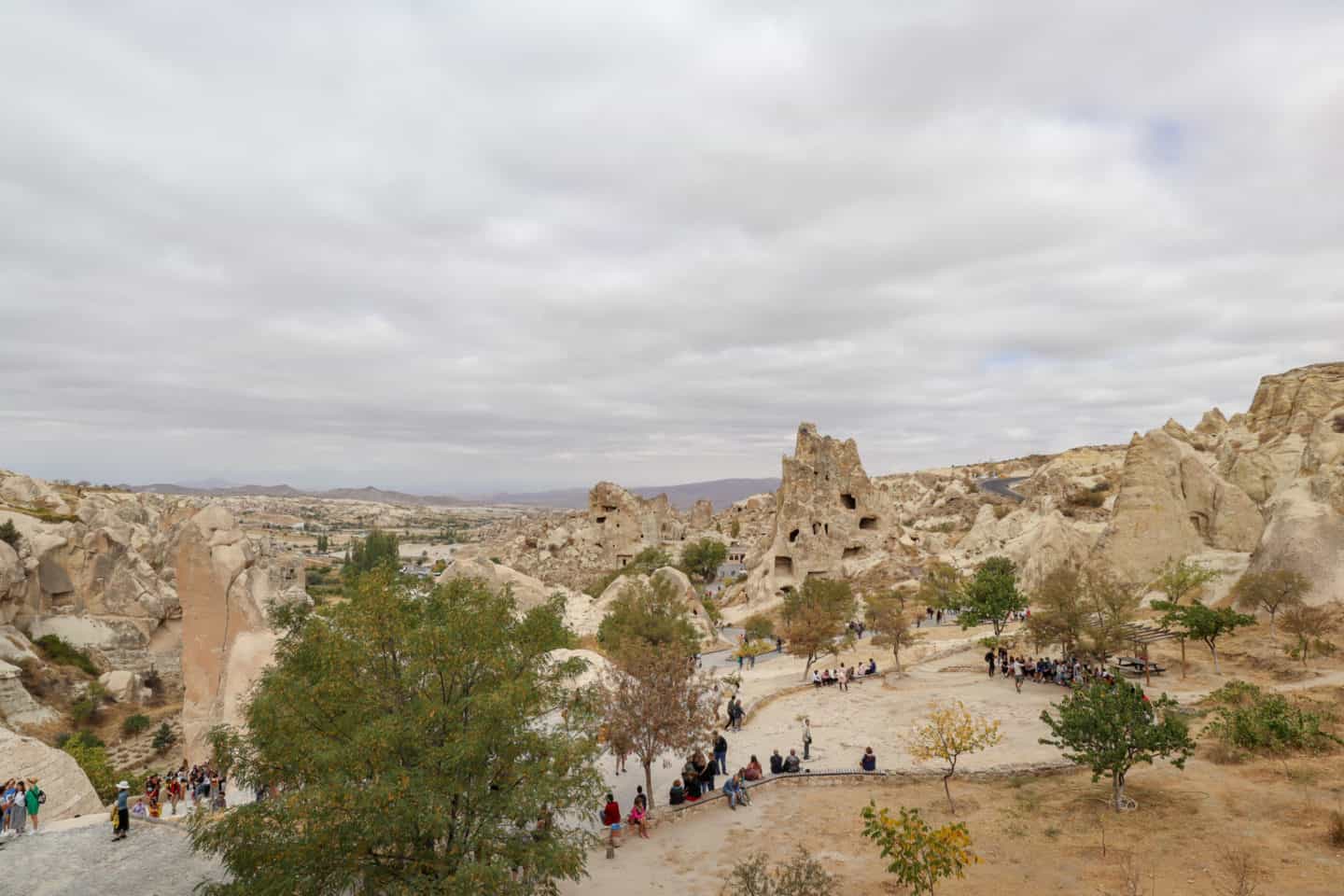 Let's reverse the trip from Istanbul to Cappadocia now, or perhaps you visited Cappadocia first from elsewhere in Turkey and now you need to get from Cappadocia to Istanbul!
Cappadocia to Istanbul
The above information regarding flights and buses from Istanbul to Cappadocia is the same as travelling from Cappadocia to Istanbul.
Related Post: There's so much to see and do in Turkey if you have more time this 2 week Turkey itinerary will help you out!
How to Get from Goreme to Kayseri Airport
When you're in Goreme you could book a taxi or minibus service with an agent or at the bus station, or to save you time, you could book a transfer from Goreme to Kayseri Airport online here:
How to Get from Goreme to Nevsehir Airport
Same as the above, book a taxi or minibus in Goreme, or book one of these options online:
How to Get from Istanbul Sabiha Gokcen Airport to Istanbul City
If you're going to stop in Istanbul for a few days after Cappadocia, which I recommend you do, read the below details on how to get from Istanbul Airport to Istanbul city.
If you are just transferring in Istanbul Airport to go home, you're done!
Istanbul Sabiha Gokcen Airport is on the Asian side of Istanbul so it is quite far away from the City Centre. You could get a taxi or book a shuttle bus at the airport to the City Centre, but the cheapest and most popular option is to get a bus.
How to Get the Havabus
There is only one company that offers a bus which is Havabus. Exit Istanbul Sabiha Gokcen Airport in arrivals and you'll see signs for Havabus. They run every 30 minutes all day and most of the night.
The cost is 18TL which is paid to the driver once you get on the bus.
The only thing is that this bus only goes to Taksim or Kadikoy, not to Karakoy or to Sultanahmet which are the two most popular areas to stay in Istanbul, which is a bit annoying and a bit strange.
Kadikoy is on the Asian side of Istanbul so you could get a bus there and then get a boat over to Karakoy or Sultanahmet if you are staying here. I visited the Asian side of Istanbul a few years ago, it was easy to work out the boats but with all my bags I didn't really fancy doing this journey.
The second option which is what I've done twice is to get the bus to Taksim which takes roughly 90 minutes but it can be longer when the traffic is bad. Taksim is technically the Centre of Istanbul too (Istanbul is very big) but I wouldn't recommend staying here, more on that below.
The Havabus stops at Point Hotel Taksim and there will be lots of taxi drivers waiting for you, you could get a taxi, I believe I was quoted 60TL to go to Sultanahmet or you can walk down the street and head towards the Metro.
Istanbul's Metro System is really easy to use, but of course, with a lot of bags everything can seem a bit harder to do, it is possible though. You need to get an Istanbulkart (see how in the below point), and then head towards the Funicular to Kabatas, it's just one stop, quick and pretty cool.
Then get on the tram, it only goes in one direction from Kabatas to the 'City Centre' aka Karakoy or Sultanahmet. This is the cheapest way to get from Istanbul Sabiha Gokcen Airport to Istanbul City Centre and it's not that hard either.

How to Get an Istanbulkart in Istanbul
An Istanbulkart can be purchased at most little tobacco stores or in the Metro stations. Some of the ticket machines only offer Istanbulkart re-charge and do not sell the actual ticket, so be sure to check above the ticket machine and look for Istanbulkart Sales.
You'll see the option on the screen, a card is 6TL. You then need to top it up. If you put in say 10TL it will purchase your card and then top it up by 4TL, so be careful not to put too much of a big note in.
If you just paid 6TL or you need more credit, hold your card to the reader, choose the amount, put the money in and then wait a few seconds until the timer finishes and you see a green sign on the screen to say it's been completed. (I walked away too soon the first time and mine didn't top up even though I paid, luckily it was just 5TL).
The metro is really cheap to use, literally just 2-4 TL per journey and you'll know when your card is out of credit as it won't let you through the barriers. From what I saw all stations and stops have a ticket machine to top up your card at.
Where to Stay in Istanbul
For my full guide read where to stay in Istanbul where I rate 9 neighbourhoods in Istanbul to stay in.
Taksim and Sultanahmet are popular areas of Istanbul to stay in, here's my view on Where To Stay in Istanbul Taksim Or Sultanahmet?
There are a few popular areas to stay in Istanbul, Sultanahmet is the best place to stay in Istanbul in my opinion if you are only staying in Istanbul for 1-2 nights as it's where all of the attractions are for example Hagia Sophia and the popular Mosques.
There is an array of accommodation in Sultanahmet and although it may be a bit pricer, it benefits from being convenient.
Karakoy is just across the River (but still in the European Side), this is a popular area as it's just across the bridge from the tourist spots but because of this it benefits from slightly cheaper accommodation prices as it is less touristy, it's more hipster!
Then there's Taksim, this could be a good place to stay if you are in Istanbul for a while or really on a budget as the prices are lower and there are lots of accommodation options, but if you're there for just a few days I'd advise against it.
Kadikoy is another popular area to stay in Istanbul but I'd say that's because it's a bit different due to it being on the Asian side of the City. The rest of the city is easily accessible by boat but again, if you're there for just a few days I would say you'll end up travelling too much to get to the tourist sites.
If you are looking for some luxury in a nice location, I recommend Besiktas and one of the best luxury hotels in Besiktas!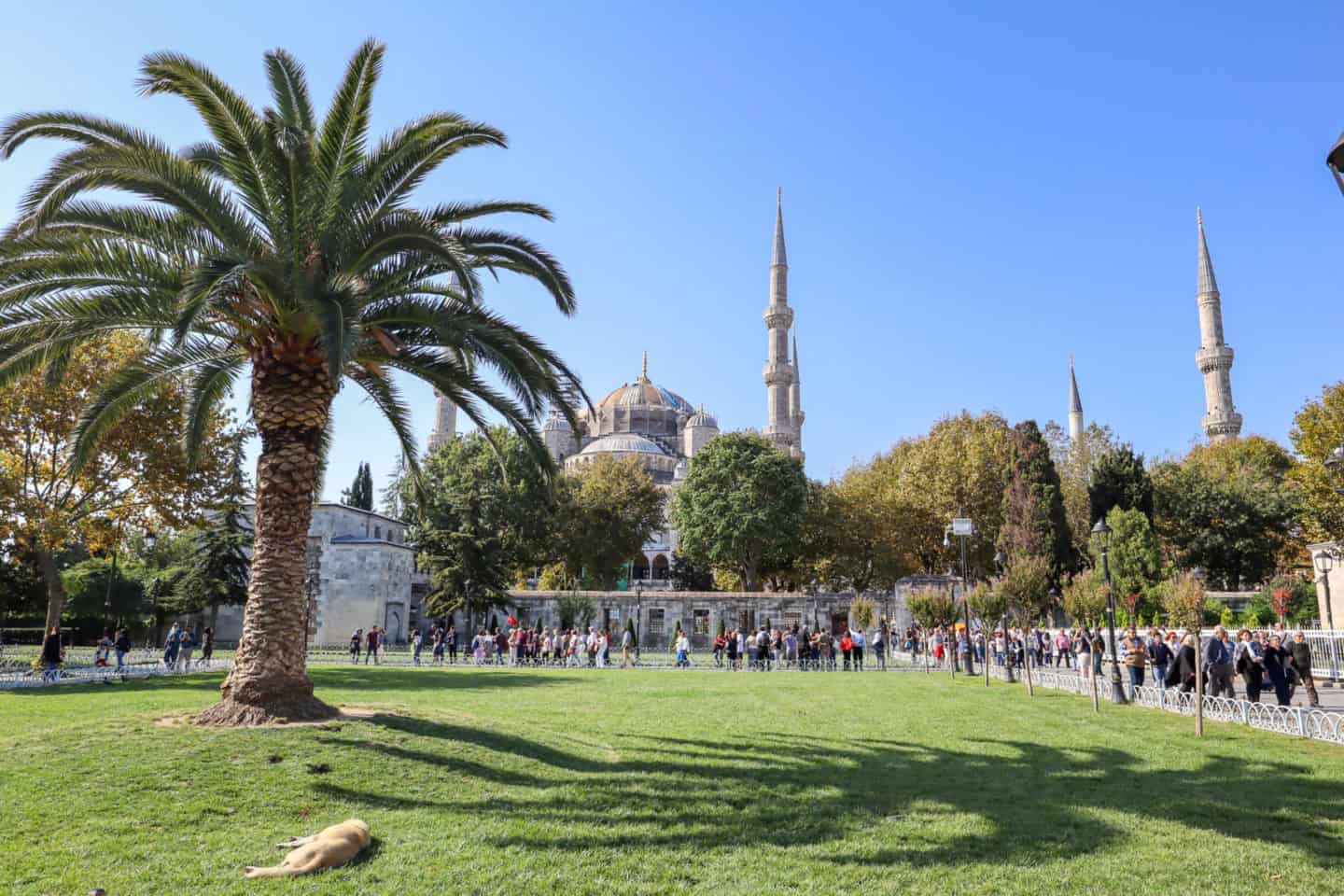 Things To Do In Istanbul
If you only have one day in Istanbul here is how I recommend you spend it.
Visit 1 – 3 of the Museums – Hagia Sophia, Basilican Cistern or Topkapi Palace for example. All of these 3 are in the same area and really close to each other, to save time be sure to purchase Skip the Queue tickets in advance to save yourself time.
Go into the Blue Mosque which is also in the same area.
Head to the Grand Bazaar.
Grab lunch from one of the Food Sellers on the Streets.
Cross over the River via the Bridge.
Walk up to the Galata Tower so you can see the Galata and Karakoy area.
Have Dinner in one of the many restaurants in Sultanahmet.

Istanbul to Cappadocia Tours
If you would rather go on a tour to Cappadocia and Istanbul and see more of Turkey on a tour at the same time, I would recommend going to Turkey with Travel Talk Tours.
I've been to Egypt and Greece with them and my friend recently went to Turkey with them, she saw so much including Cappadocia!