This post may contain affiliate links. I will receive a small commission if you use these links.
---
So you want to climb Snowdon in Wales?! Great! But first, you need to decide which Snowdon paths and Snowdon routes to take because there are 8 trails to get to the Snowdon peak, as you can tell I recommend Pen Y Pass Snowdon!
Before climbing Snowdon myself, I didn't know this, I thought there was just one way up, but I think it's great there are so many routes to the Snowdon summit because it helps keep walkers dispersed, if everyone had to walk the same track it would be really busy!
3 of these Snowdon paths leave from Pen-Y-Pass and because I was staying at the YHA Snowdon Pen Y Pass Hostel, it made sense for me to summit Mount Snowdon from Pen Y Pass.
I love this hike up Snowdon and I've done it a few times now! Here is how to climb Snowdon from Pen Y Pass and why you need to add it to your North Wales itinerary!
Snowdon from Pen Y Pass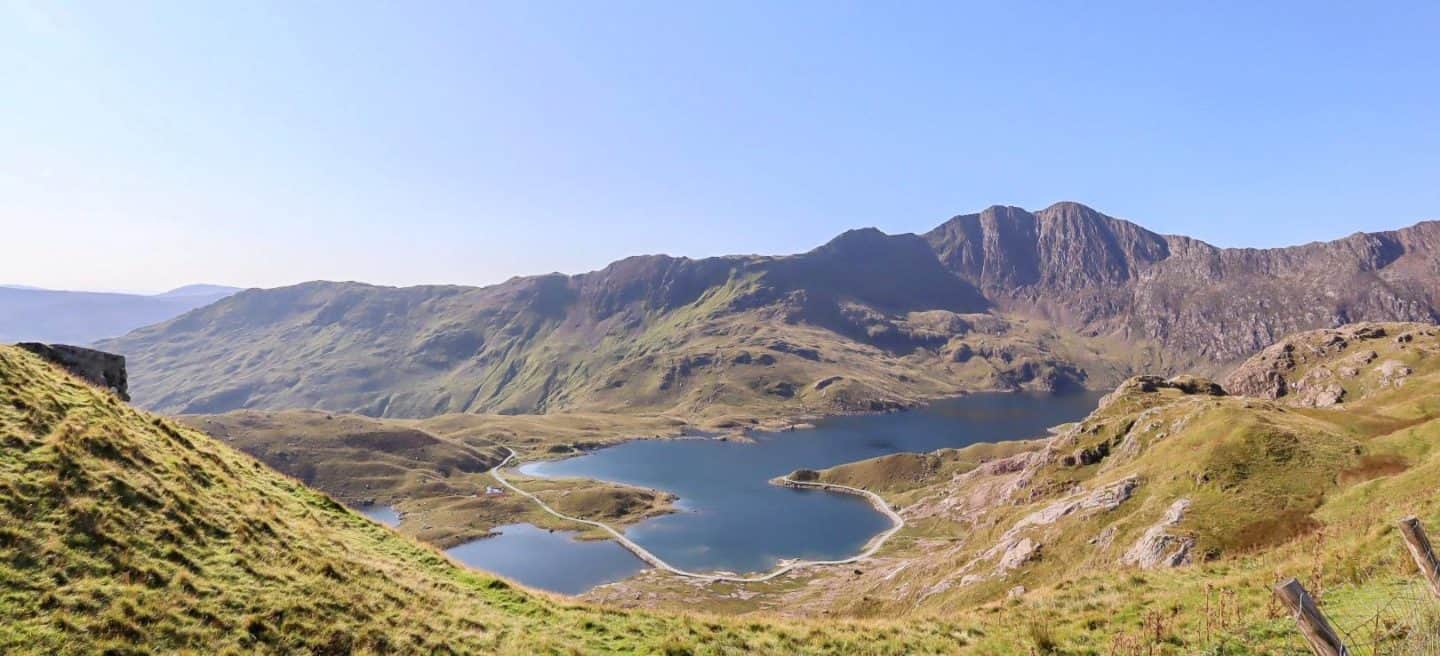 Find What You're Looking For Easily Here!
Pen Y Pass Parking
Let's touch on the boring but useful stuff that you need to know first.
The Pen Y Pass Car Park Postcode is LL55 4NY.
Pen Y Pass Car Park requires A BOOKING April to October and even if you arrive and there are spaces, without a booking, they won't let you park! Here's the JustPark website to book parking for Snowdon!
Most people ask 'what time does Pen Y Pass car park get full?' and the answer to that used to be 'early' on the weekend, however, now, even if you drive past the car park and it is not full, the parking stewards WILL NOT let you park unless you have pre-booked online!
The Pen Y Pass car park is the same for all 3 Snowdon routes that start from Pen Y Pass – the PYG Track, Crib Goch and the Miners' Track.
What happens if you can't park here or you can't pre-book online? Further down the road, there are layby's to park in, however, this will add extra time onto your walk up the road to Pen Y Pass to start the walk and at the end.
There is however a bus service which connects Llanberis, the main village at the bottom of the road, and the lay-by's that lead up the road to Pen-Y-Pass which you can jump on instead of walking to the car park and start point.
Look into the Snowdon Sherpa here if you like this option.
'Are there toilets at the Pen Y Pass car park?' Yes! and from my experience, they stay open all night and all year. I've hiked Snowdon twice for sunset getting back to the car park at midnight / 01:00 and the toilets are still open.
There is also a cafe in Pen Y Pass car park which offers small snacks.
Car Hire in Wales
If you are visiting Wales as a tourist and don't have a car, it is best to hire a car to see Wales, it is not easy to travel to Snowdonia National Park and the rest of Wales via public transport.
For Wales car hire, check out Rental Cars here who compare prices and options with all the popular companies.
Pen Y Pass Accommodation
The other way to avoid the morning car park rush is to stay near the base of the Pen Y Pass. I stayed at the YHA Snowdon Pen-Y-Pass Hostel which is literally across the road from the car park!
YHA Snowdon Pen Y Pass
I really recommend the YHA Pen Y Pass because it offers high-quality rooms and facilities at a great price. It has an onsite bar and restaurant but also a shared kitchen. It has dorm rooms if you are visiting Snowdon on a budget and private rooms if you want your own room. As far as hostels in Snowdonia go, the YHA hostel Snowdonia is the best one to choose.
You can search for rates and availability here for the YHA Snowdon Pen-Y-Pass Hostel!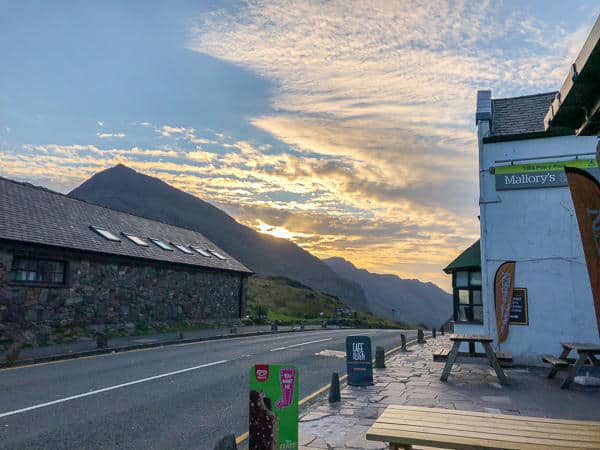 Pen Y Pass Hotels
If you're not looking for a hostel stay on your trip to North Wales, check out other accommodation options in Snowdonia National Park here.
Pen Y Pass Routes
There are 3 Snowdonia walking routes that leave from Pen Y Pass:
PYG Track
Crib Goch
Miners' Track
Related Posts to help with your trip to North Wales: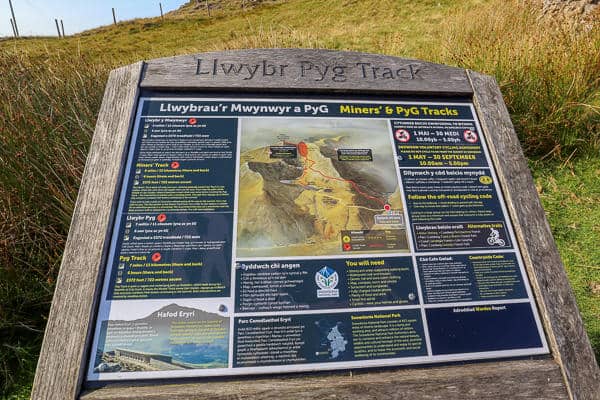 1. Crib Goch
Crib Goch is the hardest walk out of the three Snowdonia Pen Y Pass walks, it starts the same way as the PYG but then it takes you up a high ridge near the top.
I knew this before climbing up Snowdon so I was worried I might accidentally take it instead of walking the PYG track as I wanted, the split happens at Bwlch Y Moch, luckily the split is pretty hidden and I don't think you can accidentally take it, if you want to do it because you are an advanced walker, read this post for a helpful guide on how to climb Crib Goch from Pen Y Pass.
What I did, and loved, is walk up the PYG Track to the summit and then down the Miners Track to the end.
Both the PYG Track and Miners Track meet about two-thirds of the way up and become the same route to the top, and down again anyway.
2. Miners Track
If you start on the Miners Track from Pen Y Pass car park, the start of the walk is fairly flat for about three-quarters of the walk, the steep incline comes towards the end before both paths meet, it is short-ish but steep.
This is why I decided to walk down this way because the decline was short but steep and therefore easier, and my final part of the walk to the end was fairly flat which was very enjoyable and well needed.
3. PYG Track
The PYG Track starts from Pen Y Pass as a steep incline and then flattens out. After this, there are more inclines of course, especially before and after the 2 paths meet but I found that it was easier to walk up as it was more consistent.
Either way, all 3 Snowdon Paths are tough without a doubt so make sure you are prepared and have a good level on fitness.
Snowdon Mountain Railway
If you don't fancy walking to the top or you have children who can't walk this distance, you can get the Snowdon Mountain Railway which will take you all the way to the top and back down again, however, the Snowdon Mountain train does not leave from Pen Y Pass, it leaves from Llanberis station and then takes the 1085m climb to the summit of Snowdon!
The other important thing about the Snowdon Railway is that you can't buy a ticket at the top, if you walk up, you have to walk back down again!
Of course, you can take the train up, buy a return ticket and walk back down, but there is no ticket station at the top if you realise you don't want to walk down!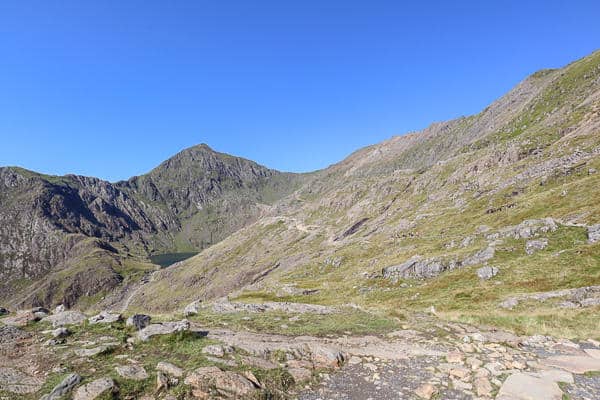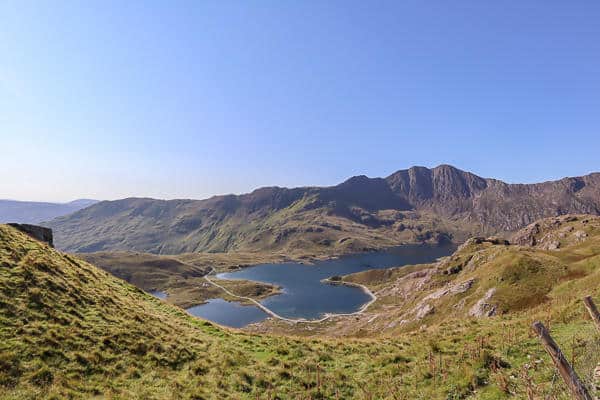 Pen Y Pass to Snowdon summit
How long does it take to climb Snowdon from Pen Y Pass?
The official sign recommends giving yourself 6 hours to do the walk, no matter which of the 3 Pen Y Pass paths you take, which I agree with.
I did it in 5 hours with a 45 minutes with a break and stop at the top and a few breaks on the way up and down.
I started the walk at 9:30 and finished at 14:30 so if you do the same, or you head out even earlier, you'll still have all afternoon to explore more of the Snowdonia National Park.
There is a cafe and toilets at the top of Snowdon but don't trust that they're always open, especially in low season. The cafe has snacks to buy, pies, sandwiches etc but I do recommend packing snacks and lunch if you can. And on the subject of food, make sure you have a good, energy-filled breakfast, this is a tough hike, you must take it seriously!
No matter which route you take, once you are on the route is it pretty easy to work out which way to go as there are signs all the way to the top of Mount Snowdon!
What to Wear to Climb Snowdon
Definitely wear and pack layers! If you climb on a sunny day it may be warm at the bottom but it gets colder as you get higher up. If you climb on a cold day you'll start cold but probably end up warming up as you hike up!
Walking Shoes are definitely best but trainers are ok, I saw women climb Snowdon in sandals which is not a good idea. This is a hike to England's and Wales highest Mountain so dress accordingly, it is not a walk in the park!
Related Post: If you need some new hiking shoes or boots read – Walking Boots – My Tried, Tested & Recommended Boots for All Seasons.
What to Pack to Climb Snowdon
Pack your layers including wet weather options as it rains a lot in Wales and the weather can change quickly. (On that note, check the Pen Y Pass Weather before starting!)
Pack healthy, energy-boosting snacks to help you along the walk.
Pack your lunch if you can as the cafe at the Snowdon Summit doesn't have a huge amount of options, is busy on busy days and can be closed on off-season days.
Carry enough water with you for the walk.
Pack plasters and blister plasters in case your shoes start rubbing.
A battery pack is also a good idea in case your phone runs out of battery! If it is cold the battery of your phone will go quicker and you may need it in an emergency, and to take lots of photos!
If you're climbing Snowdon solo I recommend having earphones so you can listen to motivating music or a podcast!
And now you will be set to climb Snowdon from Pen Y Pass! Enjoy it!