The Brecon Beacons is a National Park in South Wales situated not too far from the Wales, England Border.
I'd been wanting to visit the Brecon Beacons for years and do a hike but I wasn't sure how to go about it. After a quick bit of research I found that Pen Y Fan is one of the highest peaks in the Brecon Beacons at 2,907 ft and there is a fairly popular walk that can be done to see it that would only take a few hours, this was perfect for me as I was on my way from Pembrokeshire heading back to England.
I really enjoyed my walk and it gave me a great taste of what the National Park has to offer so here's what happened when I visited a long with information to help you visit!
Firstly I made my way to Pont ar Daf which is a car park where the walk starts. It isn't far from the main roads surrounding the Park and as I came from the A465 from the West I was treated to a lovely drive through the mountains before reaching the car park. (I left via Merthyr Tydfil which wasn't as scenic). I used the postcode LD3 8NL to find the car park. It turned out that this is actually the post code for a car park just down the road from Pont ar Daf called the Storey Arms car park as its home to the Storey Arms Education Centre.
I came across the actual car park first so pulled in but at 12:00 on a Summer's Sunday afternoon there was no way I was getting parked as the area was completely full! I could see that some people were pulled up on the side of the road and thought I might have to do that but luckily drove down to the Storey Arms car park which I could see a few meters away and I found a space there. Both car parks are free however I did see articles online which say they might start charging soon. To be honest if they charged then the car park might improve which wouldn't be a bad thing!
The Pont ar Daf car park is home to the toilets so I walked the few meters up the road back to this carpark (I swear I'll get off the subject of car parks soon but this is important info if you're going to visit!). I found a board which detailed the Circular Route I wished to take which would pass Pen Y Fan but also Corn Du, another highlight of the area. This route is 5 miles long, I estimated it would take me about 3 hours (which it did!) and I then headed off.
---
If you need to hire a car for your road trip around Wales, I suggest heading over to Rental Cars who check all of the top companies so you can compare the best prices and options!
---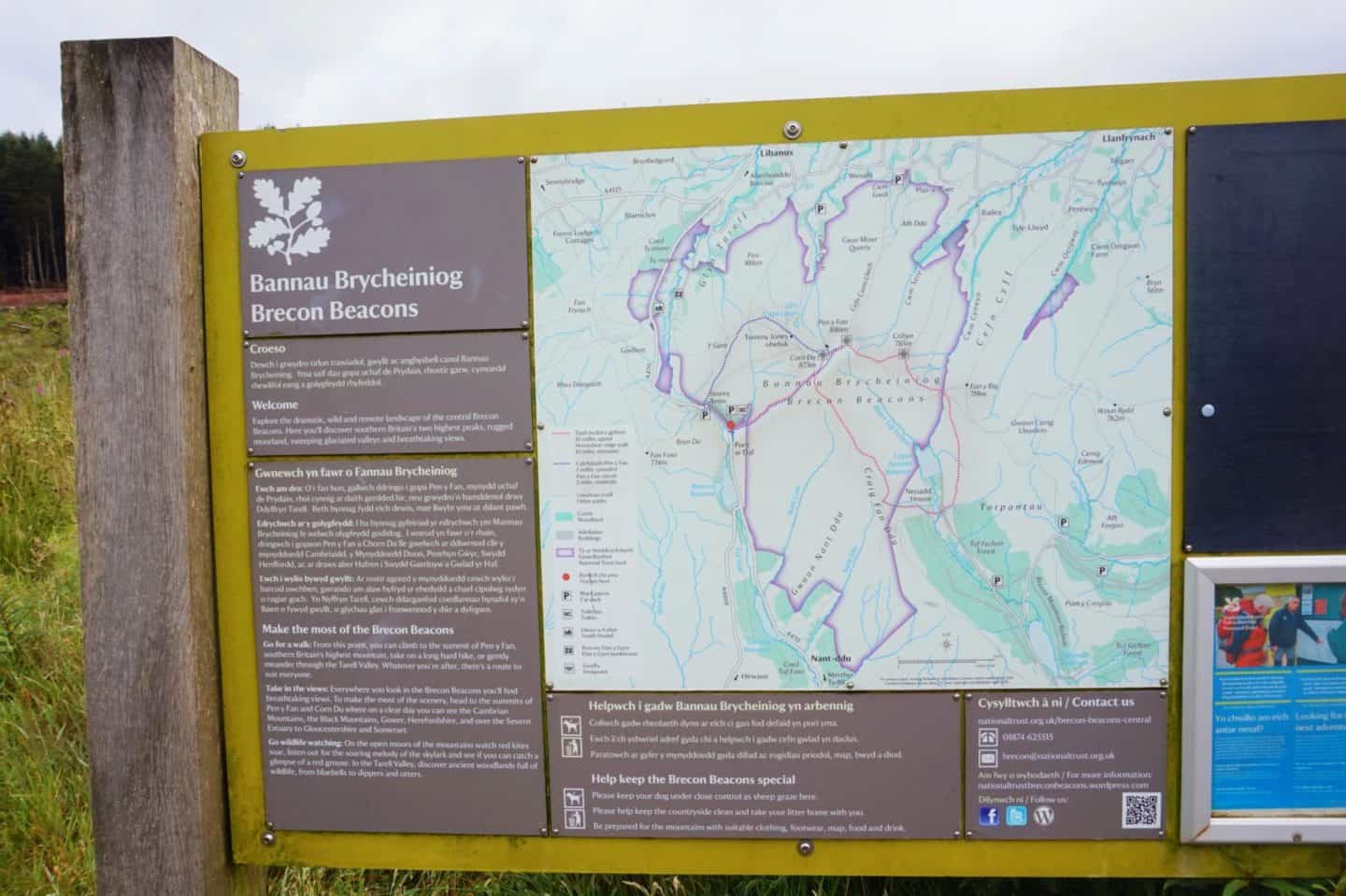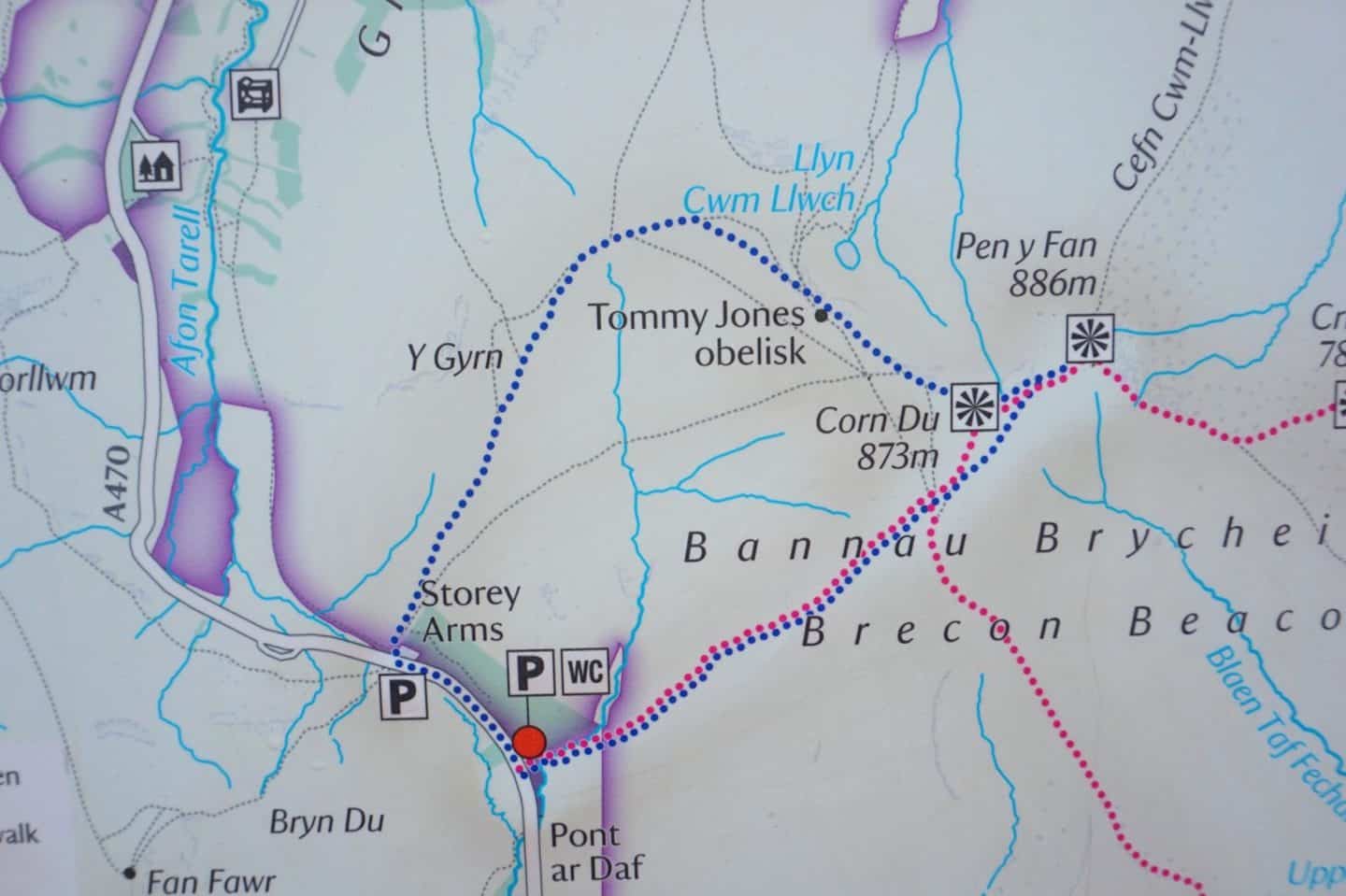 The incline started straight away and kept going and going for what felt like forever! Lots of people were passing me on their way back down, they were pretty much all covered up with coats on whereas I was sweating and peeling my layers off but I found out later that it gets cold pretty quickly at the top!
In the distance I could see a mountain ridge and people ascending and descending it and thought that this must be Pen Y Fan!
After a good 30 minutes of climbing I finally reached the top and was quite confused when I saw a track going towards the right, another to the left and another up the ridge I had been eyeing up!
I decided to take the track to the left a long side the ridge, luckily the track was now flat and I could take in the views. I was also right up in the clouds by this point and my layers quickly went back on, plus the extra layers I had packed!
Soon in the distance I could see another ridge with people climbing it, I followed the track and found out that this was in fact Pen Y Fan! The sign at the top kind of gave it away as did the amount of people who were getting pictures with it. The view was pretty bad though as it wasn't a particularly clear day and the cloud was very low but it's all about the journey right!?
After walking back down it was time to climb the ridge that I had been seeing all along which I figured must be Corn Du and indeed it was. I also find it funny that once face to face with a steep incline it isn't nearly as steep as it appears from far down below!.. well some of the time!
Corn Du is a mere 13 meters lower than Pen Y Fan and to be honest, I preferred it. Maybe because it was a bit quieter with less people standing around or maybe because the view was better and clearer for me on that day or maybe because Llyn Cwm Llwch, an iconic small lake, could be seen below making it that bit more iconic and photogenic.
---
You might find these posts helpful too:
Wales Road Trip – My 7 Top Tips To Help You on Your Trip!
How to Spend 1 Day on the Pembrokeshire Coast visiting at least 5 beaches!
---
After a few pictures I started descending down the other side where I could see a lot of walkers in the distance. There is a path way to walk down to Llyn Cwm Llwch lake and I think from a distance I could see people swimming in it (!), however I didn't go down as I was quite short on time. Instead I carried on down the path which became quite a steep decline but soon inclined pretty steeply too! Turning around I could see both ridges in the distance and it again reminded me how high they really are!
---
If you need to hire a car for your road trip around Wales, I suggest heading over to Rental Cars who check all of the top companies so you can compare the best prices and options!
---
The pathway soon plateaued, the road came into sight, and before I knew it I was walking down the end of the path and coming out on the road where the Storey Arms Car Park sits, where my car was conveniently located as was a food van for me to get a well deserved burger!
Now, would I recommend you hike the Circular Pen Y Fan Route?
Yes! Just remember that although it's not the most intense hike the park has to offer and the tourist board claims its 'moderate', you are climbing a mountain so relative fitness, appropriate walking shoes and walking wear is needed!
Seen as it's a circular route, which way should you start? The way I did it from the Pont ar Daf carpark and round to the Storey Arms car park or the other way round?
I saw people walking it both ways however I was happy with the way I happened to walk. The initial walk from Pont ar Daf carpark is long and steep but it gets higher gradually and is a consistent incline. If I had walked from Storey Car park the track inclines and declines a lot but the inclines are a lot more intense and steep. The overall length of this path is also a lot longer, therefore when I walked this path back to the road, although I did have a steep incline, I only had to do it once rather than twice if I had done it the other way round!.. Do you see what I mean?
Where can you stay near by?
The town of Brecon is a good place to base yourself before or after visiting the park. The towns of Merthyr Tydfil and Abergavenny would be good places to use as a base too and they may be cheaper. I'd recommend having a look on Booking.com to check availability and prices as it is a nice and convinient area to stay in in Wales.
What should you take?
Definitely pack layers! As I said it gets very hot when walking and then very cold up in the cloud! Also be prepared for rain. Wales is known for its rain and this area of the Country is especially bad. Even if it doesn't rain the whole time its likely you'll experience a few short showers as I did.
Taking some food and snacks is a good idea as there is only a burger van in each car park.
Take a fair amount of water, I didn't see anywhere that I could refill my water bottle on the walk.
The toilets in the car park were pretty bad with no toilet roll when I went so pack some extra just in case!
As I also said, you are climbing a mountain so comfortable and appropriate clothes and footwear are needed. I wore my Merrell Siren Sport Q2 shoes which were great and so comfy!
Walking Boots – My Tried, Tested, Recommended Boots for All Seasons.
I hope this helps you to decide what walk to do in the Brecon Beacons, if you've done the hike or done any others then I'd love to know! Let me know in the comments or by tweeting me!
---
Check out these posts from my Wales trip too:
How to Spend 1 Day on the Pembrokeshire Coast visiting at least 5 beaches!
7 Tips for Road Tripping Around Wales!
---
To SEE my trip to Wales check out my vlog!
SaveSave