This post may contain affiliate links. I will receive a small commission if you use these links.
---
Bruges is a must visit in Belgium, it's an enchanting gem and whether you're spending one day in Bruges or a few days there, here are the top things to do in Bruges!
Whether you're a history buff, a foodie, an art enthusiast, or simply someone looking for a magical escape, Bruges promises an experience that's nothing short of extraordinary. Dive into this guide and uncover the best things to do in Bruges, and let it weave its spell around you.
During my brief two-day trip in Belgium, Bruges captured my heart the most. It felt livelier than Ghent, yet it retained a quaint charm that starkly contrasted the bustling vibe of Brussels. Even though my time in Bruges was limited, I managed to curate a list of 25 things to do in Bruges. These are ideal for anyone planning a weekend getaway to this enchanting city. So, let's dive in:
Things To Do in Bruges Belgium
There's so much to see and do in Bruges, from tasty foods to fun boat rides. Let's explore exciting things to do in Bruges.
1. Walk and Get Lost in the Streets of Bruges
Before going to Belgium I saw on a few blog posts that they had recommended as things to do in Bruges to just walking around Bruges until you get lost and I can totally see why.
Bruges is the perfect sized city to walk around without the need of public transport and as the old part of the city sits in a egg shape made out of its surroundings canals you really can't get lost so I would suggest to just walk aimlessly, if you see a pretty and quiet side street (and you will, there's so many) then walk down it.
Venture out of the tourist centre and into the residential area and i promise you will be wanting to move in straight away!
2. Go on a Free Walking Tour Around Bruges
I always recommend doing a walking tour in a new city, its such a good way to see the area with a guide and get your bearings, hear some interesting facts and meet fellow travellers. Most cities offer free walking tours (and you just give a tip at the end) and Bruges was no exception.
I took the Legends of Bruges free tour who meet in the main square twice a day every day. Our guide was Yan who was born in Bruges, he had so much knowledge of the city and its history and he took us to parts I hadn't visited the day before whilst wandering on my own and parts which I probably wouldn't have found on my own so it was an enjoyable 2 hours and one of the best things to do in Bruges Belgium!
Check out this highly rated walking tour and boat tour!
3. Go on a Boat Tour
I read that Bruges is often referred to as the Venice of the North and after visiting I can totally see why. The canal runs right through the centre of the city as well as along its outer edge and the best way to see the canal and see the city from a different perspective is to jump onto a boat tour.
The price for an adult is €8.00 and it lasted about 20-30minutes. The guides do a commentary as you go along in both French and English, my guide, in particular, was very humorous and provided some great facts about the city so this is one of the really enjoyable things to do in Bruges Belgium!
4. Hang Out at the Markt in Bruges
The Markt is the main square in Bruges, and it's always buzzing with cool stuff. Throughout the year, there are events like old-timey festivals, fun summer parties, and places where artists sell their crafts. Even if there's no special event happening, it's a great spot to meet up with friends or just see what's going on.
If you want to see Bruges in a fun way, you can take a ride in a horse-drawn carriage right from the Markt. It's a chill way to see the city, especially if you're tired of walking. The carriage rides let you see Bruges from a different angle, and it feels a bit like stepping back in time.
And hey, if you get hungry, there's a place you've got to try. At Tattie's is known for making some of the best waffles. They're super crispy on the outside but soft and fluffy on the inside. So, if you're in the mood for a tasty snack, that's the place to go.
All in all, the Markt is a must-visit spot in Bruges. Whether you're there for an event, a carriage ride, or just to grab a waffle, it's a place where you'll always find something fun to do.
5. Go to the Top of the Belfry Tower
Standing at 83 metres high there's no way you can miss the Belfry Tower which sits in the main square and for €10.00 you can climb the 366 steps to the top and be rewarded with an incredible view over Bruges as one of the top things to do in Bruges!
6. Bike to Holland from Bruges
This is one of the super unique things to do in Bruges! Due to Bruge's close proximity to Holland, you can hire a bike in Bruges and bike 12km up the canal to Holland. Here you will see a completely different side of Belgium, sneak a view of Holland and if the weather is good there are some beaches to relax on.
I hadn't heard of this as one of the things to do in Bruges before arriving in Bruges however my guide on the walking tour told us so if you do a tour with them and want to know more just ask them as they had a bike company that they recommended and this is something I would love to do on my next visit!
7. Hang Out at Burg Square in Bruges
Burg Square is right in the middle of Bruges and is a cool place to start exploring the city. When you're there, you'll see some really old and fancy buildings. Some of these buildings have been around for hundreds of years!
One of the coolest buildings is the town hall. It's built in a style called Gothic, which means it has lots of detailed designs and looks kind of like a castle. There's also an old courthouse that's been there since the 1700s. It's neat to think about all the history that's happened in that one spot.
But Burg Square isn't just about old buildings. If you get hungry, there are some great places to eat. If you're in the mood for something sweet, head over to Chez Albert. They make amazing waffles that are crispy on the outside and soft on the inside. And if you love chocolate (who doesn't?), check out Chocoladehuisje. They have all kinds of tasty Belgian chocolates.
So, if you're in Bruges, make sure to spend some time at Burg Square. It's a mix of cool old buildings and yummy treats, making it a must-visit spot in the city.
8. Visit a Nearby City like Gent, Brussels or Antwerp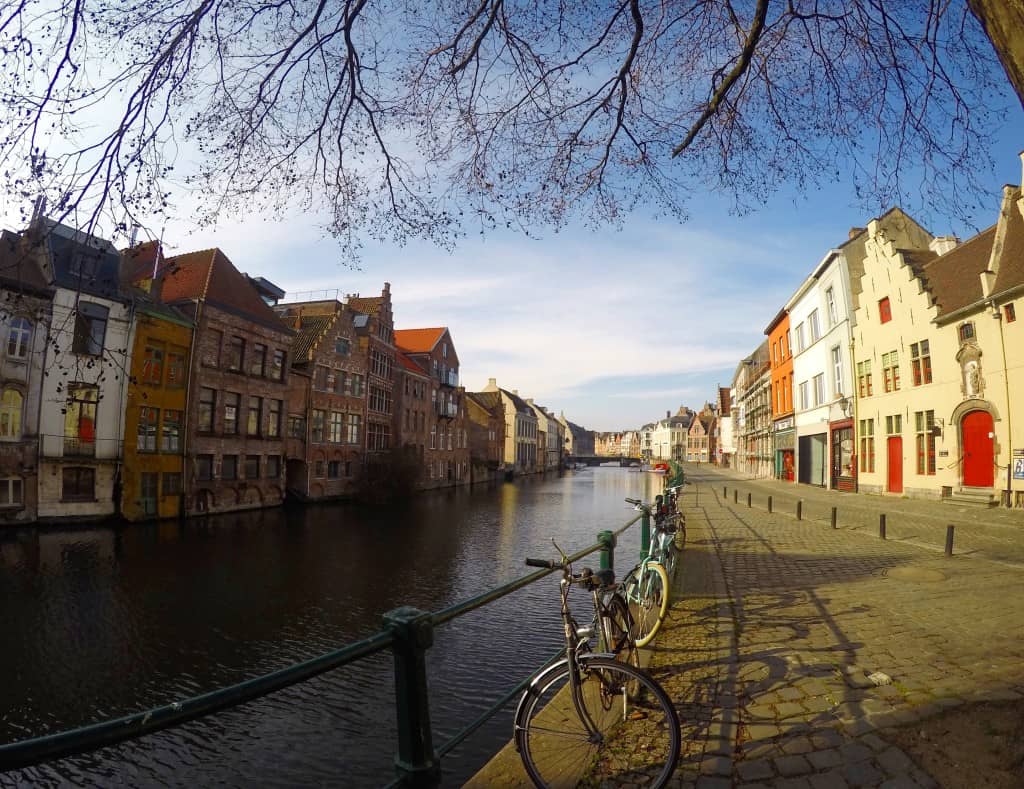 Belgium is a pretty small country with great train infrastructure so its super easy to get between the main cities. I took the train to Bruges from Gent which took 30 minutes and cost €6.00, I then took the train from Bruges to Brussels which took an hour and also cost €6.00.
Although I loved Bruges the most out of the 3 city Belgium itinerary I did, a day trip to Gent and to Brussels is a must, and if you have time I heard Antwerp is equally as beautiful so why not use Bruges as your base and visit these cities for the day or just for a few hours to see more of the Country!
Organise a tour to a nearby city or country from Bruges like this:
9. Eat a lot of Belgium Food!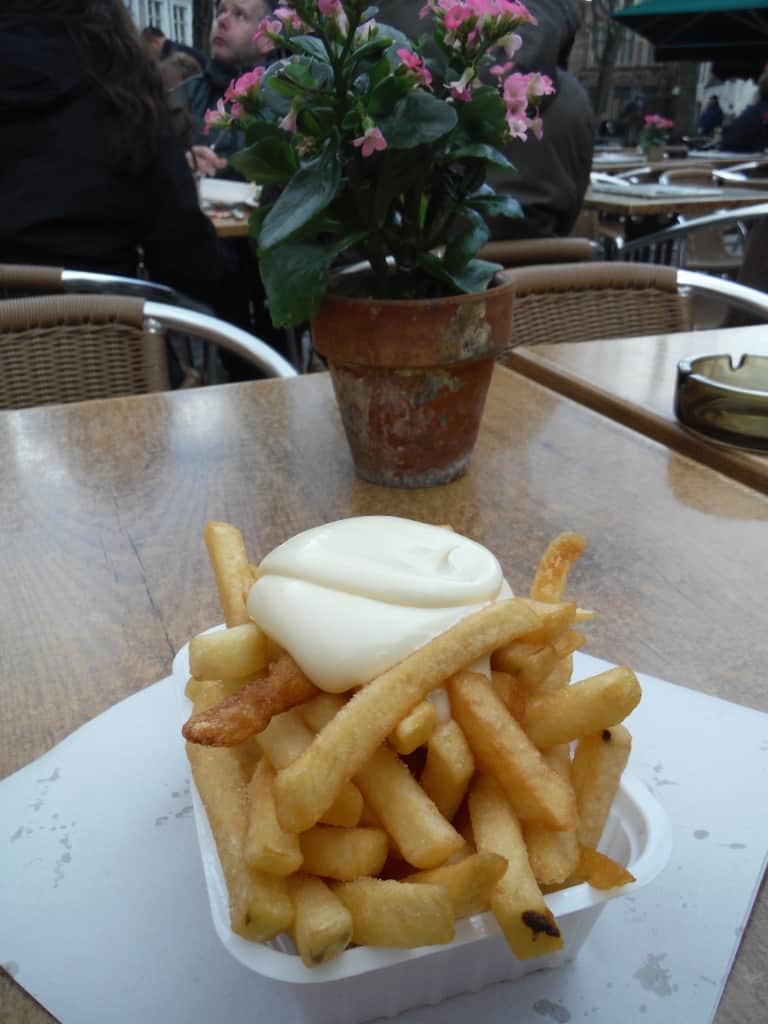 Belgium is renowned for its chocolate and has pretty much made itself into a brand.
The streets of Bruges literally smell of Chocolate thanks to the never-ending amount of Chocolate shops and in between this you'll get a whiff of some Waffles cooking and also a more Savoury smell of Belgium Frites aka double/triple fried fries which are also very popular (and yummy) and make sure you enjoy them with mayonnaise rather than ketchup as this is what the locals do!
There are plenty of chocolate tasting and cooking opportunities in Bruges!
10. Check Out St Salvator's Cathedral
St. Salvator's Cathedral is a big and old church in Bruges. It's the oldest church in the city, and it looks really cool. The outside of the church has lots of detailed designs that are fun to look at. When you go inside, you'll see it's really big and has tall ceilings. There are also colorful windows that let in light in a cool way.
Even if you don't go to church, it's a neat place to see because of how it looks and the art inside. There's a special room in the church called the treasure chamber. In this room, there are old artworks from a long time ago. These artworks show what people in Bruges liked and thought was important.
After you look around the church, if you want a snack or drink, there's a cafe close by called Cafe Pick. People say they make a really good latte there. So, you can relax and have a drink while thinking about the cool stuff you saw in the cathedral.
11. Drink Beer, Chocolate, or Both!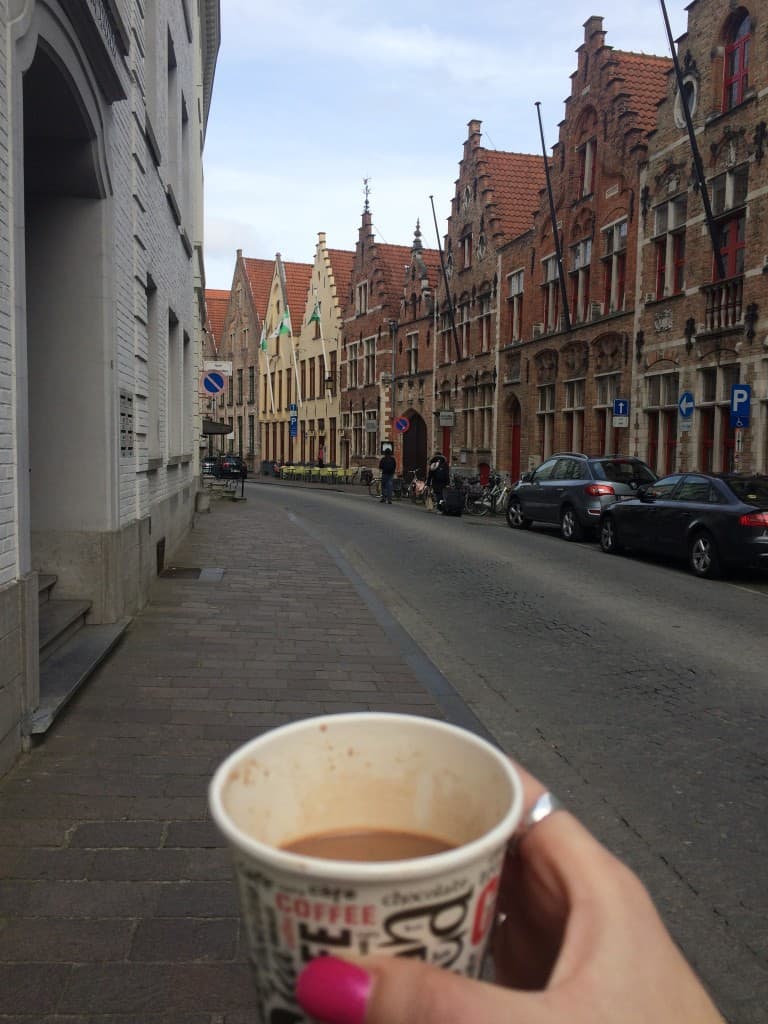 Of course, you can't eat without washing it down with something. Belgium is known for its Beer probably just as much as its chocolate so hunt down a pub along the canal and enjoy the high percentage beers on offer and if it's too early for a beer then try out the Hot Chocolate.
The Old Chocolate House claims to be the best place to be to drink the best Hot Chocolate so I got a take out cup for €2.00 and was not disappointed!!
12. Visit a Museum in Bruges
There are a few museums in Bruges but the one that sounded most appealing to me was The Choco-Story Museum where for €8.00 you can learn the story of how cocoa is transformed into the beautiful Belgium chocolate that we know and also receive lots of samples while you're there!
13. Check Out Rozenhoedkaai (Quay of the Rosary)
Rozenhoedkaai is a super cool spot in Bruges. It's close to Tanner's Square and has some of the best views in the city. When you're there, it feels like you're inside a beautiful picture!
This place is where two canals, Groenerei and Dijver, come together. The water looks really pretty with old gothic buildings around it. It's like looking at a scene from a storybook.
But there's more to do than just look! This is where many boat rides start. These rides take you around Bruges, and you can see the city from the water. It's a fun way to explore!
If you want to learn more about Bruges while you explore, you can join a boat and walking tour. This means you'll ride a boat and also walk around with a guide. They'll tell you cool stories and facts about the city.
One tip: Bruges is a popular place, and many people want to see Rozenhoedkaai. So, if you want to join a tour, it's a good idea to get your tickets early. This way, you won't miss out on the fun!
14. Take in the Architecture
I had seen so many photos online of Cities in Belgium and Bruges in particular with its beautiful grand buildings and unique style houses and I really couldn't get over how pretty and stunning its buildings are.
There aren't many cities that are the size of Bruges where the majority of it has remained so historical with no ugly modern buildings in-between.
15. Experience the Enchanting Free Harp Concert
One of the hidden gems in Bruges that often escapes the typical tourist itinerary is the mesmerizing harp concerts by the talented local harpist, Luc Vanlaere. These concerts aren't just about music; they offer a soulful experience that resonates with the historic charm of Bruges.
Beyond the sheer talent of Luc, the harp's melodies in the backdrop of a historic setting create an ambiance that's both serene and magical. The music transcends age and language, making it a universal experience for all attendees, whether you're a solo traveler, a couple, or with family.
While the concert is free, it's a gesture of appreciation to offer a donation, allowing such cultural experiences to continue. It's also advisable to arrive a bit early, as the venue can fill up quickly given its popularity among those in the know.
The concerts are hosted in the historic Site Oud Sint Jan, a location that complements the ethereal harp music with its own rich history. Situated on Mariastraat 38, it's conveniently located right across from the iconic Our Lady Church, making it easy to incorporate into your day's sightseeing. Luc Vanlaere graces the audience with his performances from Tuesday to Saturday. There are three time slots to choose from: 3 pm, 5 pm, and 6.30 pm. Each concert lasts for about 40 minutes, making it a perfect, immersive break from your day's activities.
16. Find Places from the Movie 'In Bruges'
In 2008, a movie called "In Bruges" came out. It had an actor named Colin Farrell. He played a man who didn't think Bruges was pretty. But the movie showed many beautiful spots in the city. These spots are real and people can visit them. You should visit these places because:
They Are Old and Special: These places have been in Bruges for a long time and tell stories about the city.
See the City Like in the Movie: When you visit these places, you can remember parts of the movie and see where they happened.
Easy to Get To: Bruges is not a big city. So, you can walk to many of these movie places without going too far.
There is an article that tells about 15 places from the movie. This article will show you where to go and tell you about the movie scenes there.
If you like movies or just want to see some cool places in Bruges, this is a fun way to do it.
17. Check Out the Cool Old Stuff Under the Crowne Plaza Hotel
In the middle of Bruges, there's the Crowne Plaza Hotel. It's a new-looking hotel with a cool secret. While the hotel is a nice place to stay, the most exciting part is under the ground. In the basement, there are old parts of St. Donatian's Church. This shows how old and interesting Bruges' history is.
The Crowne Plaza Hotel's basement in Bruges is like a hidden treasure waiting to be discovered. Many visitors to the city aren't even aware of this special spot, making it an exciting find for those in the know. By exploring these ancient remnants, you get a unique chance to learn cool stuff about the past, like how people constructed buildings and the way they lived back then.
Plus, accessing this historical gem is a breeze. If you're curious to take a peek, simply approach the hotel's front desk. The friendly staff will guide you on how to reach the basement and experience this piece of history firsthand.
So, if you are in Bruges and want to see something really old and special, remember to visit the Crowne Plaza Hotel's basement. It's like a trip back in time!
18. See the Shiny Diamonds at Bruges' Diamantmuseum
When people think of Belgium and diamonds, they often think of a place called Antwerp because it's famous for its diamonds. But Bruges has its own cool diamond place too! It's called the Diamantmuseum. This museum is the only one in Belgium that's all about diamonds.
When you go inside the museum, you'll see a lot of displays that tell the story of diamonds. You'll learn where they come from, how people find them, and why they are so special. The museum has many diamonds to look at, and they tell stories about how people have used and loved diamonds for a long time.
The best part? The museum has a show where you can watch people make rough diamonds look shiny and pretty. It's really cool to see how they take a diamond that looks like a regular rock and turn it into something sparkly. They use special tools and skills to do this.
The museum also tells stories about famous diamonds and why they are important in Belgium. So, if you're in Bruges and you like shiny things, you should definitely visit the Diamantmuseum. It's a fun place where you can learn a lot about diamonds and see how they become so shiny.
19. Explore Cool Art at the Groeningemuseum
If you're into art or just curious about it, you should definitely check out the Groeningemuseum in Bruges. It's a big museum filled with awesome paintings from Belgium and the area around it.
When you walk through the museum, you'll see really old paintings from artists who lived a long time ago. Some of these artists, like Jan van Eyck and Hans Memling, are super famous. Their paintings look super real and detailed, and it's cool to see how people painted back then.
But the museum isn't just about old stuff. They also have paintings from the 18th and 19th centuries that look grand and show big moments. And then there's the post-war art. This is art made after big wars, and it's really different and bold. It makes you think and see things in a new way.
The museum building itself is also pretty cool. It's designed in a way that makes looking at the art even better. And if you want to learn more about the paintings, there are signs that tell you about them.
So, if you're in Bruges and want to see some cool art and learn a bit, the Groeningemuseum is the place to go. It's fun, interesting, and you'll leave with some cool stories to tell.
20. Dive Deep into the Past at Sint Janshospitaal
Sint Janshospitaal, commonly referred to as Old St. John's Hospital, stands as a testament to Bruges' rich history and its commitment to care and healing. Dating back to the 12th century, this remarkable structure holds the distinction of being among the oldest hospital buildings still standing in Europe.
The hospital's primary purpose wasn't just medical care. In the medieval times, it served as a sanctuary for various individuals – from pilgrims on spiritual journeys to weary travelers seeking shelter, and of course, the sick and ailing who came in search of healing. The nuns and monks, with their unwavering dedication, played the role of caregivers, ensuring that everyone who entered its doors received the care and comfort they needed.
Today, while Sint Janshospitaal no longer functions as a hospital, it stands as a museum. It offers visitors a unique opportunity to step back in time and gain insights into the medical practices of yesteryears, the role of religion in healthcare, and the enduring spirit of the people who dedicated their lives to the service of others.
21. Check Out the Cool Windmills in Bruges
Bruges is a really cool city with lots of history, and one of the coolest things about it is its windmills. If you want to see them up close, you should take the Windmill Walk. This walk is along the river on the east side of the city, and it's a great way to see these big wooden windmills.
Two of the most famous windmills you'll see are called St Janshuis and Koelewi Mills. What's super cool about them is that they're not just for show – they still work! They grind grain just like they did a long time ago. If you're curious about how windmills work, you can go inside St Janshuis and see all the cool stuff inside.
After checking out the windmills, if you're looking for a nice place to stay, there's this hotel called Hotel Van Cleef. It's a mix of modern and fancy, and it's really comfy. The hotel is right by the water, and it's a great place to chill after a day of exploring. The rooms are nice, the views are great, and the people who work there are super friendly.
So, if you're in Bruges, make sure to take the Windmill Walk and maybe stay at Hotel Van Cleef. It's a fun way to see the city and learn about its history while also enjoying some modern comforts.
22. Visit De Halve Maan Brewery in Bruges
De Halve Maan, translated as "The Half Moon Brewery," is a cornerstone of Bruges' rich brewing heritage. With its roots deeply embedded in the city's history, this brewery has been producing some of Belgium's most cherished beers for generations. For anyone with even a passing interest in beer, a visit to De Halve Maan is an absolute must when in Bruges.
The brewery stands as a testament to the art of traditional beer-making. While it embraces modern techniques, it still holds onto time-honored brewing methods that have been passed down through the ages. This blend of old and new is what gives their beers a distinctive character, making them stand out in the world of craft beverages.
The tours, which run daily from 11 am to 4 pm, offer a behind-the-scenes look into the brewing process. Over the course of 45 minutes, you'll be guided through the various stages of beer production, from the selection of ingredients to the fermentation and aging processes.
At the end of the tour, guests are treated to a degustation of Brugse Zot Blond, a delightful beer that captures the essence of Bruges in a glass. Its crisp, refreshing taste, with subtle hints of malt and citrus, is the perfect way to round off the brewery experience
23. Relax and Revel in the Beauty of Minnewater Lake
Minnewater Lake, often referred to as the "Lake of Love," is a serene oasis nestled right in the heart of Bruges. This tranquil spot is a haven for nature lovers and those looking to escape the hustle and bustle of city life, even if just for a few moments.
Situated conveniently in downtown Bruges, Minnewater Park isn't just about the lake. The area boasts lush greenery, making it a perfect spot for picnics or leisurely strolls. Dominating the landscape is a picturesque castle, which adds a touch of historical charm to the surroundings. The age-old trees, with their sprawling branches, provide ample shade and create a calming atmosphere.
One of the highlights of the lake is the Lovers Bridge. Legend has it that couples who cross the bridge and steal a kiss will be blessed with eternal love. Whether you're with a loved one or on a solo adventure, the bridge offers stunning views of the river, making it a favorite spot for both locals and tourists.
And if you're feeling peckish after your walk, the area around Minnewater Lake has some delightful eateries where you can indulge in local delicacies. The Belgian waffles, crispy on the outside and soft on the inside, are a must-try!
For those arriving in Bruges by train, the walk from the station to the historic center offers a scenic route that takes you right by Minnewater Lake. This path not only gives you a glimpse of the lake's beauty but also introduces you to the city's stunning architecture.
It's like a visual treat that sets the tone for your Bruges adventure. Many believe that this walk, with its blend of nature and architecture, is the perfect way to kickstart your exploration of Bruges, making it one of the top recommendations for anyone visiting the city.
24. Have a Blast at the Bauhaus Hostel
Looking for a cool spot in Bruges? Check out the Bauhaus Hostel. It's not just a place to sleep; it's where all the fun happens!
Bauhaus is right in the middle of Bruges and is known for being super lively. The inside of the hostel is a mix of old and new, which gives it a cool vibe. People from all over come to stay here, so you'll meet lots of interesting travelers.
The best part? There's always something fun going on at Bauhaus. Some nights they have quizzes where you can test your knowledge. Other nights, there's live music with different bands playing. If you like singing, you can join in on karaoke night. And if you just want to dance and hang out, they have DJ nights too.
The hostel also has a chill area and a bar where you can chat with other travelers. You can share stories, get tips on what to see in Bruges, or plan to explore the city together.
So, if you're in Bruges and want a fun night out, head to Bauhaus Hostel. Whether you're traveling alone or with friends, it's a great place to hang out and have a good time.
25. Check Out the Cool Church with a Special Relic
In the middle of Bruges, there's this old church called the Basilica of the Holy Blood. It's not just any church; it has something super special inside. People from all over come to see it!
Inside the church, there's this small container that's said to have the actual blood of Jesus Christ. How did it get there? Well, a long time ago, a guy named Thierry of Alsace brought it to Bruges after a big event called the Second Crusade. He got it from Jerusalem and thought Bruges was the best place to keep it safe.
The church itself looks really cool. It has colorful windows, tall towers, and lots of detailed designs. But the main thing people come to see is the container with the blood. Every day, they show it to everyone who visits, and people can see it up close. It's a big deal for many who believe in its story.
Once a year, there's a big parade in Bruges where they take the container with the blood and walk it around the city. Lots of people dress up and act out stories from the Bible during this parade.
So, if you're in Bruges and want to see something really unique, head to the Basilica of the Holy Blood. It's a mix of history, mystery, and a cool story that's been told for hundreds of years.
I hope this gives you some ideas of things to do in Bruges Belgium and gets you excited to visit or motivates you to book a ticket.
More of my Belgium and Europe Posts: