This post may contain affiliate links. I will receive a small commission if you use these links.
---
Working out a Winter packing list for Europe and Winter travel clothes for Europe can be hard. Especially when you have hand luggage only as packing for Winter means jumpers, scarfs and boots which take up so much more room and are much heavier than packing for a Summer City Break. However, in many ways, I think it's a bit easier to pack for a trip to Winter in Europe, especially if it's a city break for a few days or a week.
Firstly when packing for winter in Europe, you know what the weather is going to be like – cold so you know only to add warm clothes to your City Break packing checklist.
Secondly, I feel you need fewer outfits for Winter trips because generally, no one sees what you are wearing under your coat or jumper, and wearing the same black jeans for 3 days straight doesn't seem as noticeable.
Lastly, a good tip for packing for Europe in Winter is that you'll wear one set of clothing on the plane as it's likely it'll be cold where you are flying from so that's one less set of bulky clothes to pack.
I feel like I've figured out and perfected the art of what to pack for a European Winter City Break using hand luggage only to ensure I optimise the space in my case and don't waste space with bulky woolly items I won't end up wearing! So let me give you my winter packing list for Europe!
Winter Packing List for Europe
Temperature of Europe in Winter
In winter, Europe's temperature varies based on the region. The northern parts, like Scandinavia, typically experience temperatures ranging from 4°C (39°F) to -15°C (5°F). In contrast, Central European cities like Madrid might see temperatures from 10°C (50°F) to 3°C (37°F). January is often the chilliest month.
As you move southward in Europe, freezing temperatures become less common, while heading northward increases the chances of encountering frost and snow. However, these are broad generalizations. It's essential to consult the weather forecast for your specific destination and adjust your packing list for a European winter trip accordingly.
What to Pack for Winters in Europe?
Here is the brief list of the essential things you should pack for winter in Europe:
2 x Thick Jumpers
Travel in one and pack the other. I love Winter jumpers from H&M as they're great quality for a good price!
1-2 x Jeans
Travel in them and wear them throughout your trip, if you want to travel with a Winter City Break capsule wardrobe, just take one pair of black jeans as they'll go with all outfits and shoes!
2 x Scarfs
Travel in one, pack the other these are must packs when it comes to what to pack for a city break in Europe. To make your outfit more interesting, my winter packing tip is to take colourful scarfs!
1 x Thermal Long Sleeved Top
Pack this as you'll be too hot on the plane! I purchased a similar black thermal top to this last year which was great!
1 x Tights or Thermal Leggings
Pack these too. I purchased these thermal leggings last year which are great for under jeans and you can't tell you're wearing them so add them to your Women's packing list for Europe Winter.
1 x Vest Top or T-shirt
A good, tight vest top or t-shirt it as a good underlayer under your jumper. To stay extra warm, consider taking a thermal vest!
1 x Evening going out Top
If you're going on a Weekend in Europe in Winter and think you'll be out for drinks and dinner then pack some nice evening wear but still remember how cold it will be and that the temperature drops even more at night! To dress an outfit up more, a few stylish winter accessories will do the trick!
1 x PJ's
Hotels in Europe will have central heating and thick blankets but pack warm PJs too. If you're staying in Hostels in Europe, they should have good heating but they're cheap and in Eastern Europe, they may not so be prepared to wear warm clothes in bed!
2 x Thermal Socks
I have these thermal socks which keep my feet so warm and fit well under my boots.
1-2 x Woolley Hats
Travel in one, pack the other and remember to get colourful hats to make your outfit more colourful too! Hats should be added to a Men's packing list for Europe Winter too to keep warm!
1 x Pair of Gloves
Put these in your coat pocket so they're ready for when you get off the plane. I recommend touchscreen gloves so you don't have to take your gloves off to use your phone because it's likely they'll freeze as soon as you do!
1x Winter Coat
Travel in this and make sure it's good quality to keep you as warm as possible!
1 x Foldable Ultra Light Jacket
This can be worn under your main coat if it's going to be extra cold, for example, if you are travelling to Scandinavia in Winter or to a snow destination! This is a similar ultra-light jacket to mine which I love and doesn't take up much room in your bag.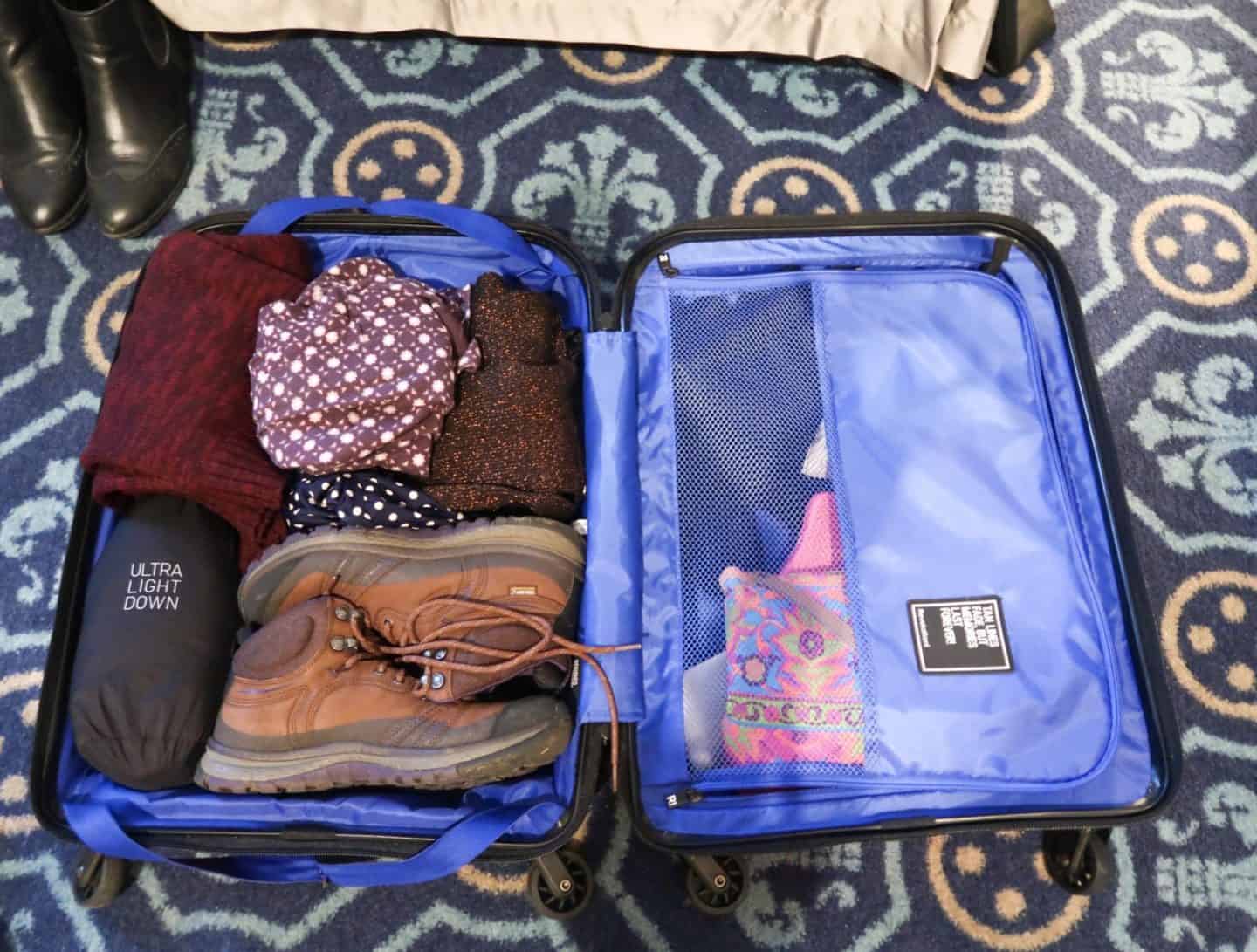 Best Shoes To Pack for Europe in Winter
1 x Boots
A pair of black or brown Chelsea style boots are a good idea when thinking about what shoes to wear in Europe in Winter as they are warm but also stylish and you can wear these on the plane to help travel light for a winter trip.
1 x Walking Boots
I have been wearing KEEN'S Terradora Pulse Mid WP Brown Walking Boots on ALL of my Winter trips.
They were gifted to me but honestly, compared to my black ankle boots they have been a game-changer in enabling me to walk even further due to their incredible underfoot comfort, and we know how much you walk on city breaks! They are also waterproof so they keep my feet dry and warm and they're really not as un-attractive as walking boots initially sound so I much prefer wearing walking boots on winter city breaks!
To see my review on Keen Footwear, have a look here in case you want to get some before you pack for a trip to Europe in Winter.
Travel Essentials for Europe Winter
Umbrella
A compact travel-sized umbrella is perfect to help you pack light for Europe!
Water Bottle
I use a Chillys Thermal Bottle which I love and you can fill it with warm-ish water which will stay warm and keep you warm when you drink it.
Battery Pack
When it's cold our phone battery dies quicker and so do camera batteries! To help stay charged all throughout the day, take a power bank with you. I have this 2 in 1 Travel Adapter and Power Bank Charger which has a European plug and is lightweight and the perfect travel essential for a City Break trip.
Essential Toiletries for European Winter Travel
Hydration is paramount when preparing for a winter journey. The cold can be harsh on your skin, demanding intensified moisturizing products and protective measures against the deceptive winter sun. Here's a curated list of toiletries to ensure your skin remains nourished and protected:
Sunscreen
Even during overcast winter days, UV rays can be potent, especially when reflected off snow. Snow can amplify the sun's effects, making sunscreen indispensable. A recommended product is a lightweight SPF 50 facial sunscreen that's gentle on the skin. For those who prefer multitasking products, a tinted moisturizer with SPF can offer protection, hydration, and a touch of color.
Face Moisturizer
The cold can sap your skin's natural moisture, making a robust moisturizer essential. Regular application, perhaps even twice daily, can keep your skin supple. A popular choice is a daily moisturizing cream that caters to winter needs.
Winter-Resistant Makeup
A minimalist yet effective winter makeup routine might include a tinted moisturizer, cream blush, smudge-proof mascara, and a vibrant red lipstick. The latter not only elevates your look but also adds a pop of color to winter photographs.
Lip Balm
Regardless of whether you opt for lipstick, a moisturizing lip balm is crucial. Cold weather can lead to painfully chapped lips. For those engaging in winter sports or spending extended hours outdoors, a lip balm with SPF is advisable.
Hand Cream
Hands often bear the brunt of winter's dryness. Neglecting them can lead to rough skin that catches on clothing. A recommended solution is Burt's Bees hand salve, perfect for hydrating cuticles, knuckles, elbows, and other dry patches.
Backpack or Suitcase for travelling in Europe
Europe is good for either! Personally I always take a carry on suitcase on European trips, especially short city breaks.
I have a Red Tobago Revelation cabin case which I love! I've been using this for most of the year and it's still in great condition despite being dragged around a lot of cities and I swear I'm never going back to a 2 wheeled case again!
However, backpacks can also be very appropriate and handy in Europe, especially if you are doing a lot of travel between places. A great carry on backpack for Europe is this Pacsafe VentureSafe 45L bag.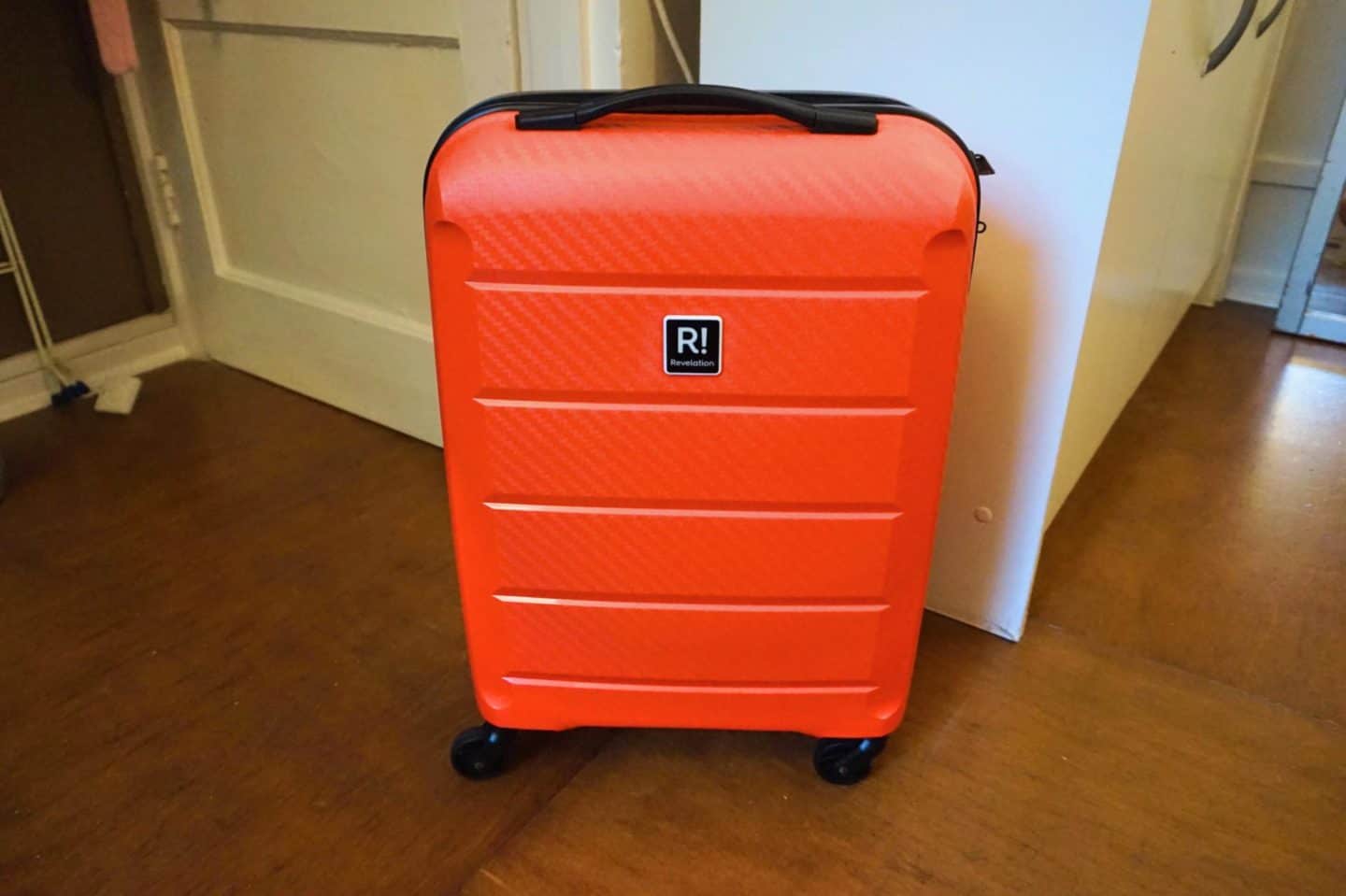 Getting Around Europe in Winter
The train system in most European Countries is really good, if you need to prebook tickets, and you should, especially if you are travelling close to Christmas. You can book all of your trains and buses in Europe on The Train Line which is the platform I always use the UK and Europe!
I hope this Europe in Winter packing list helps you out!
You might find these posts useful too: