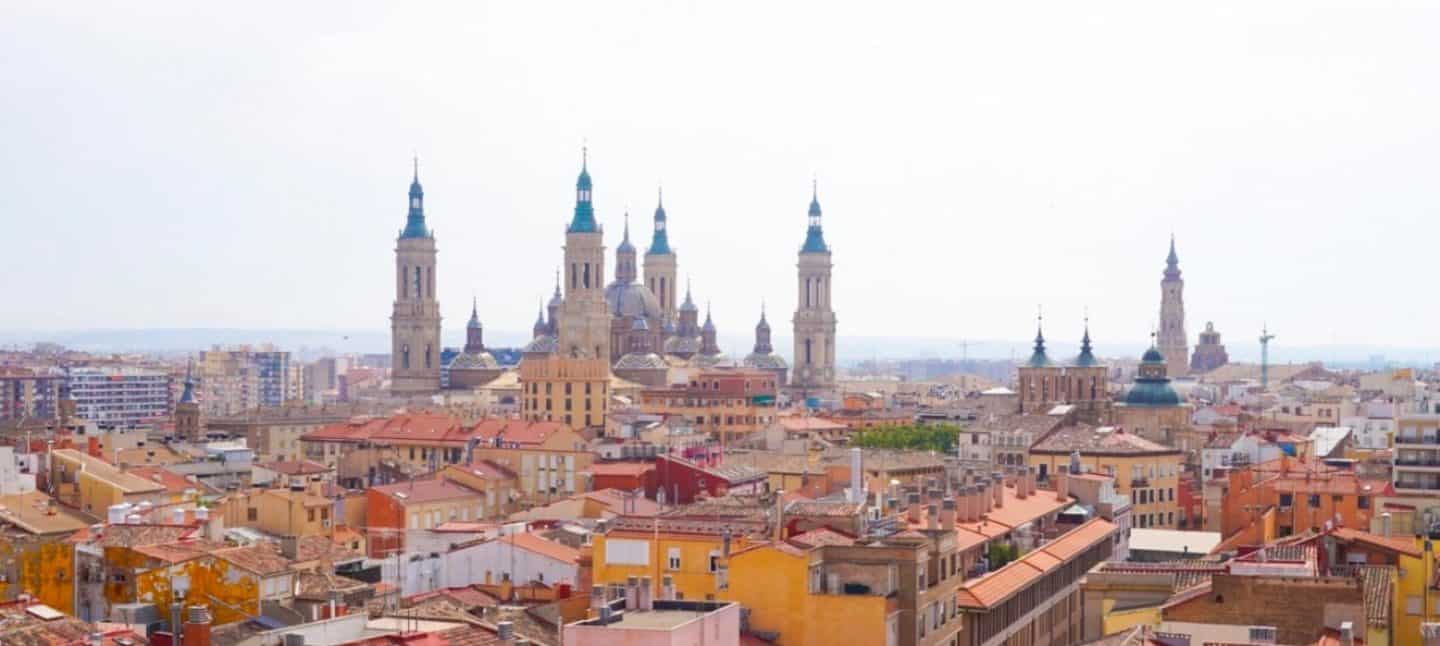 In June I visited Zaragoza, a Spanish city that I hadn't even heard of before being invited as part of the SpainCities Project. I spent 3 days and nights in the city which is the 5th biggest city in Spain and sits in the Northern Aragon region of the Country and in that time I found it to be a wonderful place to take a city break, especially if you want to see a real and authentic side of Spain, and let's face it, who wouldn't want to do that?
Zaragoza is full of museums and religious sites so if you like this sort of thing then it's perfect for you. If you're not so keen on this then there's still a lot to do! From checking out street art to tasting amazing chocolate to exploring beautiful parks you can easily spend 2-3 days having a chilled break in Zaragoza.
To help you make the most of your trip to Zaragoza or to convince you that you need to visit, here is a list of 40 things to do in Zaragoza, Spain!
---
If you're wondering how to plan your day's in Zaragoza be sure to check out my post- 48Hour Guide to the Cultural Spanish City of Zaragoza.
For accommodation in Zaragoza check out what Booking.com has to offer. I use this site to book nearly all of my accommodation! When you book use the code 'THEWAN100' and we'll both get £15.00 off!
---
1) Basilica del Pilar
This Basilica is Zaragoza's iconic building and it's not hard to see why, not only is it huge but it's beautiful! Although it's very impressive from the outside you must go inside too because it's stunning! It holds paintings from Goya, a famous painter from the Aragon region. There are regular services that you can observe and local's pop into the Basilica all the time giving it a very speical feel.
2) Basilica del Pilar Tower
The Basilica can't just be seen from the outside and inside, you must go up one of the bell towers to see it from above! One of the four towers is open to the public where you can take the lift 60metres to the top to take in the most incredible views over the Basilica, the river and both sides of the city. It is possible to climb even higher to 80metres which is pretty cool considering the tower is 92 meters but this part is very small with windows so although it's higher the picture opportunity isn't quite as good.
3) Plaza de la Pilar
This Plaza is one of the largest in Europe which isn't surprising as it's the length of the cathedral and many other buildings in the area. It's a lovely place to stroll through at all times of the day and unlike many popular Plaza's it doesn't seem to get ridiculously busy. There's a waterfall at one end which represents Latin America and a cool world statue (which I saw people leaning against, pushing and all sorts!) and there's also plenty of seating.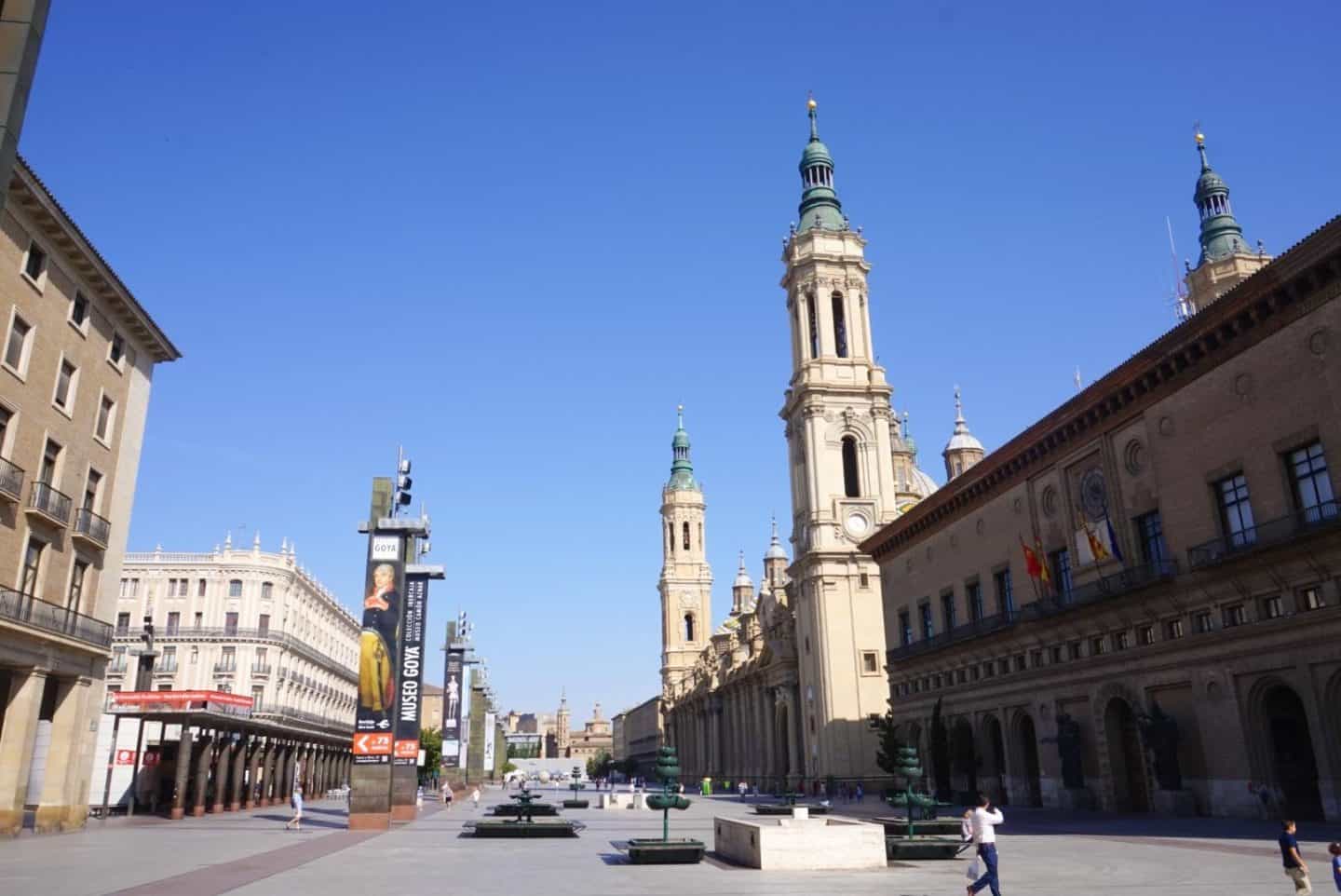 4) Puente de Piedra (Stone Bridge)
This bridge is just the other side of the Basilica and run's across the River Ebro. It's also called the bridge of Lions due to the lions that sit on the pillars at the ends of the bridge. The bridge connects the historic centre with a more commercialized and residential side of the city. Walking along this bridge also gives you a great photo position of the Basilica with the river in front.
5) Aljaferia Palace
Just slightly away from the historical centre is a palace. It does look more like a fort from the outside but once you get inside it's clear that it's a palace with a beautiful courtyard filled with Orange Trees. The origin of the palace is Muslim with the original tower dating back to the 9th century and the palace constructed in the 11th century. This place as you can imagine holds a lot of history, later in the 18th century it was also used as a military base. It's interesting as although the military base ruined a lot of the palace, flooring that was kept under filing cabinets etc were actually preserved by this and as you walk around its evident to see this within the rooms so make sure you keep looking down at the floor and up as the ceilings inside are beautiful!
6) El Salvador Cathedral – Le Seo.
Built over the main mosque of the old Muslim City this incredible church is made up of a range of styles- Romanesque, Mudejar, Renaissance, Gothic & Baroque. It's definitely worth taking a look inside to appreciate just how grand it is. Be sure to also check out the side of it as its covered in beautiful mosaic's!

7) Tapestry Museum
Housed inside Catedral del Salvador is a Tapestry Museum. It spans over a couple of floors and is home to a collection of impressive, huge, Flemish tapestries from the 15th to 18th Century.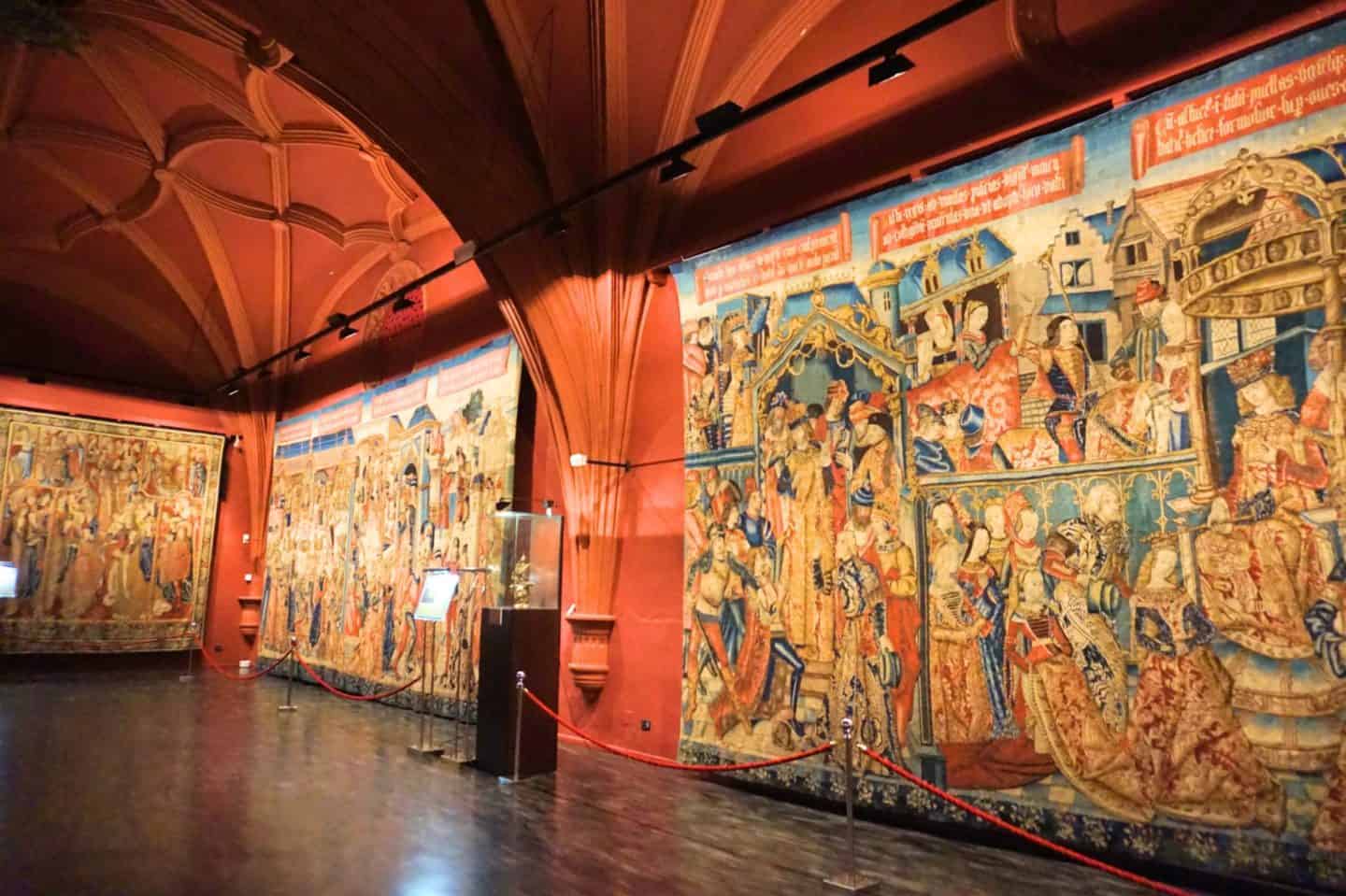 8) Goya Museum – Ibercaja Collection
If like me, you don't know who Goya is (although I do now but i hadn't heard of him before I visited), he is one of the most important painters in the world and it is said that he is the father of the modern movement. Locals are very proud that he is from the Aragon Region of which Zaragoza sits in Spain and therefore a huge amount of his art is in the city. This museum is mainly dedicated to paintings with works ranging from the 15th to 20th Century. The museum is housed in a Renaissance building and there is an audio-visual which plays regularly in Spanish, French and English which I would recommend seeing.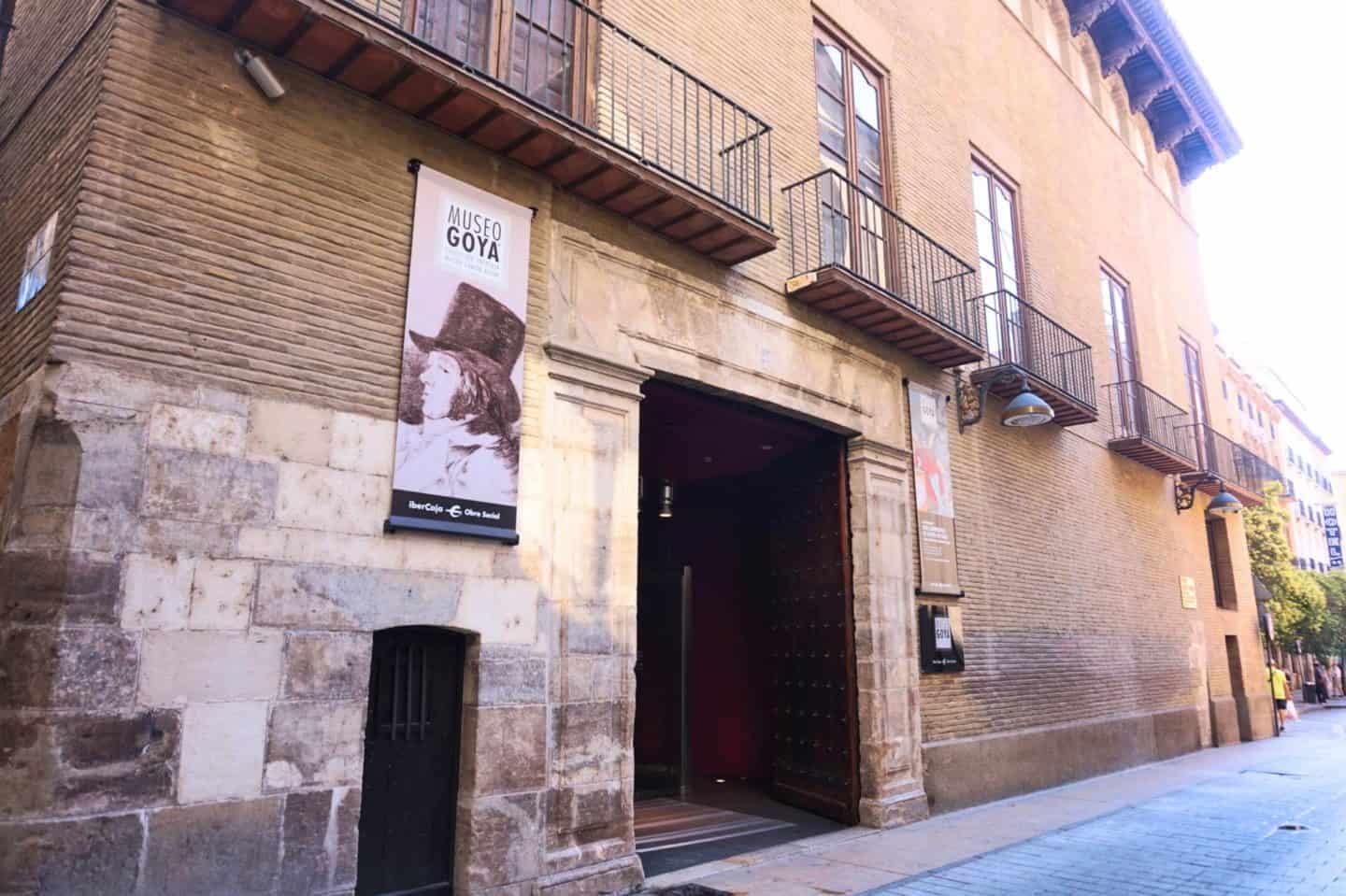 9) Caesar Augustus Forum Museum
This museum is very deceiving as the entrance is just a small area in a plaza however downstairs are the Roman archaeological remains that belong to a market from the era of Emperor Augustus and when city had the name Caesaraugusta!
10) Caesaraugusta Theatre Museum
Didn't think that Zaragoza would have a Roman Theatre? No neither did I but it does! Sat between normal flats and the roads of the city is one of the largest theatre's of Roman Hispanic which would have held around 6000 people. I viewed the Theatre from the street between the bars and even this way it's impressive but there is a museum attached to the theatre to find out more.
11) Pablo Gargallo Museum
Pablo Gargallo was an Sculptor from Aragon and this museum is dedicated to his works detailing examples of the evolution of civilian architecture in Zaragoza in the 17th Century. The museum sits in the Plaza San Felipe along with a few other things that I have recommended in this list.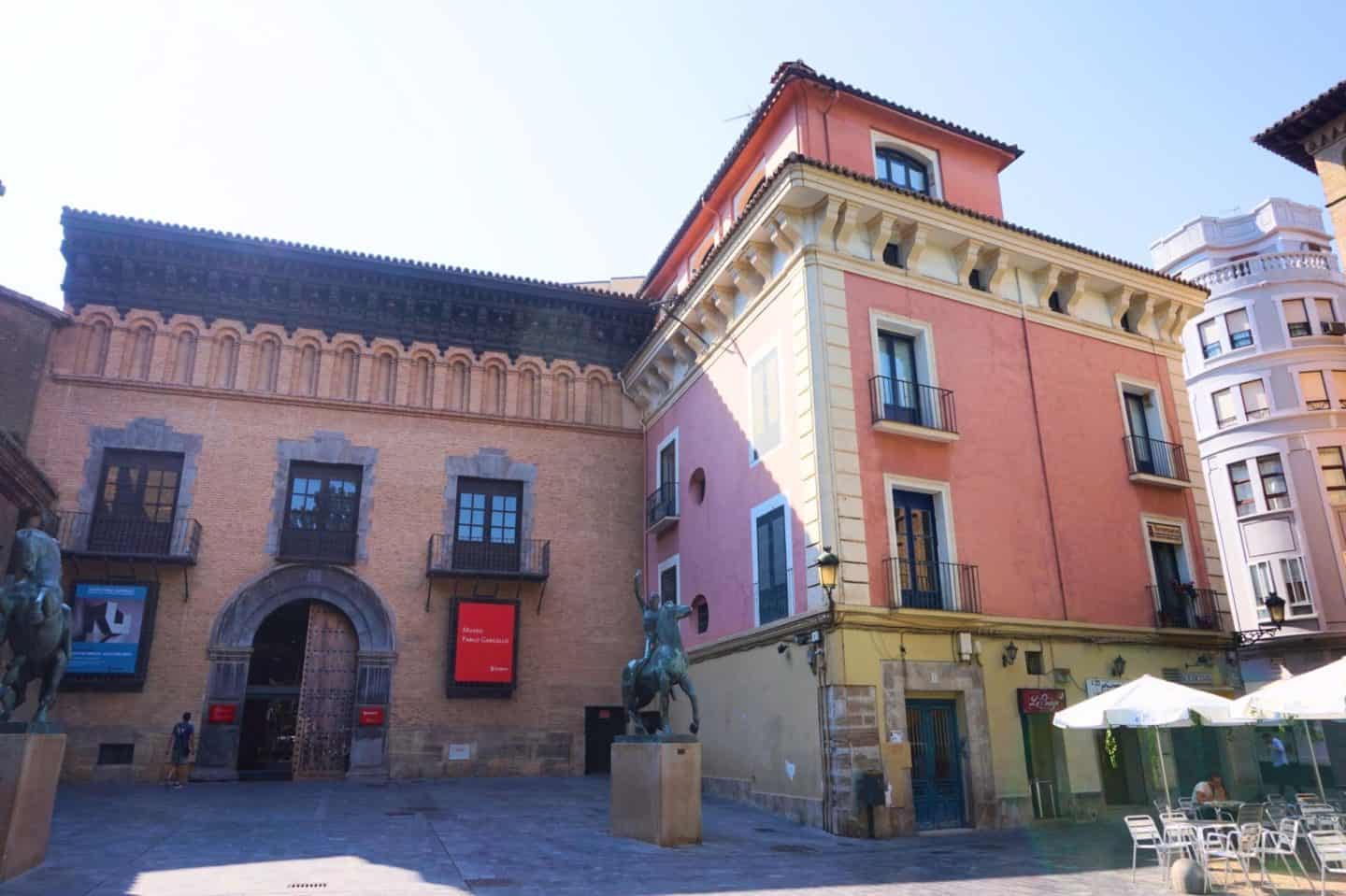 12) Museum of Zaragoza
Located in an area called Los Sitios, just outside of the historical Centre the Zaragoza museum is divided into 2 sections, Archaeology and Fine Art and once again you can see an example of Goya's art and the building itself is very impressive with a beautiful courtyard.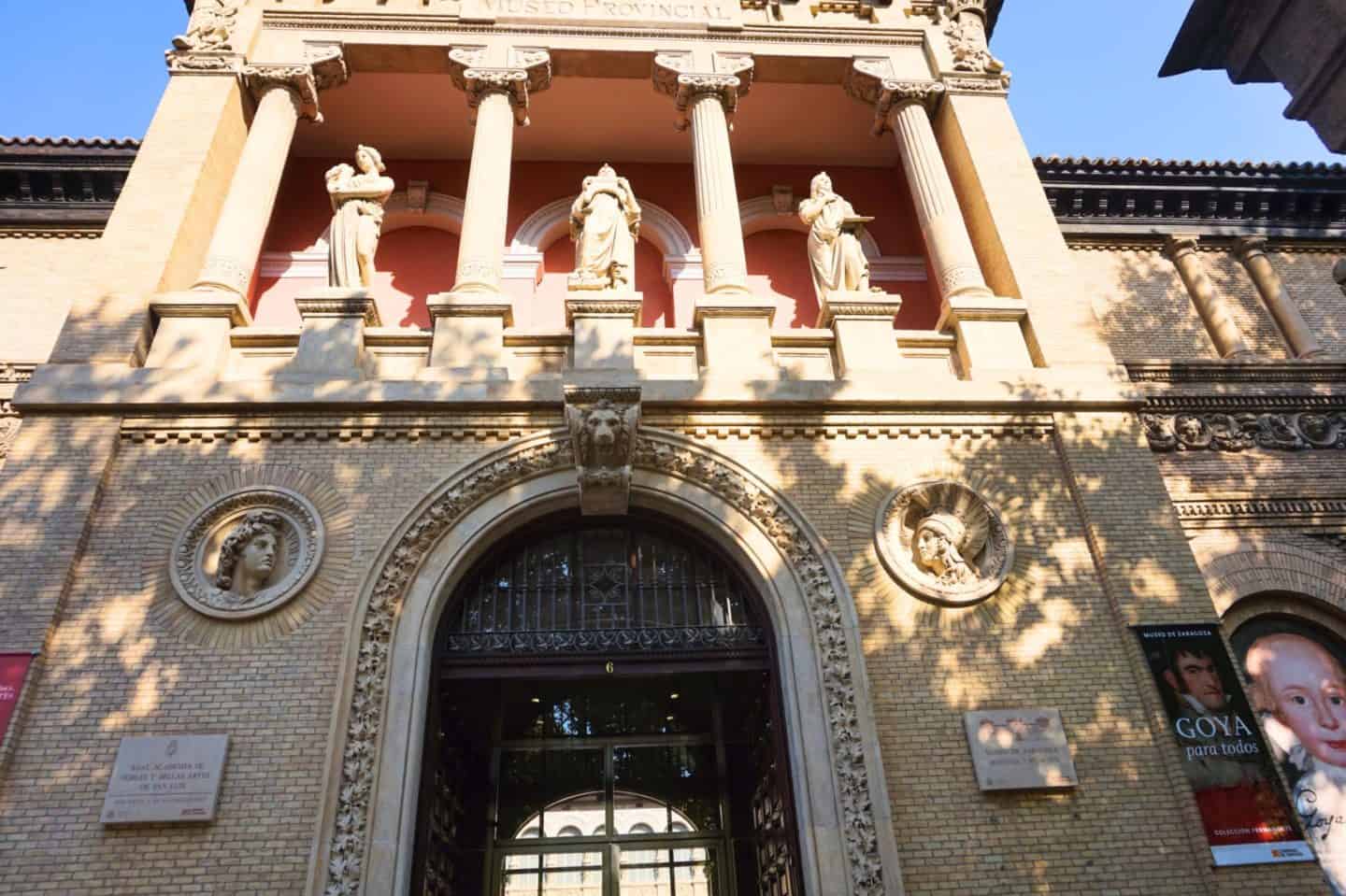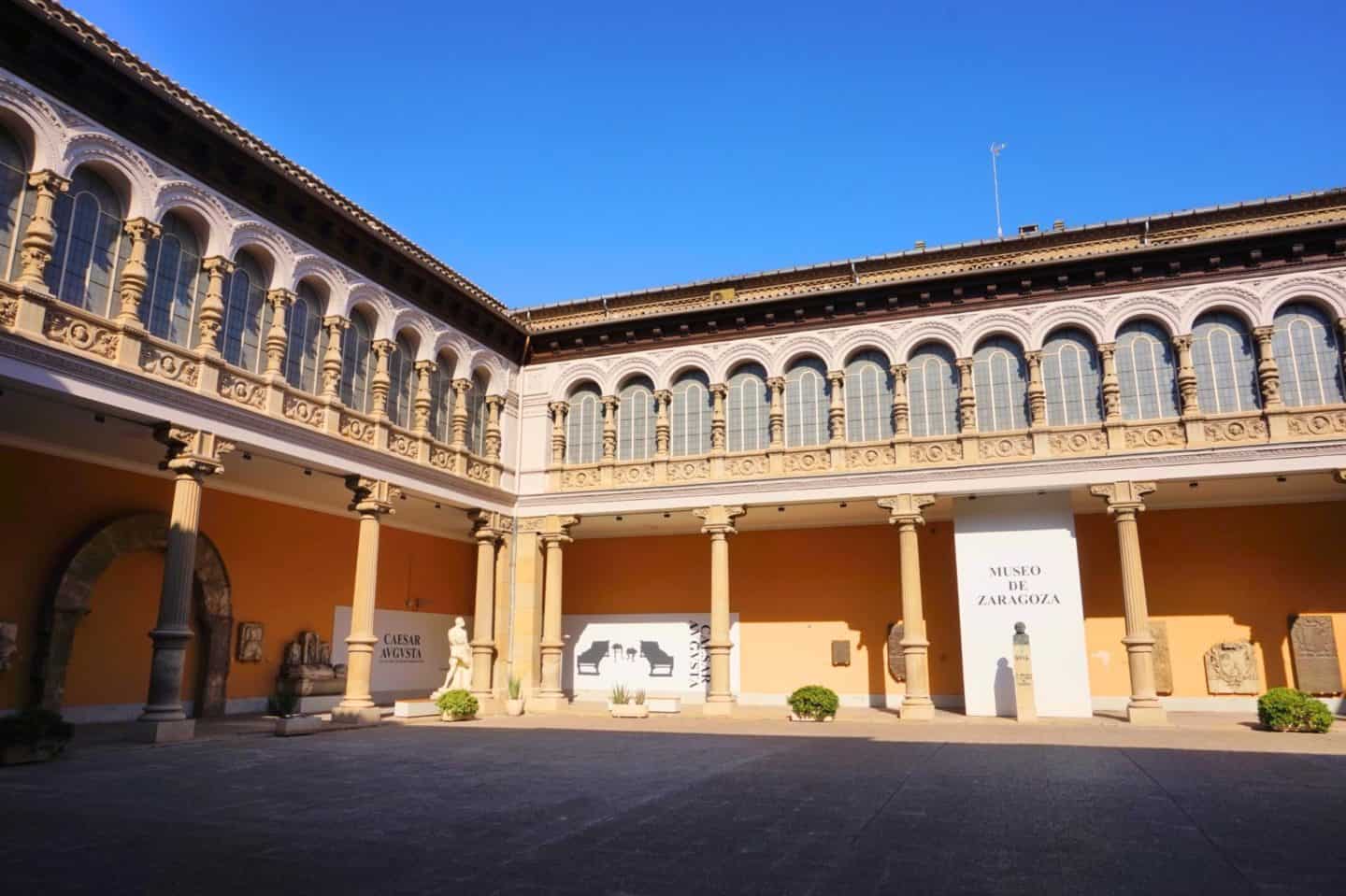 13) Patio of the Infanta
This is one of the finest and best preserved Renaissance Aragonese Courtyards, built in the mid-16th Century. It is deceiving as the building you enter to see it is Ibercaja's (a Spanish bank) head office but it's good to see what is behind the facade.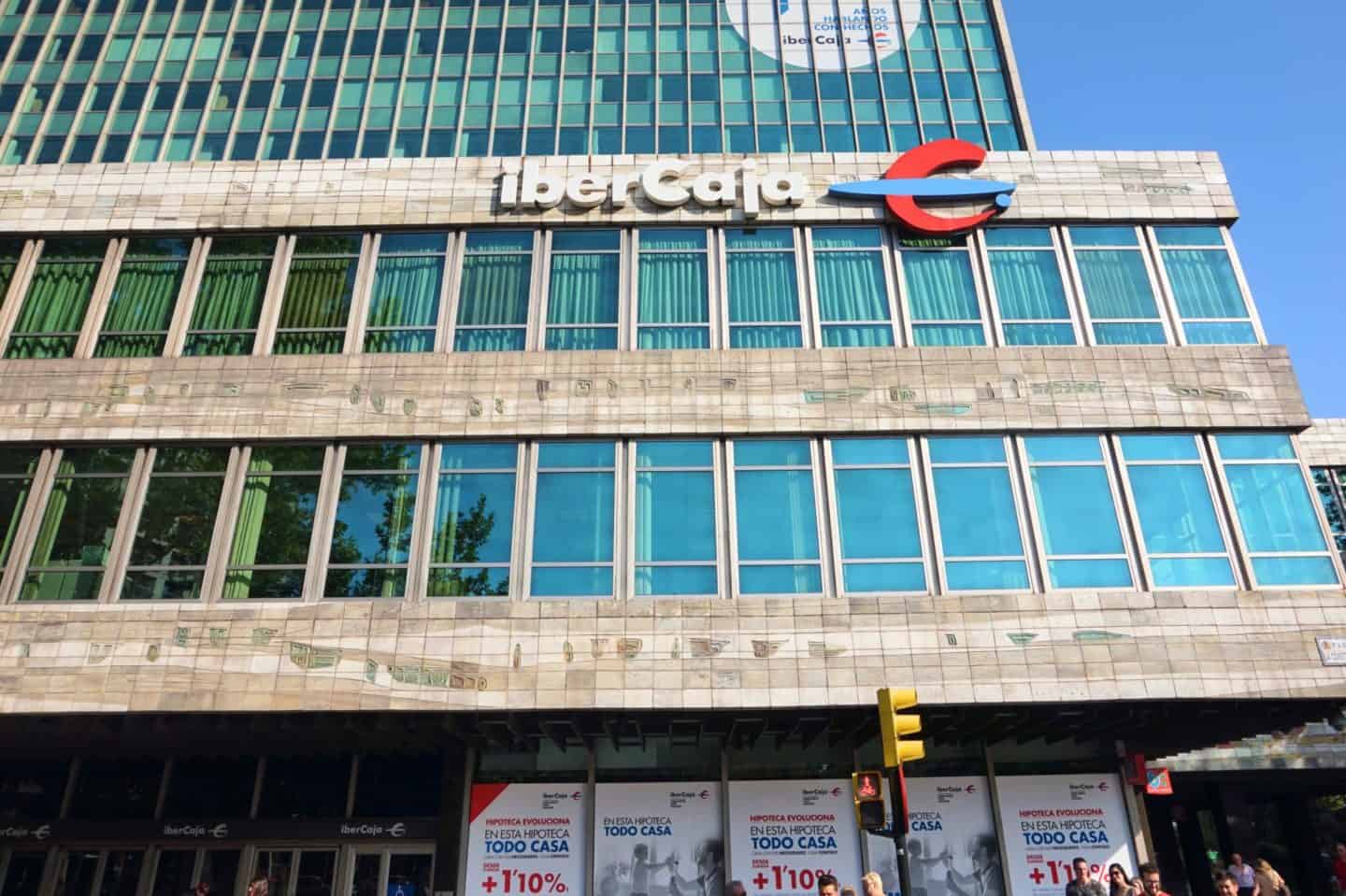 14) La Lonja
Sat in the Plaza de la Pilar, this building it another impressive Renaissance building from the outside but is even better inside. Over the last few decades it's been used as an exhibition hall which it is still used for today but it was built by the council as a Merchants Exchange or market during 1541-1551 so that dealings were not happening in the church.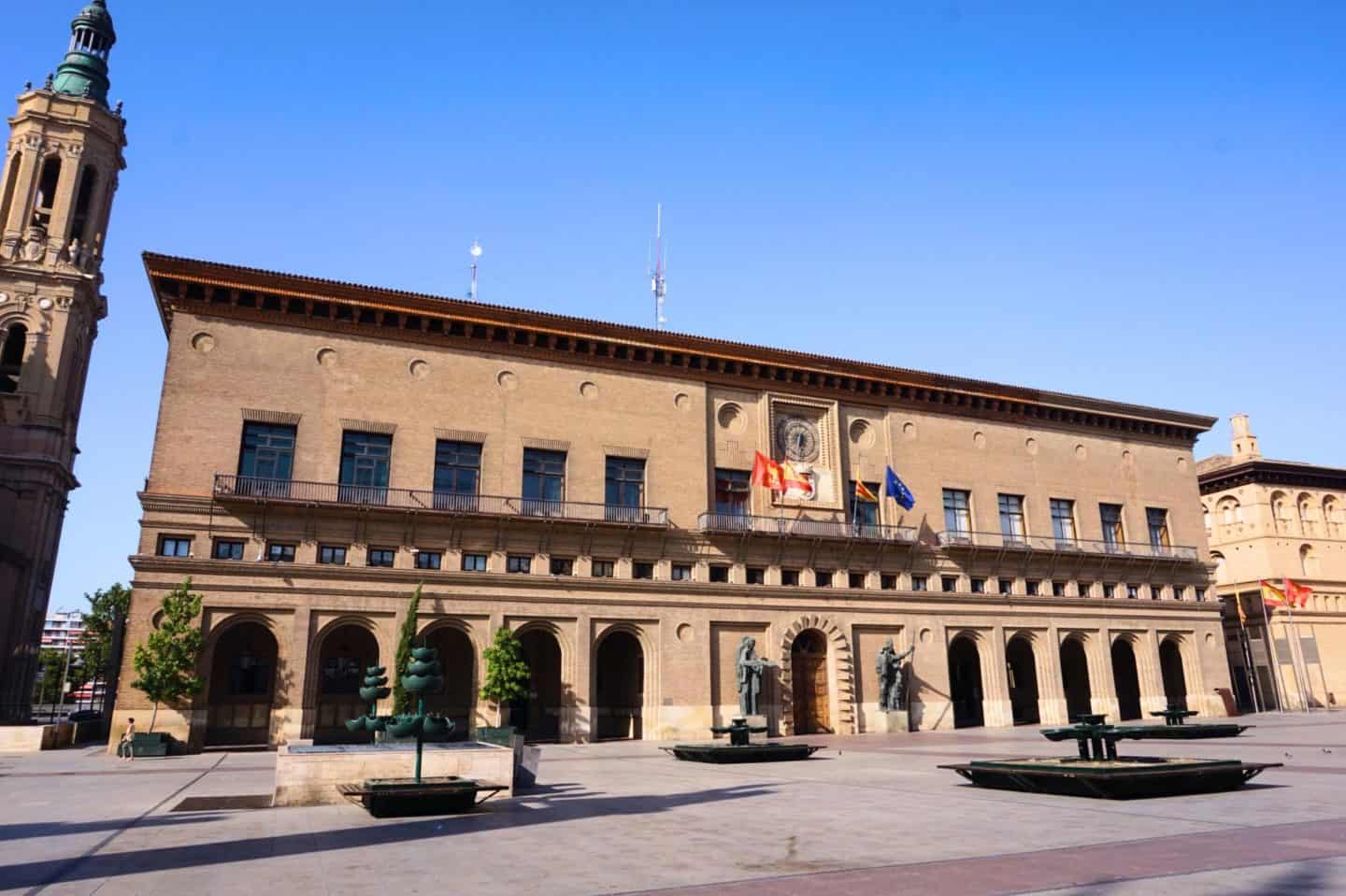 ---
If you'd like to do a tour around Zaragoza or visit a near by town, have a look at availability for one of these tours:
---
15) Origami Museum school of Zaragoza
Have you ever heard of an origami museum?? I hadn't but Zaragoza has one! From the outside it looks like you're about to walk into a church but the inside is a fairly modern building with a whole floor dedicated to Origami. It was interesting to see and it certainly looks tricky. The guy that runs the museum wasn't there when I went but I've heard he's extremely passionate about origami and the museum and does guided tours with a chance to have a go at the end!
16) IAACC Pablo Serrano
This is the Aragonese Institute of Contemporary Art and Culture. Understandably it's an interesting building from the outside and completely different to the buildings which surround it. I didn't visit the museum but I did head up to the rooftop one evening to see the city from above. This rooftop is free to enter and often holds concerts and has a bar which was cool and different to see.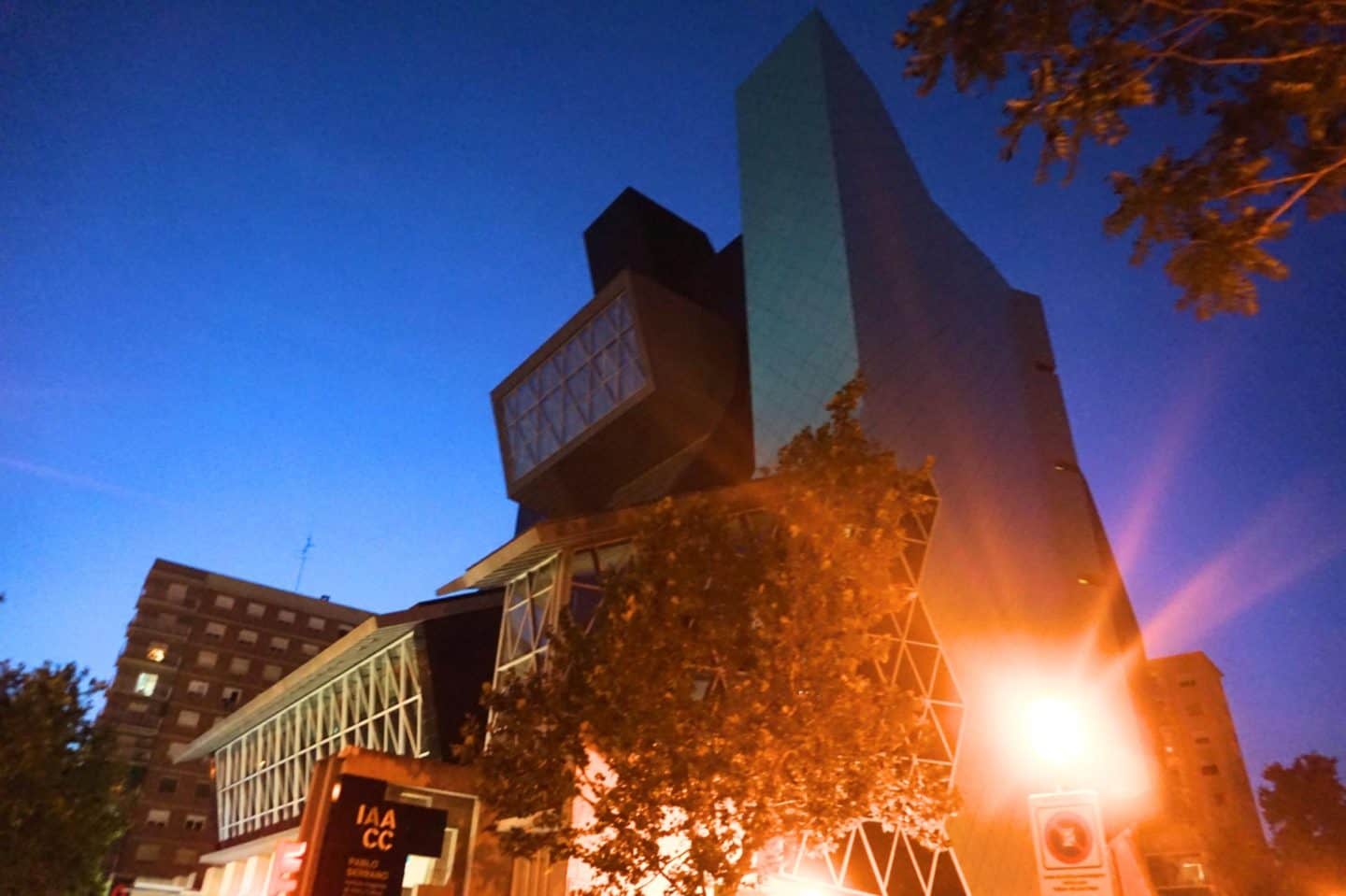 17) Church of San Pablo
This church sits in the El Gancho area of the city and dates back to the late 13th & early 14th century. It's a mix of Christian and Islam which is a trait that a lot of the city holds. The highlight of visiting this church for me was having a guided tour by Sergio who runs the church, he has a huge amount of knowledge and is very passionate. You can visit the church by yourself or you can arrange a tour with him, the plus of going on a guided tour is not only learning more but being able to go to the tower which gives 360 views of Zaragoza from a completely different angle than the Basilica gives!
18) See the Commercial Part of the City
I think it's important to not stick to Zaragoza's historical centre, therefore head up to Plaza de Espana where you'll see the main road of the commercial area. It's still home to many impressive buildings but understandably has a different vibe, you'll know you've found it when you see a Zara and a Mango!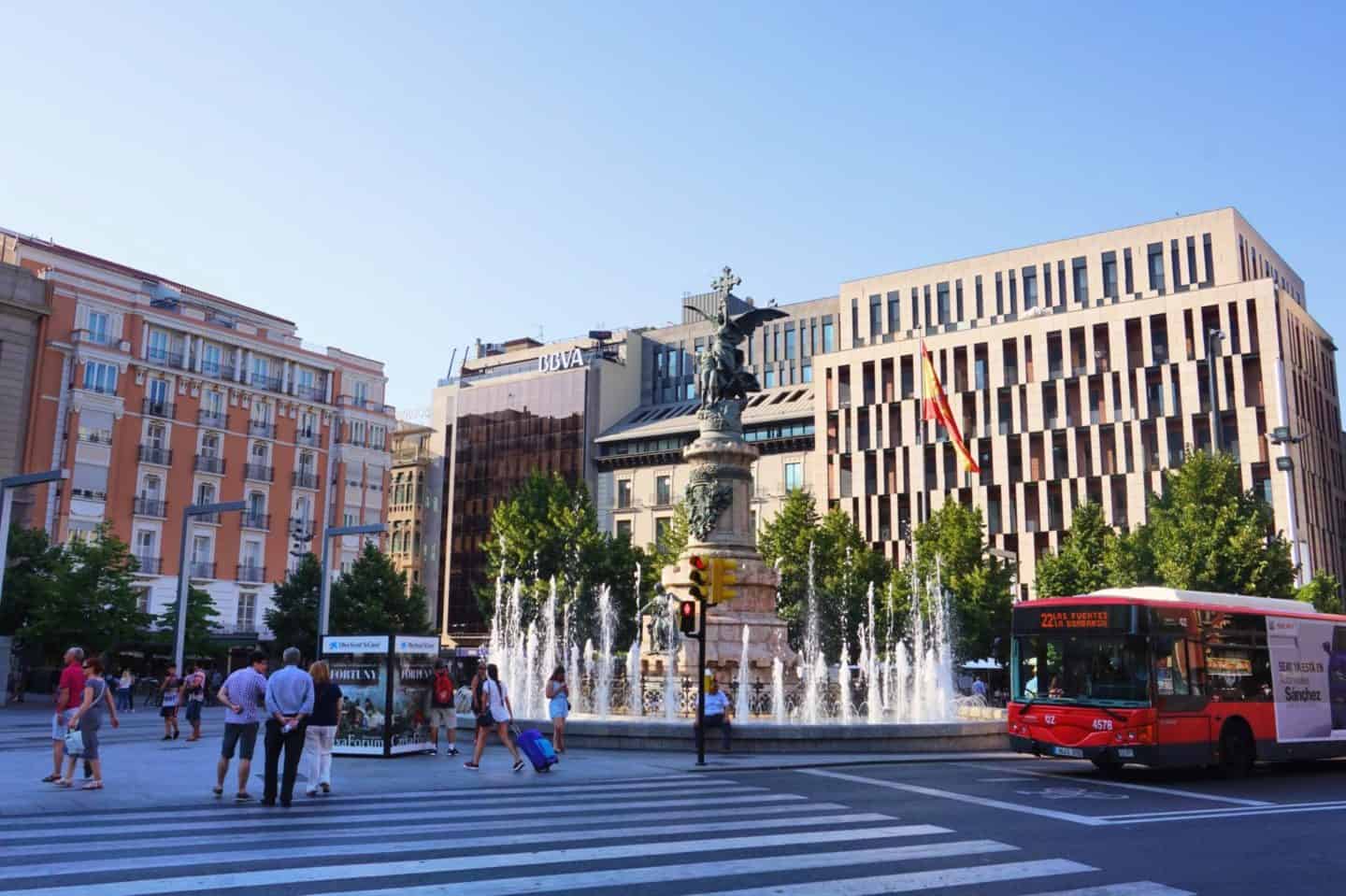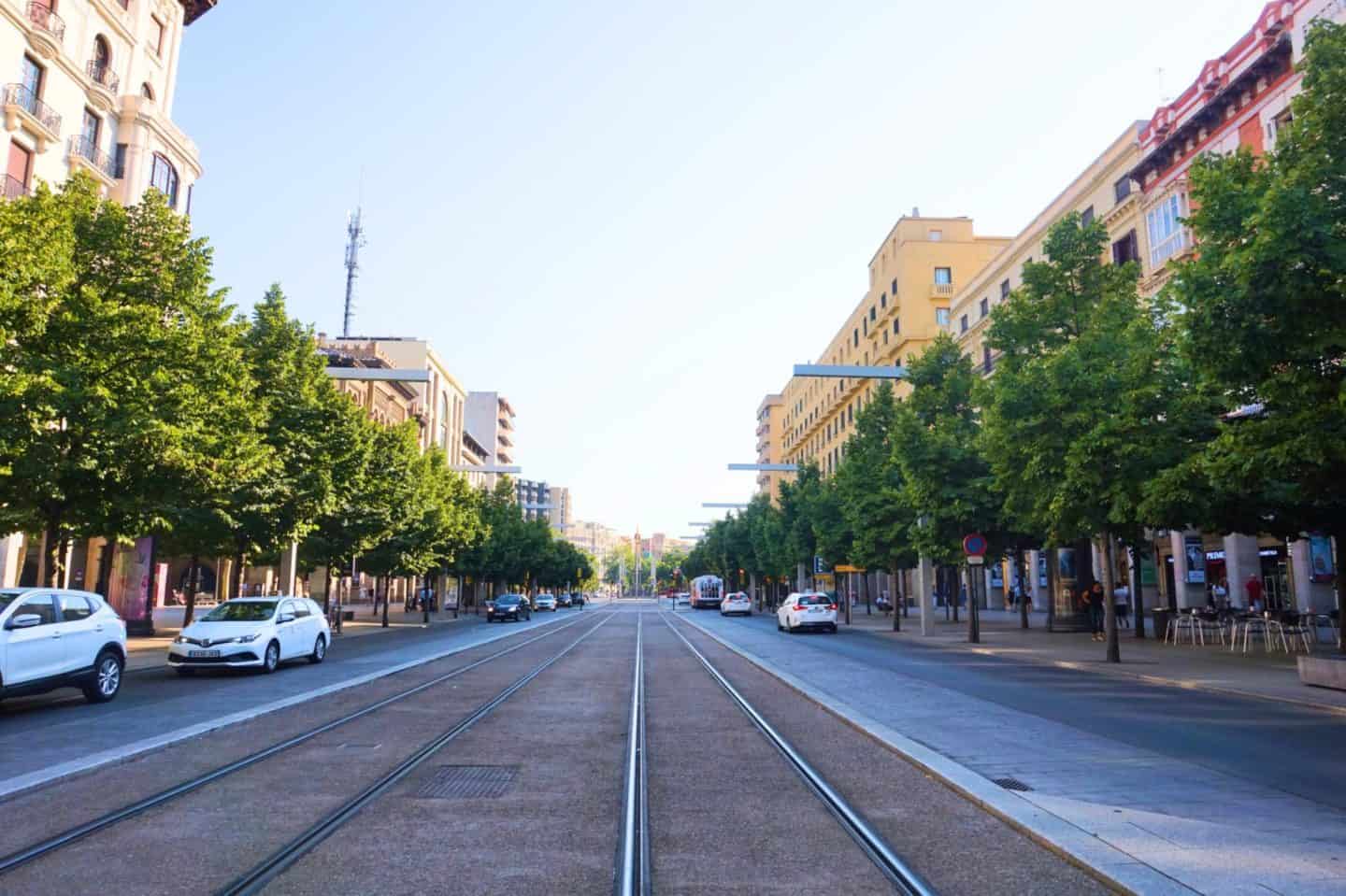 19) Mercado Central
A Central Market is the heart of a Spanish city and the one in Zaragoza is not to be missed. Constructed in 1903 in the same place that the 13th century market was housed. It's closed on Sundays but the rest of the week it's bustling with stalls selling a range of foods!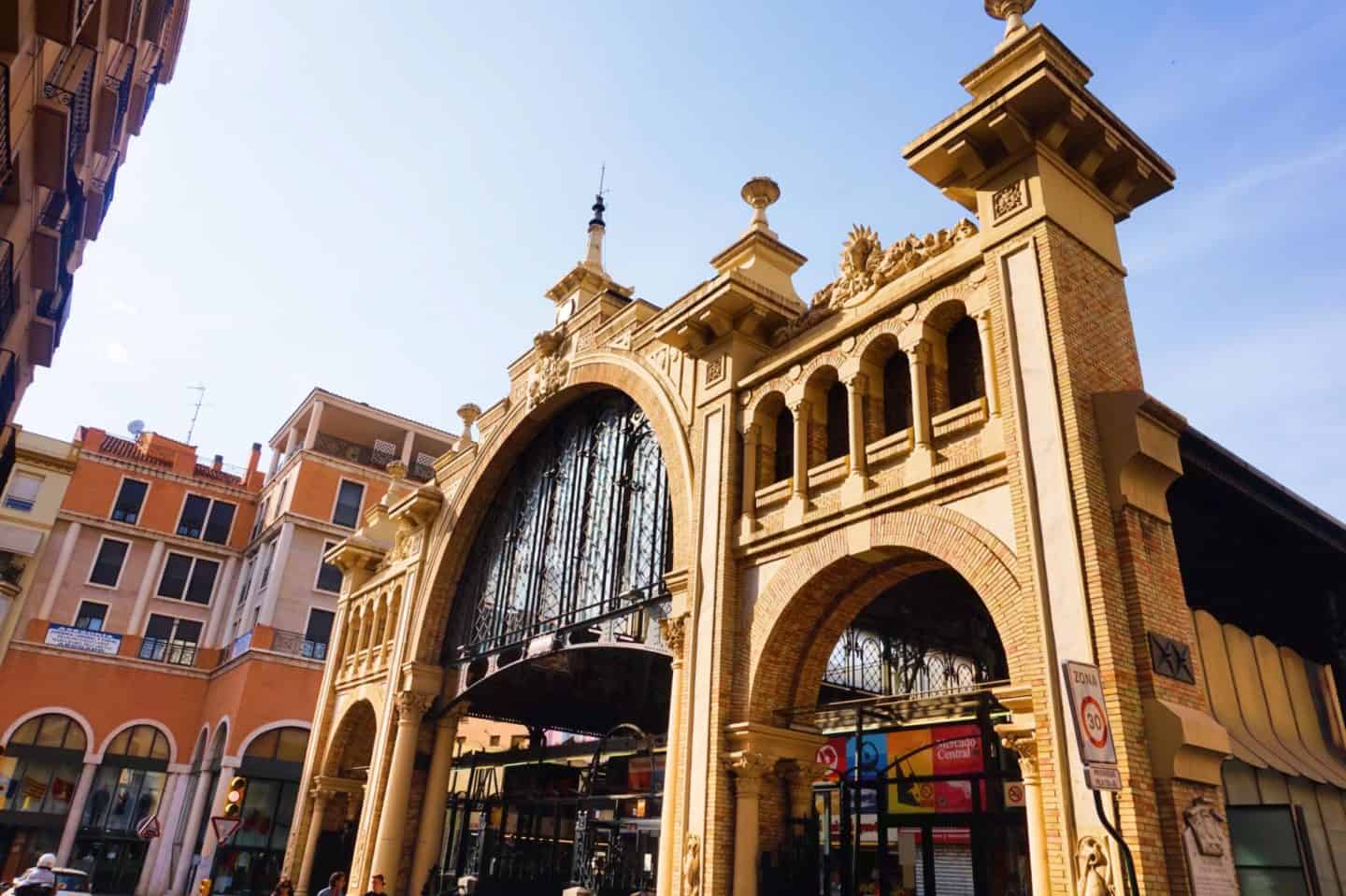 20) Walk down Calle de Alfonso
I stayed just down the road from Calle de Alfonso Street so it became one of my favourite streets, probably because of the Basilica sat so prominently at the end, and the fact that it's a calm, walking street!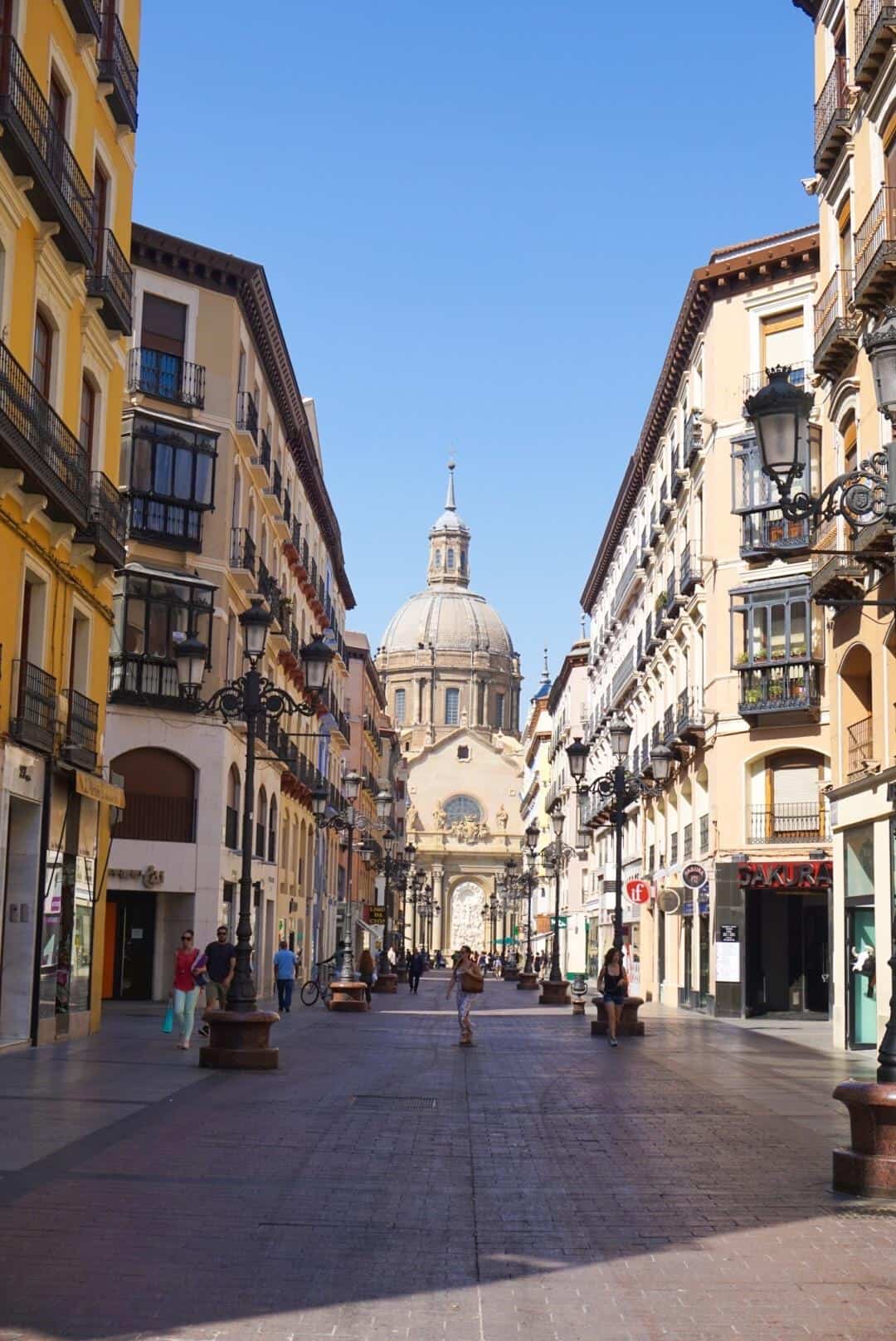 21) See where the leaning tower once stood in Plaza San Felipe
Head into Plaza San Felipe which is just off of Calle de Alfonso and you'll see a statue of a boy sitting down, look to where he is looking and you'll see a tower painted on the wall, if you look in front of that there is a circle of bricks that are different to the rest of the flooring. The tower in the picture used to stand here at an impressive 95meters however it used to lean and locals working in the area where worried it would fall so they removed it.. Imagine if they hadn't, could Zaragoza have been as popular as Pisa??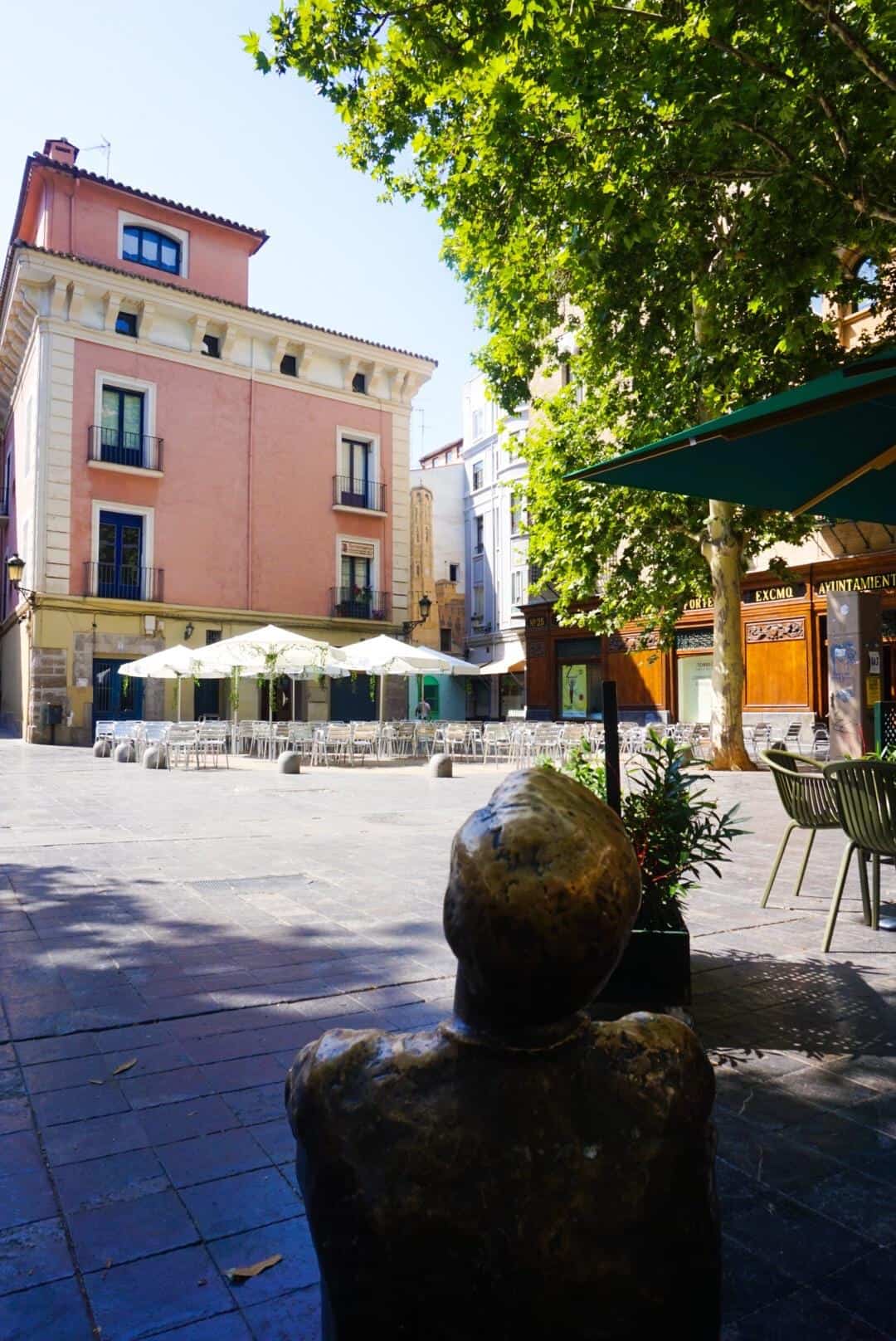 22) Visit the leaning tower museum in Montal
In Plaza San Felipe there is a restaurant and deli called Montal. I mention it later in the list for food but what you wouldn't realise from the outside is that it holds a small museum dedicated to the tower. It's really interesting to see pictures of it, and see the difference in the painted pictures.. it leans a lot more in some than others and really takes you back to what it would have been like a long time ago in the Plaza.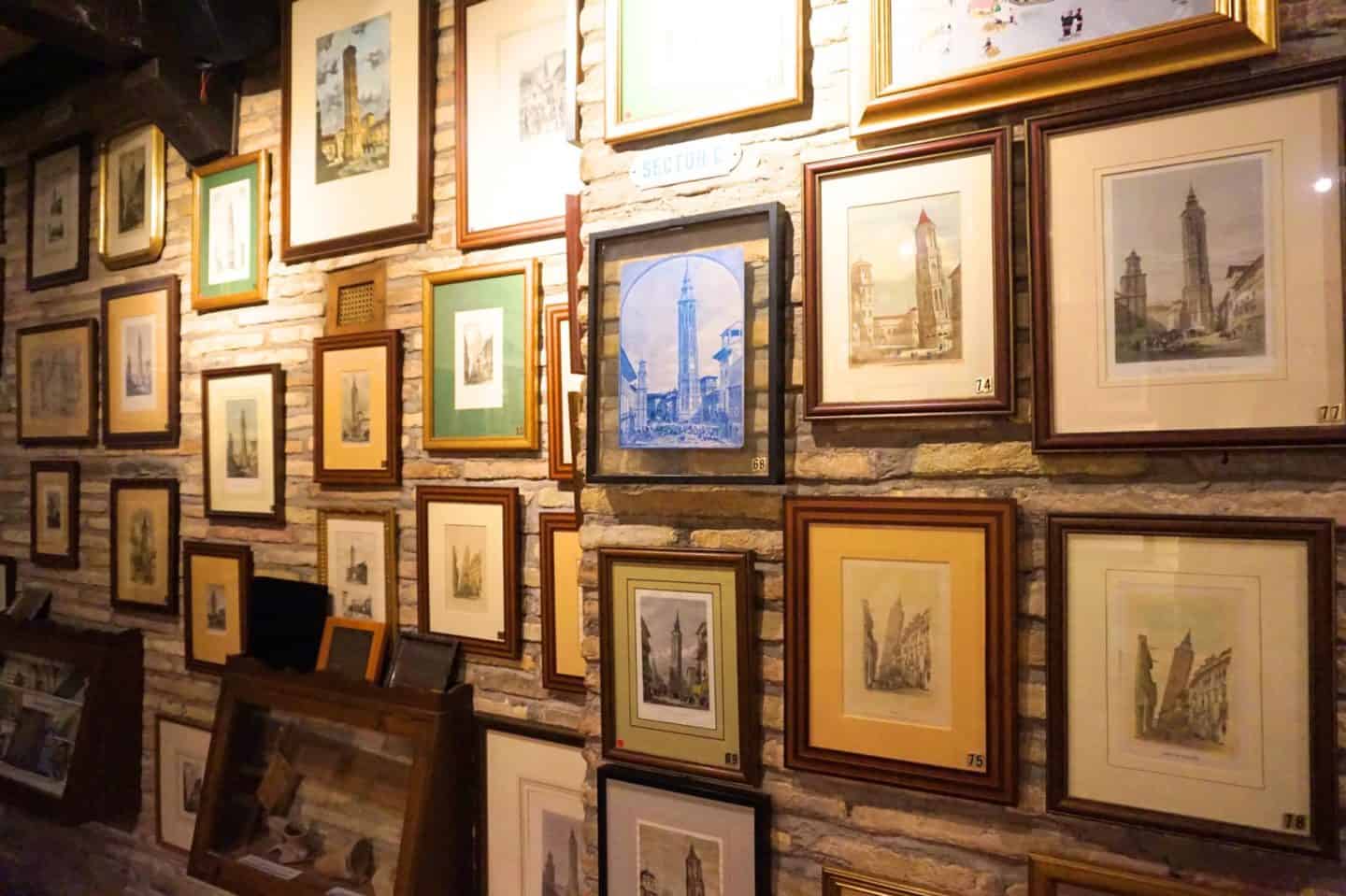 23) Parque Jose Antonio Labordeta
This Park is a 40 minute walk from the city or a short bus journey (I visited using the hop on, hop off bus), and it's a great way to see a green area of the city. Not only that but the park holds the highest point in the city which you can walk up and see the park below and the city in the distance (although it's not that high so it's not a steep walk!).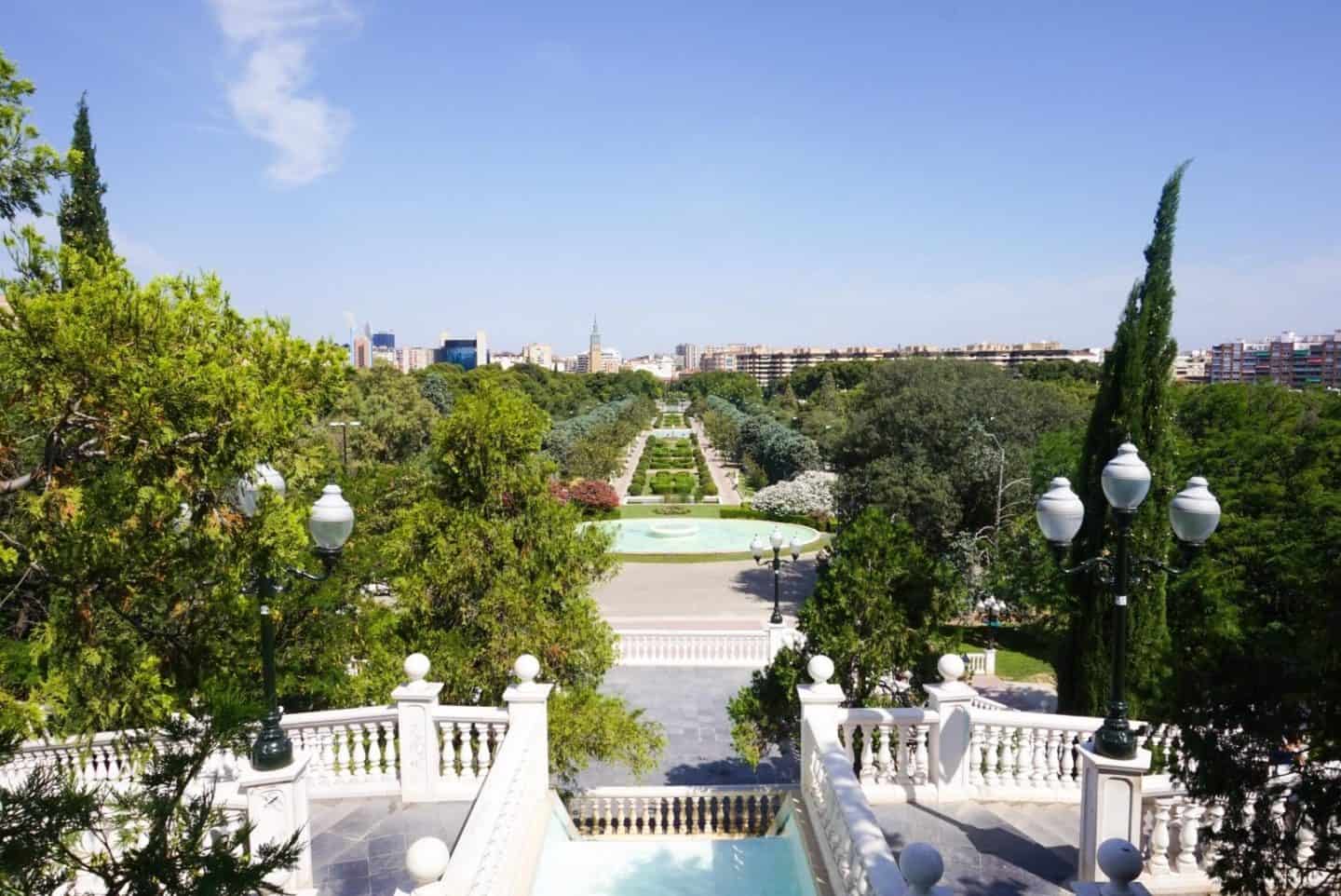 24) Zona Expo
This area was built as part of the 2008 International exhibition of Water and Sustainable Development. Zaragoza is very proud to have been home to this exhibition which lasted 3 months. The buildings are extremely modern and a complete contrast to the rest of the city, many of the building are in use these days and there are plans to make use of more of them. I visited as a stop on the hop on hop off bus and although it was slightly eerily quiet it was good to see.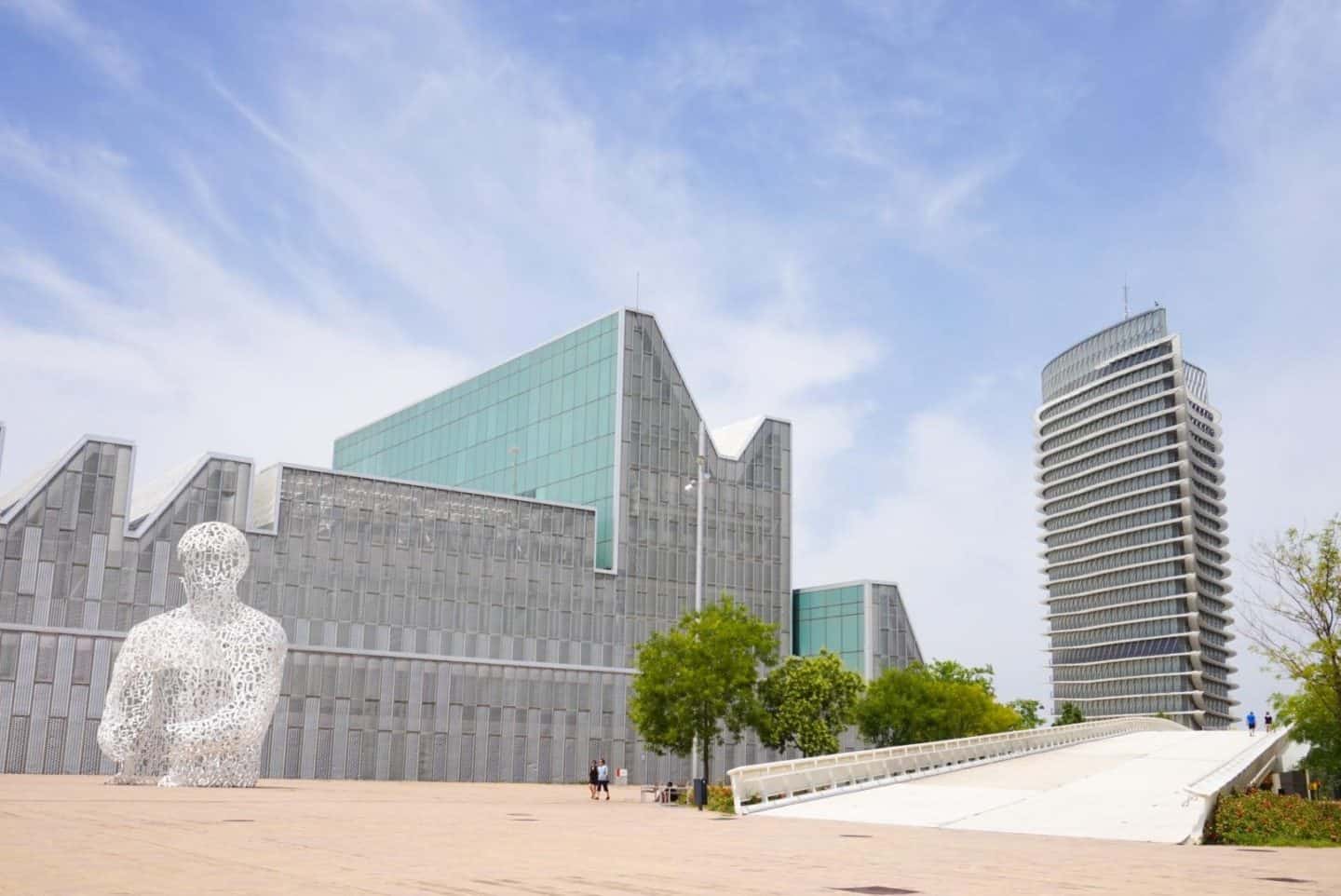 25) Parque del Agua
Also built in 2008 and close to the Expo area is a water park. It's home to a range of activities from rafting to horse riding to mini golf and is a great place for families!
26) Bridge Pavilion
Designed by the very famous architect Zaha Hadid, this bridge was also built as part of the 2008 expo as an exhibition pavilion. It's a very interesting design from the outside and can be used to cross over the river. 
27) Look out for a festival
Whilst in Zaragoza I learnt that it's home to a lot of festivals. They have a huge festival in October called Fiestas del Pilar which lasts a week and people party in the whole of the plaza! They also have a street art festival in September (more about that below), and when I was there in June there was an urban dance festival so keep a look out for what might be happening when you visit!
28) Say Hello to the staff at the Tourism Office's
I went to Zaragoza on a press trip so I met with a few ladies who work at the tourism office and they were so nice! There's 3 main offices in the city which are easy to see and find and the staff are there to help you get around their lovely city so be sure to go in and say Hola!
---
For accommodation in Zaragoza check out what Booking.com has to offer. I use this site to book nearly all of my accommodation! When you book use the code 'THEWAN100' and we'll both get £15.00 off!
---
29) Go up the Tourist Office Tower
If you want another way to see the city from above then visit the Tourist office which is in the Tower of la Zuda where you can walk up to the fifth floor and see the view from the top. Whilst inside and on the ground floor it's also possible to see Roman ruins that sit below the tower.
30) Hop on, hop off bus around the city
I know this may seem like a touristy thing to do in a not so touristy City however I really enjoyed the bus when I was in Zaragoza as it's a good way to see places that are slightly further out of the city like the Jose Antonio Labordeta Park I mentioned above and the Expo Centre. Not only that but there is an audio guide in various languages to give you information on what you are passing.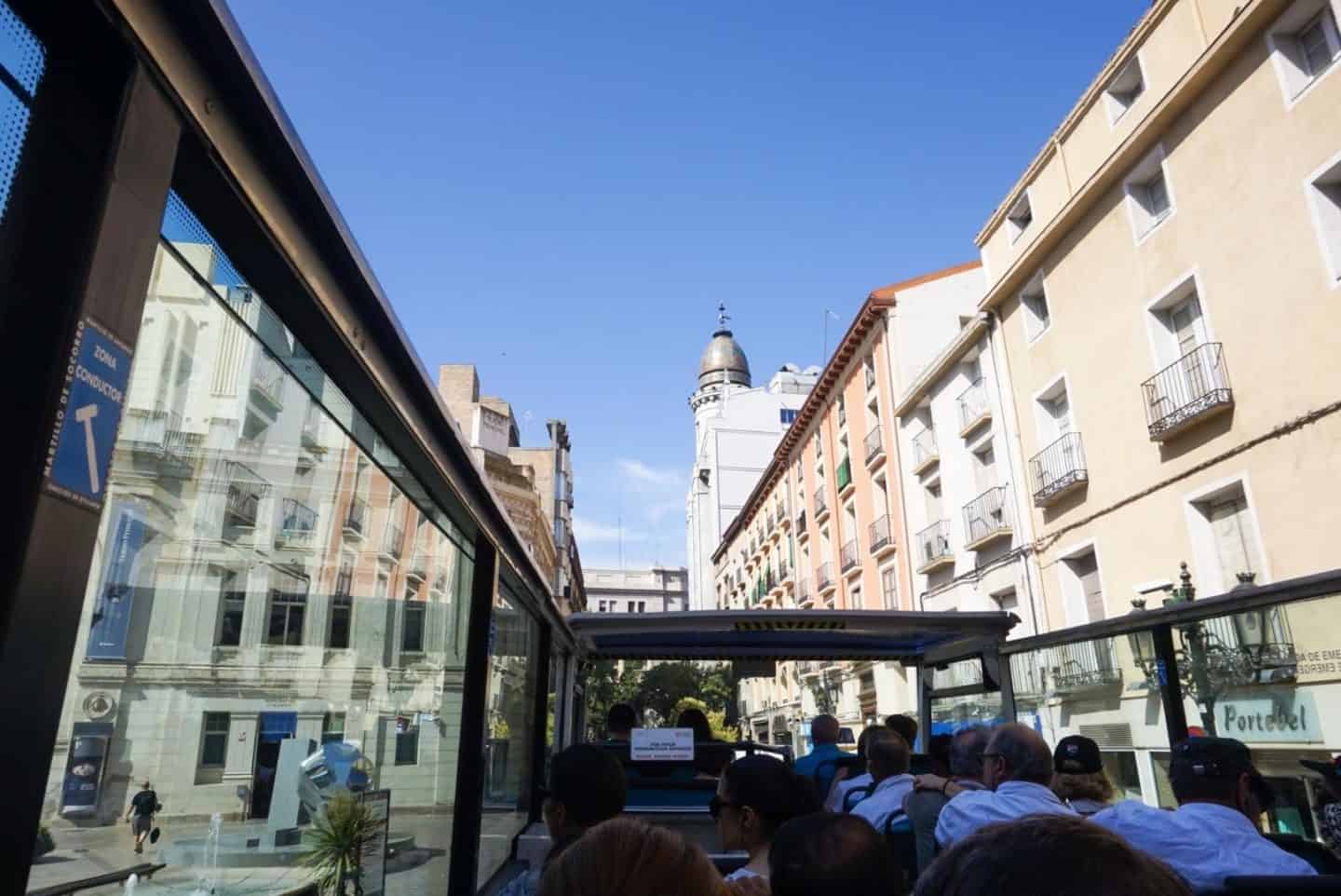 ---
If you would rather to a private City Tour then check out this tour!
---
31) Street art from Festival Asalto in El Gancho
I did not associate Zaragoza with Street Art but this is another way in which it surprised me. Every September Zaragoza hosts an Urban art festival called Festival Asalto. Artists from all over the world take part and they have 1 week to complete their piece on a designated area of the city. Their website is a great way to see what the week looks like and in El Gancho you can see a lot of their work so take a walk up Calle del Las Armas and head off on some of the side streets.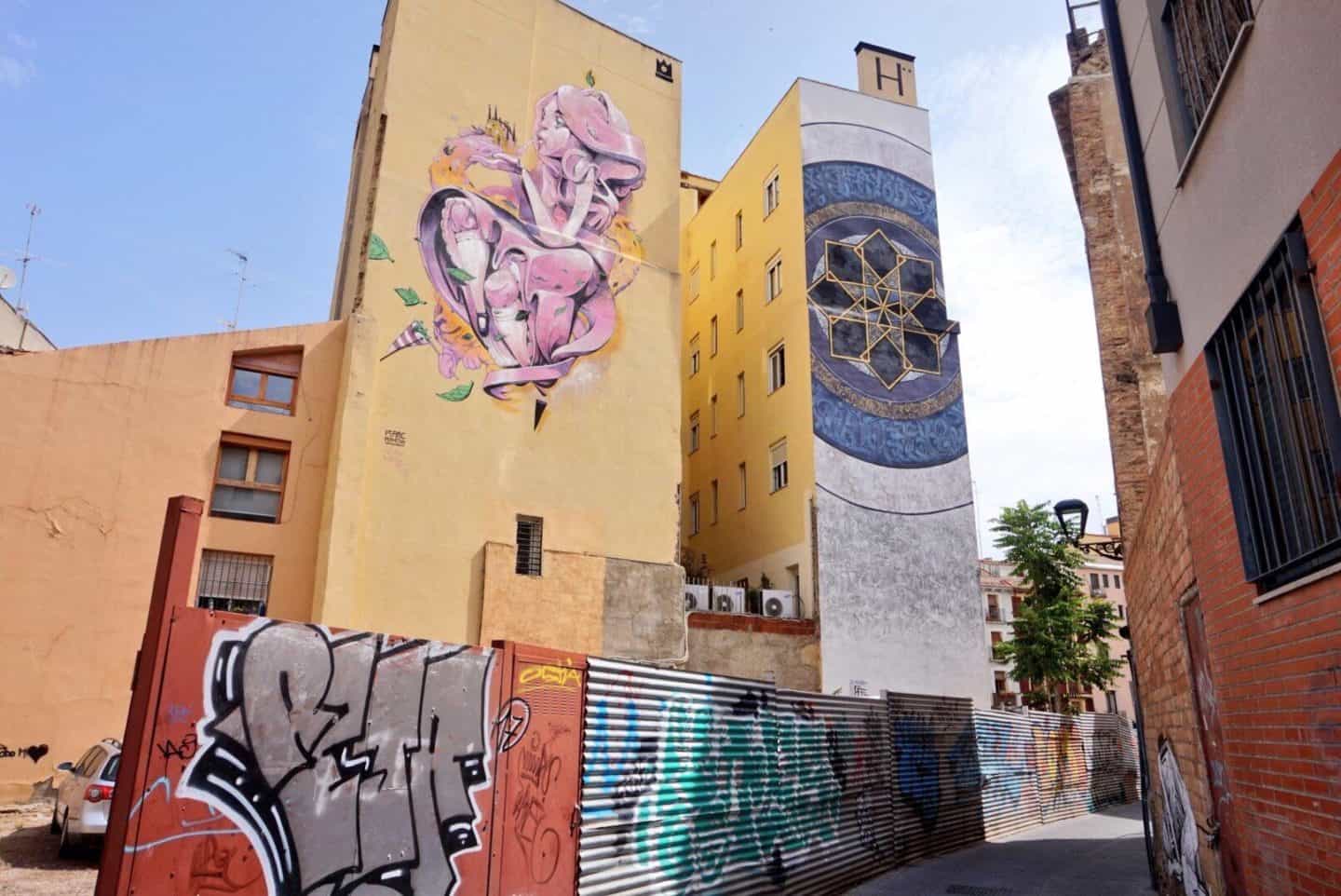 32) Monasterio de Piedra
Unfortunately I didn't get to visit this Monastery however there's always next time hey! It's not particularly close to the city but the reviews online sound good and a good way to see more of the Aragon region, it's also the home of Chocolate so if you go with the purchase of your entrance fee and when presenting the chocopass (see more below) you will be able to attend a chocolate tasting session! I found this link from TripAdvisor which details how to get there on public transport which might help you visit.
33) Try Borraja
This is a green vegetable which you can only get in this region in Spain as it grows there. It can't even be transported to another area in Spain let alone another Country as it will not survive so keep a look out for it on menus. I had it fried as tempura which was good and I had it in another dish mixed with potato!
34) Choco Pass
Zaragoza is actually famous for chocolate, it is said that in Monastery de Piedra the monks living in the monastery were the first people to try cocoa beans to make chocolate with in Europe. So the clever people at the tourism board have created a pass which currently 21 establishments are part of. The pass is €9.00 and it enables you to visit 5 of the 21 establishments in the city (plus a 6th pass for Monastery de Piedra) and collect different types of chocolate from them! Not only does this mean you get to sample lots of different chocolate but it pushes you to explore slightly more to find the shops that are listed and see the shops from the inside as some of them are very old and quaintly Spanish!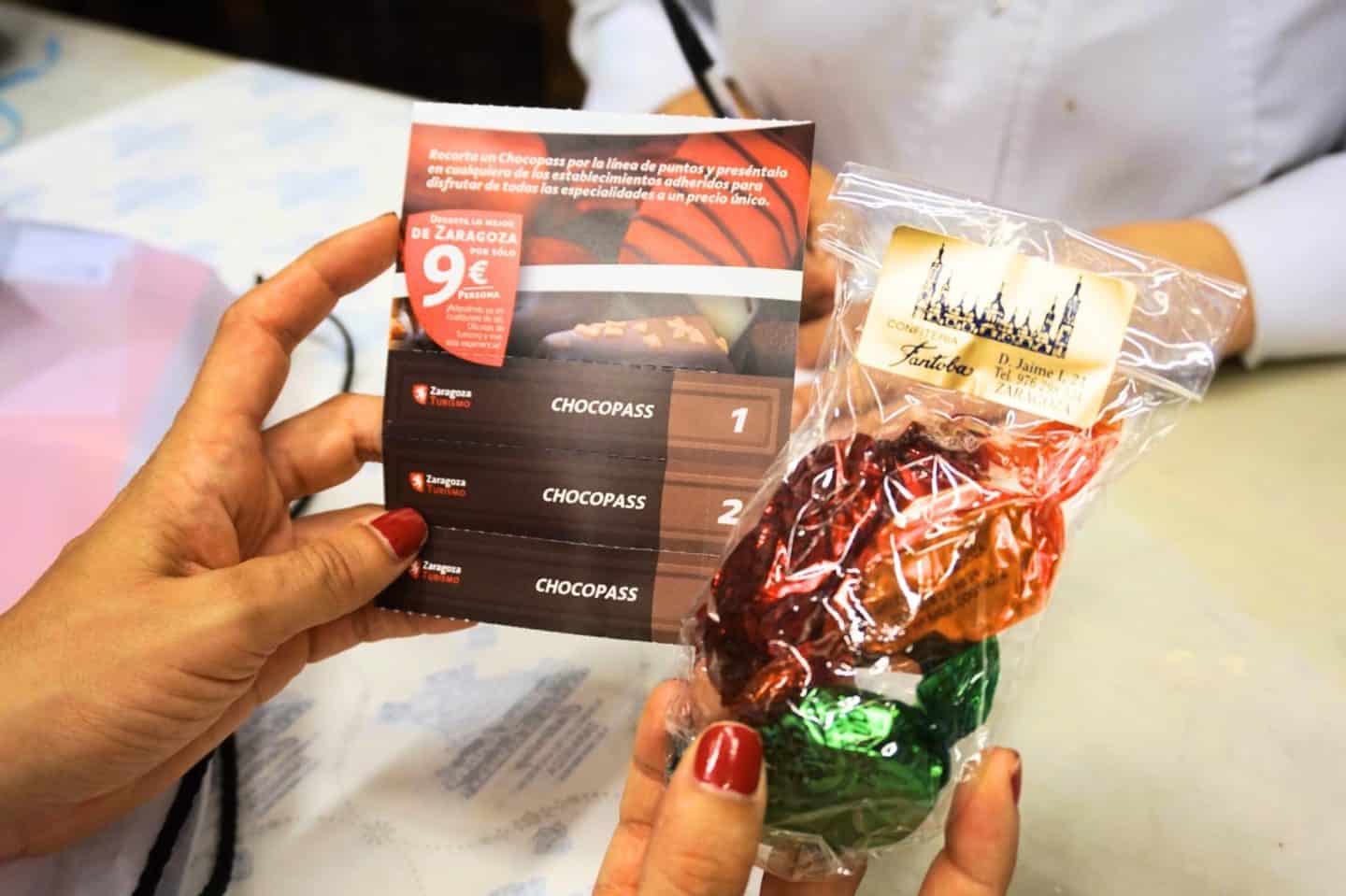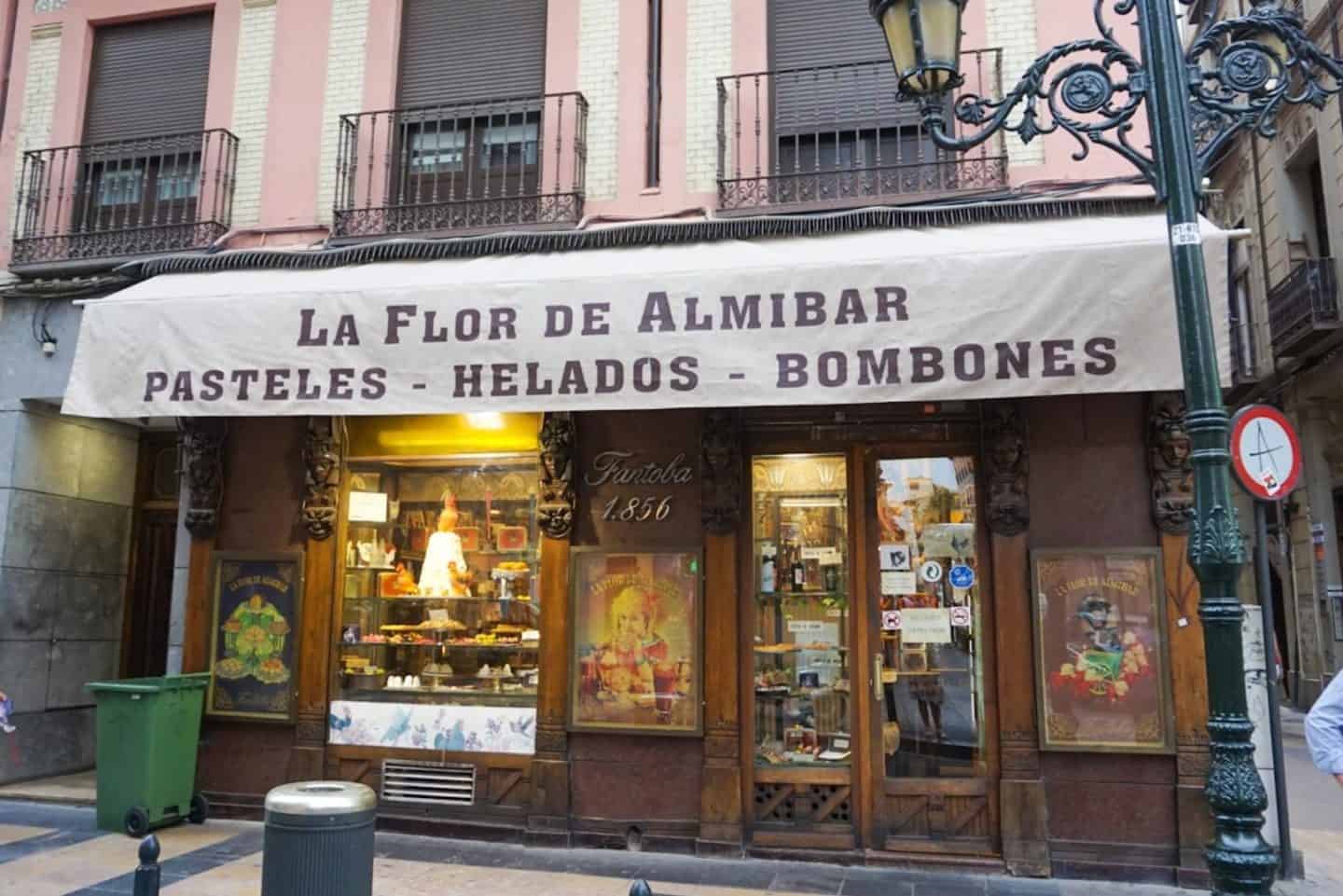 35) Tapas Pass
The Tapas Pass is the same idea as the Chocolate Pass. Basically you purchase a pass for €13.00 and you'll then get 4 different tapas and 4 drinks in different establishments (you can't use a drinks voucher and tapas voucher in the same place) which are all noted on the leaflet you get with the card. I think this is great idea for the same reason as above but even more so because this pass is ensuring that you see different bars and cafes and restaurants because there's so many in Zaragoza and they're all for local people with tourists passing by. For Tapas I went to these 4 places which were all close together, all really good and all a bit different! Izakaya, Casa Domino,  El Angel Del Pincho,  La Republicana.
36) Puerta Cinegia Gastronomica
This establishment is pretty much an indoor food market and it's great. Around the edges of the room are many stalls, most of which are from restaurants in the city and in the middle area is tables and chairs and a bar. It's a great way to view all your options before making a decision and see food in real life rather than choosing from a menu (this place will be good if you're Spanish is bad as you can just look and point!).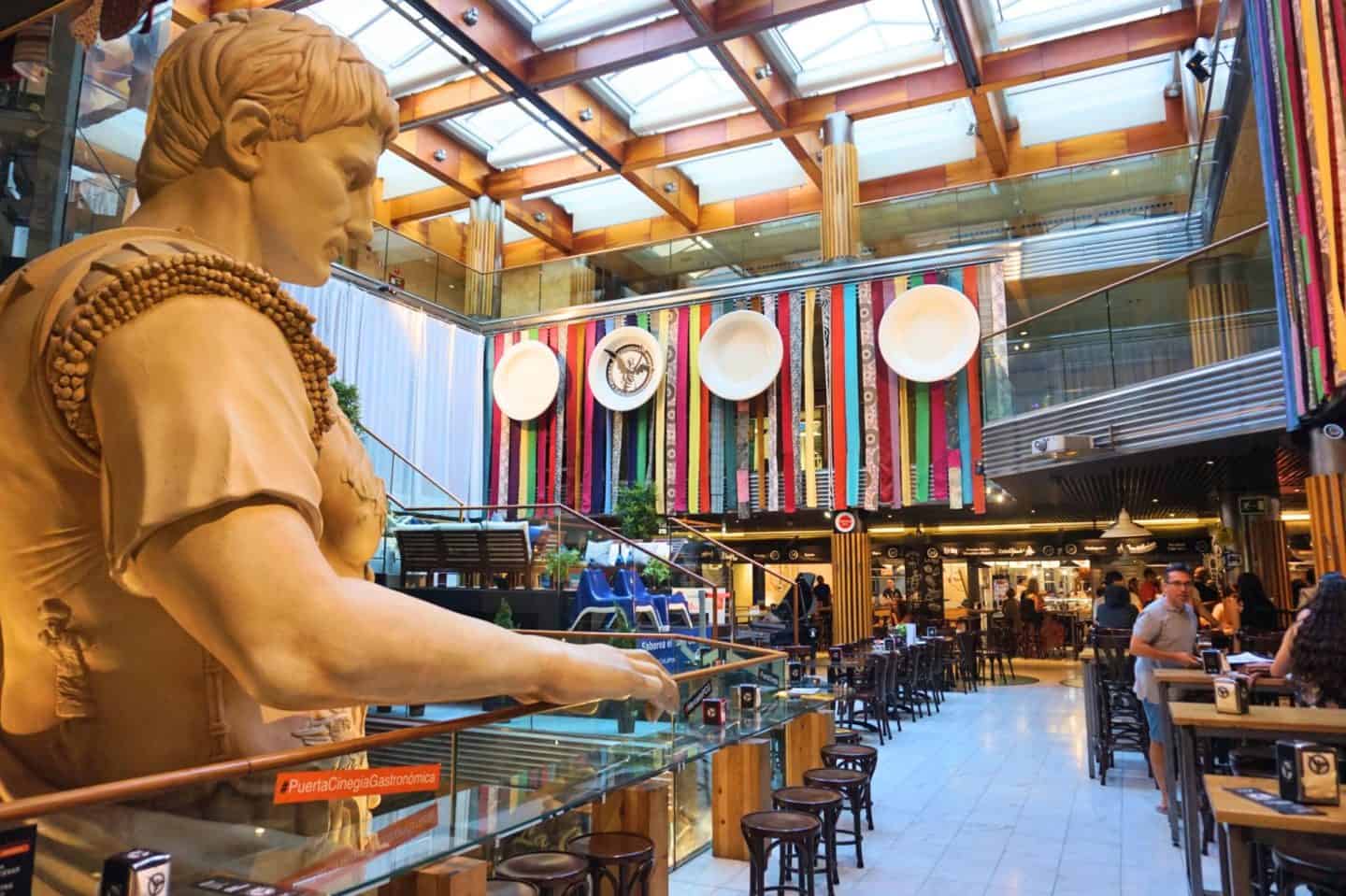 37) Have a real Spanish meal at Casa Lac
I had a wonderful meal at Casa Lac which consisted of various courses, this restaurant is a bit of an institution and many important dinners and lunches are held here. There are 2 dining possibilities, downstairs is a fairly relaxed bar and restaurant area where you can choose from a range of tapas dishes and upstairs is more of a fine dining experience for a set price. Either way the food is incredible from here and the staff are very friendly and helpful to.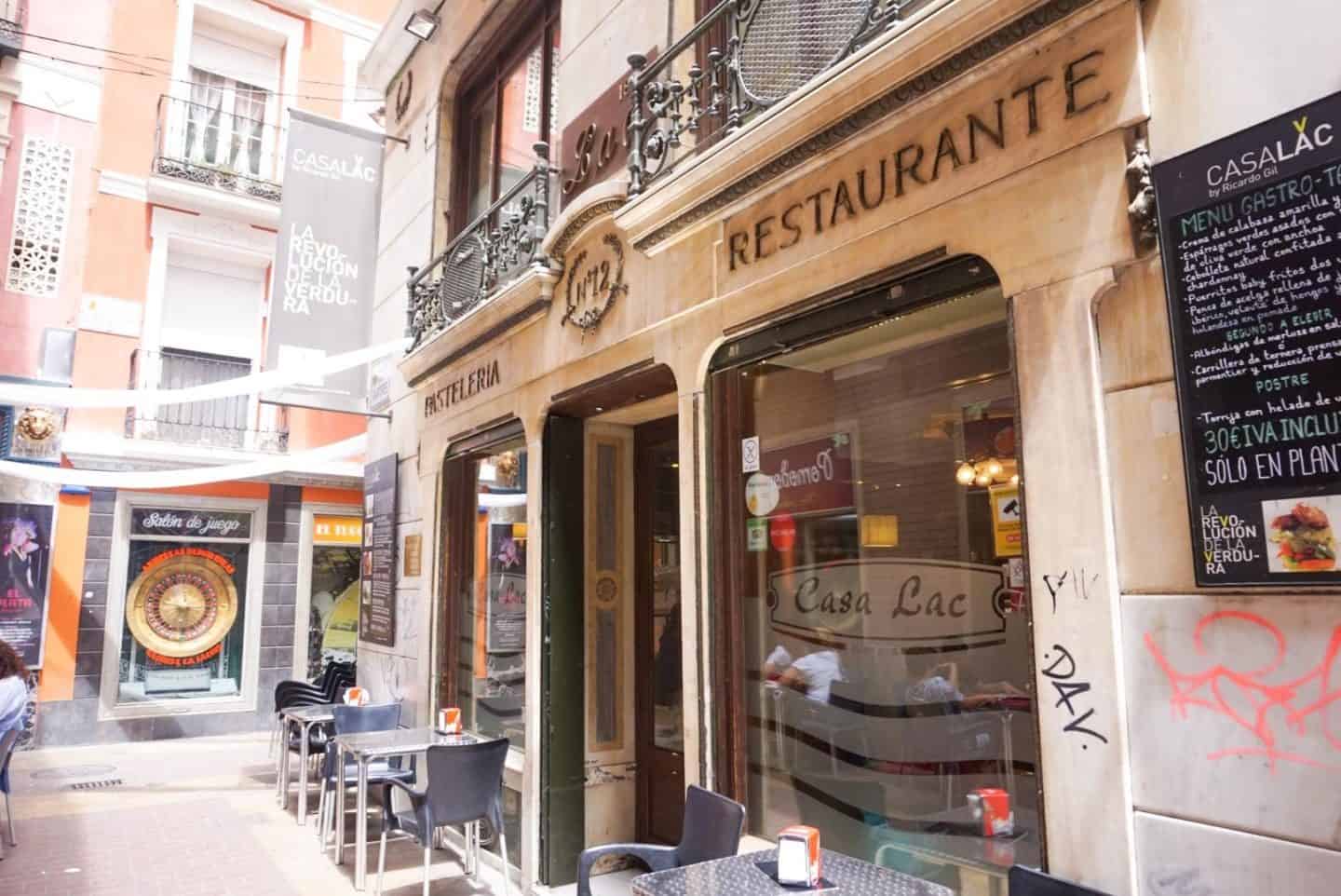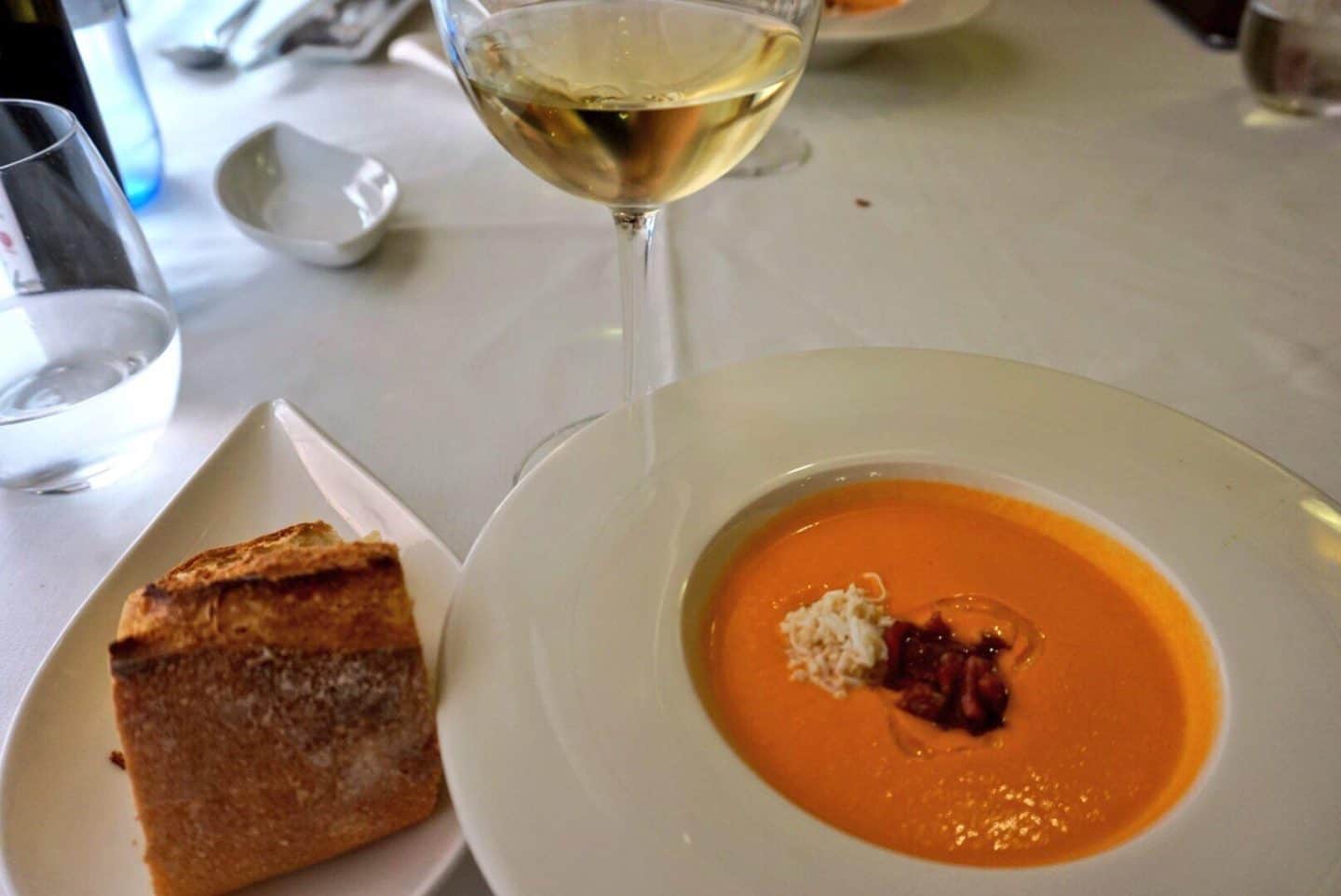 38) Have a real Spanish meal at Montal
Another restaurant I visited and loved is Montal. Based in Plaza San Felipe it holds the leaning tower museum I mentioned above, it also has a deli  which is what you may mistake it for if you didn't know it was a restaurant but it has inside and outside seating in the Plaza and serves an array of Spanish dishes. It's another restaurant that is very popular with locals too!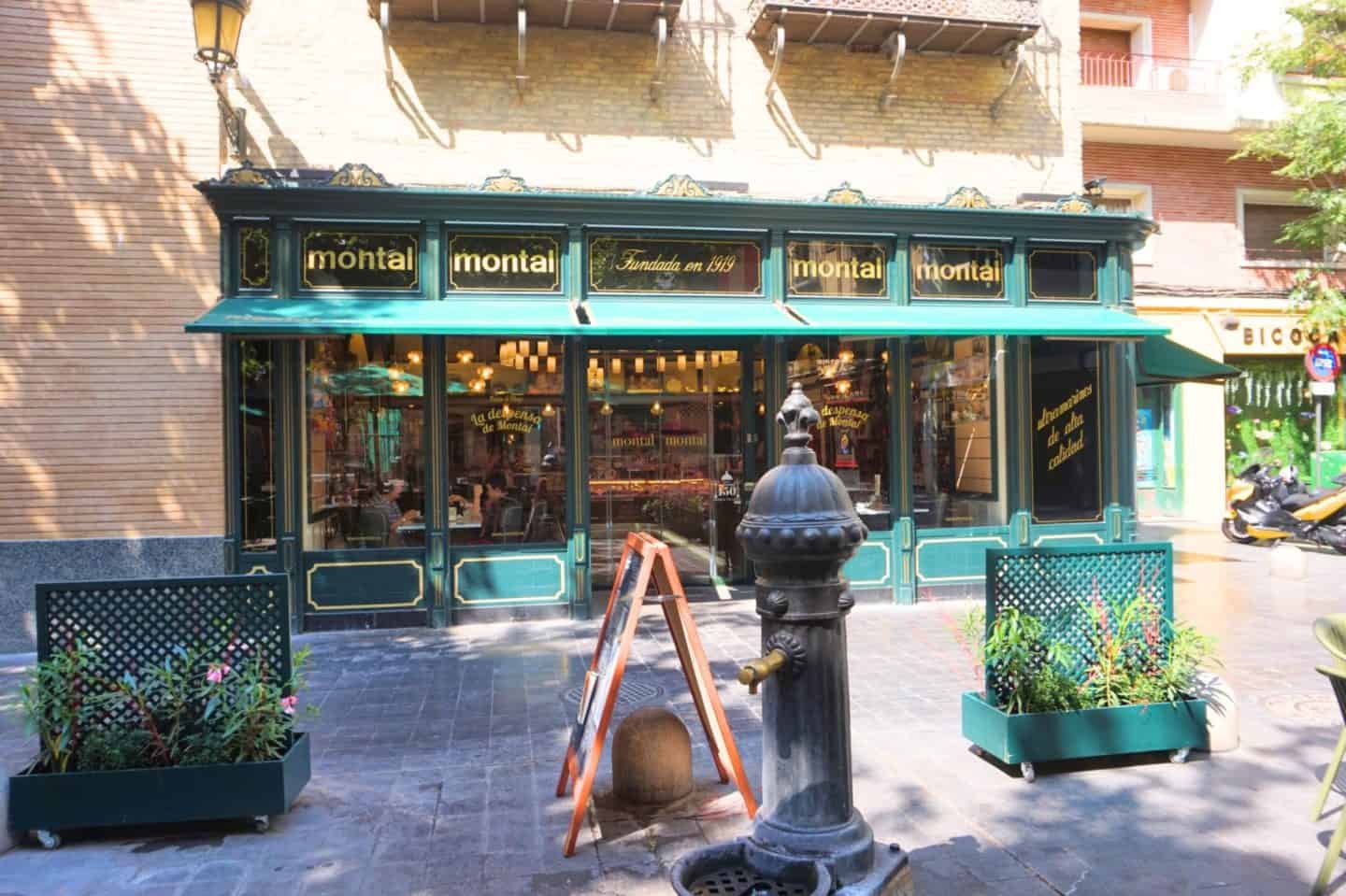 39) Explore the bars of El Tubo
Tubo means tube and the reason the area is called El Tubo is because the streets in this area are very small and narrow. This area is one of the main bar and restaurant areas of the city so you'll be sure to find somewhere serving a good Cerveza. It's interesting too as in the 90's it was a no-go area and has only been cleared up fairly recently using an initiative started by the shop and bar owners in the area.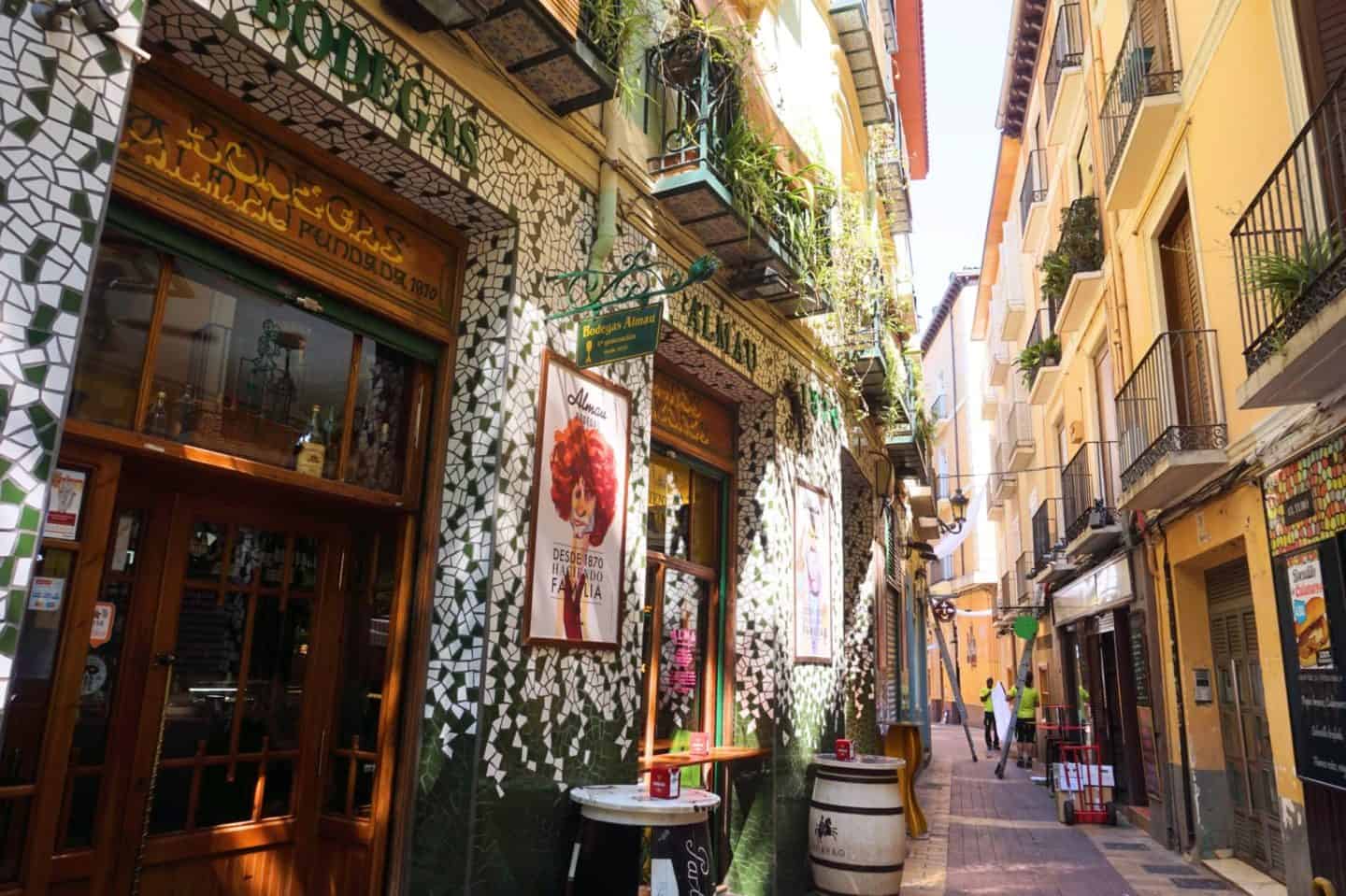 40) Coffee & Cake at a Cool Cafe
Although tapas and Spanish feel restaurants are what you need to eat and visit whilst in Zaragoza there are also a number of cool cafes which would rival some of London's cafes. I really liked Doña Hipolita which is in Plaza San Felipe and I heard it does the best red velvet cake! I also really liked the look of a place called Botanic so be sure to check these out!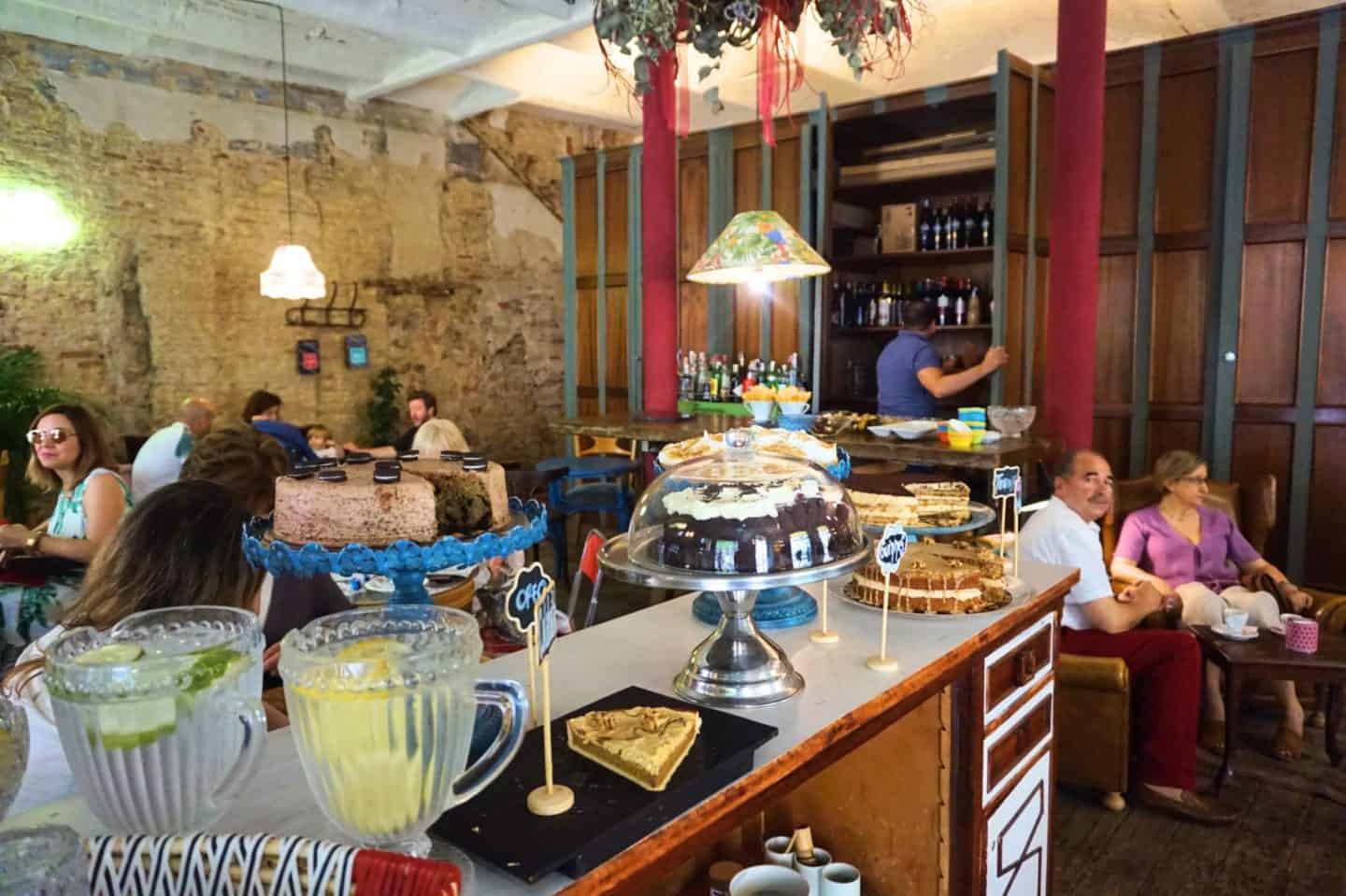 I hope you find this list helpful and it has proved to you that there is so much to do in and around Zaragoza, Spain!
If you have any questions on Zaragoza please let me know in the comments below or by tweeting me @wandering_quinn!
Be sure to check out Zaragoza's official tourism site too to help you out with any further information.
---
If you didn't see it already then my post 48Hour Guide to the Cultural Spanish City of Zaragoza will help you out on how to plan your days in the city and I've noted some useful information regarding how to get there, when to go, costs and the level of Spanish you need so be sure to have a look!
---
To SEE my trip to Zaragoza check out my 1 minute video!
---
Have I made you want to visit Zaragoza? I'm a total Skyscanner addict and find some great deals through their site. Why not look up some flights on Skyscanner now!?
To look on their app instead, click here!
For accommodation in Zaragoza for all budgets have a look on Booking.com. I use this site to book all of my hotels and I find some great places! When you book use the code 'THEWAN100' and we'll both get £15.00 off!
---
 If you love travelling around Europe like I do, you'll probably like these posts too!
Everything You Need to Know For a City Break to Basel, Switzerland!
The Best Way to see Venice and Escape the Crowds!
A First Timer's Guide to Visiting Berlin!
How I Spent One Day Exploring Amsterdam Solo!
How to Plan, Book and Have a European City Break on a Budget!
---
This post was written by me and brought to you by Spain & Zaragoza Turismo as part of the SpainCities Project however all opinions, thoughts and ramblings are my own. This post may contain some affiliate links.
SaveSave
SaveSaveSaveSave
SaveSaveSaveSave
SaveSave
SaveSave
SaveSave
SaveSave
SaveSave
SaveSave
SaveSave
SaveSave