This post may contain affiliate links. I will receive a small commission if you use these links.
---
Zaragoza is in the Northern part of Spain in the Aragon region and the 5th biggest city in Spain. It is home to an array of museums with museums dedicated to art and Roman History in particular. It holds a lot of important religious sites, a large number of beautiful Renaissance buildings and in addition to this the food and wine scene is incredible and its people are extremely hospitable.
I would highly recommend Zaragoza as the best Spanish City to visit if you want to see an authentic side of Spain. It's a perfect city to visit if you enjoy museums and architecture, good food and wine and want a relaxed trip and here's how you can plan all of that into your Zaragoza itinerary.
Zaragoza Itinerary
---
More of my Zaragoza Posts:
---
Day 1 in Zaragoza:
Morning to Mid Afternoon
Plaza del Pilar
Start your 2 days in Zaragoza and your Zaragoza itinerary by heading to the Plaza del Pilar, this is one of the largest pedestrian squares in Europe, check out the waterfall at one end which represents Latin America, see the world statue, look out for the statue's dedicated to Goya and take in the Basilica del Pilar- an incredible Baroque style temple and the biggest temple of Christianity in the world from the outside.
Basilica del Pilar is the best thing to see in Zaragoza because it is so impressive and shows why Zaragoza is one of the most beautiful cities in Spain!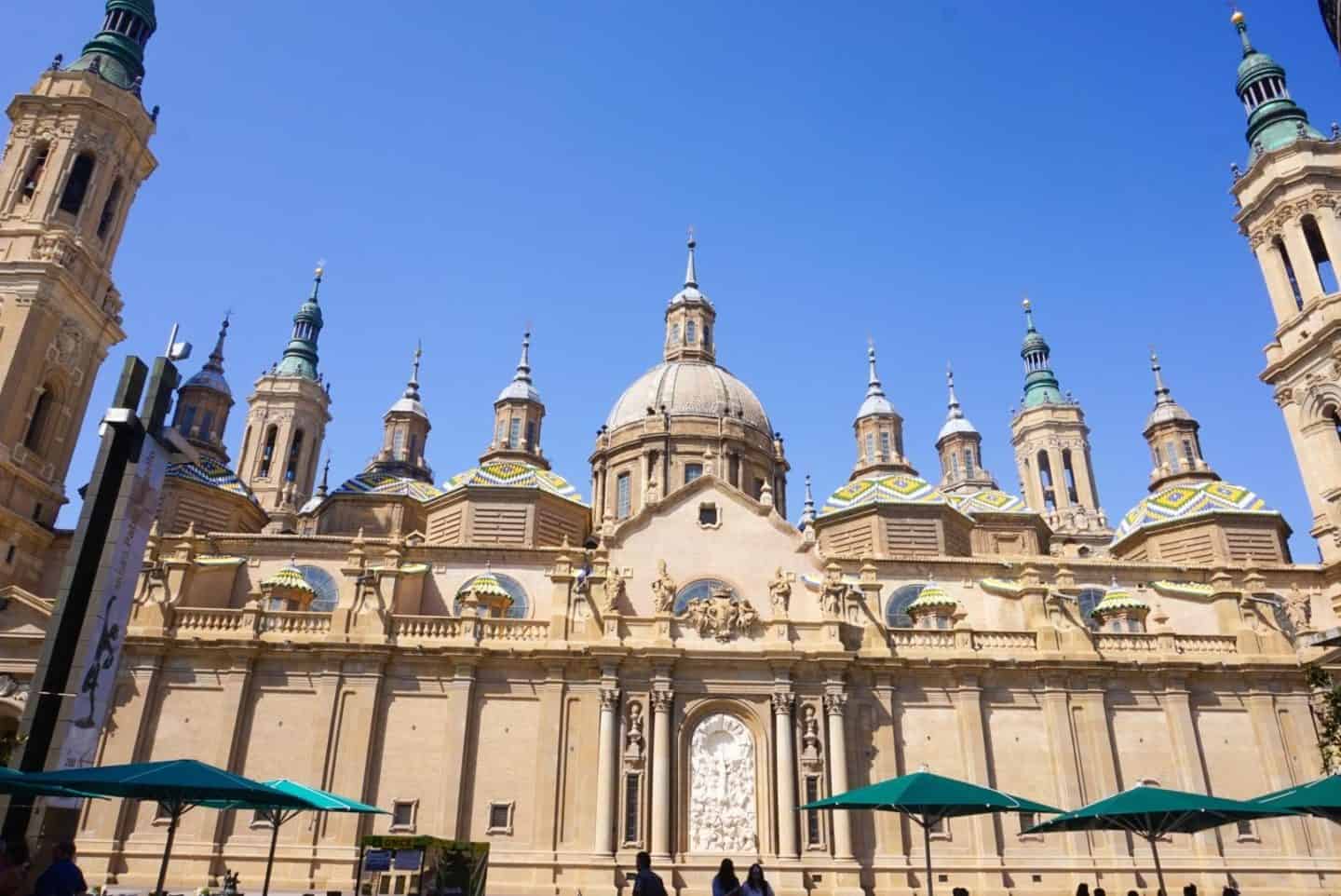 Basilica de Pilar
After this on your Zaragoza itinerary, head into the Basilica de Pilar, it's free to enter and is open from 6:45am each day. As you can imagine it is huge inside! It holds paintings from Goya, a famous painter from the Aragon region and there are regular services that you can observe.
When you leave the Basilica there is a little gift shop on both sides, the shop to the right sells coloured ribbons for €1.00 which are brought and given to others as gifts for protection.
Once you have finished, head to the Tourist office in the Plaza which opens at 10:00 am. The staff here are very friendly and are here to help you see their beautiful city of Zaragoza.
After you have spoken to the tourist office and had any questions answered that you needed advice or help on, go back to the Basilica del Pilar and take the lift to the top of one of the Towers after 10:00 am when it opens to see the best view of Zaragoza. The view from the Tower is incredible, the lift takes you 60meters up where you can see over the top of the Basilica, the river and both sides of the city!
There's even the chance to climb another 20meters to 80 meters up which is pretty good considering the tower itself is 92meters!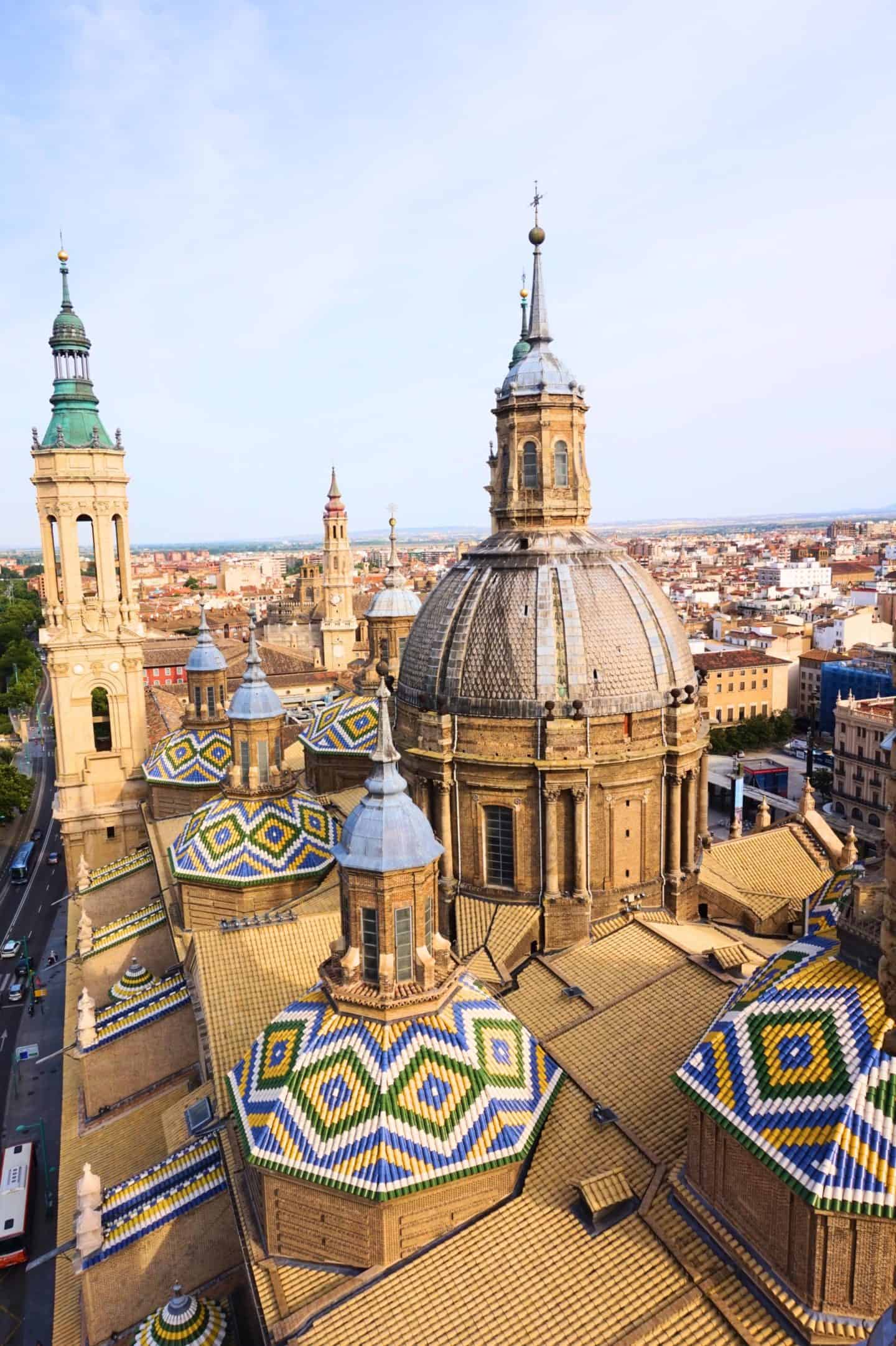 Museums in Zaragoza
Back on the lower ground, this is when I suggest you start making your way to the museums in Zaragoza on this Zaragoza itinerary.
Catedral del Salvador (La Seo) is a good place to start as it's at the end of the Plaza. This is another incredible church and is made up of a range of styles- Romanesque, Mudejar, Renaissance, Gothic & Baroque with a beautiful mosaic design on one of its sides. There is a brochure available in English so you can understand more about it.
Also inside is a Tapestry Museum home to a collection of impressive, huge, Flemish tapestries from the 15th to 18th Century, there is an English audio guide available too.
Next to the Cathedral is Museo del Foro, this is one of the Roman Museums within the city. From the outside you cannot tell what it's home to but once you go down the stairs you'll find Roman ruins that are from the era in which the city had the name Caesaraugusta.
There are regular screenings to provide more information about the museum and the findings which are played in English and in Spanish.
Next up head to the Museo Goya, which is just a few streets away and a very popular museum in Zaragoza. It is housed in a Renaissance-style building which is typical of an old home. Here you can learn more about the life of Goya and see a large collection of his paintings.
Goya is one of the most important painters in the world and it is said that he is the father of the modern movement, locals are very proud that he is from the Aragon Region of which Zaragoza sits in Spain. The war influenced a lot of his paintings and he criticised the society of his time which shows in a lot of his prints.
On the lower ground floor, there is an audio-visual projection about his life and paintings which is interesting, it's of high quality and plays the film in English at 11:15, 12:15, 13:15, 17:15, 18:15 and 19:15, between these times are French and Spanish viewings. A lot of the signs are in English and there are interactive iPad's in Spanish, English and French. It has free admission on the second Sunday of every month.
---
---
Zaragoza ChocoPass
Whilst you're walking between the museums of Zaragoza and exploring the historical centre now is the time to start exploring the city in a sweeter way and start your ChocoPass where you can collect Chocolate over the course of the next 2 days in Zaragoza (if you want to get this, and I recommend you do, get it from the Tourist Office when you pass by)!
Zaragoza has a monastery nearby (Monastery de Piedra) and it is said that the monks in this monastery were the first people to try cocoa beans to make chocolate in Europe. Therefore there are lots of Chocolate shops in the city selling a range of different chocolates and the Chocopass enables you to visit 5 out of 21 establishments in the city (plus a 6th pass for Monastery de Piedra) signed up to the pass and collect chocolate from them when you present your pass.
The paperwork with the pass details the shops that it's valid at and what you'll get from the shops however I would recommend going to Fantoba Hermanos s.l and Capricho Taller De Chocolate for 2 of the passes as the chocolate provided is sealed so you can take it away rather than having to eat it there and then and both have very nice owners and are interesting from the inside and outside.
Lunch
It's true that the Spanish do not eat until mid-afternoon and Zaragoza being the very authentic Spanish City that it is does not have many restaurants or cafe's open until later in the afternoon so keep this in mind when planning your Zaragoza itinerary!
Casa Lac Restaurant Zaragoza
I would recommend heading to Casa Lac in the El Tubo area for a great Spanish lunch from about 14:30 onwards. This is a very typical Spanish restaurant with 2 dining possibilities, downstairs is a fairly relaxed bar and restaurant area where you can choose from a range of tapas dishes and upstairs is more of a fine dining experience for a set price (see photos below to get an idea of what is served for this option!).
Either way, the food is incredible from here and the staff are very friendly and helpful too. They even have a website which can be translated to English, take a look here.
Late Afternoon
Paseo de la Independencia
Zaragoza is not just home to the historical centre and I think it's important to see the more commercialised side of the city too. Although there is a tram which runs across the city, Zaragoza is very walkable so it's easy to get from the historical centre into the more commercialised section.
From Casa Lac and the El Tubo area head to and up Paseo de la Independencia and straight away you will see that the streets widen and the shops hold many international brands however this doesn't mean that the architecture isn't just as incredible!
Museo de Zaragoza
I would suggest heading to Museo de Zaragoza after 17:00 when it reopens on your Zaragoza itinerary (note that it closes at 14:00 on Sunday and does not re-open) which is in an area called Los Sitios. The museum is free and divided into 2 sections, Archaeology and Fine Art and once again you can see an example of Goya's art and the building itself is very impressive with a beautiful courtyard.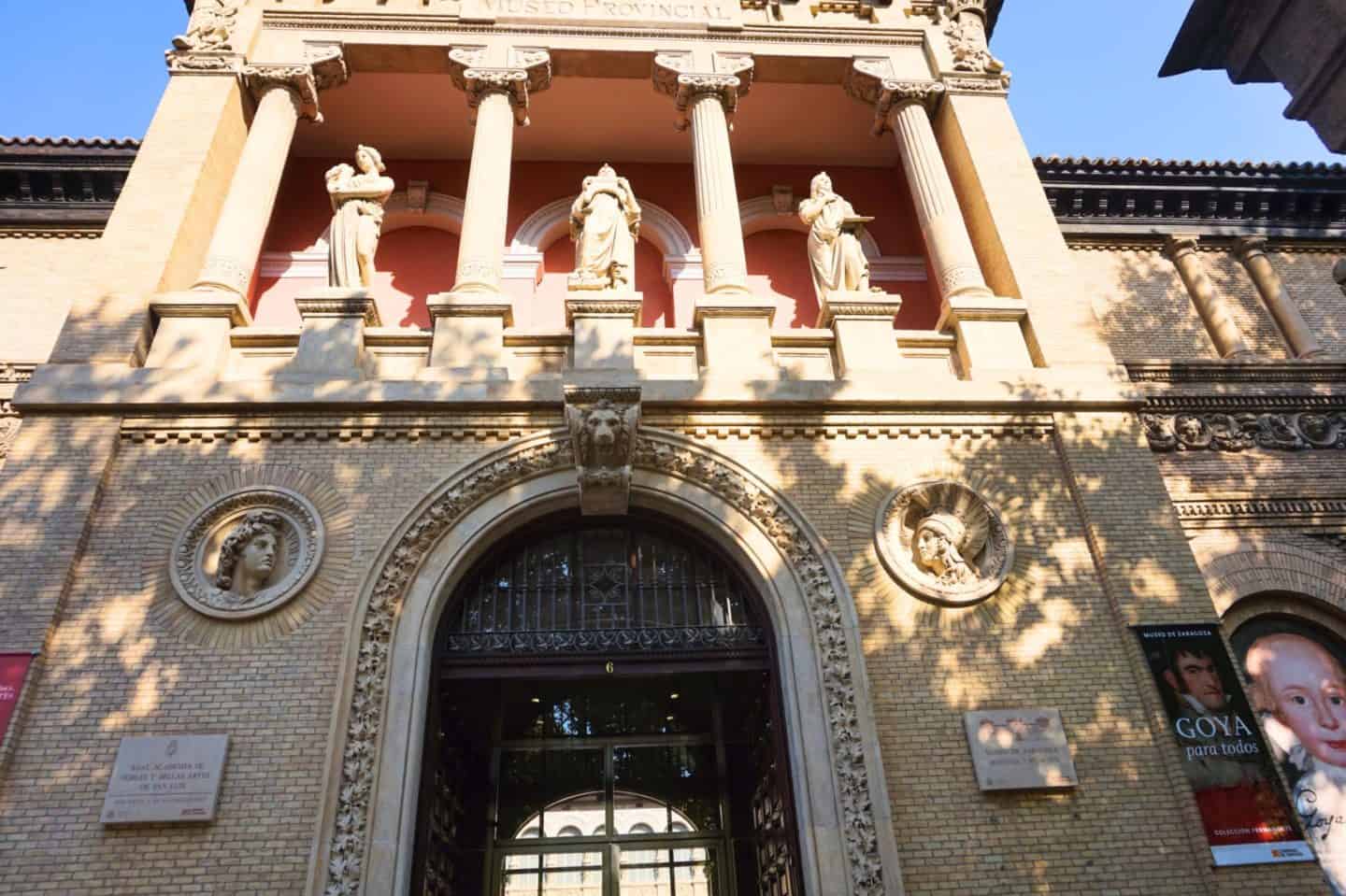 ---
If you'd like to do a tour around Zaragoza including a Tapas Tour with a local, have a look at availability for one of these tours:
---
Early Evening
Head back to your hotel to freshen up and have a siesta if you wish, it is the Spanish way of course because remember that dinner will not start until late either!
I really recommend Hotel Alfonso in Zaragoza, it's a beautiful hotel in the best location and it has a rooftop pool which is perfect for those hot Spanish Afternoons! For more hotels in Zaragoza, Booking.com has plenty available.
Evening
Restaurants in Zaragoza
This evening I would suggest heading out for Tapas as the Tapas scene in Zaragoza is really great. 4 Places that are close together and are really good are: Izakaya, Casa Domino, El Angel Del Pincho & La Republicana.
If you are Vegetarian or Vegan, you can still get really good food in Zaragoza, for my recommendations have a look at: 6 Great Vegetarian and Vegan Places to Eat in Zaragoza, Spain!
For more ideas on hotels to stay in Zaragoza and where to eat in Zaragoza including Tapas and 3 Course Spanish meals, have a look at: A Full Guide to Zaragoza, Spain.
El Tubo
I would recommend staying for drinks in the El Tubo area because this is where quite a few of the bars in Zaragoza are. One of the things I liked most about Zaragoza is that the locals and tourists merge, there are no tourist bars or restaurants in Zaragoza so you can get a really good feel of local life wherever you go.
The El Tubo area is interesting too as in the 90's it was a no-go area and has only been cleared up fairly recently using an initiative started by the shop and bar owners in the area.
---
To SEE my second trip to Zaragoza, have a look at my YouTube video here!
---
Day 2 in Zaragoza:
Morning
Zaragoza Hop-On Hop-Off Bus
For day 2 of your Zaragoza itinerary. Be at the bus stop opposite Catedral del Salvador for 10:30am which is when the Zaragoza hop-on hop-off bus will arrive. Your ticket for this can be purchased in the Tourist Office.
Buses like this appear very touristy and are not very 'local and authentic', everything that I have said Zaragoza is, however this bus tour around Zaragoza is the best way to see Zaragoza today because the destinations it visits are not particularly walkable from the historic centre and there is an audio guide in various languages to provide more information about the city.
Parque Jose Antonio Labordeta
After being on board for about 15-20 minutes get off at Parque Jose Antonio Labordeta which is the 5th official stop. This is a lovely park to walk around, it's very quiet and relaxed. It is also home to the highest vantage point in the city which you can walk up (it's not very steep or that high though so it's not strenuous) and see a pretty good view over the park and city in the distance.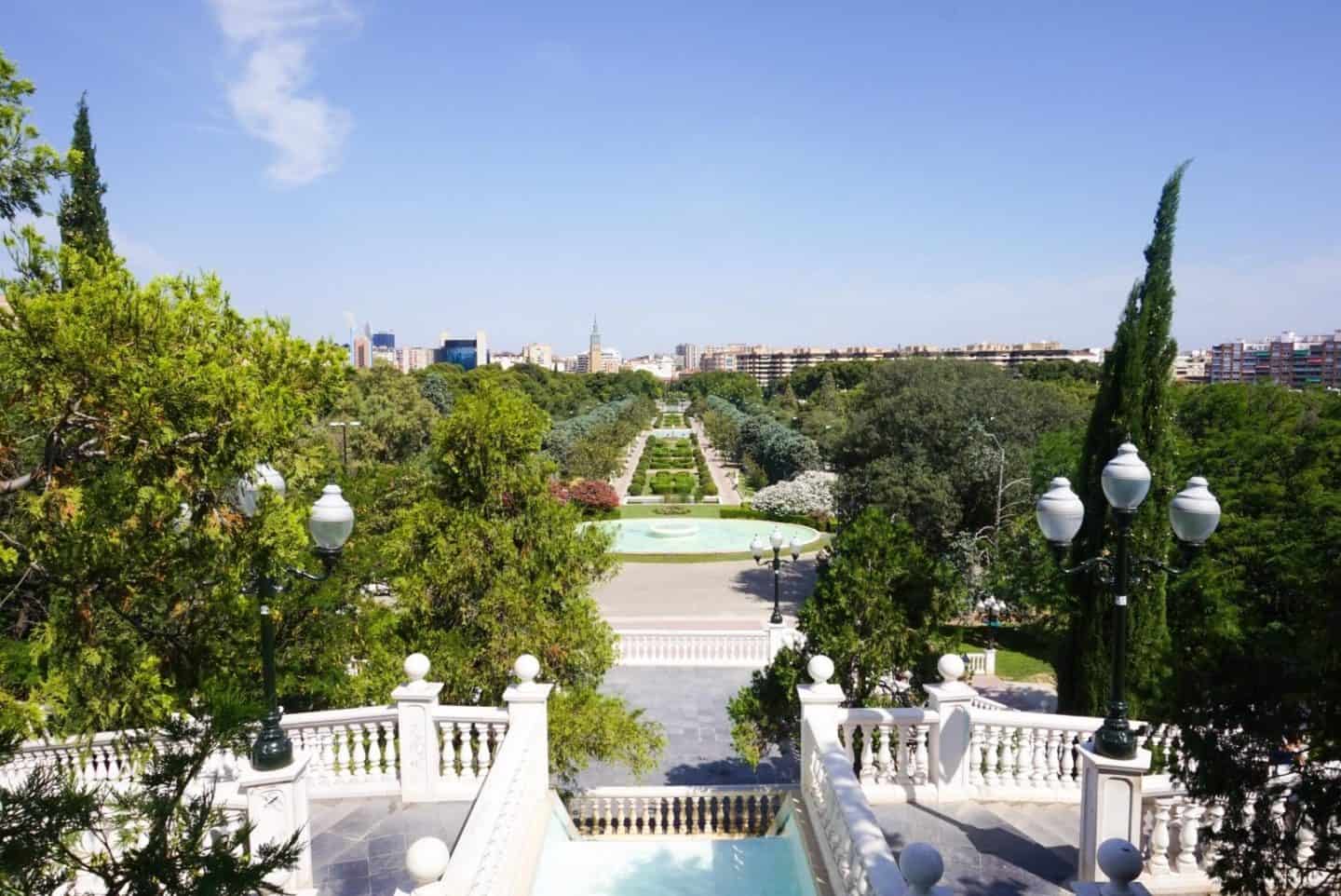 Zona Expo
Get back on the next bus that passes by and enjoy the ride, after about 30-40 minutes of driving the bus will take you past the Zona Expo and Park del Agua, this area was built as part of the 2008 International Exhibition of Water and Sustainable Development.
Zaragoza is very proud to have been home to this exhibition which lasted 3 months and now uses the area in a number of ways including a water park and research centre. You can get off and explore but it does feel like a bit of an empty shell still at the moment and it's possible to see a lot of it from the bus.
Palacio de la Aljaferia
When you get to Palacio de la Aljaferia which is the 16th stop near the end of the tour then get off the bus and visit the Palace which is one of the popular places to visit in Zaragoza. There is an entrance fee but if you go on Sunday's the entrance is free!
Although Aljaferia looks more like a fort from the outside it is very much a palace from the inside. The origin of the palace is Muslim with the original tower dating back to the 9th century and the palace constructed in the 11th century, this place as you can imagine holds a lot of history, later in the 18th century it was also used as a military base.
There is a courtyard with Orange Trees and beautiful architecture, make sure you go inside to explore the rooms and keep looking up as the ceilings are very impressive.
From here on your Zaragoza itinerary, you can walk back into the historical centre which will take 15-20 minutes or get back on the hop on, hop off bus as it will be heading back to the centre.
Lunch
El Gancho
This afternoon I recommend seeing another area slightly outside of the historic centre so head towards the Central Market to check this out but then head up Calle del Las Armas into the El Gancho area and to Las Armas restaurant which is just a few streets up.
Here you can sit inside or outside in the plaza area. They have a range of tapas dishes and main dishes as well as plenty of drink options and although the menu is not in English it is easy to navigate and the staff are really nice so they can help you out too.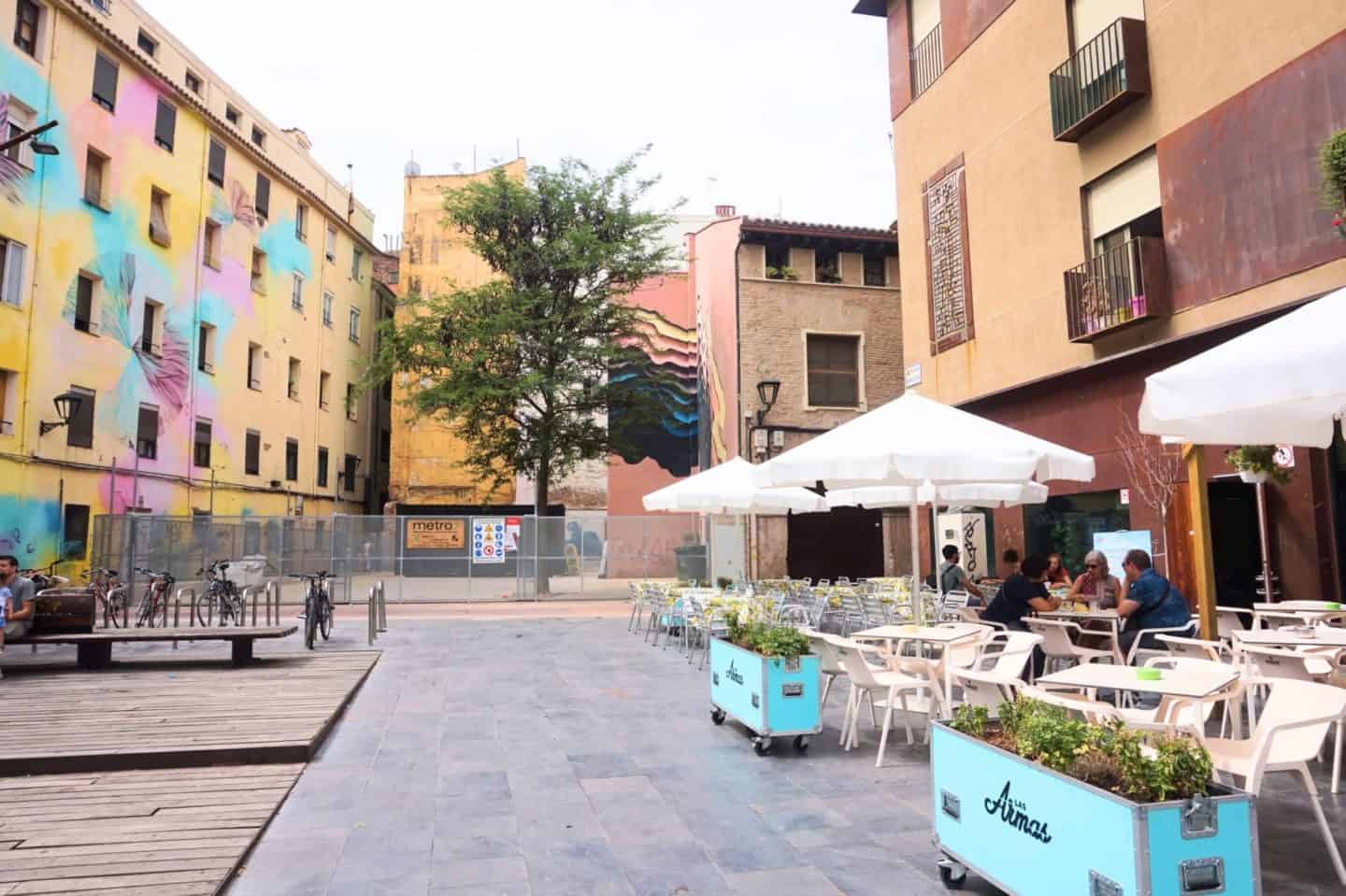 Afternoon
El Gancho Street Art
The El Gancho area has a lot of street art and this is what I suggest you see after Lunch. Every September Zaragoza hosts an Urban art festival called Festival Asalto. Artists from all over the world take part and they have 1 week to complete their piece on a designated area of the city.
Their website is a great way to see what the week looks like and in El Gancho you can see a lot of their work so take a walk further up Calle del Las Armas and head off on some of the side streets. This area is good to see too as it's a little bit dirtier than the historical centre, the government are clearing it up and it's by no means bad but I always think it's good to see contrasting areas of a city like this.
Update: I went back to Zaragoza in 2018 and was able to see the Festival Asalto in action, to read more about it and to find out where to see the new set of street art, have a look at: A Guide to Festival Asalto – An Urban Street Art Festival in Zaragoza, Spain.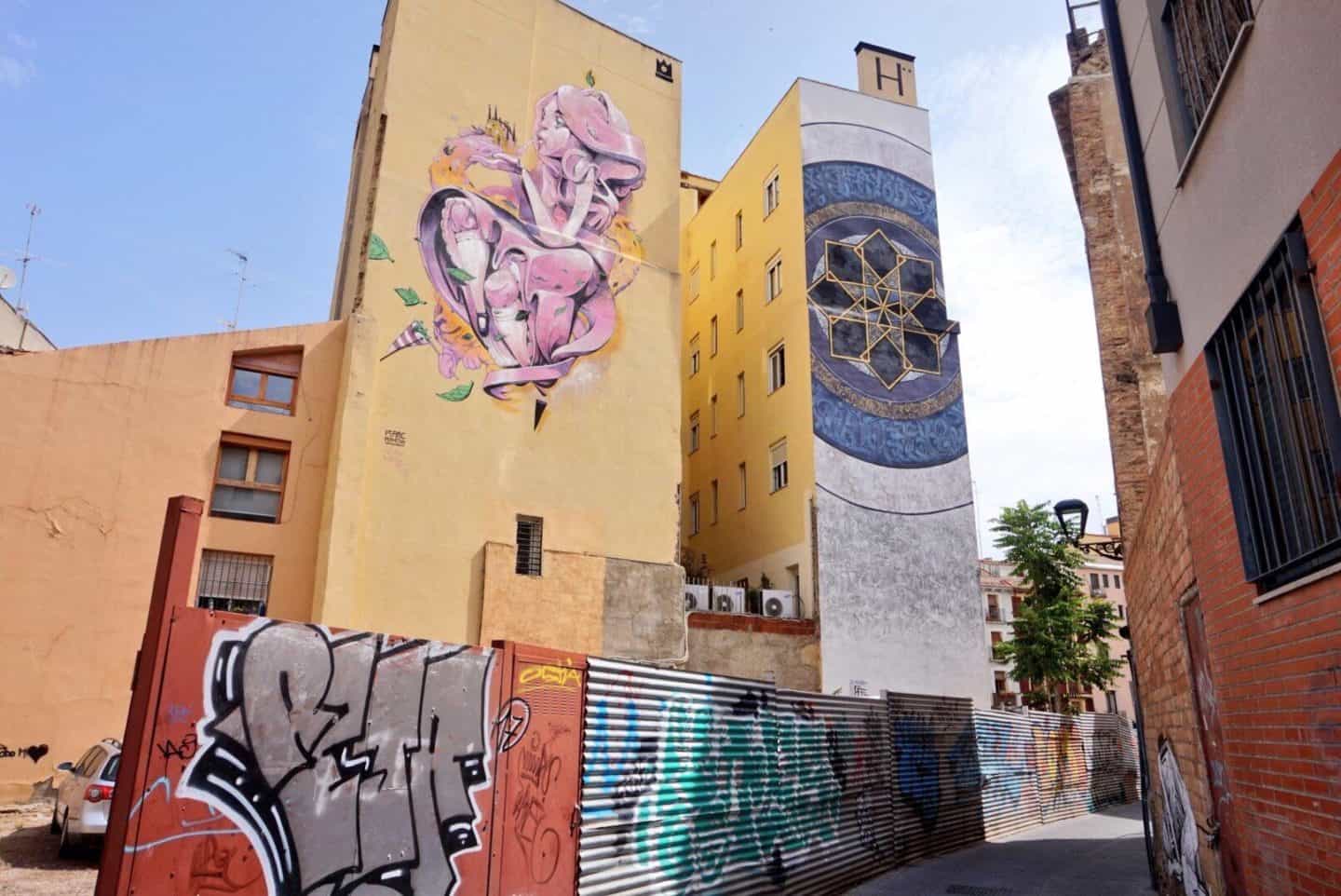 Evening
Restaurants in Zaragoza
Zaragoza's food and dining scene is really good with a number of famous gastronomic restaurants. This evening I have 2 recommendations and it depends on what kind of food you'll want to try and in what environment.
First off there is Puerta Cinema Gastronomical, this is a purpose-built inside food market with a range of built-in stalls around the edge of the room, the stalls that feature here generally have a main restaurant in the city but the beauty of this place is you can walk around and view all of the options before picking a few different dishes and sitting in the centre of the room.
There is a fixed bar and staff serving drinks and clearing plates. It's a popular place for locals to go and is perfect if you can't quite decide what you want for dinner. Their website is here.
My second recommendation is to go to La Despensa Montal in Plaza de San Felipe, this is a very nice restaurant with outside seating in the plaza and also seating inside. Depending on the night of the week you are in Zaragoza you may need to make a reservation, especially on a Saturday, and the tourist office could help you with this. Montal is very popular with locals and is pretty upmarket so it's perfect if you feel like dressing up and going out for a nice sit-down dinner.
It's a bit deceiving from the outside as initially, it looks like a Deli shop however the restaurant is in the back. The staff here are also great and sitting out in the Plaza on a summer's evening will be the perfect end to your stay in Zaragoza and your Zaragoza itinerary! Their website is here.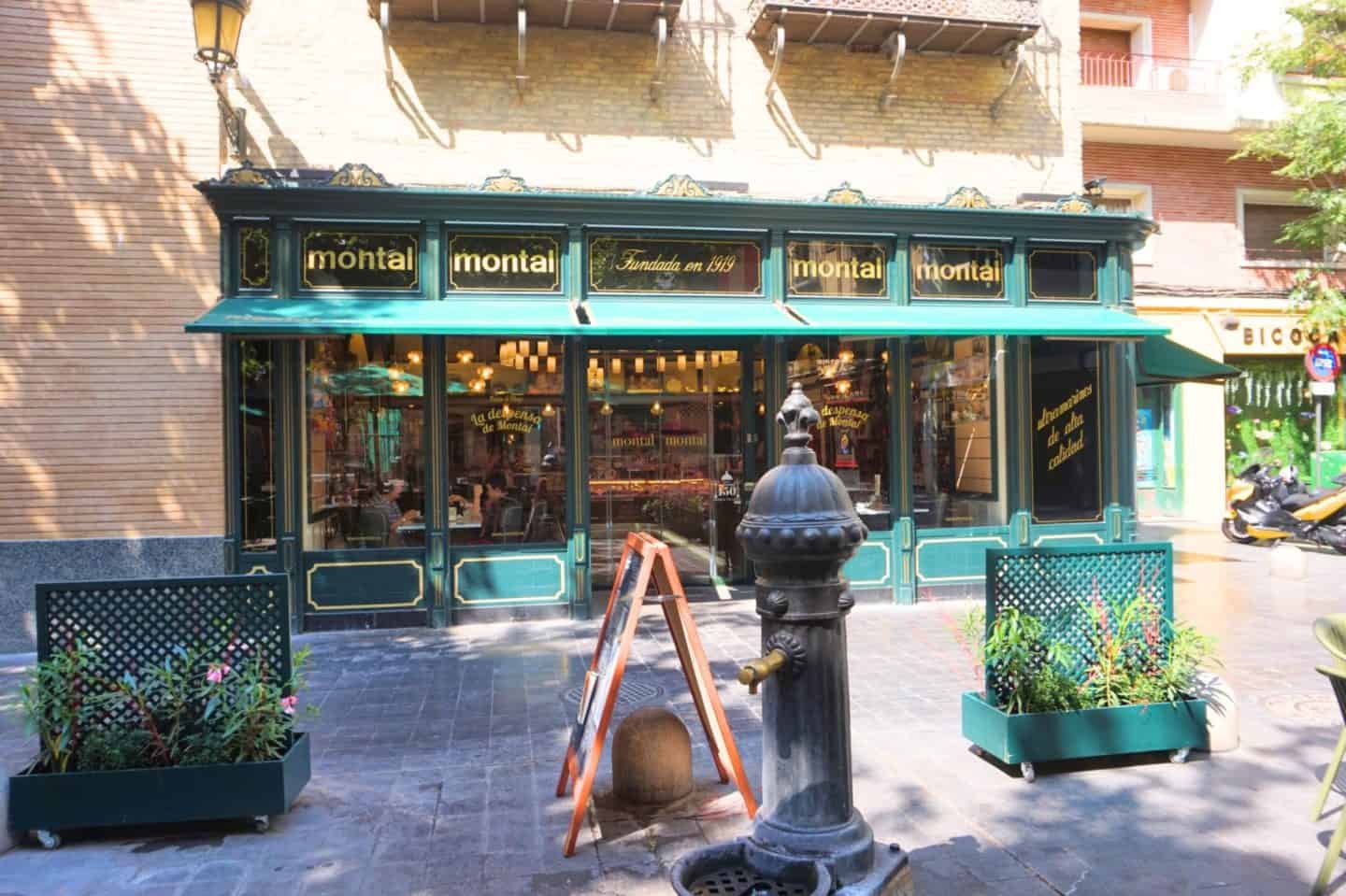 Overall I loved my trip to Zaragoza! It was great to see a real Spanish city that hasn't been tainted by tourists and although I hope the city does become more popular I also hope it doesn't lose this charm and following this Zaragoza itinerary will give you the perfect trip there!
---
For accommodation in Zaragoza for all budgets have a look on Booking.com.
---
---
This post was written by me and brought to you by Spain & Zaragoza Turismo as part of the SpainCities Project however all opinions and thoughts are my own.