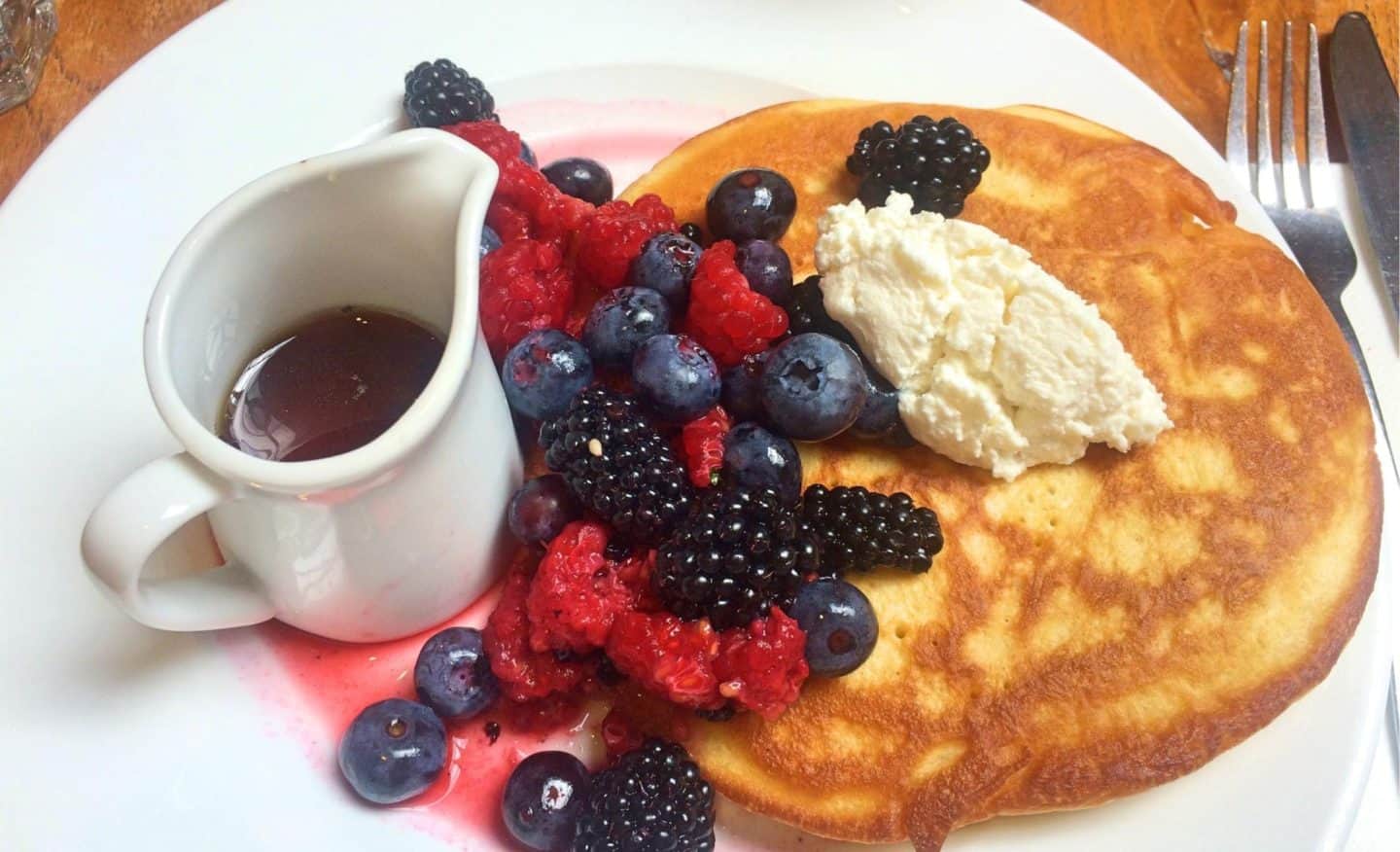 It's a Saturday or Sunday morning in London, you're hungry (maybe even hangry by this point!) and you want to go for brunch at one of those cool brunch spots you see on Instagram, but all of a sudden you have forgotten all of the places you have ever seen online or walked past and you don't know where to go for brunch?? I've been there many times so I am here to help you!
Below is a list of awesome brunch spots all over London from Hackney, Shoreditch, Stoke Newington, Notting Hill, Clerkenwell, Hampstead, Camden, Kings Cross, Richmond, Clapham and Central London that I have been to over the last 2 years and would recommend you go to! (I update this list every time I visit another brunch spot that I love!)
No matter where you are in London one of these London brunch spots should be close by! So lets start shall we as I know you're hungry!
---
If you're not in London already and need to book train tickets to London, be sure to check out The Train Line. I use them all the time to compare the best train times, journey lengths and prices!
---
The Breakfast Club – Various locations all over London
The Breakfast Club has locations all over London (plus one in Brighton) so of course it's a given to head there for brunch! It's also a given that during the weekend you will have to queue (especially at the Hoxton and Shoreditch branches!), but once you're in there they offer a range of brunch options all day and it's the perfect place to add a few bubbles to your brunch or have a few drinks as there is a great vibe inside!
Farm Girl – Notting Hill
Farm Girl is one of those famous Instagram brunch spots! I first saw it in Tanya Burr's social media and she wrote a blog post about it here so obviously I had to go too!
Notting Hill is notoriously busy on the weekend so it's very likely you will have to wait and queue for a table here, however once you're off the busy road and inside their little courtyard or in the restaurant, you could be anywhere in the city or even outside of the city as it does have a farm house vibe.
Farm Girl is popular for a reason, of course they have your usual drinks, but they also have a Rose Latte, Liquid Gold Latte, Matcha Latter, even a Butterfly Latte! All of which are different colours.. hence the Instagram craze!
They also have a great menu which is not only very Instagram-able but healthy and delicious too! There's not a greasy spoon to be seen here! I went for the Berry Pancakes which were very filling and yummy and the Matcha Latte. This place can honestly not be missed and is a great West London brunch spot.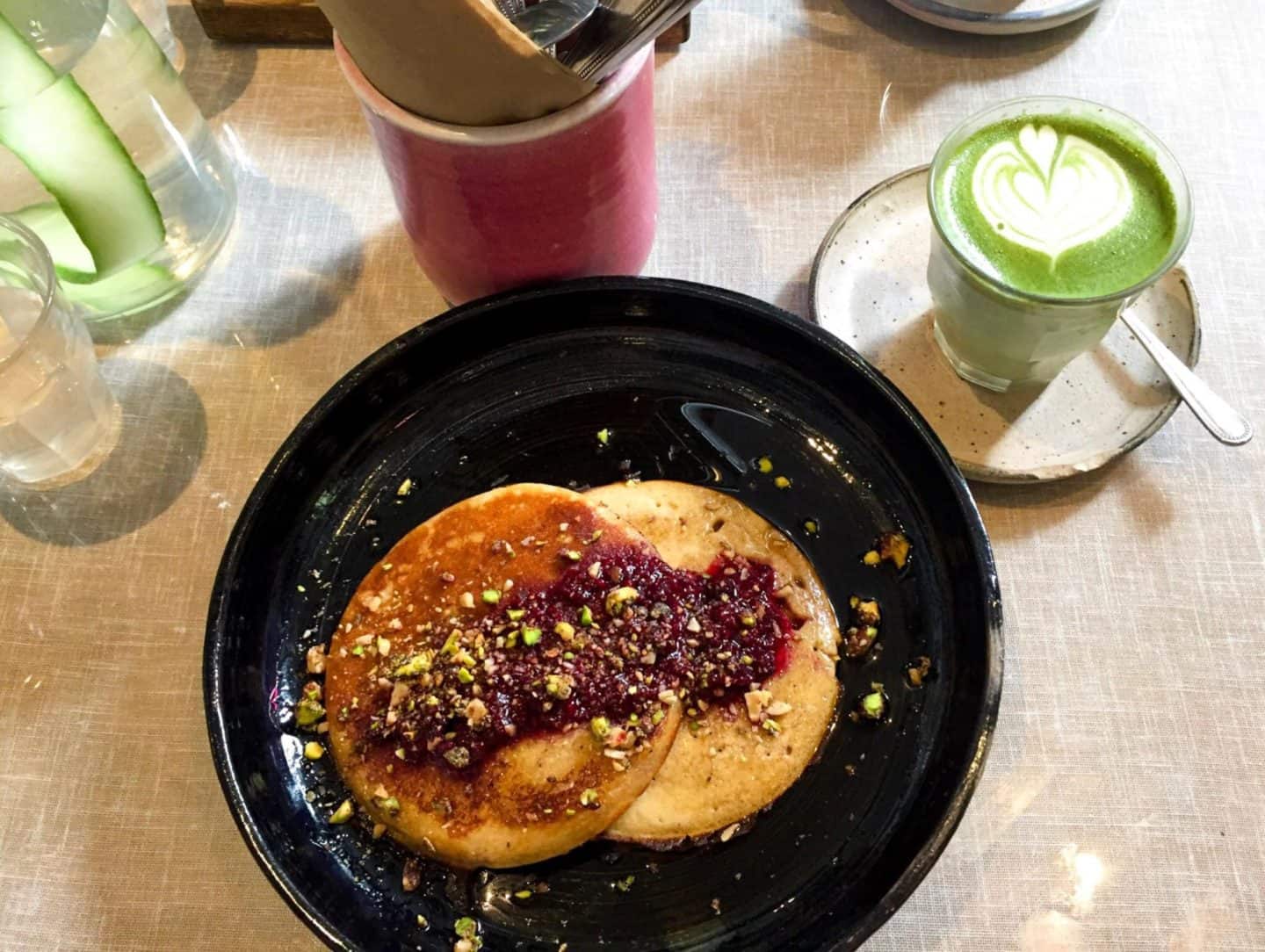 Greenberry Cafe – Primrose Hill/Camden
Located a long the beautiful street of Regents Park Road leading up to Primrose Hill, not far from Camden, Greenberry Cafe is the ultimate trendy and yummy brunch spot. They have a decent sized, reasonably priced menu, it's decorated really nice inside with a few seats outside too which are lovely in the summer.
The first time I went I had the Fluffy pancake with ricotta, mixed berries and maple syrup and the second time I had the Waffle with poached egg, avocado and switched the bacon for halloumi.
You can call and book tables during the week and weekend which I would recommend as it get's very busy especially on a Sunday morning! Keep your eyes peeled too as you may spot some celebs as they love Primrose Hill!
Whilst you're in this area its worth walking up to Primrose Hill, walking along Regents Canal and popping into Camden Markets for lunch, have a look at this blog post to see how I recommend doing this to avoid the crowds –  A Guide to the Perfect Day in Camden Town, London.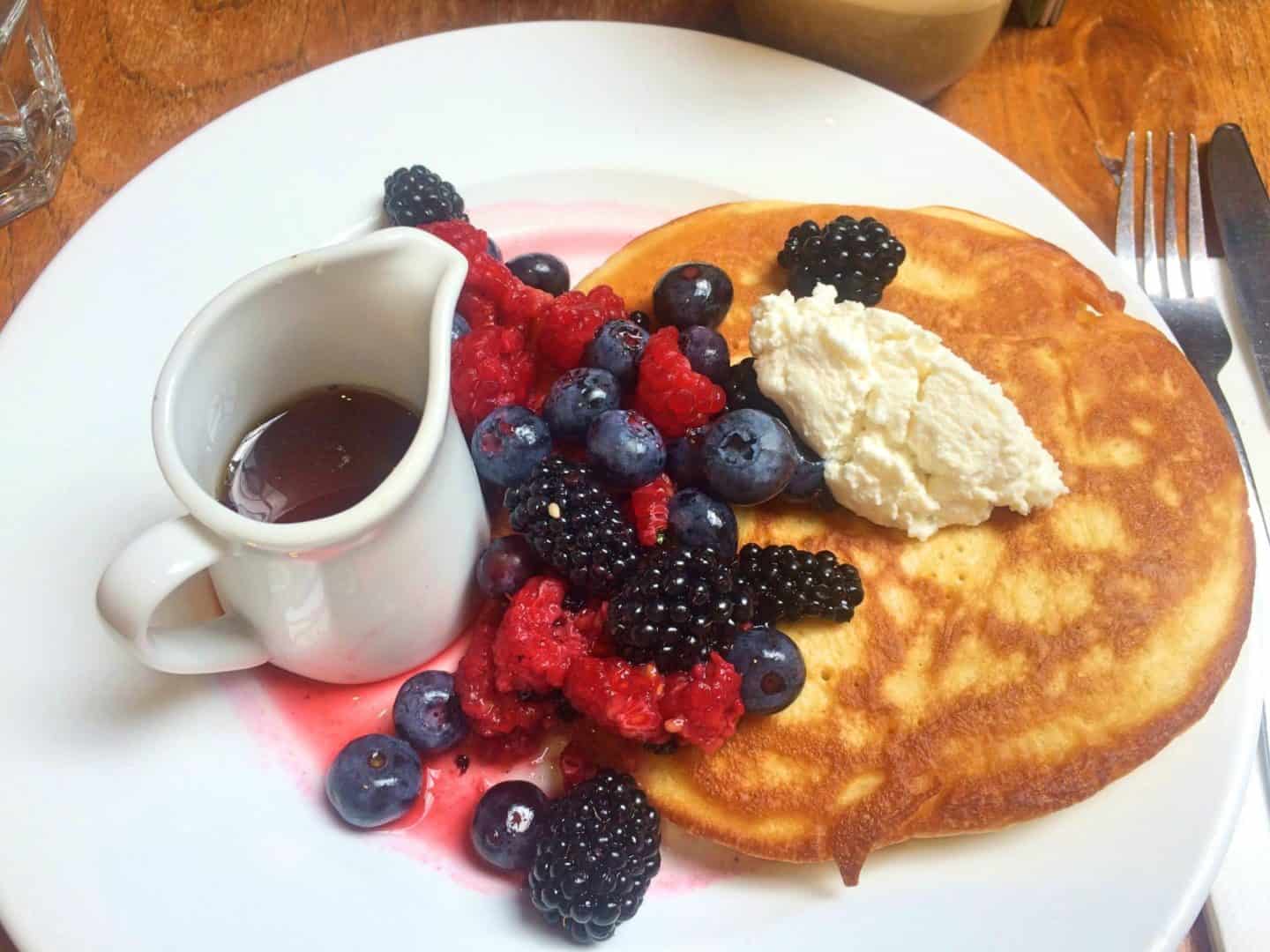 Lantana – Shoreditch, Camden & Fitzrovia
Lantana is an Aussie run cafe with 3 locations- Shoreditch, Camden & Fitzrovia. I went to the Shoreditch branch and opted for the Corn fritters and I certainly wasn't disappointed! This cafe has a great vibe and is perfect for a chilled brunch!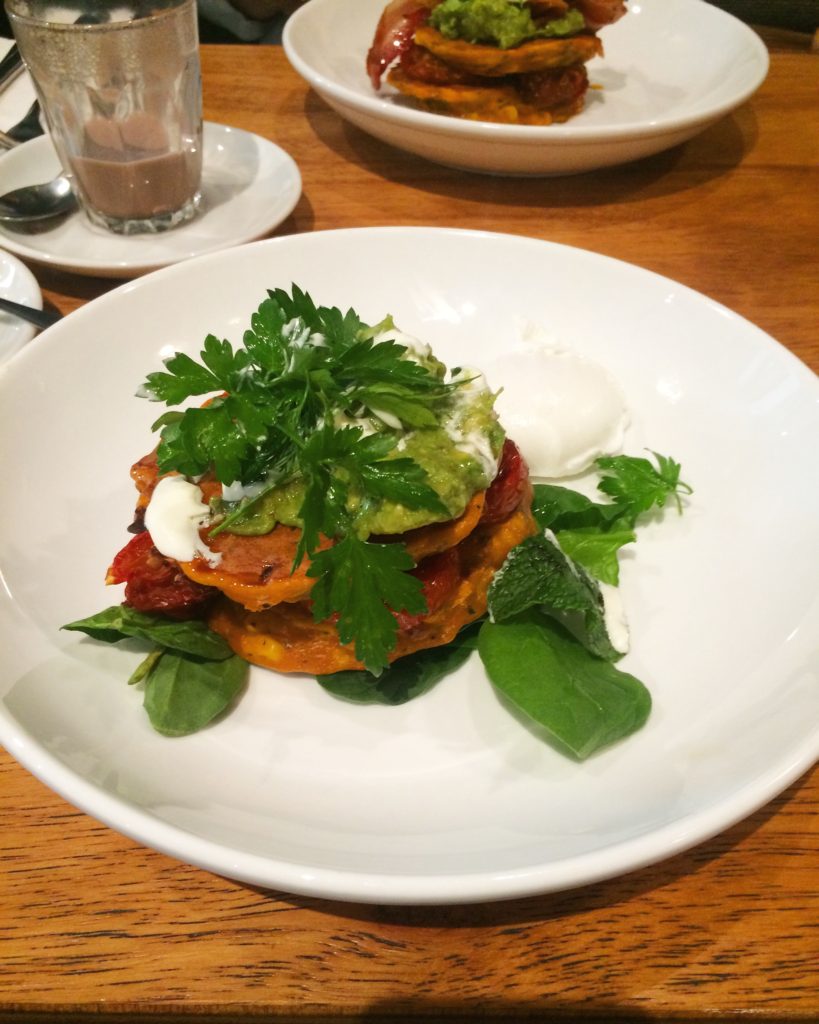 Ginger & White – Hampstead and Belsize Park
Ginger & White has 2 locations, one in Hampstead and another down the road in Belsize Park. Both cafes are quite small and very popular on the weekend. I had the Pea and Courgette Fritters with Tzatziki, Halloumi and Avocado at the Belsize Park branch and it was really good!
Both locations are really close to Hampstead Heath which is an area of London that I love and I don't think is visited enough! I have 2 blog posts on how you can make the most out of a day in Hampstead so why not check them out – A Walking Guide around Beautiful Hampstead, London. & A Guide to the Perfect Day in Hampstead, London.
London Grind – London Bridge & Various other Grind Locations
London Grind is a really cool spot and it helps that you can prebook tables online. I went for the Avocado on toast with chilli, poached eggs and feta and it was very good!  It's really close to London Bridge station with a view of the Shard one way and the City the other way! Once brunch and lunch is done it turns into a good evening bar so if you fancy staying there all day, you can!
They also have lots of other locations around the city like Hoxton Grind, Soho Grind, Holborn Grind, Shoreditch Grind and Covent Garden Grind which I'm keen to check out!
Granger & Co –  Kings Cross, Notting Hill & Clerkenwell
Another Aussie Brunch spot I love is Granger & Co! I've only been to the Kings Cross location which is just over the road from the station and close to the Canal. There's usually a queue on weekend for brunch as they do not take weekend bookings in advance and I can also imagine there's always a queue in the Notting Hill location too considering how busy that area gets, but queuing for brunch is just what we do these days in London and it's totally worth it!
The menu is pretty big however both times I've been I had the Bill's Classic of Sweet corn fritters, roast tomato, spinach & halloumi (replaced from the bacon on the menu) and side of avocado, and I have not ben disappointed!
The only down side to this place I think, is the price, especially once they've added the service charge on because it all of a sudden gets quite pricey!
Oslo Hackney – Hackney
Pretty much attached to Hackney Central station is Oslo Hackney Restaurant and Bar. By night this bar is pumping and a popular music venue however mid-morning (baring in mind they don't open until 11:00am) it has a calm atmosphere and a Nordic inspired brunch menu complete with Waffle dishes, Rye bases and Norwegian Salmon! I was going to go with a savoury option but at the last-minute opted for the 'Breakfast of Champions' as pictured below and I was very happy with my decision.
This place is a great way to kick off a day in East London!
The Jam Tree – Clapham and Chelsea
One of the big reasons myself and my friends decided to go to the The Jam Tree in Clapham was because we could book online, which was lucky as it was raining a lot that morning! When we arrived at 10:30 it was pretty empty but by mid day, it was full of Londoners seemingly taking advantage of its £17.00 Bottomless Brunch option which lasts 2 hours when you buy food.
The menu is good and offers quite a range of dishes from the standard Avo on sourdough toast to Chicken waffles. This is a great option if you're meeting a bigger group of friends and want to stay somewhere for a few hours where bunch turns into an afternoon drinking session!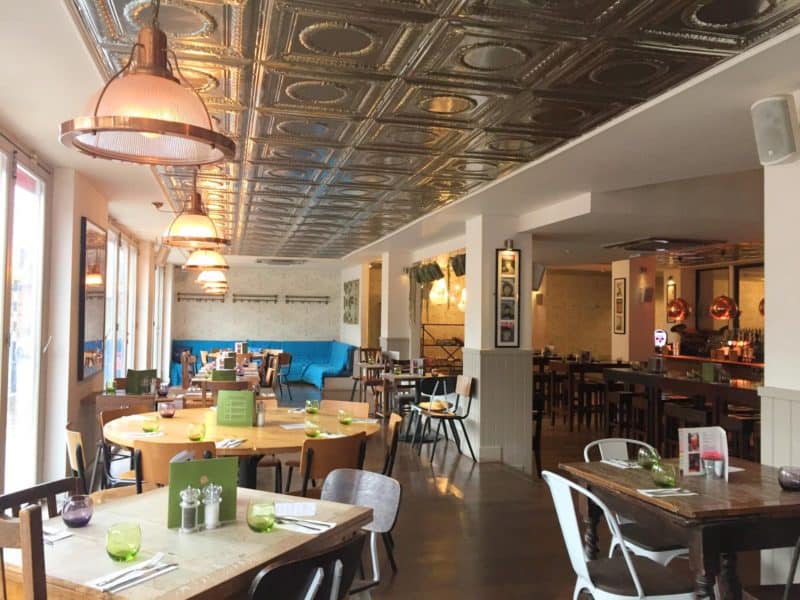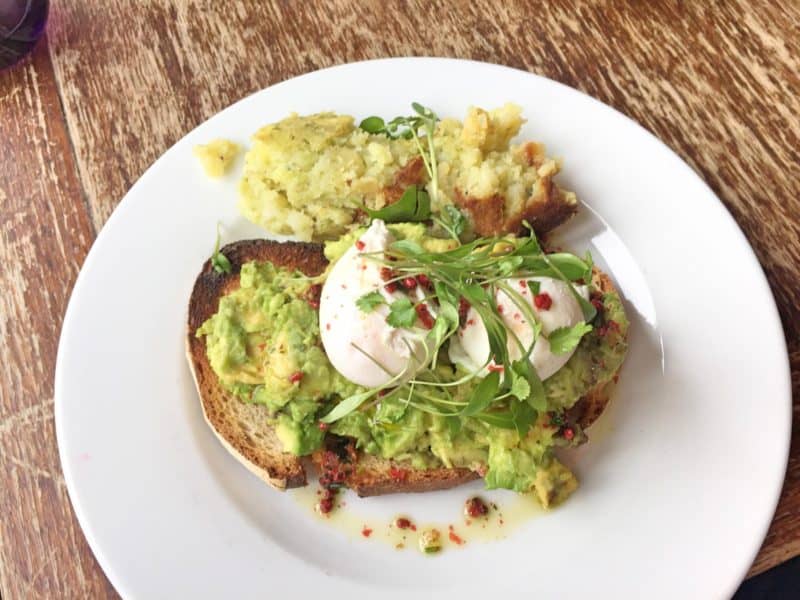 Mildreds – Kings Cross, Soho, Camden & Dalston
Mildreds is a popular Vegetarian and Vegan restaurant chain with a few locations in London and they do Brunch!
From experience I'll warn you that the Soho location is super busy on the weekends and you cannot book a table. The Kings Cross location however was really quiet when I went on a Saturday morning so I would suggest going here. I had the Blueberry Waffles with Ice Cream which was all Vegan and it was delicious!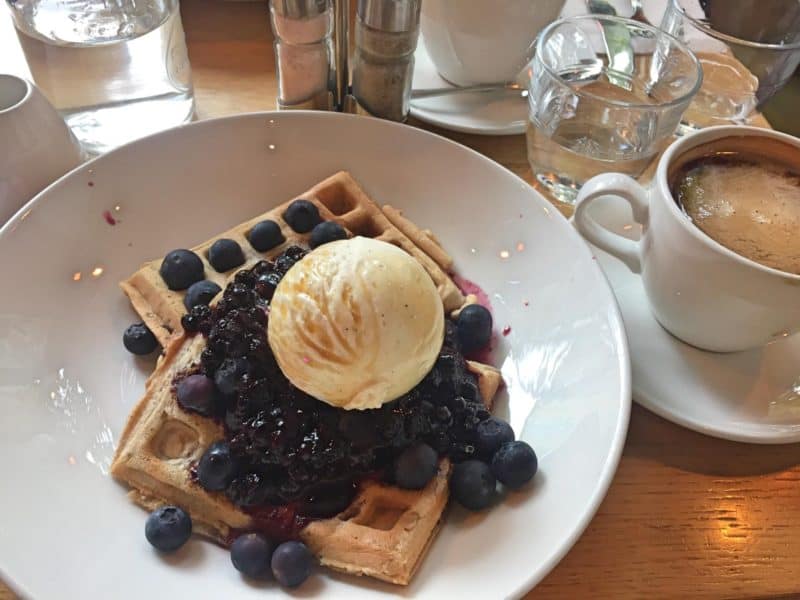 Friends of Ours – Shoreditch
I had seen Friends of Ours on Instagram a fair few times so it was high on my list to visit! It's in a slightly strange location, not too far from Old Street station but when walking up the street it's on I kept thinking, surely it's not up here? However I then started to see a whole load of people sat outside enjoying London's Summer sun and I realised I did have it right!
Friends of Ours is an Australian Style Brunch Cafe and I was glad to hear a few Aussie accents in there too. The menu did surprise me though as it was very Asian inspired and not your usual expected brunch menu.. no complaints though! I had the Courgette, quinoa & roasted corn fritters with a poached egg on the side and I really loved it.
As it's such an Instagram-able/ Aussie hangout, be prepared to potentially queue for a table on the weekend but honestly, it's worth it!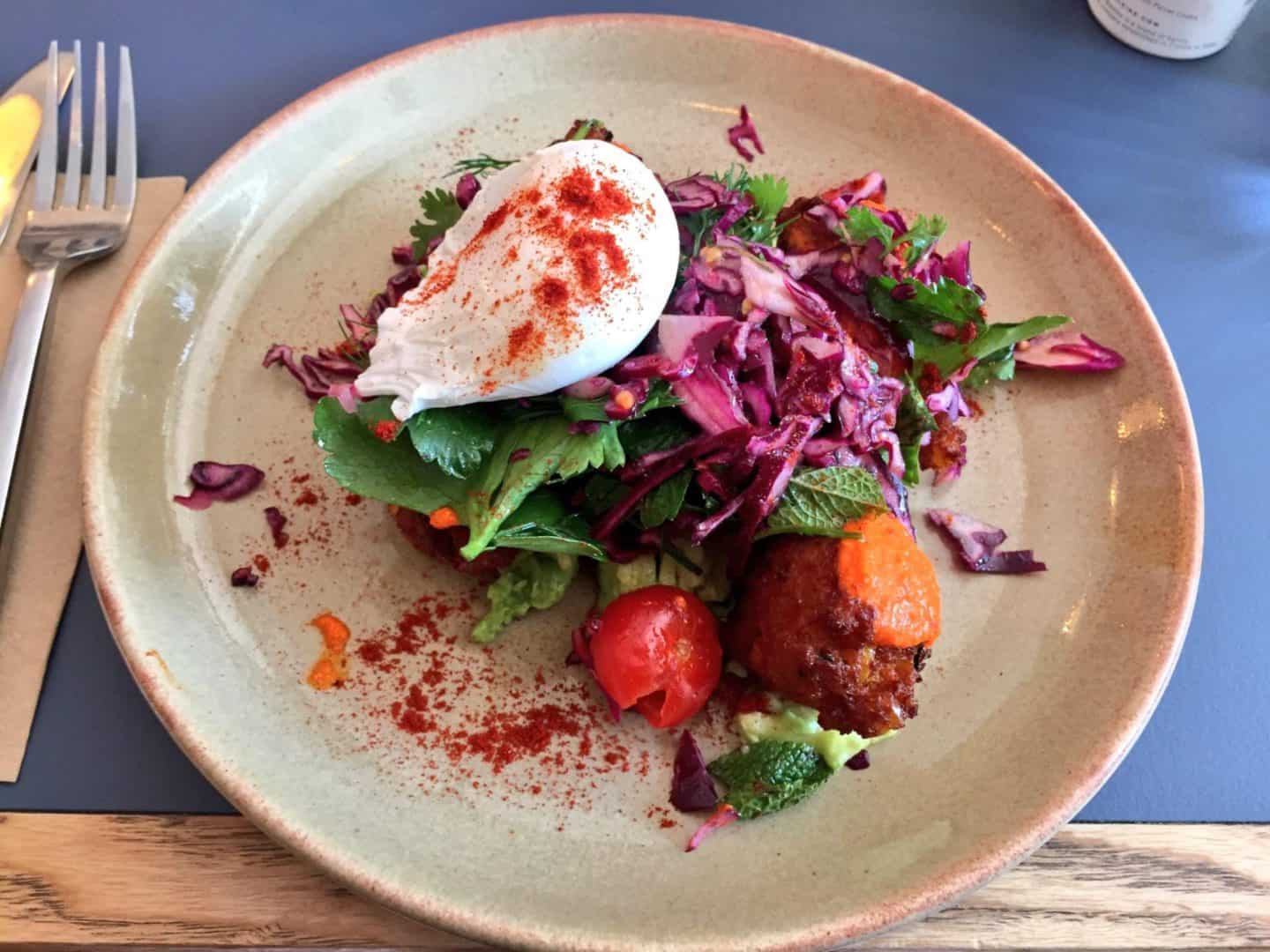 Cafe Miami – Hackney
This is another spot that has become popular on Instagram recently. Cafe Miami is in a slightly random area on a street not too far from Hackney Central, but once you reach it you could well be stumbling upon a cafe in Miami!
It's only a small place but has a bright white and pink interior with super friendly staff. It serves Milkshakes as well as Coffee and a range of breakfast options from Homemade Pop Tarts to Pancakes to Sweetcorn Fritters like I had. It's well worth going, even if it's just for the insta!
Hoi Polloi – Shoreditch
Located on Shoreditch High Street inside the Ace Hotel, Hoi Polloi is one very trendy brunch hang out. Their weekend brunch runs from 7:00am until 17:30pm which is pretty impressive and on Sunday they have a small orchestra starting at about 12:00 noon, and if you're going on the weekend I would recommend that you book in advance.
I had the French toast with caramelised banana and honeycomb, the first half was nothing short of incredible and tasted like a dream however by the second half the sweetness was getting to me! I would recommend it but maybe go halves with someone! The Pancake stacks looked incredible too (and also very big) as did their Full english breakfast. Considering the nature of the venue the prices were also very reasonable and average!
Sunday is a perfect day to explore Shoreditch because the markets are on, including Columbia Street Flower Market, if you want to get an idea of how to have the best Sunday in Shoreditch, have a look at this post – A Guide to the Perfect Sunday in Shoreditch, East London.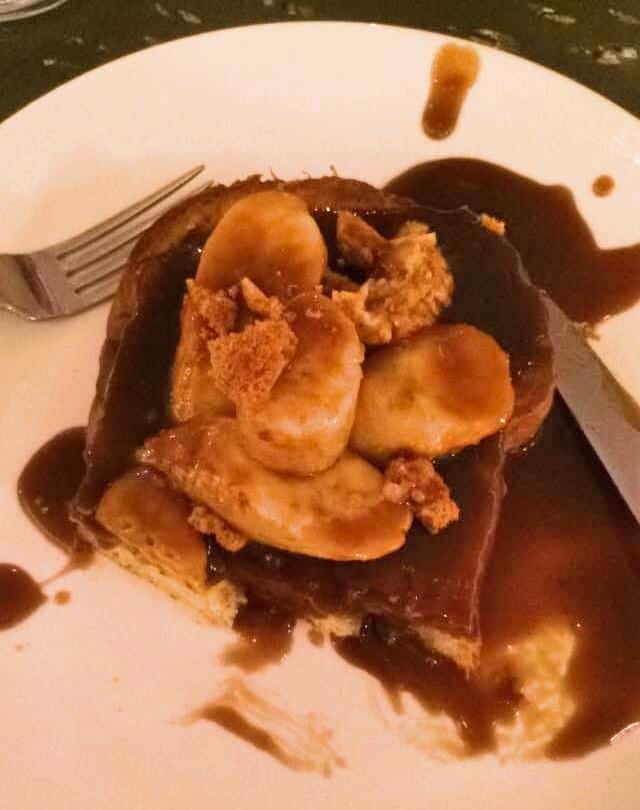 Butter Beans Cafe – Richmond
Butter Beans Cafe is an Aussie/Kiwi run cafe just a few shops down from Richmond train station and the menu did make me feel like I had been transported back to Melbourne with Corn Fritters and Potato Rosi and of course a Vegemite option for those Aussies and Kiwi's craving a bit of home. The staff were friendly and it was a reasonable price and although I opted for a smoothie over a coffee, I have heard their flat whites are some of the best, because you know, they're Aussie!
To read more about my day in Richmond see – A Day in Richmond, the village in the City.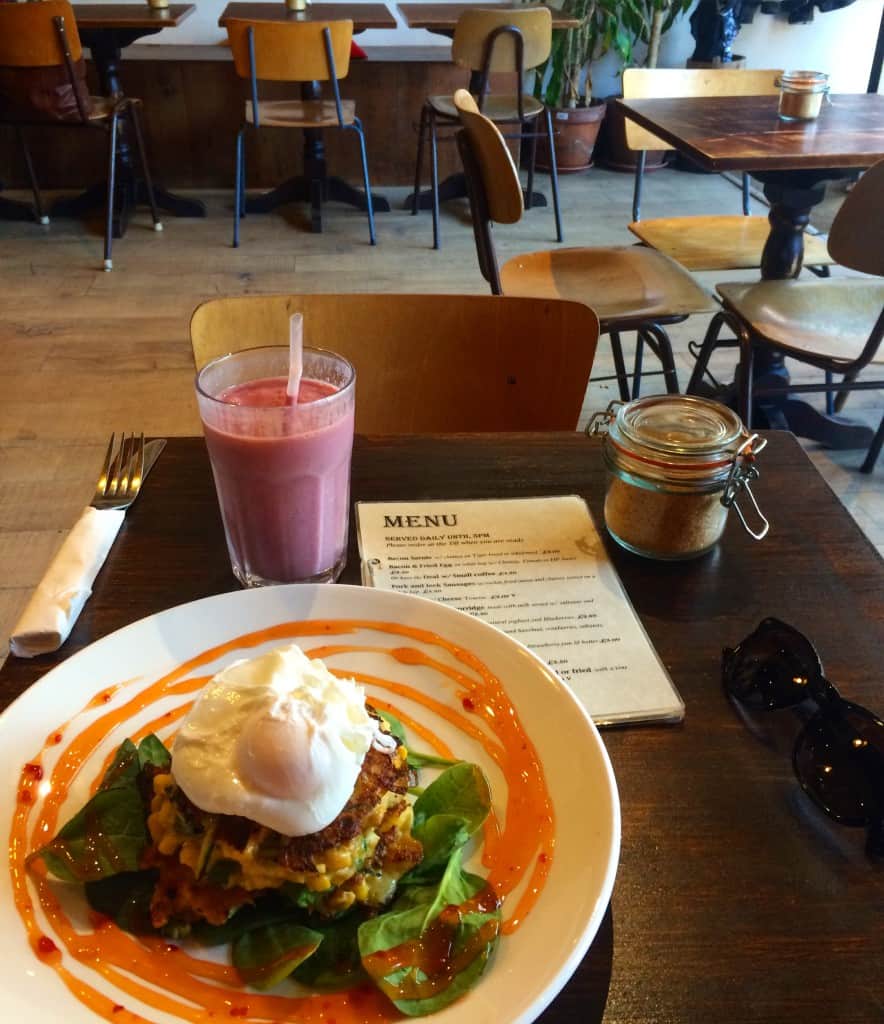 Daisy Green – Marble Arch
I first saw Daisy Green on my Instagram feed where I saw people dining underneath a ceiling of pink flowers and I knew i had to go! Daisy Green have locations all over the city but I went to the one I had seen on Instagram which was Portman Village, just behind Marble Arch tube station.
Daisy Green is an Aussie run cafe and if you go on the weekend as I did then you'll certainly need to prebook a table. Their focus seems to be fresh and healthy food and food is lovely! I opted for the Broccoli fritters with a poached egg, avocado and chilli pesto and it was great! They have a great selection of smoothies too and even do Bottomless brunch on the weekends which would be perfect for a girly birthday party or general get together!
There are lots of locations all over the city however they are under slightly different names, for example Timmy Green, Beanie Green.
Adina – Shoreditch
For a slight twist on Brunch then Andina, a Peruvian style restaurant perfectly located on Shoreditch High Street is a winner. I had the Corn cakes which were actually off the nut free and gluten free menu and although I was dubious at first as it was a little different to the norm I actually really enjoyed them and the corn cakes reminded me of being in South America! (Which I guess is the point!) There's so many dishes to choose from on their menu and they suggest ordering a few between everyone so it's a winner any time of day! The coffee was also great.. of course, because its Peruivan!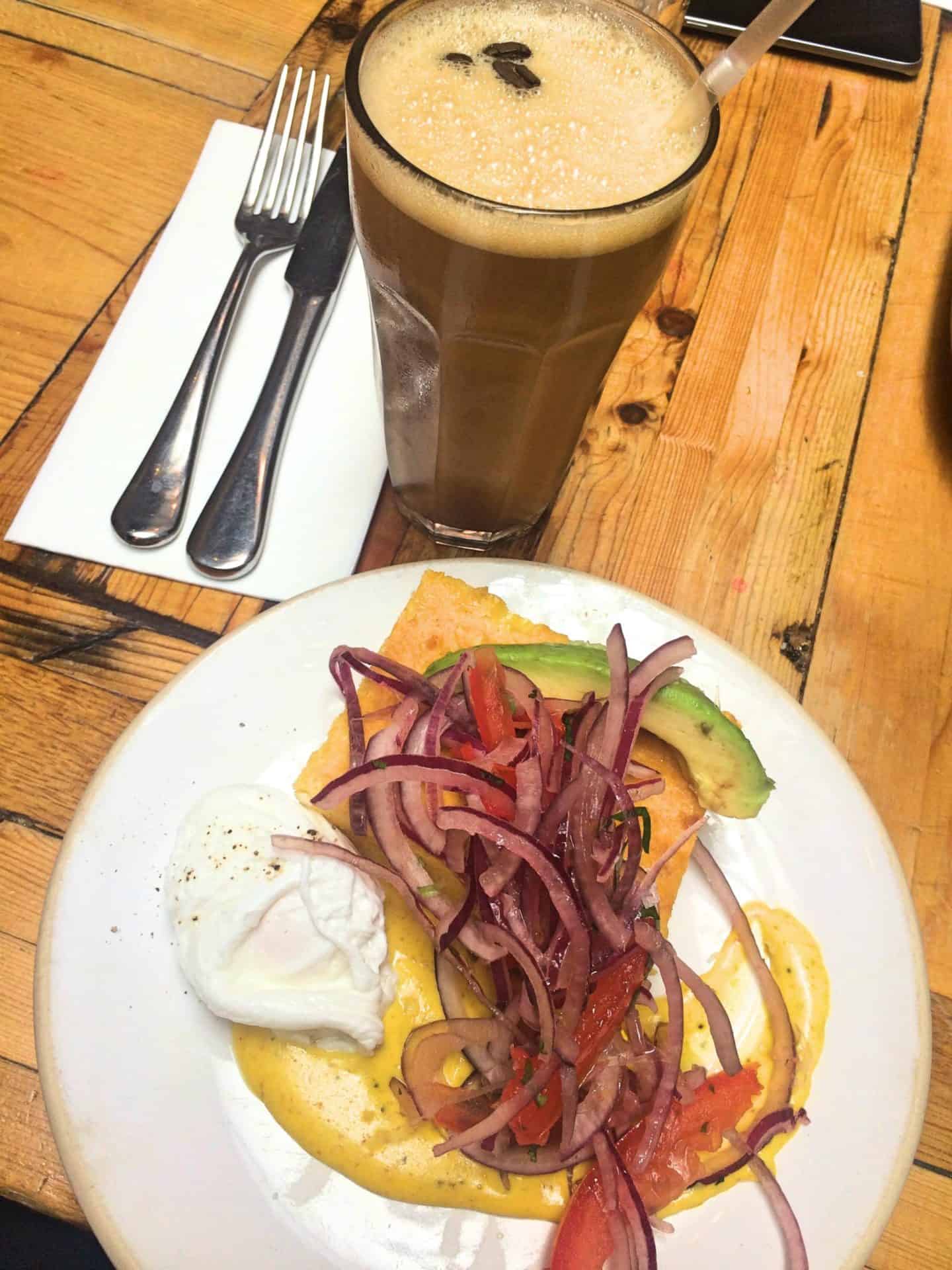 Bar & Block – Kings Cross
Nestled to the side of Kings Cross Station, Bar & Block, a well-known Steakhouse by Day and Night launched a Bottomless Brunch Menu in the Spring of 2017. Myself and some of the other blogging girls were invited to check it out and we were certainly impressed! For just £18.00 you get unlimited Prosecco for 90 minutes when you buy a dish off of their breakfast or main menu!
When you arrive let the team know you want the bottomless option, once you're seated you'll have a Polaroid picture taken of your table which has your 90 minute deadline time written on the top. You'll order your dish and throughout the 90 minute period you will take the Polaroid picture to the bar to keep topping up your glass with bubbles!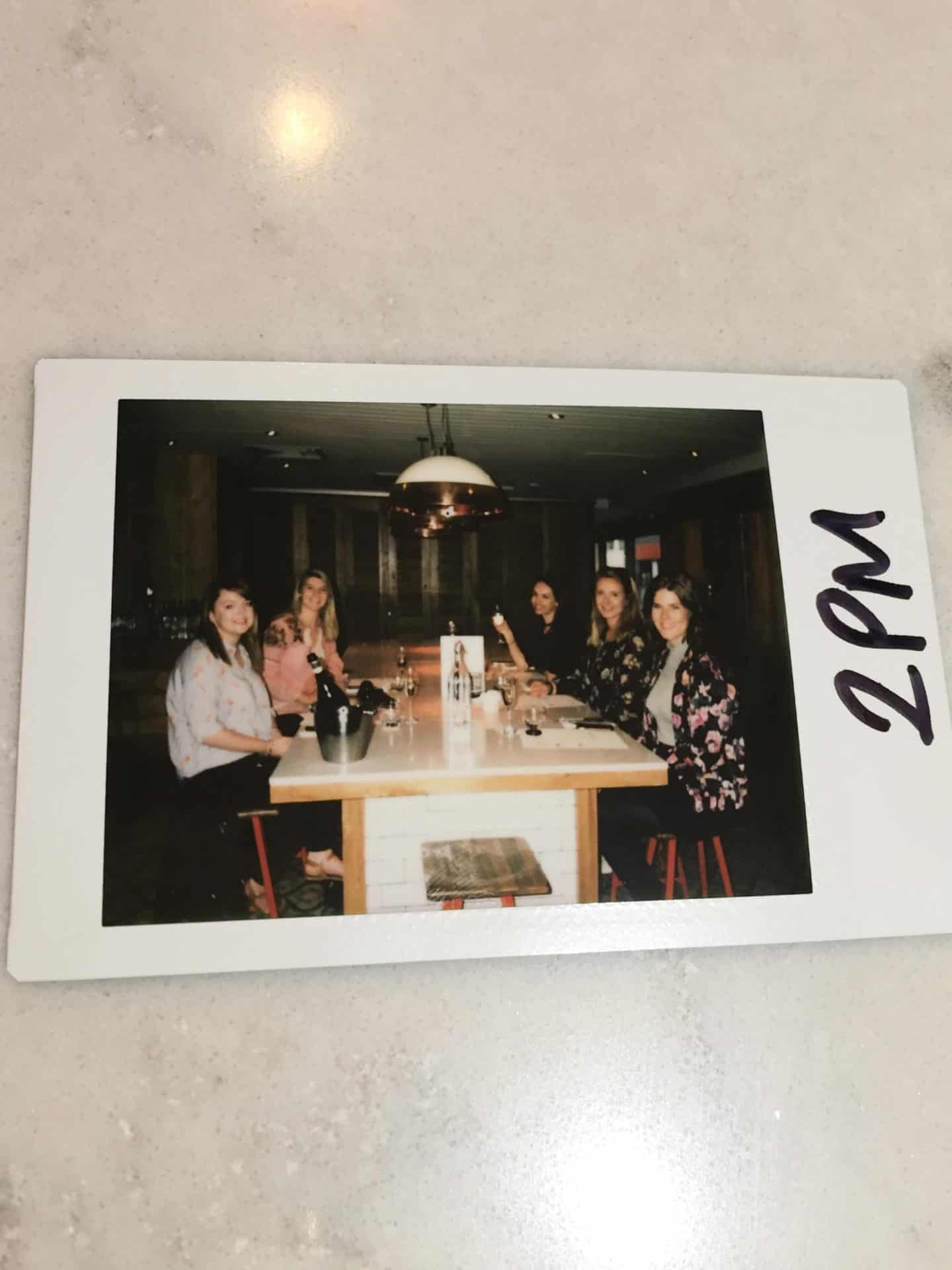 I actually love the idea of taking the picture to the bar as often in bottomless brunches if you wait for someone to come to your table to top up your drink it can take a while so at least you're in charge of how many glasses you get and the staff identify you and your time by the picture!
Your food dish can be from their breakfast or main menu so you have lots of choice! I opted for the Pancakes and although they were slightly less filling than perhaps some of the other dishes they were very nice!
LLS Cafe Deli – Hampstead
You would think that the pretty London Village of Hampstead would be full of brunch spots but there's actually only a few so when I walked past LLS Cafe Deli one day I was very happy. Ran by 2 French Sisters whose ethos is 'Eat No Evil', LLS cafe is a healthy focussed cafe deli. Although its only small it has a great vibe with family style tables to make the most of the space.
Their menu really shows you that eating healthy, nourishing foods does not have to be boring and can indeed be very tasty! I enjoyed the Acai Bowl which was a bowl of heaven and I can't wait to go back and try the Pancakes as I saw a few people eating them and they looked really good! They also do some very interesting and healthy drinks like a Choco-Matcha latte with almond milk, Spirulina latte and a Dirty Chai Latte and some amazing smoothies!
Whilst you're in Hampstead you might as well explore its quintessentially English back street lanes, as well as Hampstead Heath. To help you make the most of your visit, have a look at these 2 blog posts of mine – A Walking Guide around Beautiful Hampstead, London. & A Guide to the Perfect Day in Hampstead, London.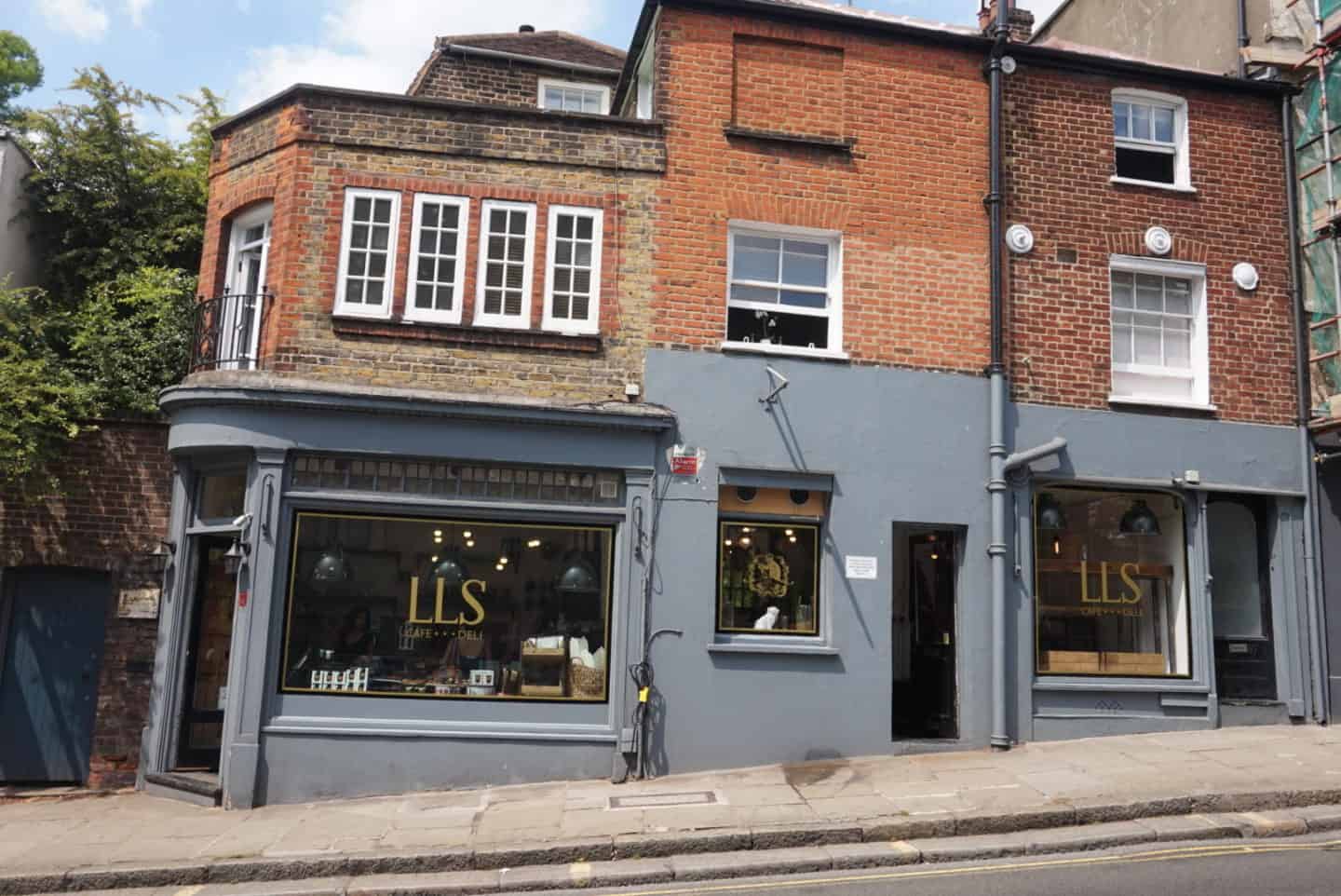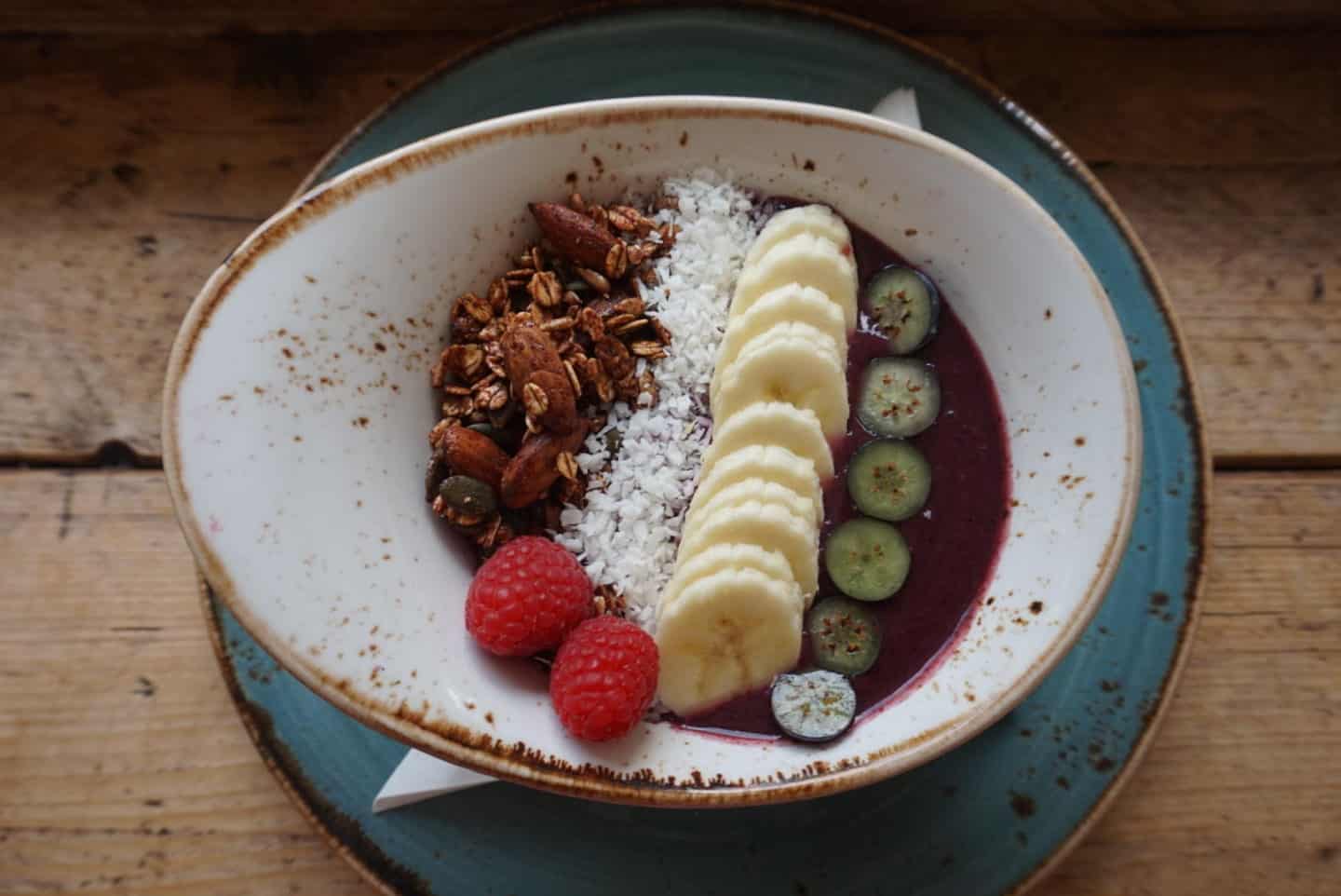 Ask for Janice – Farringdon
Quite a random name for a café and in quite a random location just down the road from Barbican & Farringdon station, Ask for Janice is a funky little cafe offering range of dishes and drinks.
I was there for the Bottomless brunch with a group of about 12! For £35.00 we got to choose 3 dishes from the breakfast menu, and we also got a choice of 3 drinks for the unlimited 2 hour slot! Not bad really considering we left full and pretty tipsy! The 3 drinks on offer are Bloody Mary, Bucks Fizz and Salty Dogs (gin based cocktail). I stuck to the Bucks Fizz but we were allowed to swap drinks.
Food wise I went for the Avocado on Sourdough Toast, the Steak and the Granola. Their menu does seem to change regularly and for a party our size we choose our meals in advance to make it easier. This place certainly managed to keep up with all 12 of us drinking and provide great food so I would definitely recommend it! (Note – Bottomless Brunch is only offered on a Saturday).
Palm Vaults – Hackney 
This is another gem in an unexpected area of Hackney. Palm Vaults has become so popular so quickly thanks to Social Media, however it's so cute that there's no surprise that it has! It's a plant-based cafe with a weekly changing menu. It's colourful latte's are an Instagrammers dream and it's dishes are a vegan's dream!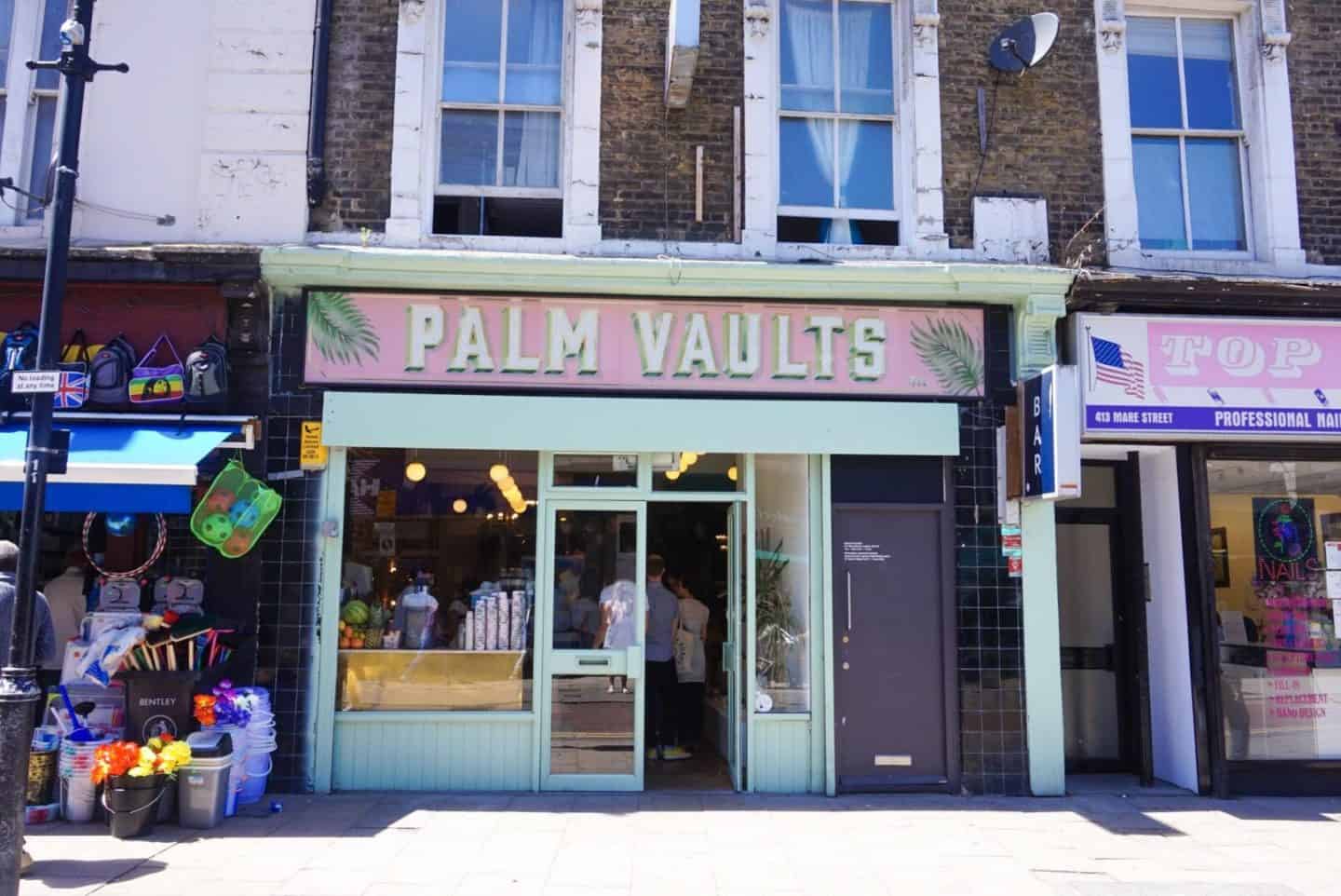 Bourne & Hollingsworth – Clerkenwell
Brunch at Bourne & Hollingsworth had been on my list for awhile as its kind-of an iconic London restaurant and has become super popular for brunch. It's pretty fancy with an amazing decor, very professional staff and a great menu.
I feel like Bourne and Hollingsworth is somewhere you go for a slightly special occasion rather than a hangover brunch fix. I had the Banana and Coconut pancakes with fruit which were so good. What I also loved were the prices, if you're not drinking, the food and coffee prices are really reasonable and the same as many other London cafes!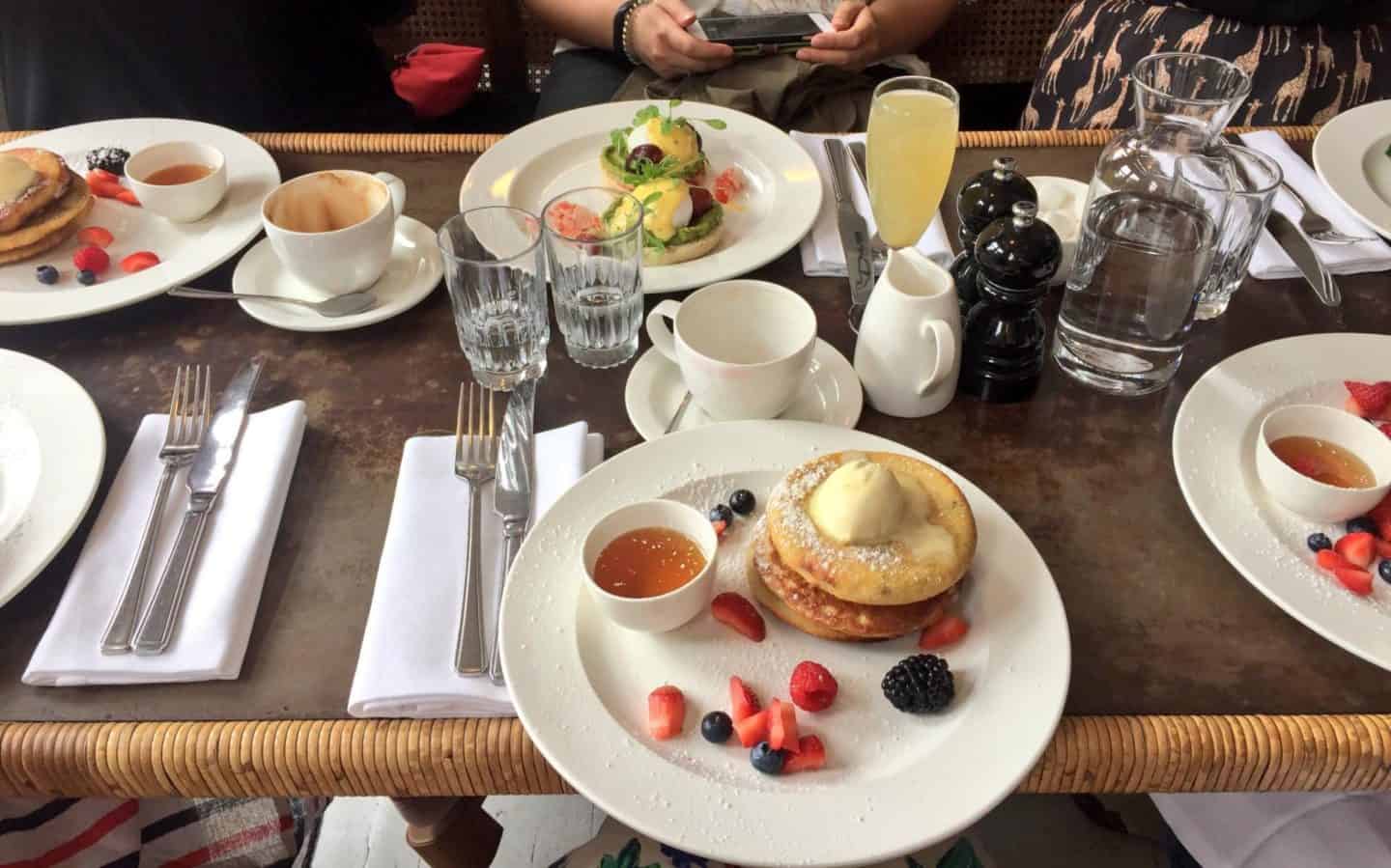 The Green Room Cafe – Stoke Newington
I visited The Green Room Cafe on my first visit to Stoke Newington. It was recommended to me by a friend and lets say, i'm keen to go back already! From the outside this cafe could easily be mistaken for a florist because, well, the front of the shop is a florist! However once you walk through the flowers you see a cafe area in the back, which then goes all the way into the back yard. I actually felt like I was away on holiday eating outside in their garden area. I had the Mushroom, Avo and Poached Egg on Sourdough toast which is dubbed the Hipster Open Sandwich on the menu (which I loved) and I was very happy with my decision. The staff here were really friendly and the prices really reasonable too!
Stoke Newington is a really cool area of London that doesn't seem to be visited as much as the likes of Hackney and Shoreditch – to see how I recommend spending a few hours in Stokey, have a look at my blog post here – A Guide on how to spend a few hours in Stoke Newington, London.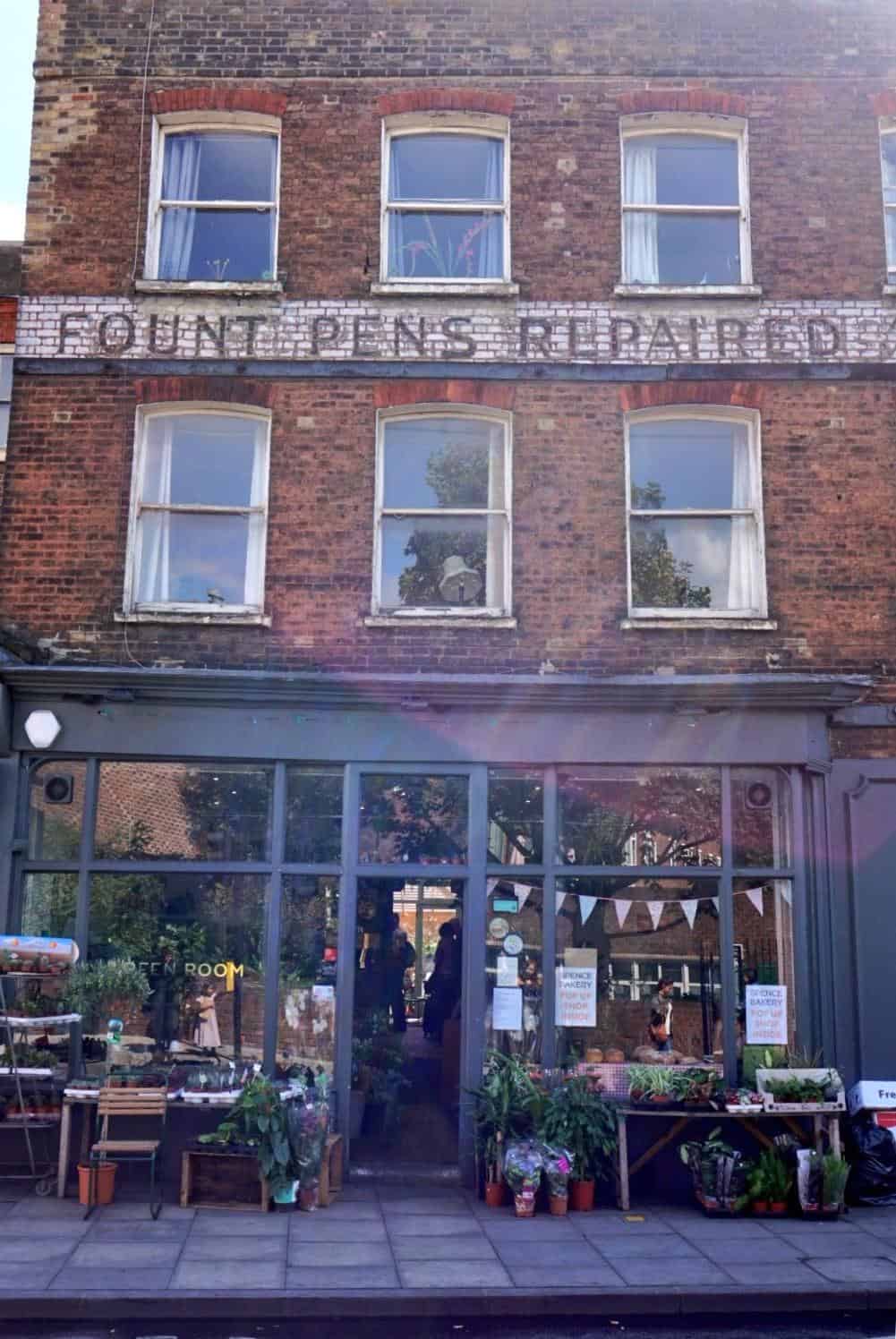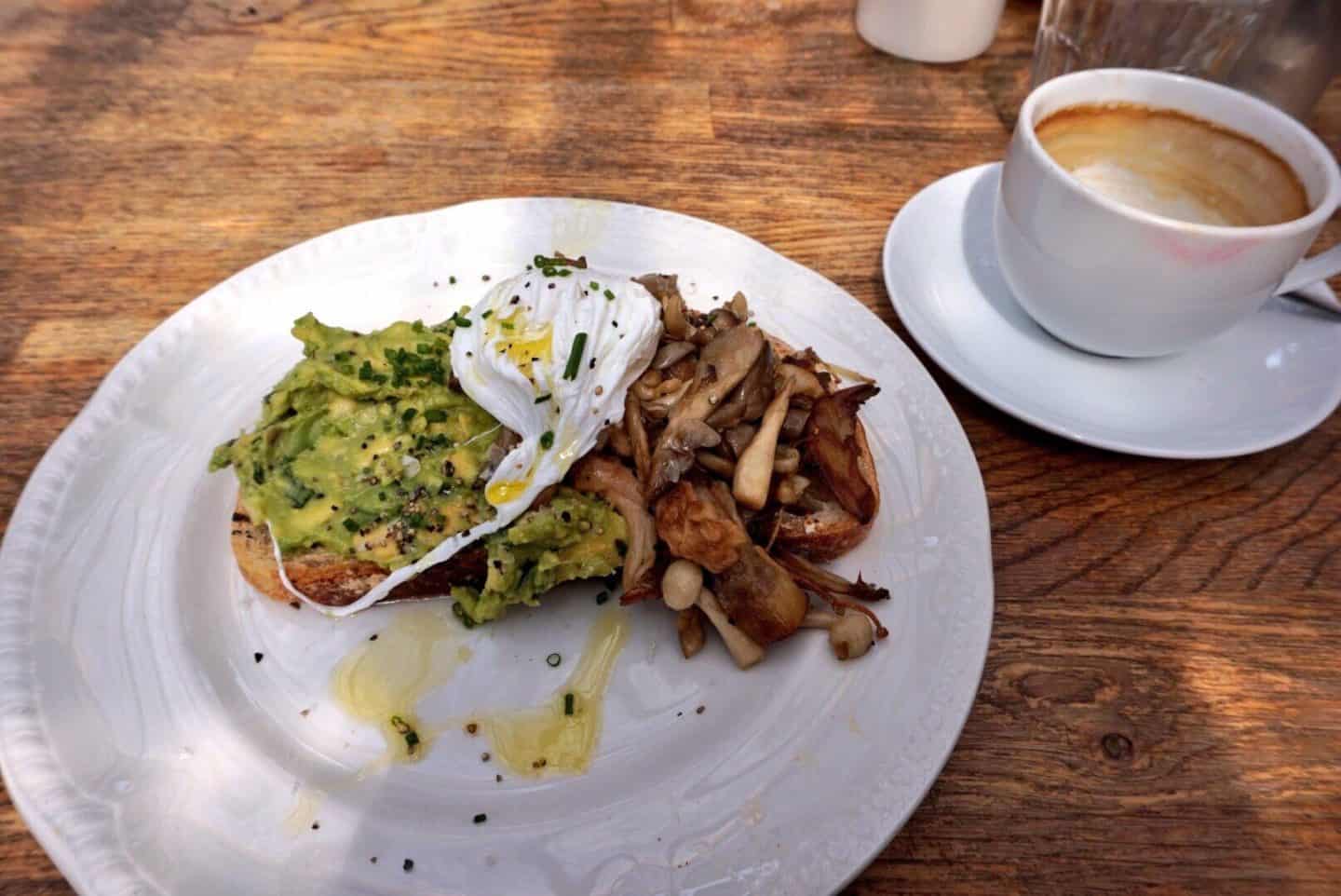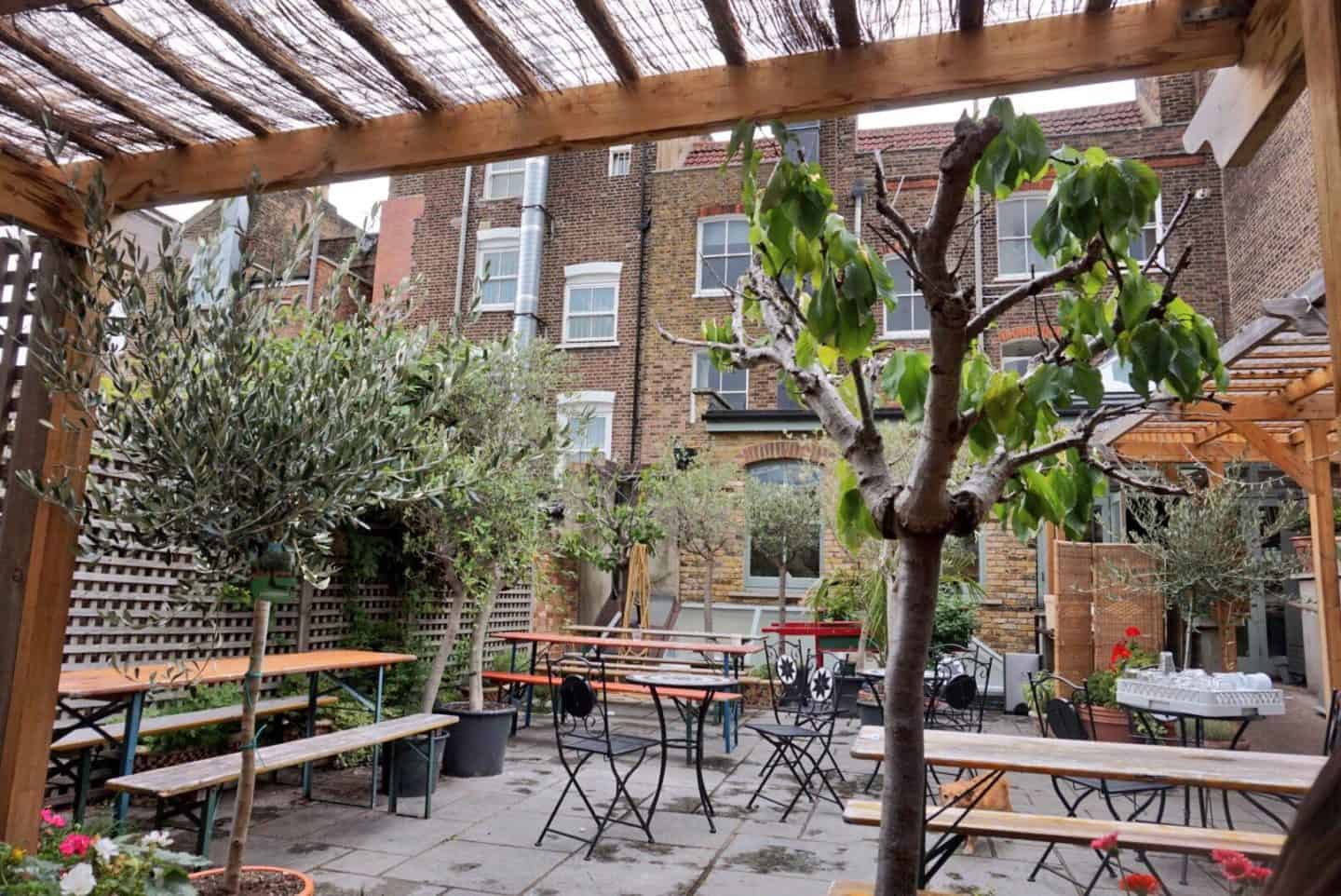 Duck and Waffle – Liverpool Street
And finally lets finish with the best brunch you can get in London, or at least brunch with the best views in London! 40 floors up the Herons Tower at Duck and Waffle!
The lift up there is an experience in itself and you pretty much leave your stomach on the floor but the views are nothing short of incredible! I was lucky enough to be sat at a table right next to the window with a view of the Gerkin and the Tower Bridge in the distance!
This is a fairly fancy affair, there is a dress code and advance bookings are needed (a good few weeks/months in advance too), however the prices really surprised me as they were a long the same lines as any normal brunch in London, although the drinks and service charge do take the bill up!
This is definitely a must brunch in London whether it's for a special occasion or not!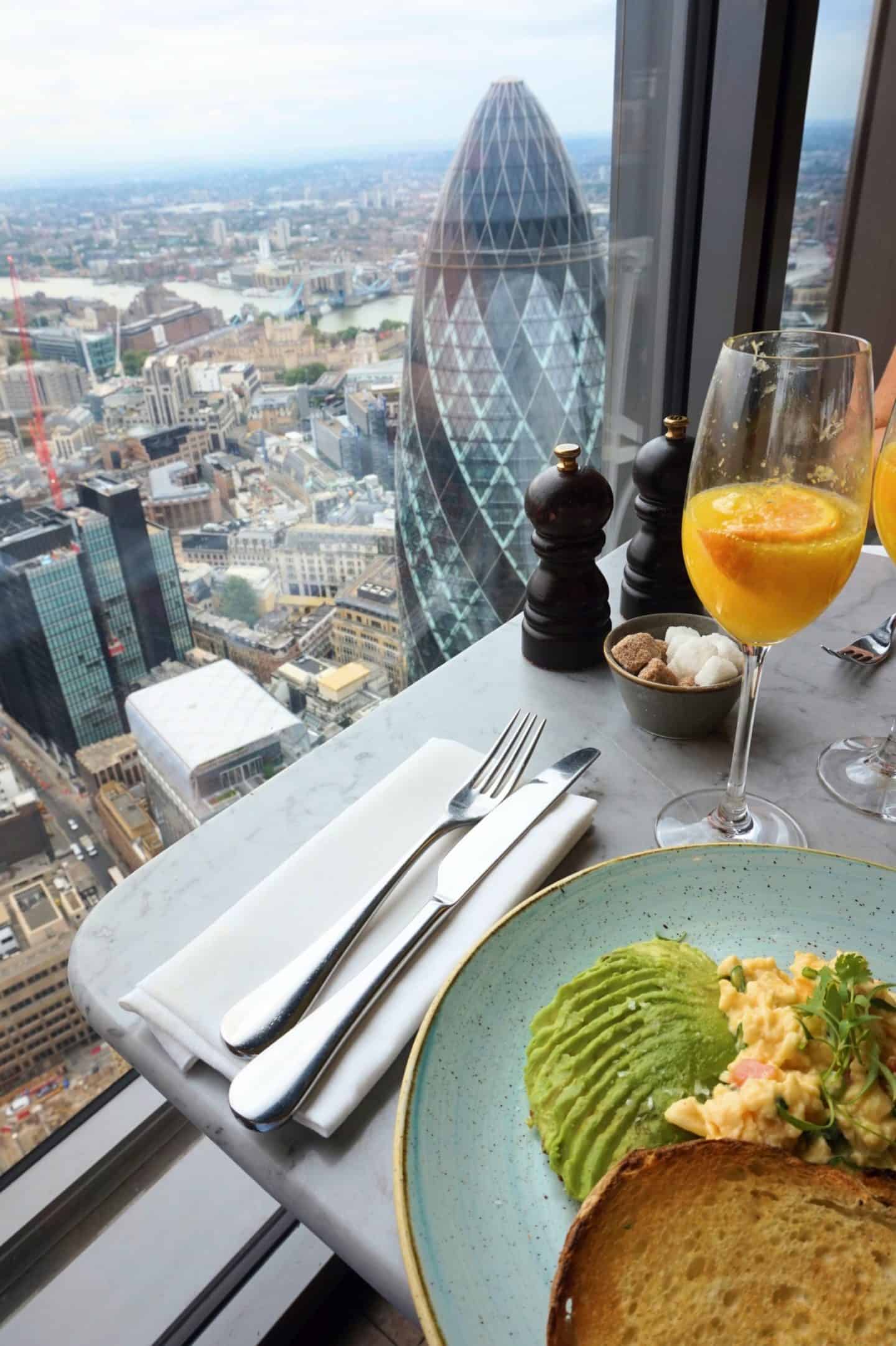 I hope this helps you pick a good Brunch place in London that you won't regret going to!
I keep this post updated whenever I find another good brunch spot so be sure to bookmark it ready for when you are feeling hungry (or hangry) one morning and you'll have all these suggestions at your finger tips!
---
**If you have any other brunch suggestions, or you go to one of these and its closed/ you have a bad experience etc etc please let me know in the comments below so I can keep it fully up to date or by tweeting me @wandering_quinn**
---
After brunch why not explore some of these London neighbourhoods – there is at least one brunch spot above for each area!
Walking Guide To Primrose Hill, Regents Park, Regents Canal & Camden in 3-4 Hours!
A Guide to the Perfect Sunday in Shoreditch, East London
A Guide to the Perfect Day in Camden Town, London
A Guide to the Perfect Day in Hampstead, London.
A Walking Guide around Beautiful Hampstead, London.
A Guide on how to spend a few hours in Stoke Newington, London
How to see London in 2 Days including tourist sites & local areas!
SaveSave
SaveSave