This post may contain affiliate links. I will receive a small commission if you use these links.
---
Looking for the best Christmas lights in London and Christmas Markets in London but limited on time??
London has some of the best Christmas light displays and Christmas Markets in the world! London in Winter is truly magical! And the best thing about London is how easy it is to get around.
The best Christmas Lights in London and the best Christmas Markets in London are in Central London so it's easy to see them all in one day in London, which is perfect if you are visiting London for the weekend!
I suggest walking between the Southbank Centre Christmas Markets to Winter Wonderland which is the perfect route to see lots of London and the lights and markets in between!
This is what I did with my brother and sister in partnership with Visit London and we loved it so here's what our walk around London looked like so you can replicate it for Christmas in London this year!
Best Christmas Lights in London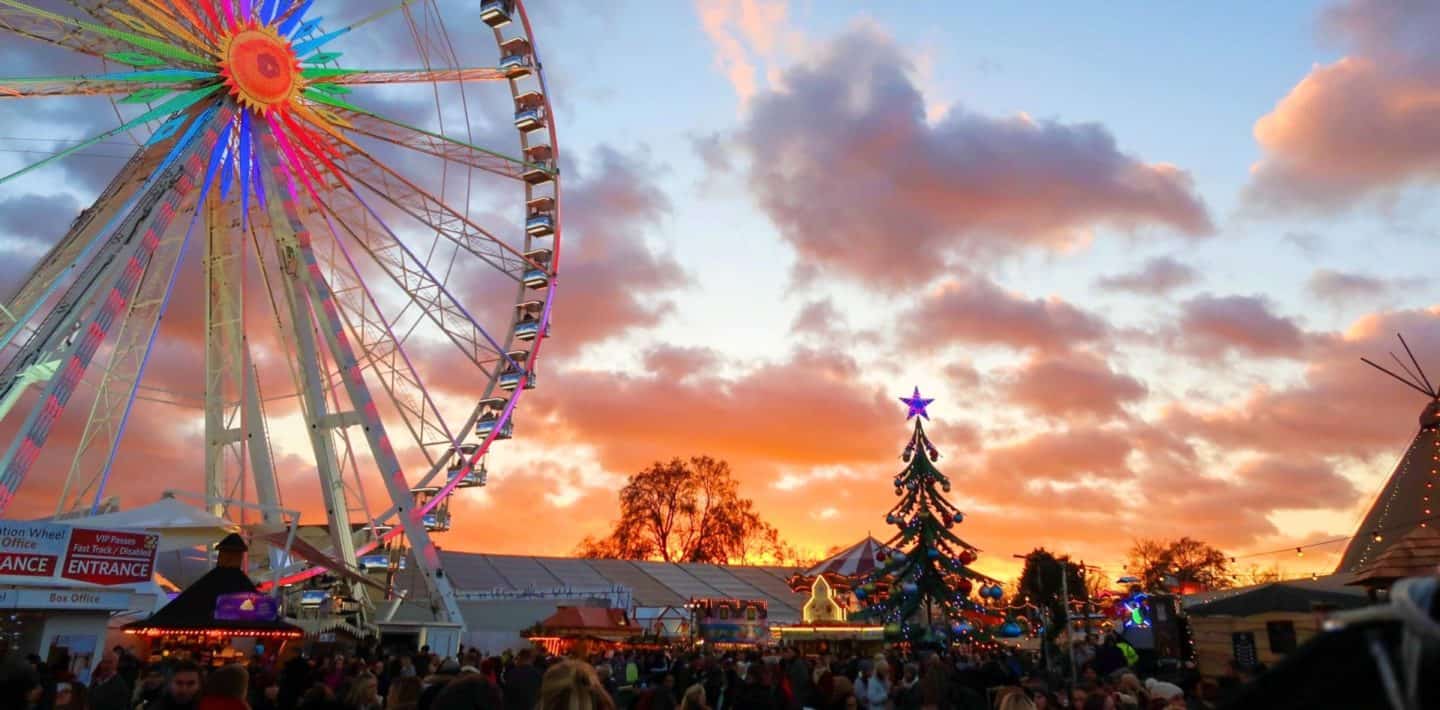 If you're not in London already and need to book train tickets to London for Christmas time, be sure to check out The Train Line. I use them all the time to compare the best train times, journey lengths and prices!
1. Southbank Christmas Markets
The markets on the Southbank get better and better every year.
Usually, they are Nordic-inspired with a huge amount of wooden chalets lining the river selling a huge range of foods from typical German Currywurst and Bratwurst to Belgium Waffles to English Fish and Chips, plus a big range of gifts and drinks.
When looking to see where are the best Christmas Markets in London. The Southbank always has a good vibe surrounding it and the Christmas Markets make it even more special. We watched some street performers close to where the all-year-round Carousel sits and took in the iconic view over the Thames.
If you'd rather see the Christmas Lights of London by Bus, check out this awesome looking tour!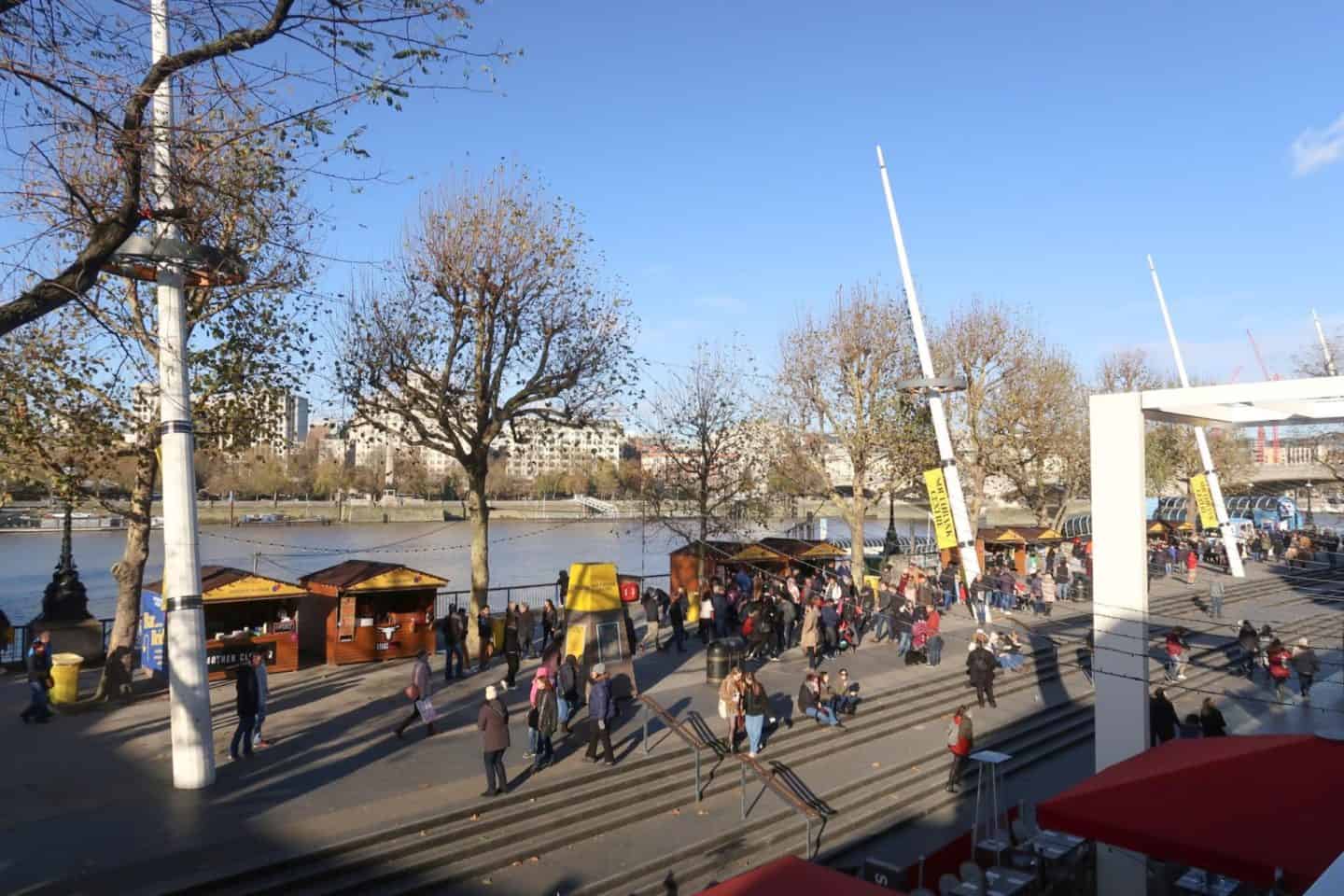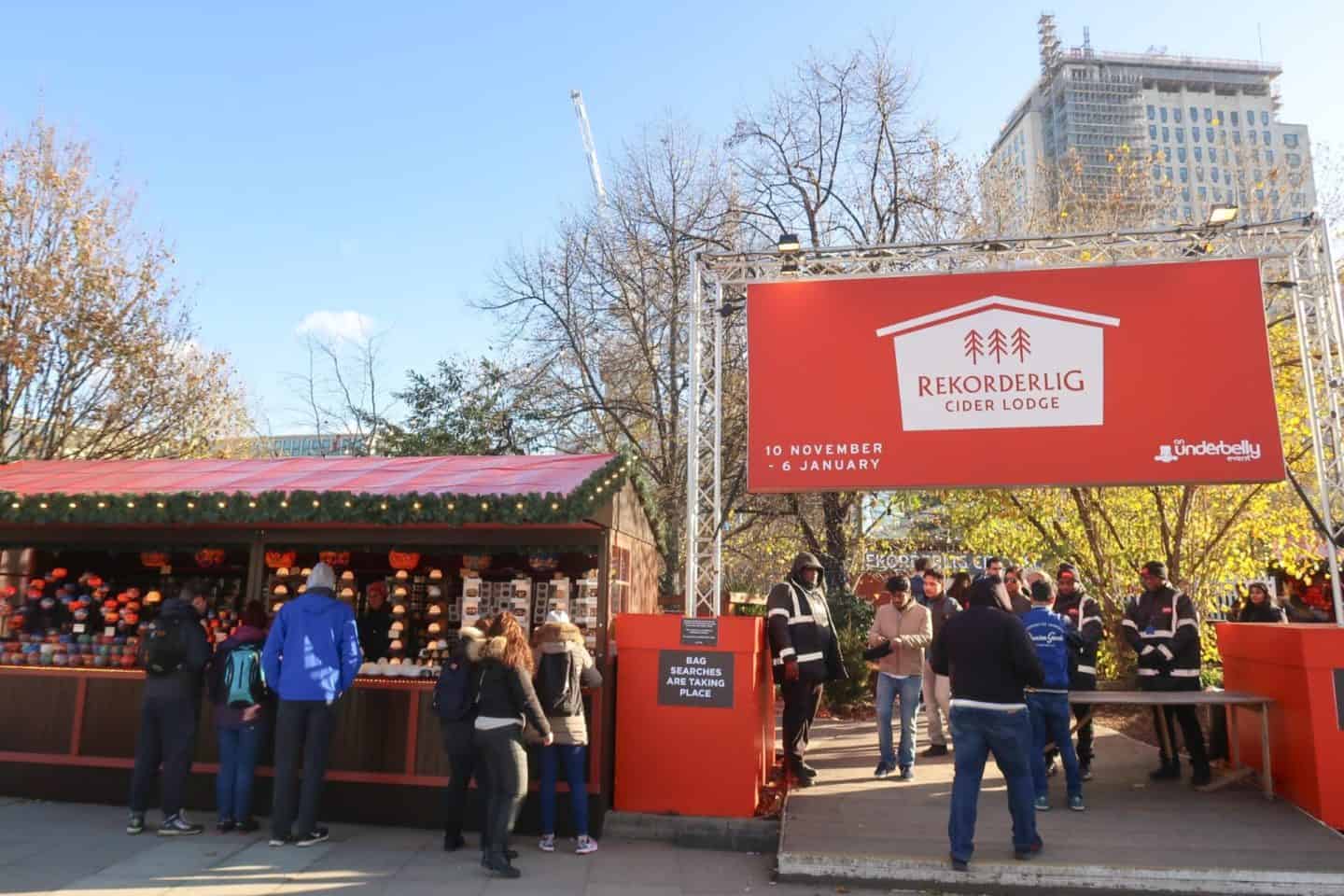 2. Covent Garden Christmas Market
Our next stop was Covent Garden just an 18-minute walk away!
We crossed the river and walked towards the Strand, turned right and continued down for a few blocks until we saw a handy sign pointing us left into Covent Garden Piazza where there are lots of Christmas things to do in London.
The Apple Market in Covent Garden was of course the first place I took us to. The decorations are the same as last year but they are gorgeous – huge baubles and garlands of mistletoe decorating the inside of the market.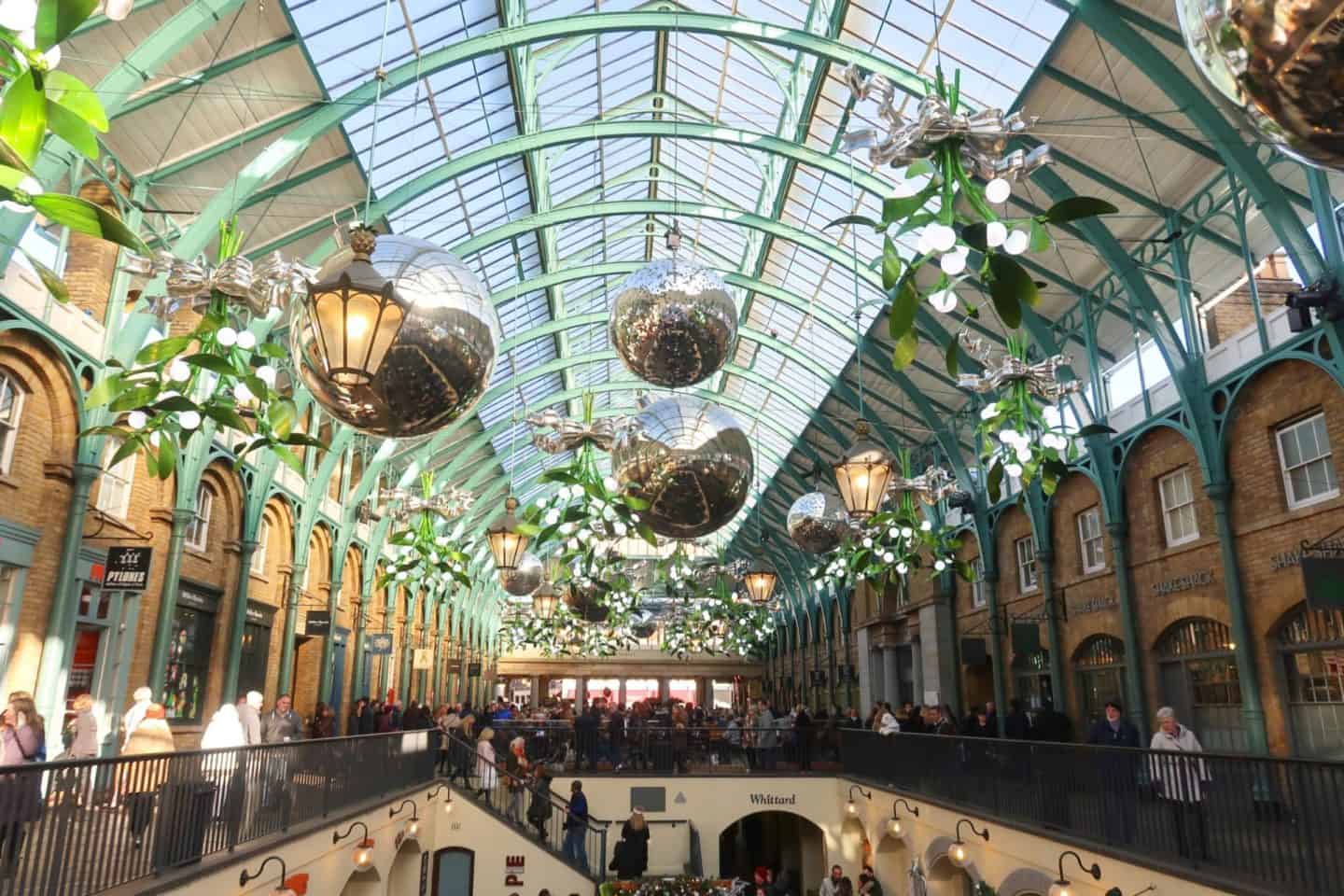 We walked through the different sections of the market, saw the Christmas window displays, listened to the live music and took in the scents from the mulled wine vendors temporarily set up in the middle of the market.
Covent Garden also has its huge Christmas Tree one side of the markets and a huge Reindeer the other side so I made sure that we visited both of these too!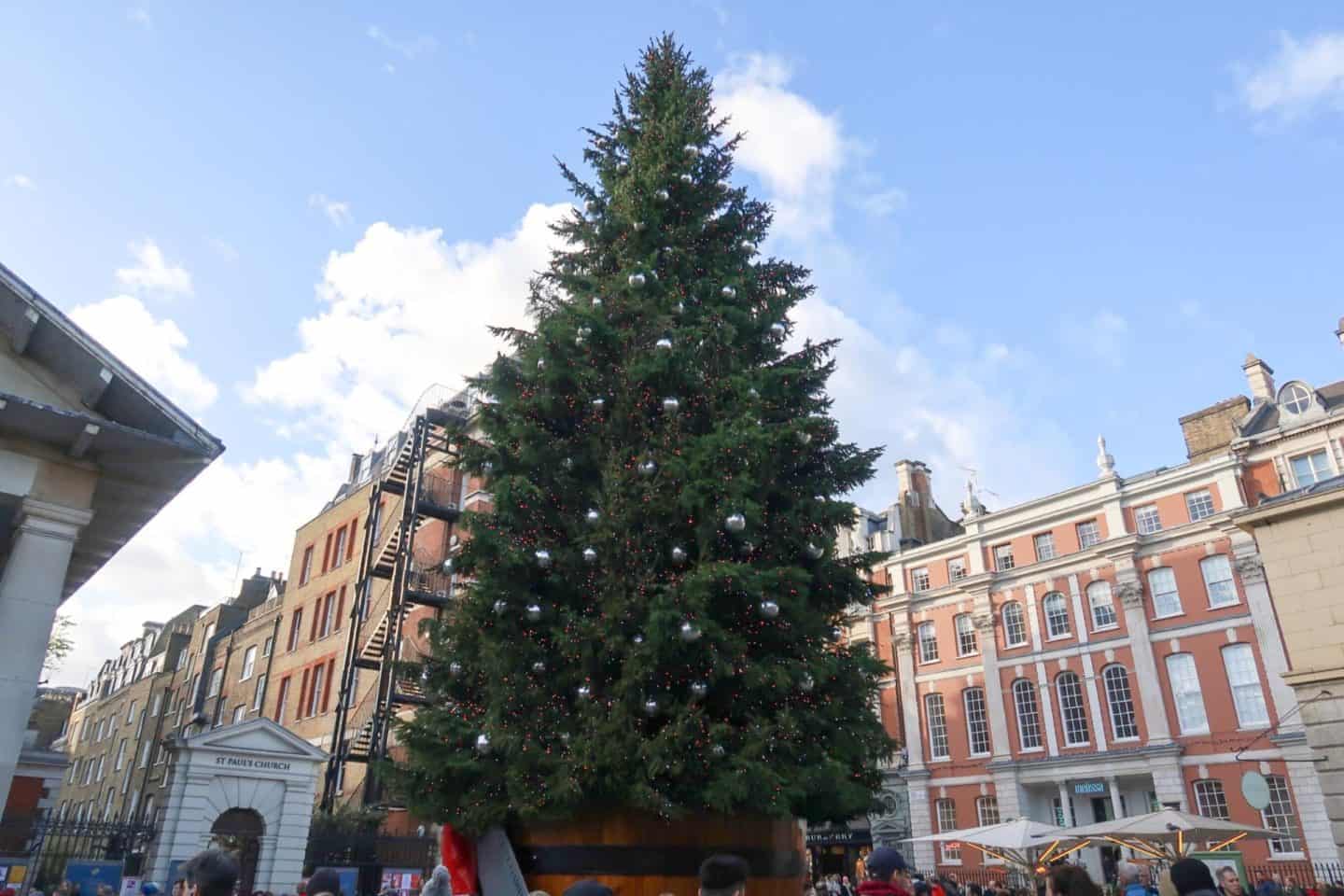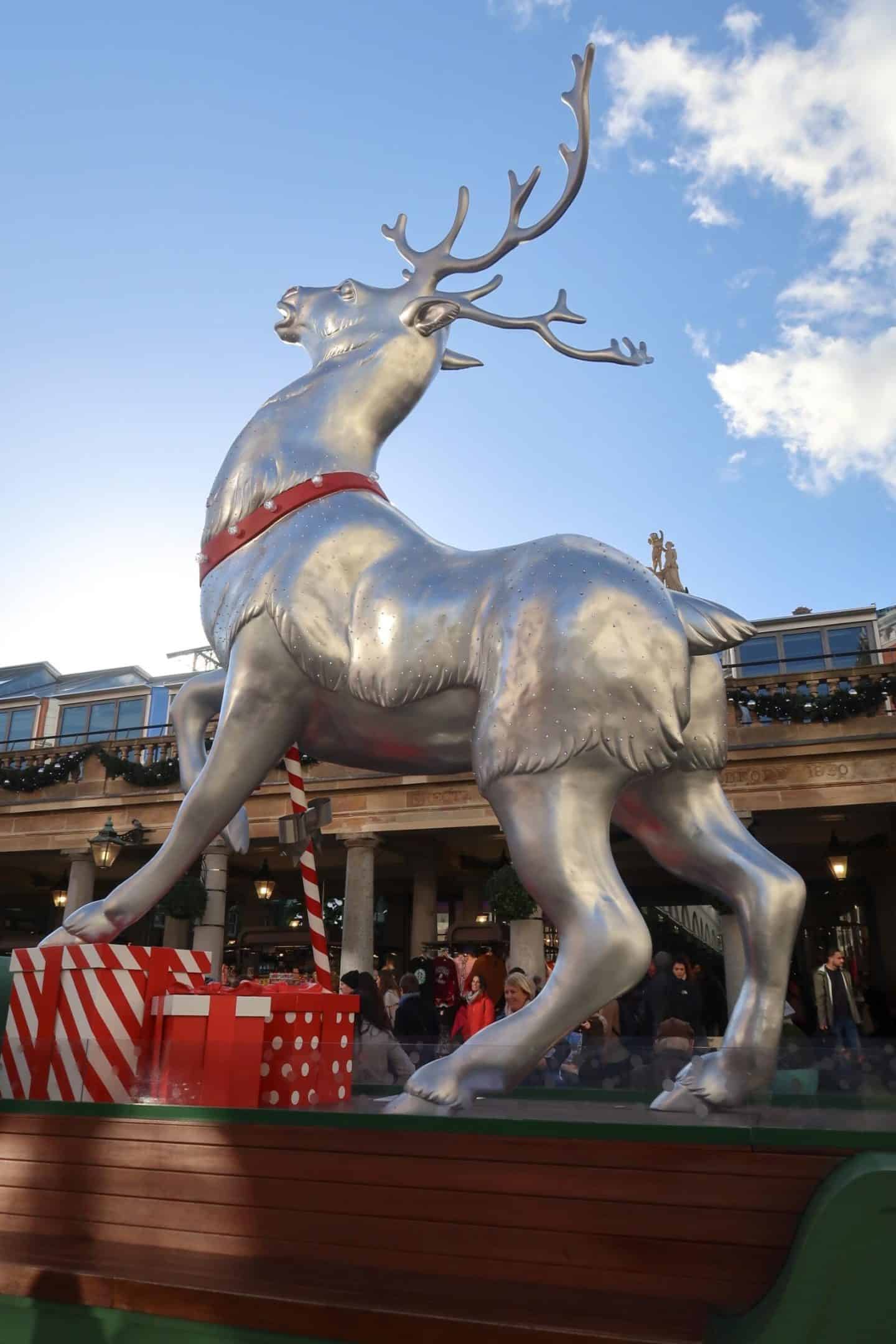 3. Leicester Square Christmas Market
Leicester Square was next on our agenda as Covent Garden and Leicester Square are close together and this is a popular London xmas market.
We walked towards Leicester Square tube station and carried on down the pedestrian area of Cranbourn Street to the actual square that is Leicester Square. It was not hard to miss as it's been transformed into a traditional Christmas Market.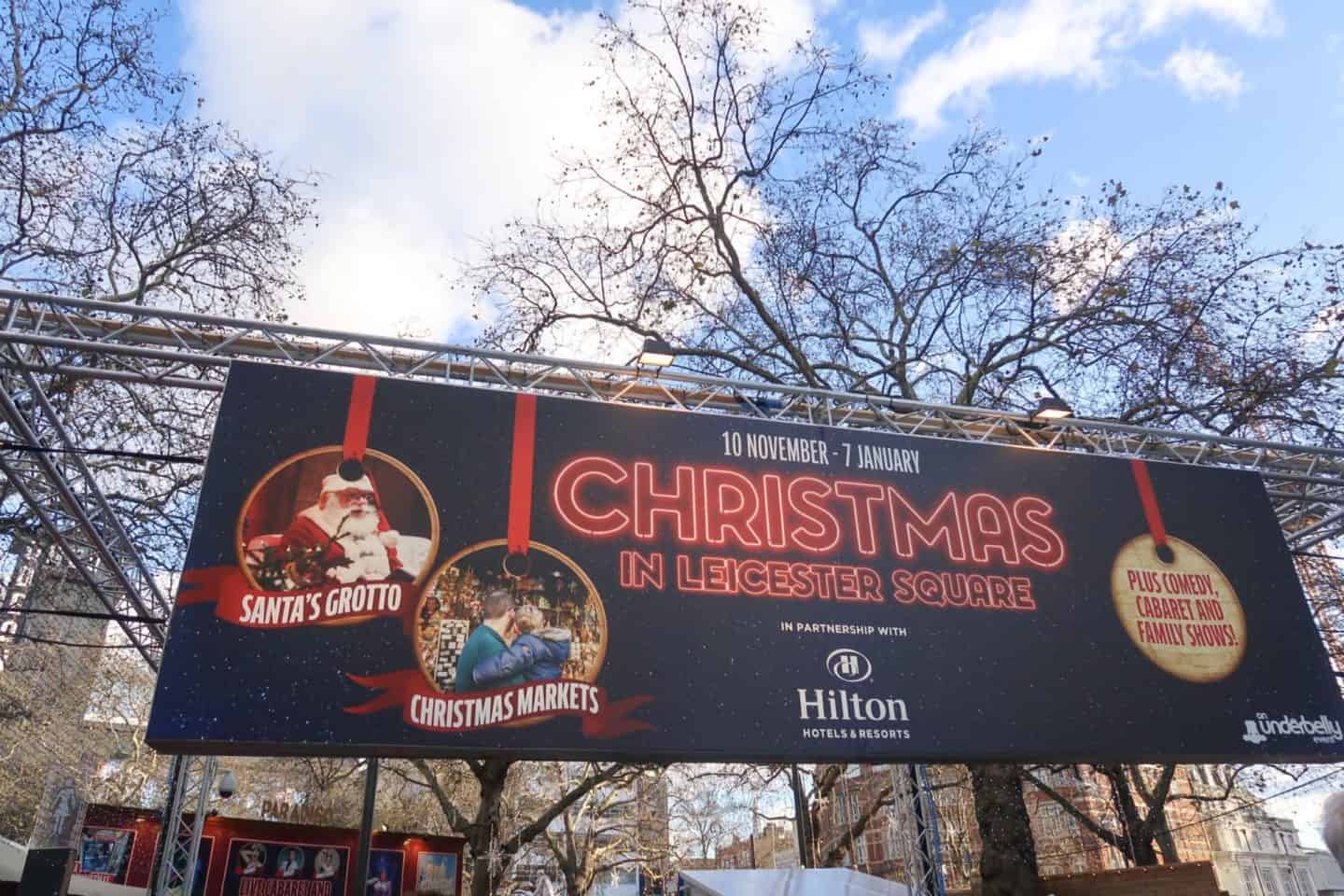 The area is only small but I really love the feel of Leicester square at Christmas. The markets do feel a lot more authentic and traditional which I think is why I liked them.
In fact, they are so traditional that there is a Santa's Grotto within the square which is something that doesn't seem to be offered as much these days. (Santa's Grotto is a ticketed event though, in case you fancy visiting.)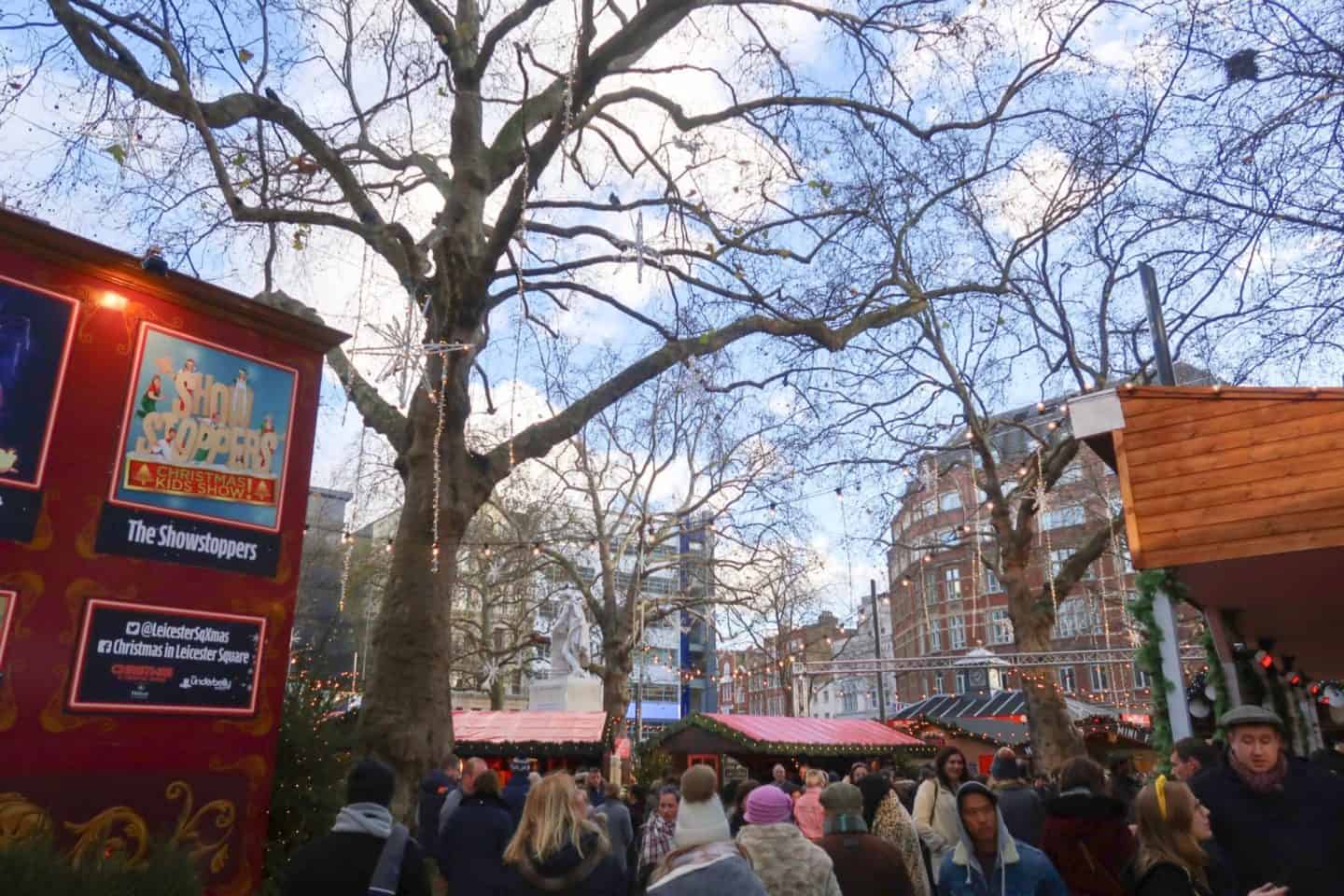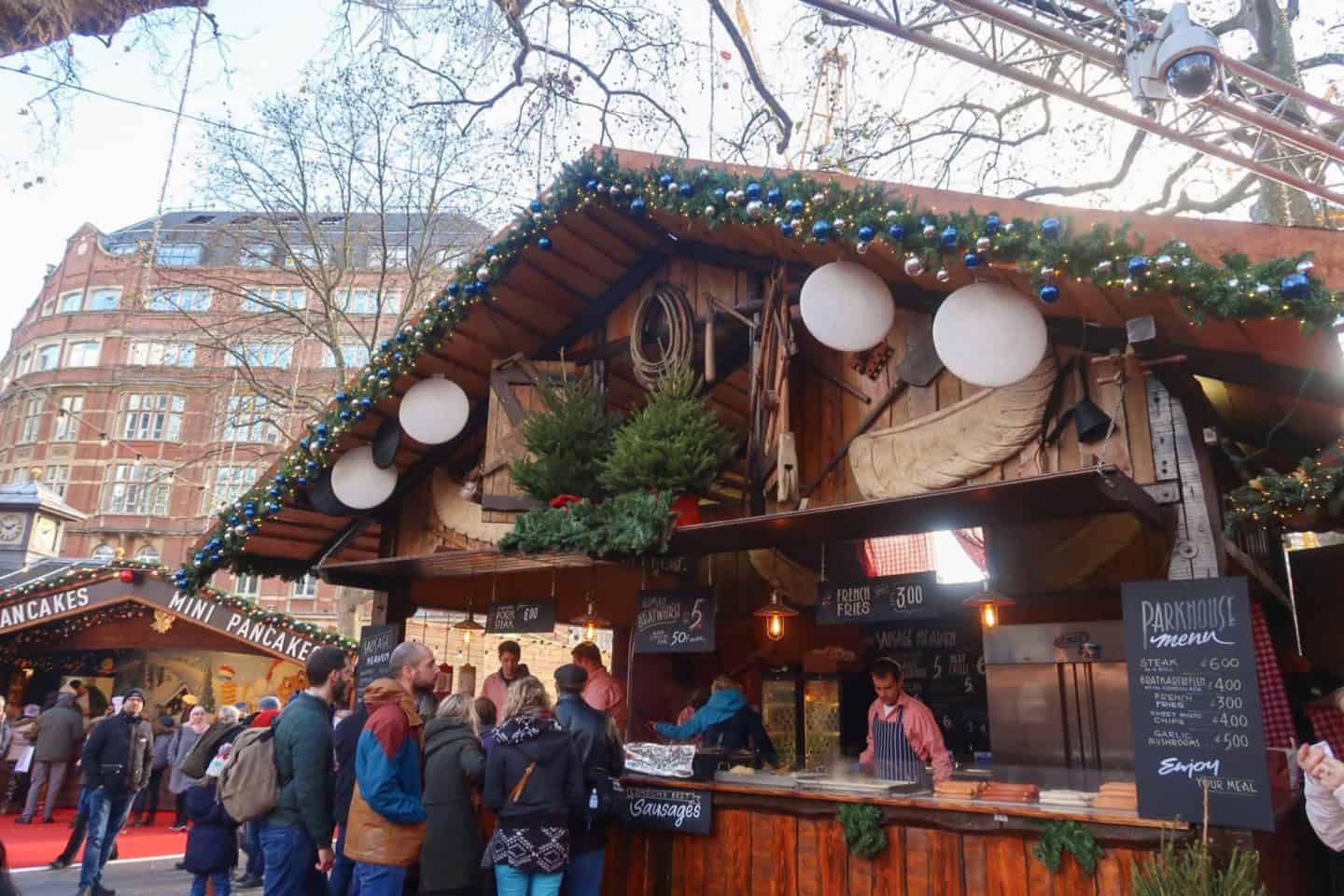 If you'd rather see the Christmas Lights of London by Bus, check out this awesome looking tour!
4. Regent Street Christmas Lights
We walked in the direction of Piccadilly Circus and I was pleased to see that the iconic, curved screens surrounding Piccadilly Circus are now back as they were taken away for renovation earlier in the year.
We spotted the famous street, Regent Street, really easily thanks to the huge and beautiful angels that line the street during the Christmas period.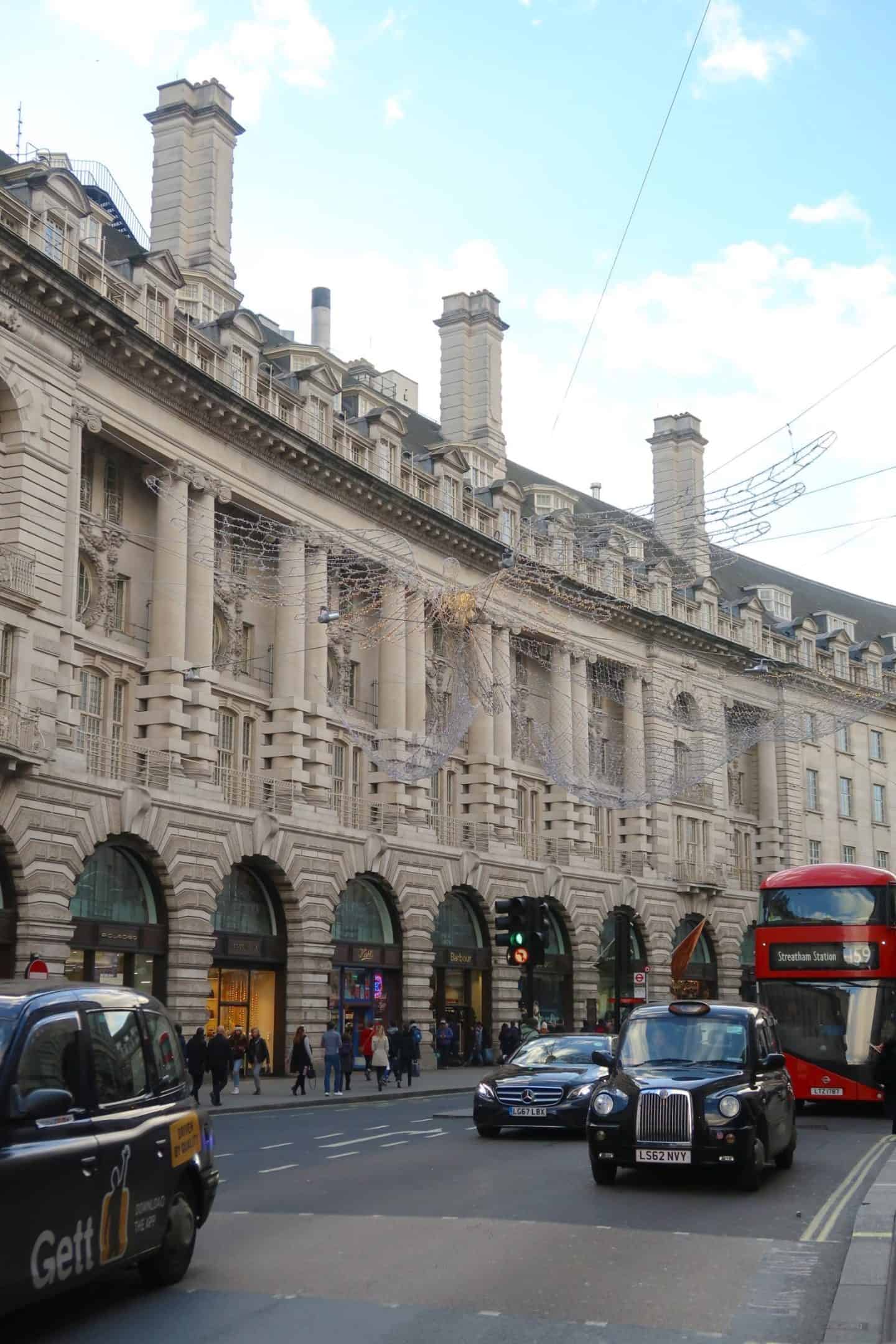 Regent Street takes you right up to the crossroad of Oxford Circus however, we didn't walk all the way up as the beautiful area that is Carnaby is hidden behind the streets between Oxford Street and Regents Street.
I had an idea of where we needed to turn off but luckily there was a huge 'Carnaby This Way' sign pointing us right so we dipped off of Regents Street into the narrow streets of Soho before turning left up the oh so colourful Carnaby Street!
5. Carnaby Street Christmas Lights
Carnaby Street mixes its lights up each year, which I love. It's known for its quirky lights each year and this year doesn't disappoint.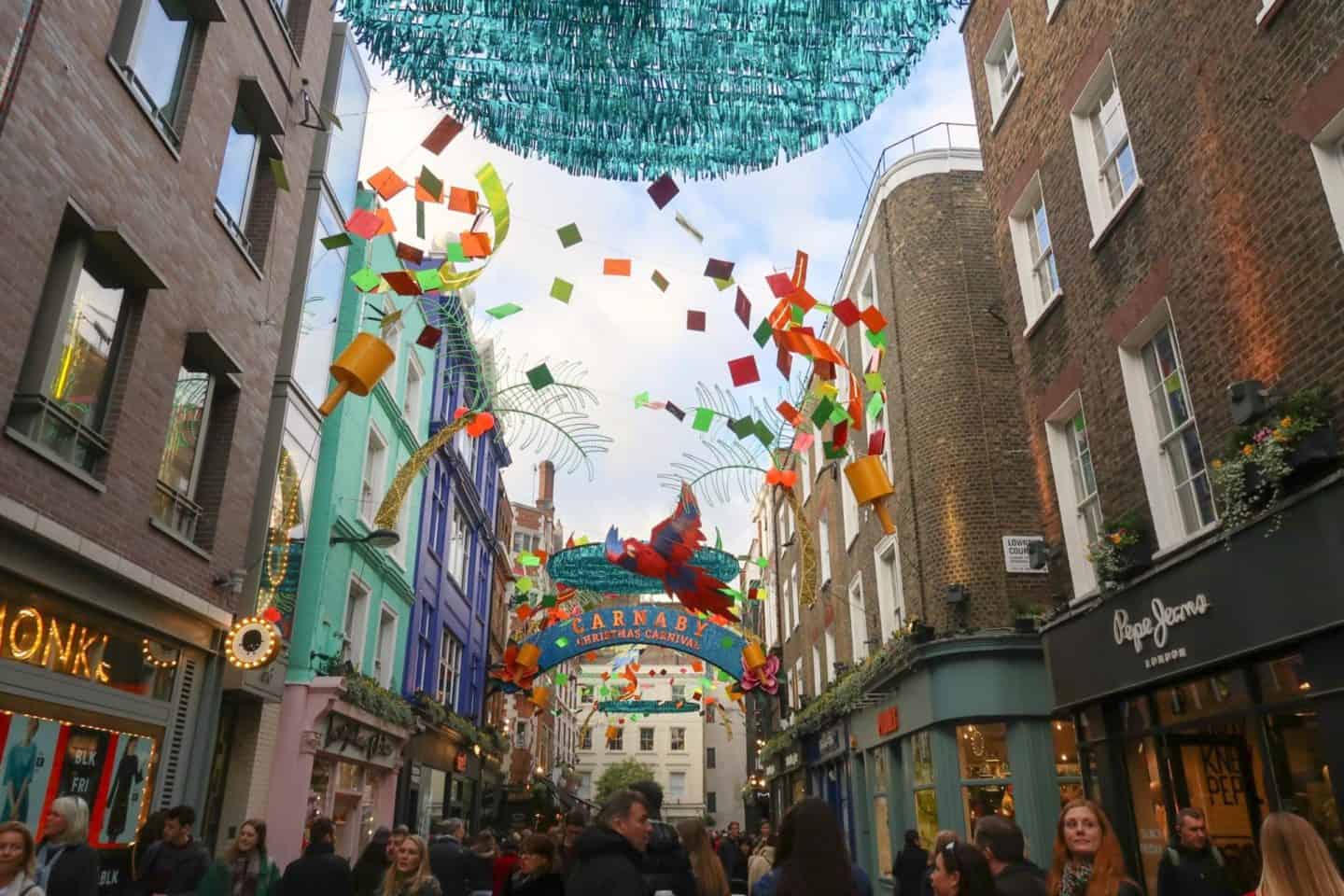 6. Oxford Street Christmas Lights
We headed through Carnaby Street, past the Liberty store and onto Oxford Street where Oxford Circus is. Oxford Street is busy all year round but it is especially busy during the Christmas period.
By keeping my head up and looking at some of the 1,778 baubles and 750,000 LED bulbs that are lining Oxford Street it made it that bit more manageable as once again the lights this year are stunning both during the day and at night.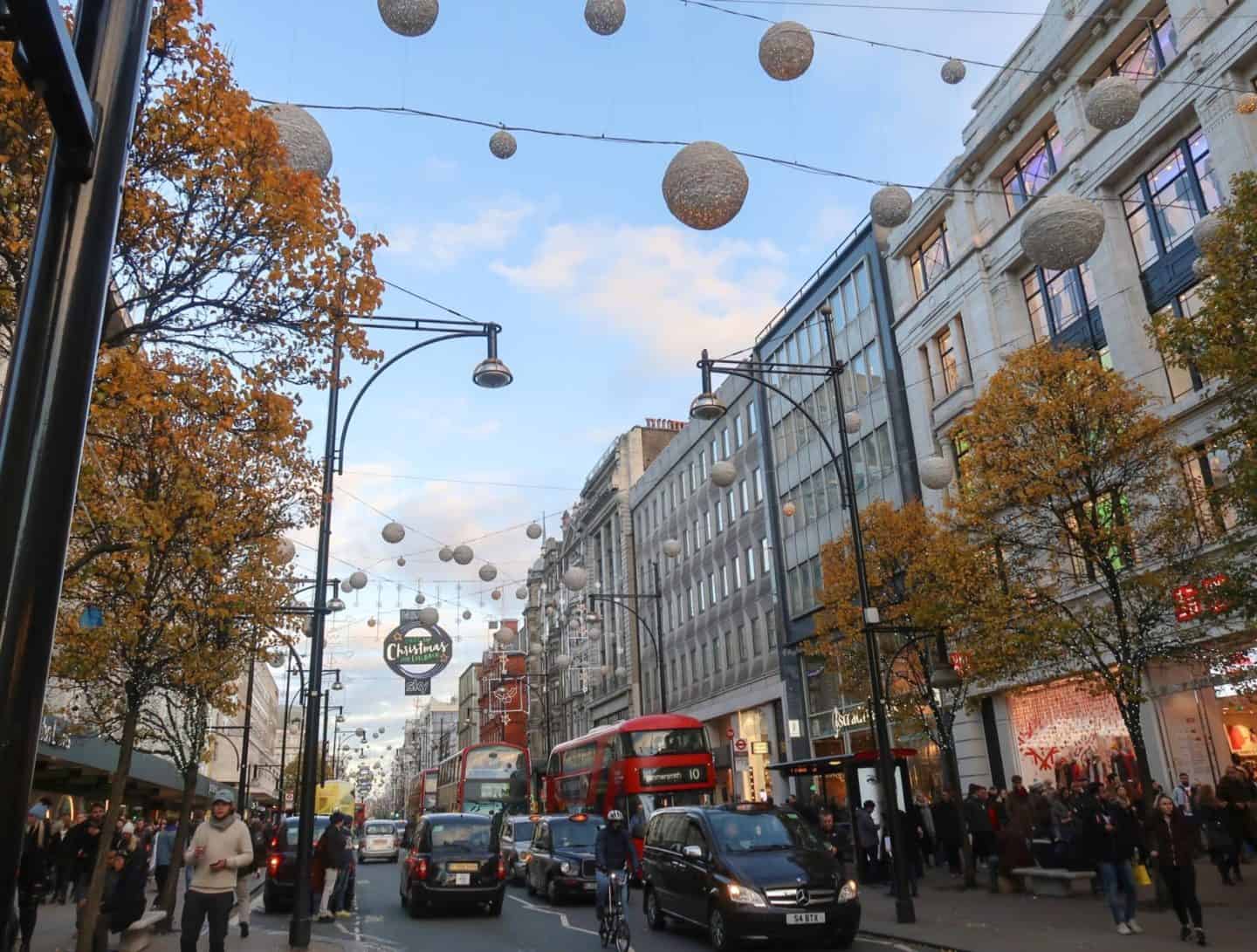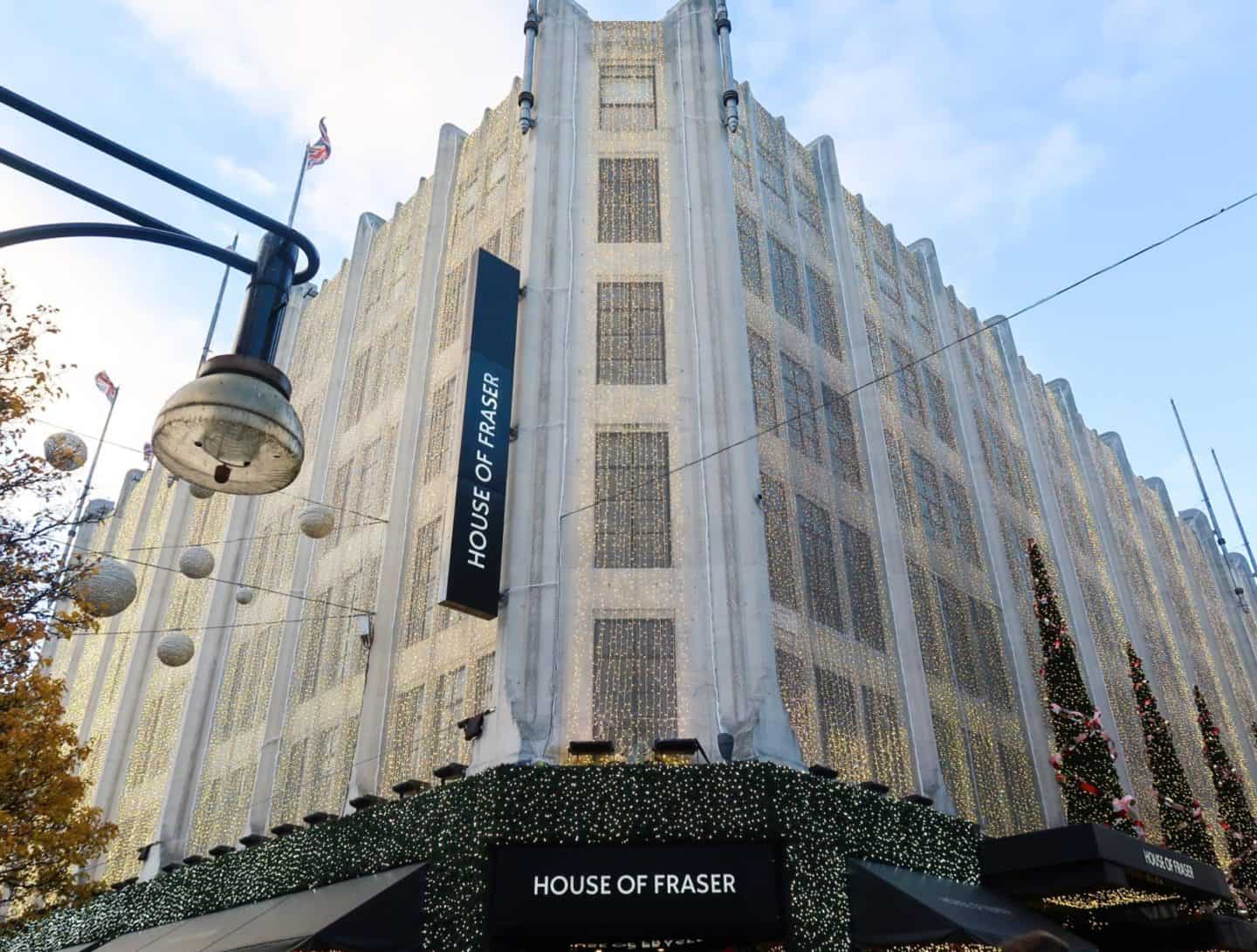 7. Bond Street Christmas Lights
We headed West along Oxford Street until we reached Bond Street which is just before Bond Street tube station. I feel that the Bond Street lights aren't as well-known as some other lights in London but this is probably because Bond Street is lined with designer stores and not somewhere a lot of us would usually need to visit.
However, I know that at Christmas it's well worth veering off Oxford Street which is what we did and we were treated to the sight of the peacock-themed installation which seems very sophisticated and perfect for this area of London.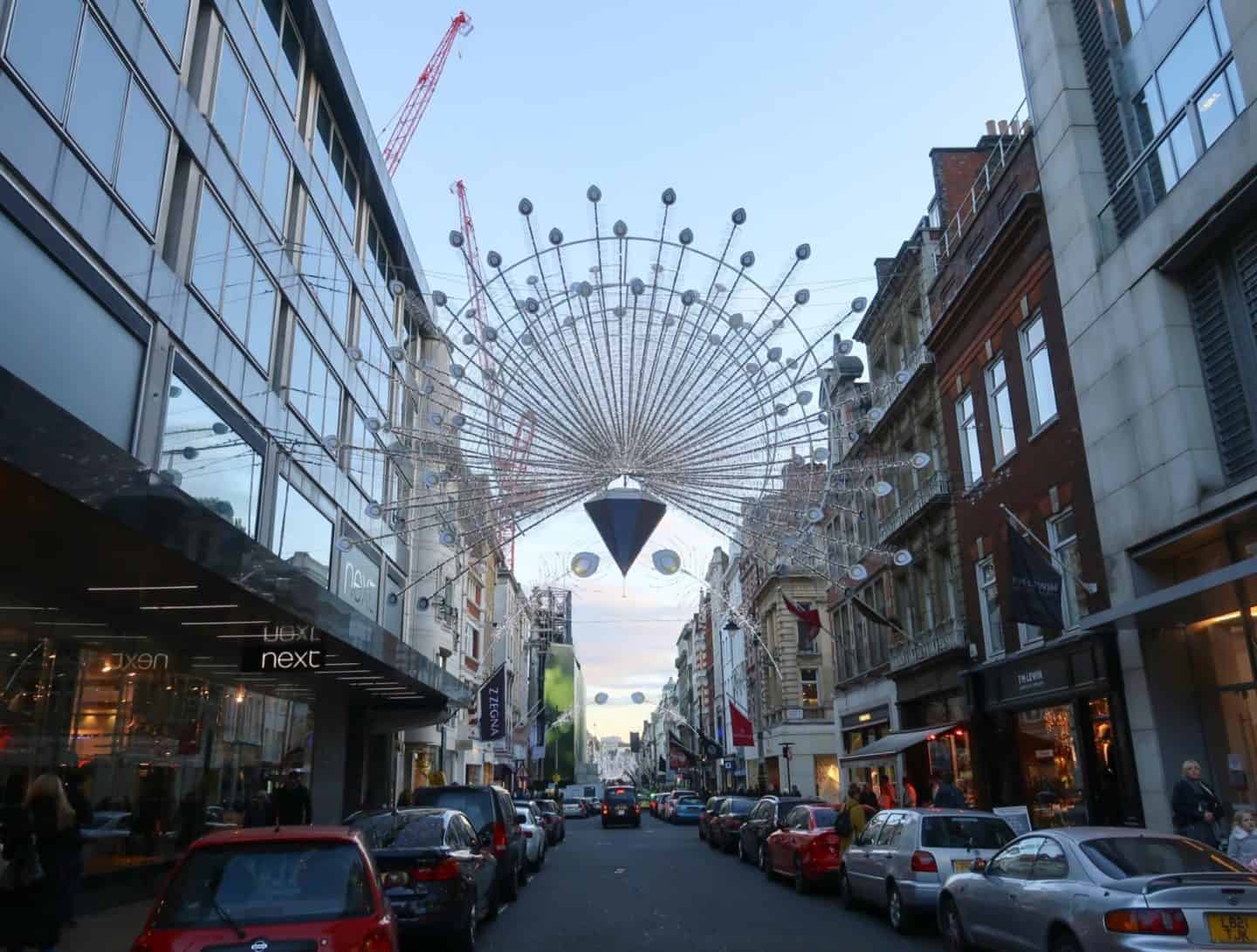 From Bond Street we continued up Oxford Street to Marble Arch. We crossed over the road into Hyde Park and the lights and the tops of the rides of Winter Wonderland showed us the way!
8. Winter Wonderland in Hyde Park
Winter Wonderland is the best place to visit in London for things to do in London at Christmas because the park is transformed into a little village full of rides, bars, restaurants, games, market stalls and food stalls!
We had a walk around the rides, gasped at a few rides that there is no way we would get on and made our way to the Bavarian Village.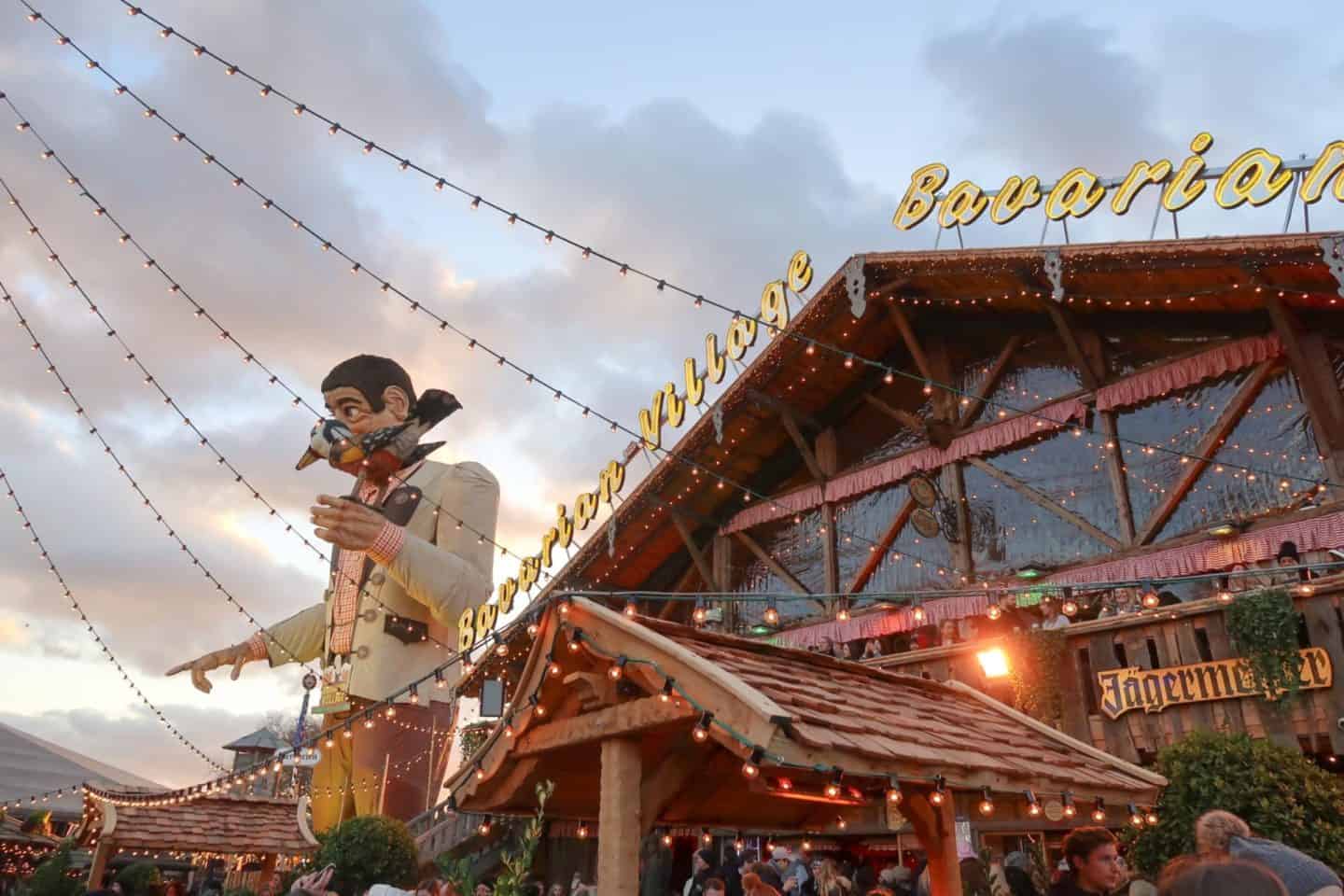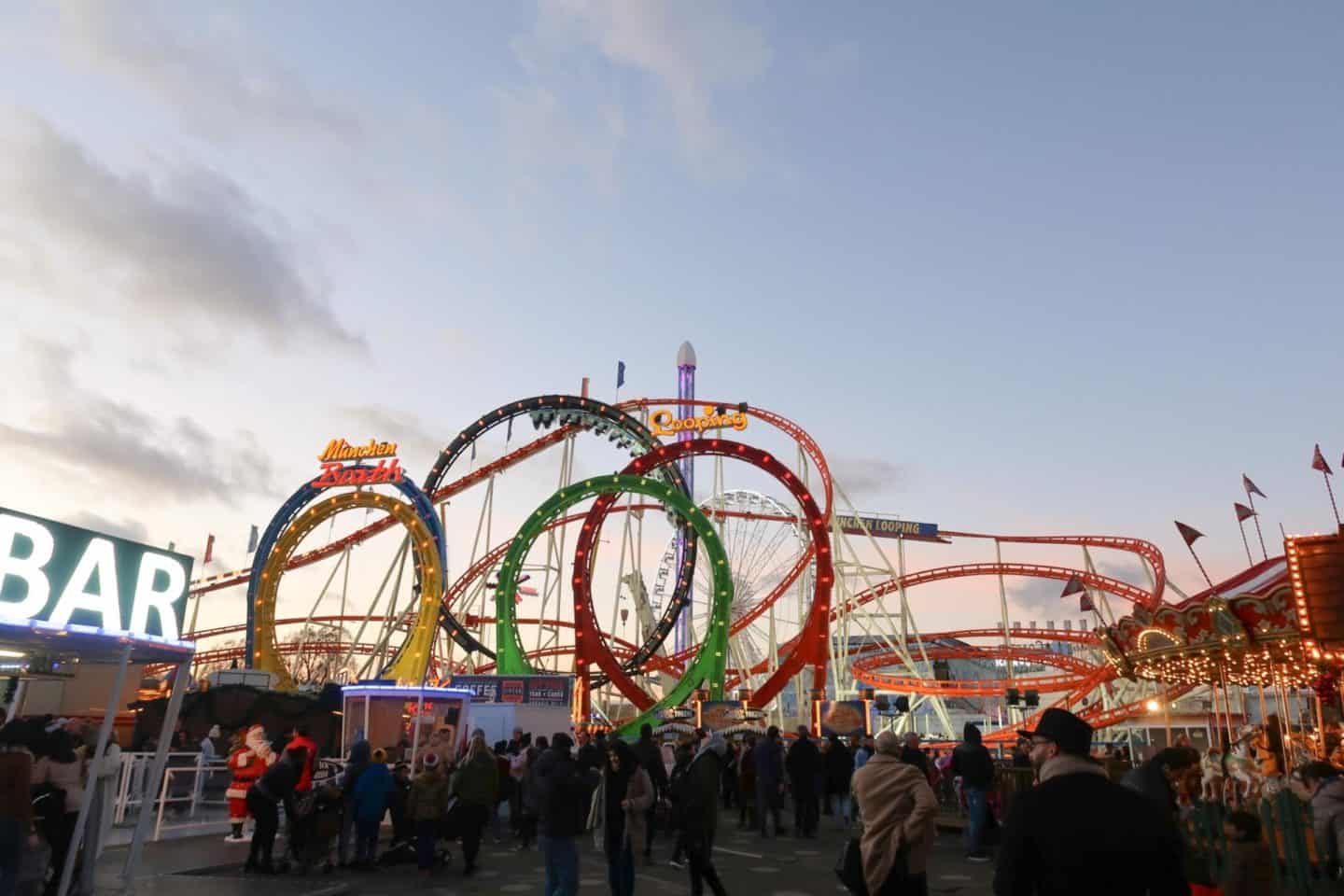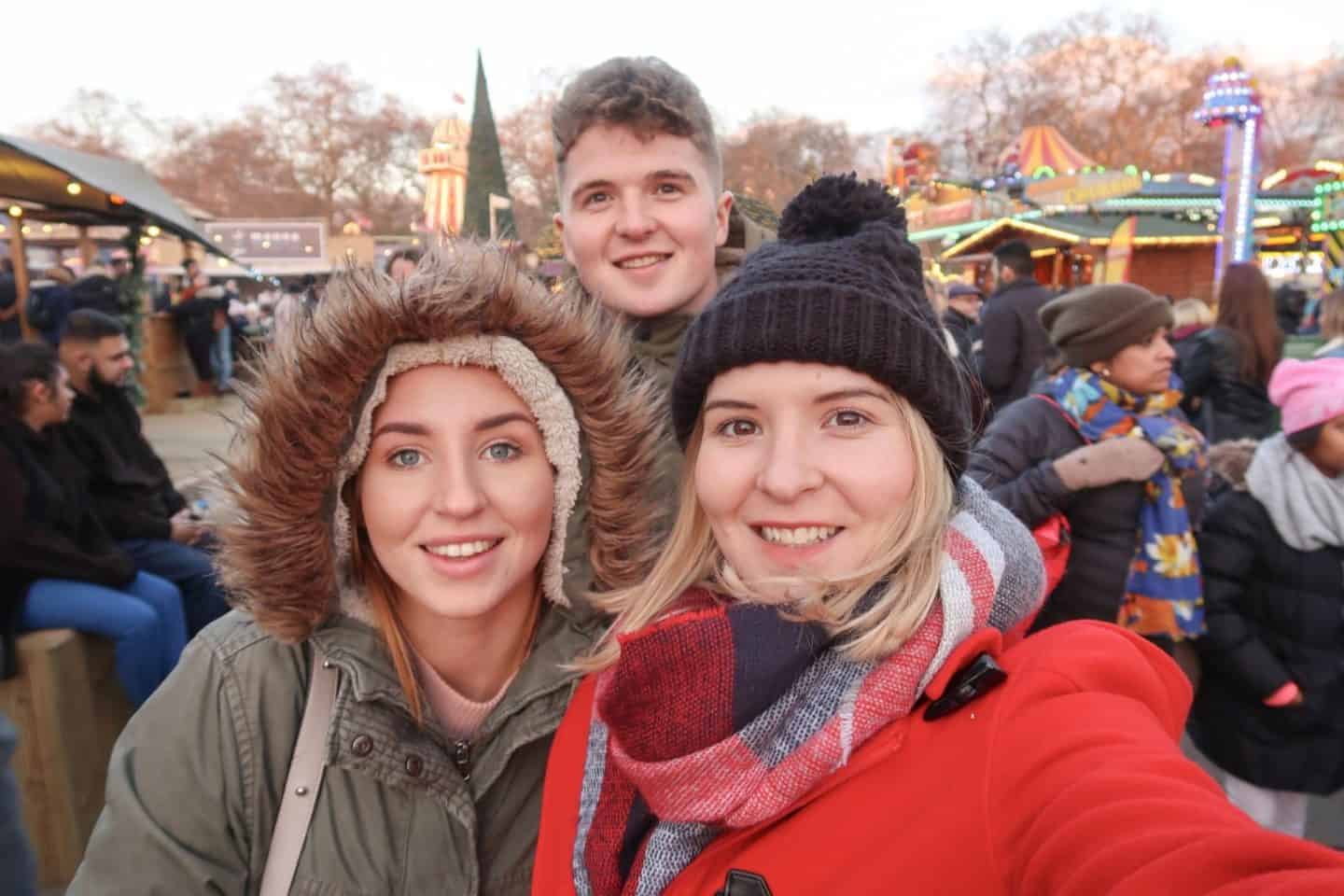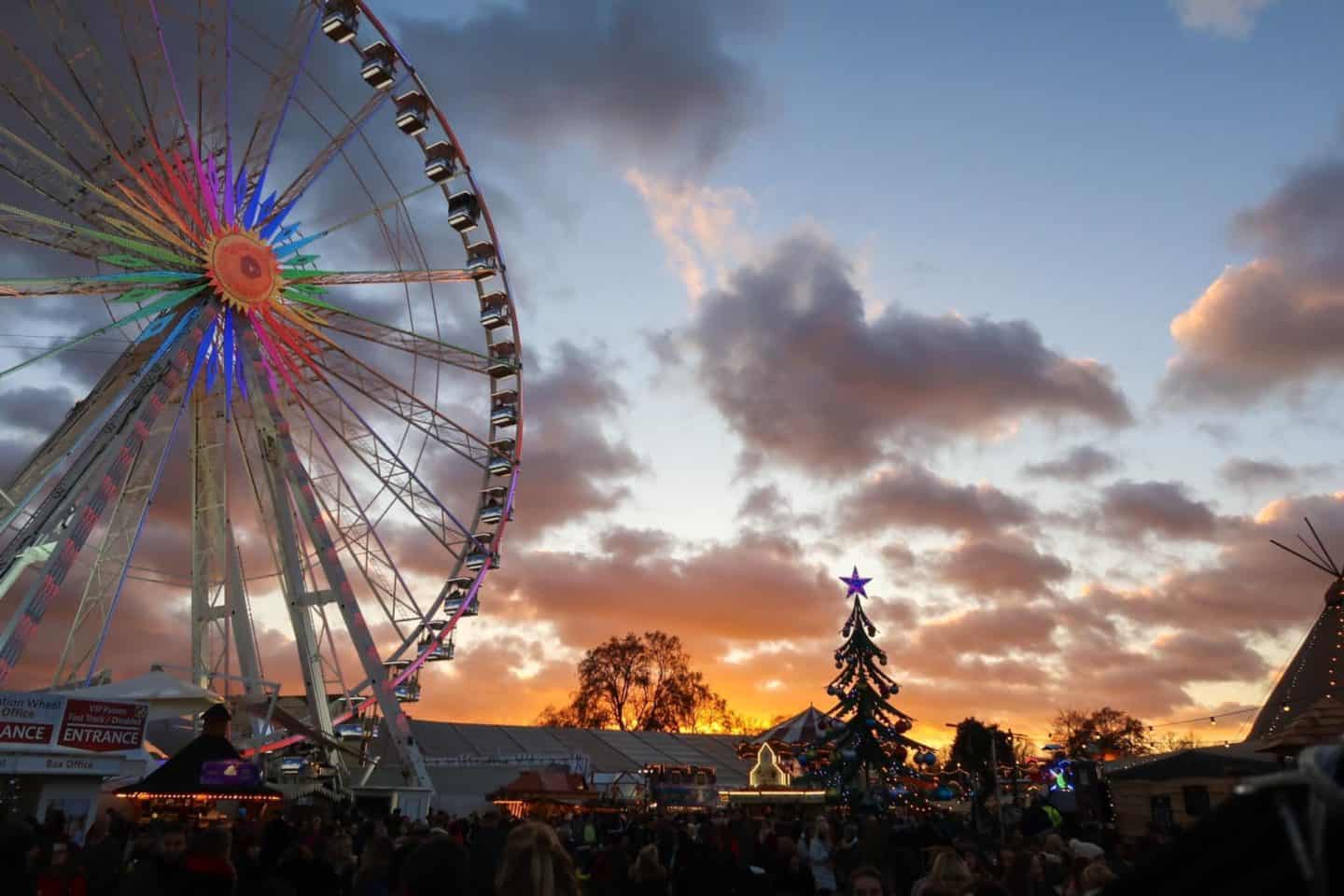 Once we were finished in Winter Wonderland we headed back to Marble Arch station but as it was now dark, instead of taking the tube from here we walked down to Bond Street station so I could show my Brother and Sister the lights along Oxford Street all lit up. I love the area around Selfridges; the store is covered in purple lights and the trees outside are all lit up too!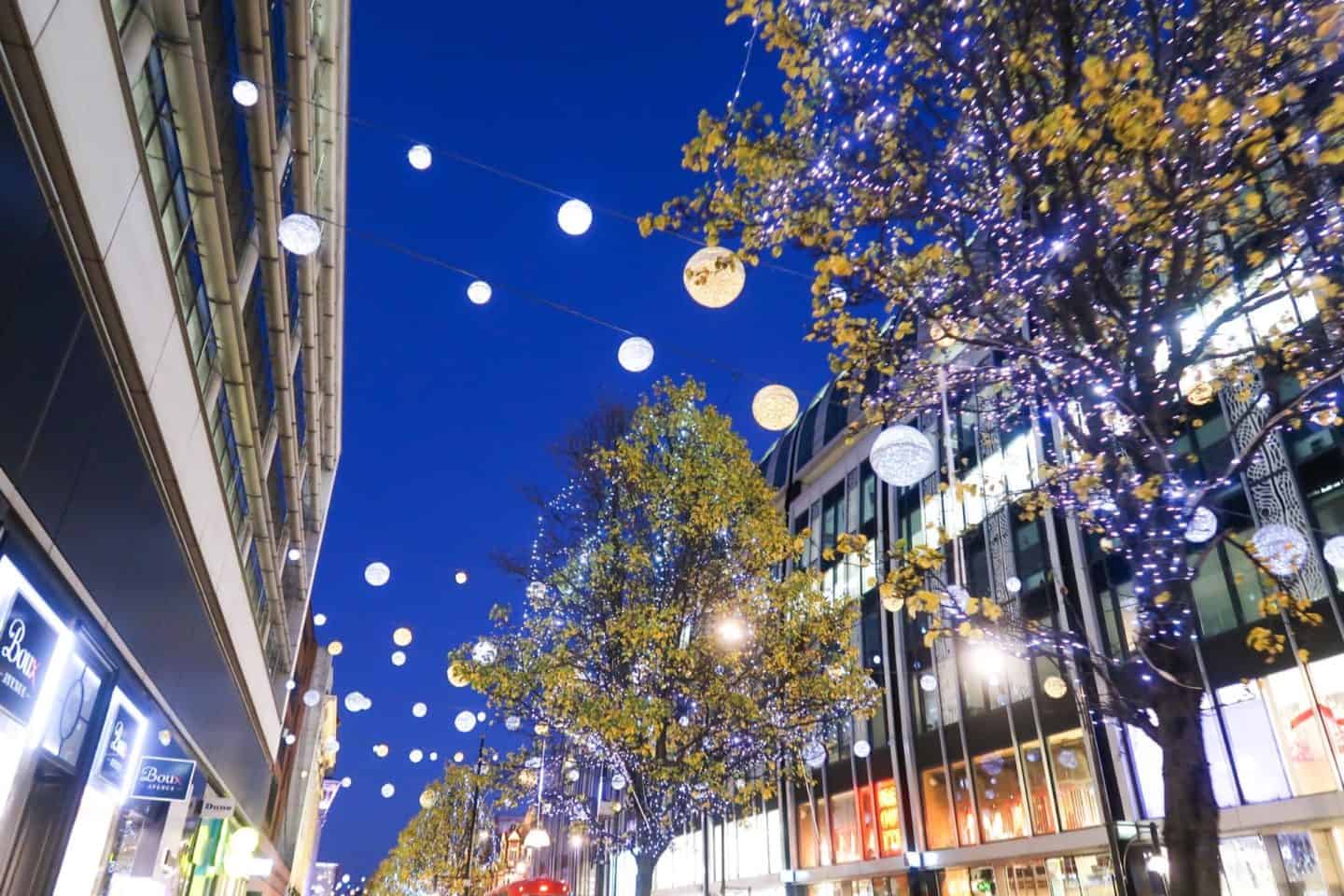 Overall, we had a great day and it was so great to see as much as we did in Central London without having to take the tube. We definitely missed a few things out, ice-skating at Somerset House, the lights at Seven Dials for example, but sometimes it's best to see slightly less and enjoy taking your time.
Our route took us about 4 hours. We started on the Southbank just after lunch so by the time we got to Winter Wonderland the sun was starting to set, meaning we got to see the beautiful sunset across Hyde Park and Winter Wonderland that you can see in the pictures above. This is something I have witnessed a few times over the years and I still find it as gorgeous and magical each time!
If you'd rather see the Christmas Lights of London by Bus, check out this awesome looking tour!
Merry Christmas x
This post is in collaboration with visitlondon.com however all thoughts, opinions and ramblings of Christmas lights are my own.