This post may contain affiliate links. I will receive a small commission if you use these links.
---
A bit like when I got to Jodhpur aka the Blue City, when I got to Jaipur aka the Pink City of India, I was quite shocked by what a big city it is and how firstly, the pink is actually more terracotta. The 'pink city' section is actually quite small and although there are lots of things to see in Jaipur, it's quite hard when you don't know the best way to see Jaipur.
I had all of the places I wanted to visit in Jaipur written down on my phone and I had a plan to write a 3 day itinerary for Jaipur including everything there is to see but I can't write that anymore as I didn't actually see everything and I'm glad I didn't!
Find What You're Looking For Easily Here!
best places to see in jaipur
Jaipur has 3 Forts, a City Palace, Temples in the Centre, Temples further away, it has a Lake, Gardens, Stepwells, a Cinema, Markets, iconic buildings like the Hawa Mahal, Museums like the Oldest Albert Hall Museum and all of these things are not that close together!
Sightseeing in Jaipur means you have to section the City down, for example if you have 2 days in Jaipur or 3 days in Jaipur you could do this:
See the Forts altogether – Amber Fort, Jaigarh Fort & Nahargarh Fort plus the Jal Mahal (Water Palace on the Lake).
Visit the Pink City and see Jaipur City Palace, Jantar Mantar (the astrological observatory), the iconic Hawa Mahal and Bazaar's wich are all in the Pink City and the Galta Ji (Monkey Temple) which is close-ish to the Pink City.
Head out of the Centre of Jaipur a bit and visit the Instagram famous Panna Meena Ka Kund Steps, Jawahar Circle Garden and Birla Mandir Temple.
As you can probably tell this is a lot to see and although I did see some of it, I didn't see all of it.
SIM CARD FOR INDIA
I really recommend having a sim card in India as it makes travel in India so much easier! You may have heard that it's hard to get a sim card in India but you can get a sim card in Delhi Airport, read this post to see how to buy a sim card in Delhi Airport or if you fly in elsewhere 3 ways to buy a sim card in India and you'll be connected in just a few hours!
WHAT TO WEAR IN INDIA
If you are a woman, here's what I recommend you pack and wear in India. Technically you can wear what you like in India in most places but to get fewer stares and feel more comfortable, read my post!
DON'T GET SCAMMED IN DELHI
Most people arrive for the first time into Delhi and get scammed within a few hours! Read my Delhi Travel Tips to help you enjoy Delhi, and the best places to stay in Delhi which is so important!
Best Way to See Jaipur
Here are my recommendations on the best way to see Jaipur!
Don't Try and See Too Much
Unless you are doing the Golden Triangle in India and Jaipur is the only place you will visit in Rajasthan it's likely that you will have been or will go to other Cities in India and in Rajasthan with Forts, Palaces and Temples.
It sounds very spoilt but after 3 weeks in Rajasthan visiting Udaipur, Kumbhalgarh, Jodhpur and Pushkar I was kind of over seeing Forts and Palaces, and although Jaipur's Forts and Palaces are impressive, I don't think they are the best.
Not only this but by visiting all of tourist places in Jaipur I would have spent a lot of money on entrance fee's. Entrance into some of Jaipur's best attractions are only 200Rs but others like the Amber Fort are 500Rs + which soon add's up. If you are a backpacker on a budget you won't want to visit everywhere in Jaipur.
The traffic is also very busy and hectic in Jaipur and you need constant transport to get around. It is best to hire a rickshaw driver for the day and agree on a set price, otherwise when you get individual rickshaws the price soon add's up too and it's quite a hassle constantly having to negotiate and find one for the right price.
Remember that it's ok not to see everything in a big City like Jaipur!
Although if you do want a good idea of where to find the best Instagram spots in Jaipur check out my friend Man vs Globe's blog here as this will give you an idea of how to find all the places you have seen online!
Go inside the Hawa Mahal
The Hawa Mahal also known as Palace of the Winds or the Windy Palaces is one of the most important places to visit in Jaipur because the entire Palace represents the crown of the Hindu God- Lord Krishna.
I had been in a few Palaces and Forts recently and I did want to go inside a building in Jaipur so I decided to go into the Hawa Mahal instead of the City Palace and I'm really glad I did! I don't know about you but I have seen so many photos of this building from the front online so it was great to see behind it and see it from the inside, including a few of its 953 windows.
I saw it from the inside first and then went out the front to see it and this was also a great way to do it as I felt like I appreciated the outside more. Although I'll warn you now it is actually very small! Across the road is The Tattoo Cafe and Windy Cafe which are good (although overpriced) places to get a drink and take in the view!

Go on a City Tour of Jaipur
The best way to see Jaipur City in my opinion is to go on a City Tour, this way you will see a lot in a short amount of time and have someone to arrange the transport for you. Bike Tours around Jaipur are also available and are a good way to see the city, just try to avoid the midday heat!
I stayed at Moustache Hostel who work alongside a company called Nomadic Tours so as soon as I walked into the Hostel I was greeted with signs detailing the many Jaipur Day Tours that Nomadic Tours offer including a Pink City Walking Tour, an Evening Walk around the Pink City and a Street Food Tour.
You can check out Nomadic Tours website here, if you stay at Moustache Hostel in Jaipur it works well as a lot of the tours leave from the hostel but even if you don't you can book on and meet them at the starting point in the City.
Alternatively if you want a full city tour or a private full city tour, check out one of these options:
Section off the City
If you want to see all of, or some of, Jaipur points of interest on your own, which is do-able, as I have said above, section off the City and visit it section by section rather than jumping around too much as it will waste your time and money.
Go on a Street Food Tour
One of the best things I did in Jaipur was to go on an Evening Street Food Tour with Nomadic Tours. We were out for a few hours and ate 10 different street foods from a range of stalls. This is something I couldn't have done on my own and after trying so much food I found I recognised the food in Jaipur in my next few days there and was then able to get street food on my own as I knew what to get! This is one of the biggest benefits of doing a Street Food Tour in India I think.
The cost is 650Rs but if you stay at Moustache Hostel in Jaipur you can get it for 500Rs when you book it with reception!
To see my Street Food Tour in Jaipur, check out my YouTube video here!
Go to the Cinema
Another one of the best things to do in Jaipur and one of the best things I've done in India so far (which considering I'd been in India for 1 month already is saying a lot), is going to the Rajmandir Cinema! This is a must do activity in Jaipur and a great thing for backpackers to do in Jaipur because it's so unique, so fun and cheap!
It seems that they show the same film all day and for multiple days so you can't pick what you see. I went to the 6:30pm showing which was a good time to go and we sat in the Emerald seating which is the second cheapest costing 170Rs for a ticket. (Just make sure you count your change as they tried to short change 2 of us at the ticket booth.)
BOOKING TRAINS IN INDIA
India is best travelled by train because its the quickest, cheapest and best way of getting to know the country. For an EASY option of booking trains in India use 12GO to search and book trains really easily. If you'll be in India for awhile, you can use the local booking system, it's a bit tricker but possible, here's my post on how to book trains in India as a tourist.
BEST ACCOMMODATION IN INDIA
I always use Booking.com to book my hotels in India and Hostelworld to book my hostels. India has a great range of accommodation with brilliant hostel chains like Moustache, Zostel and Backpacker Panda as well as homestays to luxury hotels.
GUIDED TOURS IN INDIA
Many cities in India are best seen with a guide, even if it's just a half day tour on your first day. Cities in India are chaotic and complex and what better way to taste the food and get to know the city than with a local. I recommend Get Your Guide & Viator for the best tours in India!
The Rajmandir is a traditional Cinema with an art deco look from the outside and inside, it is truly stunning and so unexpected. The best thing is the crowd though. They whistle, shout and laugh so loud and even though the film will be in Hindi the crowd help you understand what is happening and the film I saw did break into English at times which helped me understand too.
For things to do in the evening in Jaipur, go to the Rajmandir Cinema!
Stay at Moustache Hostel
I'm going to stay it again, I loved staying at Moustache Hostel and it has to be the best hostel in Jaipur! The staff were all really friendly, they had lots of tours and events going on which made it really easy to meet people, there are lots of common seating areas and the Deluxe Female Dorm I was in was so great as it had curtains for privacy as well as plenty of space beside the bed to put my bag, 2 plugs, 2 lights and a locker under the bed, it felt so plush and it was such great value!
Jaipur accommodation is a bit tricky in the sense that you're never going to be in the centre and the centre of everything. Moustache Hostel is not close to the tourist places to visit in Jaipur and a rickshaw is needed but that is going to happen no matter which hotel or hostel in Jaipur you stay in!
For more hotels in Jaipur, especially budget hotels in Jaipur, also have a look on Booking.com here. I use Booking.com for all of my accommodation bookings as I find it easy to use and I love their flexible booking options incase my plans do change.
If you want a luxury hotel in Jaipur I suggest Shahpura House. I was lucky enough to stay there when I first arrived in Jaipur, you can read about it here!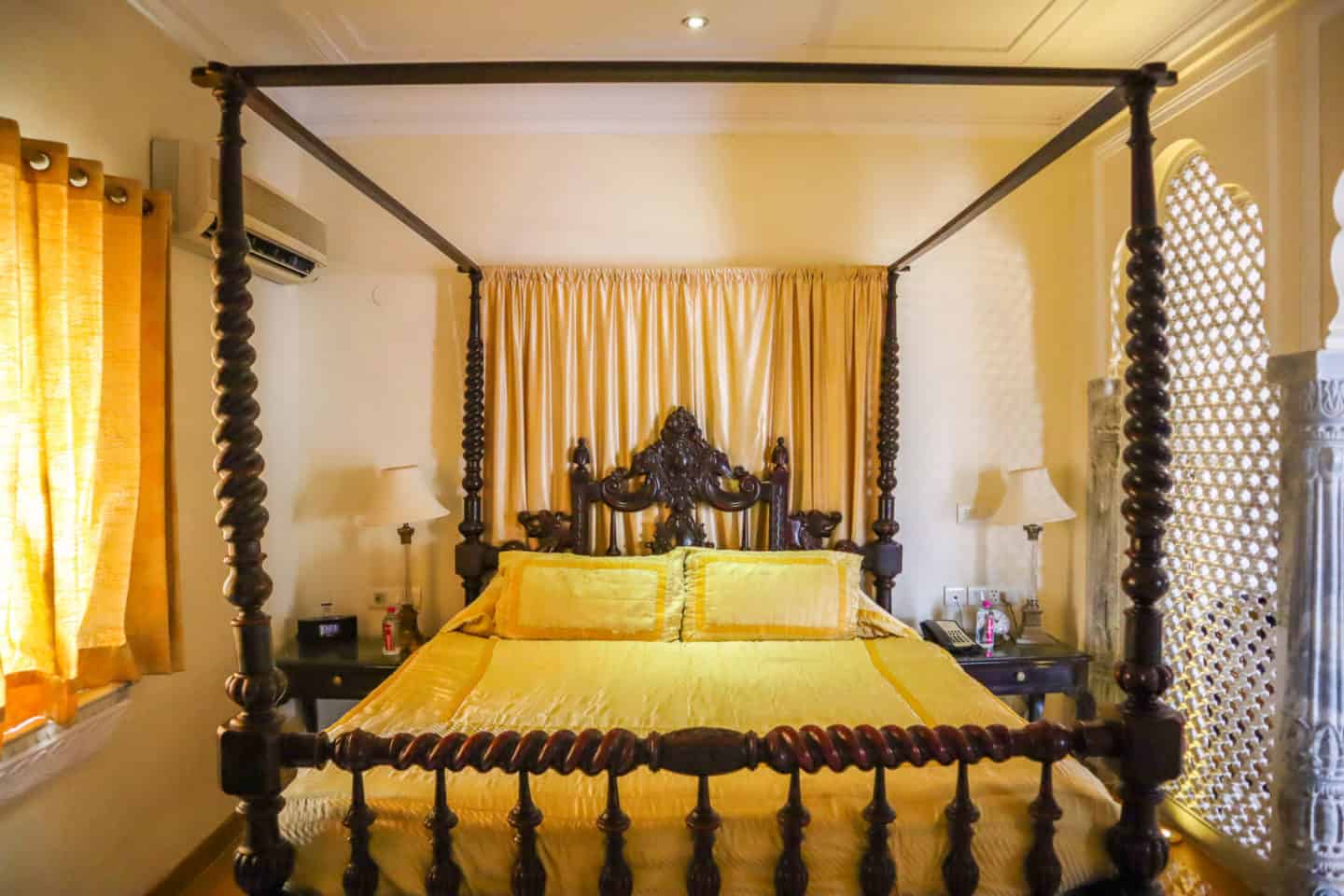 Eat some Chocolate
This is very random but if you feel like you are craving Chocolate, something Sweet and/or just want to relax in a nice Cafe for awhile head to Nibs Cafe in Jaipur.
A group of us got a rickshaw there from outside the hostel, it was only buy 5-10 minutes away and it was 70Rs on the way there and 30Rs on the way back (a big different I know). I had the Slutty Brownie (what a name, only in India!) which was basically a freakshake and although I felt a bit ill after it was really good!
Go to Indian Coffee House
If you want good coffee, cheap and good food, and to be taken back in time, head to Indian Coffee House. Indian Coffee House is a chain around India with 400 restaurants and in Jaipur there are 2.
I went to the one along the MI Road and really felt like I had stepped back in time. The waiters wear white coats which also makes it feel very nostalgic and the seating is simple but comfortable.
They serve awesome coffee, as you would expect, and also good South Indian Food. I went there for breakfast and had a Coffee and Dosa which was great!
There is another Indian Coffee House in Jaipur in Jawahar Kala Kendra which has been recently revamped so this sounds like a good one to go to too.
To read more about the history of the Indian Coffee House in Jaipur, which I found interesting, have a read of this article.
Get amazing local food at Tiwari Bhojnalaya Jaipur
For the best food in Jaipur head to Tiwari Bhojnalaya! It's a 2 minute walk away from Moustache Hostel (another reason to stay there), it's really local and authentic and I honestly had the best food I have had so far in India there, and of course because it's local, its cheap too!
Use Uber
Uber is in Jaipur just like it is in other big Indian Cities like Mumbai and Delhi! In Jaipur you can order rickshaws and motorbikes on Uber as well as cars which I think is awesome!
Although I found it a bit slow to search the area for an available ride I did use Uber in Jaipur a few times. It is really cheap, much cheaper than what the rickshaw drivers on the street charge and even if you don't actually end up using it, I find it's a good way to get a price point for when you do speak to a rickshaw driver on the street and you can then bargain the price down.
I hope this post helps give you some ideas of how to visit Jaipur and the best way to see Jaipur rather than giving you a 3 day or 2 day itinerary for Jaipur which is realistically quite unattainable and exhausting!
For more of my posts on India and Rajasthan see: