This post may contain affiliate links. I will receive a small commission if you use these links.
---
If there's one thing you need to do when you visit the Greek island of Mykonos it's to visit Paradise Beach! Mykonos is one of the best places to visit in Greece and its known for its famous whitewashed buildings with blue and red shutters located in Mykonos Town along with its windmill sunsets, but what you may or may not be surprised to know is that Mykonos is also known for its nightlife and party scene!
Mykonos town is home to many bars and clubs because partying is one of the best things to do in Mykonos. Scandinavian Bar is a good place to start but don't limit your partying to just Mykonos Town, be sure to head to Paradise Beach for a really good beach party too!
Paradise Beach Mykonos Party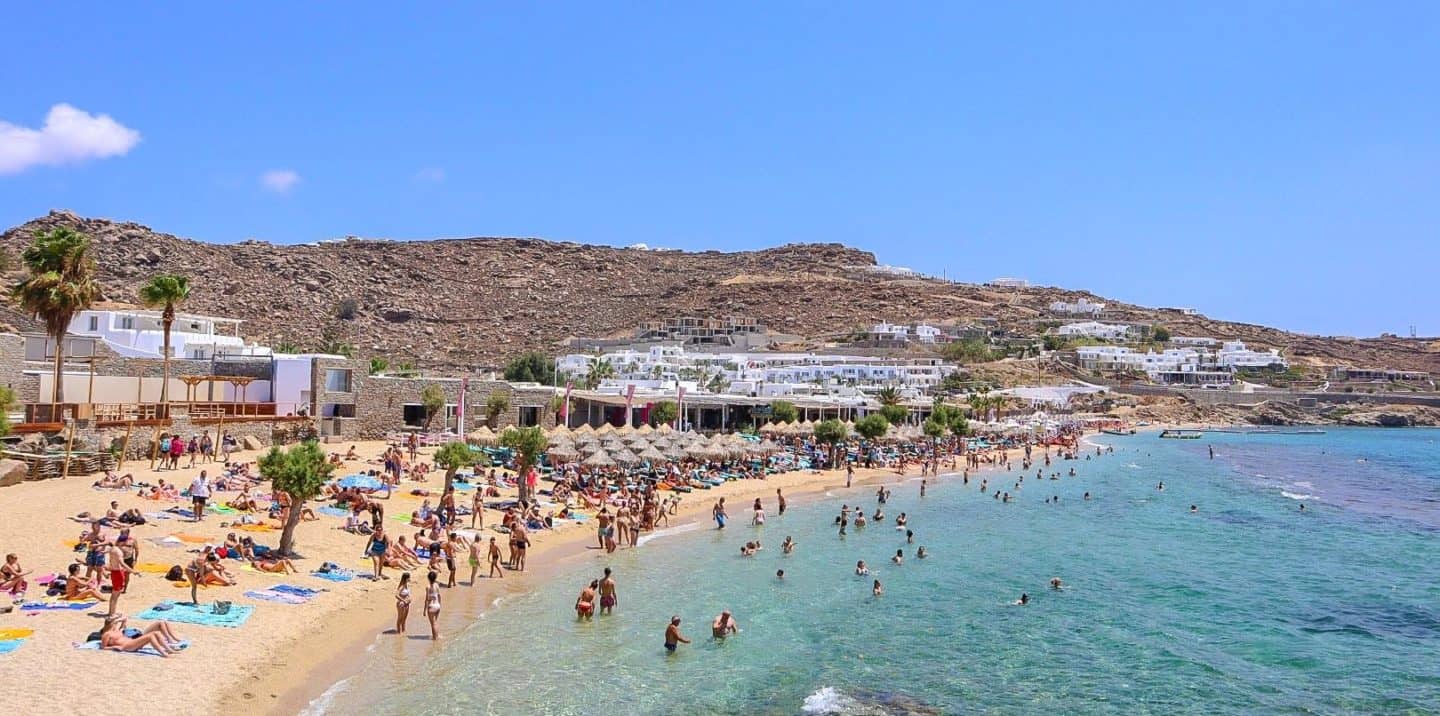 About Paradise Beach Mykonos
How to get to Paradise Beach from Mykonos Town
Paradise Beach is located in the South of Mykonos, not too far from the airport (meaning it's the ideal island to visit for a quick trip away!). It's possible to get a public bus to Paradise Beach from Mykonos Town and other areas of the island for just €1.80 and the bus runs all day until about midnight.
On arrival to Paradise Beach, I was in love with the many signs and artwork that led the way to the beach which are great small touches. We arrived on the Beach through Guapoloca Beach Club (more on that below!) and I was surprised to see how busy the beach was already even though it was just gone midday.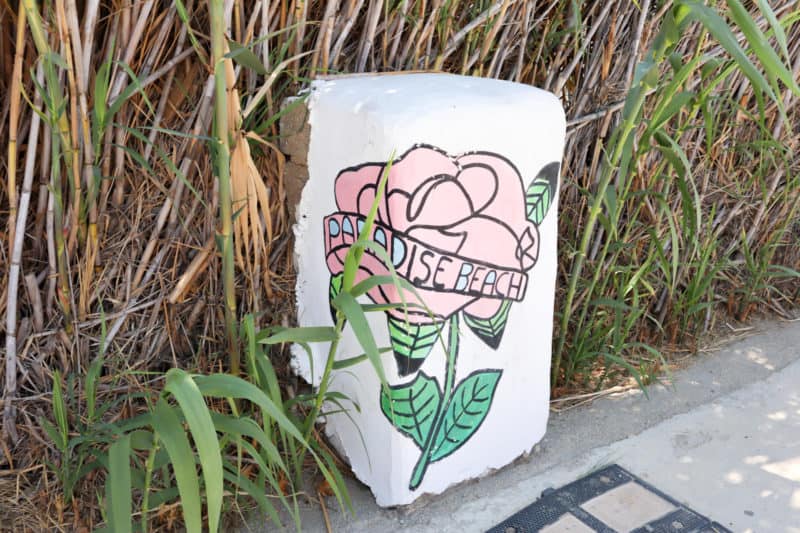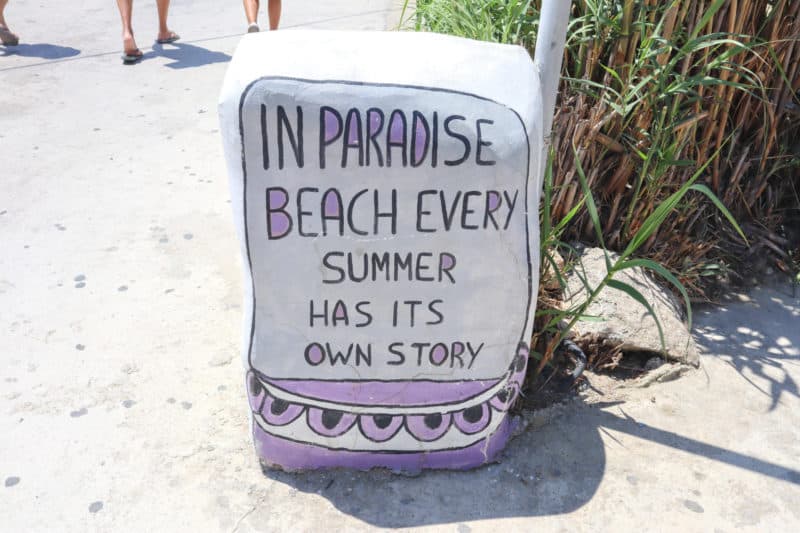 Daytime at Paradise Beach Mykonos
The beach was lined with sun loungers but luckily the group I was with found an area of sand to lie on so we didn't need to pay for a sun lounger.
Paradise Beach is a golden sand beach with gorgeous aqua coloured water. There are rocks surrounding the beach and my sister and I found out that not only are they a great viewpoint to take in all of Paradise Beach including the many Beach Clubs that line the beach but they also work pretty well for a photoshoot!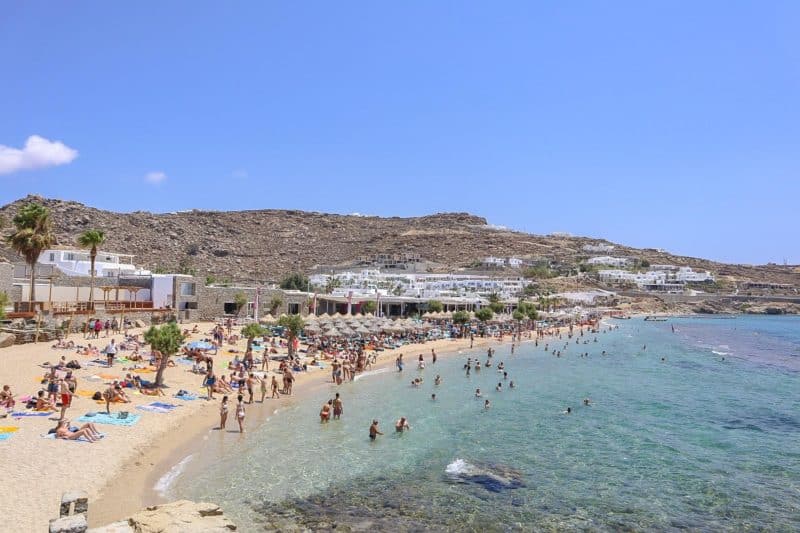 Paradise Beach is pretty colourful! From the umbrellas and sunbeds, to the number of towels and swimwear all merged into such a small area, to the people who visit Paradise Beach!
I was on a Travel Talk Tour through Greece visiting Athens, Mykonos, Santorini & Ios. We were told by our guide before we arrived that Paradise Beach is a pretty liberal place and to expect to see a number of topless sunbathers and in some cases totally naked sunbathers and we did see just that! I read that Hippies introduced nude sunbathing to Paradise Beach in the '60s and it seems to have stuck. Mykonos island is also a very popular place for the gay community and this definitely showed whilst on Paradise Beach too.
It was so friendly though with nothing but happy and friendly vibes and as the afternoon wore on more and more people were getting in the party spirit!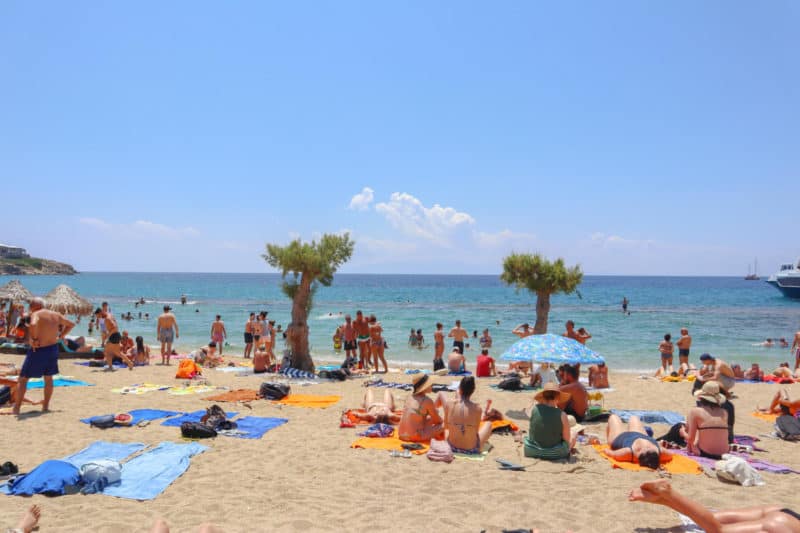 Paradise Beach Party Mykonos
We were told to leave the beach at 4:00 pm and head into Guapoloca Beach Club which is where our group always have drinks which I was pleased with as I loved its pink vibe and beachside location when we first walked in earlier that day!
Some of us took our time thinking that surely the party can't be starting already and wanting to make the most of the sun but when they say the parties start at 4:00 pm on the dot, they really mean it!
The music started, girls were up on the table dancing and before we had even had time to have a sip of our 2 for 1 cocktails we were being dragged up onto the stage and tables to dance too!
Naturally it took a few of us a bit more time to get up but not as much time as it would during a night out and within about 30 minutes, helped by the fact that the DJ was out, encouraging us to get up and drink up, we were pretty much all up dancing and the beach was near enough empty!
This continued until 7:00 pm and luckily the 2 for 1 cocktails lasted this entire time. The bar got busier and busier and more people were up dancing helped by the fact that the DJ was out on the floor giving us dance routines to follow, and really, is there anything better than that once you've had a few drinks?? Oh, maybe some free shots, but don't worry, they were giving them out too!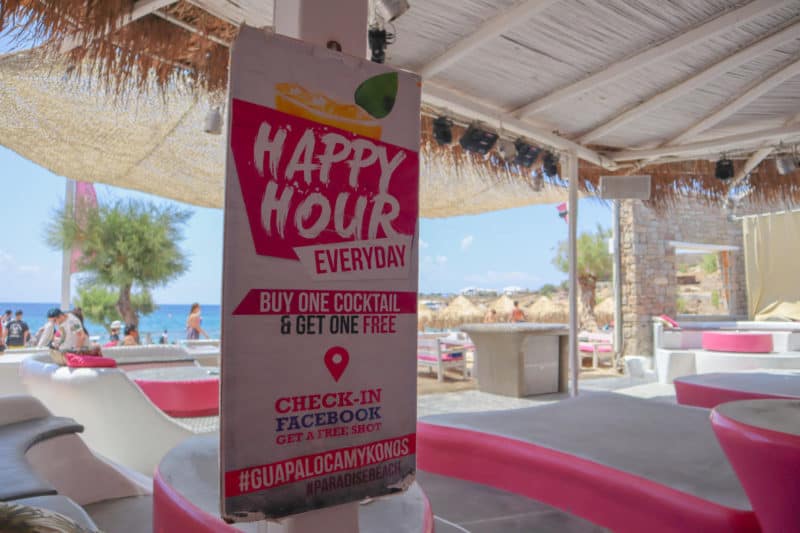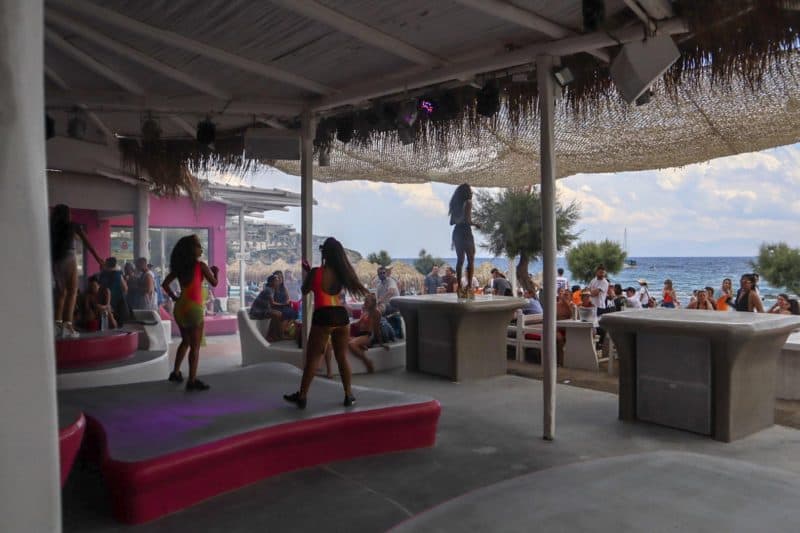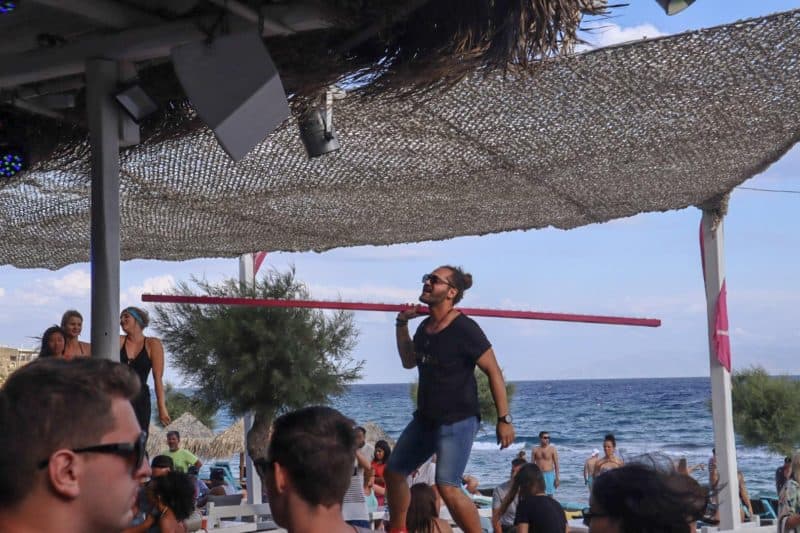 It wasn't just Guapoloca that was having a party though. Paradise Beach is lined with Beach Clubs – Tru Paradise Club, Paradise Beach Club, and Tropicana Club. All of these clubs continue well into the night and it's not uncommon for them to host events for some really popular DJ's and Artists throughout the Summer.
The Blonde Abroad went to Mykonos a few years ago and mentions how many cool people she saw at Paradise Beach Club and which clubs she recommends for the best party in this post!
At 7:00 pm it was time for our group to leave and we were all pretty gutted! Some people stayed though and they did say that the music and dancing died down for a bit from 7:00-8:00 pm until about 22:00 pm and then got busier again for the evening parties.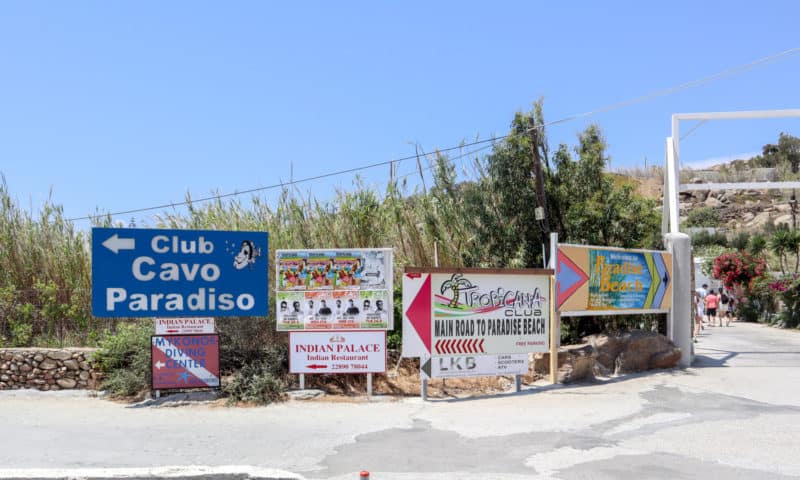 Tips for Visiting Paradise Beach in Mykonos for a Beach Party!
There is a public bus that runs from Mykonos Town leaving Fabrika Square regularly all day until around midnight. A one-way journey is €1.80. Be prepared for some crazy Greek driving and to potentially stand if you get on the bus last as they still fill the bus up even if there are no seats.
The bus will drop you off at a small supermarket and it's possible to buy food and drink from here and take it to the beach as Paradise Beach is a public beach even though it's surrounded by bars. Buying food and drink from here is a great way to stay on a budget when in Mykonos as the drinks are quite expensive!
Alternatively, there is a restaurant next to the supermarket which sells lunch and dinner at a reasonable price and I had a Gyro at Tropicana Club for €3.50 which was so good and a budget-friendly option in Mykonos.
Sun loungers are €20.00 but there is areas of sand without sun loungers so you don't need to pay!
Paradise Beach is like this all summer round, there are no popular on or off days, just all summer parties!
---
Best Accommodation near Paradise Beach in Mykonos
Paradise Beach has plenty of accommodation that's actually not that expensive compared to the rest of the island so if you don't want the party to stop I'd recommend staying nearby Paradise Beach and checking these hotels out suitable for all budgets:
Budget: Paradise Beach Camping
Low-Mid Range: Paradise Beach Resort
Low-Mid Range: Paradise Beach Rooms & Apartments
Mid-High Range: Tropicana
Mid-High Range: Paradise View Hotel
High Range: Eden View Aparthotel
Alternatively, if you want budget hotels close to Mykonos Town that are still good, I recommend:
---
To SEE my trip to Mykonos including Mykonos Town, a Windmill Sunset and Paradise Beach, have a look at my Mykonos YouTube Vlog here!
---
I went to Greece on a press trip with Travel Talk Tours but all opinions and thoughts are my own.