This post may contain affiliate links. I will receive a small commission if you use these links.
---
If your idea of the perfect Sunday in London includes brunch, cool coffee spots, market hopping, street food stalls, live music, shopping and street art, you need to visit Shoreditch on Sunday because this is exactly what this buzzing area of London offers!
Shoreditch is a fairly small area in East London however when me and my friends refer to Shoreditch we also include the nearby areas of Hoxton, Old Street, Bishopsgate, Bricklane, Liverpool Street and Aldgate (therefore I have included all these areas in this guide).
What I love most about Shoreditch is how it varies from the glass skyscrapers of the Gerkin and Herons Tower home to the suited and booted City workers, to the small streets around Brick Lane home of the ultimate Hipster, it really is one of the best areas in London to visit!
So here's my guide to Shoreditch on Sunday including the best Shoreditch Sunday Markets, Things To Do in Shoreditch on Sunday and more!
Shoreditch on a Sunday!
---
If you can't make it to Shoreditch on a Sunday, here are Places To Visit in Shoreditch On Any Day of the Week!
---
Find What You're Looking For Easily Here!
How to get to Shoreditch in East London
There are many different tube stations that serve this area depending on where you're coming from and all of these stations will be perfect to start the day I have planned for you: Old Street, Moorgate, Liverpool Street, Hoxton, Shoreditch High Street, Whitechapel, Aldgate East.
If you're not in London already and need to book train tickets to London, be sure to check out The Train Line. I use them all the time to compare the best train times, journey lengths and prices!
Things To Do in Shoreditch on a Sunday
Brunch in Shoreditch
In order to fuel your day and be the ultimate Londoner, go for Brunch in Shoreditch because there are so many places to eat Brunch in Shoreditch!
Personally, I'd recommend Hoi Polloi on Shoreditch High Street, Lantana in Old Street, The Breakfast Club in Hoxton Square or Shoreditch, and Friends of Ours in Shoreditch. If you're feeling really quirky head to the Cereal Killer Cafe on Brick Lane, and read this post for even more of my recommended places to eat Brunch in London!
Columbia Road Flower Market
After brunch, your first stop should be Columbia Road Flower Market, one of the Shoreditch Sunday Markets and a must-visit place in Shoreditch!
I say that the Columbia flower market should be your first stop as it gets very very busy so the earlier you get here the better especially if you want to buy flowers (although expect it to always be pretty busy!).
A small section of street is completely transformed and lined with flowers upon flowers with London market sellers shouting all the offers. The street also has lots of independent shops along with it so if you feel you need to get away from the crowds then step inside one of them and have a look around.
Columbia Road Flower Market is only on Sundays and before you visit, make sure you read this full guide to Columbia Road Flower Market.
---
---
The best way to get to Columbia Road Flower Market in Shoreditch is to walk up Shoreditch High street, turn right onto Hackney Road and right again straight onto Columbia Road, follow the road and you'll soon stumble upon it.
The mass of people carrying flowers back from there will also give it away!

BoxPark & Chance Street Street Art
Next, follow your steps back onto Shoreditch High Street and walk down it until you come to BoxPark on the corner, have a browse in some of the shops but cross back over and head up Chance Street on your left. You may think you're heading up a dodgy alleyway but pretty soon you'll be greeted with the famous Instagram wall in Shoreditch.
Perfect for getting some snaps against!
---
If you can't make it to Shoreditch on a Sunday, there is still plenty of markets open during the rest of the week: Places To Visit in Shoreditch Any Day of the Week!
---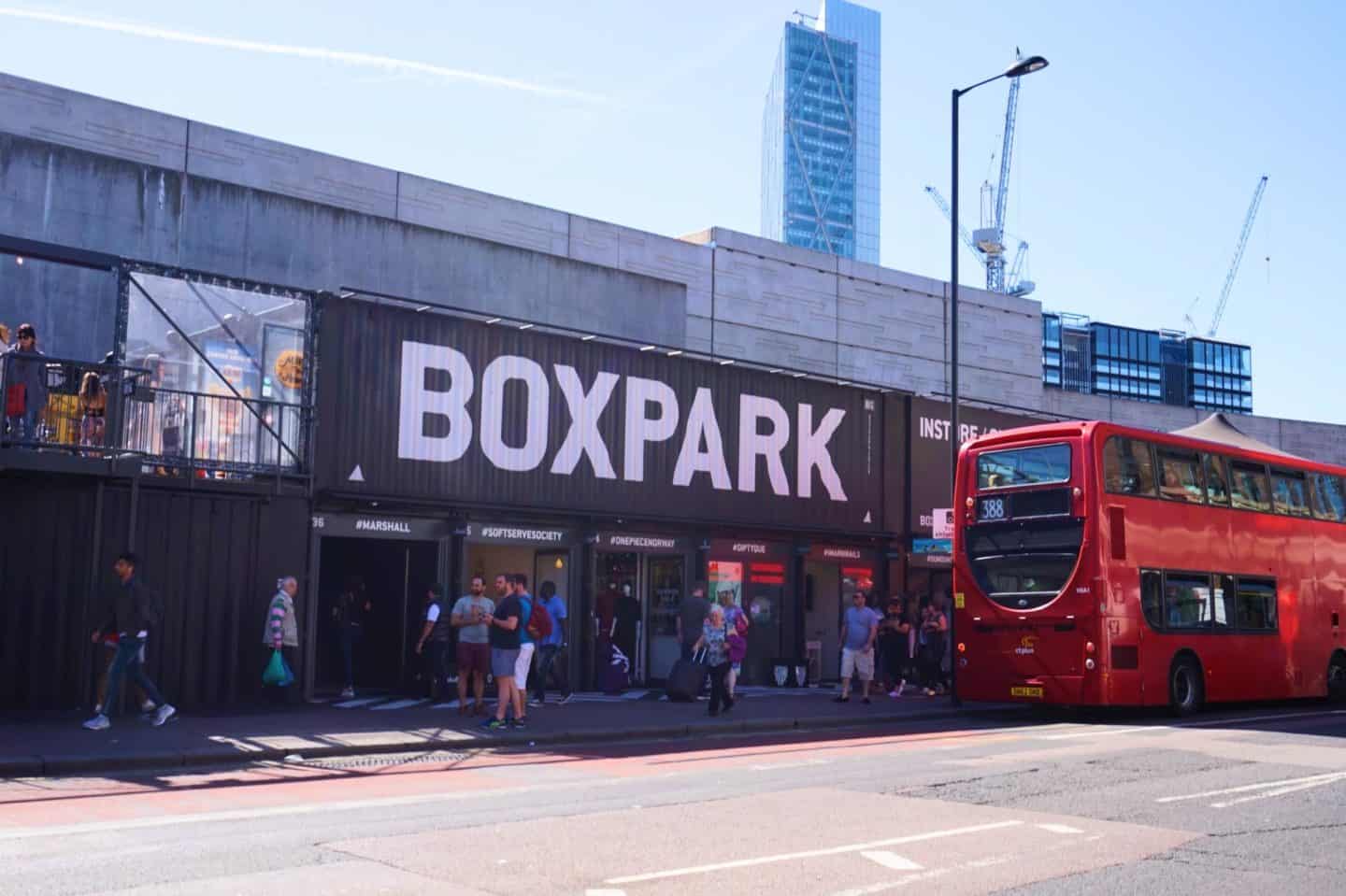 ---
If you like street art, Shoreditch offers some great tours and a 2-hour tour like these would fit into your day in Shoreditch really well:
---
Redchurch Street
Afterwards, turn right onto Redchurch street and stop along here for a coffee if you need one.
There are lots of cool, hipster, quirky cafes along here, one that I love is called Barber & Parlour and it does actually have a barber in it, but also a really good cafe and coffee! Shoreditch probably has the best coffee in London so make sure you make the most of it!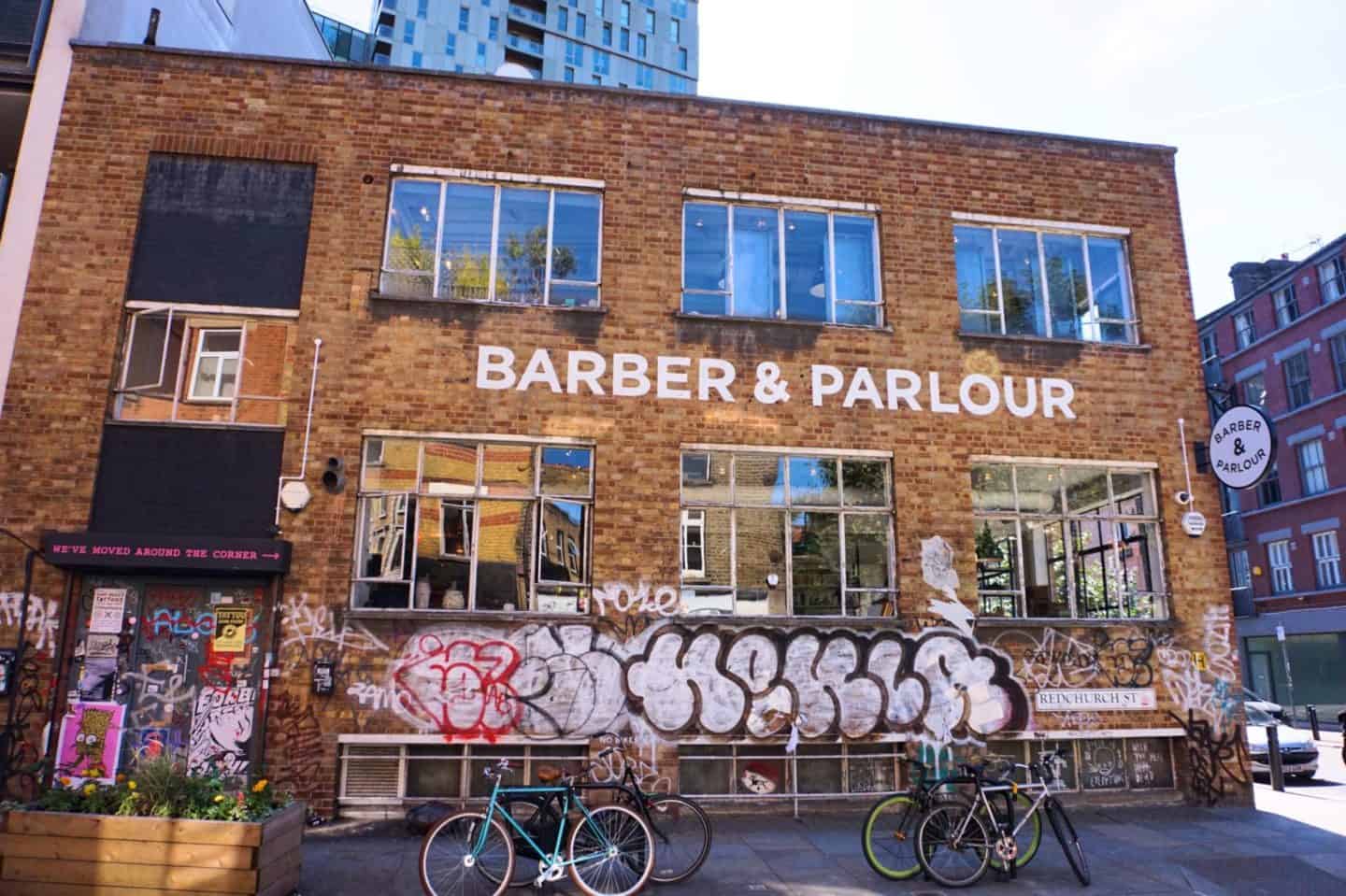 While you're here keep your eye out for some cool Shoreditch street art, especially up the side lanes and here on Whitby Street: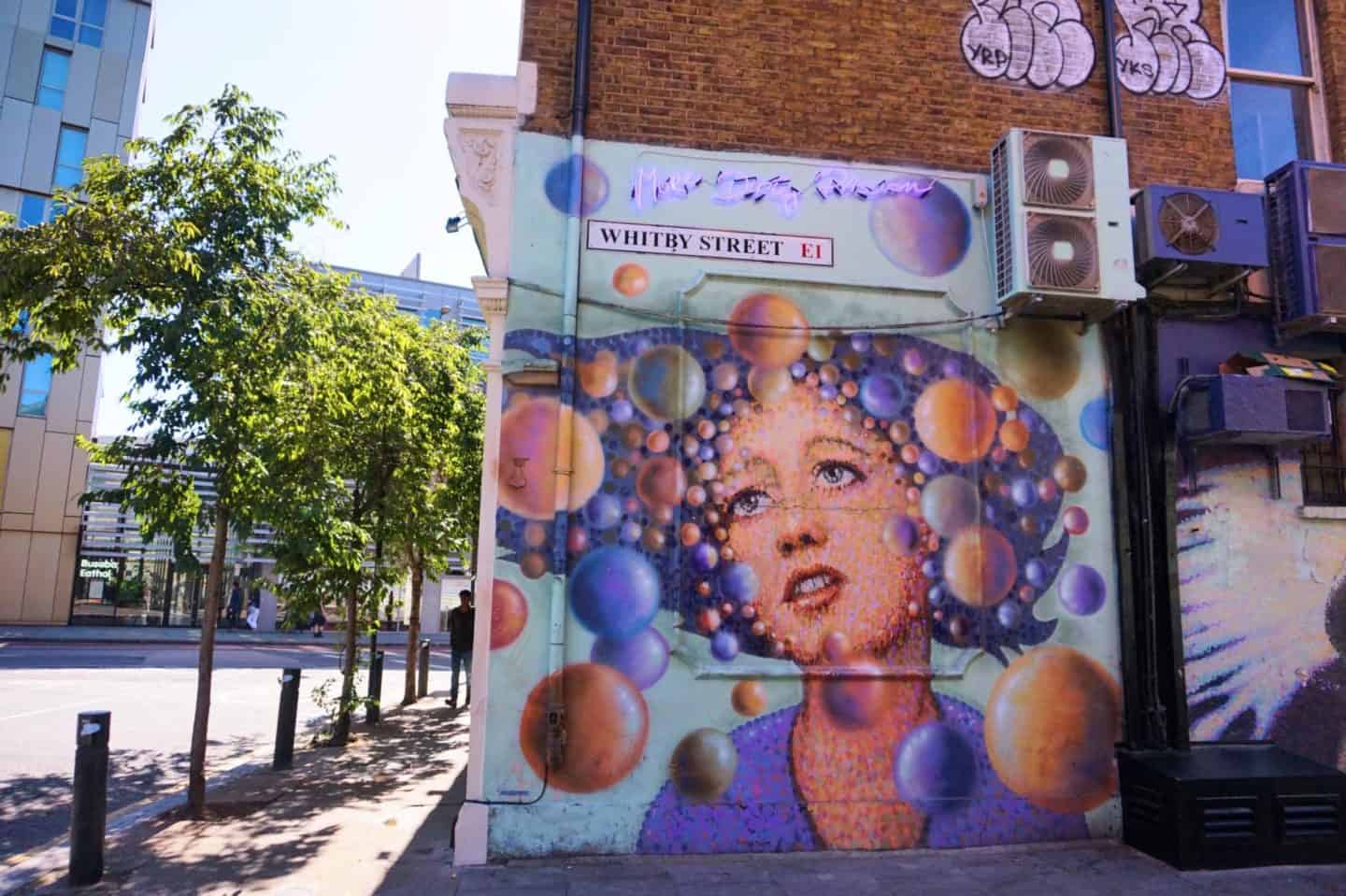 Brick Lane Sunday Market
Just up the road is Brick Lane! Brick Lane in Shoreditch is a funny little street and it screams East London.
It's filled with many independent shops from book shops to bagel shops to vintage clothes shops to curry restaurants, there are a few chain stores there now but not too many which is good as this area is known for its independence and quirkiness! This is one of the best places to visit in Shoreditch on Sunday to understand what Shoreditch is all about!
Brick Lane Sunday Market is another Shoreditch Sunday Market and it runs pretty much all the way down Brick Lane with so many different street food stalls as well as things to buy.
I would suggest getting lunch at one of the many food markets on your way down Brick Lane as there are many stalls both inside and outside on the street with food options from all around the world! Make sure you take a seat on the curb too in true East London fashion!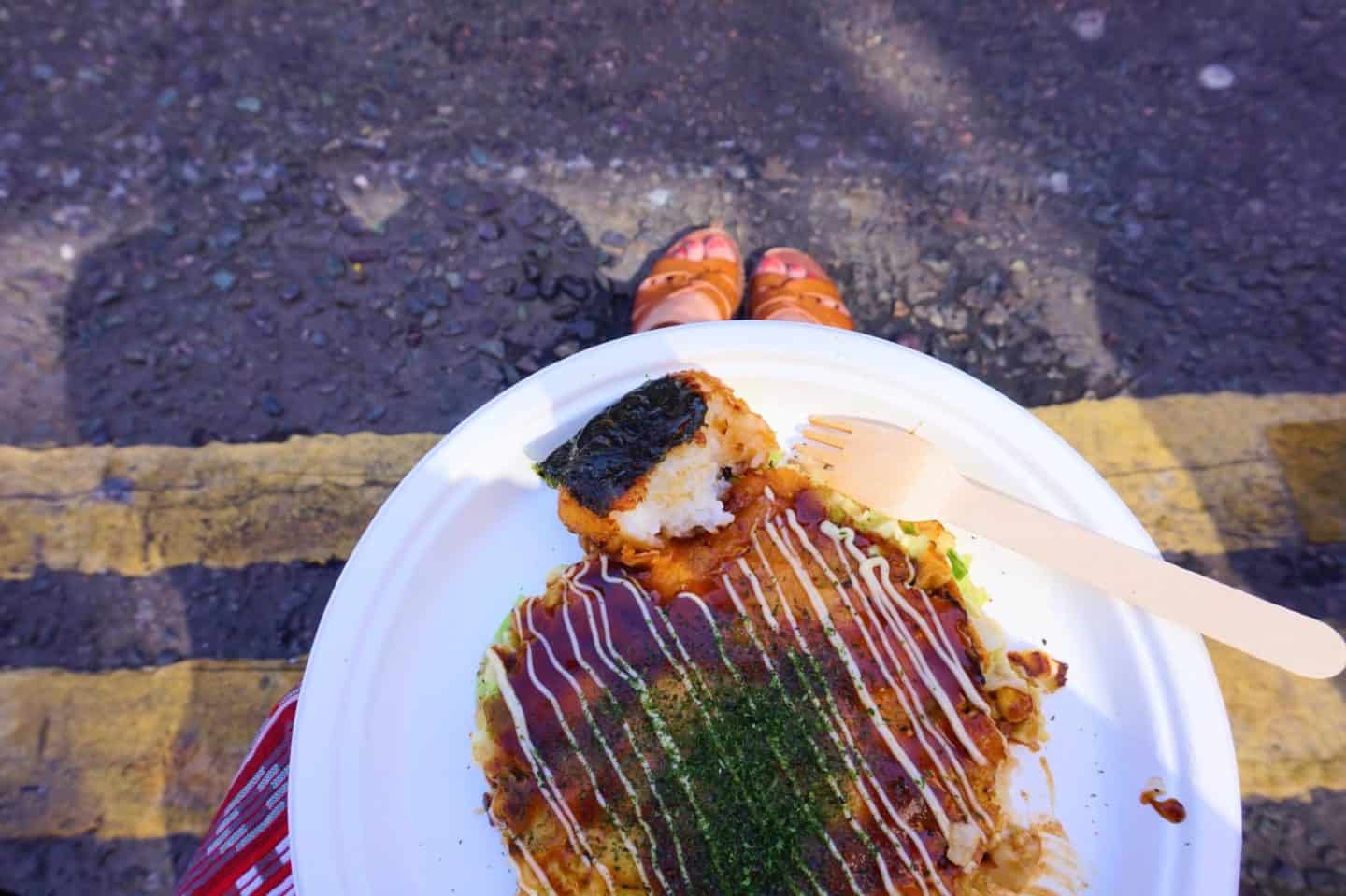 Brick Lane Vintage Market
When you get close to the end of Brick Lane you'll notice the big Vintage Market on your right, this area is also filled with food stalls and stalls selling clothes, jewellery, bags, records, and everything you could ever really need and is another Shoreditch Sunday Market.
Spitalfields Market
From here turn right onto Hanbury Street until you see Spitalfields Market up in front of you on the left.
You may be a bit over markets by this point but Spitalfields is a gorgeous building and worth a visit just to admire it, again it's filled with food stalls and clothes stalls and there are some nice shops surrounding the outside.
Spitalfields Market is not just a Shoreditch Sunday Market, it is open all week but the buzz is still the best on a Sunday and there are more stalls than any other day of the week it feels like.
---
Related Post: Places You Can Visit in Shoreditch Everyday of the Week!
---
Once you're here I would suggest you go into one of my favourite Wine Bars – Vagabond, as a glass of wine will probably be needed by now and they actually have seating which goes into the market so nab one of these if you can!
Bars in Bricklane
Alternatively, there's plenty of other places to have a drink around here or head back to the bottom of Brick Lane and find a cool bar around there – the Big Chill Bar is pretty cool and has music playing on Sunday afternoons.
Curry House in Bricklane
If you're still this way around dinner time, heading back onto Brick Lane for a curry is a must as Brick Lane Curries are the best Curries in London and almost as famous as the street itself, you won't have trouble finding a place as the restaurant owners will be out on the street later on offering you the best offers they can and you can get yourself a pretty good deal!
Map of Shoreditch
Here's a map highlighting the main places I have suggested to visit above.

Is Shoreditch Still Good When It's Not a Sunday??
Yes! If you can't go to Shoreditch on Sunday then it's still worth a visit on a Saturday or during the week but the 2 main Shoreditch Sunday Markets – Columbia Road Flower Market and Brick Lane Market will not be on.
However this will mean the streets are less busy and are easier to walk down so that's a positive to going on a Saturday or weekday. Plus and there's still plenty of food markets around including inside Spitalfields Market so you can get your fair share of Shoreditch Street Food any day of the week!
Due to the markets not being on, to help fill your time a Shoreditch Street Art tour or Walking Tour like this would be a really good idea as Shoreditch has so much history and is very famous for its street art!