This post may contain affiliate links. I will receive a small commission if you use these links.
---
No visit to India is complete without visiting the Taj Mahal or is it??
I visited the Taj Mahal after being in India for 7 weeks and to be honest, Northern India had given and shown me so much in that time that even after just a few weeks backpacking India I felt that if I left now without seeing the main attraction, it's not like I would have missed out, I still would have seen India.
Since being in India, I have met people who just didn't have time for the Taj Mahal on their trip around India because they had other locations that were a higher priority, I've met people who have been to India multiple times and never seen the Taj Mahal, I've even met people who have been to Agra but didn't go inside the Taj Mahal! Before visiting, I wondered..
Taj Mahal Travel Tips
SIM CARD FOR INDIA
I really recommend having a sim card in India as it makes travel in India so much easier! You may have heard that it's hard to get a sim card in India but you can get a sim card in Delhi Airport, read this post to see how to buy a sim card in Delhi Airport or if you fly in elsewhere 3 ways to buy a sim card in India and you'll be connected in just a few hours!
WHAT TO WEAR IN INDIA
If you are a woman, here's what I recommend you pack and wear in India. Technically you can wear what you like in India in most places but to get fewer stares and feel more comfortable, read my post!
DON'T GET SCAMMED IN DELHI
Most people arrive for the first time into Delhi and get scammed within a few hours! Read my Delhi Travel Tips to help you enjoy Delhi, and the best places to stay in Delhi which is so important!
Is the Taj Mahal worth visiting?
The Taj Mahal was of course high on my list so I got myself to Agra after being in Rishikesh via Delhi and gave myself time to explore what Agra had to offer aside from the Taj Mahal only to realise on Thursday evening towards the end of my stay that the Taj Mahal was indeed closed on Friday. I knew that I'd read it many times, I just had no idea what day of the week it was until it clicked that it was Thursday afternoon!
What was I going to go? My train was at 4:40am Saturday morning, no time to visit before. Could I really come all the way to Agra, see the Taj Mahal from many different view points but not go inside and see it??
No. That's what I figured! No, I could not!
I got online, booked an overnight waitlist train for Saturday night (which confirmed 24hours before thankfully) and checked out bus options. I knew one way or another I could get from Agra to Varanasi overnight, so now I just had to get up on Saturday morning and hope the Taj Mahal was worth changing all of my plans for and stress I had caused myself!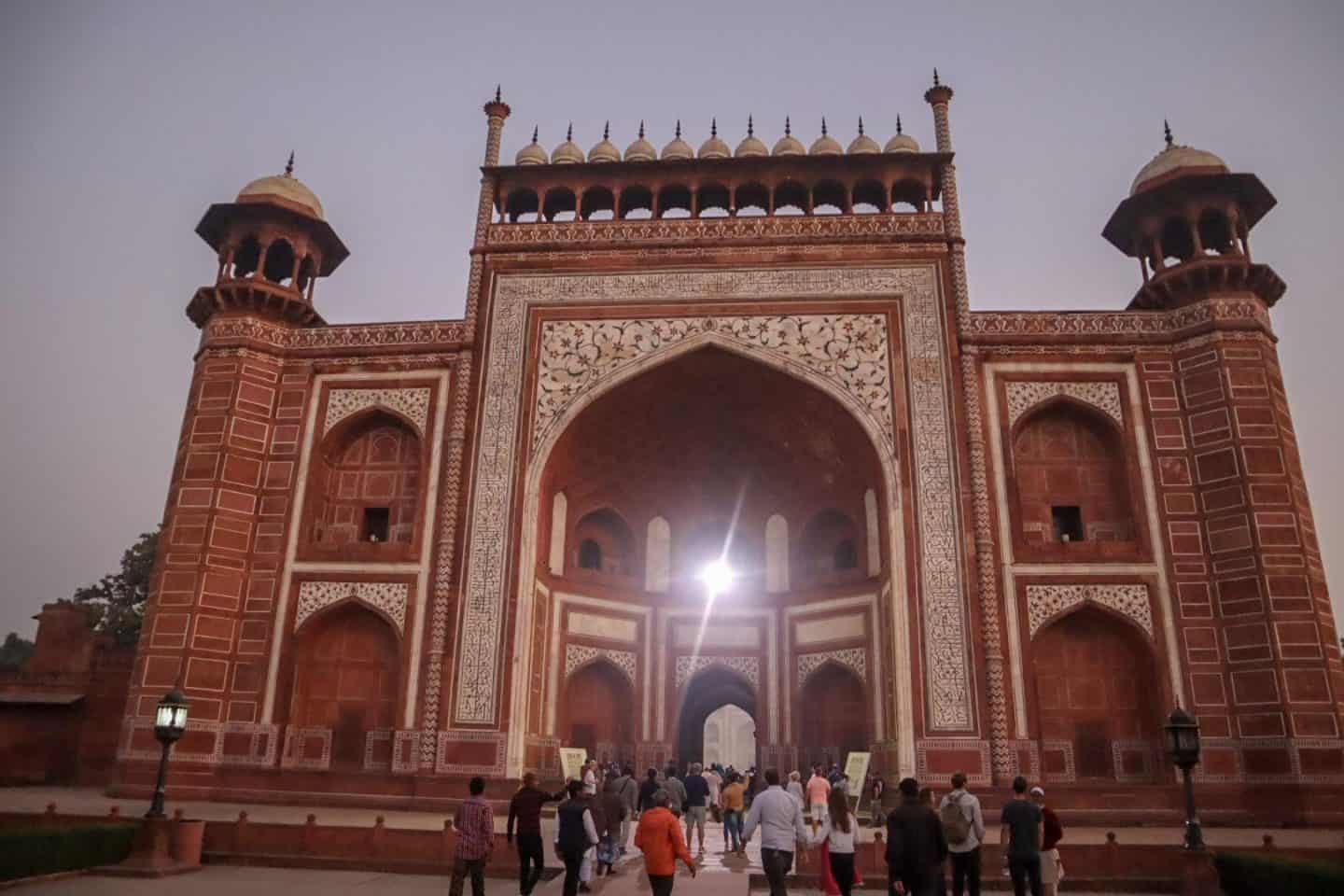 I knew I wanted to get to the Taj Mahal as early as possible and although I was by far not one of the first people in the queue and inside (generally Indian Tourists are as I found they got their ticket quicker), I was still very early and first compared to a lot of people. I had so much excitement going on which you can see in my YouTube video, I just could not wait to see the view of the Taj in the gateway!
And then I saw it! It was perfect (apart from the hoards of people), and to be honest, this amazement stayed with me for the next few hours whilst I was there and afterwards.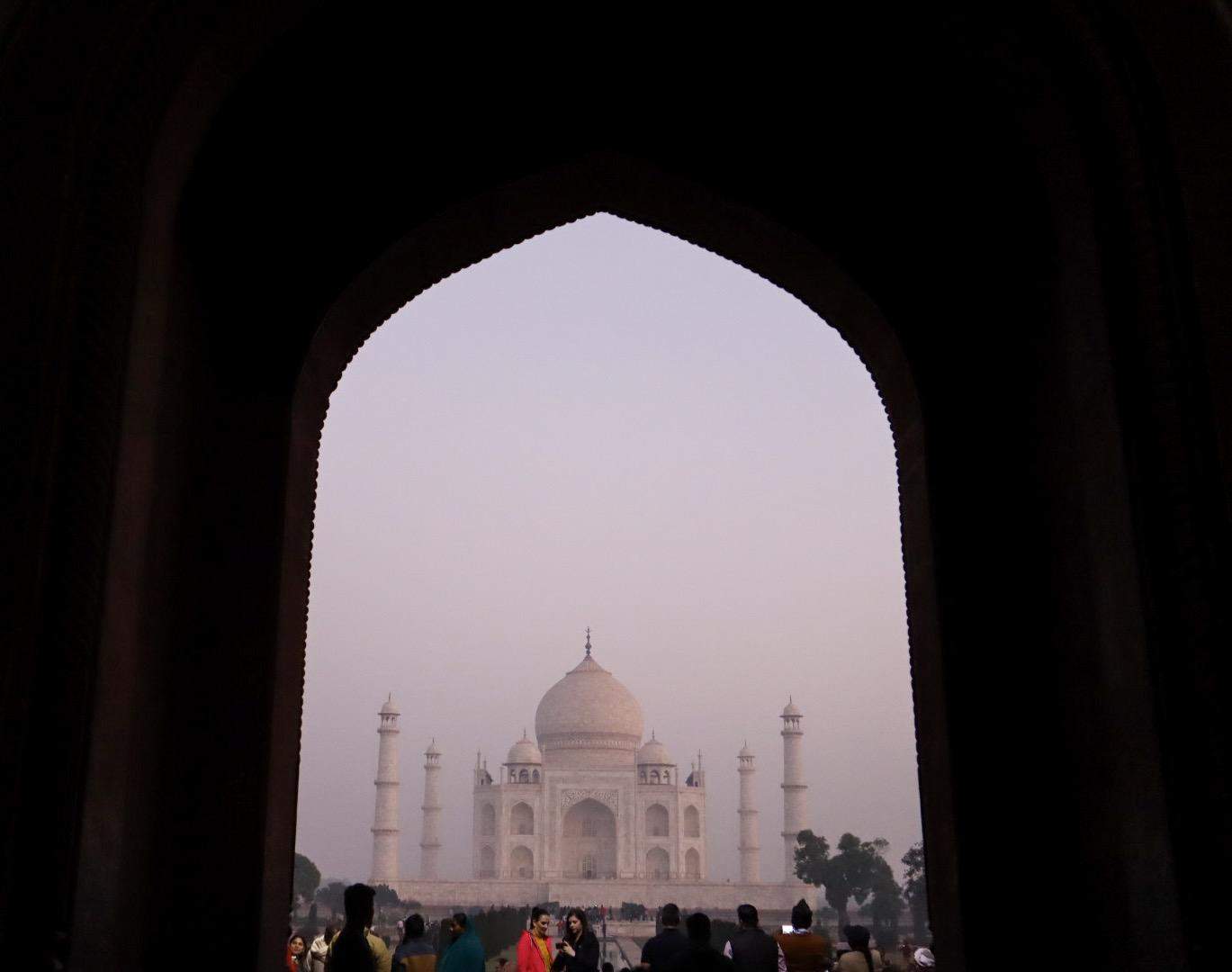 It's hard to explain why it's so amazing. Of course, the building is out of this world architecturally, and the story of the architecture, why it was built and how long it took is amazing but there's something else about it.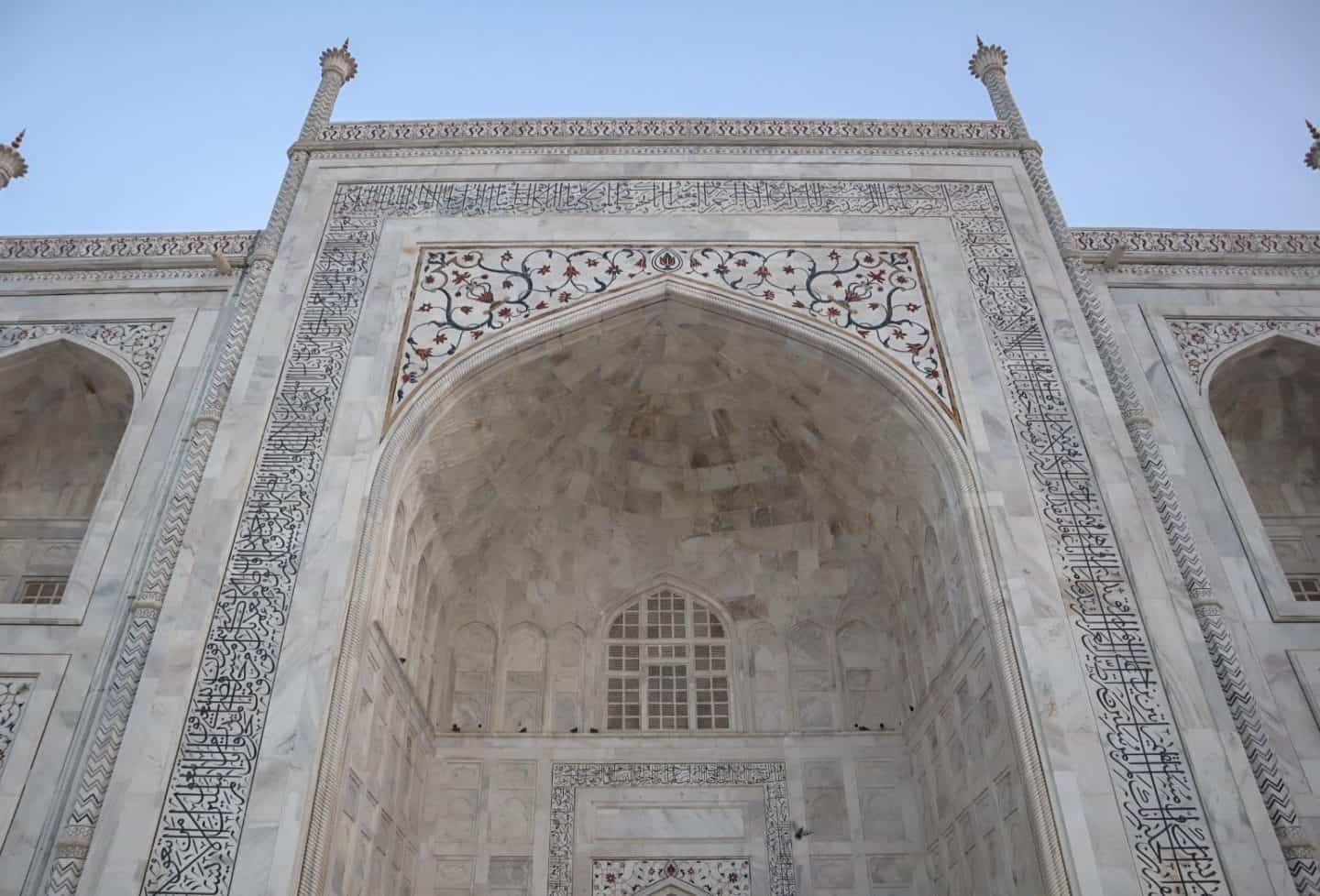 It's not a religious site. There is some debate as to whether it is and it was, but due to the fact that there is no dress code at the Taj Mahal and there are strict rules about not bringing any religious offerings in, it doesn't make it a religious site right now. This fact rules out the Taj Mahal being magic in a spiritual and holy way but maybe it still is..
Or maybe it's special because it's so calm. Yes, there are lots of people and the streets surrounding are busy with City life but inside the Taj Mahal gates is like a haven. After 7 weeks in India, I noticed this, and I bet a lot of Indians feel this too away from the craziness that is their home country. I felt the calmness and tranquillity, something that's hard to get in India.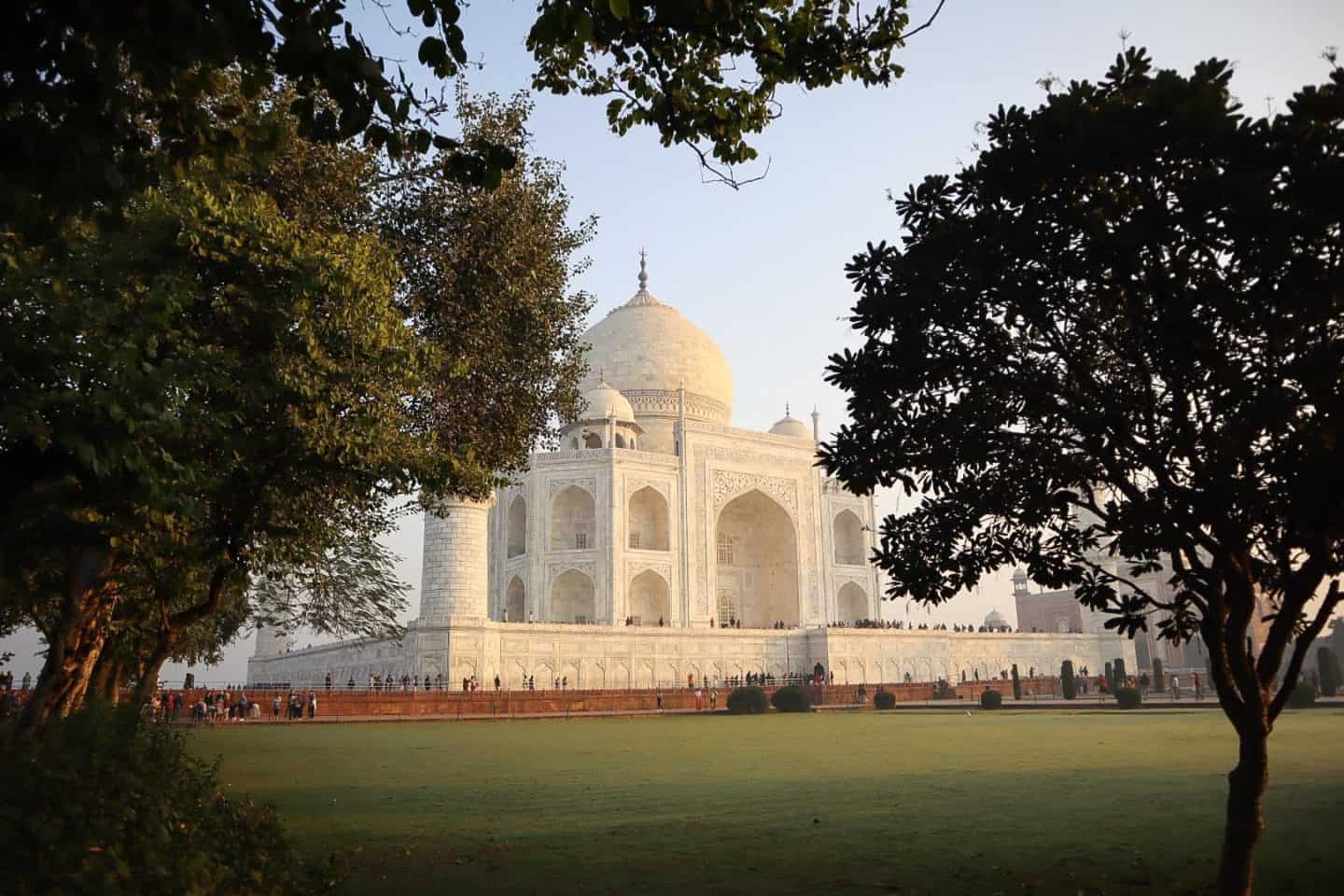 BOOKING TRAINS IN INDIA
India is best travelled by train because its the quickest, cheapest and best way of getting to know the country. For an EASY option of booking trains in India use 12GO to search and book trains really easily. If you'll be in India for awhile, you can use the local booking system, it's a bit tricker but possible, here's my post on how to book trains in India as a tourist.
BEST ACCOMMODATION IN INDIA
I always use Booking.com to book my hotels in India and Hostelworld to book my hostels. India has a great range of accommodation with brilliant hostel chains like Moustache, Zostel and Backpacker Panda as well as homestays to luxury hotels.
GUIDED TOURS IN INDIA
Many cities in India are best seen with a guide, even if it's just a half day tour on your first day. Cities in India are chaotic and complex and what better way to taste the food and get to know the city than with a local. I recommend Get Your Guide & Viator for the best tours in India!
Or maybe it feels so magic and special because not only is it beautiful in real life but the photos come out perfectly! I've seen so so so many photos of the Taj Mahal at all times the day and they are always so amazing. I was really worried that my photos might not be that good for some reason, but I love them. They just came out.. perfect! It was easy! Although going at sunrise helped with getting fewer people in the shots.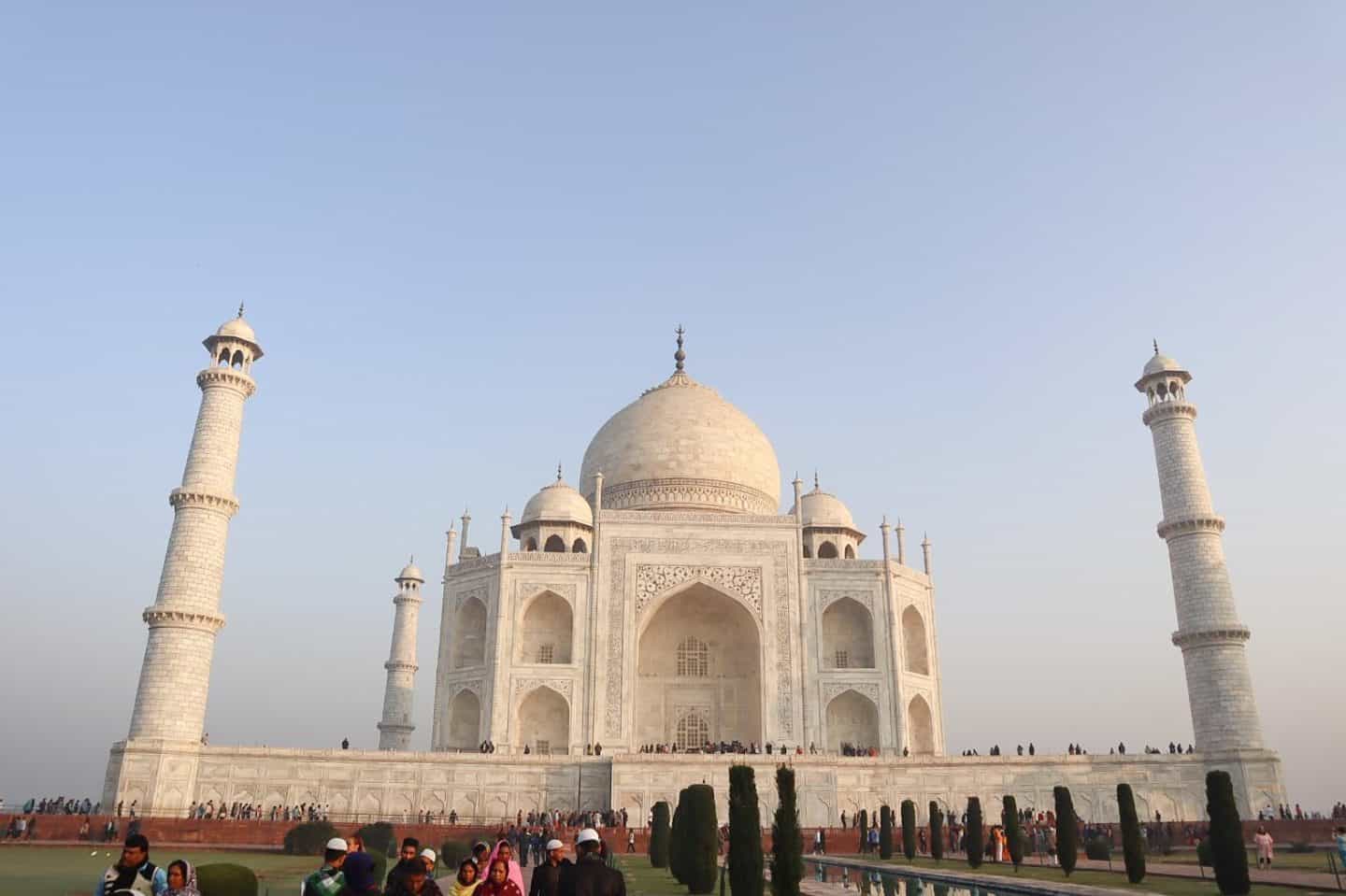 It's really hard to explain but I can tell you that IT IS worth going to the Taj Mahal and I don't know anyone who said it isn't. I even met a backpacker the day before I went who is travelling on a major budget around India. He didn't realise it was 1100Rs/£12.00 and nearly didn't go in. He did and he told me so passionately how amazing it was! I feel like if it was worth his money, it's worth you going!
On this note too, £12.00 for entry into a Wonder of the World is so good! Places like Petra, another Wonder of the World cost £30-50 for a ticket. They really could charge a lot more, but I hope they don't and it does seem that the price goes up by 100Rs each year anyway. And please do not complain that Indians get it so much cheaper. This is their home and their income majority wise, is a lot less than ours as a foreigner.
The Taj Mahal is not India and India is not the Taj Mahal but it's still a must see in India!
Tips for Visiting the Taj Mahal!
Ok now we have that out the way and you are convinced.. I hope! Here are my top tips for visiting the Taj Mahal!
Do not go on Friday to see the Taj Mahal! Please Please Please check the day of the week you plan to go, and then check it again! Don't make the same mistake as me! You can see in this video when I realised my mistake, not good! Although I found Friday to be a really nice day of the week to see Agra as it's a lot quieter and the locals that work around the Taj Mahal seem to have the day off.
Go for Sunrise! It really is the best time. Yes it will still be busy but it gets busier and busier as the day goes on. I left at 9:00am and it was packed and the afternoon only brings more people. Plus getting up early, arriving and queuing in the dark, entering just as it's getting light and seeing the sunrise from the Taj Mahal is so magical and will make you feel very accomplished afterwards!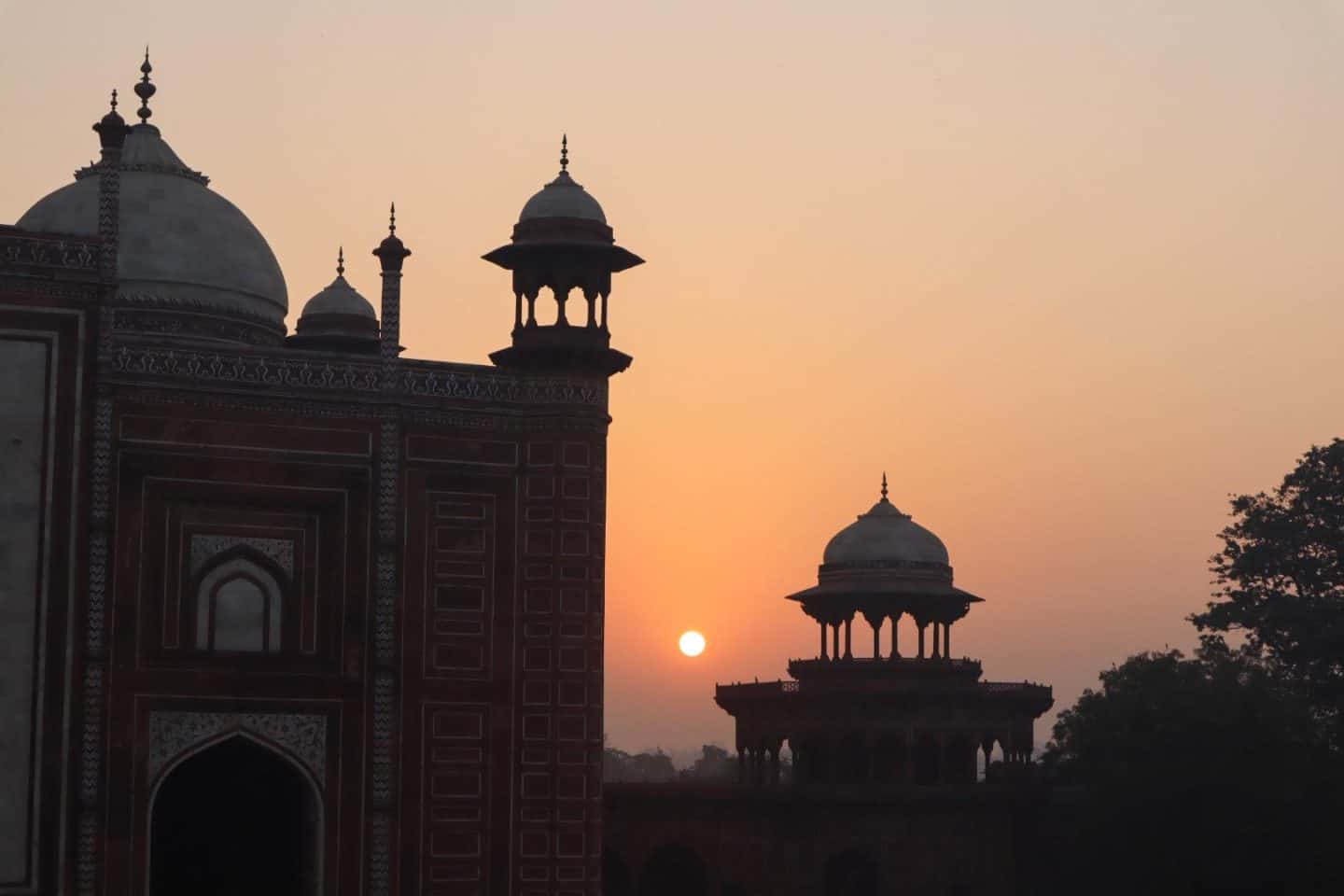 Check the Sunrise Time! On that note, the Taj Mahal opening times are dependent on the sunrise and sunset. Just because you are told by someone to get there at 5 am because they did, unless it was the same time of year as you, this time will probably change. I went on 1st December which is winter so the sunrise wasn't until 6:50, I got to the ticket office at 5:40 which was enough time but if I had got there at 5:00 am like I read on some blogs I would have been there wayyy to early!
Take only a small bag! They are very strict on what you are allowed and not allowed in the Taj Mahal. No food, no tripods, no selfie sticks (yay to this one!). Just take the minimal amount in a small bag otherwise they'll put it in a locker and it will take you more time to get through security.
Don't forget to get a ticket! It's easy to head straight to the queue at the gates but remember to get a ticket at the ticket counter first!
Skip the Water Bottle! The entry fee for the Taj Mahal comes with a bottle of water and shoe covers. Skip these. Firstly they mean going into a second queue after getting your ticket and before you queue at the gates. You can take a refillable water bottle inside (I use this filtered one, just FYI!) and you can take your own bottle of water from tea shop in too.
Waiting in this second queue added a good 5 minutes onto me when I could have been in the queue at the gate. The shoe covers are not actually plastic like I initially thought which is a good thing but they are still a big waste and you only need these when inside the main building, instead you can go barefoot which is really nice on the Marble floor or bring socks if it's a bit cold!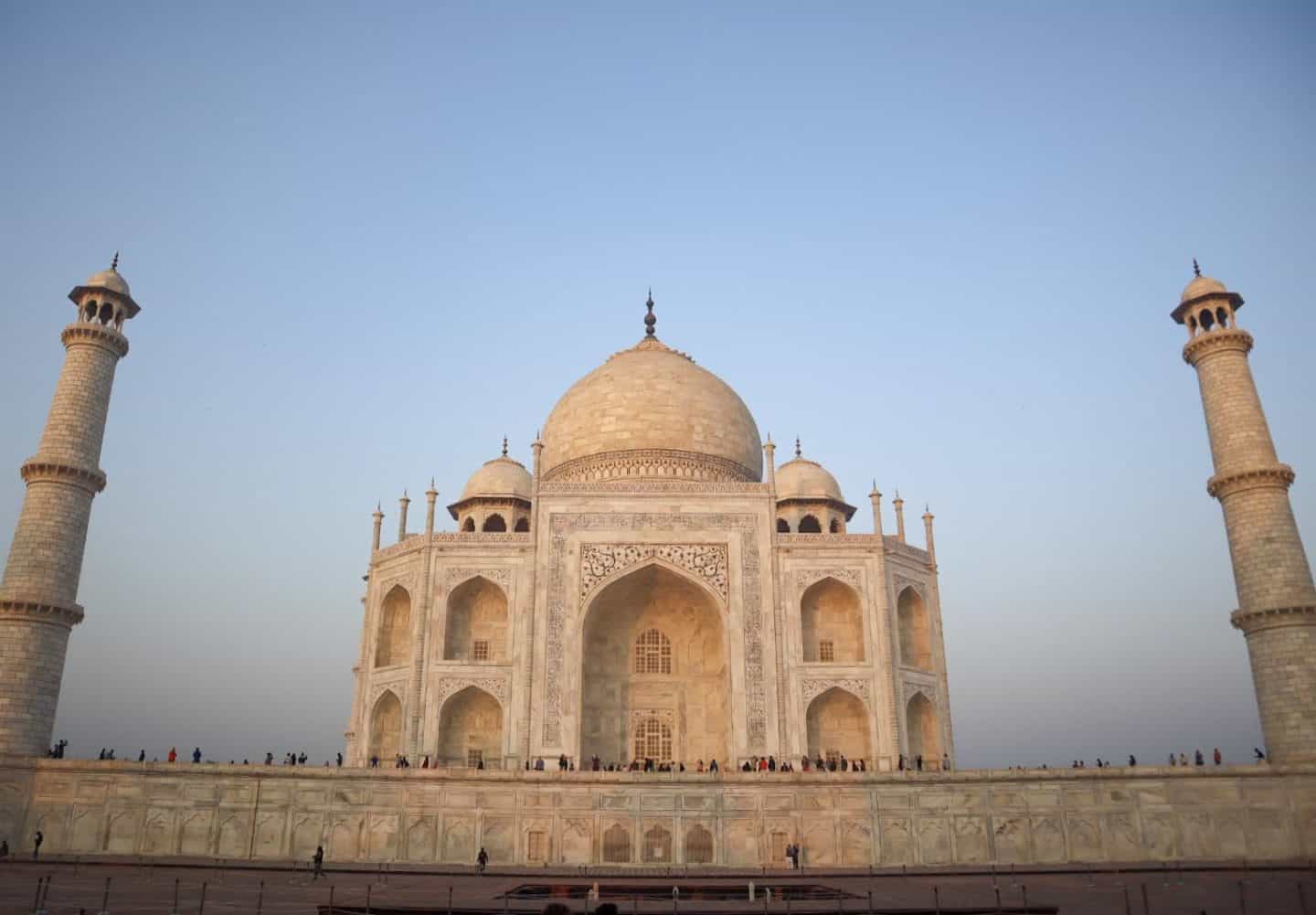 Remember the line at the gate splits into Men & Women! There is so much to remember I know and although I knew this, I forgot it and joined a line that was mostly men but also some women who hadn't realised either. A tour guide told the ladies to move to the left side at the East Gate and this line was so much shorter! As with everywhere in India, men are the majority so the women's queue may be hidden but just look for it so you don't waste valuable time in the wrong queue!
Don't stop at the first photo opportunity spot, keep going to the middle and front! I knew this one too but also forgot! When you walk through the entrance and see the Taj Majal through the gateway you'll see lots of people getting that first shot in front of the grass with a metal barrier behind.
Do not stop there, it's not the best view and if you're there in the morning this section holds so many people up as everyone stops which means fewer people are at the front.. get to the front when it's still quiet!
You can go back to the start later but you probably won't want to as you photos from the middle and front will be so much better! Diana's Chair is, of course, a popular place to take photos at the Taj Mahal, so is where you get the reflection in the water and these spots are not until the middle, so head there first!
Don't forget to enjoy it! It's so easy to take a million photos here, I know because I did, but after you've taken a lot be sure to take a seat and enjoy it. Take in the detail, take in the people, take in the calmness and breathe!
I hope these tips help you, most of them are based on how to get into the Taj Mahal as that's the most important bit, once you're in, you're good!
Accommodation by Taj Mahal
I stayed at Moustache Hotel in Agra and really liked it. It's possible to walk from the hostel to the Taj Mahal, on a map it looks quite far but the road is really well paved with a footpath (the best road and footpath I've seen in India), a tuk tuk is only 50Rs but they can only go half way down the road anyway and then you have to walk the rest of the way. Search here for more of the best hostels and hotels in Agra!
The Taj Mahal East Gate Ticket Counter was closest along the road from the hostel which is why I went in this gate. I feel like the South gate could be less crowded as it's more in the town centre down some back roads.
If you do not have time to Stay in Agra and you are visiting the Taj Mahal on a Day Trip from Delhi, firstly know that you can still see a lot more of Agra in one day, including some of the above places, as well as the Taj Mahal. To help you get to Agra fast, have a look at these Day Trips and Transfers from Delhi to Agra:
For more of my posts on India and Travelling see: