This post may contain affiliate links. I will receive a small commission if you use these links.
---
Tbilisi, the capital city of Georgia is a fantastic city to visit. In fact, Georgia itself is a brilliant Country to visit. It's becoming more and more popular as one of the best countries to visit for a holiday in Europe as well as a backpacking trip around Europe!
I loved my time in Tbilisi, and after spending 5 days in Tbilisi with my Dad I got a really good feel for the City, so here is my full and detailed Tbilisi travel guide and Tbilisi City Guide on things to see and do in Tbilisi, things to eat, places to eat, where to stay and a few important Tbilisi travel tips to help you have the best time!
Tbilisi Travel Guide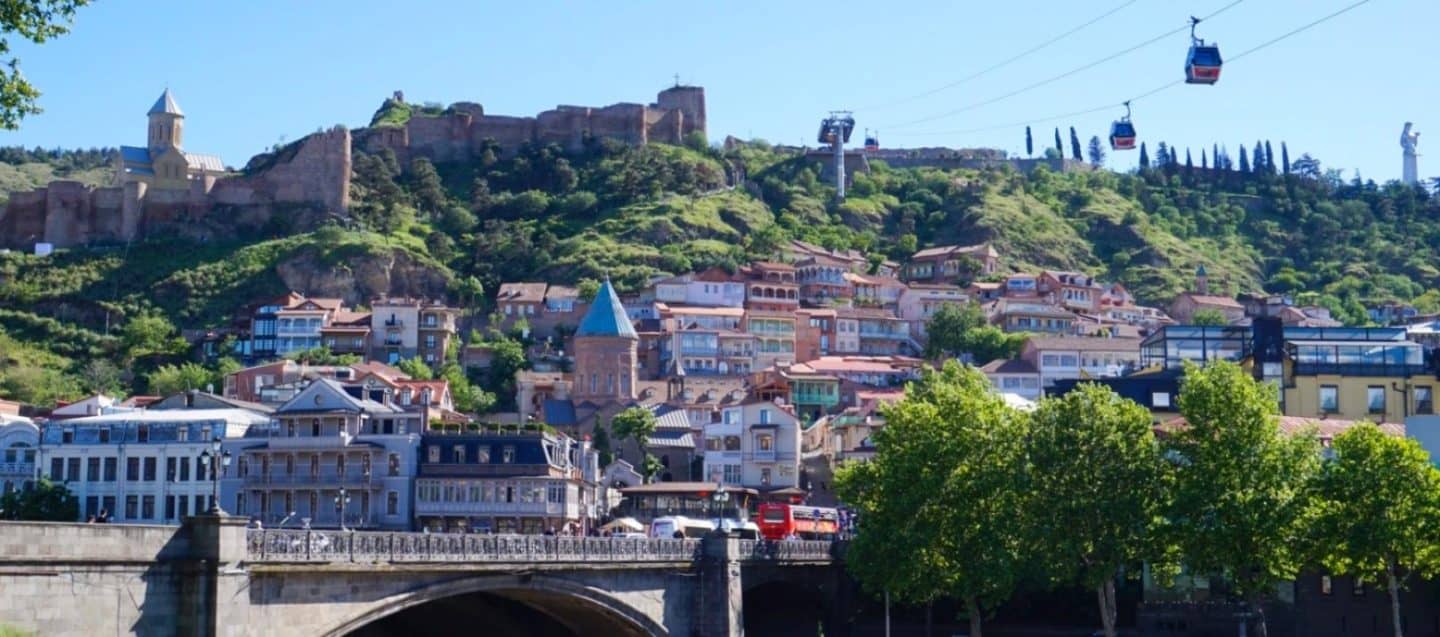 Find What You're Looking For Easily Here!
Best Time to visit Tbilisi Georgia.
Georgia is one of those countries that has real seasons so the best time to visit Georgia depends on what weather you like!
I visited Tbilisi in May and it was the perfect temperature, I could tell Summer was coming but Spring was still in the air with comfortable temperatures of around 20°. Summer will bring very hot temperatures and December and January will bring freezing temperatures! I think mid-Spring and mid-Autumn are the best times to plan a visit to Tbilisi.
How long to stay in Tbilisi Georgia.
I spent 5 days in Tbilisi however we were purposely exploring slowly and did a lot of chilling too. I would say 2 or 3 days in Tbilisi is a good amount of time to see the city if you're on time constraints, otherwise, you can easily pass 5 days there if you have the time. There's a lot to see in Tbilisi actually!
If you're seeing more of Georgia than just Tbilisi, be sure to read this post on 50 Things You Need To Know Before Visiting Georgia!
Where to stay in Tbilisi, Georgia.
Tbilisi is a big city, or at least when looking at a map of Tbilisi it appears to be. It's by no means a big city like London or Paris but when you look at the attractions to visit it does appear quite spread out.
Hostels in Tbilisi
I kicked off my stay in Tbilisi at Fabrika Hostel which is on the East side of the city. This is one of the best hostels I have stayed in and has to be the best hostel in Tbilisi, I even wrote a blog post all about it here.
In short, it's a converted soviet sewing factory, it's been decorated brilliantly with an industrial, shabby, chic design. On first appearance, it does seem slightly out of the centre but it's really not and it's nice to walk through some 'local' streets to get back to the hostel from the river and the main tourist areas.
Airbnb in Tbilisi
For the second half of our week, we stayed in an Airbnb on the west side of the river which is one of the best locations to stay in Tbilisi in my opinion. I stayed at 'Finding Nino's place' which you can find on Airbnb via this link and I would highly recommend it.
It's perfect for 2-4 people, feels really local… because, well, it is! It's in a good location (although slightly up on the hill so expect hill walks to get back), it was a really good price for the whole apartment and Nino herself was lovely!
I noticed that Tbilisi has some great Airbnb options when looking so unless you want a hostel and a hostel feel then I would suggest getting onto Airbnb and I would recommend staying over on the West side of the city, to be honest.
There are also lots of hotels in Tbilisi for all budgets so be sure to have a look on Booking.com here!
Things to do in Tbilisi
Now for the fun bit! There are plenty of things to see and do in Tbilisi and actually one of the best things about the city is that you can see stuff up on the hill or from afar and think ''Oh what's that, I need to see it!' and you just end up walking over to it or come across stuff when walking around Tbilisi but here are just a few ideas to get you started.
---
I really recommend exploring Tbilisi by yourself and at your own pace however, a city tour to get a real understanding of Tbilisi's history would be a good idea.
If you want to see Tbilisi and the rest of Georgia really well, I would recommend checking out one of these tours, you could do a city tour, a bike tour, a wine tour, a mountain tour!
---
See both sides of the river
I stayed on both sides of the river which meant we got to explore both sides so whichever side you stay on, make sure you venture over the river to the other side of the City to explore.
Narikala Fortress & the Cable Car up
The best view of Tbilisi is from the Narikala Fortress! To get to Narikala Fortress take a cable car from Rike Park which is close to the Bridge of Peace. It cost us 95p for a return journey for 2 people so it's pretty cheap!
You pass over the river and then go right over the top of one of the old neighbourhoods which gives a great view into how all of the houses are perched on the hill. Once you are at the top and have taken in the view you can walk along some steps to the Fortress. You can climb some walls of the Fortress but it looked a bit dodgy to us so we just took in the view.
Mother of Georgia Statue
From Fortress hill you can go right to the base of the Mother of Georgia statute.
This lady is perched high and looks over the entire city with a great view of Tbilisi. It's said she has a sword in one hand for the enemy and a glass of wine in the other for friends and that she holds the wine higher than the sword because she would prefer friends to arrive, and this pretty much sums up Georgia's history. They would prefer to be friends but are ready to fight if needs be.
Botanical Gardens
Whilst I didn't get to the Tbilisi Botanical gardens, they are up by the Fortress and look really nice so if you want a rest from city life then have a walk around them for a bit.
Thermal Baths in Tbilisi
Tbilisi has Thermal Baths and is very famous for them. Tbilisi is built on hot springs a bit like Budapest. The world Tbili in Georgian actually means warm!
There's a bath district in the city which is called Abanotubani and it's located underneath the Fortress hill. I went to Gulo's Thermal Spa which I would recommend as one of the best thermal spa's in Tbilisi because its a great price and place. I wrote a full post about Gulo's Thermal Bath here with prices and how to book!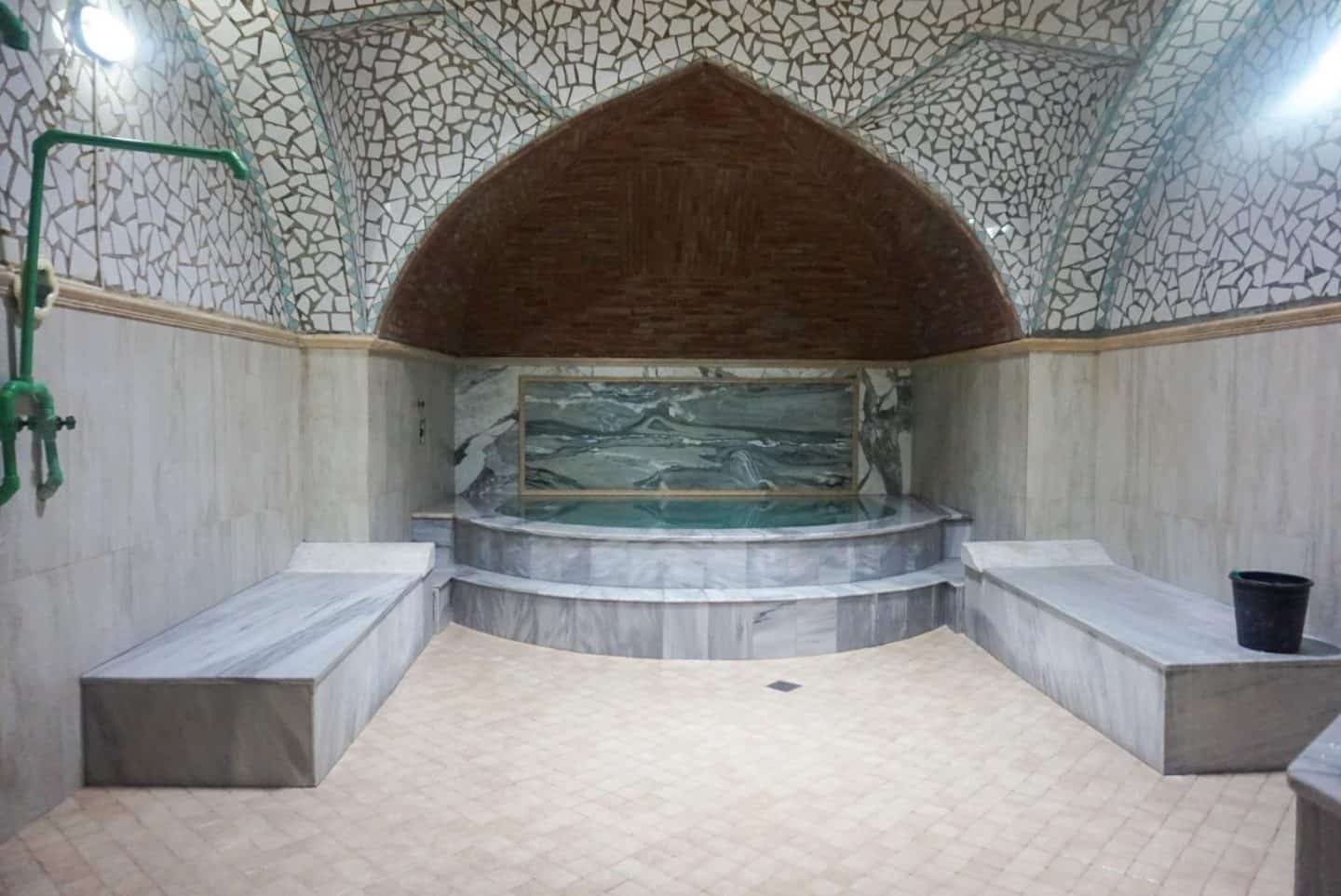 Mount Mtatsminda
Right upon a very big hill is a huge pylon and it can be seen all around the city, especially at night when it lights up. From some angles in the city, you can also see a Ferris wheel which looks very scary as it looks like it's perching on the edge of the hill!
This hill or mountain I guess you could say is Mount Mtatsminda and it actually has a whole theme park on top of it!
I wouldn't necessarily recommend going up there for the theme park as it's not the best Tbilisi attraction unless you have children but I would say go to take in the incredible view of Tbilisi City! We went at golden hour on a sunny day and it was beautiful!
To get Mount Mtatsminda there is a funicular from Vilnius Square station. It is a walk uphill to get to the station from elsewhere in the city but there's also lots of taxi's if you do not want to walk. The funicular cost about £3.85 for 2 people and once up the top, it's free to walk around and breathe in that fresh, fresh air!
Tbilisi Clock Tower
This is an interesting clock tower. I'm going to be honest and say I have no idea what it resembles or means but it's worth passing by, it's also on the edge of Old Tbilisi and has some nice streets around it.
Tbilisi Free Walking Tour
I always like to take a free walking tour in cities as I think it's a great way to get my bearings, especially if I do it on the first day. It's also a good way to get a locals perspective of the city and learn some history and facts. I did the tour with Tbilisi Free Walking Tour and it was very good!
We didn't cover as much ground as I would have liked but we learned some interesting stuff, heard some old legends and stories about the city and even got to try out some Georgian wine and hear how they make it which is something Georgia is actually known for!
I really wish I had done a better and more in detail tour whilst I was there to learn more about the city and culture, one of these would have been great!
Sameba Cathedral / Holy Trinity Cathedral of Tbilisi
Tbilisi is full of churches! You'll pass so many as walk around Tbilisi but if you visit just one I would recommend seeing Sameba Church, it's up on the hill on the East side of the city and is huge, in fact I believe it's the biggest church in the Caucasus region and one of the largest religious buildings in the world!
I actually didn't get to it which is my only Tbilisi regret so make sure you go so you don't regret it!
Bridge of Peace
To help you cross the river be sure to use the Bridge of Peace. It's a very new and architecturally interesting bridge. Fun fact, it's been nicknamed Always Ultra because errmm it kind of looks like a sanitary pad..!
Dry Bridge Flea Market
This bridge and the grassy area beside Dry Bridge is home to a flea market open every day and when I tell you they sell everything, I mean everything!!
There's a huge amount of useless stuff.. empty bottles and Marriott hotel slippers for example, they also have things from gas masks and war memorabilia to records, dvd's, jewellery, glasses and soo much more! It's a sight to be seen that's for sure so definitely check it out.
Georgian National Museum
Tbilisi has a few museums but what Dad and I were really interested in was the soviet era and the Georgian National Museum has a floor dedicated to this era inside it. To be honest, it wasn't that detailed and didn't provide a huge amount of information but it was worth going and I would recommend it if you want to learn a bit more, just don't expect too much!
Take in the Architecture
As you walk around, remember to keep looking up, take different streets than you have before because this city changes so much down each street. Sometimes you'll see beautiful well-preserved buildings, sometimes you see crumbling buildings, some due to lack of money and care, others due to recent earthquake damage and sometimes you see modern silver buildings that are super new and innovative!
Unique Things to do in Tbilisi
Chronicles of Georgia Monument
The Chronicles of Georgia Monument is a huge monument perched upon a hill just outside of Tbilisi that not many people know about or visit! It's definitely a unique place to visit in Tbilisi!
To get to The Chronicles of Georgia Monument from Tbilisi was a bit difficult due to not many tourists visiting and not many locals seeming to know about it, but after some pointing at a map and some hand signals, we found a taxi driver who knew where we wanted to go! It's located to the north of the Tbilisi Sea (which is actually a reservoir) so i pointed this out on the map.
We agreed on 40 GEL for him to take us there, stay for about 40 minutes and then bring us back into the city.
The journey took about 20 minutes and before we knew it we had pulled up in a quiet car park. The Chronicles of Georgia Monument is very random but it's certainly impressive.
The pillars and huge and from the back you can see across Tbilisi sea. I was also pleased that it was indeed very quiet, this is not on any Tbilisi Day Trips yet but I can imagine in a few years this place will be on the tourist radar!
We only stayed for 30 minutes or so as there isn't anything else to do at The Chronicles of Georgia Monument and headed straight back so it was a very quick trip but if you have time I would definitely recommend it!
Day Trips from Tbilisi
Tbilisi is a great city but there's a lot more to Georgia than just Tbilisi! For various reasons we didn't base ourselves anywhere else other than Tbilisi but we did take a day trip up to The Georgian Military Highway to Kazbegi which was actually my favourite day in Georgia!
We got a private driver for our day trip to the Kazbegi Mountains and headed North up the country a few km's from the Russian border and stopped to take in the mountain views on the way. I would 110% recommend doing this trip especially if you're just basing yourself in Tbilisi, I wrote a whole blog post on the day trip here and filmed the trip which you can watch here.
And if you want to escapre Tbilisi for a few days, here's a guide to Signagi, one of the prettiest towns in Georgia!
This is one of the day tours that are on offer which you can book online to save you having to look when you get to Tbilisi:
What to Eat in Tbilisi.
Georgia is actually very popular for its local Georgian dishes and you can get them all in Tbilisi at Tbilisi's Best Restaurants! There are a few key dishes that you'll no doubt try and see everywhere, especially in tourist places.
The food is very carb-heavy because there's a lot of bread on offer (but its soo good!), and just so you know, it's easy to be a vegetarian in Georgia but probably harder to be Vegan in Georgia as they eat a lot of dairy! Here is just a quick rundown on the best Georgian Foods to eat in Tbilisi and how to eat them!
Khachapuri
You'll probably see Khachapuri everywhere and oh my is it good! Bread with a cheese filling, complete with an egg on top and butter! And the correct way to eat it.. with your hands only! No knives or forks!
Kihnkali
Kihnkali are Traditional Georgian dumplings.. who knew Georgian's loved dumplings but they do!
They come with a few fillings, meat, cheese or mushroom and we actually preferred the cheese over the meat.
Although they might be sold individually on the menu the correct way to order Kihnkali is to order 5 per person, and to eat them is quite an art.
How to eat Kihnkali correctly is to pick them up by the stem and turn them upside down, take a bite and suck out the juice and then continue to eat them, if the juice is running down your arm then let it, apparently, this is better than getting it on the plate! But make sure you don't eat the stem! No Georgians eat the stem (although it's tempting), so put the stem back on the plate and move onto the next. To actually see me eat one then check out this vlog!
Salads
A cucumber and Tomato salad does sound quite boring right, even one with walnuts sounds boring, but salads in Georgia are not boring and are a great food to try in Georgia!
I was advised to try one of these simple salads and along with the walnut paste that we had on ours, all the spices they put on and the incredibly fresh and tasty tomatoes it was so good! (and helps balance out the fats from the Khachapuri!)
BBQ Meat
BBQ meat is very popular here, we had some nice dishes and although they are quite dry we had some chicken with pomegranate seeds and it was so nice!
Churchkhela
Around Tbilisi, you'll see what looks like candles hanging up in shop fronts and stalls, these are actually edible! Inside them are nuts, walnuts usually, and the coating is fresh grape juice which then set around the nuts, the setting process takes a few months which is pretty crazy!
I did buy two and I'll admit that I wasn't a huge fan as to eat them you literally just bite into them and I figured they had just been hanging out in the open for probably quite a long time, however they are popular and if all else fails they make for a good picture!
What to Drink in Tbilisi Georgia.
Georgia is actually known for its wine and every blog post I read before going to Georgia raved about its wine. They make their wine by storing it in clay pots for months instead of big metal containers like a lot of other countries do. We didn't end up drinking that much but we did do some tasting on the walking tour where we tried 3 types of wine and red, both sweet and dry. I loved the sweet red wine and later on we brought a bottle from the shop which was only a few pounds!
We drank more beer whilst we were there and liked the Argo which was super cheap.. cheaper than tea or coffee!
Cha cha is also something you may hear about, this is often referred to as Georgian vodka is often home-brewed so I can only imagine that it's very strong!
Where to Eat and Drink in Tbilisi
We actually ended up eating on the same street (and in the same restaurant) pretty much all week because we figured we liked the food and this street must be the best area to eat in Tbilisi.
It was actually quite hard to find places to eat that weren't on a main tourist street I thought, local restaurants were not that obvious, but either way here are 2 streets in Tbilisi with great restaurants. Both are walking streets away from the traffic which is one of the main reason we liked them and they're on different sides of the city.
Erekelle II Street
This is a major tourist street but it's one of the best places to eat in Tbilisi, it's not that big and has maybe 8-10 restaurants and cafe's along it. It's pretty and it's quiet and the staff are used to working with tourists so it's good. We ate in a place called Pastorali most days and we loved the food there so I would highly recommend it. There's also quite a few stray dogs and cats on this street, they're friendly and just do their own thing but if you happen to have any leftovers I'm sure they won't say no!
Davit Aghmashenebeli Avenue
When I stumbled across this street I could not believe it. The buildings were so pretty, they had all been newly painted in bright colours with cute balconies and there were all different types of cafes lining the walking street. We enjoyed a lovely piece of cake and tea (so British I know!) at Cafe Velo.
We did, however, find it hard to find a dinner place in the evening so I would recommend street for lunch in Tbilisi or a snack/coffee.
Supermarket / Small store
If you're staying in an Airbnb I would suggest heading to a supermarket to get some breakfast supplies because honestly, I have no idea where you'd find a good breakfast in Tbilisi or Brunch for that matter!
There are lots of small supermarkets as well as lots of cute little independent stores ran by the older generation and as with any foreign supermarket, you can find some weird and wonderful things! They sell some great cheeses and amazing fresh bread for about 20p!
---
If you want to see Tbilisi and the rest of Georgia really well, I would recommend checking out one of these tours, you could do a city tour, a bike tour, a wine tour, a mountain tour!
---
How to get around Tbilisi
Tbilisi is a totally walkable city! There is a metro and I thought we'd need to use it, but apart from the cable car and funicular, we didn't use any public transport.
Tbilisi Travel Tips
Buy bottled water, don't drink from the tap.
The plug adapter is a European adapter.
When you want to cross main roads look for an underground passage, there are a lot of passages along the very big roads because they're so busy and there are no lights!
To cross a smaller road you just have to walk out and be confident, hold your hand out to tell drivers to stop and keep it out whilst you are walking across the road so they know to slow down.
Watch where you step, the pavement's have holes and all sorts in them everywhere! There's also a lot of dog poop!
Don't worry about wifi, there is good wifi everywhere.
There are a lot of ATM's and exchange shops.
---
I hope this either makes you decide to go to Tbilisi or helps plan your trip to Tbilisi and gets you excited for it!
---
For more of my Georgia posts see:
---
To SEE my trip to Georgia check YouTube Vlogs Here!